This week, we catch up with world adventurers Bethany "Fidgit" Hughes and Lauren "Neon" Reed for an update on their journey across the Americas. Hughes and Reed have spent the last five years backpacking, biking, and paddling their way across South and Central America, Mexico, and the United States on their non-motorized tour of the American continents. The long-distance hikers are now hunkered down in the States waiting for Covid to subside before finishing off their adventure in the northernmost part of North America.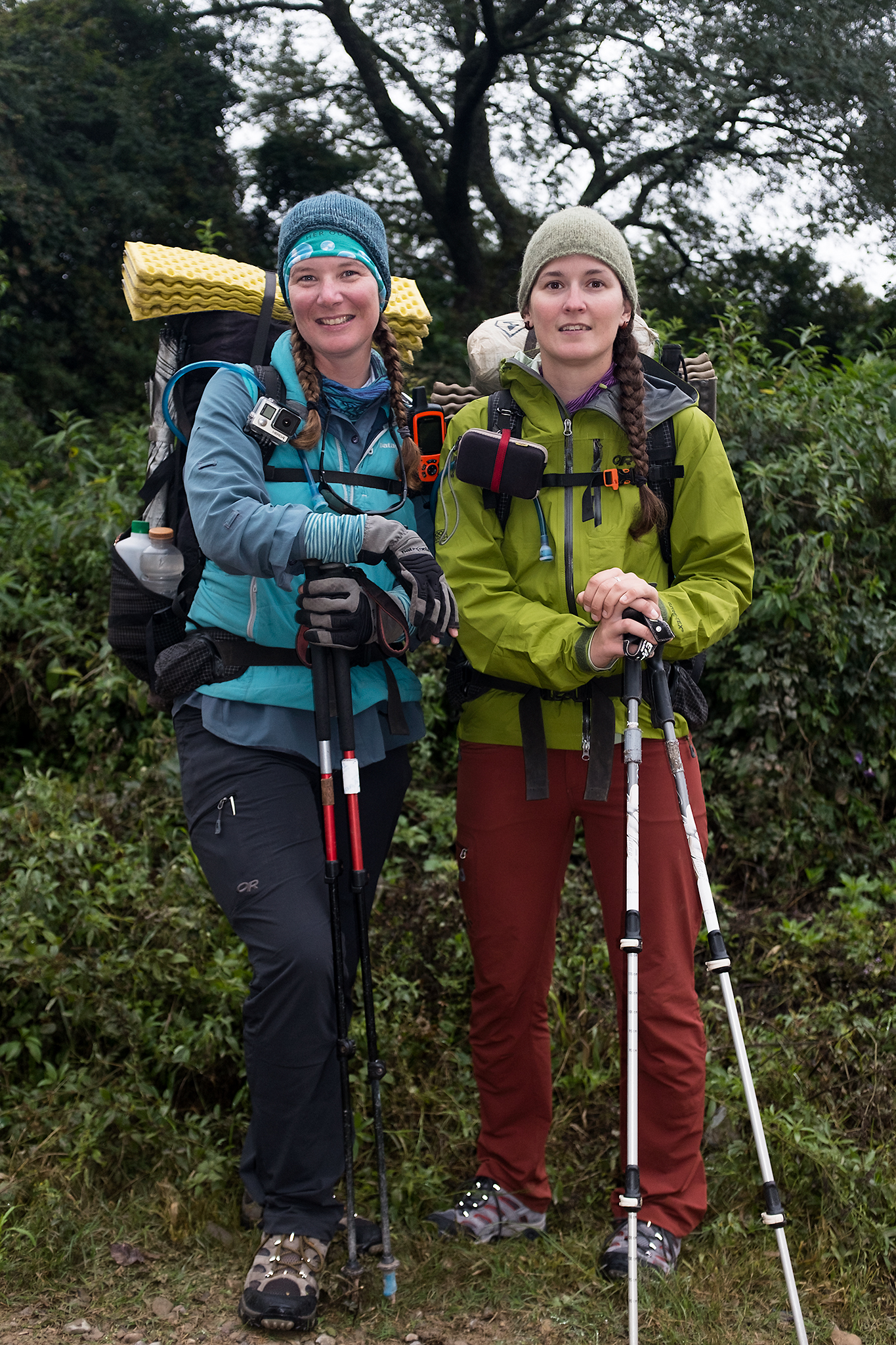 Hughes and Reed met during their Pacific Crest Trail thru-hike in 2010, where they earned their trail names Fidgit and Neon, respectively. After Hughes completed her PCT thru-hike, she took a stab at conventional city life. She lived in a house, got a car, and landed a management position in an accounting office. But the pull of adventure tugged hard at her heartstrings.

While sitting in a traffic jam, she became inspired by the book Born to Run by Christopher McDougall. From that, Hughes imagined "a human-powered traverse of the Americas, connecting the stories of the land and its inhabitants." She dubbed the adventure "Her Odyssey."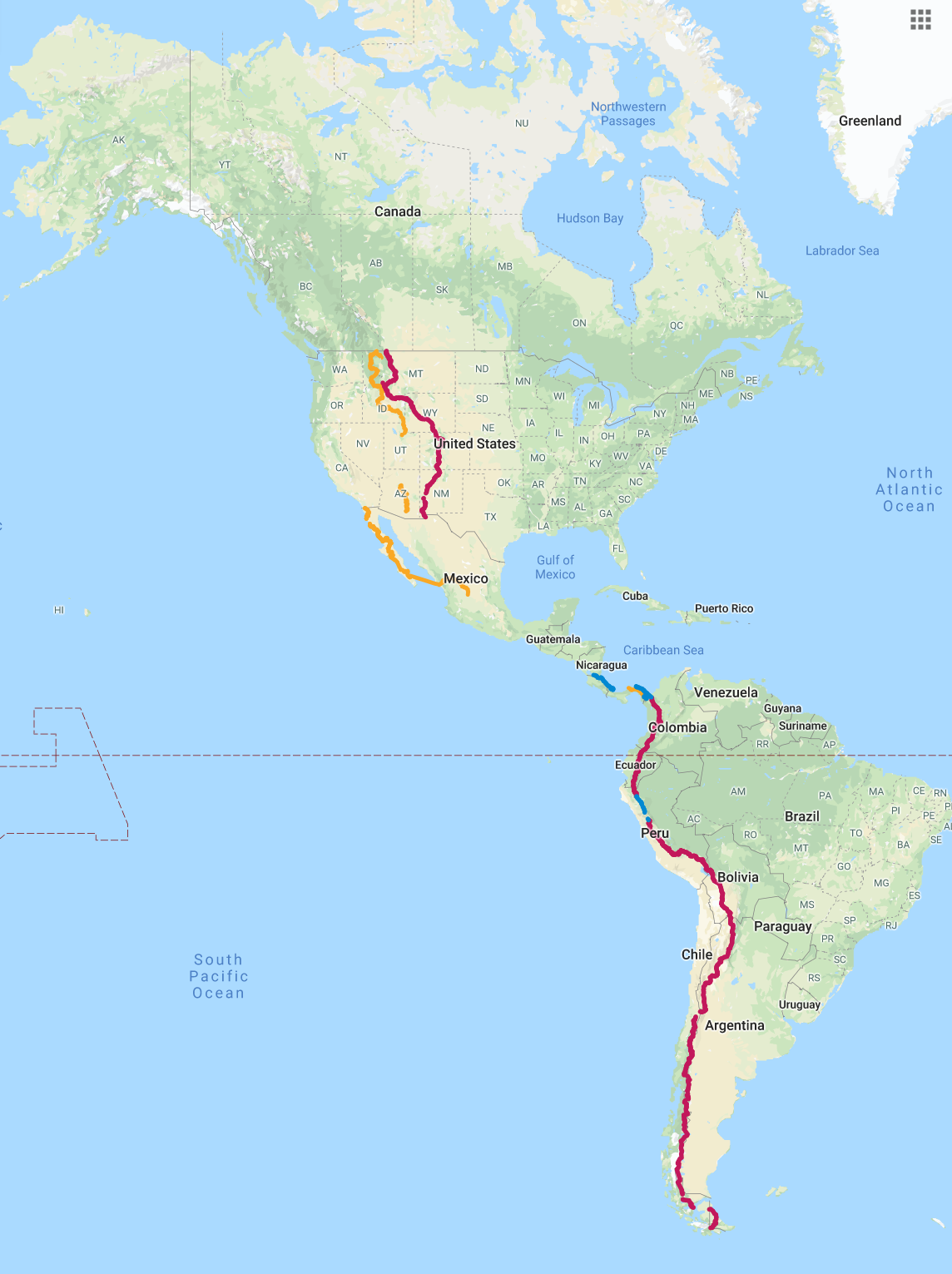 Hughes enlisted Reed to join on the trek, acknowledging that their different personalities complement one another. Reed agrees and describes their personalities with a Venn diagram.

"I usually lean towards the logical side," Reed says. "And Fidgit is usually leaning towards the emotional side. We pull each other towards the center in a lot of ways."

In this episode, Hughes and Reed discuss how they traveled through the wilderness in foreign countries, their incredible and heartwarming interactions with locals they met along the way, and some tips for treading lightly through indigenous regions and cultures. We also hear about their safety plans and how their contrasting personalities serve their expedition mission in unique ways. Don't miss this episode if you want to learn about getting off the tourist path in South and Central America.

Learn more about Hughes, Reed, and Her Odyssey on their website. Follow them on Instagram and Facebook. Support their mission, or just simply buy them a meal, on Patreon.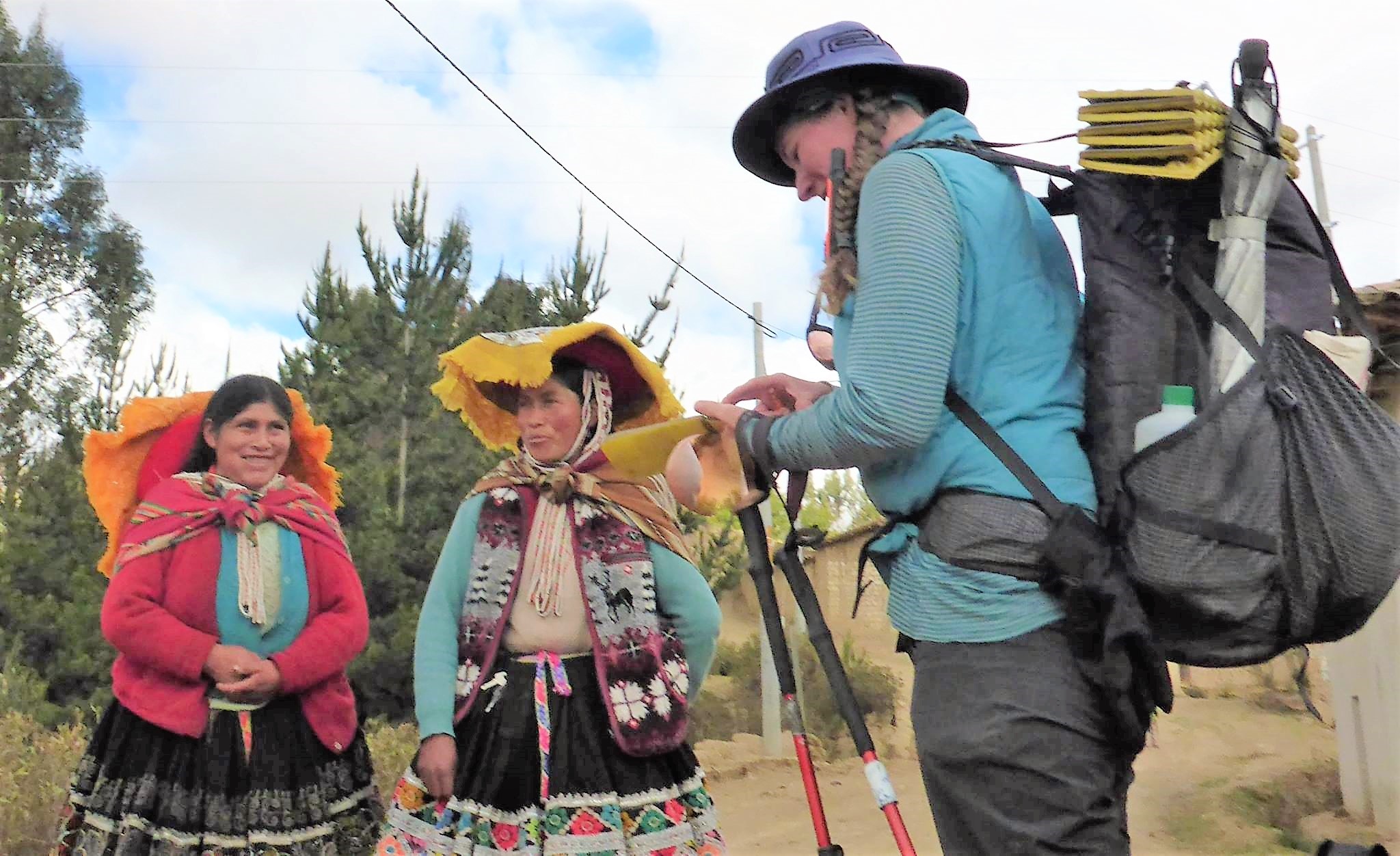 1:00: Fidgit and Neon started their journey over five years ago.
5:25: The duo met on the PCT in 2010.
8:25: The idea for Her Odyssey came to Fidgit on a drive home from work in Kansas City.
10:50: Fidgit's belief system led to her reach out to Neon to be her travel partner.
14:30: Fidgit and Neon pull each other towards the center of emotion and logic.
19:50: Fidgit spent three years planning this trip.
22:30: Accepting that they didn't know what they were doing proved essential.
23:30: Neon uses her power of observation to help them navigate.
25:00: Fidgit and Neon tell an illuminating story about getting lost.
27:00: How sharing knowledge about routes and trails differs in Latin America and the US.
30:00: Learning some of the local language is an important display of good will and respect.
34:00: Fidgit and Neon share pointers for interacting with locals and being respectful of local culture.
41:40: Gaging threats and avoiding dangerous situations internationally.
45:35: Self-defense strategies for staying safe overseas.
52:00: Women's bodies were found cut up in bags while they were in South America.
59:50: How Fidgit and Neon dealt with drinking water in South America. (Their strategy didn't always work!)
1:05:50: Fidgit and Neon go separate ways for part of their journey.
1:12:00: When a region got too "murdery," they moved on.
1:21:10: How COVID has impacted their travels.
1:29:30: Fidgit and Neon are currently focusing on the storytelling and community building components of their journey.
1:30:20: The ultimate goal of their trip is to reach the Arctic Ocean within the next two years.
1:33:00: How they balance structure and letting the journey unfold.
1:33:30: Advice to those looking to go on their own odyssey.
1:36:30: The grossest things Fidgit and Neon have eaten on their trip.
1:43:00: The one luxury item Fidgit and Neon can't travel without. (You will never guess!)
1:49:00: How Neon and Fidgit got their trail names.
Next Episode: Get the Most out of Your National Park Trip with Guide Book Author Scott Turner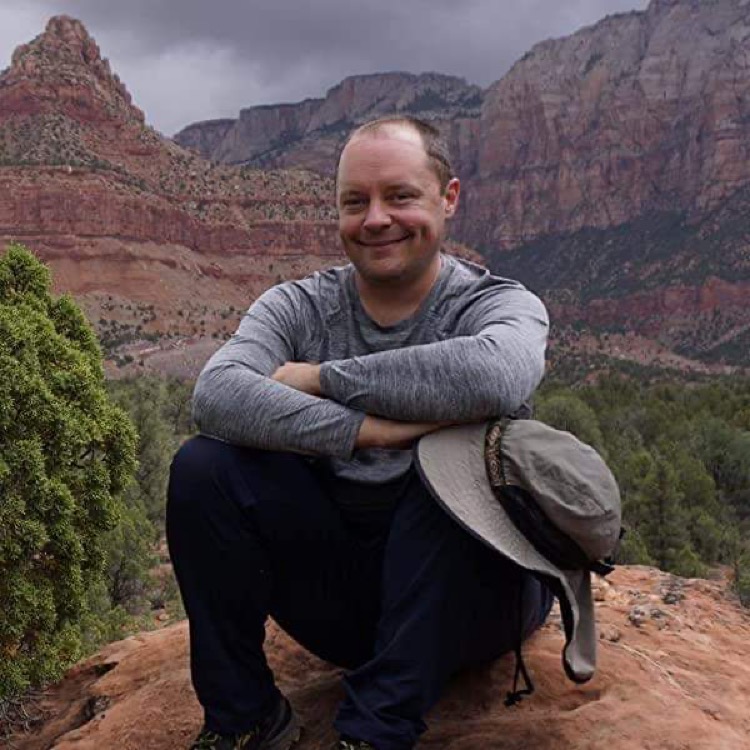 Next week, Shanty and Mary sit down with hiker, guidebook author and licensed therapist Scott Turner. Turner has written guide books to five national parks, as well as his home of San Diego county. He shares insight on how to get the most out of a one-day visit to a national park, including insider tips for getting off the beaten path at Sequoia, Zion, and Joshua Tree National Parks.
Turner explains why he believes early morning wake-ups are worth it to maximize your adventure. And he runs through what you should pack for a day hike to ensure you have fun and stay safe. Turner almost always hikes in trail running shoes, and he shares why he prefers them to hiking boots, plus why he brings the "10 essentials" you need to survive an unplanned night outside. You'll also hear about Turner's favorite National Park, and how hiking helps him be better at his day job as a therapist. Last but not least, Shanty and Turner break down the best hiking Pop Tart flavors.

You can learn more about Turner and find his guidebooks his website. Follow Turner's adventures on Instagram, and connect with him on Facebook.
Last Episode: Solo Backpacking with a Stalker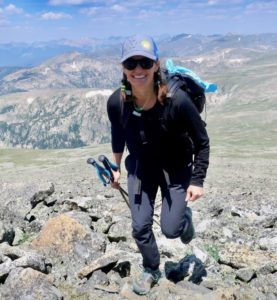 When Mary Cochenour became a wilderness ranger, she was forced to conquer her fear of solo backpacking. It took some time but with a lot of practice, Mary eventually grew comfortable camping alone in the woods. That is, until she realized she wasn't alone after all. A man had been stalking Mary even in the farthest corners of the wilderness.

Tune in last week's episode of the Out and Back podcast as Mary tells a thrilling tale about her early days as a wilderness ranger in Desolation Wilderness in the Lake Tahoe Basin. Hear about her first night spent alone in the wilderness and what happened months later when she discovered that a man had been following her around the backcountry.

Mary reveals how this sketchy incident inspired her to keep backpacking solo and how she drew on this experience when working with victims as a violent crimes prosecutor in Montana. This story, although gripping at times, reminds us that sometimes you have to face your fears head on to finally overcome them.

We are excited to introduce you to Mary because she is the Out and Back podcast producer and a writer and editor at Gaia GPS. When she is not in the office, Mary works as a guide for Andrew Skurka Adventures in wild places around the west, like Rocky Mountain National Park, Yosemite, and the Brooks Range in Alaska.

Learn more about Mary on Instagram. Read Mary's bio on Gaia GPS's team page and view her hiking credentials on Andrew Skurka's guide roster. Also, read her tips on how to plan your first solo backpacking trip.
Tell Us Your Story: Have You Ever Been Lost?
Have a great story about getting lost in the woods? Shoot us an email at media@gaiagps.com for a chance to be featured on the Out and Back podcast.

Tell us in 500 words or less how and where you got lost and what you did to get yourself out of trouble. Bonus points for humorous narratives and tales with surprise endings.

In addition to a podcast interview, the winner will receive Gaia GPS swag and a free Gaia GPS membership to help keep them from getting lost on the next adventure.
Meet the Hosts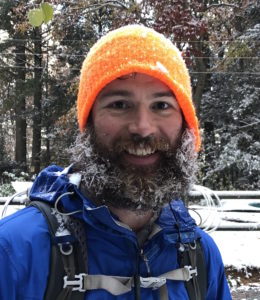 Andrew "Shanty" Baldwin
In 2019, host Andrew Baldwin completed a southbound thru-hike of the Appalachian Trail. After five months on the trail, Baldwin returned home to pursue a career in voice acting. A friend of the Gaia GPS company, Baldwin was a natural choice for hosting the Out and Back podcast.

In each Out and Back episode, Shanty strives to bring you conversations with people who spend an extraordinary amount of time outdoors. Listen in as Shanty taps into each backcountry expert's superpower so that you can take their knowledge and experience with you on your next adventure.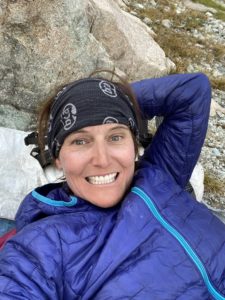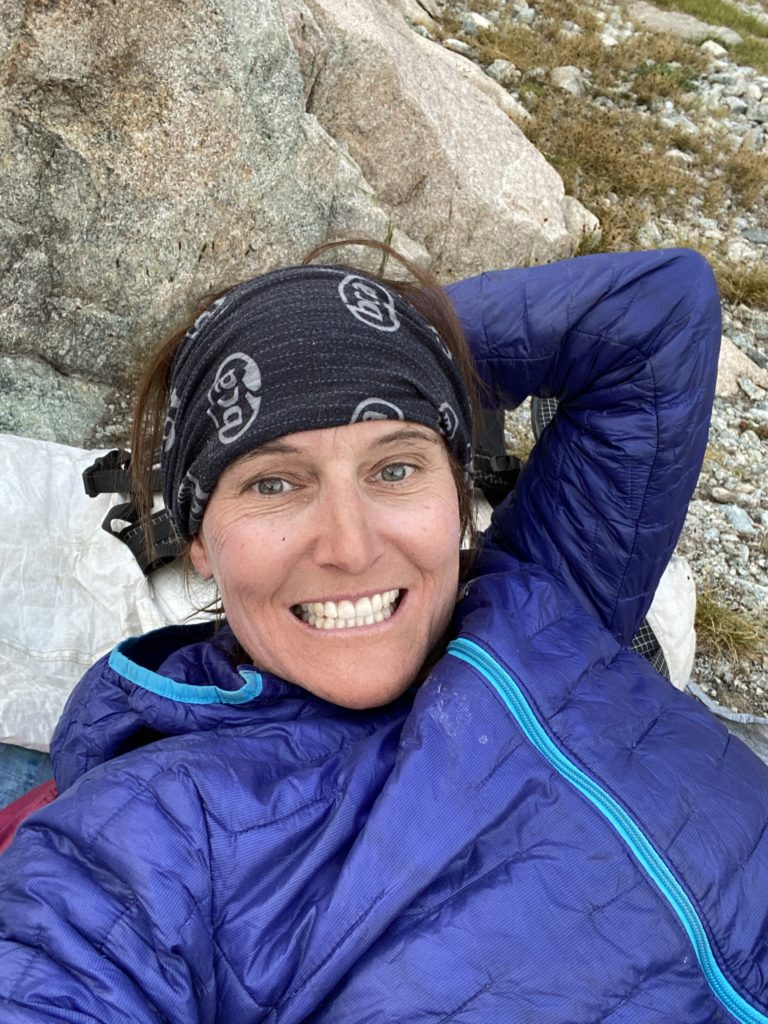 Mary Cochenour
Mary is the Out and Back podcast producer and a writer and editor at Gaia GPS. Before joining Gaia GPS, Mary worked as a lawyer, newspaper journalist, ski patroller, Grand Canyon river guide, and USFS wilderness ranger. Mary holds degrees in journalism and business as well as a Juris Doctor degree from the University of Montana. Mary is licensed to practice law in Montana and Nevada.
When she is not in the office, Mary works as a guide for Andrew Skurka Adventures in wild places around the west, like Rocky Mountain National Park, Yosemite, and the Brooks Range in Alaska. Learn more about Mary on Instagram. Also, read her tips on how to plan your first solo backpacking trip.