As our community dreamed up more routes, downloaded more maps, and covered more miles than ever before, our team remained hard at work making Gaia GPS even better for your adventures. Here's a look at our favorite maps, features, and updates we launched this year. We're counting down, 12 days of Christmas style.
12. Map Packs (Beta): A Totally New Way to Map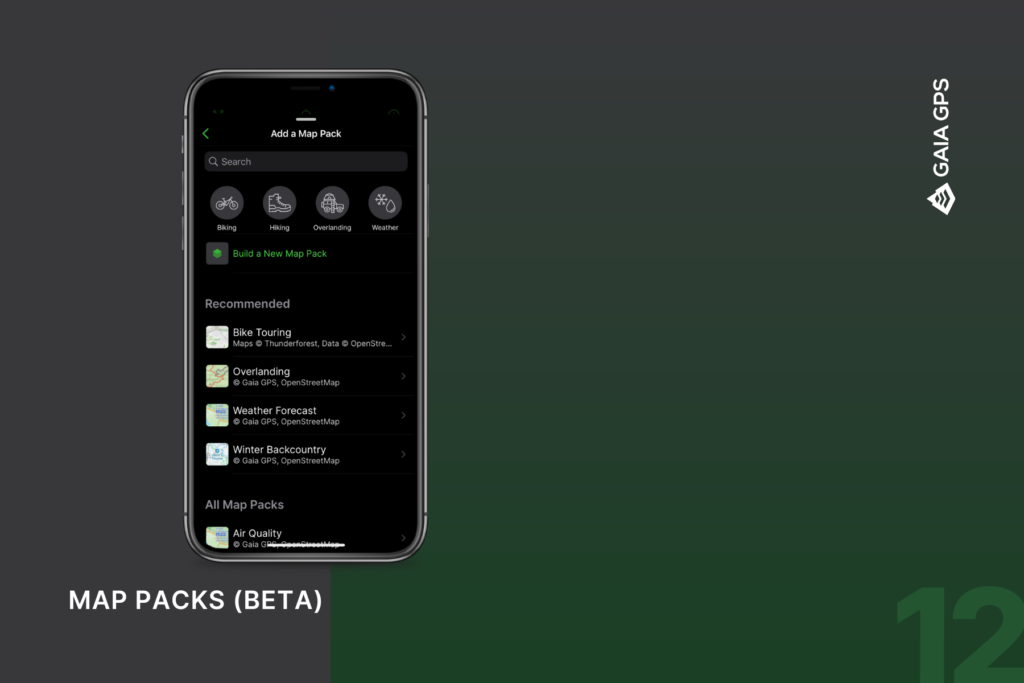 To put the best of our 300+ maps in your hands, right now, we've totally redesigned our mapping interface. Meet map packs.
Enable this new beta feature available on iOS and get the best map presets curated by the Gaia GPS team. Whether you're visiting a national park with your family, backpacking a long trail, or skiing in the backcountry, just tap the map pack crafted specifically for your adventure to put the right maps on your screen
Or create your own map pack so you can always have your favorite map combinations at your fingertips. Explore map packs.
11. Gaia Classic: The Map That Never Goes Out of Style
Do you yearn for the classic topo maps of old? You know, the ones not busied up with excessive colors and silliness when all you really need to know is how to plot your path from that alpine lake to that mountain pass and down the other side?
Or maybe you've found yourself yelling at our cartographers, "why or why can't I see the contour lines in this blazing sun!?"
Enter Gaia Classic, the map that just may answer that call of the wild. It's inspired by a classic aesthetic, from the colors to the fonts to the very textures of the map itself. Maybe it's totally pointless, or maybe, just maybe it's the only map you'll ever need.
Check out our new map, Gaia Classic.
10. Gaia GPS Master Classes: Map Like a Pro
We're the first to admit there's a bit of a learning curve to mastering the breadth and depth of gaiagps.com and our app. That's why we teamed up with Outside Learn to bring you two master classes. Find the best of our 300+ maps for your adventures. Learn how to take your maps offline. Layer maps together to unlock more terrain detail. Reroute on the fly. Share your routes with friends and family. Discover our top hacks. It's all here. Take these two courses to brush up on your mapping skills and to get the most of the app.
Take Gaia GPS 101 and Gaia GPS Advanced.
9. Wildfire Maps: Spot Fires Faster
This update is lit. You can now spot wildfires on the Wildfire map as soon as they appear on InciWeb, the government website that tracks wildfire information for the public. Our cartographers also added wildfire labels right onto wildfires themselves for easy viewing. Plus, we expanded our smoke forecast maps coverage to include Alaska and Canada.
Check out the enhanced Wildfire and Smoke Forecast maps.
8. Snowmobile Trails Map: Discover Global Sledding Trails
Planning snowmobile routes and navigating across the snow has never been easier. Find sledding trails across the US, Canada, Europe, and Australia with our new Snowmobile Trails map. We've pulled together trail data from local, state, and federal sources to bring you some of the most comprehensive sledding coverage in the world.
Easily spy trail networks to build routes and find your way in the field. When available, see key details like trail width, grooming status, restricted access areas, and difficulty ratings. Plus, find warming huts, gas stations, and snowmobile shops.
Try out the Snowmobile Trails map.
7. Android Auto: Navigate from the Dash
We've revamped Gaia GPS on Android Auto so you can manipulate the map, record tracks, and drop waypoints all from your dashboard. Just connect your phone to your car display and navigate with your favorite Gaia GPS maps like Gaia Overland, MVUMs, hi-res global satellite imagery, and National Geographic Trails Illustrated—all from the luxury of the wide screen.
From expanded map controls to clearer visibility, here are the major updates. And if you're on iOS, check out Apple CarPlay.
6. Slope Angle: Stay Safer with Highest-Res Map
Scout avalanche terrain easier than ever before. We've updated our Slope Angle map with the latest highest resolution 1-meter LIDAR DEM data from the USGS. This data is the gold standard for slope angle shading, rendering our Slope Angle map crisper and clearer for your winter adventures.
Whatever your objective and mode of travel, you can now enjoy the highest resolution slope angle data, wherever it's available. Check out the updated Slope Angle map.
5. Rec.Gov: Make Campsite Reservations from the Map
Find the perfect campsite in Gaia Topo, and then reserve it right from the map. The ultimate tool for reserving public campsites in the US is now accessible right from our app and gaiagps.com. In addition to reservations, recreation.gov gives you every detail you could possibly want about a campsite. View photos to see if the campsite has the spectacular mountain view. Find out how many cars are allowed, and if pets and campfires are permitted. Even see if there's a fire ring or a grill.
Learn more about our rec.gov integration.
4. Trailforks MTB Map: Discover the Best Bike Trails
Trailforks' coveted mountain bike trail database is now in Gaia GPS! Discover brand new routes, get the beta on trail conditions, and easily spy trails based on type and difficulty level with this new map.
Trailforks, a trail management system, catalogs trail networks around the world. The crowd-sourced database and moderated site provides the most accurate and comprehensive trail data available. And now you can get all 361,392 Trailforks mountain bike trails around the globe right in the Gaia GPS app and on gaiagps.com.
Check out the Trailforks MTB map.
3. Planning Tools: Easily Dream Up Your Own Routes
Creating your own adventures in Gaia GPS got even easier—and more fun. Meet our new route editing tools, here to let you quickly fix any mistakes or changes of heart, automatically out-and-back any one-way route, send your route back to the start, and reverse your route direction.
You asked, and we listened. We added these route editing tools so that you can explore our maps with even more abandon, knowing you can painlessly erase any route-building mistakes and let our planning tools handle the tedious tasks. Enjoy these tools on Android and on the big screen at gaiagps.com. To put the cherry on top of this route creation cake, we've added keyboard shortcuts to the web so you can perform any of these tasks without even touching your mouse, making it even easier to carry on route building with our smart snap-to-trail planning tools.
Explore the new planning tools.
2. OpenSnow Weather: Localized Forecasts at a Tap
While we can't supply a crystal ball, we can supply the weather for exactly where you're going, exactly where you need it—right on the map. We partnered with OpenSnow, the leading resource for backcountry weather, to bring you hyper-localized weather forecasts that you can access at a tap.
Just tap anywhere on the map, anywhere in the world, and get the current weather plus the forecast right in Gaia GPS. Learn more about weather at-a-tap.
1. Gaia Overland Map: World's Best Offroading Map
Ditch the crowds with Gaia Overland, the best overlanding map you can put right on your vehicle's dashboard. MVUM, USFS, public land boundaries—it's all in here. Designed in-house for planning big routes, navigating tricky terrain, and rerouting on the fly, Gaia Overland is the definitive map for all of your overlanding, offroading, and motorized adventures.
Modeled after our proprietary Gaia Topo map, Gaia Overland comes with the same crystal-clear resolution and download efficiency you know and love from Gaia GPS. But it puts everything for motorized travel first. Whether you're embarking on a multi-day expedition or just heading to a remote trailhead, use Gaia Overland to get you there efficiently and (relatively) effortlessly.
Check out Gaia Overland.
It Wouldn't Be the Holidays Without a Few Bonuses
Permitted Rivers Map
This map overlay shows you all the rivers that require a permit to raft or kayak. Tap to learn the river's name, see permit information, and get the link to a permit application. Check out the Permitted Rivers map here.
Customized Waypoints
You can now change the color of waypoint borders. Use these colors of the rainbow to classify and categorize your waypoints to your heart's desire. Learn more about all of the ways to use waypoints here.
Ski Resort Reports Map
From Aspen to Zermatt, get conditions for ski resorts around the globe in Gaia GPS. Ski areas with fresh snow light up on our new Ski Resort Reports map. See snow totals and weather readings. Find out how many trails are open. Even read the resort's daily report, all right within the app and on gaiagps.com. Explore the Ski Resort Reports map here.