Coffee is life for many of us. It's our morning ritual, a jolt that shakes us out of the afternoon doldrums, and a pick-me-up when we need to burn the midnight oil. But in the backcountry, brewing the perfect cup can be complicated. A pour-over leaves you with messy grounds to haul out, and instant coffee often falls short on taste. We turned to some of our favorite professional hikers — Heather "Anish" Anderson, the Hiking Viking, Adventure Alan Dixon, and Liz "Snorkel" Thomas — to unmask the secrets to brewing the best cup of coffee in camp.
Turns out their methods for making coffee on trail are as wild and varied as their personalities.
It's no wonder that Heather Anderson, one of the world's most accomplished hikers, likes coffee. Heather has hiked the Appalachian Trail, the Pacific Crest Trail, and the Continental Divide Trail — three times each. She set speed records on the AT and the PCT and became one of just a handful of hikers to complete all three long trails in the span of one calendar year. With that kind of energy, caffeine must be involved.
"When you contacted me about this piece, I actually thought 'wow I have a lot to say about coffee'. I could talk for a whole hourlong podcast about coffee," Heather says. "I have used pretty much every method of preparation of coffee on trail and I think, at this point, with varying results."
Oddly enough, Heather didn't bother with coffee until desperation set in on the last leg of her record-breaking PCT thru-hike. She had been averaging more than 40 miles per day for almost two months straight when she hit a wall. On the last mountain passes in Washington, Heather caught herself falling asleep while walking in the dark. She pulled out the coffee.
"I think it was Folgers from a gas station, and I'm literally just dumping it into my water bottle with cold water and shaking it and then chugging it," Heather says. "And that was how I got to Canada."
After snagging the PCT record, which still stands today, Heather went after the AT record. She smashed it, this time getting her caffeine fix from food — Trail Butter. Soon she realized she'd like to try to hiking like, well, the rest of us. She set out on the CDT with her partner and brought along fresh grounds to brew really good coffee the whole way. Even though Heather prefers a pour-over or a French press to instant coffee, she explains that the barista lifestyle on a long trail isn't easily accomplished. Her go-to when she's focused on making miles? A quality instant brand that offers multiple servings in one package. Because one cup is never enough.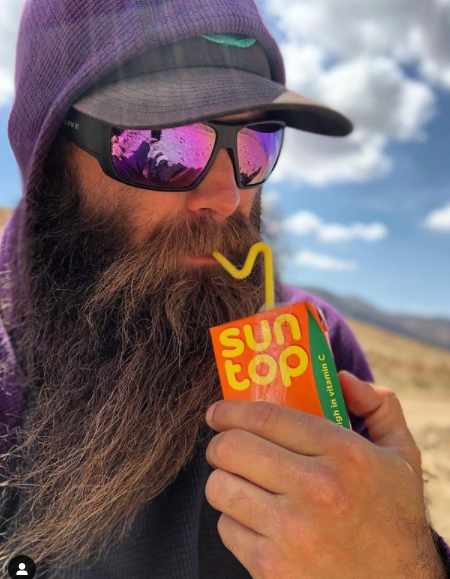 But even instant coffee is too much trouble for some hikers. After all, you have to boil the water, and then open the packet, and stir in the coffee crystals. Eventually, when it finally cools down to a tolerable temperature, you'll have to sit and drink it.
Hiking Viking, otherwise known as Thomas Gathman, doesn't have time for that. A former Marine Scout Sniper, Viking has hiked the Triple Crown, completed the AT in winter, and is well known for his long, flowing, Norse-like beard. Arguably, one of the biggest personalities in the hiking community, Viking prefers his coffee fast and cheap.
"I don't bring a French press. I don't bring a pour-over. I don't bring fresh grounds. I don't bring a grinder. I don't have that kind of time. I don't play around like that," Viking says. "We might buy the cheapest, crappiest coffee there is. It's whatever saves us a penny and whatever gets the caffeine and the poop going."
Viking has a point. Coffee is an investment of time and it adds weight to your backpack. A french press or a pour-over filter means extra gear to lug around, an assault on the most basic principles of ultralight backpacking. Can good backcountry coffee and ultralight backpacking co-exist?
Adventure Alan Dixon thinks so. Alan is founder of the trusted backpacking website www.adventurealan.com, where he posts gear reviews and how-to articles about reducing your backpacking weight. Alan is famous for carrying nothing more than he needs. But after enduring decades of bad coffee, Alan has finally endorsed a French press method and an award-winning pour-over contraption — each light enough to make the grade for ultralight backpacking. He unapologetically defends his decision to add a little extra gear and weight to his pack.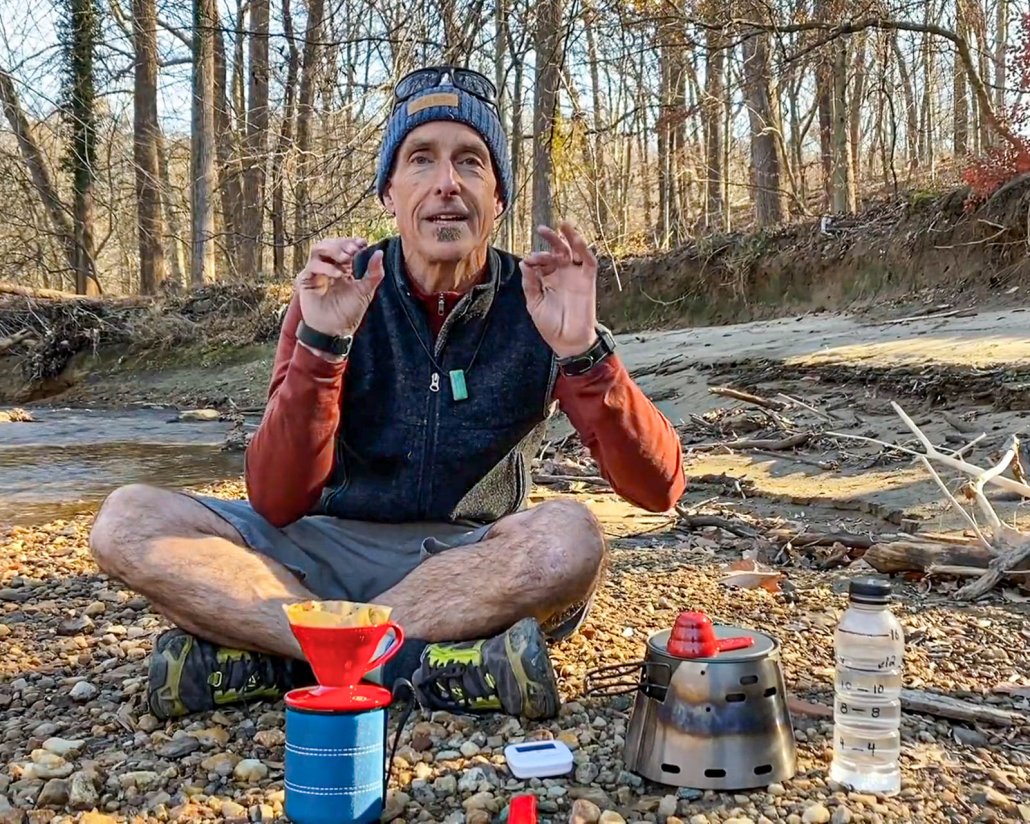 "Having a cup of coffee with people is good," Alan says. "If I can do that for 1.8 ounces, I think it's really on par with and sort of honed my adherence to ultralight backpacking."
Bringing fresh grounds means you have to haul them out. If that's a deal-breaker, Liz "Snorkel" Thomas has the answer for you. A Triple Crown hiker and AT record-setter, Liz is also an author of hiking guide books, an editor for BACKPACKER magazine and Treeline Review, and a writer for the New York Times.
A few years ago, the Times assigned Liz to write a story about the best backcountry coffee. She conducted a scientific, blind study on 14 brands of instant coffee. The testers: a panel of professional coffee connoisseurs.
"Some of it was really low quality, instant stuff," Liz says. "But in the end, it seemed like a lot of people had very similar goals of what they wanted in an instant coffee and it was super fun to see what everyone's results were regardless of whether they were in the backcountry or the front country."
Want to hear Liz's coffee taste test findings? Tune in to the Out and Back podcast. You'll also find out the brands of instant coffee Heather Anderson uses on every trip, Viking's coffee alternative, and the details on Adventure Alan's 1.8-ounce coffee methods.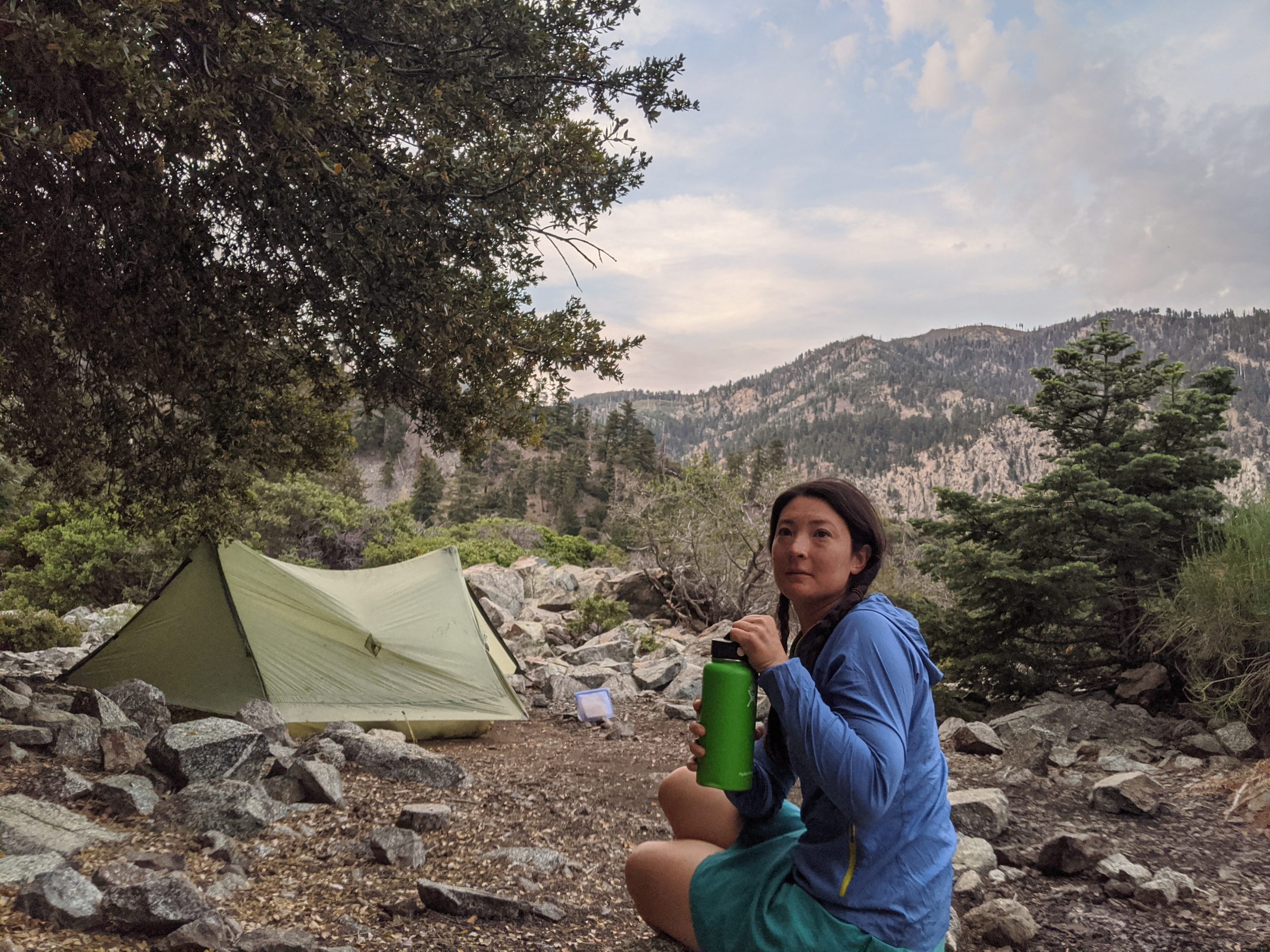 Follow these four thru-hikers on Instagram: @anishhikes, @therealhikingviking, @1adventurealan,@lizthomashiking.