Move over technicolor, black and white is back in style. Meet Gaia Black and White, our brand new, very first all-black-and-white topo map. Whether you're color vision deficient or want a crystal-clear paper map printout on hand, Gaia Black and White is for you.
Styled in the same manner as our other proprietary topo maps designed in-house, Gaia Black and White brings you industry-leading clarity, accuracy, and file-efficiency. Like our other Gaia Series maps, Gaia Black and White provides world-wide coverage. Download the map to use offline for your entire state so you can always find your way—even without cell service. Read on to learn how this map came to be and how it's styled specifically to help you explore with confidence and peace of mind.
Accessibility-Forward
Born out of Gaia GPS's Accessibility Assembly, Gaia Black and White prioritizes the needs of our community with color vision deficiencies. Our cartographers run each of our maps through a color vision deficiency filter. But sometimes their cartographic goals directly conflict with optimizing the map for color vision needs. Since it's sometimes impossible to best serve all communities at once, we chose to optimize Gaia Topo for those who see the full color spectrum, and we created Gaia Black and White for those who do not. Distinguish topo lines, public land use boundaries, tree coverage, trail types, and labels quickly and easily thanks to crisp shading, clear lines, and bold fonts.
Printer Perfect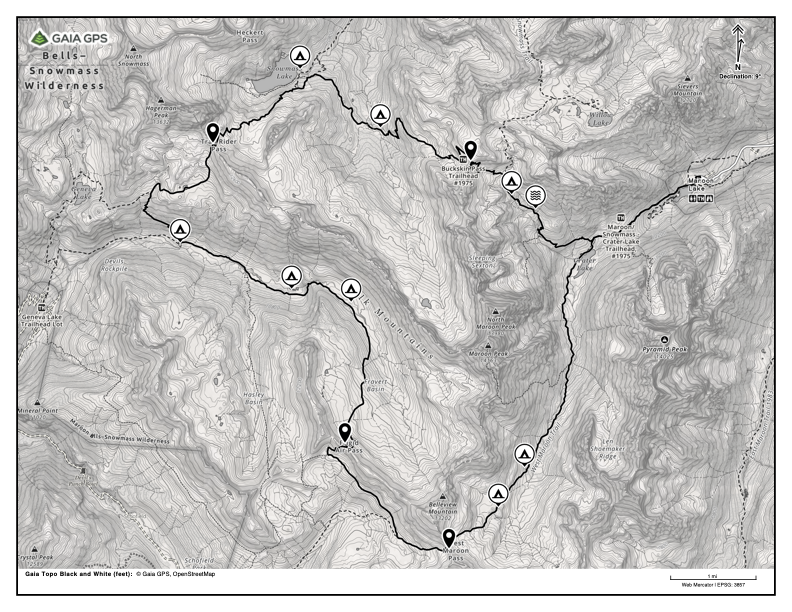 Gaia Black and White is also optimized for printing in black and white. (In case you didn't know, it's super easy to print any of our maps!) Whether you're heading out on a family trip to a national park, backpacking over the weekend, or overlanding across the country, it's never a bad idea to idea to print a paper map backup just in case. On Gaia Topo, trails are color-coded by activity—a useful feature for finding horse-friendly zones, mountain bike regions, and trails devoid of all activities except foot travel. Gaia Black and White translates those color-coded trails into line-marking-coded trails, which means now you can bring a black-and-white map printout and still distinguish trail types from each other.
Full-Featured Topo Map for Your Adventures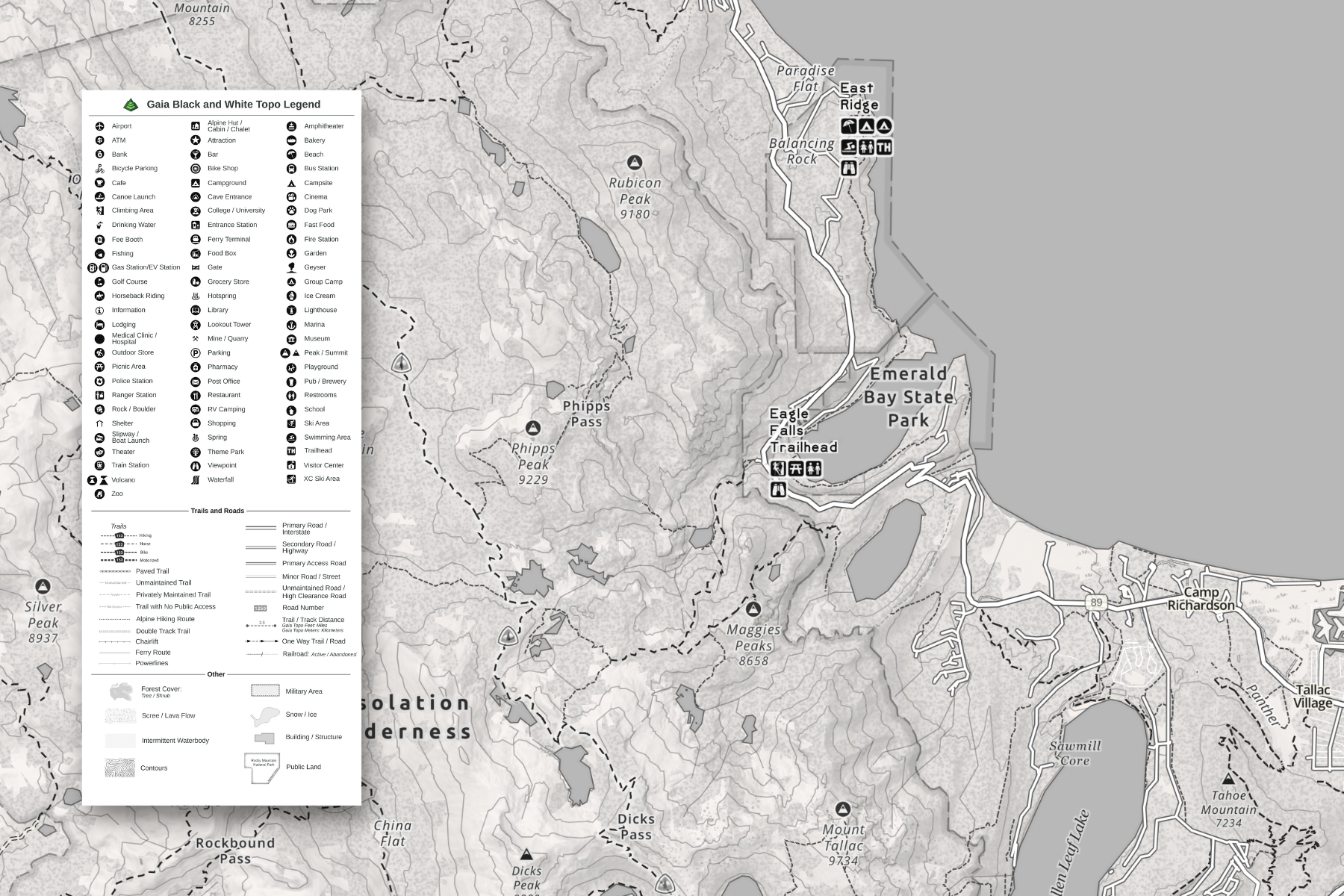 The colors may be gone, but the full spectrum of features, detail, precision, and accuracy you know and love in our maps remains. Our cartographers have painstakingly translated our colorized maps into black and white to bring you a world-class topo map rich with the clarity and information you need to adventure safely and confidently:
High-contrast shading
Landcover shading on Gaia Black and White hits the sweet spot: it's dark enough that you can distinguish tree cover and find the alpine; find bodies of water for drinking and recreation; and spy screefields from home. And the shading remains light enough that labels, topo lines, roads, and trails pop from the map, making them easy to find and read.
To keep the map uncluttered and clear, we've simplified the land ownership shading schema from our other maps. But easily spy public land for free, dispersed camping thanks to dotted borders with black and white shading, along with labels.
Distinctive Trail Markings
Gaia Black and White expertly uses line markings of various weights and patterns to distinguish various types of roads and trails from each other. Use the map legend to find trails for horses, mountain bikes, motorized activity, and backpacking in solitude.
Bold fonts
We've added some new fonts to our catalog to make deciphering labels even easier. Determine which labels refer to rock climbing walls based on the font alone. (Although the associated climbing icon doesn't hurt either.) Same goes for rivers, roads, mountains, trailheads, towns, and trails.
How to Get Gaia Black and White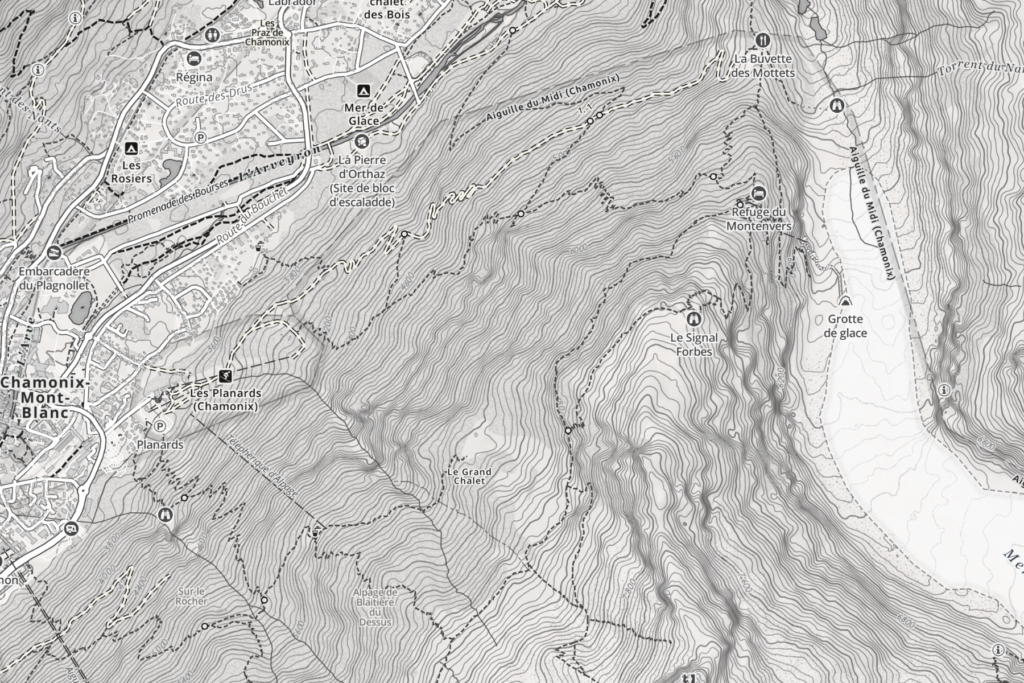 Gaia Black and White is available on gaiagps.com and in the app with a Premium membership. To add this map to your account, go to "Add map layers." From here, you can search for the map or find it under Topo maps.
Gaia GPS Premium gives you access to the entire 300+ map catalog, including high-resolution, world-wide satellite imagery; our suite of National Geographic maps; and specialty maps ranging from historic topos to slope angle shading.
With Premium, you can also download maps for offline use so you can find your way—even without cell service. You can layer maps together to reveal even more terrain, weather, and safety features. And you can print custom maps.