Calling all diehard map fans!
Do you yearn for the classic topo maps of old? You know, the ones not busied up with excessive colors and silliness when all you really need to know is how to plot your path from that alpine lake to that mountain pass and down the other side?
Or maybe you've found yourself yelling at our cartographers, "why oh why can't I see the contour lines in this blazing sun!?"
Enter Gaia Classic, the map that just may answer that call of the wild. It's inspired by a classic aesthetic, from the colors to the fonts to the very textures of the map itself. Maybe it's totally pointless, or maybe, just maybe it's the only map you'll ever need.
Get to know Gaia Classic, our freshly updated map born out of the pages of history.
An Ode to the Maps of Old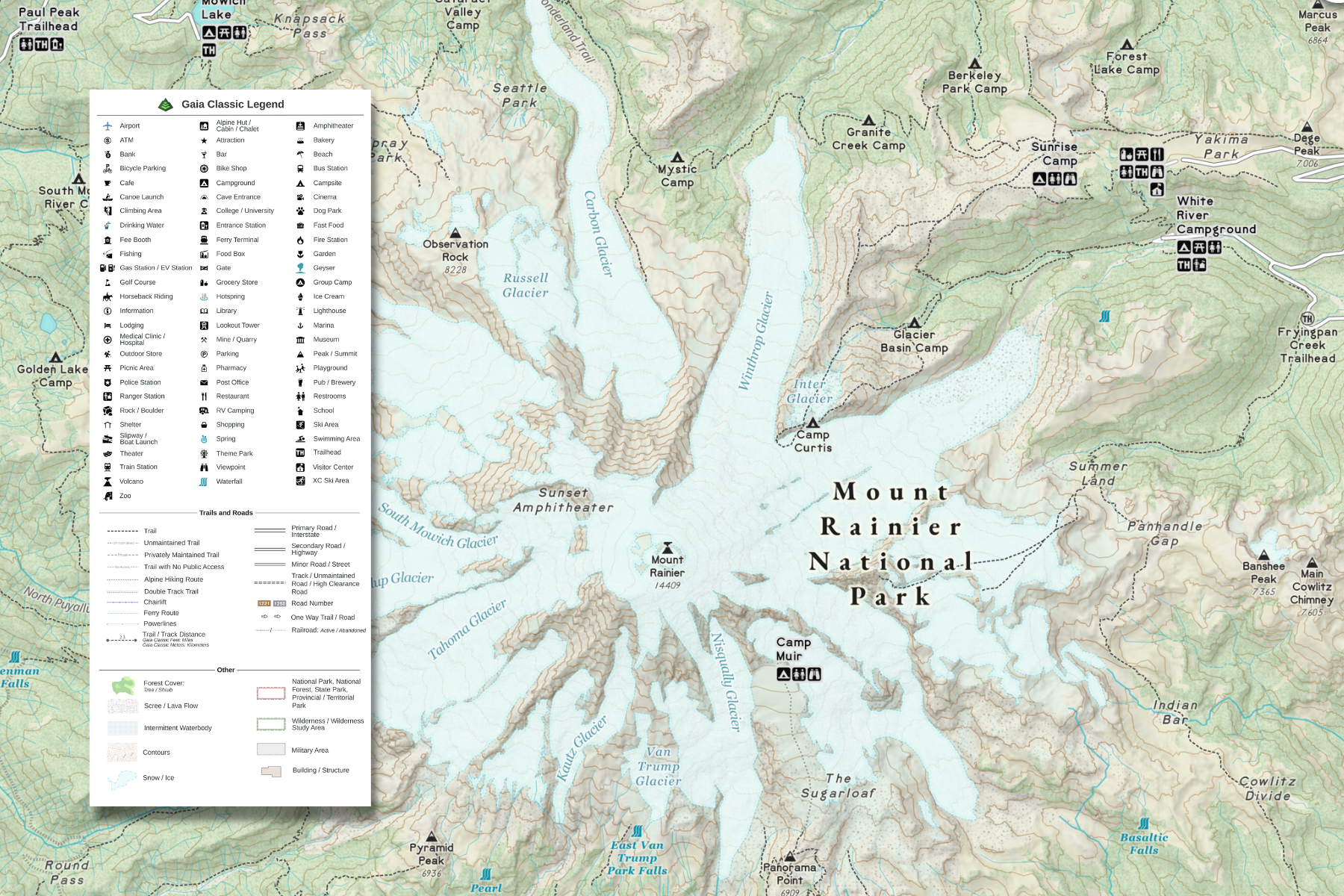 Gaia Classic pays homage to the topo maps from the United States Geological Survey, otherwise known as the USGS. Often referred to as quadrangle maps, or quads, USGS maps have been the definitive resource for US topo maps since the 1880s.
Enjoy a classic aesthetic married with the crystal-clear resolution and file efficiency you know and love from our other proprietary maps. Download the map for your whole state in a manner of minutes and never get caught in the wild without a map again.
Our cartography team poured over the USGS map in Gaia GPS to gather design inspiration for Gaia Classic. They paid particular attention to the quads in Glacier National Park, whose landscape teaming with relief, steep terrain, glaciers, and recreation infrastructure makes it ideal for map modeling. These details are reflected throughout every aspect of the map.
Pared Down Color Palette
If you just want to see bodies of water, clearings, and treeline without the distractions of modern maps, Gaia Classic is for you. Enjoy a pared down color palette that's easy on the eyes—and easy to reference in the backcountry. While our default Gaia Topo map contains a plethora of shadings for various forms of landcover, water, and land ownership, Gaia Classic sticks to the basics. Which, let's be real, is often all you need.
Clear Topo Lines
Topo map lovers rejoice! Dark brown topo lines pop on the subtle map shading underneath, making reading ridges, valleys, peaks, and plains a snap.
Simple Tree Cover
Find the alpine thanks to two-toned tree and shrub shading that's not muddled by other forms of land shading like crops and grass.
Distinct Trails
Find trails in a glance with clear, black dashed trail markings, along with distinct markings for alpine hiking routes, double track trials, and unmaintained trails, among others.
Classic Font
If the font looks familiar, that's for good reason. Gaia Classic uses Bell Topo Sans, a font designed by cartographer Sarah Bell to resemble the classic typefaces from antique USGS quads.
Navigate Easier than Ever with Fresh Updates
We've freshly updated the map to make it even easier to use in the field. Enjoy updated landcover data and richer tree texture in forested and shrub areas. Scout out ridge lines, ravines, and peaks with darker contours. And spy landmarks easier thanks to blacker labels and trails.
How to Get Gaia Classic
Gaia Classic is available on gaiagps.com and in the app with a Premium membership. To add this map to your account, go to "Add map layers." From here, you can search for the map or find it under Topo maps.
Gaia GPS Premium gives you access to the entire 300+ map catalog, including high-resolution, world-wide satellite imagery; our suite of National Geographic maps; and specialty maps ranging from historic topos to slope angle shading.
With Premium, you can also download maps for offline use so you can find your way—even without cell service. And you can layer maps together to reveal even more terrain, weather, and safety features.