From Auckland to Zermatt, Santiago to Santa Fe, you dreamed up adventures and explored the world. No one defining region, activity, or way to use the app and website stood out in 2022. But that's the beauty of Gaia GPS—it's infinitely customizable for your needs and dreams.
In terms of rising tides, though, we saw water. Everywhere! This year, water lovers of all varieties flocked to Gaia GPS both for planning and recording adventures. Backcountry winter travelers quietly lurked in the wings: our Slope Angle map, used to find gentler slopes with less avalanche-prone terrain, was the most used and most downloaded map only behind our proprietary Gaia Topo.
Overlanders continued to demonstrate they're eager to venture into the unknown. Despite not launching until halfway through the year, the Gaia Overland map quickly cracked into the top 10 downloaded maps this year.
Let's dive into the year. You can start by checking out your personalized 2022 Mapped.
And together, let's explore how the community adventured with Gaia GPS this year.
Those hikes, bikes, swims, runs, skis, kayaks, backpacking trips, fishing outings, bikepacking adventures, climbs, and overlanding outings added up. The community recorded 354,374,790 miles in the app.
Hiking remained our most popular activity for planning routes and recording activities. But overlanders, you're not too far behind! Bikers of all types, cyclists, gravel grinders, mountain bikers, and commuters, took to the roads and trails this year. Biking was the third most popular activity for both planning routes and recording tracks. Not to be forgotten, snow sports rounded out the top four in both categories.
Surprisingly to us, kayaking cracked the top 10 for both planned routes and recorded activities. We love to see it! Camping, hunting, rock climbing, and fishing all snuck in there, too.
Speaking of climbing, we ascended 17,547,769,890 vertical feet. We're out of breath just thinking about it.
Not only did we spend a lot of time doing, we also spent a lot of time dreaming. On, average every Gaia GPS user:
Spent 26 hours planning routes in the app and on gaiagps.com
Recorded 39 adventures in the app
Unsurprisingly, our default base map Gaia Topo took home honors as the most downloaded map this year. But with industry-leading file efficiency, crystal clear resolution, and essentially every trail and point of interest you need, the ranking is well deserved.
Winter travelers looking to stay safer in avalanche terrain sought out the Slope Angle map, the second most downloaded map this year. We just recently updated this map with the highest-resolution lidar data from the USGS. See how it's even crisper for your backcountry ski, snowshoe, and sled adventures.
A classic used across many activities, Satellite Imagery ranked third. Gaia GPS users enjoy this map to get a crystal-clear bird's eye view of the landscape to help them find clearings for campsites, scout ski lines, and much more.
We're stoked so many of you took advantage of the National Geographic maps you can find in Gaia GPS, including Nat Geo Trails Illustrated. These digitized maps of America's favorite outdoor destinations are like having the very best guidebooks in your pocket—without taking up any weight or space.
Our community sought out trails off the beaten path this year, as evidenced by the fifth most downloaded map: USFS Roads and Trails. This overlay features backroads, forgotten trails, and brand-new routes currently unavailable on any other Gaia GPS map.
In addition to Satellite Imagery, three other maps overlanders love cracked into the top 10: Public Land, Private Land, and our new Gaia Overland map. Designed in-house with the help of overlanding experts, Gaia Overland takes the best of offroading map and puts in it one convenient place so you can keep your hands on the wheel and eyes mostly on the road. Offroaders, we see and solute you for your love of maps!
Another map designed by our cartography made the top 10 most downloaded list: Gaia Winter. Like Gaia Topo and Gaia Overland, this map provides razor-sharp resolution and unparalleled file efficiency so you can take it offline without taking up too much space on your phone. The key difference is Gaia Winter is designed for, well, winter. Find ski resort maps around the globe, and its winter color palette pairs perfectly with our suite of avalanche safety maps.
This list looked nearly identical for most used maps of 2022, with the Wildfire map at #9. Notably, our suite of wildfire, smoke, and air quality maps are updated in real-time, so they cannot be downloaded for offline use. So be sure to check these maps before heading out the door.
Speaking of taking maps offline, here's where the community downloaded regions of the map. Want to take your maps offline so you can navigate out of cell service? Go Premium!
Looking at this map, we're sensing a trend…it seems mountainous, yes, but also watery. In fact: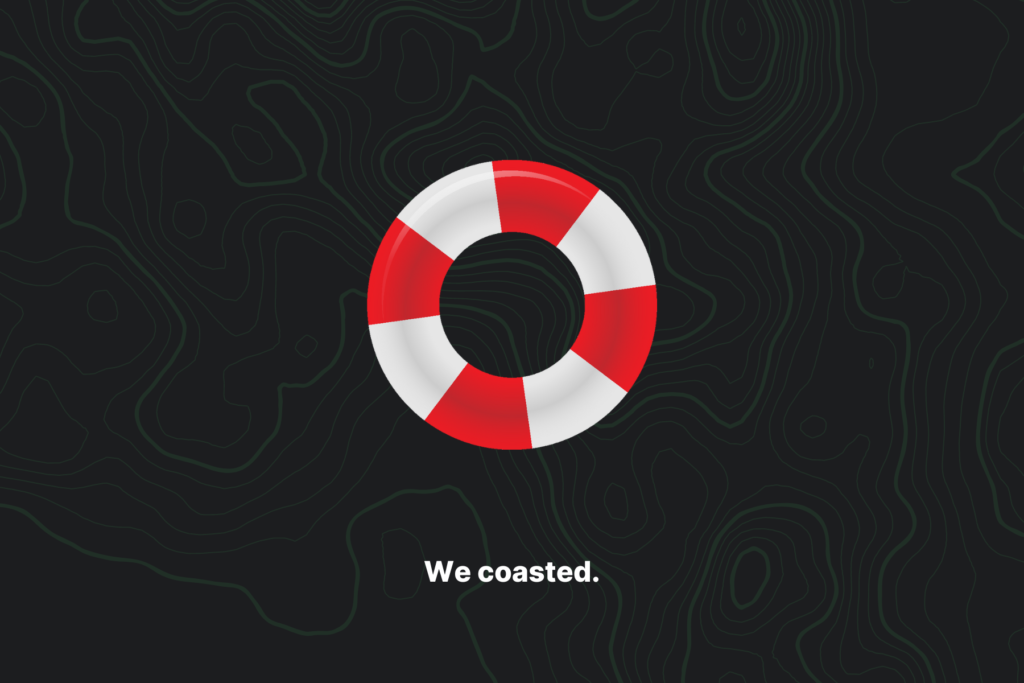 Take us to the beach!
Coastal areas around the world were not only the most downloaded regions of map. These places also saw the most activity for dreaming and doing. In terms of route planning, the two coasts of the US saw the highest concentrations anywhere in the world. But the United Kingdom, France, and Mediterranean regions of Europe were not far behind. The east coast of Australia, New Zealand, and coastal regions throughout Asia also put up strong showings.
Trends for recording tracks looked similar, with South America surging strong. From Columbia down to Argentina on the west, and throughout Brazil on the east, we saw huge growth in recorded tracks on both South American coasts.
From planning adventures on the map to recording adventures in the app to the locations you chose to explore, water was the defining theme of 2022.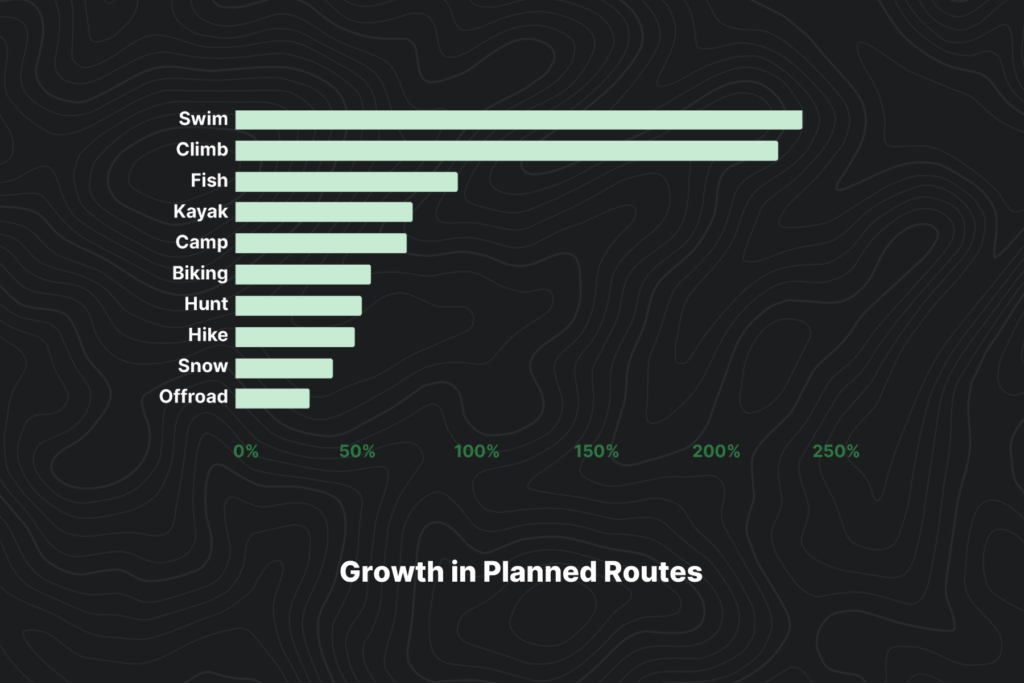 We saw huge increases in recorded tracks for water activities:
Boating – 628% increase
Fishing – 26% increase
Swimming – 12% increase
And we saw a similar increase for water-based adventures planned in the app:
Swimming – 237% increase
Fishing – 93% increase
Kayaking – 74% increase
X marks the spot of those special campsites you want to remember. You put more campsite waypoints on the map than any other, save the default red pin and camera icons. Whether you're backpacking, bikepacking, backcountry ski touring, overlanding, or just vacationing, we love camping because it brings so many activities together under a shared pastime.
Speaking of camping, someone sure has a lot of time on their hands for nights on end in the great outdoors. The longest overlanding public track covered 5,414 miles. Take us with you next time, please?
Someone must really want to find Lionel Messi. The longest route planned in Gaia GPS this year circumnavigated Argentina. covering 10,021 miles. Check it out on gaiagps.com.
Many notable records went down this year with the use of Gaia GPS, including Jack Kuenzle's record on the Bob Graham. He bestest the mountain, trail, and ultrarunning GOAT Kilian Jornet's time by 12 minutes. Josh Perry broke Heather Anderson's iconic record on the Pacific Crest Trail, a time so stout it stood for nine years. Courtney Dauwalter recorded the fastest time for man or woman on Colorado's rugged 160-mile Collegiate Loop. And Joe "Stringbean" McConaughy broke the iconic John Muir Trail FKT by over a day, before Jeff Garmire eked him out by 13 minutes a few weeks later. Check out all of their trip reports on fastestknowntime.com.
Way to get after it this year, and thank you for making Gaia GPS part of your adventures. Seeing you explore with the help of the app and gaiagps.com is the ultimate gift. Where will 2023 take you? Start dreaming.