Ditch the crowds with our brand new overlanding map. Meet Gaia Overland, the best overlanding map you can put right on your vehicle's dashboard. MVUM, USFS, public land boundaries – it's all in here. Designed in-house for planning big routes, navigating tricky terrain, and rerouting on the fly, Gaia Overland is the definitive map for all of your overlanding, offroading, and motorized adventures.
Modeled after our proprietary Gaia Topo map, Gaia Overland comes with the same crystal-clear resolution and download efficiency you know and love from Gaia GPS. But it puts everything for motorized travel first. Whether you're embarking on a multi-day expedition or just heading to a remote trailhead, use Gaia Overland to get you there efficiently and (relatively) effortlessly.
Our maps team worked closely with overlanding experts Chris Kracht and Wade May to carefully craft this map to your specific needs, both planning on the big screen at home and navigating from the dashboard, an iPad, or your phone on the road.
See every road, from major highways to unmaintained 4×4 tracks. Get all the info you need to make smart navigation decisions, from surface type to road closure dates, just by glancing at the map. Roads are emphasized, and trails closed to vehicles are deemphasized, to make it easier than ever to plan and navigate your motorized adventures. Find water sources, gas stations, and campsites. Take Gaia Overland offline for your entire trip so you can reroute on the fly and find your way home – even when you're far from cell service.
See All Road Info on One Map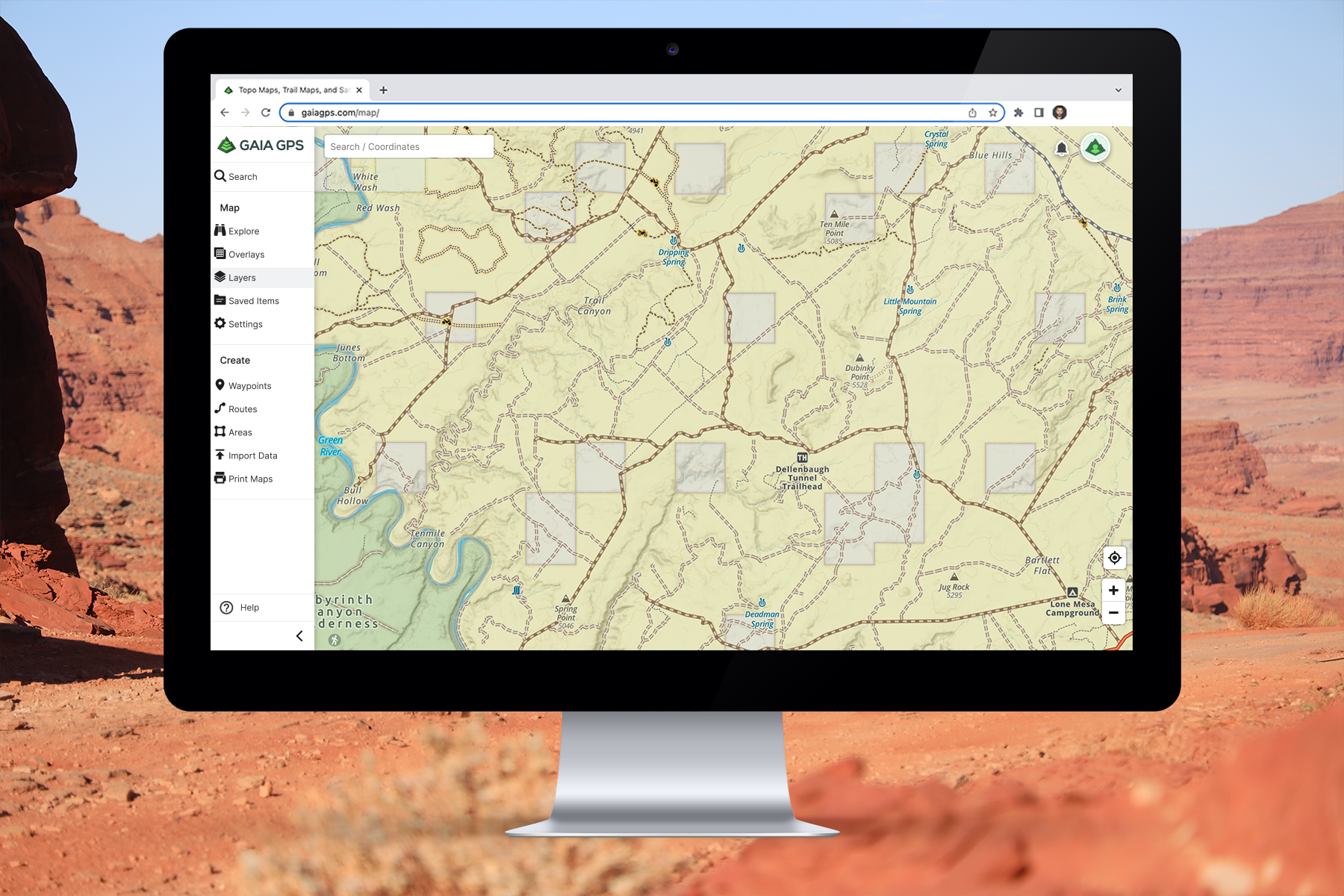 Gaia Overland puts all the roads, trails, public land boundaries, and all the other info you need on one map. Sourcing information from Open Street Map, US Forest Service Motor Vehicle Use Maps (MVUM), US Forest Service road and trail data, and BLM road and trail data, Gaia Overland covers the entire US to show you:
Road Surface Type
Road surface type is conveniently denoted by road styling. Paved, gravel, or dirt? Maintained or unmaintained? Just glance at the map to find everything from highways to forest service roads to double track.
Vehicle Constraints
Learn what kind of vehicles can access which roads just by glancing at the map.
Closure Info
See seasonal road closure information right on the map.
Road Numbers
Forest roads and trails are stamped with badges showing the number reflected on on-the-ground signage to make navigating even easier.
Permitted Vehicles
Icons right along the trail show what types of motorized vehicles are permitted. See if you can ATV or dirt bike on the trails around camp.
Mileage Markers
Distance to the next intersection is clearly marked on the map for quick reference. Eyeball the map to get a sense of how far until the gas station or your campsite.
High Vis for High Speeds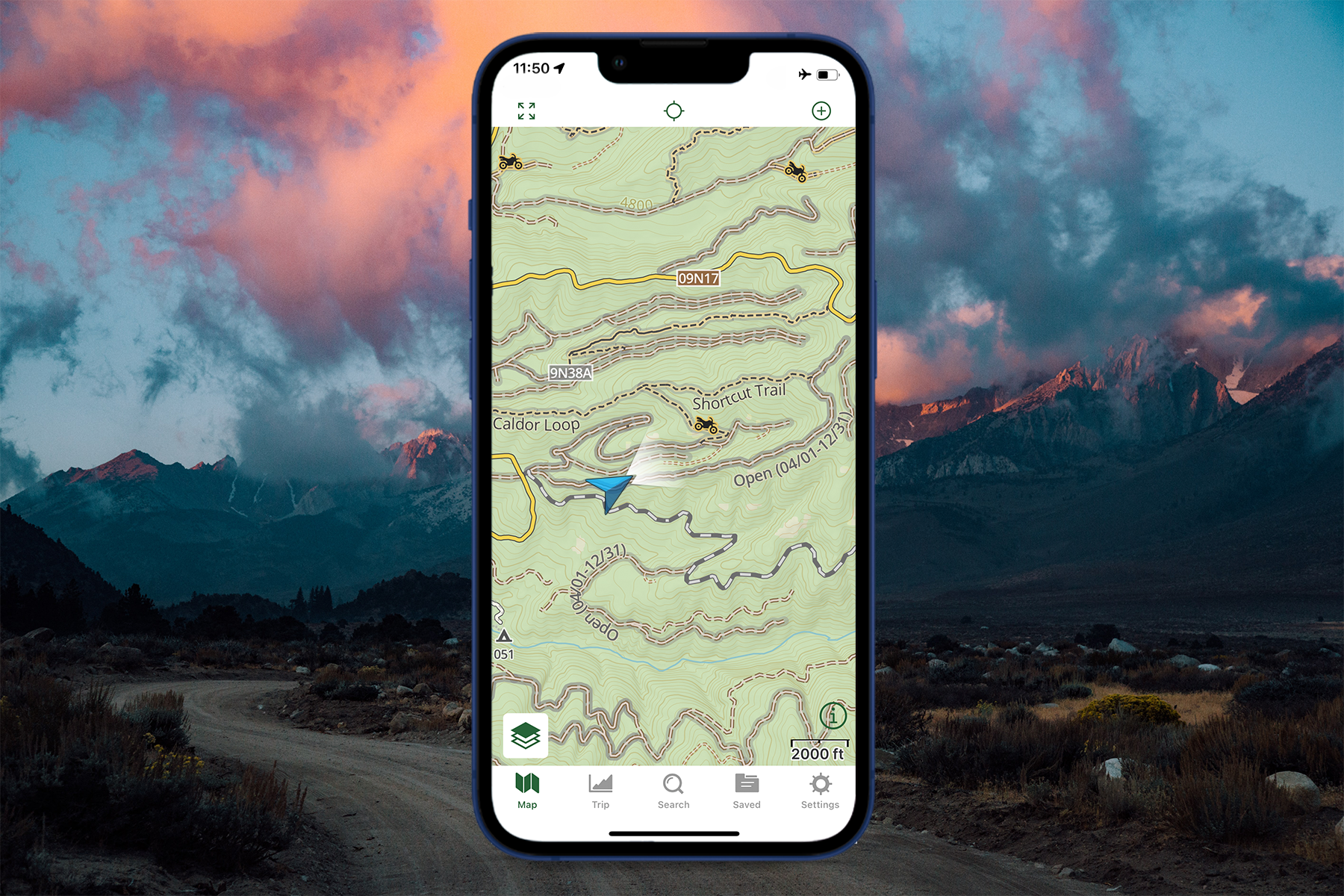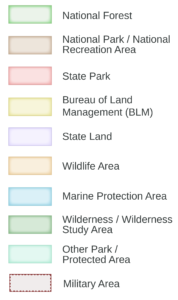 Gaia Overland is styled specifically for your planning needs at home and driving needs on the road. The map contains more roads at lower zooms so you can see the big picture while you plan on your desktop at home or iPad on the go.
High-contrast coloring and bold fonts help you see where you are, even with car glare or on the move. Roads and trails pop from the map, and exaggerated road surface styling means you'll always know the road surface type.
Emphasized public land boundaries help you stay on legal ground. Bright colors show land ownership so you can easily tell if you're on BLM or national forest land, for example.
Find Camping that Suits Your Style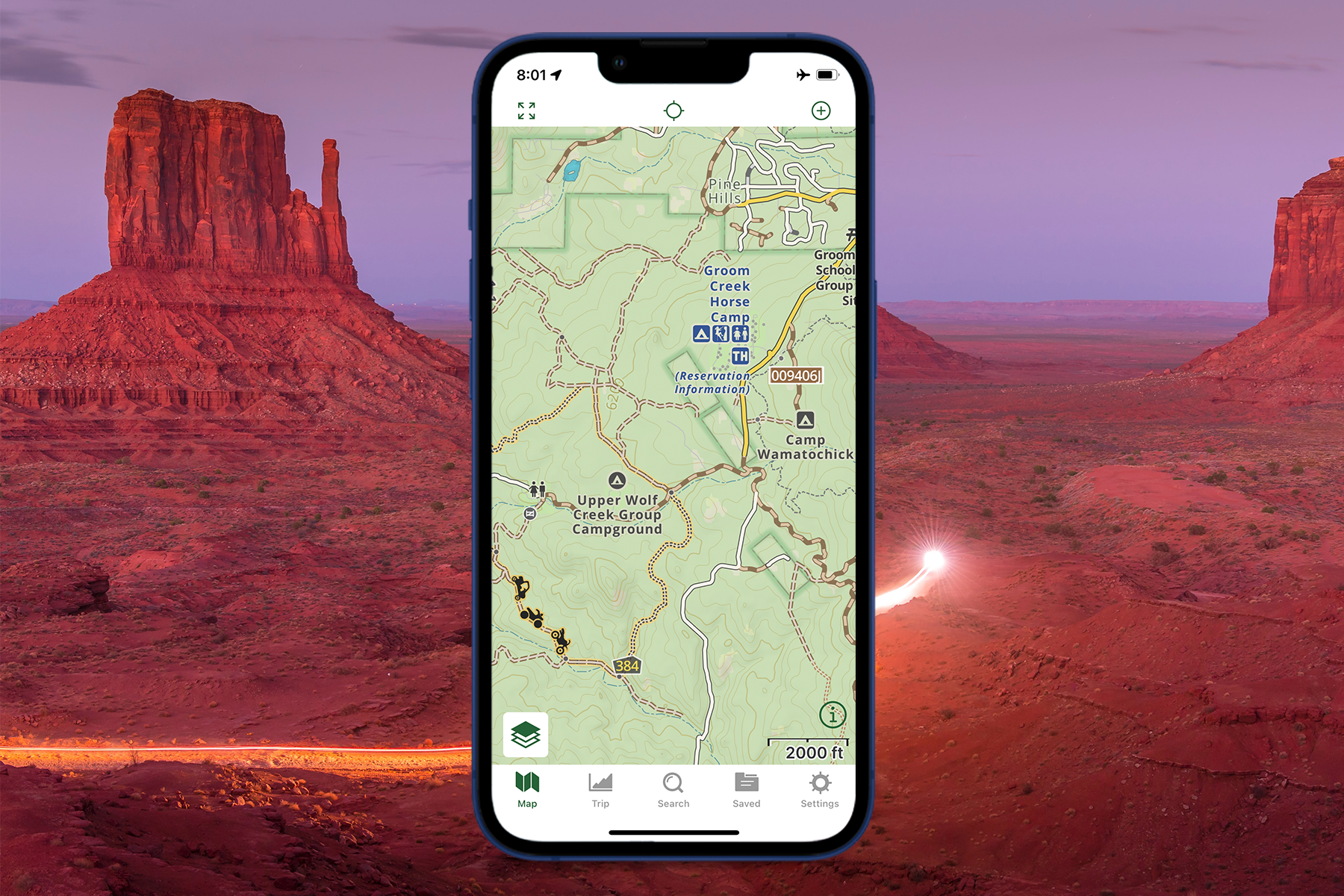 Whether you want to enjoy the amenities of a designated campground or ditch the crowds with a secluded spot on public land, Gaia Overland is designed to help you find the best camping that suits your style.
If you're looking for campgrounds with bathrooms, water, and outlets, peruse the map for official campgrounds and campsites. Campground symbols will show you both where to find campsites and often what amenities are available.
Refuel & Resupply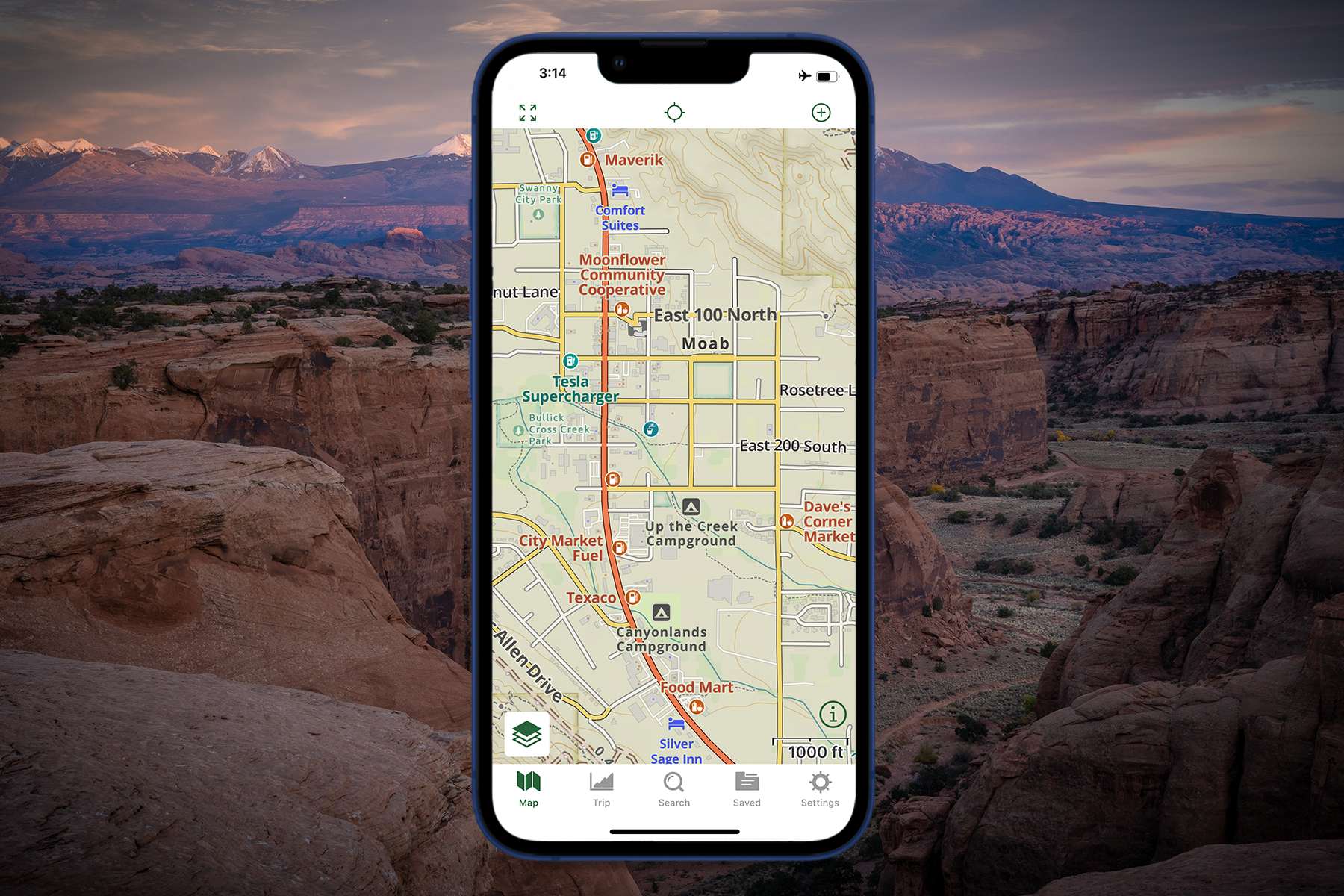 Gaia Overland puts all your potential stops and destinations right at your fingertips. We've added potable water stops, gas and charging stations, and grocery stores to the map to make it as seamless as possible for you to refuel and resupply on the go. Hotels, post offices, and other stops you may want to make along the way are also emphasized on the map.
Avoid Hazards & Bottlenecks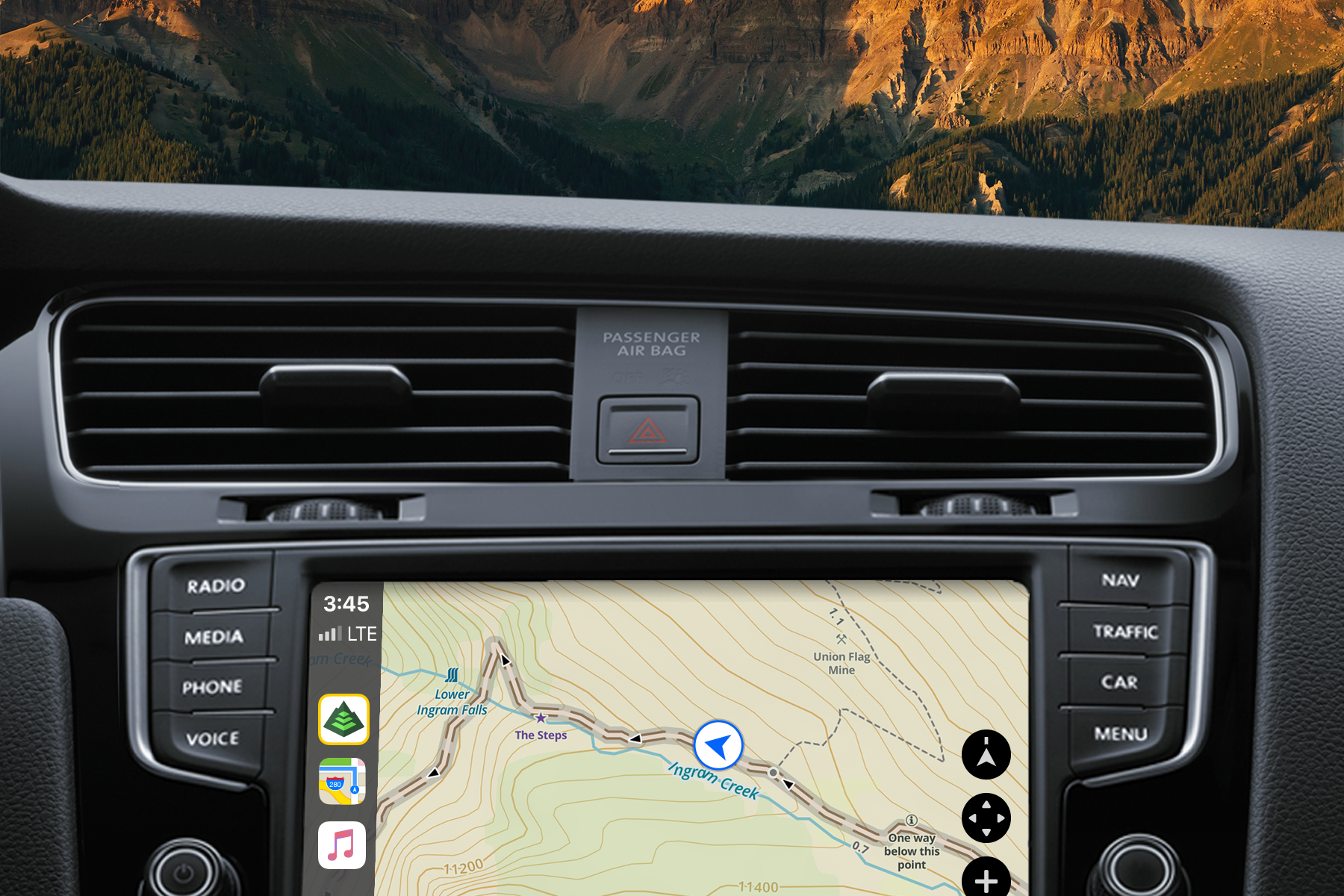 Gates, one-way roads, and many other key navigation points are marked right on the map to help you avoid getting stuck or in over your head.
Reroute on the Fly with Offline Maps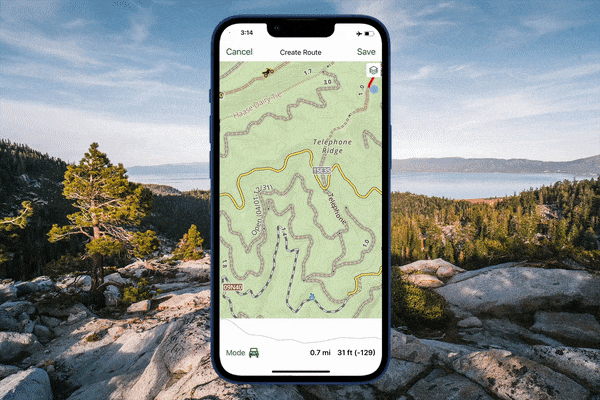 Explore without the worry of getting lost. Take Gaia Overland offline to efficiently problem solve on the move. Use Gaia GPS's smart snap-to-trail route planning tool to reroute, explore side trails, and find your way back to the start.
Gaia Overland is designed with Gaia GPS's prototypical file efficiency. This means you can take huge swaths of the map offline in a matter of minutes without hogging up your phone's precious storage space. Download the map for your entire route, or even your entire state, and never be caught without a map again.
Offline maps let you see your location, even without cell service. Plus, check how much farther until camp, or how many more miles of technical descent you must maneuver before you can relax.
Navigate from your Dashboard with Apple CarPlay & Android Auto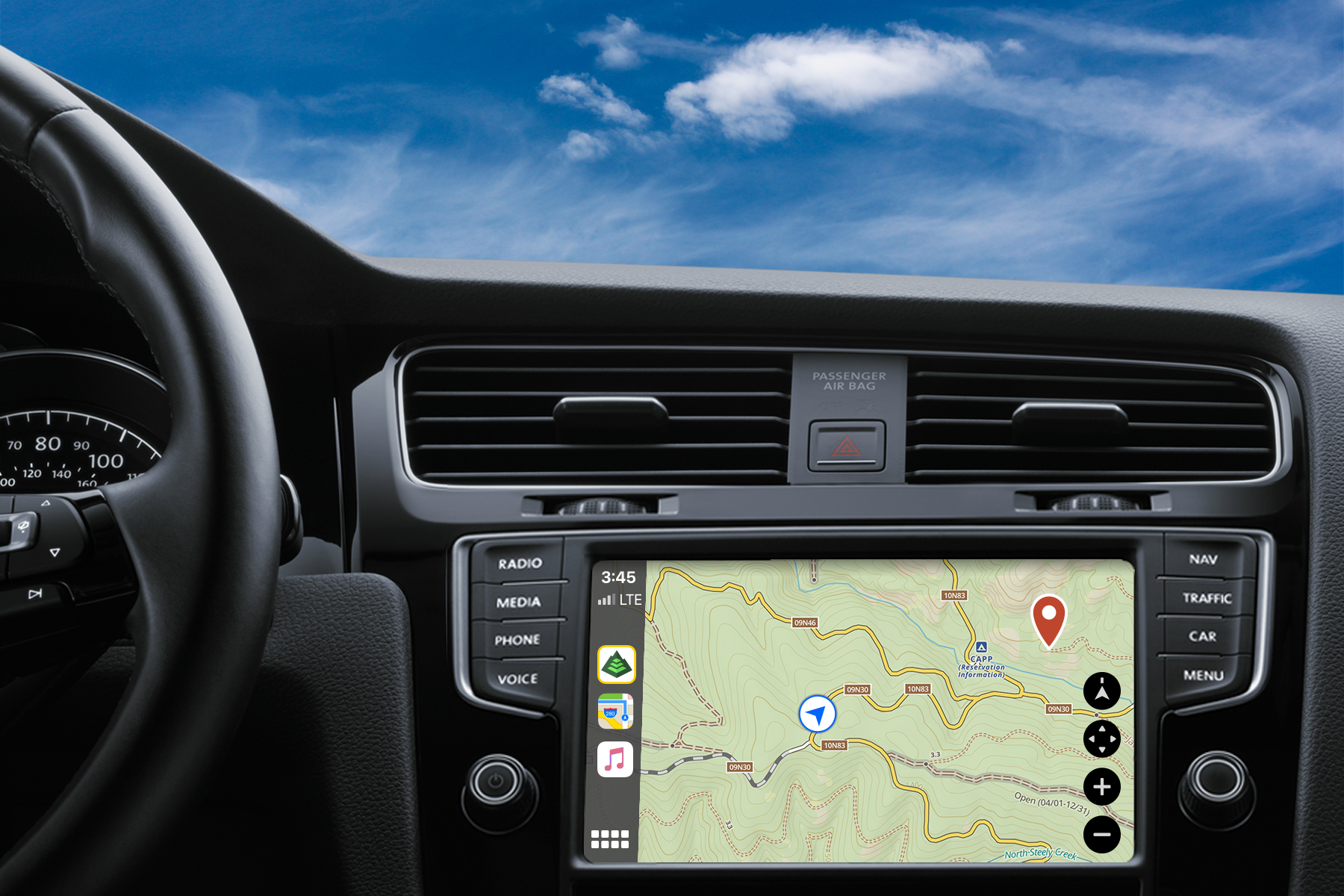 Gaia GPS connects with both Apple CarPlay and Android Auto so you can enjoy your favorite maps like Gaia Overland on your vehicle's navigation screen. Plus, you can drop waypoints, follow turn-by-turn directions, and record tracks. Just connect your phone to the car display and store your phone away for safekeeping.
Learn more about connecting Gaia GPS to Apple Carplay and Android Auto.
Get Gaia Overland with Gaia GPS Premium
The best map for overlanding is available with a Gaia GPS Premium membership. Premium also unlocks our entire world-renowned map catalog, including high res satellite imagery, USGS and USFS maps, and MVUM. Plus, get wildfire, air quality, weather, mining, and historical maps.
With Premium, you also get full map customization so you can take categorizing and organizing all your data to the next level. And take maps offline so you can always get yourself out of a pickle.