The world's best backcountry navigation app is now available in winter mode! Ride the lifts, tour the backcountry, and explore nordic, fat bike, and snowshoe trails with confidence thanks to the all-new Gaia Winter topographic map.
Our in-house cartographers designed this new base map specifically for your favorite winter activities. A stronger emphasis on terrain, tree cover, and contours make it easy to navigate in an endless world of white. A special "winter" color palette pairs perfectly with our suite of winter maps, including Avalanche Forecast, Slope Angle, Snow Depth, Snow Stations (Daily), and 24, 48, and 72-hour Snow Forecast maps. Plus, see every run at the ski resort, along with nordic, snowshoe, fat bike, and uphill trails.
Just like our original Gaia Topo, Gaia Winter comes with industry-leading download efficiency. A tiny file size and lightning-quick download speeds let you save your entire state so you can always have a map on hand, even when you lose cell service. Whether you're riding the lifts, sliding into the side country, or touring untouched terrain, bring Gaia Winter along with you so that you can always find your location — and your way back.
Get All the Ski Resort Maps in One Place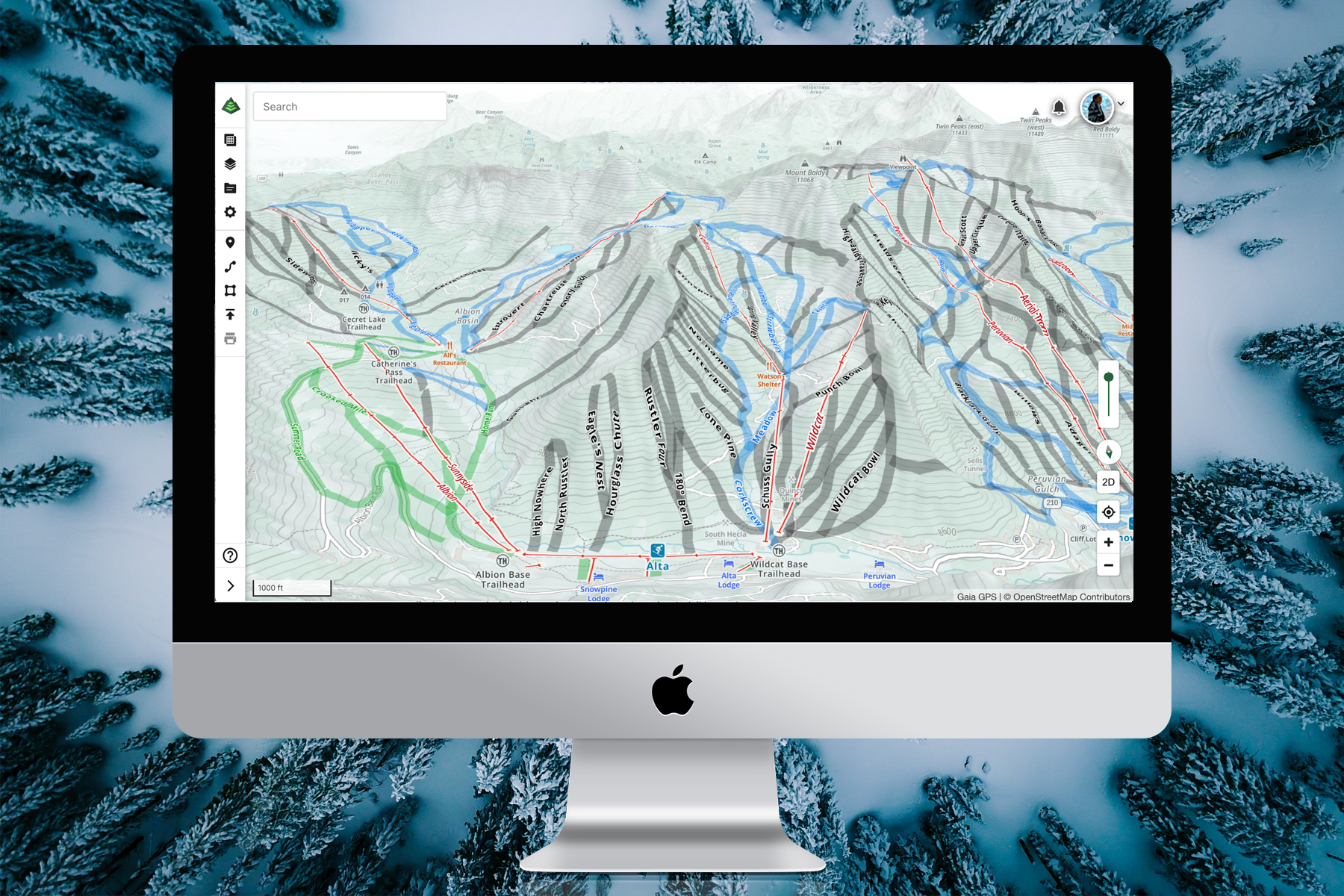 You always have the ski resort map in your pocket with Gaia Winter. If you get lost on the trails, just pull up the map to see exactly where you are. Zoom in to any ski resort to see all the ski trails, represented by thick, partially transparent lines.
Runs are color-coded by the corresponding difficulty level: green for easiest, blue for intermediate, and black for difficult. The most difficult and "extreme" terrain (double black diamonds) is shaded in orange. You'll also see the names of the trails.
Whether you're trying to avoid getting stuck on the cat tracks or want to stay off the bumps, use Gaia Winter to pick your best line down the hill. Chairlifts are easy to spot in red. We've added the chairlift names to make it even easier to place yourself on the map.
When you're ready for lunch, consult Gaia Winter to find a lodge nearby. Easily spot major hotels, highlighted on the map in blue. Check out the best après ski options in town, as well as gas stations and grocery stores, all highlighted in orange. Record your tracks in the app so you can relive the day's adventures. Pro tip: check out your tracks in 3D mode on gaiagps.com!
Explore Nordic, Snowshoe, and Fat Bike Trails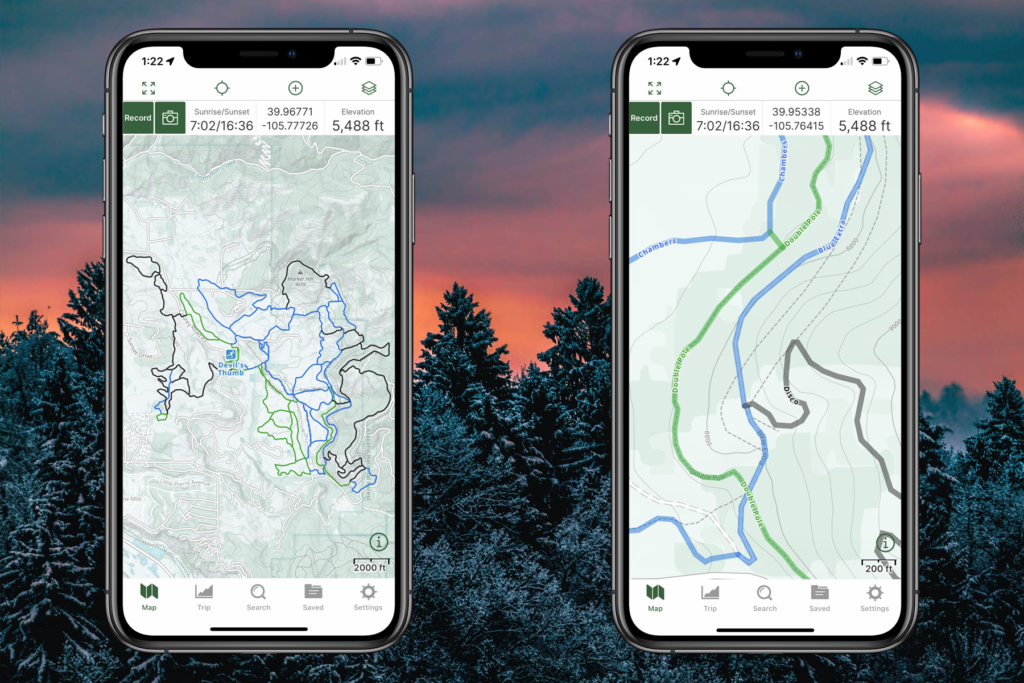 In addition to downhill ski resorts, Gaia Winter shows other trails designed for snow travel. Nordic trails are represented as thinner solid lines. They're also color-coded by the corresponding difficulty level. Zoom in or click on a trail to see its name.
Dotted trails with highlighting denote snowshoe, fat bike, and uphill trails. Click on a trail to get more details, including distance and elevation gain.
Designed for the Demands of Winter
Gaia Winter immediately sets a seasonal tone with a winter-themed color scheme. The blue-grey palette also makes Gaia Winter easy to distinguish from the greens and browns of our classic base map, Gaia Topo.
At a zoomed-out level, the landscape appears pale blue, with mountainous and forested areas in shades of pale mint green. Once you zoom in, tree shading appears in a pale mint green, while exposed surfaces look white. Rivers and bodies of water appear ice blue.
Tour the backcountry with confidence thanks to a stronger emphasis on terrain, tree cover, and contour lines. The mountains pop out of the map, helping you scout the best uphill and ski lines. See exactly where treeline ends so you can find powdery bowls and untracked glades. Hiking, mountain bike, and other three-season trails are deemphasized to make it even easier to see ski, snowshoe, and fat bike trails.
Streamlined Integration with Winter Maps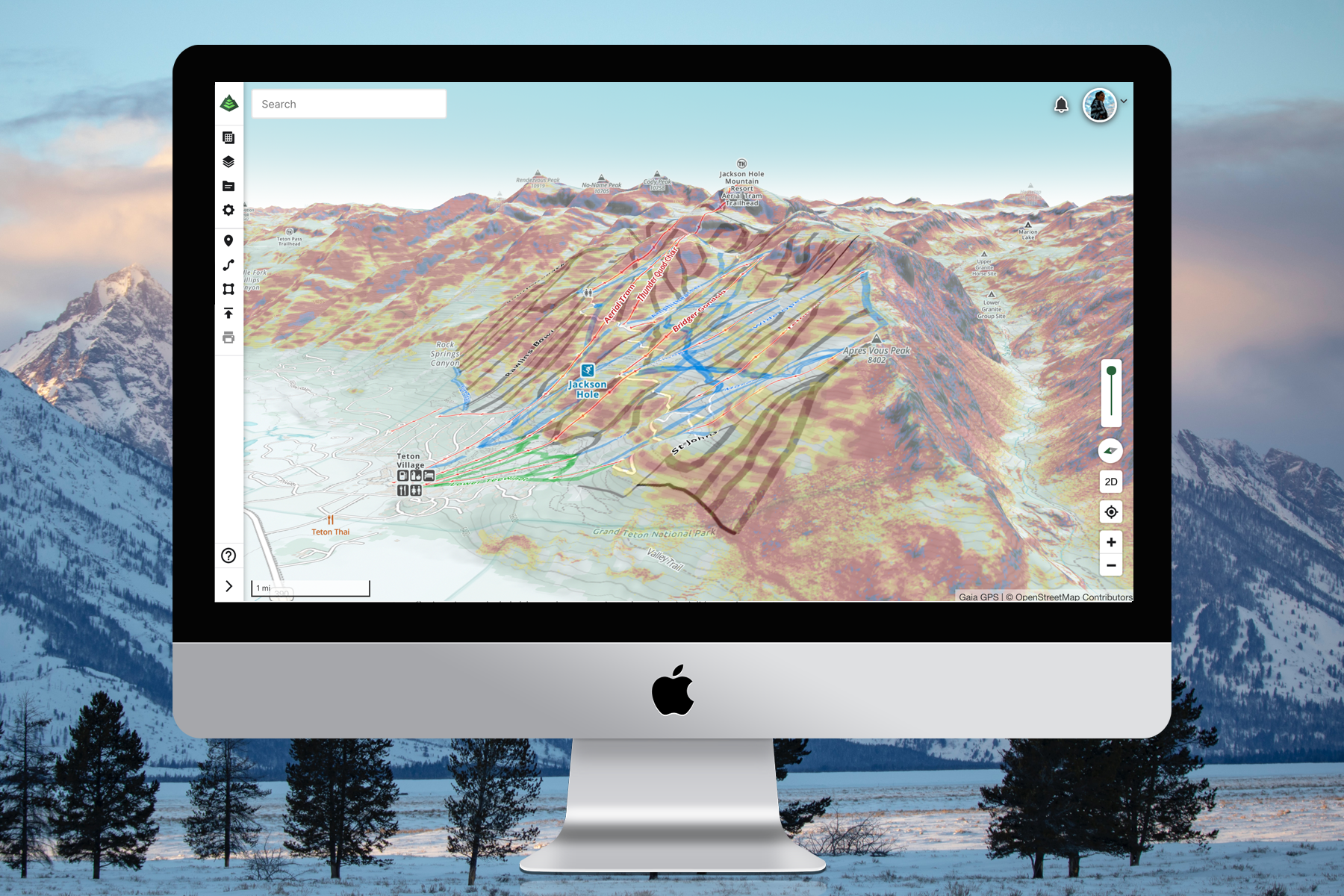 This less-diverse color palette also serves a functional purpose. Gaia Winter is expertly styled to pair perfectly with our suite of winter maps. Whether you're accessing the side country from the resort or going out for an all-day backcountry tour, layer the Slope Angle map over Gaia Winter to find low-angle terrain. Pair the Avalanche Forecast maps over Gaia Winter to clearly see which zones are green, signifying the lowest rating for avalanche risk.
And of course, don't forget to check out our snowfall map layers, including Snow Stations (Daily), to get 24-hour snowfall reports for remote mountain areas in the western US and British Columbia. View water density readings to see if the snow is light like Wasatch powder or heavy like Sierra cement. Get more information on snow conditions in the Lower 48 and find areas holding the deepest snow with the Snow Depth layer. Plus, check the snow forecast straight from NOAA with 24-, 48-, and 72-hour Snowfall Forecast overlays.
Navigate at Night with Dark Mode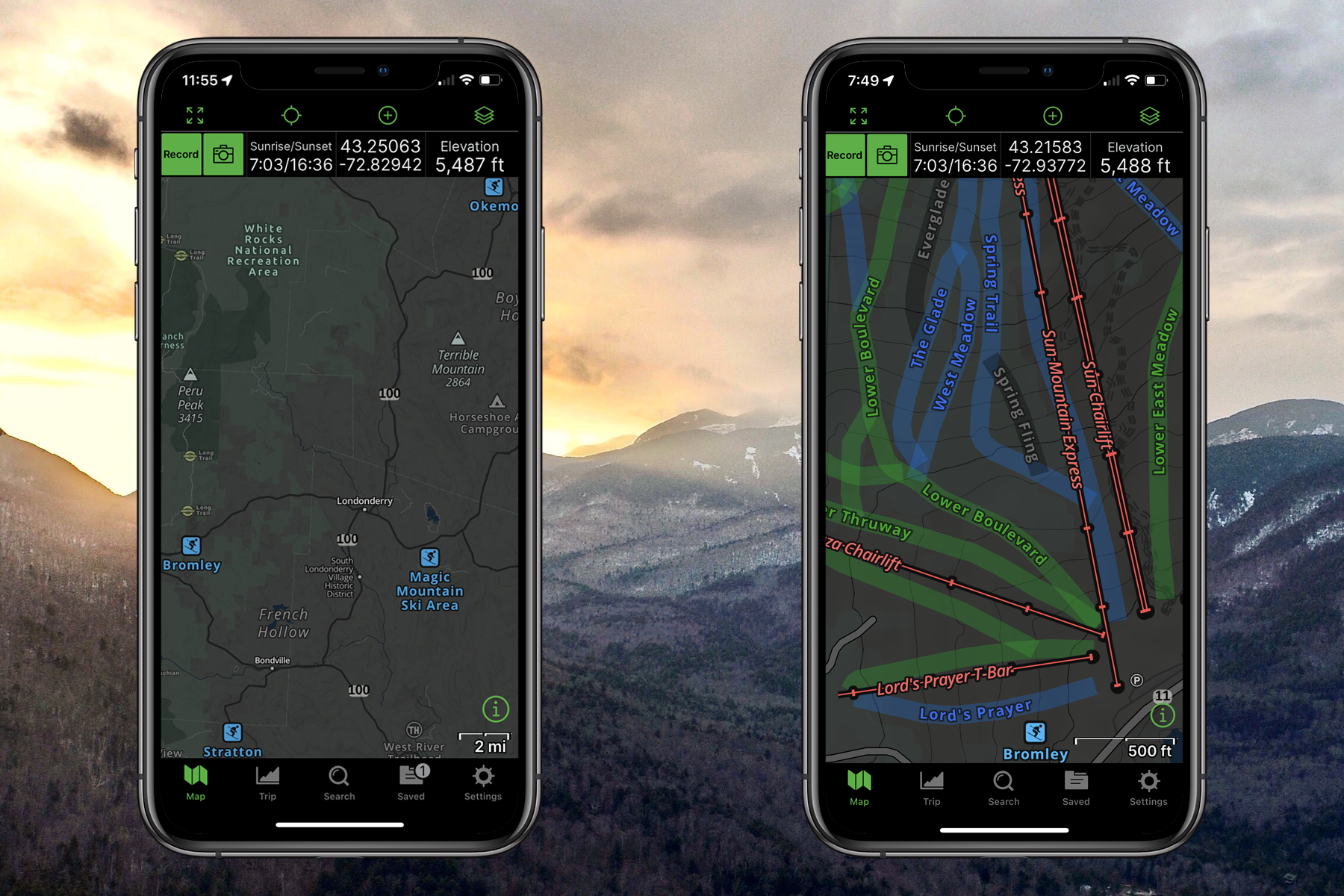 Just like Gaia Topo, Gaia Winter also comes in Dark Mode. Save your eyes and your battery life by switching to Dark mode at night. Dark Mode inverts the traditional color scheme, giving you a gorgeous aesthetic that produces less ambient light. The map appears dark grey, while trails and icons pop in fluorescent colors.
For an even better viewing experience, enable the Dark Mode responsive Gaia Topo map and your eyes will thank you. To turn on this feature, go to Settings > Display & Brightness > Appearance. Then, tap "Dark" to set the display to Dark Mode. Gaia GPS will automatically adjust its own display settings to match. To ensure that your screen settings are always suited to your environment, tap "Automatic" under "Display & Brightness" to sync up Dark Mode with sunset and sunrise. You can also set it to adjust according to a schedule of your own choosing.
Gaia Winter is Available with a Premium Membership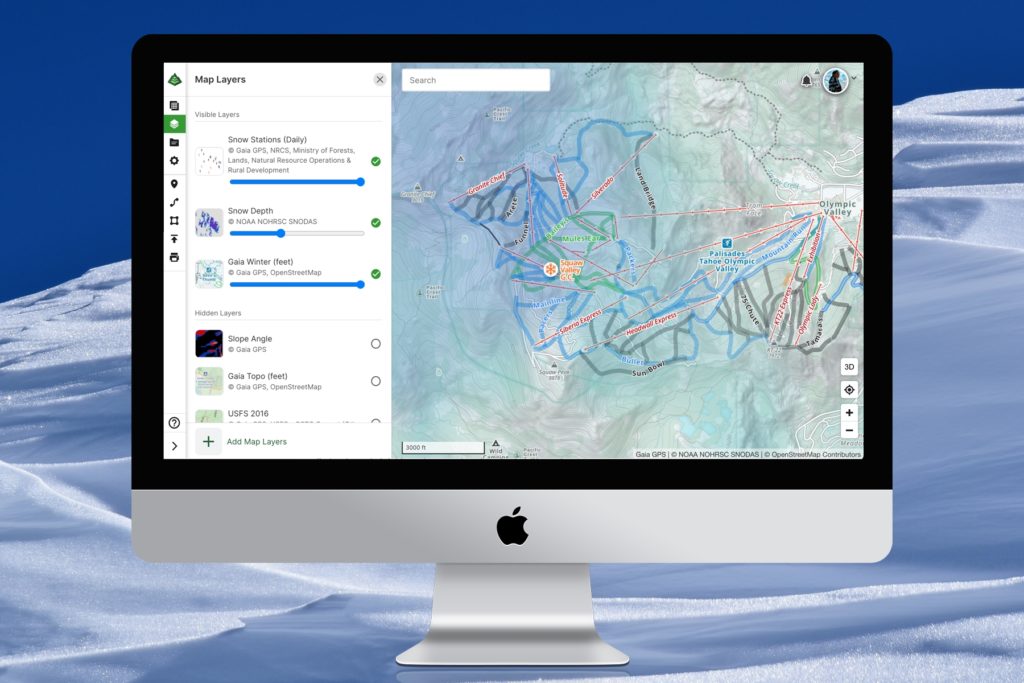 Gaia Winter is available on the web and in the Gaia GPS app with a Gaia GPS Premium membership. To access this map, visit the layers menu and search for "Gaia Winter." Or from the layers menu, select "Topo Maps." Scroll down and tap "Gaia Winter." Tap the "Add Layer" button. Learn how to add and manage overlays here.
A Premium Membership also gives you access to Gaia GPS's entire map catalog, including a suite of avalanche safety maps. These include Slope Angle, Avalanche Forecast, recent satellite imagery, Snow Stations (Daily), Snow Depth, and snow forecast maps. Read up on how to use maps to help avoid avalanche danger.
Plus, with Premium, you can layer maps together. For example, you can place the Slope Angle map on top of Gaia Winter to find the best low-angle terrain. And you can download your maps (including Gaia Winter) for use without cell service, as well as print maps so you always have a backup.