Let's face it, 2020 has been like a never-ending slog up a peak riddled with false summits. But as we round the ridge and see what's on the other side of the pass, we're reminded of how far we've come. Whether running on town trails or escaping for the weekend to the wilderness, Gaia GPS members recorded more tracks, downloaded more maps, and used the app to find their way in the backcountry more than ever before. Not even disrupted routines and cancelled plans stood in the way of exploring outside.
Our community's collective energy, drive, and passion for the natural world motivated us to put our heads down and work harder to bring you new features and maps. From the little things, like making it easier to organize your saved routes, to bringing you more maps to stay safe during wildfire season, to the more technical feats of putting Gaia GPS on your dashboard screen with Apple CarPlay, we hope these advances brought you a little closer to the fresh air this year. Read on for a look at all the development highlights that you inspired us to create in 2020.
All-New Gaia Topo: Download Your Entire State Map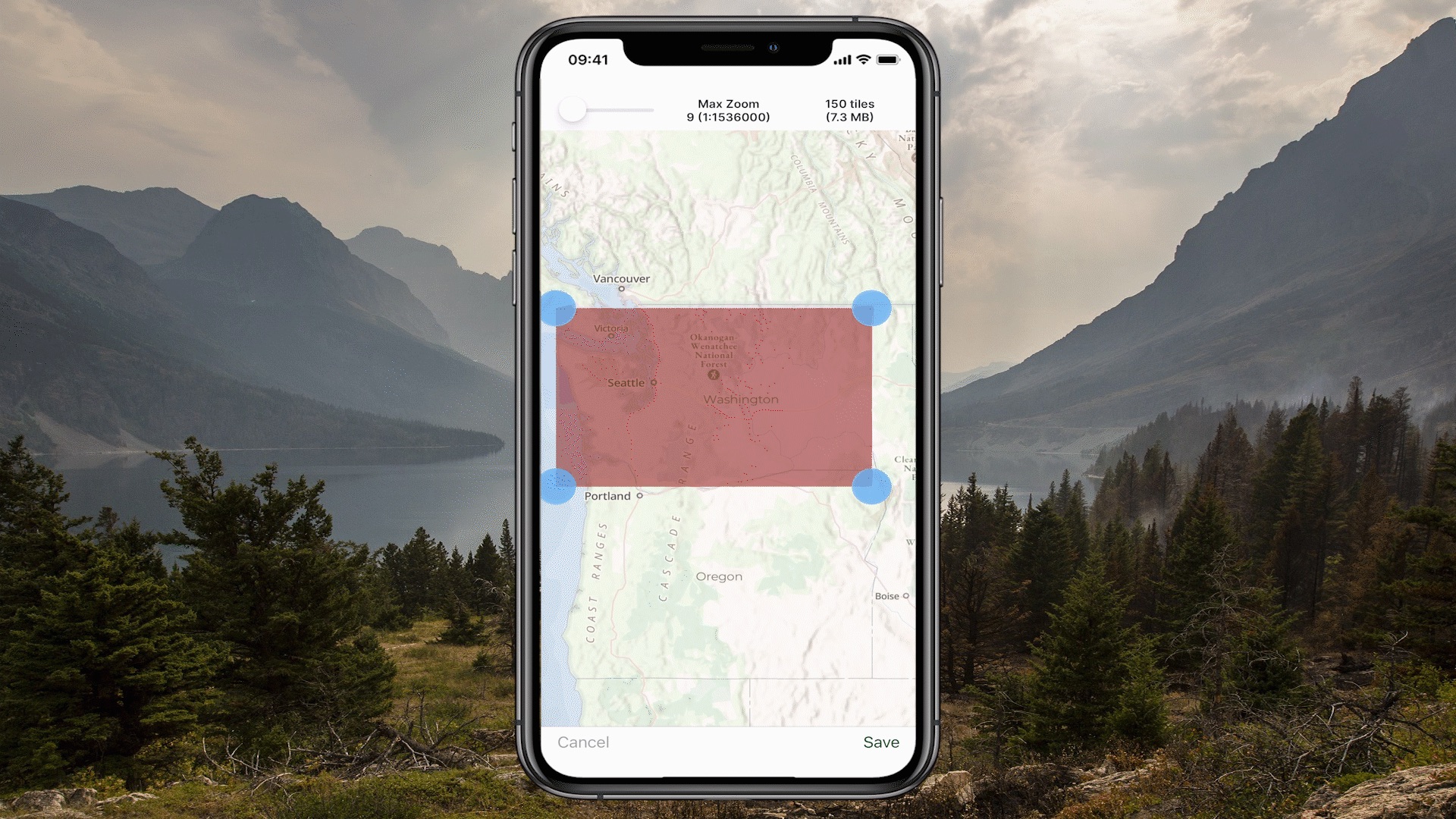 Have you ever arrived at a trailhead only to realize that you forgot to download your digital maps to your phone? We now have a solution for you: Gaia Topo. We kicked off the year with a complete redesign of our worldwide flagship Gaia Topo, to bring you a map that is both easy to read and quick to download. In fact, it's so fast that you can download your entire state— yes, the whole state — and never get caught without a topographic map again.

The new Gaia Topo is curated and constantly updated by our world class cartographer Lee France, who matched the map's retooling and optimization with improvements in styling and design. The end result is an easy-to-read map that lets you download huge swaths of land in a snap — and without hogging up your phone's precious storage space.

But that's not all. Gaia Topo saw numerous additional improvements throughout the year. From introducing color-coded amenities symbols to making public lands easier to recognize, Gaia Topo is a living map that is consistently updated. In fact, you can expect an even newer version of this masterpiece in the months ahead.
Apple CarPlay: Navigate with Your Favorite Backcountry Maps on the Dashboard Screen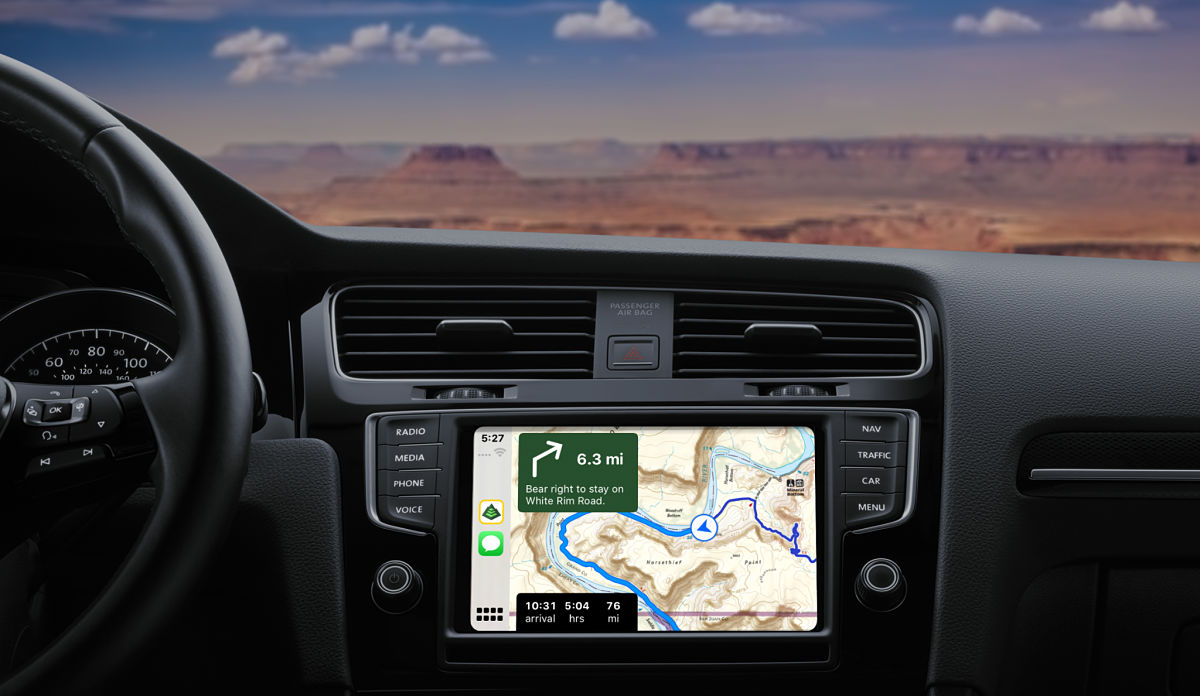 No more squinting at your phone's tiny screen when you navigate those bumpy backroads. We integrated Gaia GPS with Apple CarPlay this year to put trail maps right on your vehicle's navigation screen. View all of your favorite Gaia GPS maps, from USFS Topo to MVUMs to National Geographic Trails Illustrated, with or without cell phone service. Plus, get turn-by-turn directions on off-grid adventures for any drivable, saved route.

Overlanders love CarPlay connectivity, which allows them to run Gaia GPS navigation on the dashboard screen alongside maps mounted to the dashboard with a tablet. CarPlay is useful to hikers and backpackers, too, for finding those lonely, out-of-the-way trailheads. Hook Gaia GPS up to CarPlay so you keep your eyes focused on the rugged road ahead.
New Maps: Check Out our Ever-Expanding Map Catalog
We love making new maps to help more people find their way outside. Okay, maybe this is a purely selfish endeavor. The Gaia GPS team likes to play in the backcountry, too. We're a crew of day hikers, backpackers, trail runners, skiers, overlanders, hunters, bikepackers and climbers. Truth is, we like to make new maps so that we can use them ourselves. Some might say we went a little overboard with adding new maps this year during quarantine. Take a look at how we expanded our map catalog in 2020: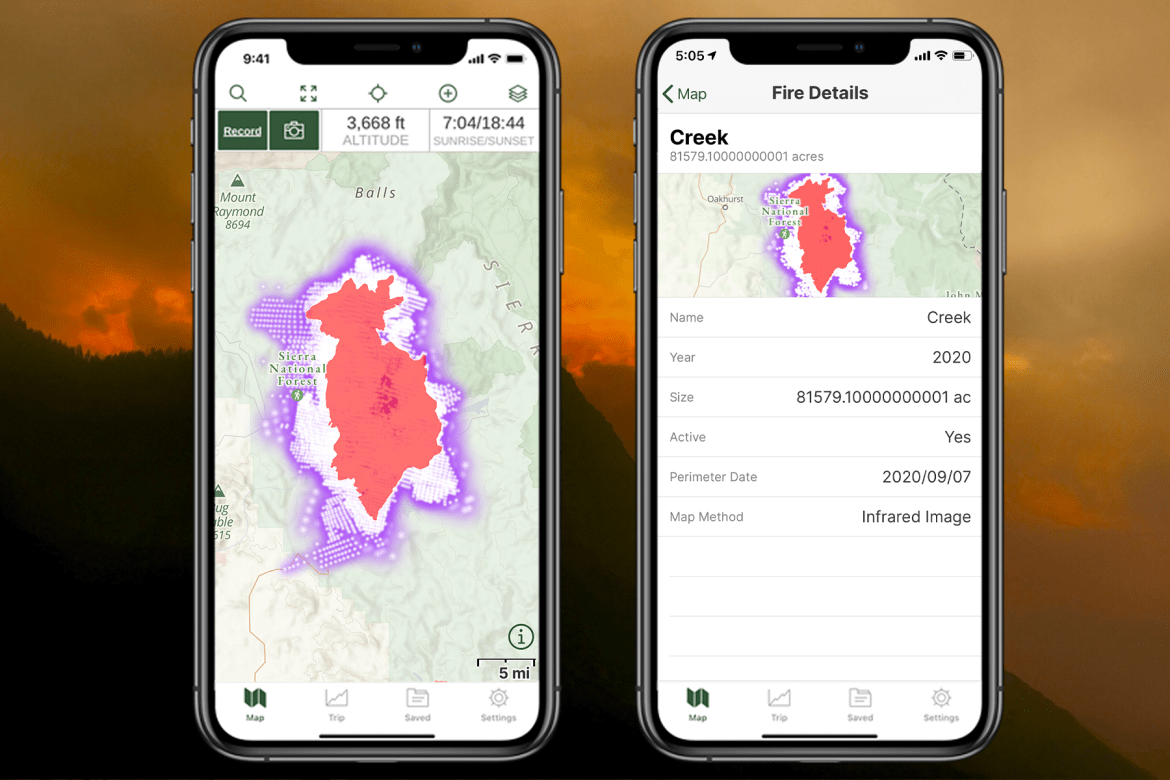 Find wildfire hotspots with the new and free Wildfires (Satellite Detections) layer on Gaia GPS. This layer sources satellite data from NASA to show where wildfires are currently burning worldwide. Pair this layer with your favorite base map to plan re-routes around hot spots, predict likely trail closures, and stay safer during fire season. In response to the wildfires that ravaged the western US this summer and fall, we're offering the Wildfire (Satellite Detections), Wildfire (Current) and Air Quality layers for free on both the app and on the web.
We partnered with the experts at Avalanche.org to bring you the new Avalanche Forecast layer. Now you can get official, up-to-date avalanche forecasts for mountain zones in the U.S. directly from the map on your phone whenever you are online or connected to cell service. Get the avalanche danger rating and link to complete avalanche reports from professional snow safety scientists in your region. Whether you're backcountry skiing the couloirs or snowmobiling into the back bowls, always check the complete avalanche forecast report before you head out the door. Available with a Premium membership.
Examine trail conditions from the comfort of your couch using two new satellite imagery maps. FreshSat – Cloud Free shows mostly cloudless terrain. FreshSat – Recent shows as up-to-date imagery as possible. Both maps use satellite data from the Landsat-8 and Sentinel-2 government satellites, and are updated at least every 14 days. Available with a Premium membership.
Gaia GPS offers an expansive collection of National Park Service maps for 45 national parks and recreation areas throughout the United States. Skip the paper map at the park entrance and view all park amenities, trailheads, and must-see stops right on your phone. Available with a Premium membership.
Not all adventures happen off the grid. Get your bearings in cities, towns, and on the road with the new Gaia Streets map. This map features more points of interest and amenity labels with less clutter, making it easy to pinpoint the places you want to go on the road. Use this map as a go-to for navigation and wayfinding through city downtowns, national park centers, and anywhere else the road takes you. Available with a Premium membership.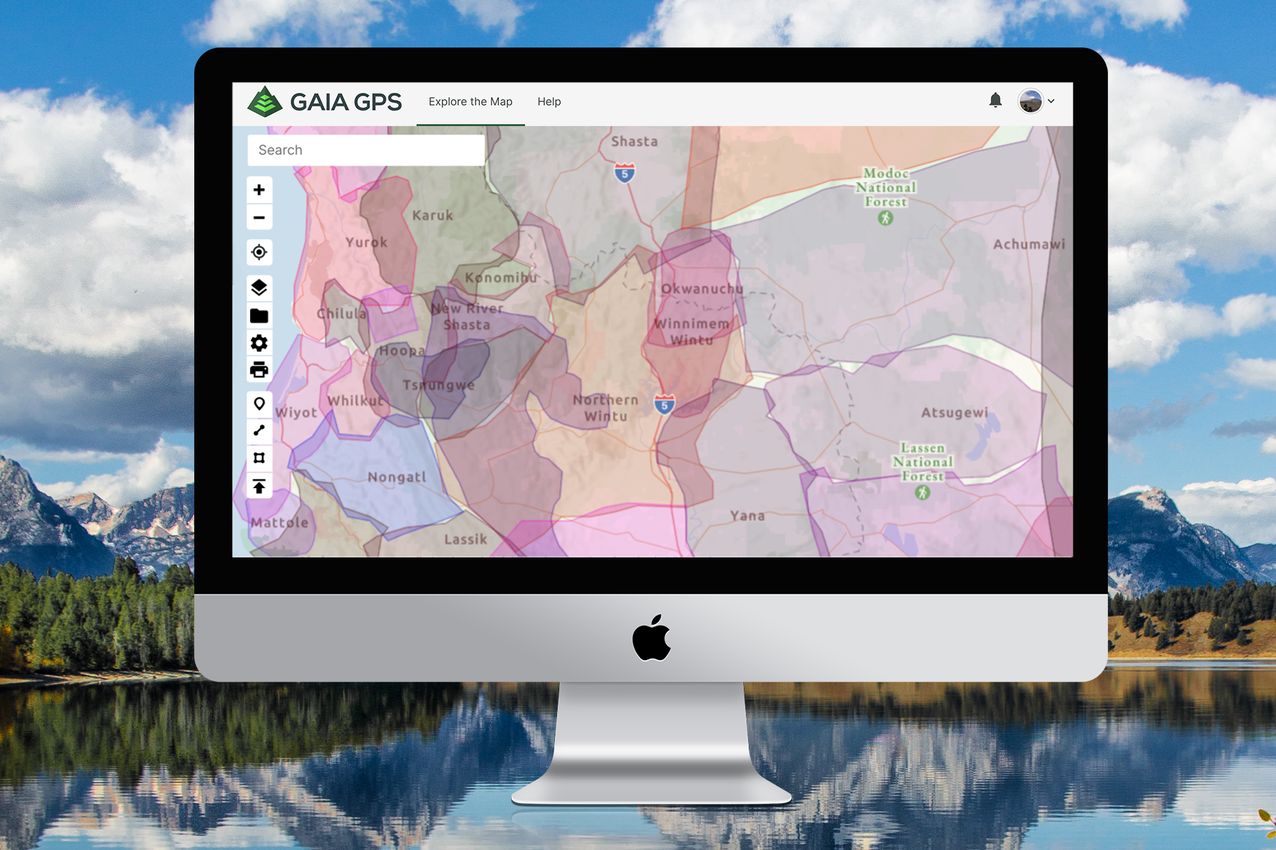 The Native Land Territories map lets you learn more about the land you live and recreate on, plus make land acknowledgments. Created by the Canadian non-profit Native Land Digital, the Native Land Territories map marks traditional Indigenous territories across the Americas, Australia, New Zealand, and, increasingly, worldwide. Deepen your knowledge of home and the places you visit with the new Native Land Territories map.

Native Lands Digital and the Native Governance Center explain why and how you can make a land acknowledgment. To find out how to use the Native Land Territories map and deepen your knowledge even further, read Native Land Digital's Teachers Guide. This map is available for free in the Gaia GPS app and web map.
Find the best trails for hiking, biking, trail running, horseback riding, and off-roading with the color-coded USFS Roads and Trails layer in Gaia GPS. Whether you are wondering where to ride your mountain bike or looking to avoid areas that allow bikes and motor vehicles, this layer makes it easy to find the right trail for your adventure. Available with a Premium membership.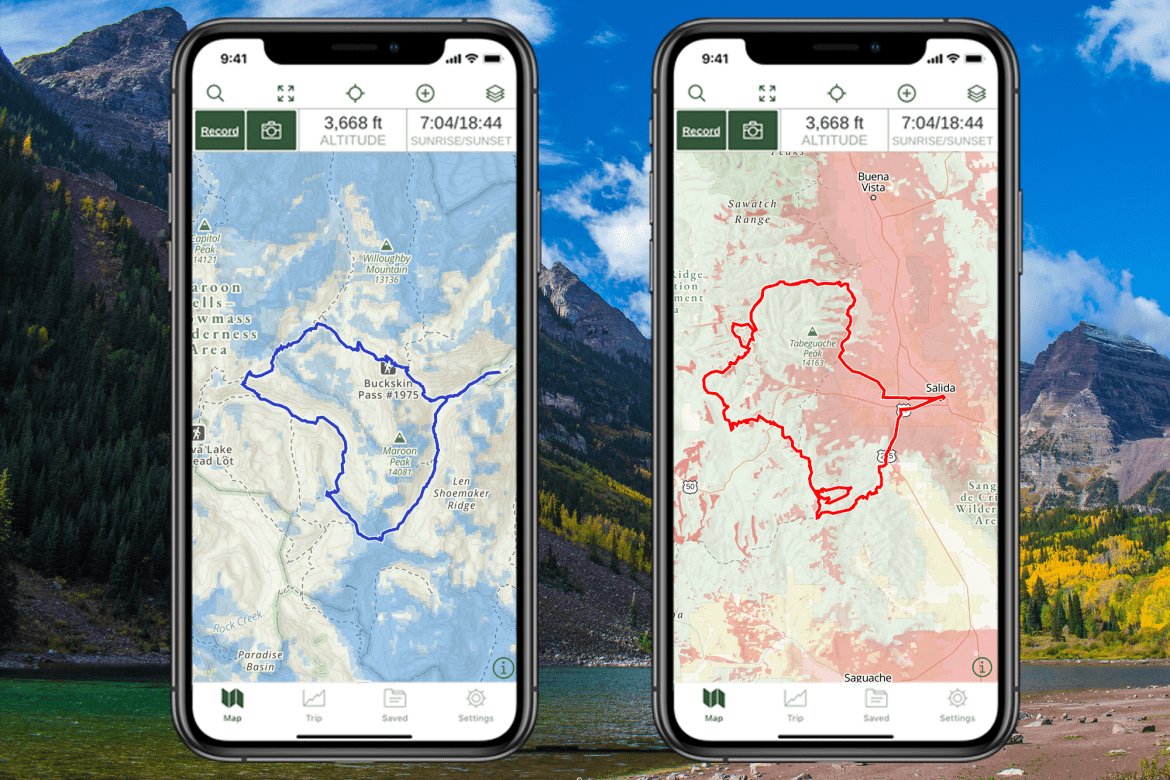 Track where you can find cell service anywhere in the United States including Alaska, Hawaii, and Puerto Rico with the Cell Phone Coverage maps. You no longer need to worry about unexpectedly losing signal. These seven new overlays define where major cell phone carriers reach across the country. Available with a Premium membership.
No more trial-and-error in driving up to the trailhead to find the deepest and lightest powder. The new Snow Stations (Daily) map gives you up-to-date, 24-hour reports on snow conditions in remote areas around the western US and British Columbia. Check out the new map for real-time conditions on peaks and passes in your favorite backcountry zones. Available with a Premium membership.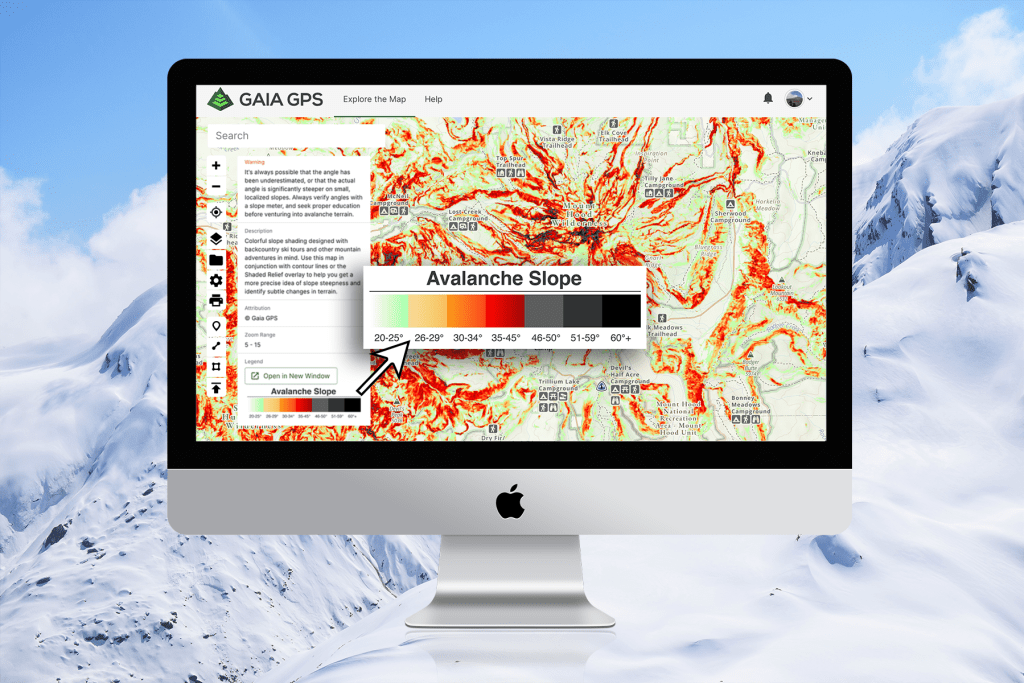 Identify avalanche terrain quicker and easier this winter with the new Slope Angle map. Designed in-house, this map expands our coverage globally and integrates high-resolution data to help make picking out steep slopes on the map a snap. Add the new slope angle layer to your favorite base map to help plan a safer route through the snow-bound backcountry. Available with a Premium membership.
Find over 300,000 mines, mills, and known mineral deposits with the new Mines and Mineral Resources map. Discover the history of old mining sites plus handy details about mine and mineral sites across the US and select regions around the world. Available with a Premium membership.
Find water sources, identify river crossings, and get a better picture of any landscape with the new US Hydrography map. This layer shows more rivers, streams, lakes, and wetlands than any other map on Gaia GPS. Level up your favorite maps by pairing them with US hydrography for more precise and expanded coverage of bodies of water across the US. Available with a Premium membership.
Find a new favorite fishing spot or plan the perfect trip with two all-new interactive map layers. Get up-to-date streamflow and water temperature information from the new USGS Streamflow map. Plus, the brand new Gaia Fishing Map dials you in with boat access information and known fish species for select waterways in Montana and Oklahoma. Available with a Premium membership.
The new National Geographic Baja California Maps on Gaia GPS now provide coverage of the Mexican states of Baja California and Baja California Sur. Find the best spots for surfing and sightseeing along the coast, or reach rugged peaks by following remote backroads. Available with a Premium membership.
For those keen on a multi-sport adventure in New Zealand, Gaia GPS now offers detailed New Zealand topo maps of the North and South Islands. Beyond shores, Australia/NZ Nautical Chart maps provide coverage of surrounding islands and oceans. Available with a Premium membership.
Web Updates: The Most Powerful Planning Tools To Date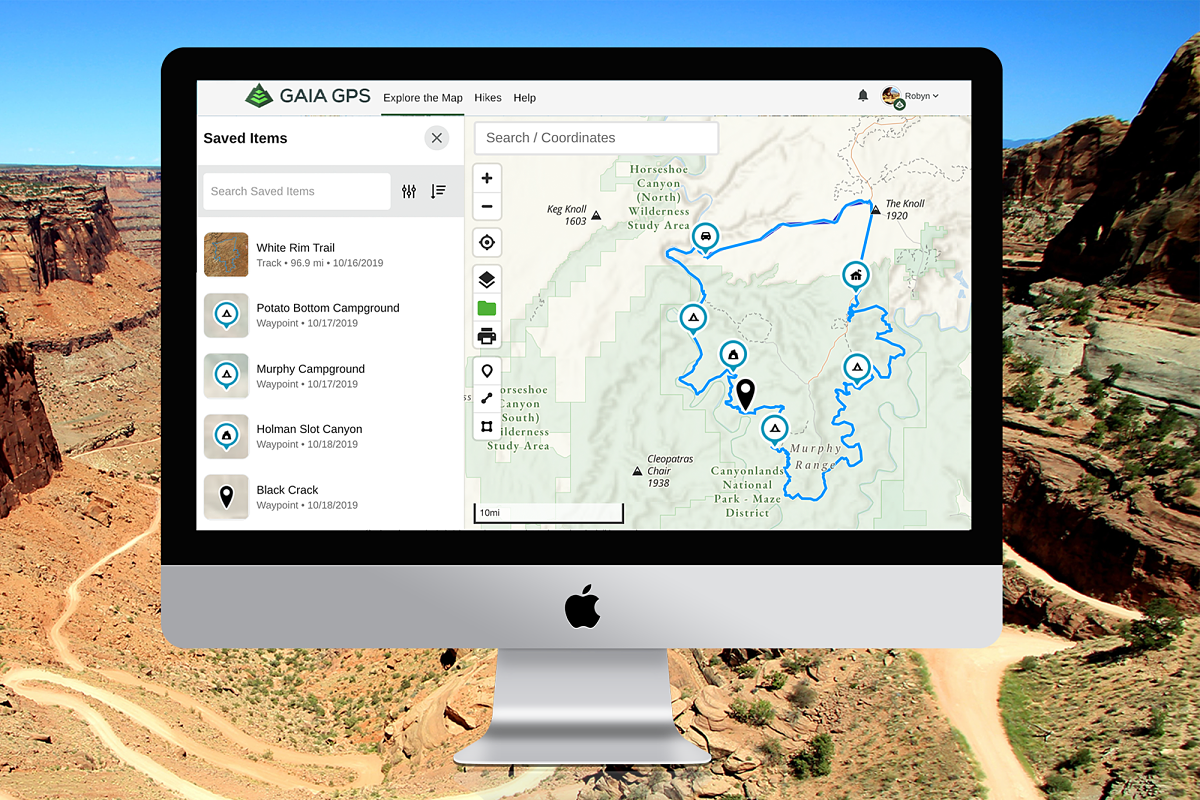 Planning and organizing your data on gaiagps.com is easier than ever thanks to several rounds of improvements throughout the year. Now, when you find a route or file from another website or source, you can import them directly to your Gaia GPS account with a single click. A new side bar houses all your saved map data, including tracks, waypoints, and areas. Plus you can create and measure areas and polygons on the big map with a new tool on the desktop. These improvements follow a complete revamp of gaiagps.com in 2019, and you can expect to see more improvements in the year to come.
Android and iOS App Updates: Easy and Efficient to Use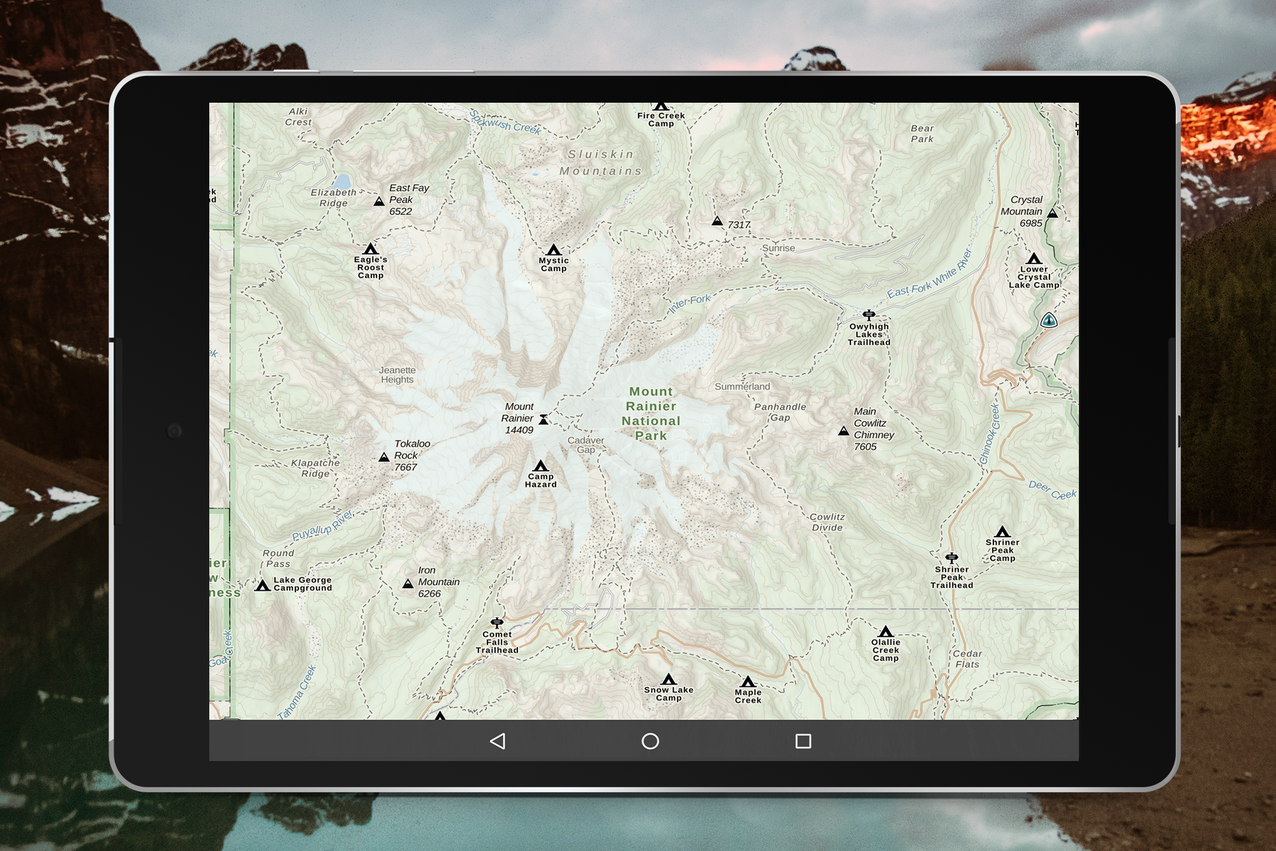 In 2020, our Android team tackled many highly requested updates and delivered the next generation of Android for Gaia GPS. Android users experienced faster downloading, interactive map icons, the all new Gaia Topo, and automatic updates. The updates didn't stop there. More improvements brought a refreshed stats bar, better deletion, improved tablet navigation, and an overall smoother experience when using an Android device.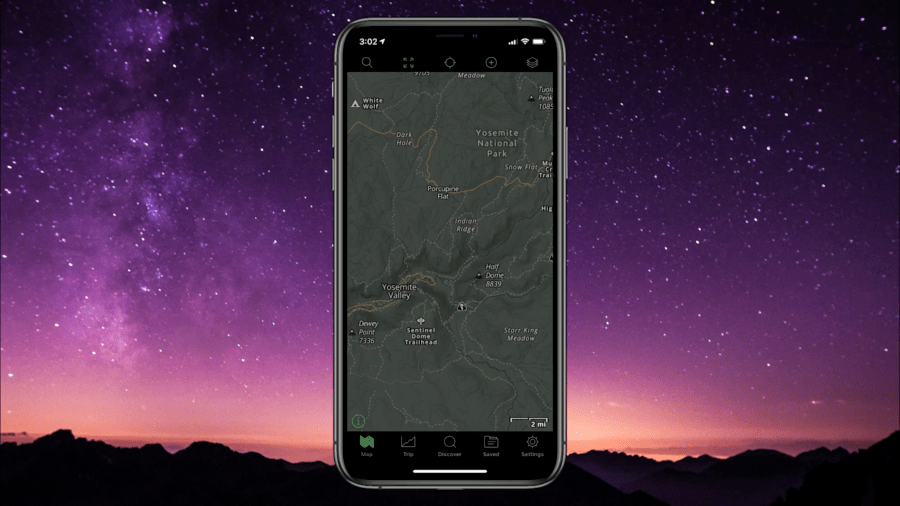 Dark Mode on iOS
Navigate at night with Dark Mode in the Gaia GPS app on iOS. This new development, which rolled out in the first quarter of 2020, lets you plan routes, research hikes, and navigate after sundown without straining your eyes or wasting device battery. Dark Mode inverts the traditional iOS color scheme, showing you light-colored text and icons on a dark background. The result is a beautiful new aesthetic that produces less ambient light and is easier on the eyes in low light situations. Give it a try.
If you're wondering just how far you've come this year, check out your yearly totals with Gaia GPS stat rewind. If you've recorded tracks this year, this page will tally your total trips, elevation climbed, and total mileage. It may be lights out for 2020, but it's not too late to start planning to beat your numbers from this year. All you have to do is press the record button on all your upcoming adventures in 2021.

We're excited to see how far the Gaia GPS community will go in the next year.