Gaia GPS is proud to partner with the experts at Avalanche.org to bring you the Avalanche Forecast layer. Now, you can get official, up-to-date avalanche forecasts for mountain zones in the U.S. directly from the map on your phone.

Plan safer winter backcountry travel with quick and easy access to avalanche danger ratings from the National Avalanche Center and the American Avalanche Association. Link to complete avalanche reports from professional snow safety scientists in your region.
Whether you're backcountry skiing the couloirs or snowmobiling into the back bowls, add this must-have feature to your avalanche safety toolkit. Updated every 30 minutes, this map is available online only. Be sure to check the map before you head out the door or leave cell service.
Avalanche Danger Ratings and Daily Forecasts
The Avalanche Forecast overlays on top of your favorite backcountry map to show you the color-coded North American Avalanche Danger Scale for your region. Crafted by avalanche forecasting experts, the danger scale spans five categories, from low to moderate and all the way through extreme danger, letting you know the risk of potential avalanches on your planned route.
Look for a time and date stamp on the map, showing exactly when the region's danger rating expires. Tap the shaded areas on the map to access more information, including travel advice and a link to the official forecast from the snow safety scientists at the local avalanche center.
Regions with a daily forecast will show "no rating" until the forecasting center issues the rating for the day. Because winter backcountry conditions change constantly, this layer updates every 30 minutes and is available for online use only. This layer is only active during the avalanche forecast reporting season set by the avalanche centers in the mountain west.
Use the Avalanche Forecast Layer with your Favorite Maps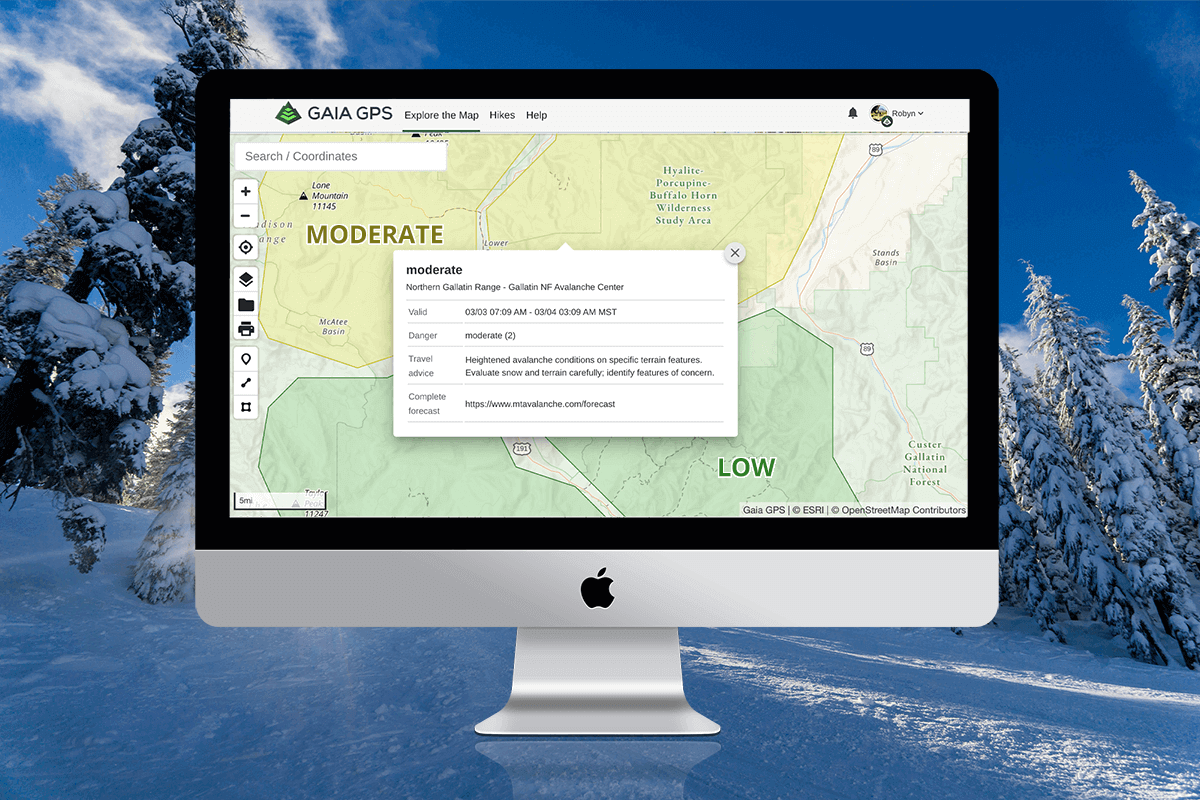 Add the Avalanche Forecast layer to your quiver of backcountry ski maps for a more complete picture of winter conditions in the backcountry. Use the layer in conjunction with the newly updated Gaia Topo, the USGS topo map, satellite imagery, Snow Stations (Daily), Snow Depth, and Snow Forecast layers to gather more information and make safer decisions in avalanche terrain.
How to Get the Avalanche Forecast Layer
The new Avalanche Forecast layer is available with a premium membership. To add the layer to your maps, open the Gaia GPS app, tap the layers icon, and select "Add map layers." Go to "Feature/Weather Overlays" and select Avalanche Forecast.

This feature is available on the Gaia GPS website and both Android and iOS. Download the Gaia GPS app today and start planning your next winter trip to the backcountry.