We realize it's still winter. But put on your sandals and sunscreen because it's time to snag that primo campsite for summer. Many campgrounds in your favorite national parks, state parks, and national forests take reservations six months in advance. That means the best campsites in the most desirable places around America are going quick for peak summer dates. Now you can make those campsite reservations in a flash right from our Gaia Topo map.
Just open Gaia GPS and poke around the map to find that campsite with the spectacular sunrise view. Or search for a campsite far away from the crowds. Either way, you can discover and reserve the campsite of your dreams right from the map. Simply click on a campground and Gaia GPS provides the link on recreation.gov to snag a reservation.
In addition to reservations, recreation.gov gives you every detail you could possibly want about a campsite. View photos to see if the campsite has the spectacular mountain view. Find out how many cars are allowed, and if pets and campfires are permitted. Even see if there's a fire ring or a grill.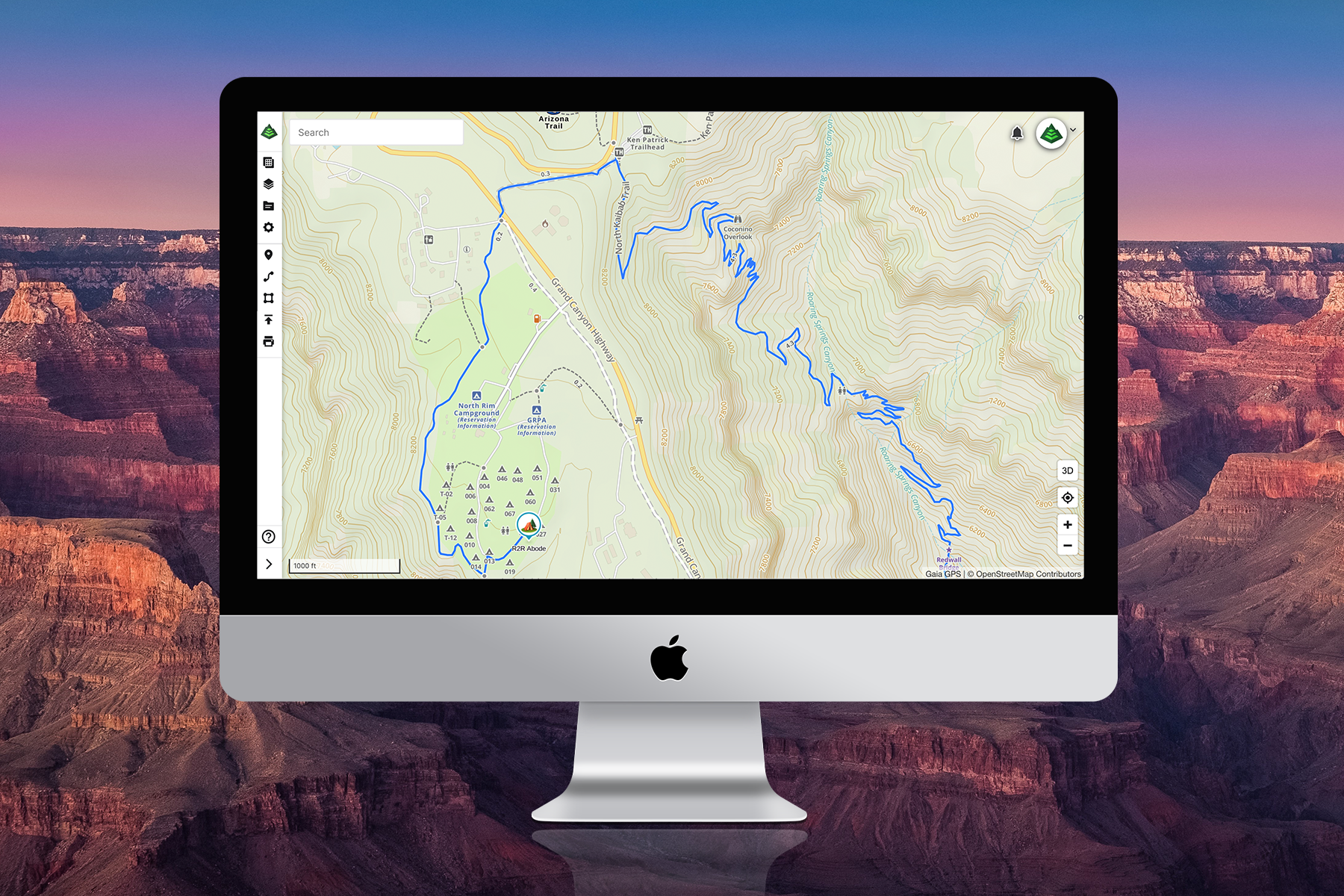 The ultimate tool for reserving public campsites in the US is now accessible right from our app. An official US government resource, Recreation.gov is the go-to reservation hub for 12 federal partners including the National Park Service, the US Forest Service, and the Bureau of Land Management. Rec.gov compiles reservations, venue details, and descriptions for over 130,000 recreation locations and more than 4,200 sites and activities around the country.
Plan a family trip to a national park. Or scheme up a solo bikepacking adventure through National Forest land. No matter your style, this new reservation integration makes your life a little easier. Map out your trip and book your reservations all together in one place.
Find All the Campsite Info You Need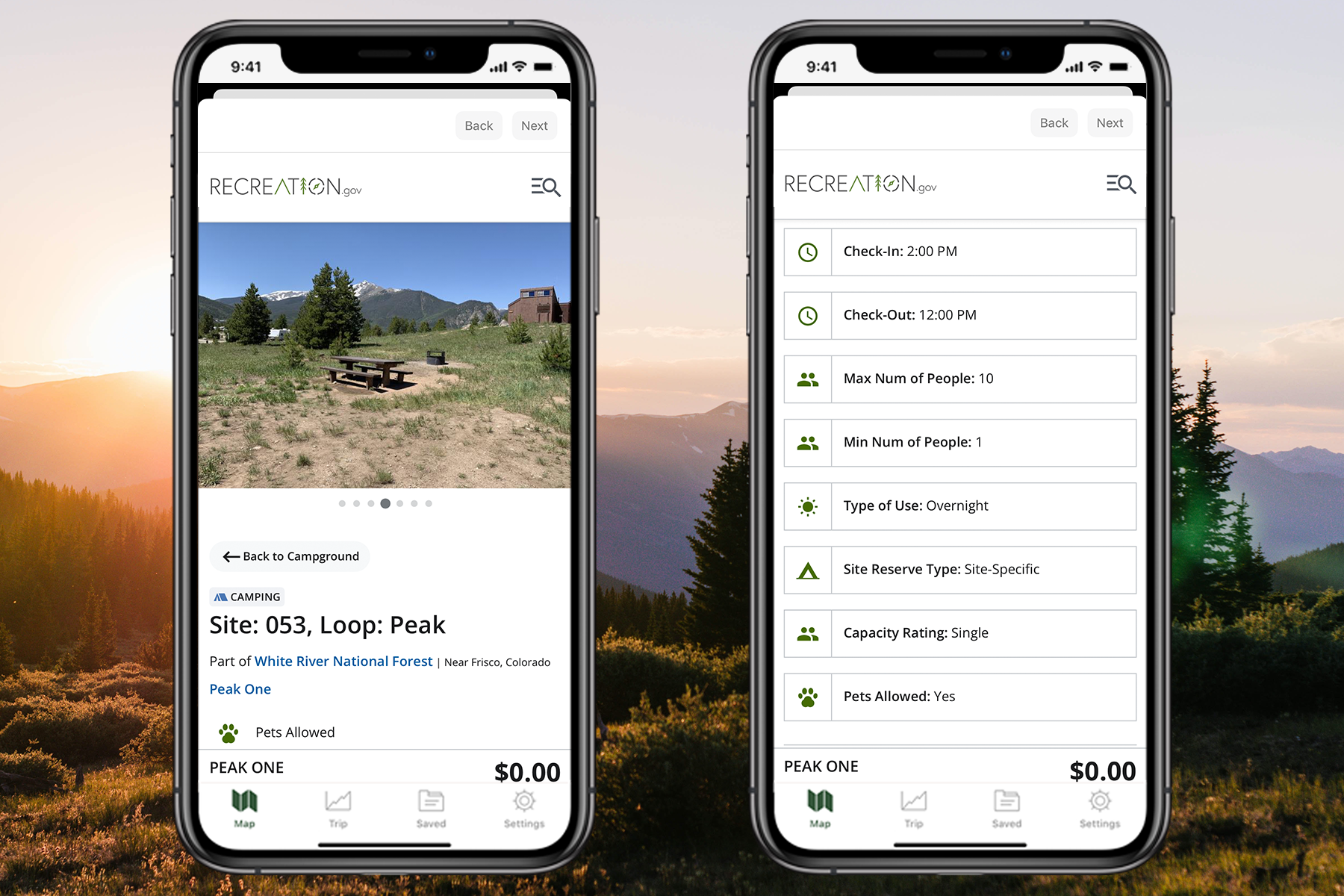 Whether you're a planner who loves to book campsites far in advance, or someone who prefers to fly by the seat of their pants, check out campgrounds in Gaia Topo to discover everything you need to know about staying there. See where each campsite is located. Find the outhouses and water spigots. Even see where the campground host resides.
Once you find a campsite that looks enticing, click the link to recreation.gov to view:
photos of the campsite (see if there's a view!)
pet regulations
campfire rules
if RVs are permitted, and if so, maximum length
if tents are permitted
You also get site details, including:
if there is electricity
if the site is accessible by foot
check-in and check-out times
maximum number of people
if overnight camping is permitted
capacity rating
proximity to water
whether there's shade
amenities, including if there's a picnic table, fire pit, and grill or fire ring
And finally, scroll down for need-to-know details including whether there is water and if there are any site fees.
How to Book Campsites in Gaia GPS
Campsite reservations are found in our cornerstone Gaia Topo map. To reserve campsites from Gaia GPS, start by making sure Gaia Topo is selected as an active map layer. Gaia Topo also happens to be the premier map for dreaming up your adventures. Our cartographers designed this map to make key features for backcountry travel, like trails, scenic overlooks, and campgrounds, pop out from the landscape.
Explore Gaia Topo to find campgrounds at your destination. Look for blue campground symbols that say "Reservation Information" under the name. Zoom in further to spy individual campsites, restrooms, and the camp host site.
Once you've found your dream campsite, click on "Reservation Information." The recreation.gov link to reserve campsites in that campground will pop up so you can snag your favorite site before it's too late. Keep in mind that many public campgrounds take reservations six months in advance. And the best campsites book up quickly! Of course, please be mindful of recreation.gov's rules and reservation policies.
Plan, Reserve, and Navigate All in One Place
With world-class maps and route-building tools, Gaia GPS provides the ultimate platform to plan your trips. Whether you're backpacking in the Rockies, overlanding across the southwest, or simply looking for the ultimate car camping spot, choose from our deep collection of maps tailored to your adventure. Map out your route with our quick and easy snap-to-trail route builder so you know exactly where to go.
As you map out your route, you can seamlessly reserve campsites with one click. Drop a waypoint on the map to remember where the campsite is. Your future self trying to find your campsite at midnight in the pitch black will thank you. Speaking of finding your way, go ahead and download the map after you plan your route. That way you can navigate along the route and to your campsite even if you have no cell service at all.
Fun fact: Gaia Topo is so efficient that you can download the map for your entire state in a matter of minutes without clogging up precious phone storage. Don't worry, you still get the most precise and detailed backcountry map on the market.
Recreation.Gov Campsite Reservations are Available to Everyone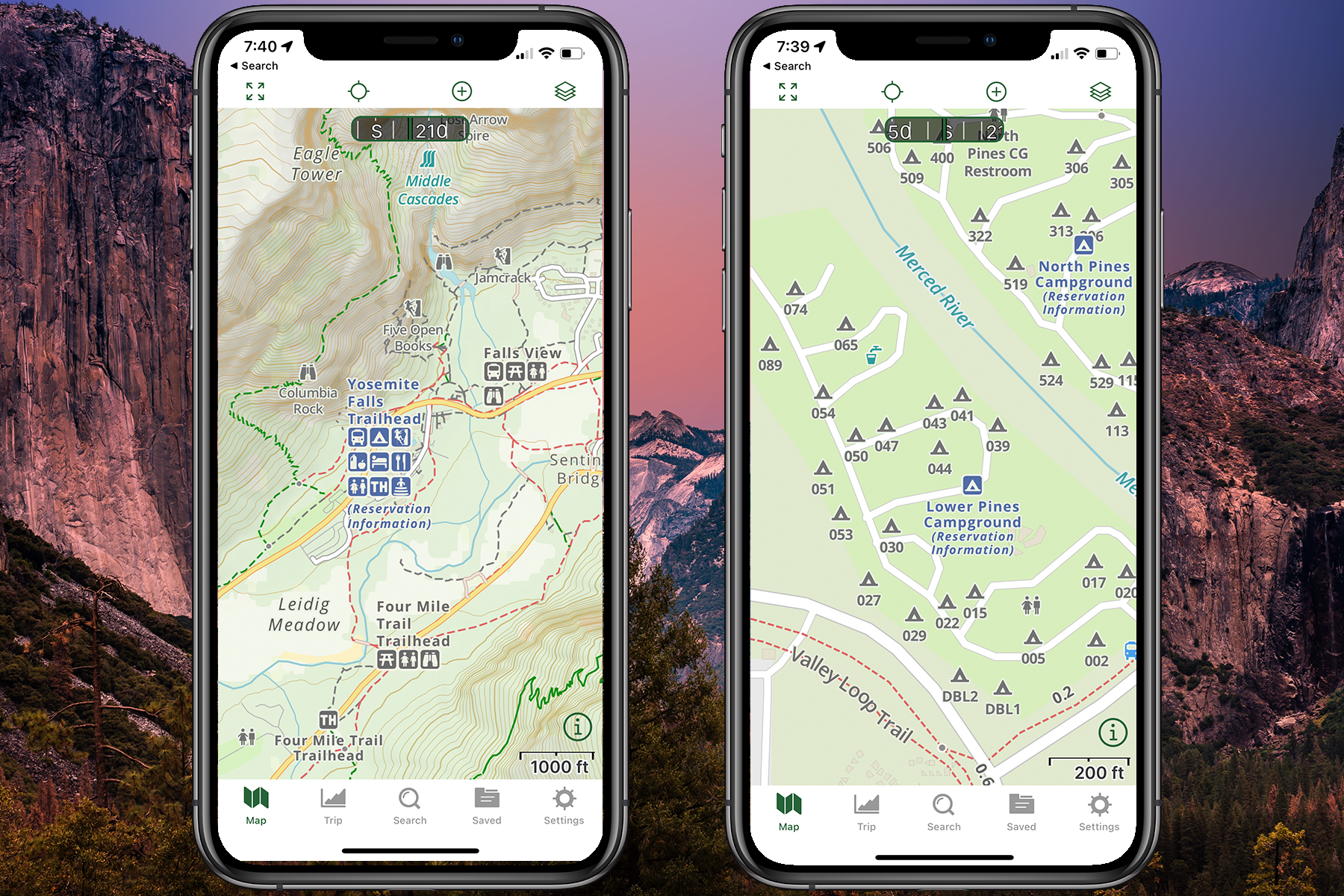 Everyone can access the Gaia Topo map and make campsite reservations within it. You just need to create a free Gaia GPS account. To access our entire collection of maps, including hi-res satellite imagery, USFS, MVUM, and National Geographic Trails Illustrated, you'll want to upgrade to Gaia GPS Premium.
Premium also unlocks our comprehensive suite of terrain features including weather, winter, and wildfire maps. Plus, with Premium, you can download your maps to use offline so you can find your way even when you're out of cell service. And you can print maps so that you always have a paper backup.