First off, congratulations: If you're reading this, you've either committed to going on one of the most memorable adventures of your life, or you're seriously considering it. The people you meet, the landscapes you see, and the experiences you have—whether it's downing a half gallon of ice cream in Cumberland Valley, or dodging a bear encounter in the Yosemite backcountry—will stick with you forever.
One of the best and worst things about thru-hikes is how tough they are. Fortunately, there are plenty of resources out there that can make your life on the trail a little easier and let you focus on getting your miles in. Gaia GPS is one of those things.
The Gaia GPS app shows you your realtime location on the map, the exact distance to the next camp or water source, and potential bail-out points to help you strategize on the trail. Plus, making sure you never miss a turn will save you from adding any extra mileage to the thousands you're already hiking.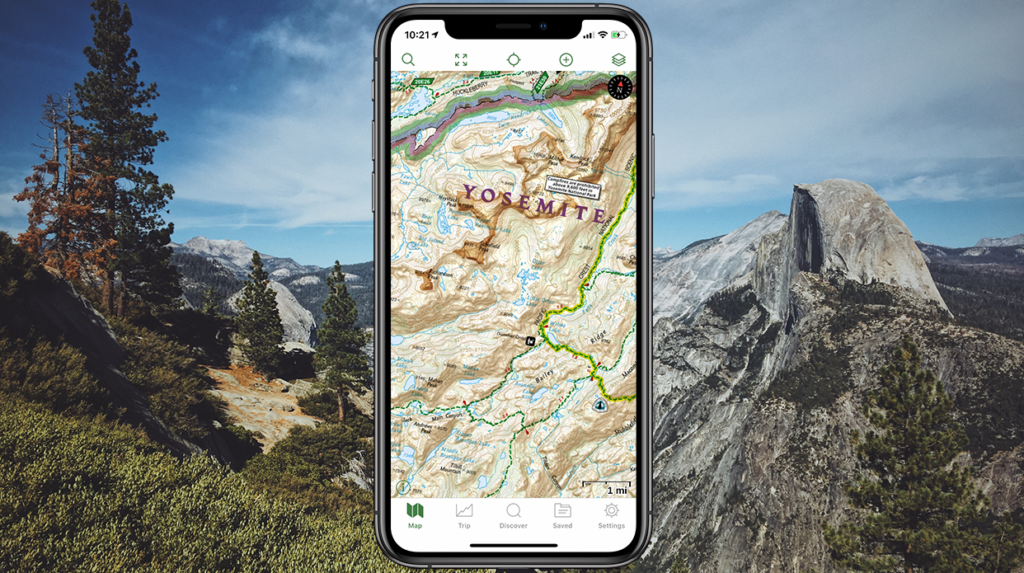 The Best Maps for Thru-Hikers
The Gaia GPS map catalogue contains over 250 maps. A Premium Membership gives you access to all of them, but these are some of the most useful for thru-hikers.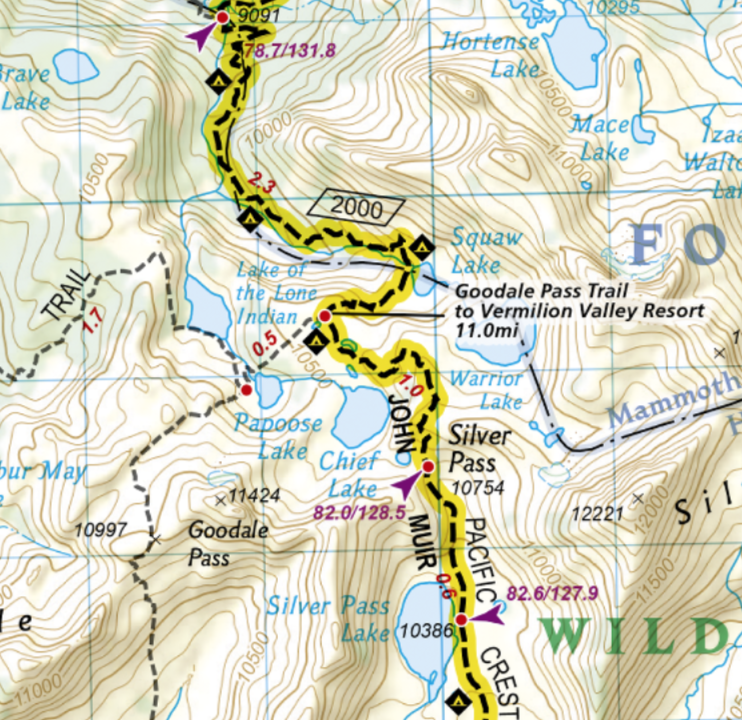 NatGeo Trails Illustrated. This map layer provides detailed topographic information, points of interest, and trail beta for the entire Appalachian Trail. Coverage also encompasses many national parks, forests, and wilderness areas throughout the West, including large portions of the PCT and CDT trail corridors.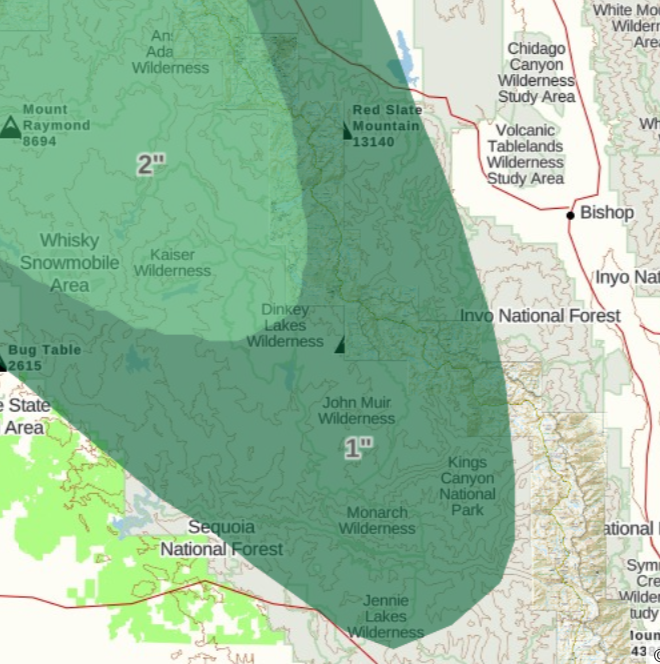 Snowfall and Precipitation Forecast Overlays. Check these maps during resupplies (or whenever you get wifi or 4G) to see an updated NOAA forecast over your proposed route. They'll help you stock up on the right gear for the weather and plan your mileage accordingly. You can also view them in the app up to 24 hours after you leave service.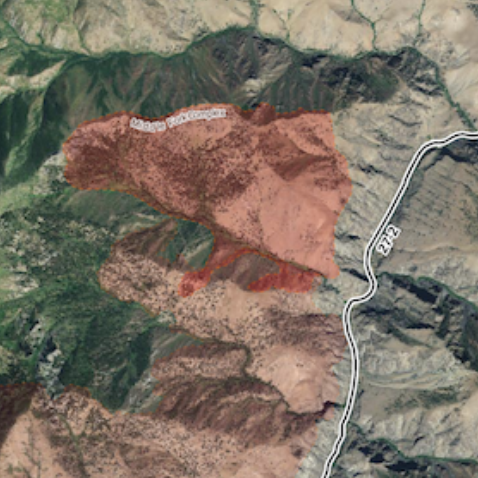 Recent Wildfires Overlay. There's nothing worse than planning to hit a shady section during the heat of the day and finding a sun-blasted burn scar instead of lush forest. Prepare for or reroute around burn zones and active fires with this overlay. In iOS, you can tap an area to learn the year of the fire and the acreage burned.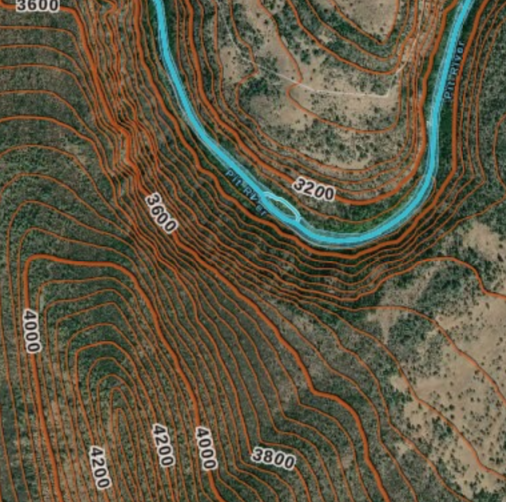 Satellite Topo Base Map. Satellite imagery gives you the most accurate picture of the trail ahead. Use it to scout safe water crossings, find durable surfaces for setting up camp, and identify loose or rocky terrain. You can access high-resolution ESRI World Satellite imagery with built-in contour lines on the Satellite Topo Base map in Gaia GPS.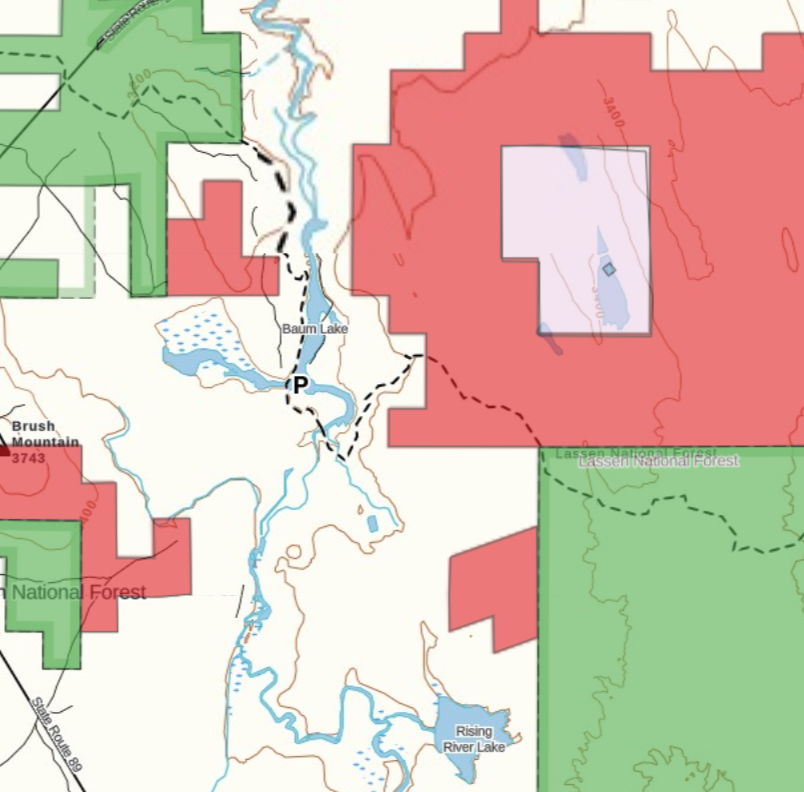 Public Land Overlay. In areas where where the trail crosses a patchwork of private and public land, figuring out where to camp can be tough. Referencing land management boundaries can help you determine where dispersed camping is permitted—and make sure you never get woken up by a disgruntled ranger.
Slope-angle shading. Wh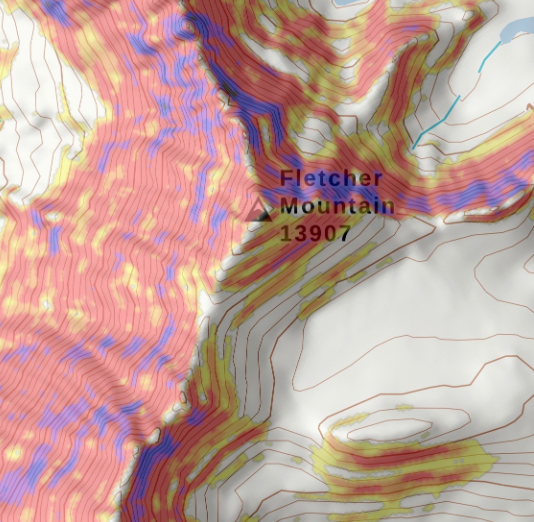 en there's snow in the high country of the Rockies or the Sierra, following the summer footpath may not be your best option. This overlay, coupled with satellite imagery, can help you find low-angle routes, snow-free ridges, and winter-only shortcuts for a safer shoulder season.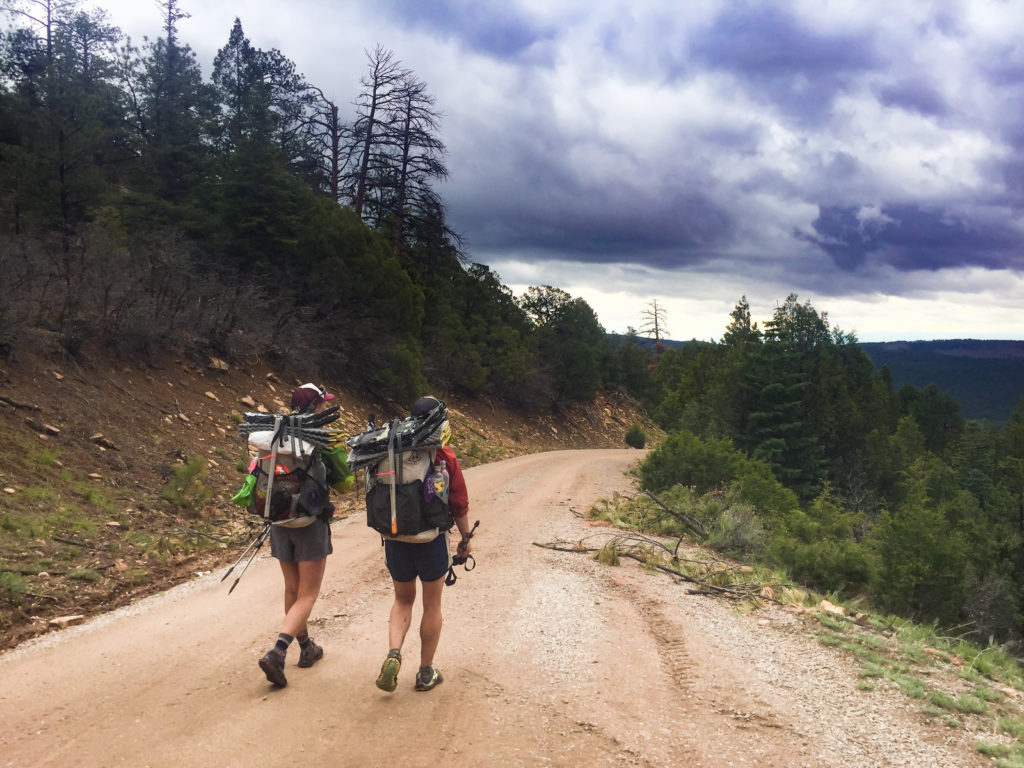 A Few More Ways Gaia GPS Can Make Your Life A Whole Lot Easier
For many, thru-hiking is about the social experience. And one of the best ways to make friends on the trail is to always know how far it is to the next spring, shelter, or laundromat. Here are a few features that will help you pull off a seamless hike, and ensure your map is the most envied in camp.

1) See your location on the map at any time. Using the built-in GPS in your smartphone, the Gaia GPS app allows you to view your realtime location on the map, even when you're offline and out of service. (And when the trail is under snow.) It's an invaluable resource for finding your way off passes in whiteout conditions.
2) Always know the distance to the next campsite or water source. Gaia Topo includes comprehensive coverage of springs and water sources. Plan your day, maximize your efficiency regarding water refills, and boost your hiking partner's morale by quickly measuring the distance to any point on the map.
3) Quickly reroute on the fly. With Gaia GPS, it's easy to reroute to avoid trail closures, scout safer water crossings, determine the quickest route to town, or bail in case of emergency. Simply click and drag to edit a route. If you have an internet connection, use the snap-to-trail tool to quickly determine the best way around an obstacle. You can also drop waypoints to mark points of interest or draw trail closures on your map as you get beta from locals, posted bulletins, and other hikers.
4) Share your location with family and friends. Set your data to public, and the folks back at home can monitor your progress. Your map will update whenever you get enough wifi or cell service to sync your phone with your account online. You can also post to social media directly from your Gaia GPS account, or embed your data into your website or blog.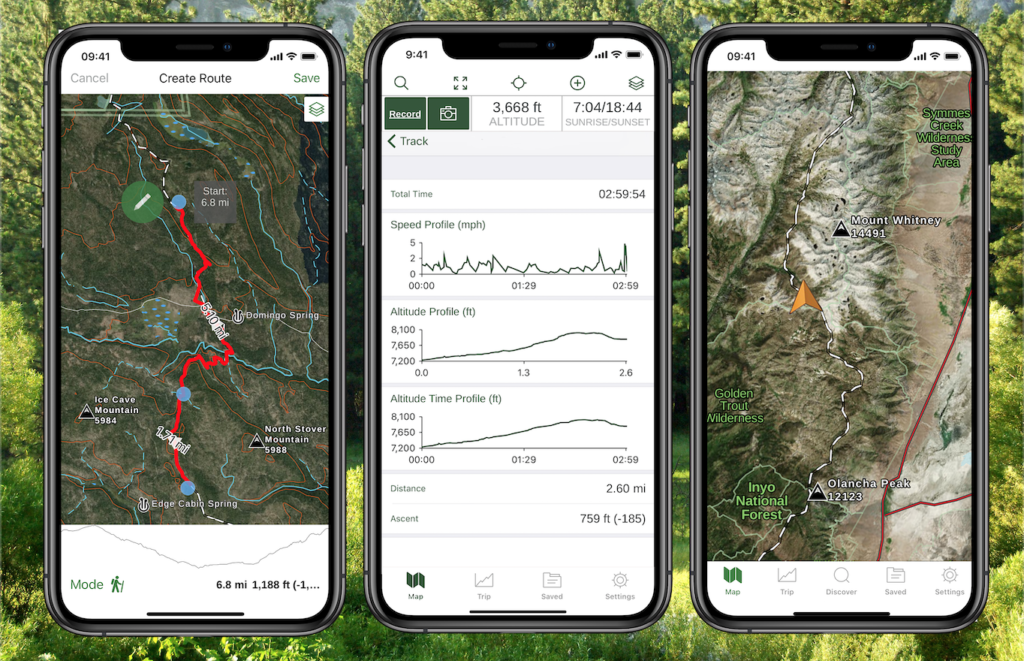 5) Cross-reference sections of the route on multiple maps. With Gaia GPS, you can choose from dozens of relevant map sources, including the USGS, USFS, NPS, and NatGeo. (See above for more recommendations.) Having multiple map sources can be incredibly useful for double-checking dubious turnoffs and water sources when the way is unclear.
We recommend downloading the maps for each upcoming trail section during resupplies in town rather than all at once. This will give you more space on your phone for music and podcasts while you're hiking.
6) Record a track to monitor your stats. Monitor your pace and progress by recording a track. You'll get a user-friendly display showing stats like your hiking speed or elevation gain.
7) Backtrack easily if you get off course. You can also start recording a track if you suspect low-visibility weather or if you're entering an area where route-finding seems difficult. That way, you'll be able to follow your own track to retrace your steps.
8) Download GPX files to customize your route. Being spontaneous and hiking your own hike are part of the thru-hiking experience. It's easy to mix and match side-trips and variations to create your trip—or add onto it mid-hike—by searching for and downloading GPX files online. You can sometimes find GPX files of entire long trails online, as well.
Backups and Other Resources
While Gaia GPS is the standard for GPS navigation and digital maps, you should also consider downloading other information and bringing paper maps as a backup in case your phone gets wet or your battery dies. Most hikers who opt for paper maps mail themselves relevant pages for upcoming sections in resupply boxes. (Keep in mind that resupply boxes are usually reliable but sometimes get lost or compromised, which is another argument for having an app downloaded just in case.)
There are several thru-hike-specific apps like Guthook and Halfmile that contain guidebook-style information on trail towns, points of interest, and other stops along the way. They make a great supplement to the navigational capabilities of Gaia GPS.
Many Pacific Crest Trail thru-hikers download or print out the PCT Water Report, a crowd-sourced database of water conditions along the trail, to cross-reference with any downloaded maps. Water is less of a concern along the Appalachian Trail, but the AT Guide is a popular, regularly updated equivalent, and it includes campsites and other points of interest as well. Both of these are valuable additional resources and backups to Gaia GPS.
This article was written with the help of thru-hikers from all of America's big long trails, including three members of the Gaia GPS Staff.