Whether you're chasing powder or just trying to avoid a day of postholing in two feet of fresh, the new 24-, 48-, and 72-hour Snowfall Forecast overlays make it easy to dial in your winter trip prep.
Available for both iOS users as well as on gaiagps.com, the Snowfall Forecast overlays use color-coded shading to show the expected snow accumulation. That makes it easy to plan ski trips, pick the right traction and flotation for winter hikes, and assess avalanche conditions. Just combine the Snowfall Forecast overlay with your base map of choice (and, if you're doing avy analysis, the slope-angle shading overlay.)
Snowfall Predictions Updated Every 6 Hours
The Snowfall Forecast overlays draw data directly from the Winter Weather Desk of the National Oceanic and Atmospheric Administration (NOAA)'s Weather Prediction Center. The Winter Weather Desk uses a combination of predictive models to create its forecasts, which the National Weather Service then reviews and refines. The collaborating teams constantly refresh their models, providing updated reports every six hours.
The forecasts can accurately predict snow accumulation as far as three days (72 hours) in advance, and they cover all of the continental U.S. as well as parts of southern Canada.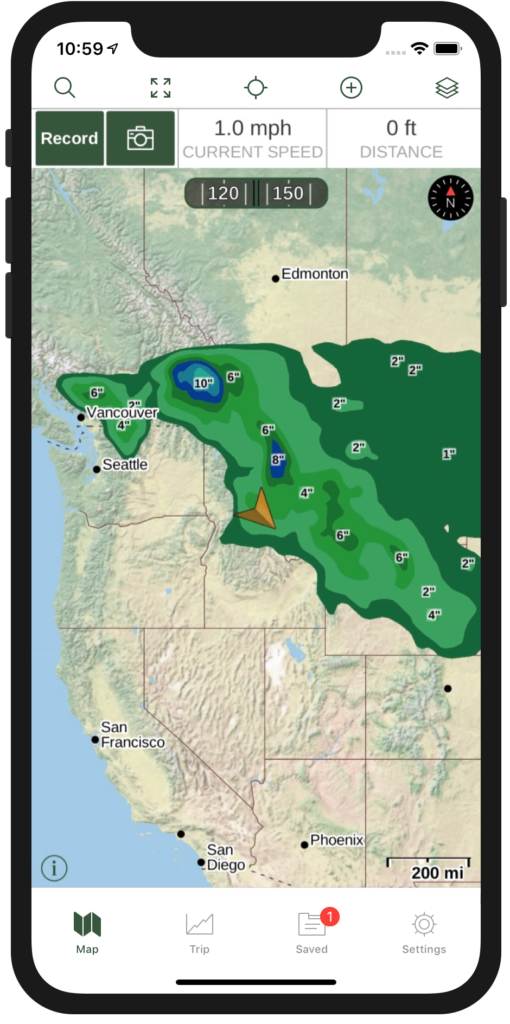 How to Use the Snowfall Forecast Overlay
These overlays derive their predictions from NOAA's probabilistic weather forecasts, which calculate the percent likelihood that a certain amount of snow will accumulate over a given time period. Gaia GPS uses NOAA's 50th percentile forecasts. That means there's a 50-percent chance that each shaded area will receive the indicated amount of snow accumulation during the forecast period. (This may seem low, but it gives the user the best estimate of land area likely to be affected by snow. For that reason, it's the percentile most commonly shown on other popular forecasting sites.)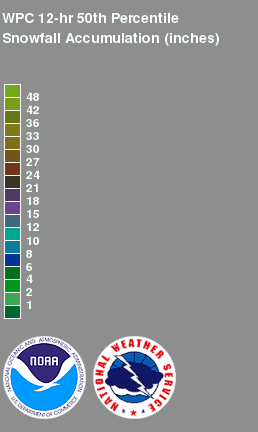 Add the Snowfall Forecast Overlay to Any Map in Gaia GPS
Available for gaiagps.com and iOS users with Premium Memberships, the Snowfall Forecast overlays can be viewed with an internet connection. Since the forecasts are always changing, they can't be downloaded for offline use. However, when you look at the snowfall forecast in the app, your device will cache snapshots of the areas you viewed. The cached data will remain available on your device for 24 hours.
From the Map Sources menu, navigate to the Feature/Weather Overlays category. Pick the forecast overlay that suits your planning needs, and add it atop any base map. Set the transparency to between 30 and 40 percent for optimal visibility.
Check out this video for more tips on adding new map sources in the app:
A Note on Safety
Weather forecasts make great planning tools, but you should always research the terrain and alternate routes ahead of time, and cross-reference any forecast you use with several others for the most accurate predictions. And no matter what the reports say, plan for inclement weather, just in case.