In addition to the 48-hour Precip Overlay, Gaia GPS includes 24- and 72-hour Forecast Overlays, too. Beat the rain, or maximize your powder days, with these  options that you can display over your favorite base maps.
Sourced from NOAA Data
Like the 48-hour overlays, the 24-hour and 72-hour Precip Overlays refresh with new information every 12 hours from the National Oceanic and Atmospheric Administration (NOAA) Weather Prediction Center (WPC). Predictions show a static image of the amount of liquid precipitation expects to fall in the given time frame for the continental United States, Canada, and Mexico.
Using the Precip Forecast Overlays
Choose the best day to head out on the trail by referencing the right weather overlay. Heading out for the weekend? Check out the 72-hour forecast to get a view of overall precipitation. Just want to know what tomorrow looks like? Use the 24-hour forecast to get a quick and accurate prediction.
Premium Members can view the forecast overlays when connected to WiFi or cell service in the iOS app and on gaiagps.com.
How to View the Precip Overlays
In the app:
Find the Precip maps under the Feature/Weather Overlays category.
Turn on layered maps to view the Precip overlays on top of your favorite map source.
Find them in the Weather and Features Overlays category.
How to Read the Precip Forcast Overlays
These overlays use colored shading to show forecasted cumulative precipitation. The legend below shows the color markings for cumulation in inches: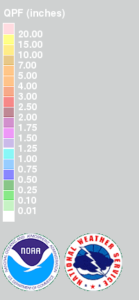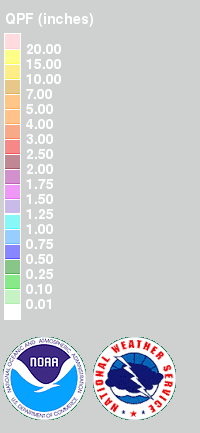 A Note on Safety
You can use the weather overlay as a planning tool to help you pack, plan your route, and be prepared for the weather ahead. Gaia GPS provides map layers to help plan and prepare for inclement weather but make sure to check with local news sources for more frequent and localized updates.