Update: The Forrest Fenn treasure has been found! 
After a mythic decade of exploration, close calls, and a few fatalities, Forrest Fenn's treasure hunt has come to an end.
On the first weekend of June 2020, someone found the bronze chest filled with about $2 million in treasure that Fenn, an art collector, had buried somewhere in the Rocky Mountains.
"It was under a canopy of stars in the lush, forested vegetation of the Rocky Mountains and had not moved from the spot where I hid it more than 10 years ago," Fenn announced on his website.
Fenn did not disclose the exact location of the chest or the name of the man who found the trove.
"I do not know the person who found it, but the poem in my book led him to the precise spot," Fenn, age 89, told The New York Times from his Sante Fe, New Mexico home.
The unidentified man sent Fenn a photo of the treasure, the art collector says. While the finder asked to remain anonymous, Fenn notes that he hails from "back East."
And the discovery remains finders keepers — with a caveat. The person who finds and retains property that has been lost or abandoned is subject to paying taxes "at its fair market value in the first year it's in your undisputed possession,
the I.R.S. states
.
The Story Behind the Forrest Fenn Treasure
Fenn conceived of the idea of hiding a treasure chest after a grim cancer diagnosis. He was told he only had a few years left and decided he wanted to go out with some flair. Fenn selected treasures from his personal collection and made a plan to hide them. But when he outlived the doctors' predictions, the treasure ended up sitting at home in a vault, gathering dust.
[instagram url=https://www.instagram.com/p/BnUIrkfAAgT/ hidecaption=true width=500]
It wasn't until the Great Recession that Fenn decided to bring the legend back to life and bury the box. Allegedly, his primary goal was to give people hope, and to encourage folks to get outside and have an adventure. Since Fenn announced he'd hidden the treasure in 2010, hundreds of thousands have gone in search of it.
The only clues as to its location? It's above 5,000 feet in elevation. It's not within a manmade structure, tunnel, cave, or graveyard. It's in the Rockies somewhere between Santa Fe and the Canadian Border (but not in Idaho or Utah). And its location fits within the criteria described by the cryptic poem Fenn left in his autobiography, The Thrill of the Chase. The poem is as follows, and is said to contain all the clues necessary to find the treasure.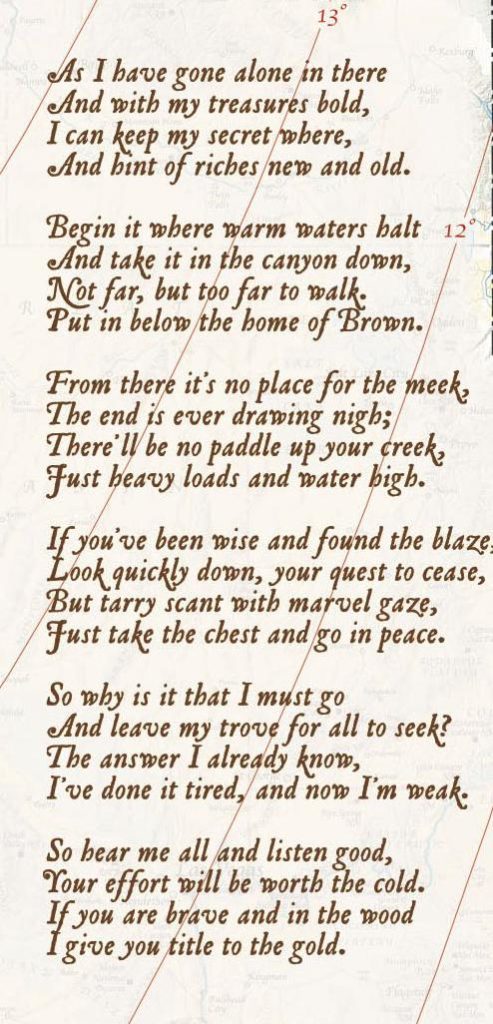 The Best Maps for Treasure Hunting

Fenn himself has said in interviews that he recommends using a GPS for safety reasons, and that a good plan and a good map are essential to the search. But which one?
After poring over the poem and analyzing prevailing theories as to its location, we've handpicked these base maps and overlays to help you create the ultimate Forrest Fenn treasure map.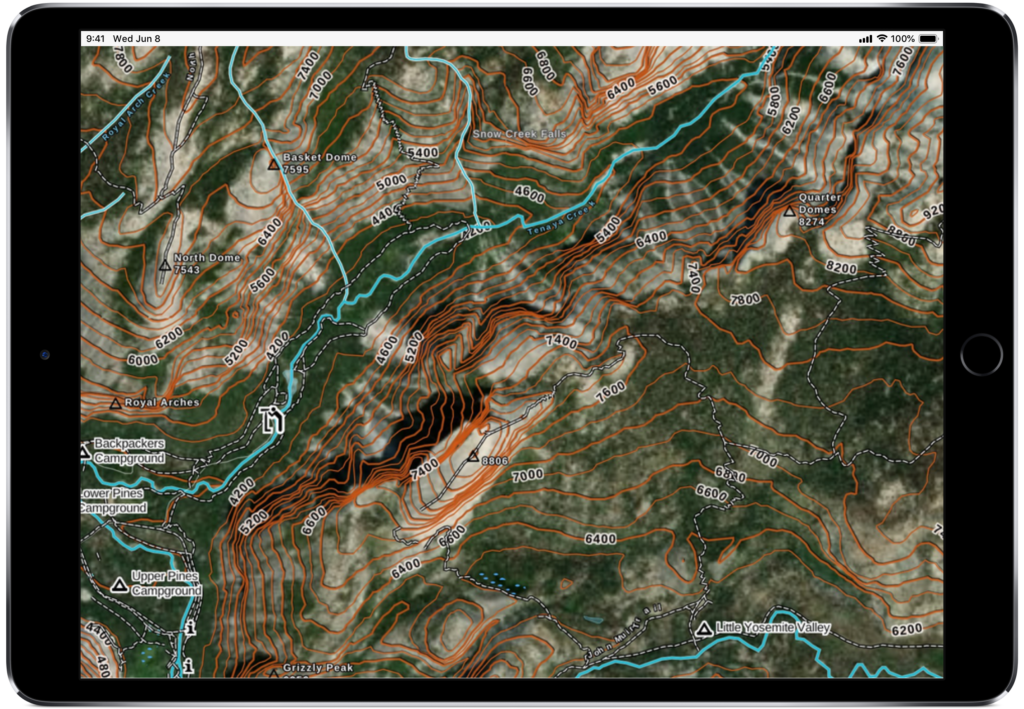 The poem mentions a canyon and a put-in, and many searchers believe Fenn's treasure to be hidden off-trail. Use satellite imagery to scout safe water crossings, assess potential put-ins and take-outs, and plan for the terrain. Use the added contour lines to help you stay safe and avoid steep drop-offs.
Safety note: Fenn has said that the treasure isn't hidden underwater, but most searchers believe there may be river travel involved in finding the right spot. Carefully assess the conditions (and your own abilities) before you head out in a small craft.
In Fenn's book, he mentions childhood trips to Yellowstone. Some searchers believe the "warm waters" in the poem refer to the Boiling River near the border of the park. If you're part of the contingent that believes the treasure is in Yellowstone, you'll need access to maps from either the National Park Service or National Geographic.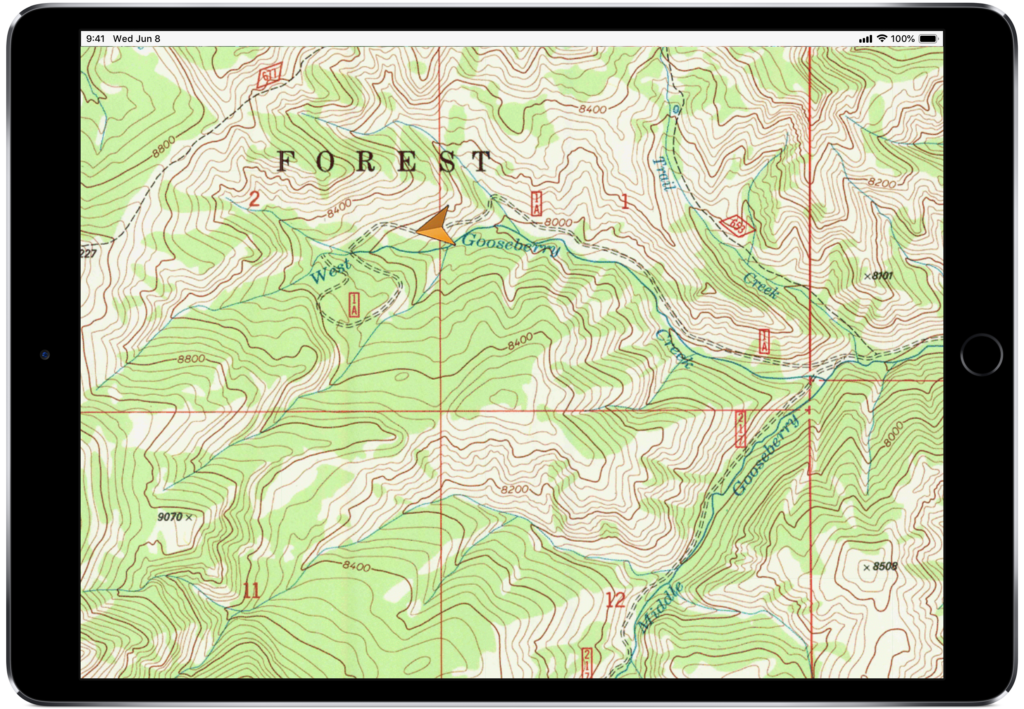 Many searchers believe that references like "home of Brown" and "in the wood" refer to proper nouns—like Brown Mountain or Wood River. Make sure you have an updated map with well-labeled place names. USGS maps are some of the most comprehensive official government maps out there, though crowd-sourced data from OpenStreetMap makes a good supplement. You can find USGS maps and multiple OSM sources within the Gaia GPS map catalog.
It's common knowledge that Fenn drove and parked his car before he started hiking in to stash his treasure. We also know he reached the hiding spot and returned to his car within a single day. A few searchers believe this means it's within a day's drive of his home in Santa Fe, though this hasn't been confirmed.
Regardless, no Forrest Fenn treasure map is complete without an accurate network of roads and trails. Make sure you have access to resources like the USFS Roads and Trails Overlay or MVUM Overlay, which show little-used roads and trails that don't appear on other maps.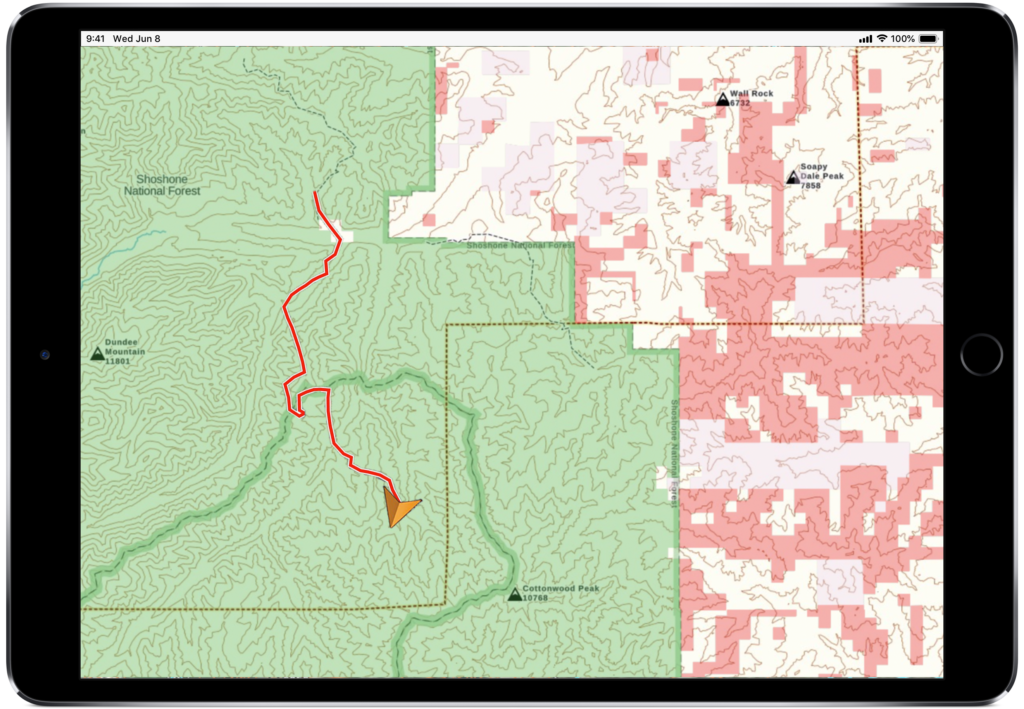 It's pretty well accepted that the treasure is somewhere on public land. Hiding and/or searching for it would be illegal otherwise. Even so, searchers have been arrested for poking around private property (most notably, Fenn's). Use a map with private and public land boundaries to make sure you're on legal ground, no matter where you search.
Some speculate that the "blaze" referred to in the poem is a scar from a wildfire. Reference a map of burn scars and historic blazes to help inform your search.
Get All the Fenn Treasure Maps you Need in One App
The free version of the Gaia GPS app gives you access to the Gaia Topo base map, which includes contour lines, roads, and labeled features. You'll also be able to create routes and leave waypoints to mark promising locations and past searches (as long as you're in service).
If you want access to all the maps listed above, plus the ability to download maps to your phone or print custom maps at home, consider giving a Premium Membership a try.
Bonus for full-time treasure hunters: Buying a Gaia GPS Membership also unlocks historical maps of the U.S. and the U.K. from the early 1900s. You can also import your own maps, including scanned paper maps, to further build out your personal database.