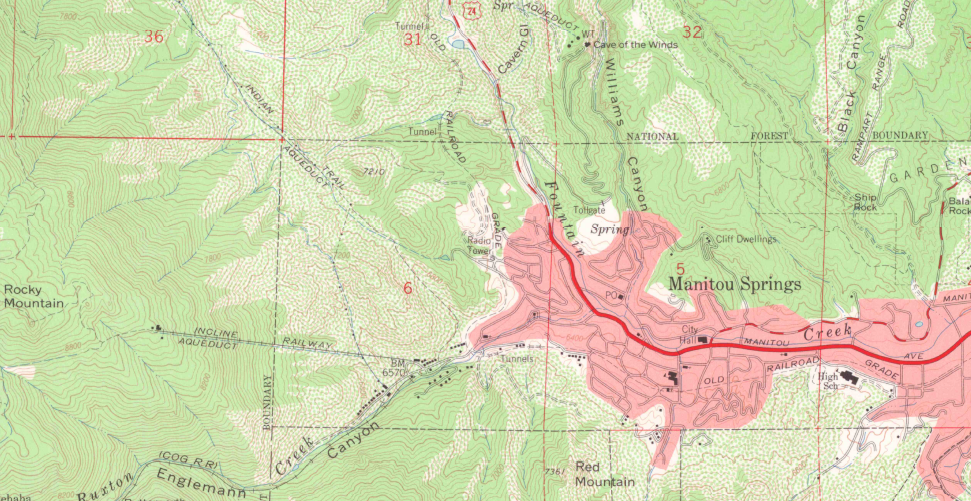 Classic 7.5 minute USGS topographic map for Manitou Springs, Colorado, 1961. Credit: U.S. Geological Survey.
We recently covered the basics of topographic maps, including how to read contour lines, and how to use the maps to plan your next outing. In this post, we'll go into more detail about U.S. Geological Survey (USGS) topo maps.
How to read a USGS Topo
The USGS has been the definitive source for U.S. topo maps since the 1880s. Often referred to as quadrangle maps, or quads, the most commonly used USGS topo maps have a scale of 1:24,000 and cover 7.5 minutes of longitude by 7.5 minutes of latitude. In apps and on the Internet, the quads get scanned into digital files and seamed together into one continuous quilt, making them potentially less crisp and clear than modern topo maps based on OpenStreetMap (OSM).
The USGS prints wider index contour lines for easy visibility, and typically measures maps in feet. Contour intervals vary by map, depending on the area's relief. In some cases, mountainous regions may have an interval of 50 feet, while other maps covering relatively flat areas might measure intervals every 100 feet instead. On paper maps, you'll always find the contour interval printed at the bottom. You can display USGS topos in Gaia on iOS and Android.
Check out the guide to USGS topographic map symbols for more information about identifying map features of this source.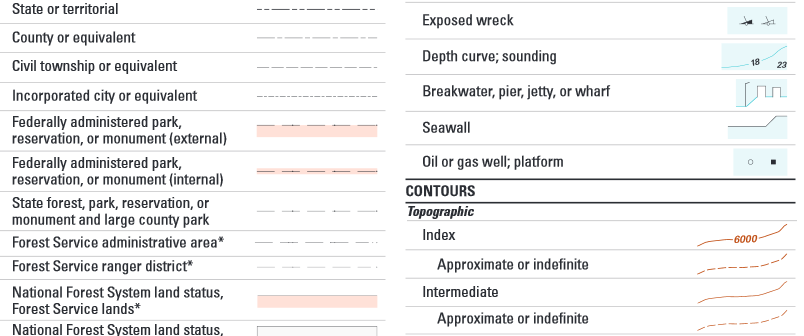 Selected USGS topographic map symbols. Credit: U.S. Geological Survey.
USTopo
Established in 2009, the USGS calls USTopos their next-generation version of USGS topo maps, and the maps use seamless digital data, while adhering to the quad format. USTopos show contours, roads, built areas, water, mountains, and labeled trails.
Since the USGS does not field-verify the newer, digital topos, they often show fewer trails, remote roads, campgrounds, survey markers, and boundaries than legacy USGS topos. USGS revises these maps every three years to include additional data as they collect and vectorize it.
The National Map
On the Web, you can locate and download many types of maps and satellite images through The National Map, including individual topos. Apps like Gaia GPS also tap into The National Map service to provide a seamless view of the newest USTopos in the palm of your hand.
Learn how to display The USGS National Map in Gaia on iOS and Android.
Forest Service Topo Maps
USFS topo maps (FSTopos) use the same format as the USGS – 1:24,000-scale, 7.5-minute topographic map series, but with enhancements and regular revisions contributed by USFS field staff that emphasize forest-related information. For example, while USGS topos outline national forests in pink, FSTopos color their complete footprints in a light grayish-pink to make them stand out. These topos direct our attention to trails, roads, and water features by toning down wooded areas and contours.
Excellent trail coverage and prominently marked Forest Service road numbers (helpful for navigating backcountry areas) make these maps extremely valuable for outdoor recreation. While revisions as recent as 2015 make the FSTopo more up-to-date than the USGS equivalents, this source only covers quadrangles containing national forests or grasslands.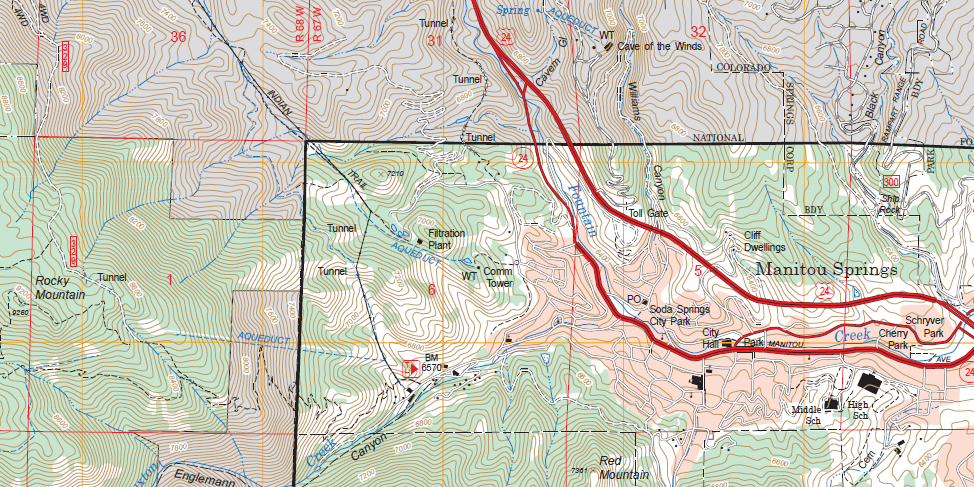 Manitou Springs, Colorado FSTopo map. Credit: U.S. Geological Survey and U.S. Forest Service.
Now that You Know How to Read U.S. Government Topo Maps
You may also want to read about OpenStreetMap-based topo maps, and experiment with all of these sources in Gaia GPS as you organize your next trek. Follow the iOS and Android links throughout this post to learn how to use them in the app.
If you have any questions about using topo sources in Gaia, please email us at support@gaiagps.com.