In 2017, renowned thru-hiker and mapmaker Lon Cooper (Halfmile) partnered with National Geographic to craft meticulously accurate maps of the Pacific Crest Trail. We're thrilled to announce that we've joined that historic partnership to bring you those same PCT maps in Gaia GPS.
We're rolling out the maps one state at a time, starting with Washington. The NatGeo Pacific Crest Trail map layer currently details a 10-mile-wide trail corridor of the PCT as it stretches from the Canadian border to the Columbia River. In it, you'll find everything from labeled terrain features and amenities, to points of interest, annotated mileages, and hand-curated notes from Halfmile's original maps.
What is the Pacific Crest Trail?
The PCT traces the spine of the western coastal ranges, carving out a 2,650-mile trail that winds through some of the most storied landscapes of Washington, Oregon, and California. Traditionally, the trail begins at the California/Mexico border and finds its terminus at the Canadian border. In between, it connects desert, volcanic slopes, temperate rainforest, and the rocky alpine crown of the High Sierra.
The PCT was originally conceived of in the 1920s, and has since become the stuff of both American heritage and recent pop culture. Its length and variety makes it ideal for staging day-hikes and section-hikes of any shape and size, in addition to end-to-end hikes. These full-length hikes, called thru-hikes, take most people four to six months to complete. According to the Pacific Crest Trail Association, just 6,636 people have completed the entire trail.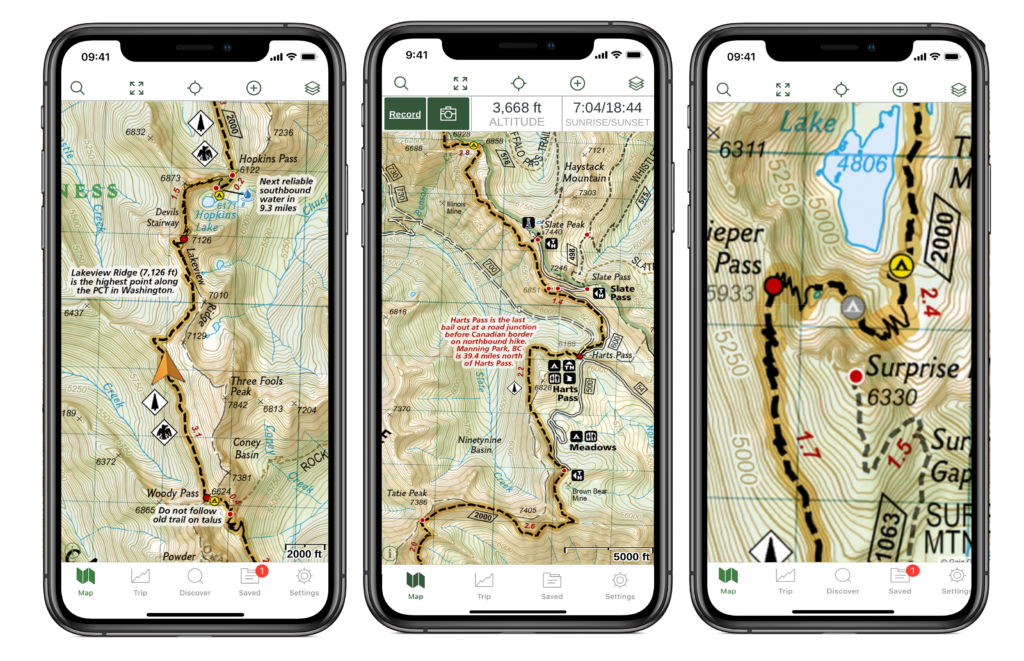 Why National Geographic Maps?
National Geographic consistently sets the standard for quality and accuracy in outdoor recreation mapping. The NatGeo Pacific Crest Trail map is a perfect example. All information is fact-checked and reviewed by long-distance hikers, local land managers, and NatGeo's own cartographic editing team. The layer also uses a trail-centered map format specially designed for long trails.
This PCT map stands out for its comprehensive campsite coverage. Unlike other maps, this one labels both official and unofficial campsites, and marks over-camped spots. If land managers report that a campsite is heavily impacted by human traffic and no longer recommended for camping, the NatGeo PCT map uses a grayed-out tent icon to indicate discouraged use.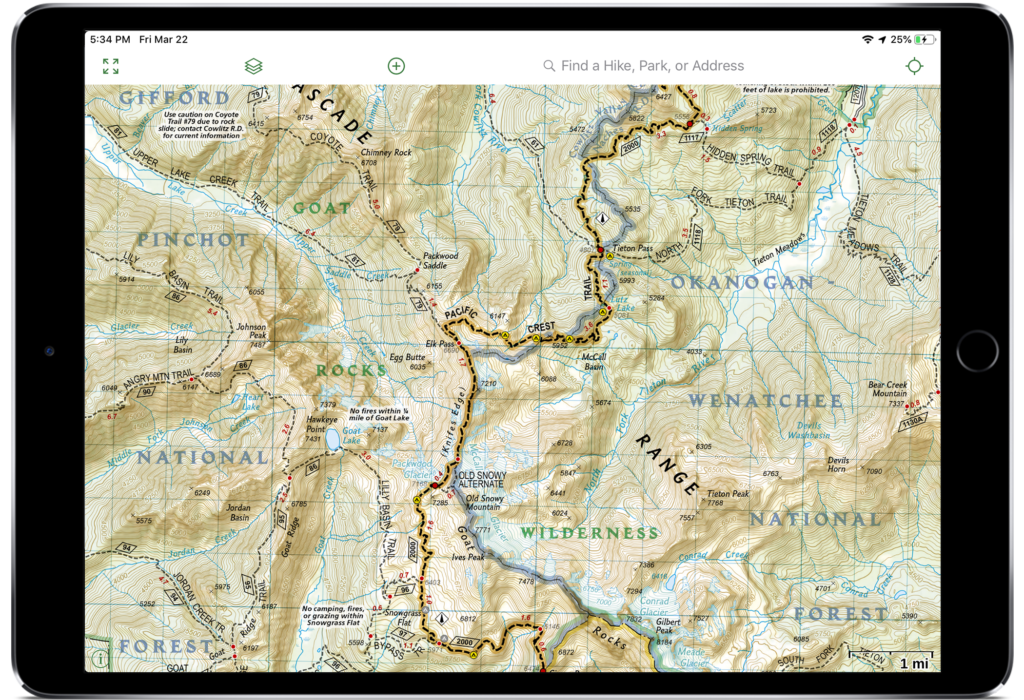 How to Use the NatGeo Pacific Crest Trail Map
The NatGeo Pacific Crest Trail map source is available to any Gaia GPS user with a Premium Membership. To add, simply open the United States category in the map manager. Then tap the plus sign next to the NatGeo PCT map layer. Because NatGeo maps are extremely detailed, we recommend using this one as a primary base map under any of your favorite weather forecasts or feature overlays.
You can find other tips for using Gaia GPS to navigate on thru-hikes and extended backpacking trips here.
More to Come
Keep an eye out for Oregon and California PCT maps, which we plan to add in the coming months. When complete, this will be the second prong of the Triple Crown to be included in the Gaia GPS map catalog. (We added the full NatGeo Appalachian Trail maps in 2018.)