Burning eyes, runny nose, and hazy skies indicate that wildfire season has engulfed the U.S. Steer clear of smokey, polluted air on your next adventure with three brand new Smoke Forecast maps. Smoke Forecast (today), Smoke Forecast (24h), and Smoke Forecast (48h) give you a sense of smoke levels all over the continental US for today, tomorrow, and an entire weekend.
Whether you're backpacking near a wildfire-ravaged area or overlanding thousands of miles away, get a quick and accurate sense of how much smoke blows over so you can circumvent the bad air and enjoy clear views.
Smoke Forecast Today, 24h, and 48h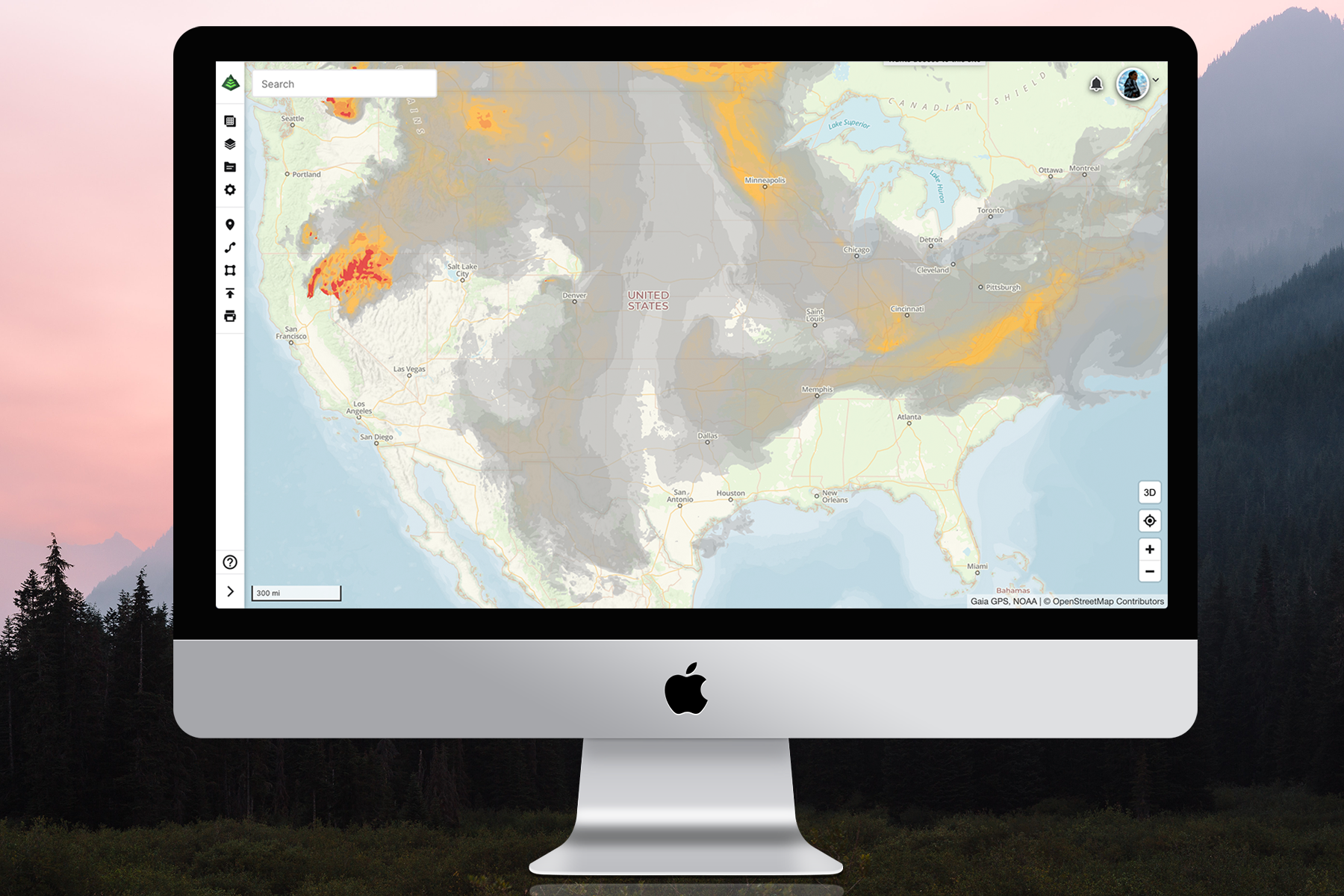 The new Smoke Forecast layers show an estimate of the concentration of wildfire smoke present near the ground. These predictions take into account smoke billowing from nearby wildfires, as well as smoke blown across the atmosphere from fires burning far away. The Smoke Forecast data comes from a NOAA weather model called High Resolution Rapid Refresh (HRRR). HRRR measures particulates on a 3km grid spanning the continental US.
RELATED: FIND CLEAR AIR WITH OUR SUITE OF FREE AIR QUALITY MAPS
Color-coded shading on the map gives you a quick sense of wildfire smoke in or coming to your area. Like a tape measure, the higher the number the denser (and more harmful) the particulate concentration. Lower smoke concentrations appear gray on the map, progressing to yellow, orange, and finally red for the highest concentrations.
The color-coded scale in the map roughly translates to the Air Quality Index, the EPA's index for reporting air quality. Note that gray on the Smoke Forecast scale equates to green on AQI. You can use this color-coded system as a loose guide for when it's safe to recreate outside, or when you should modify your plans.

To see the exact estimated particulate amount, simply tap that location on the map. The sidebar on the web and the tap drawer on your phone will give you the smoke concentration (in μg/m³) and time that forecast was recorded (in UTC). Smoke Forecast (today) is updated hourly. Smoke Forecast (24h) and (48h) are updated every six hours.
This is a model-derived forecast layer, not an exact reading. These layers carry the same level of forecast uncertainty as other weather predictions, such as our Precipitation and Snow Forecast maps. In addition, very recent or small wildfires may not be included in the smoke prediction. This means that these maps may underestimate the amount of surface smoke present.
How to Use Smoke Forecast Maps
Pull up the relevant Smoke Forecast map for your trip. If you're heading out today, look at the Smoke Forecast (Current) map. If your trip will extend into tomorrow or span an entire weekend, pull up the Smoke Forecast (24h) or (48h), respectively.
Pair the Smoke Forecast layer on top of your favorite base map, such as Gaia Topo or Satellite Imagery with Labels to see exactly how the air quality looks along each part of your route.
Look at the color-coded shading over your route.

Clear or light gray — good to go
Yellow — moderate. Proceed with caution.

Orange — Unhealthy for sensitive individuals.
Red — Unhealthy to hazardous. Modify your plans or stay home.

Next, use the Smoke Forecast layers in conjunction with our Wildfire (Satellite) and Wildfire (Current) maps to get a comprehensive understanding of how where fires are burning and how to bypass them.
Finally, add the Air Quality (Current) and Air Quality (Tomorrow) maps to get an even richer sense of how wildfire smoke compounds with ozone and other air pollutants to influence the overall air quality in your area. Learn more about the wildfire and air quality maps here.
Why Checking for Wildfire Smoke Matters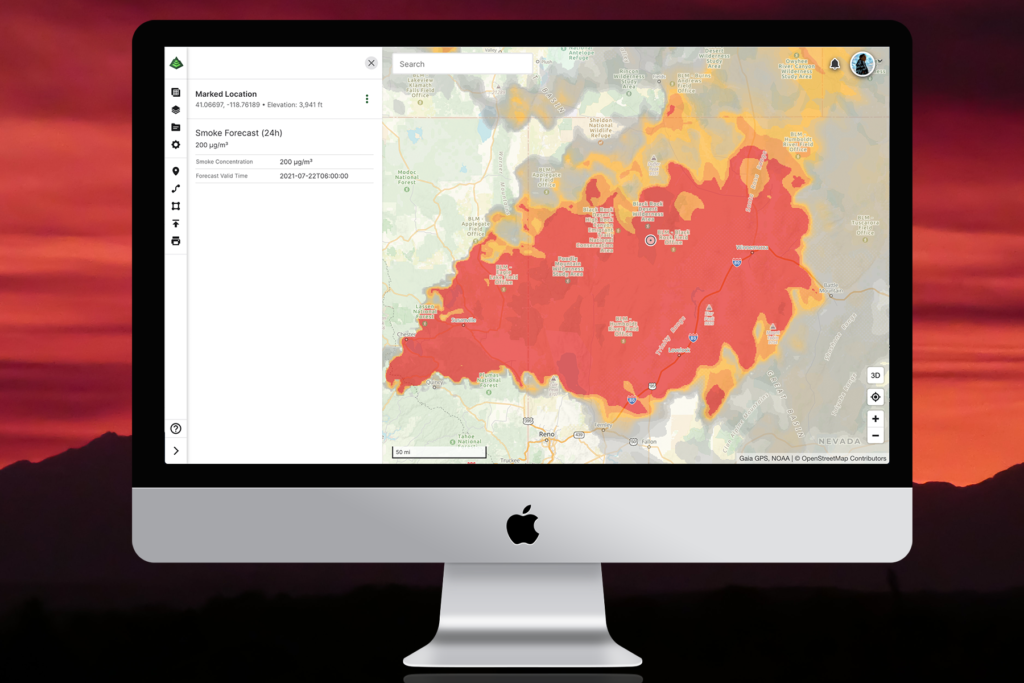 Wildfire risk extends beyond simply encountering the fire itself. Smoke can travel thousands of miles away, exposing you to major toxins including:
ground-level ozone
particle pollution (also known as particulate matter, including PM 2.5 and PM 10)
carbon monoxide
sulfur dioxide
nitrogen dioxide
The Smoke Forecast layers measure PM 2.5 particulates. PM 2.5 refers to particulate matter with a size of two and a half microns or less. The width of the largest of these particles comes in at less than 30 times smaller than a human hair. The smallest particles are so microscopic that several thousand could sit together into the period at the end of this sentence.
These super fine particles can penetrate deep into your lungs, making your eyes burn and your nose run. Potent wildfire smoke aggravates chronic heart and lung diseases, and exposure to this particular pollution is even linked to premature death, the EPA reports.
If you're heading on a hike, bikepacking trip, overlanding adventure (you name it) from June to December, check these map layers to help inform your route choice so you can keep your lungs happy and healthy. Even east coasters may be surprised by how much wildfire smoke blows in from the west and settles overhead.
How to Access Smoke Forecast Maps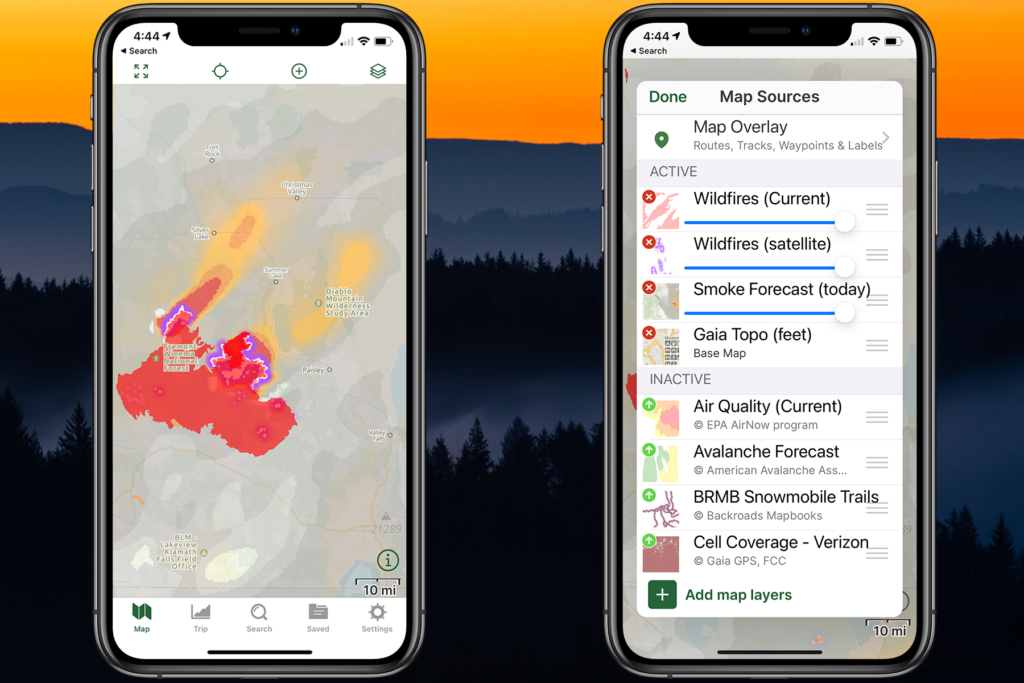 All three Smoke Forecast Maps are available for free on gaiagps.com and in the app. To add the Smoke Forecast layers to your active maps in the iOS or Android app or on the web, simply select the map layers button, tap "Add map layers" and select "Feature/Weather Overlays." Choose from Smoke Forecast (Today), Smoke Forecast (24h), and Smoke Forecast (48h).
Since refreshing for updated smoke data requires a wifi connection, these maps are not available for offline downloads. However, you can keep a recent visual on your phone: viewing the forecast over an area in a map will cache that data, leaving it available to view in the app for 24 hours.
Use of this map layer for any purpose is at your own risk. Trailbehind Inc (maker of Gaia GPS) is not responsible for any actions you take based on the information contained in any map.
While the Smoke Forecast maps are available for free, get a premium membership to download your favorite maps and take them offline with you in areas without cell service. A Premium Membership also gives you access to Gaia GPS's entire map catalog. Download hundreds of maps, including National Geographic Trails Illustrated, high-resolution satellite maps, weather overlays, and government-issued topo maps like USFS topo, all the USGS quad maps, and MVUMs.