Image Credit: 4X Overland Adventures
Overlanding has taken the outdoor industry by storm in the last few years. If you're unfamiliar, it's a term used to describe vehicle-based travel that typically involves dirt roads, four wheel drive, and getting as far off the beaten path as possible. Overland Journal, the longtime authority on the subject in the U.S., describes the pastime as "self-reliant adventure travel to remote destinations where the journey is the primary goal."

Think of it as backpacking with a 4×4. Overlanding originated in Australia and Africa and can involve anything from driving the Pan American Highway in a Volkswagen Syncro, to circumnavigating Africa in a Jeep Wrangler, to an overnighter at a dispersed campsite on a local Forest Service road. While the method of transportation plays a role, more than anything overlanding is about the journey and the experience along the way. Anyone can do it with some basic knowledge, a mechanically sound vehicle, and a thirst for adventure.

In this article, we'll cover what an overlanding route looks like, along with the type of vehicle and equipment you'll need, and some tips for getting started. Here's what you need to know to get into overlanding.
What an Overlanding Route Looks Like
Overlanding routes vary greatly in terrain and difficulty, a lot of which depends on where they are located. Routes in the Western U.S. tend to be longer and more remote, and can involve high mountain passes, vast swaths of empty desert, or long stretches of rough roads. Routes in the Eastern U.S. are typically shorter in length but can be tighter and trickier to navigate with a large vehicle.
If you've ever driven a vehicle off road, you likely already know what type of obstacles to expect. Rough dirt roads, washboard, deep ruts, stream crossings, sandy washes, mud, loose hill climbs, tight switchbacks, and even snow are all common road conditions you might encounter. That being said, overlanding differs from four wheeling, rock crawling, and other forms of off-roading because it takes place for an extended period of time, includes driving on pavement, and typically doesn't involve "extreme" obstacles like you might see a Jeep Wrangler tackling in Moab.

Overlanding draws you to remote, uninhabited places to enjoy the scenery and solitude, and you'll need maps to find your way. Gaia GPS offers a catalog of off road and 4×4 maps that show you what kind of terrain you'll encounter and how difficult your route will be. You can download the maps for offline use with a premium subscription and use them out on the trail, which is far more useful than just a paper map. Toggling between Gaia's proprietary Gaia Overland map, NatGeo Trails Illustrated map, the MVUM (USFS) (US Forest Service Motor Vehicle Use Map), the USFS Roads and Trails Map, and Gaia Topo layers gives you on-demand access to trail junctions, road conditions and closures, dispersed camping sites and terrain features. Using these at home on a desktop helps with route planning, and then using them offline on a phone helps with navigation in the field and allows you to deal with unexpected route changes, like deadfall across a road or another impassable obstacle.

Tread Lightly, Stay on Established Roads
The USFS MVUM and Roads and Trails Maps are indispensable because they also have notes on road closures and status, grade, road material, and even whether a road is passable in a passenger car or requires high-clearance and four-wheel drive. It's also important to stay on legal roads—driving off-road doesn't mean pointing your truck into the woods and creating your own path, it just means driving off pavement, on a dirt road. The key here is that you're still driving on a legal road of some kind, and it's important to follow Leave No Trace principles and guidelines for responsible 4×4 use from Tread Lightly.
Vehicle Considerations
The vehicle you drive plays the largest role in an overlanding trip. It will act as your home base, and needs to be comfortable both on and off pavement. While you can technically overland with whatever vehicle you've already got, there are some things most overland rigs have in common.
Four Wheel Drive Versus All Wheel Drive
First, you're going to want four wheel drive, or at the very least, all wheel drive. Traditional four-wheel-drive vehicles have a transfer case that allows the driver to send power to both the front and rear wheels, and the power is typically split 50/50. Four-wheel-drive trucks and SUVs, like a Toyota Tacoma, let you select from a high or low range, the latter of which increases torque, helps you navigate steep hills, and generally puts more power to the wheels. Overlanders prefer true four wheel drive for a number of reasons, but mainly because it's more capable off road than all wheel drive.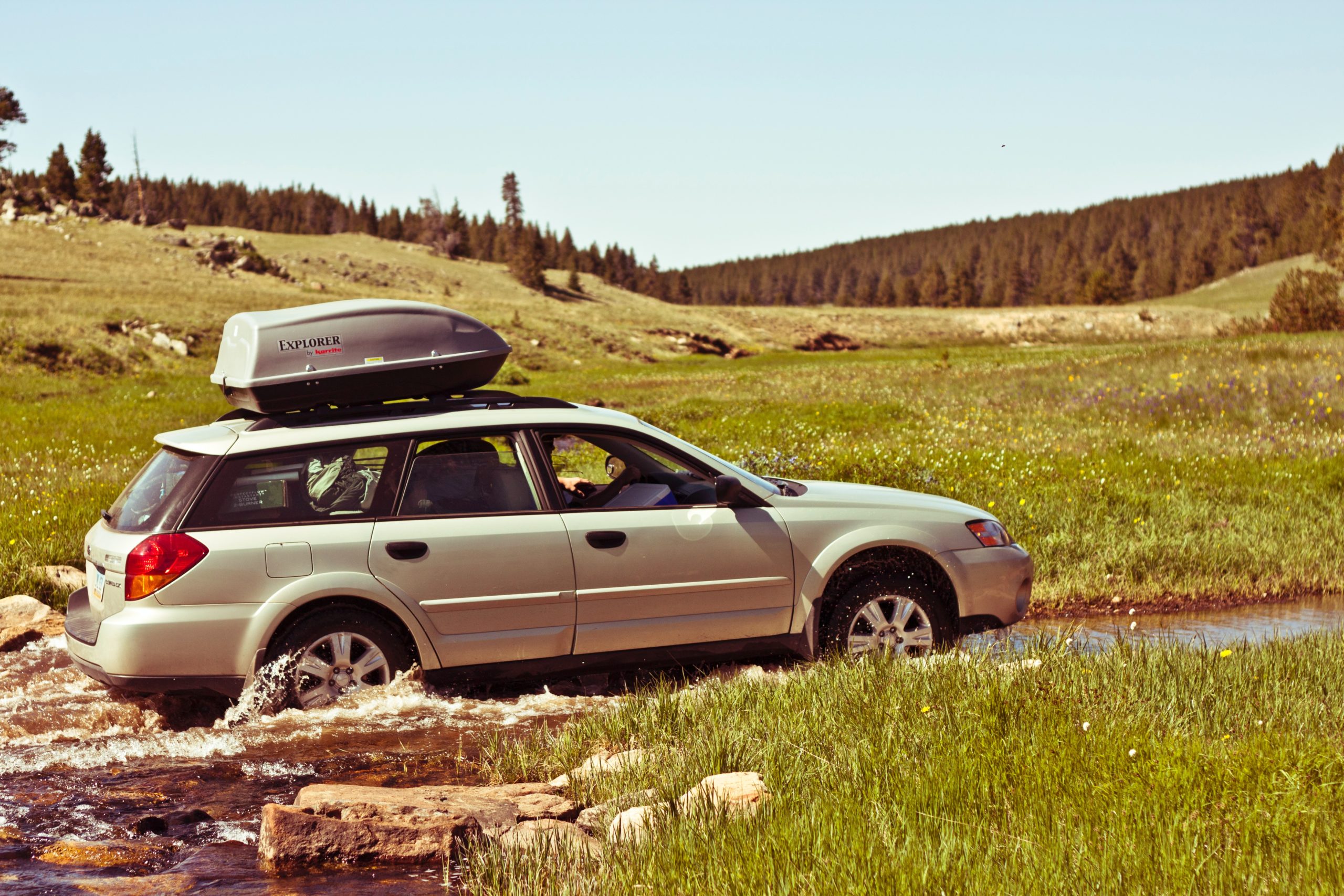 All wheel drive, like what you find in a Subaru Outback, automatically sends power to whichever wheel has lost traction, and typically doesn't split the power evenly between the front and rear wheels. This type of system works well on icy or wet pavement, and can certainly get you down a dirt road, but it's not as robust and doesn't work as well in the serious off-road situations many overlanders face. Learn more on the differences between four and all wheel drive.
Ground Clearance
Another important consideration is your vehicle's ground clearance. Most passenger cars and some crossovers don't have enough clearance to safely navigate rocks and ruts off road. Subaru's Outback and Forester have 8.7 inches of ground clearance, which is plenty for most situations, while a Toyota Tacoma has 9.4 inches and a Jeep Wrangler Rubicon has 10.8 inches.
Storage Space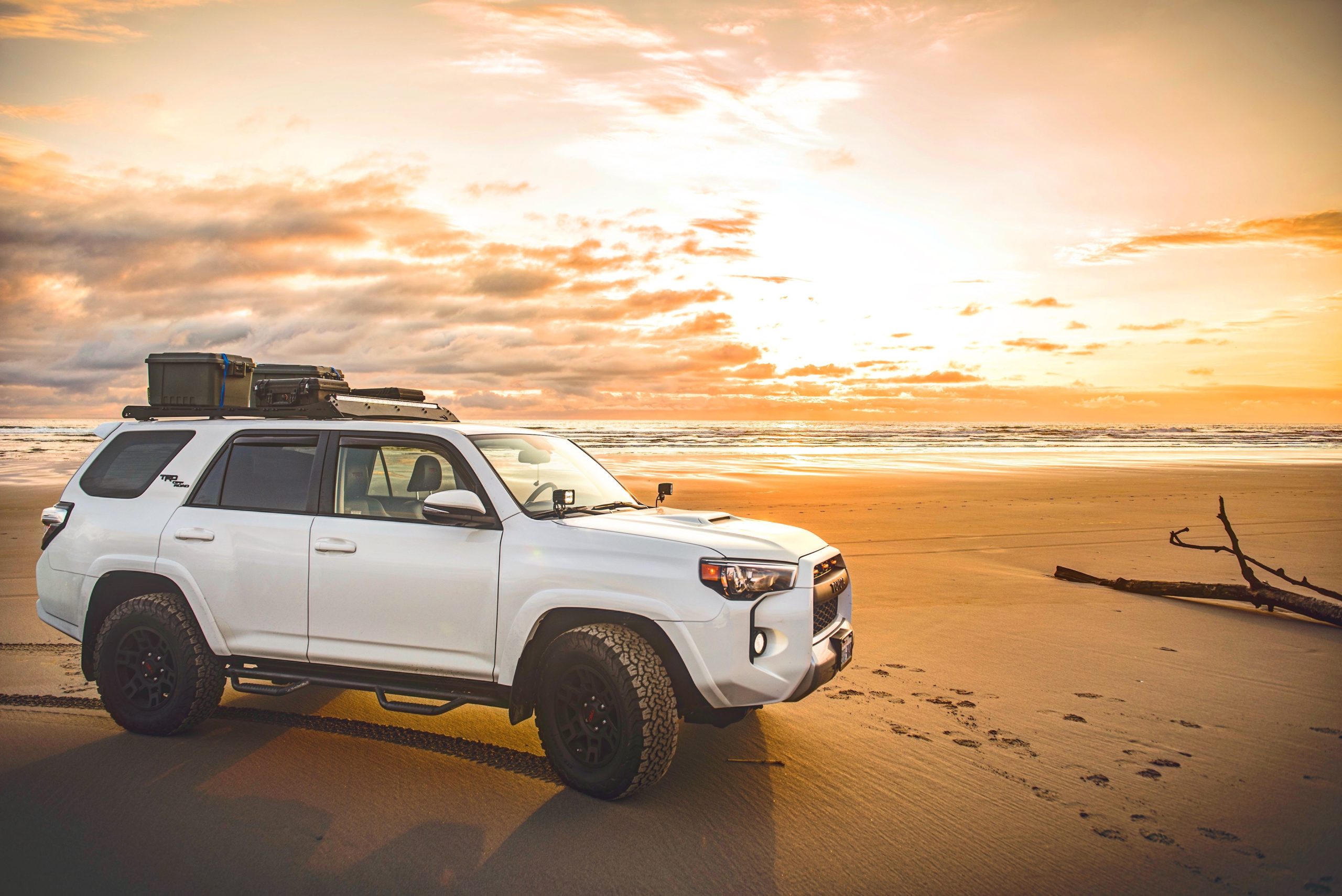 Storage space and payload capacity are also particularly important for an overland rig since you'll be camping and need to be fully self-sufficient for the duration of your trip. Smaller SUVs like a Jeep Wrangler are great for rock crawling and general trail riding, but their limited interior size and small payload doesn't make them particularly well-suited to overlanding. A full-size truck, or a larger, truck-based SUV like a Toyota Land Cruiser often works better because you can load it up with gear and it is rated to carry heavier loads. It's very easy to exceed your vehicle's payload capacity once you include the weight of passengers, gear, and any accessories like roof racks, rooftop tents, or a winch, which can impact the vehicle's drivability and safety. Longer trips also often require bringing spare parts since you'll be far away from help, so having lots of storage space is always a good idea.
Accessories and How to Use the Rig You've Got
If you spend much time around the overlanding crowd you'll quickly realize that outfitting your rig with aftermarket parts and accessories in order to make it more capable and comfortable is extremely popular. Things like heavy-duty off road bumpers, skid plates, winches, additional off-road lighting, as well as suspension lifts and locking differentials are all popular upgrades. If you already own a vehicle that would make a good candidate for an overlander, upgrades like that can be a good way to protect your vehicle from damage and ensure that you can make it further into the backcountry.
How to Upgrade the Vehicle You Already Own
You can make your vehicle more off-road worthy with a few simple upgrades, no matter what you drive. Tires are the most important modification you can make to a vehicle if you want to drive off road because they provide your vehicle's traction. A tricked-out 4×4 won't get very far if it's rolling on street tires without an aggressive tread pattern. All-terrain tires are a good choice for most overlanders because they offer a mix of on-and-off road performance. The BFGoodrich T/A KO2 gives you great traction in dirt, mud, and snow, and is still quiet and comfortable on pavement. If you want to try overlanding in your crossover or smaller SUV, you should consider something like the Falken Wildpeak A/T Trail. This tire weighs less than the KO2, but still provides improved off-road traction and is a better fit for something smaller like a Subaru or Toyota Rav4.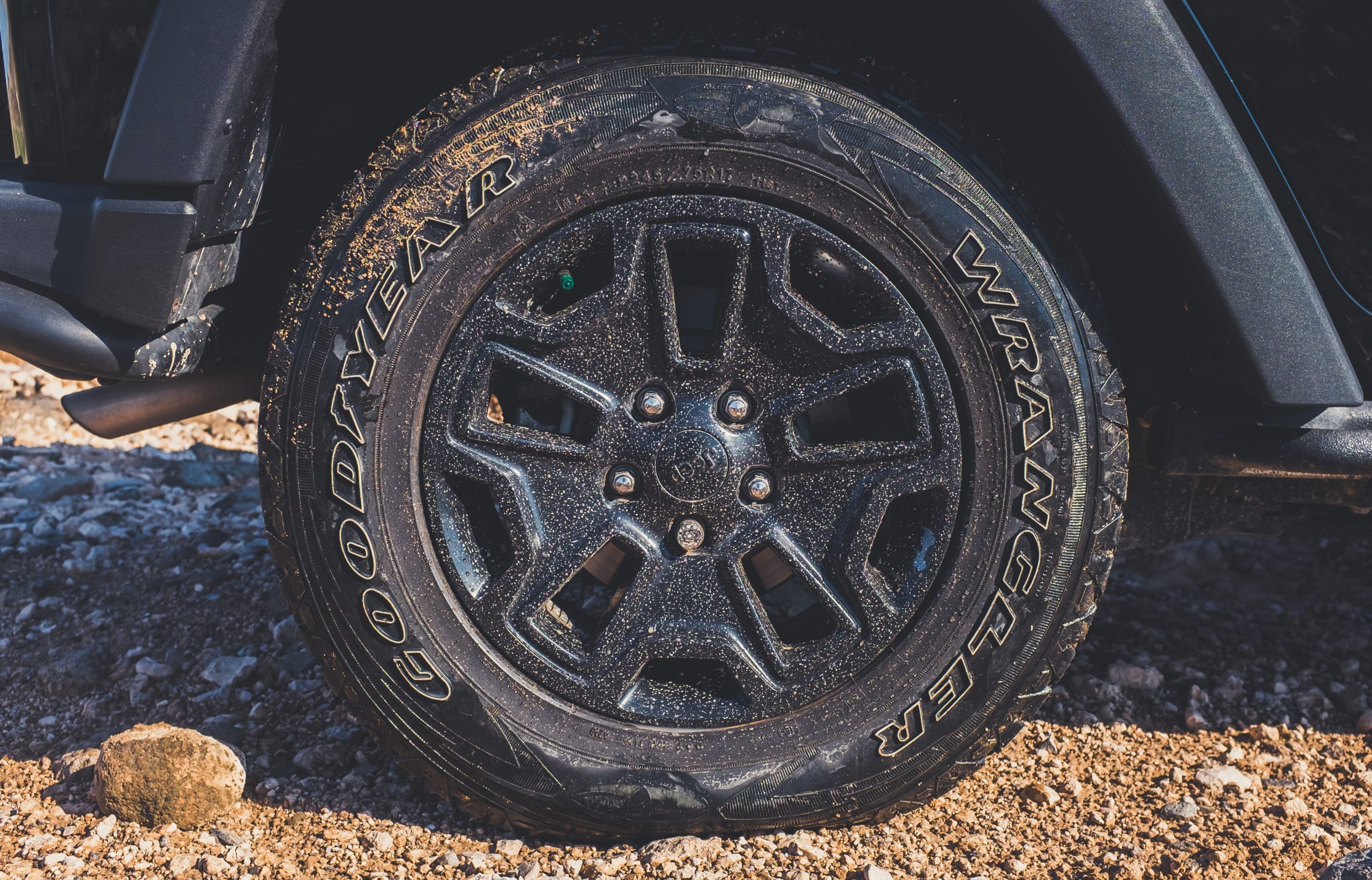 You can't do anything to increase a vehicle's payload capacity, but you can increase storage space by adding a roof rack. You don't want to strap too much stuff on top of your vehicle because you'll increase the center of gravity and have a greater rollover risk, but a good roof rack like Frontrunner's Slimline II will allow you to easily carry gear you can't fit inside the car. You can also bolt on accessories like bike, ski, or kayak carriers, mount a storage box on top, or carry a rooftop tent and an awning to protect you from the elements.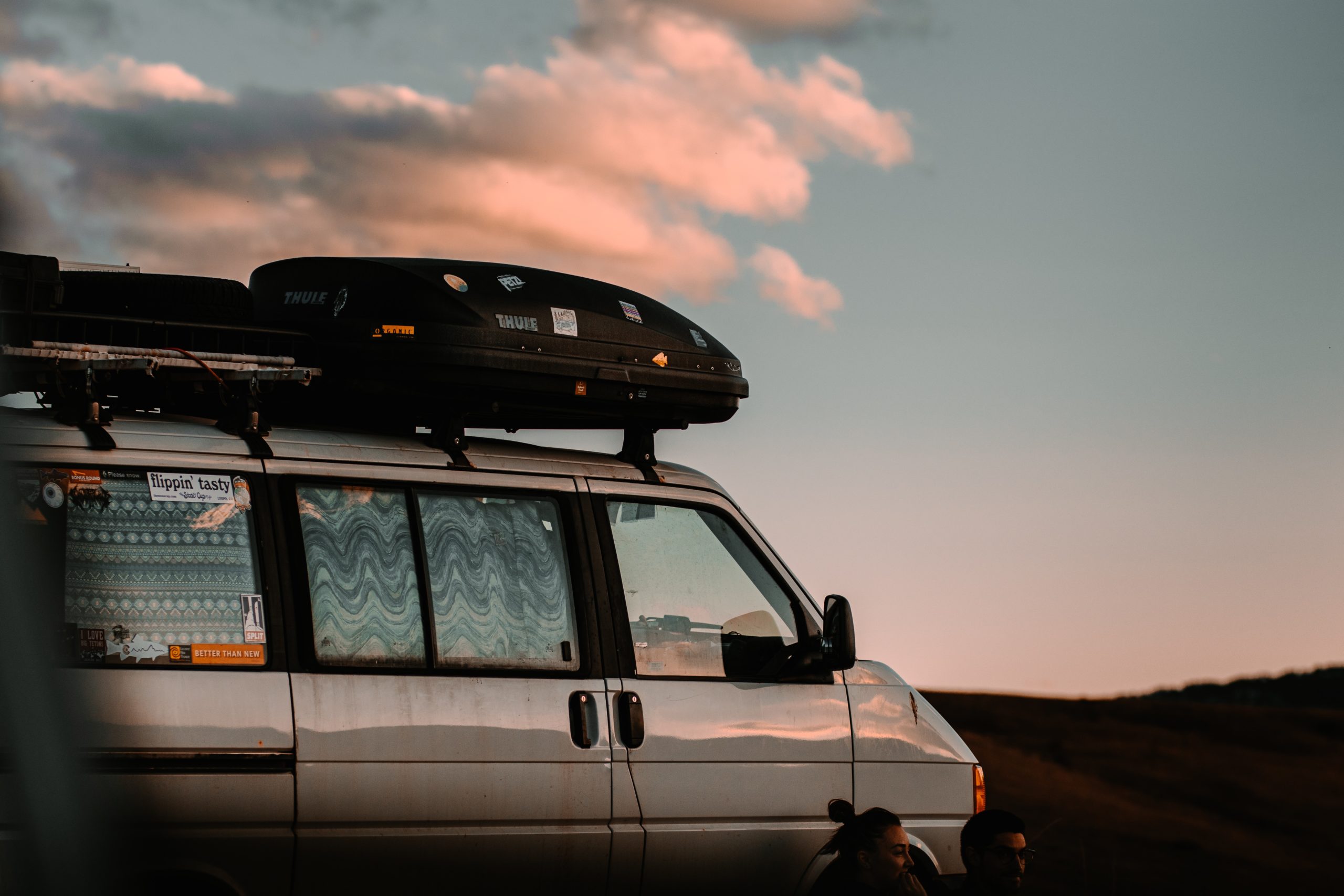 The Equipment You'll Need
It's very easy to overthink what type of gear to bring and how much of it you'll need on an overland trip. In this article, we'll cover just the basics to get you started; just keep in mind that you can acquire a lot of this equipment over time as you learn what your needs are and how your vehicle performs.
Sleeping: Rooftop Tents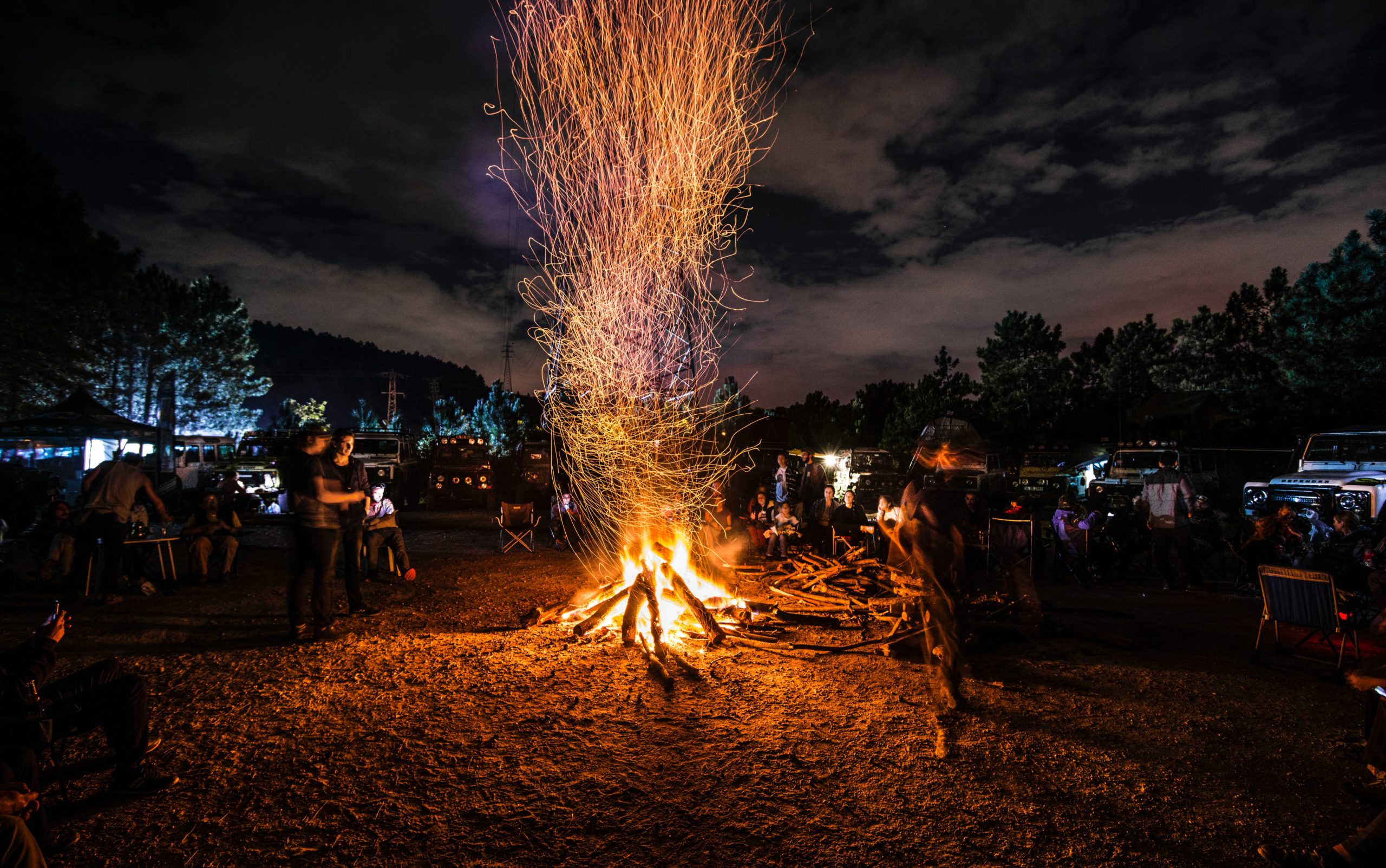 Essentially an off-the-beaten-path road trip, overlanding brings you to dirt roads where you camp along the way. You'll need to decide where you'll sleep. The easiest and cheapest option is to simply use a tent. Many overlanders with larger SUV's (or pickup trucks with a camper shell) choose to sleep inside their vehicle to keep things simple. This offers more weather protection than a tent, but you need a vehicle with a bed or seats that fold flat. Sleeping inside the vehicle becomes more complicated for two people traveling together since you'll need to move all of your gear outside the vehicle to create enough space for sleeping at night.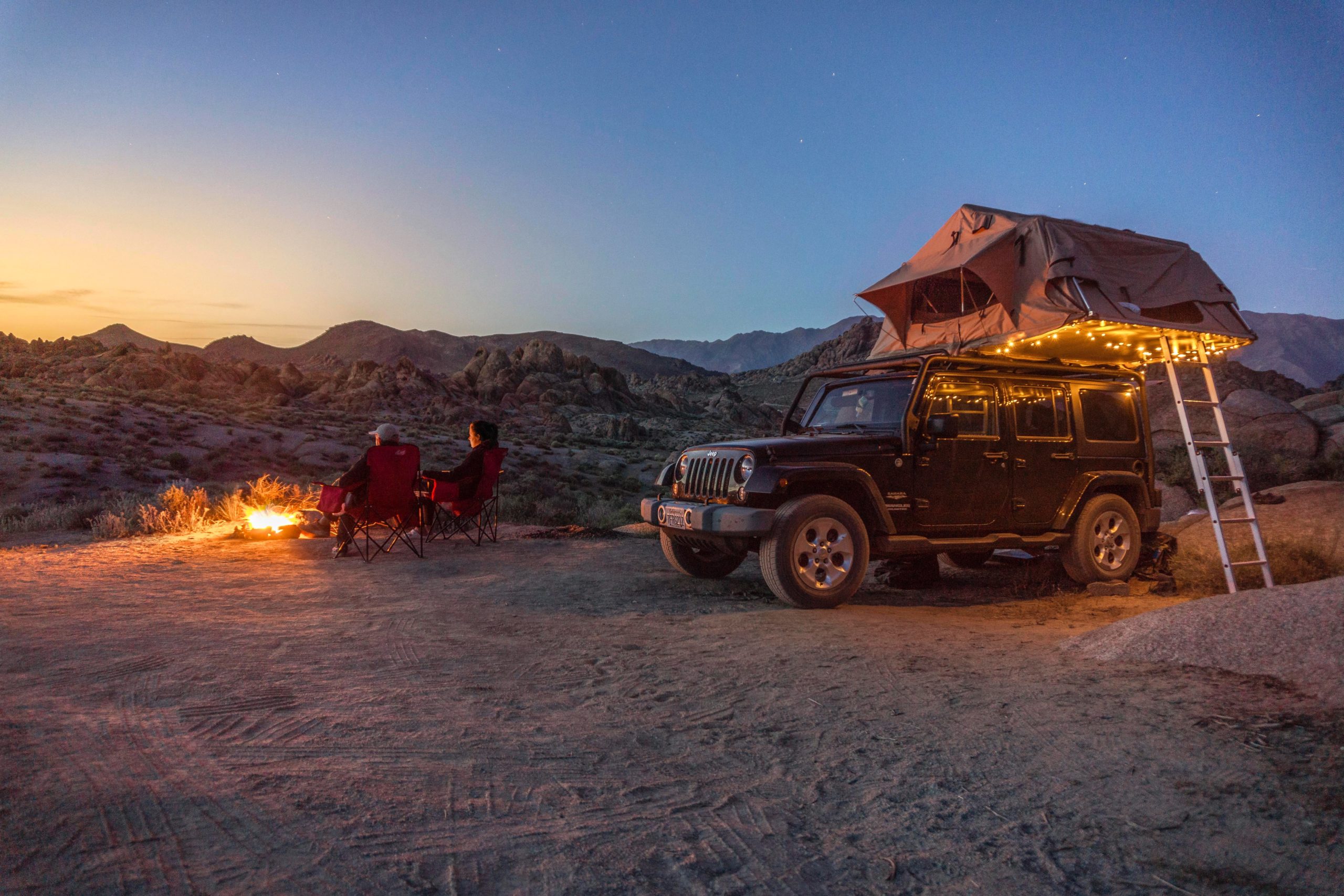 Many people opt to sleep on top of their vehicles in rooftop tents. Rooftop tents (or RTTs) attach to your vehicle's roof rack and either have hard sides that pop straight up, or soft sides that fold out into a traditional tent shape. RTTs have a couple of advantages: they eliminate the need for a flat piece of ground free of rocks and offer a comfortable memory foam mattress where you can store your sleeping bags. They're also quicker to set up than a ground tent, which is something overlanders value because it allows you to spend less time setting up camp and more time exploring and enjoying time outside. The downside is they're quite heavy (usually around 150lbs), and they can negatively impact your vehicle's fuel economy.
Campers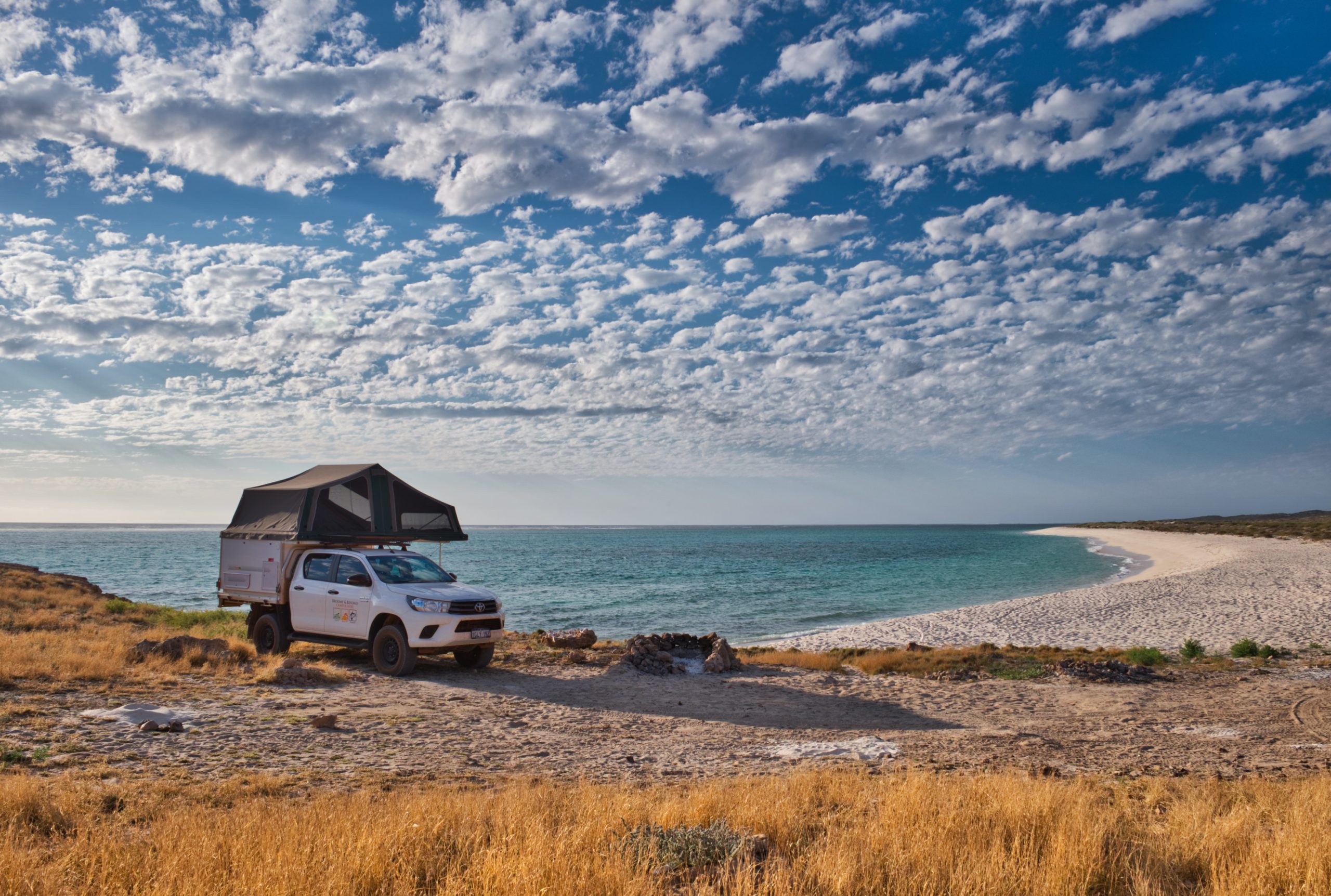 The next step up from a ground tent or rooftop tent is either a camper of some sort built into your vehicle, or pulling a camping trailer. There are pros and cons to every option, and ultimately you'll have to weigh factors like convenience, comfort, and budget to determine the best solution for you. A self-contained camper performs better off road, and allows you to maneuver in tight spots more easily. It's also easier to park and drive around town, but it's easy to overload your vehicle and exceed it's payload capacity if your build is too heavy, which can be dangerous.
Trailers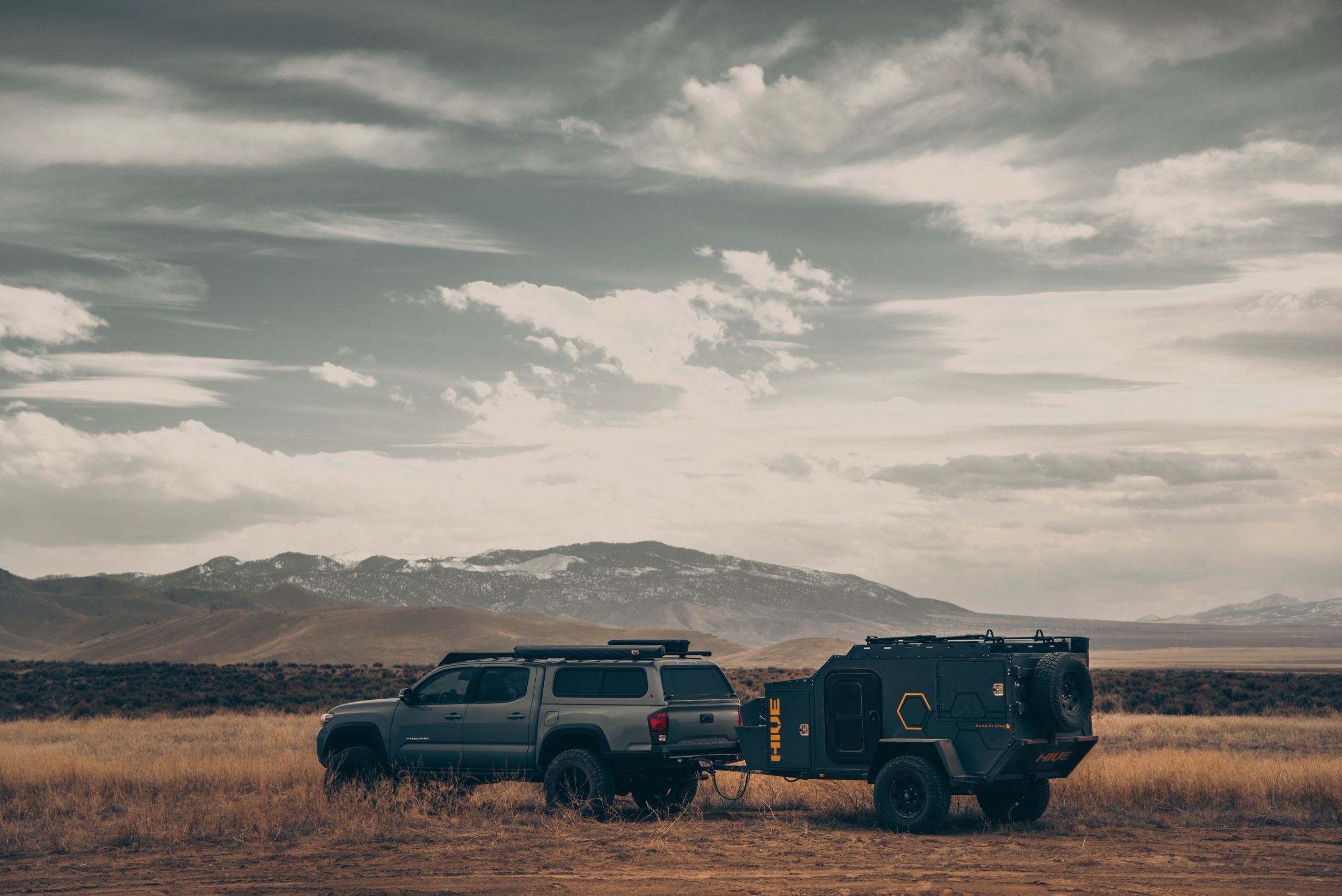 A camping trailer, can store all of your camping equipment full-time, making it easier to hit the road since you won't need to pack your vehicle each time. But it takes more skill to maneuver a trailer on technical trails. Some trailers, like Hiker Trailer's Extreme Off Road Deluxe model, are overland-specific and have modified suspension systems that make them incredibly capable off-road. Trailers also allow you to unhitch and create a base camp, so you can use your tow vehicle to run into town for supplies, or drive to a trailhead without breaking down camp. Some trailers like Off Grid Trailers even include kitchen components, a shower, and ample sleeping space. However you choose to camp, the key is to keep your setup as simple as possible and make it easy to access your gear and break down camp to continue your trip.
Basic Camping Equipment
Chances are you already own all of the camping gear you'll need. Overlanding doesn't require any specialized camping gear, but the beauty of camping out of your rig is that you can afford to bring heavier stuff, like thick sleeping pads, blankets, and camp tables to make your experience more comfortable. Two things to consider are how you'll be storing food and water. If you're going out for a long weekend and won't have access to more drinking water, you should bring at least seven gallons with you. That will ensure you and your trip mates have enough water to drink, do dishes, and rinse things off. Some people like to have access to a shower while overlanding, which can be easily done with something like a RoadShower. You can even make your own solar shower if you're so inclined.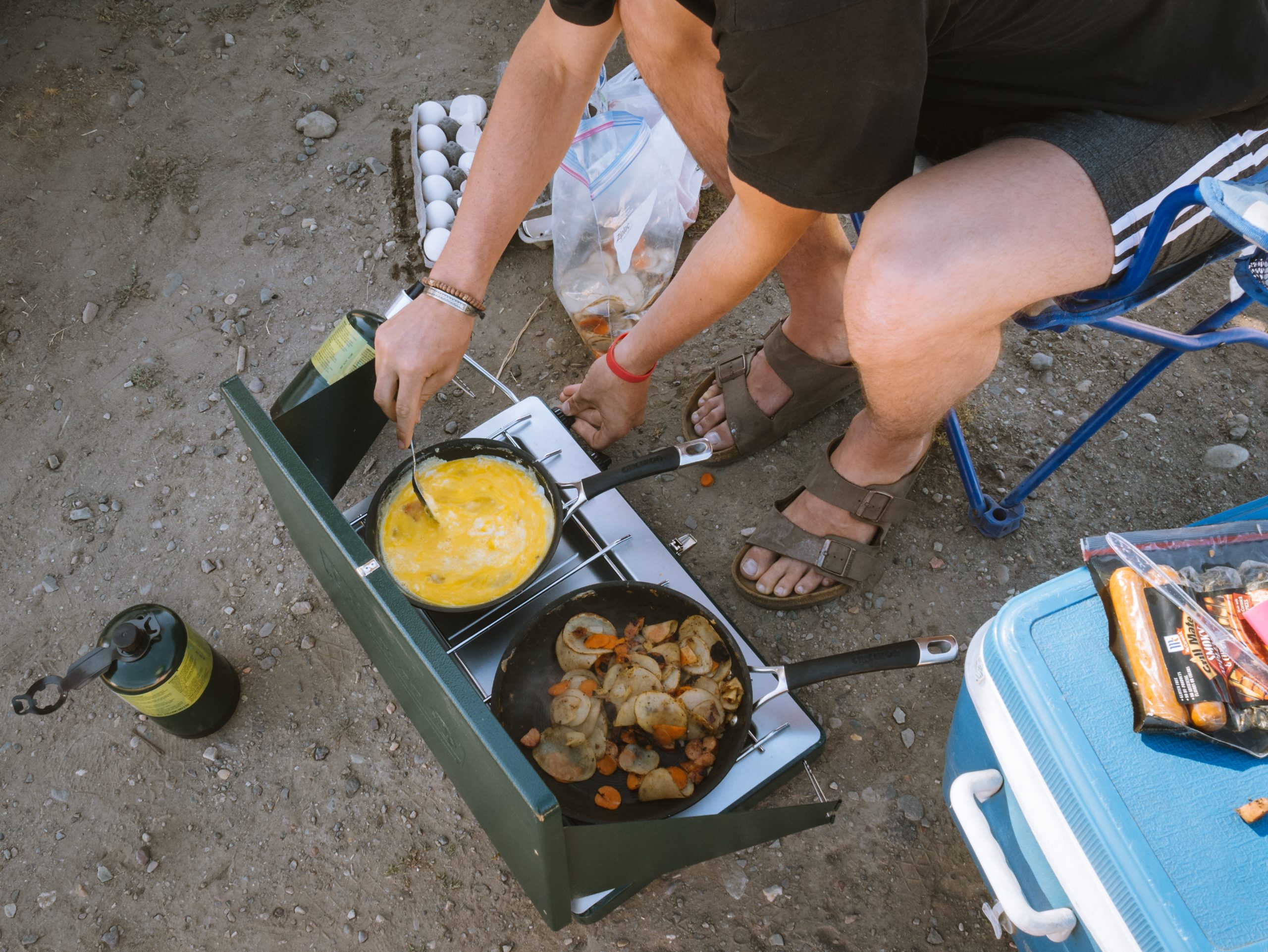 Food Storage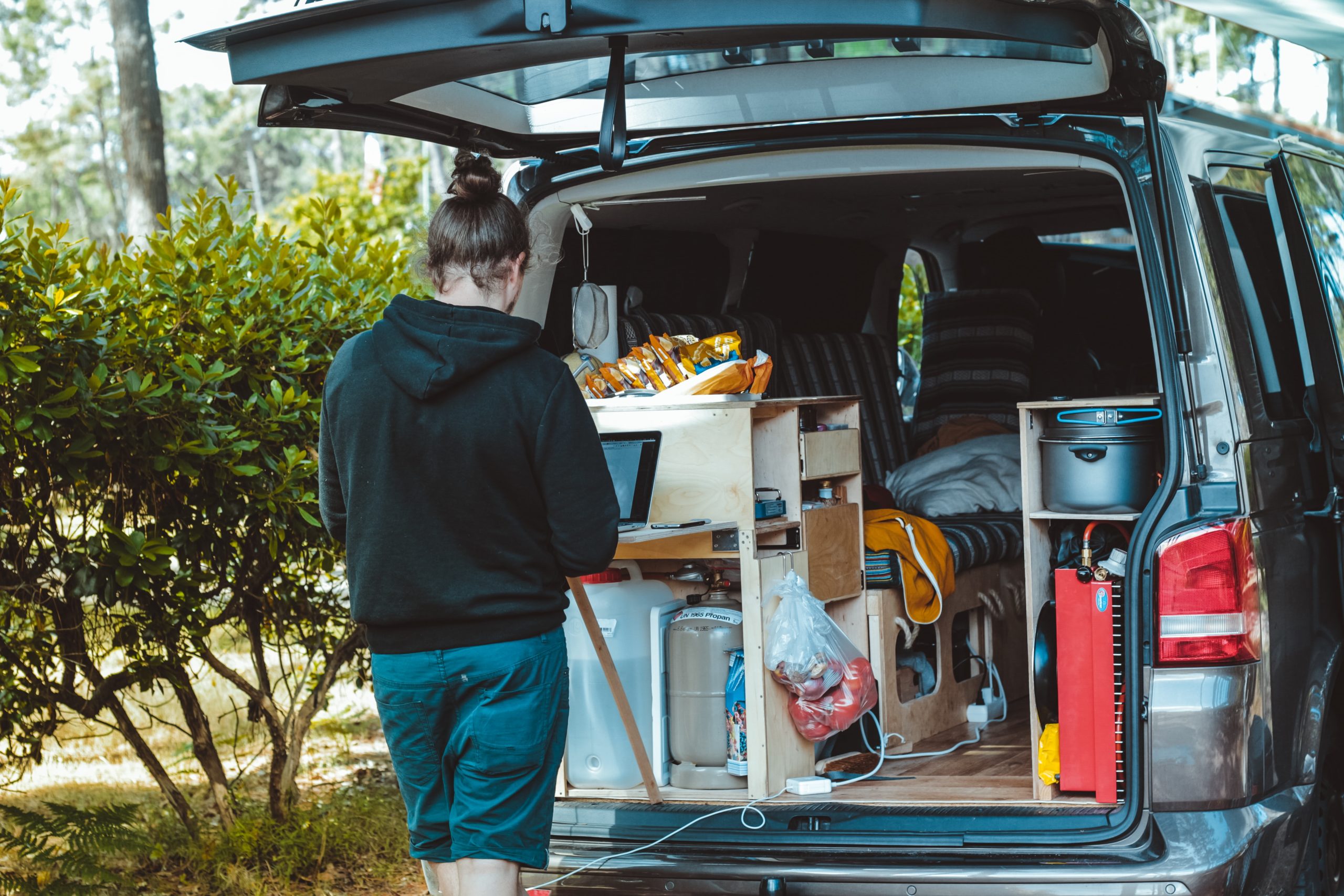 Coolers work perfectly fine to store food that needs to be refrigerated, but a popular upgrade for overlanders is an electric cooler. You can power one from your vehicle or a portable battery, and they're particularly nice for overlanding because you won't need to worry about melting ice and soggy food after several days of off-grid travel.
Recovery Gear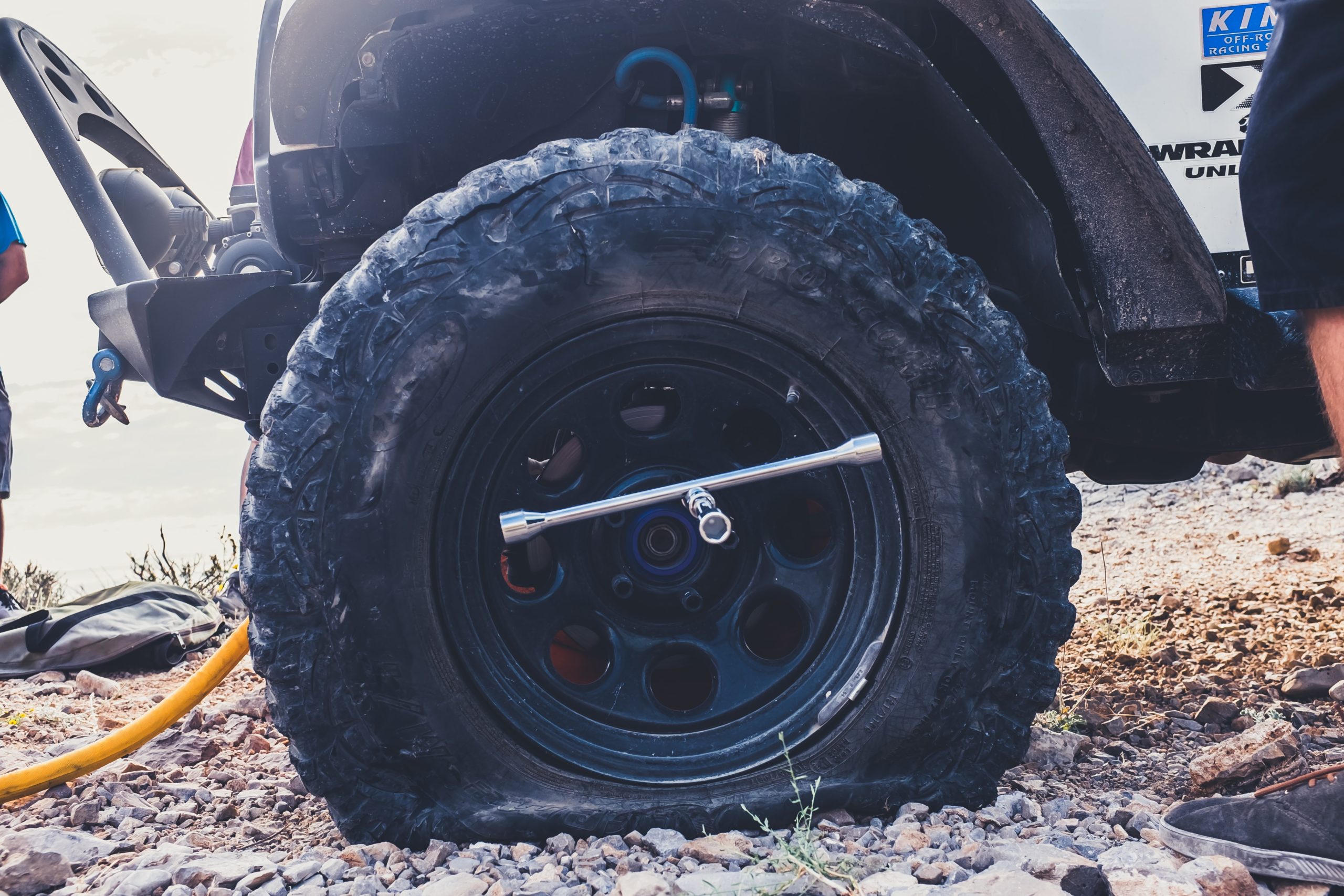 Recovery gear is also essential. Since you'll be traveling on dirt roads, your vehicle may lose traction and get stuck in deep mud, sand or snow at some point. You should be prepared to get yourself or another vehicle unstuck. A winch on the front bumper is a great choice, but at the very least you'll want to have a recovery kit with tow straps, and a set of MaxTrax. MaxTrax are traction boards you slide under your tires to give you more traction. It gives them something to grip onto when they're spinning freely and not moving your vehicle anywhere. They work incredibly well thanks to the raised "teeth" that give your tires something to dig into, and they are built to last for decades without wearing out.
Trip Planning Tips
Once you get all of your gear sorted, it's time for a trip. You can start with a day trip to ease into things, and then plan a two-day, one-night weekend trip after that, so you don't have to worry about packing too many supplies and can instead focus on having fun. Pick an easy, well-known, and well-driven route for your first trip, like the Valley of the Gods road near Mexican Hat, Utah, or a trip to North Carolina's South Core Banks. That way if you run into trouble or have some sort of mechanical problem, there's a better chance of someone being able to help you.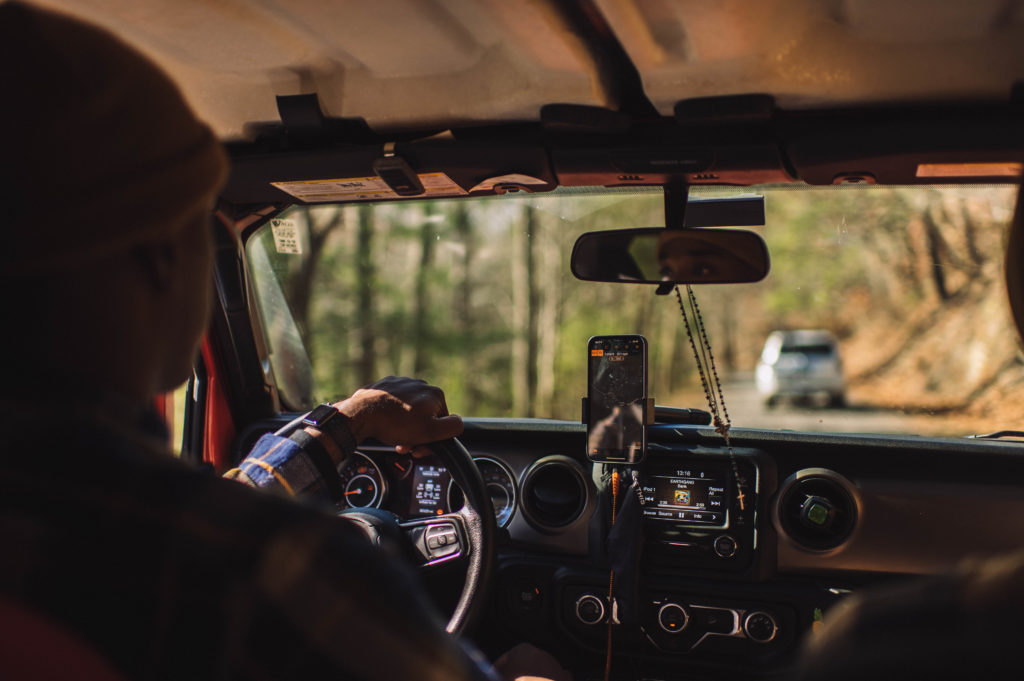 Travel with another vehicle, especially on your first few trips so that if something happens to you or your vehicle you'll have help and can avoid a long hike out. It's also wise to check whether there will be cell service along your route in case you need to call for a tow or other assistance.

Start simple when it comes to route choice. If you don't live near any famous overland routes, start by finding dispersed campsites on nearby public lands or by finding Forest Service roads in an area you've wanted to visit and create your own route. Make sure to pack light, keep it simple, and most importantly, bring plenty of good food. Finally, don't stress too much about the gear; the beauty of overlanding is in the journey itself and the simple joy of having an adventure.
If you're excited about overlanding and want to hear more, listen to our interview with Lifestyle Overland on the Out and Back podcast, sponsored by Gaia GPS.