Planning snowmobile routes and navigating across the snow has never been easier. Find sledding trails across the US, Canada, Europe, and Australia with our new Snowmobile Trails map. We've pulled together trail data from local, state, and federal sources to bring you some of the most comprehensive sledding coverage in the world.
Easily spy trail networks to build routes and find your way in the field. When available, see key details like trail width, grooming status, restricted access areas, and difficulty ratings. Plus, find warming huts, gas stations, and snowmobile shops.
Snowmobile Trails Map Provides Coverage Around the World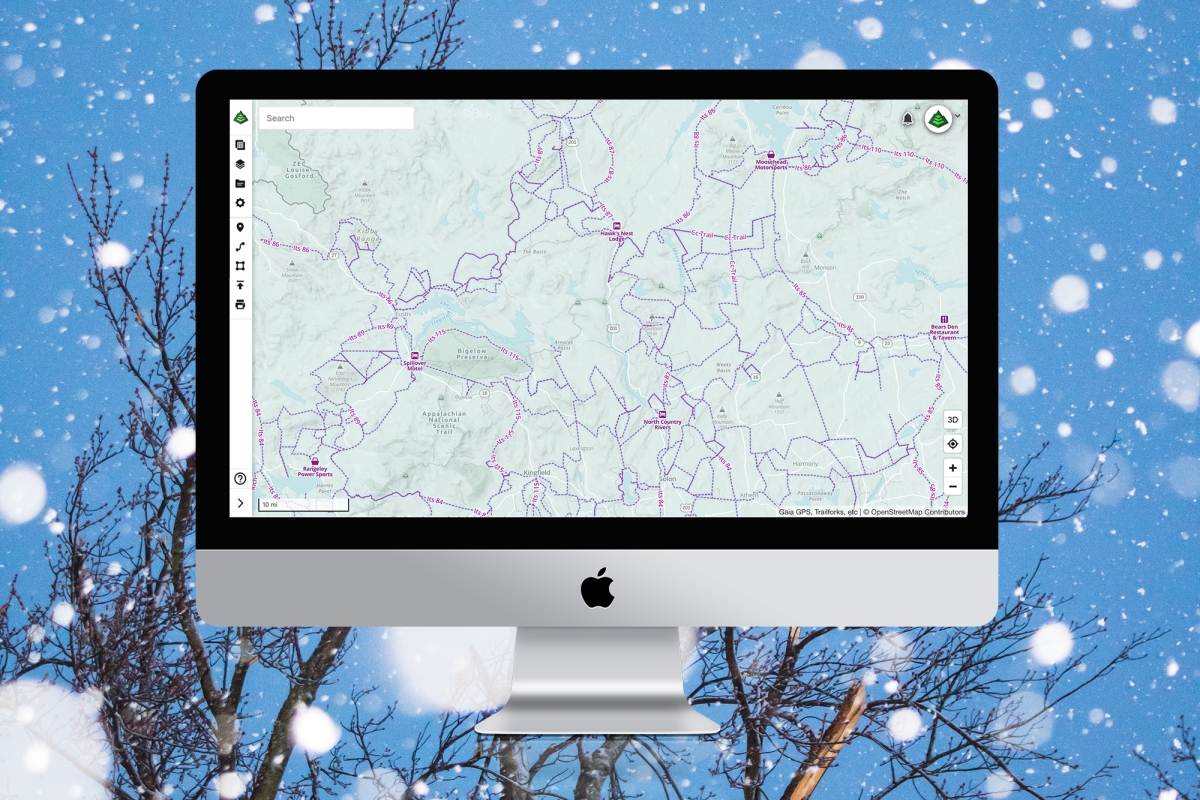 No need to rifle through various guidebooks, websites, and maps on your next snow machine adventure. Enjoy trail coverage from local, state, and federal organizations all in one place with the Snowmobile Trails map on gaiagps.com or in the Gaia GPS app.
The Snowmobile Trails map provides comprehensive coverage across many northern states of the US. You'll also find limited coverage in Canada, Europe, and Australia. If you don't see the trails near you on the map, hang in there. We're working hard to expand coverage as quickly as we can.
Styled for Hi-Vis at High Speed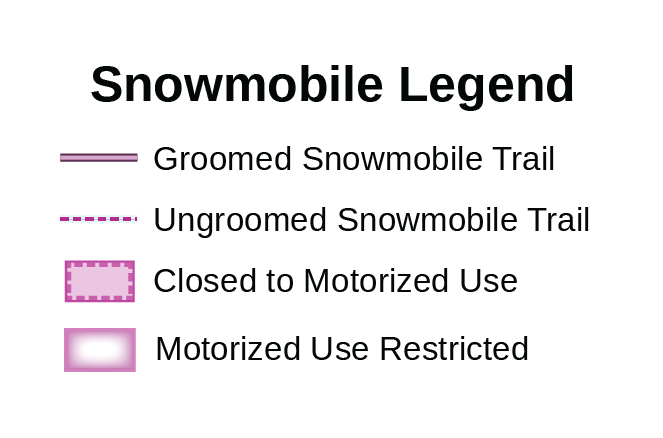 Our cartographers designed the Snowmobile Trails map to make finding trails a snap. The purple trails pop out from the map, helping ensure you see them while flying across the snow. Plus, trails appear at relatively high zoom levels so you can easily discover new networks.
As the key illustrates, trail type is designated right on the map. Trail closures are indicated directly on the map as well.
Get Key Trail Details like Difficulty, Width, & Direction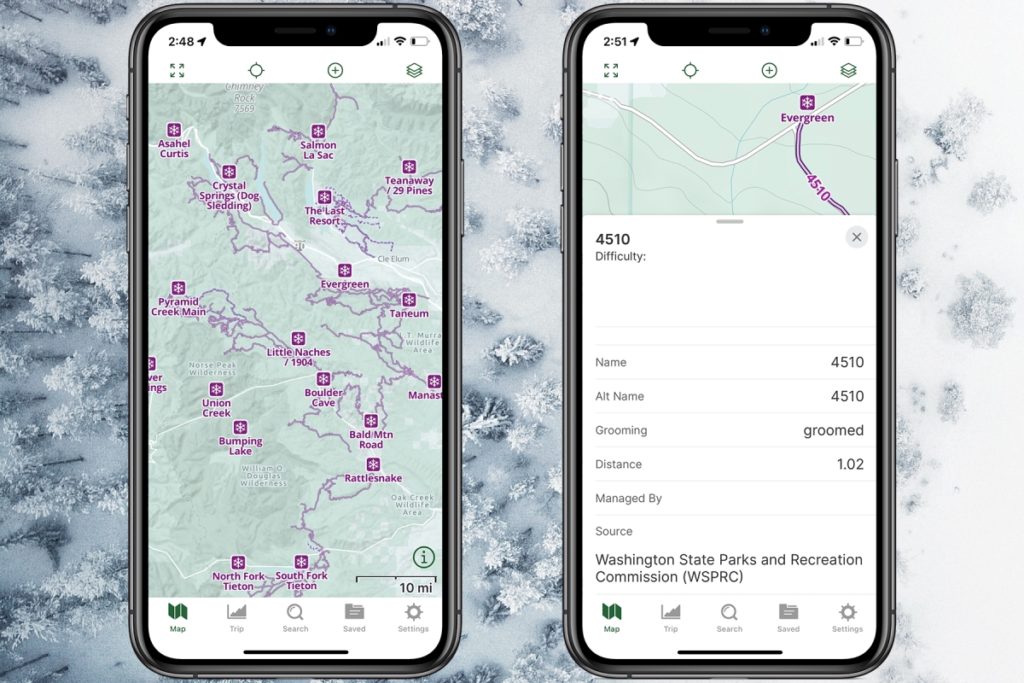 In addition to all the info you get directly on the map, click on a trail, junction, trailhead, or waypoint to get everything from the difficulty rating to grooming status. Find out which directions of travel are permitted and the width of the trail, when this information is available.
Find Warming Huts, Fuel, & Food
In addition to the designated snowmobile trails themselves, the Snow Mobile Trails map provides all the info you need for a full day of adventure. See key points of interest, parking lots, warming huts, and even where to fill the tank, when this information is available. Plus, easily decipher where you can and can't go. The map indicates winter closure areas and restricted access areas.
How to Use the Snowmobile Trails Map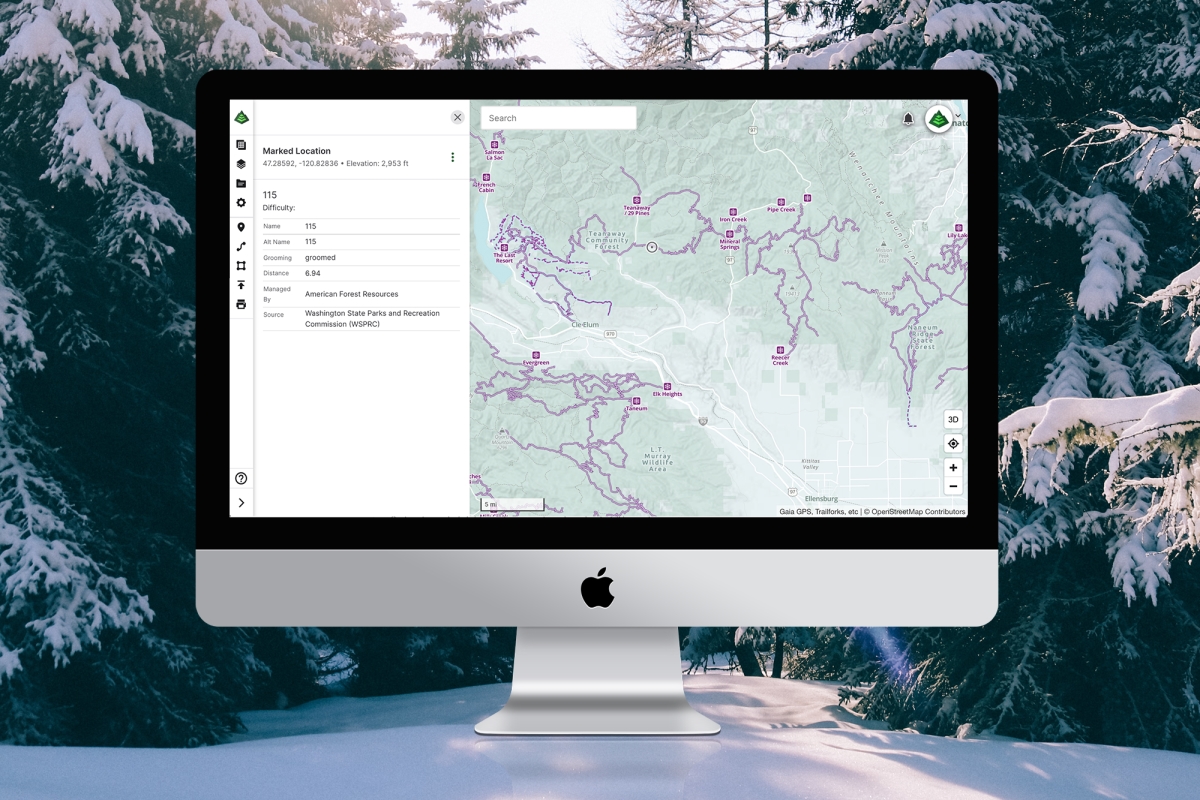 To use the Snowmobile Trails map, start by adding Gaia Winter as your base map. Our cartographers designed Gaia Winter specifically for cold weather activities. Key winter points of interest like ski resorts are emphasized on the map. Best of all, the Snowmobile Trails map overlay is designed to pair perfectly with Gaia Winter. The purple snowmobile trails pop against Gaia Winter's blue-grey palette.
Once you've added Gaia Winter as your base map, add the Snowmobile Trails overlay on top of it. Now you're ready to build a route on your desktop using gaiagps.com or on your phone or tablet using the app. Make sure to download your maps so you can use them deep in the backcountry without cell service.
If you're worried about finding your way home, record your tracks to leave a breadcrumb trail. Drop waypoints and photos to mark down trees, river crossings, moose sightings, or whatever else you like.
Snowmobile Trails Map is Available with a Premium Membership
The Snowmobile Trails map is available with a Gaia GPS Premium membership. To access this map, visit the layers menu and search for "Snowmobile Trails." Or from the layers menu, select "Feature/Weather Overlays." Scroll down and tap "Snowmobile Trails." Tap the "Add Layer" button. Learn how to add and manage overlays here.
Premium also grants you access to our entire map catalog, including Gaia Winter, avalanche maps like slope angle and avalanche forecast, and weather maps like snow depth and snow forecasts. With Premium, you can also download your maps for use without cell service. And print maps so you always have a paper backup.