Join us in soaking up the last of summer by celebrating the holiday weekend outside! Between now and the end of Tuesday (11:59 pm PT), go on an adventure and add a photo waypoint to your Gaia GPS map for a chance to receive a $25 gift card to the Outside Shop! Don't know how to add a photo waypoint to the map? No sweat. Read on to learn how to add photo waypoints (tip #3) and to make the most of waypoints in general. Happy adventuring!
Whether you're marking water sources, saving prime camping spots, or capturing breathtaking views, waypoints provide an invaluable tool for navigating and documenting your adventures. That's why we provide some of the most advanced waypoint technology on the planet to go along with our world-class maps.
We've incorporated your feedback to make waypoints even more customizable and easy to use than ever before. You can now color-code waypoints based on opened/closed, good/bad, by type, trip, time — you name it. There are no limits when it comes to how you can use waypoints.
To get your creative juices flowing, here are our top 10 ways to use waypoints on our adventures.
But first, what are waypoints?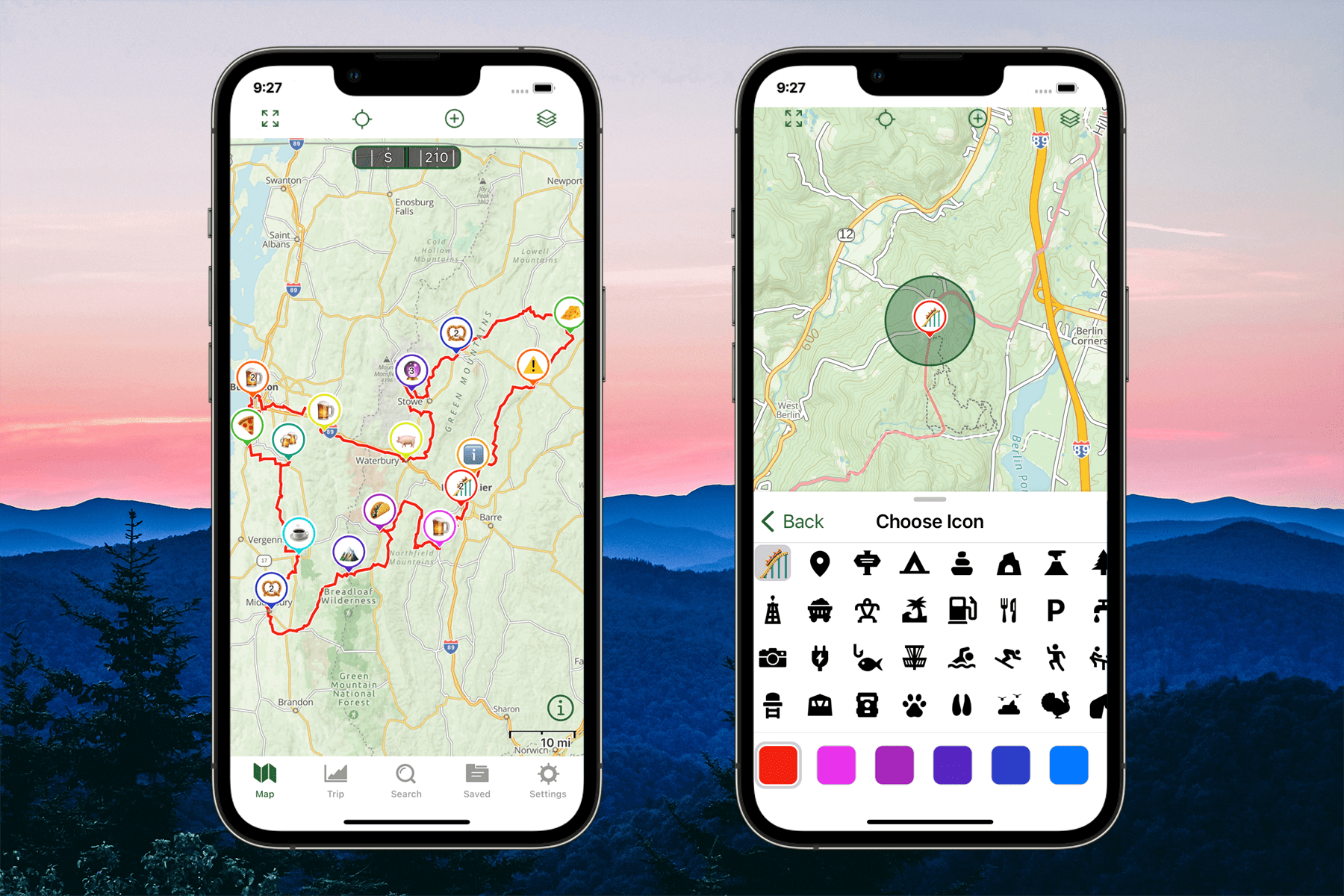 A waypoint is a reference point that helps you determine where you are and how to navigate to your destination. Whether you're hiking, bikepacking, overlanding, or fly fishing, waypoints can help you find your way. In Gaia GPS, a waypoint is a marker you place on the map to signify a feature, your location, or any other spot on the planet. That may be a flag marking a key turn, a photo showing a sublime alpine lake, or a tent emoji illustrating the best camp spot so you can find it again later.
Here are the top 10 ways we use waypoints on our adventures and even in daily life.
1. Plan Adventures on the Big Screen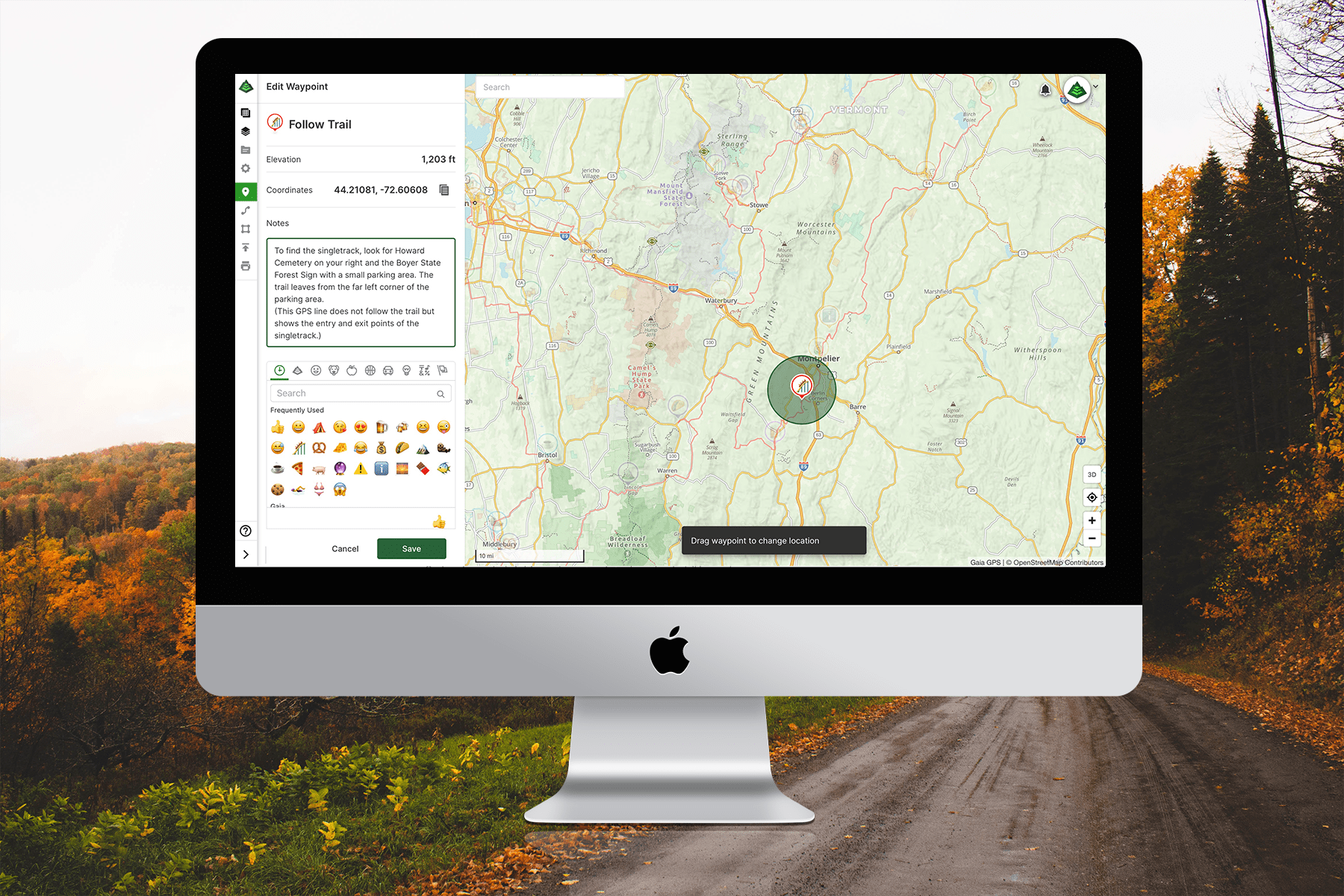 As you map out new routes on your desktop at home, drop waypoints to mark the parking lot, key turns, and where you plan to stop for lunch. Don't worry, your waypoints will automatically sync to the Gaia GPS app on your phone or tablet.
2. Navigate to Detours & Destinations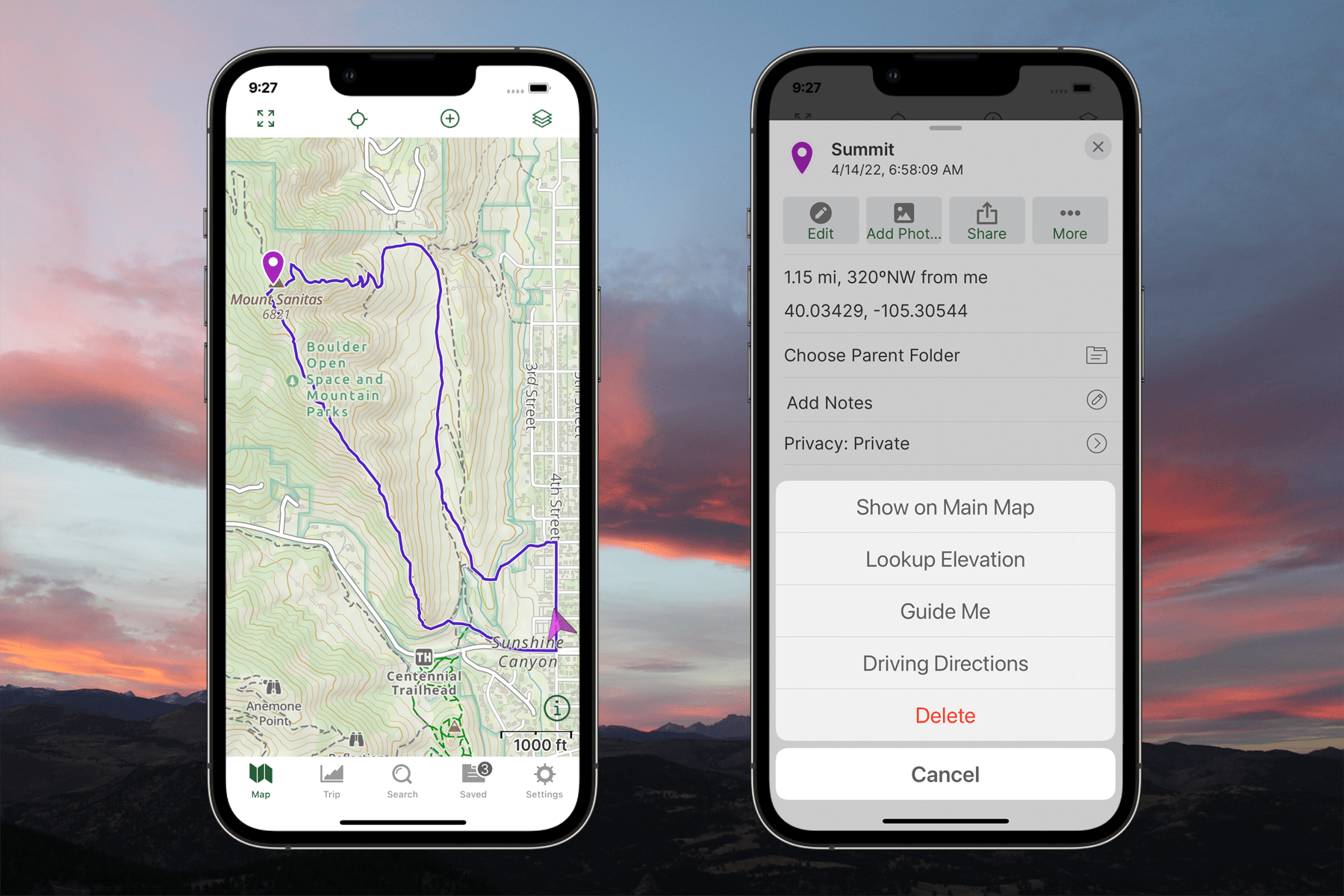 Gaia GPS's powerful navigation tools allow you to get turn-by-turn directions to any waypoint with just the press of a button. Want to take a detour to the mining ruins? Just drop a waypoint on the map on your phone and Gaia GPS can guide you directly there. This feature also comes in handy for navigating to the summit, or making your way back to the trailhead. Just drop a waypoint for where you want to go and tap "Guide Me" (iOS/Android).
You can drop a waypoint at your exact location, place it anywhere on the map, or type in the coordinates — up to you!
3. Add Photos to the Map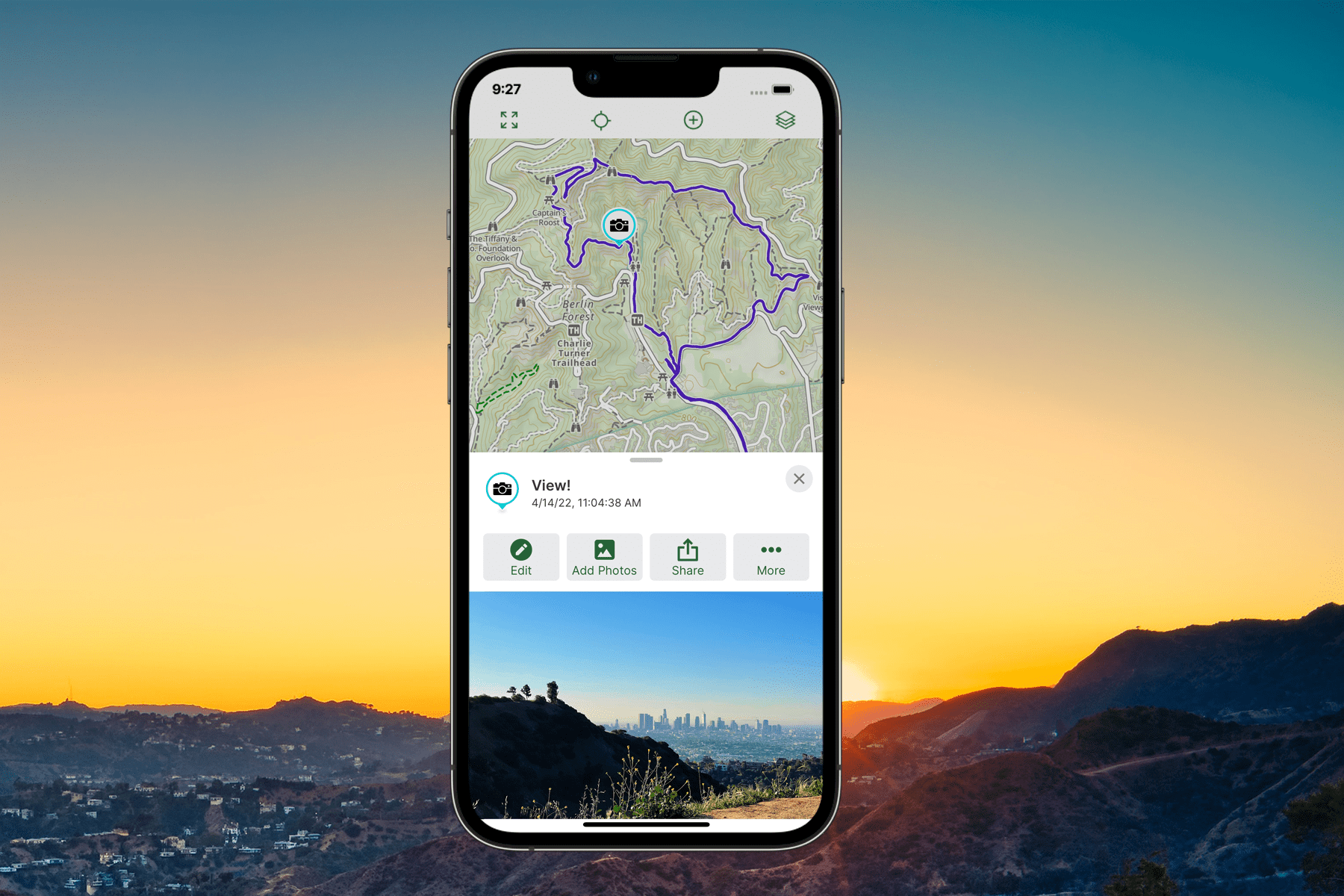 Gaia GPS hack: you can make photo waypoints! Immortalize that breathtaking view, chronicle a burn field, or remember where that avalanche slid across the trail. Take a photo of your current location (iOS/Android), and it will automatically show up on the map, geotagged to that exact spot. Just hit the + button on the top bar of the app, and tap "Take Picture." A camera waypoint will show up on the map. Tap it to see your photo, along with the time stamp for when it was taken.
4. Mark Campsites for Later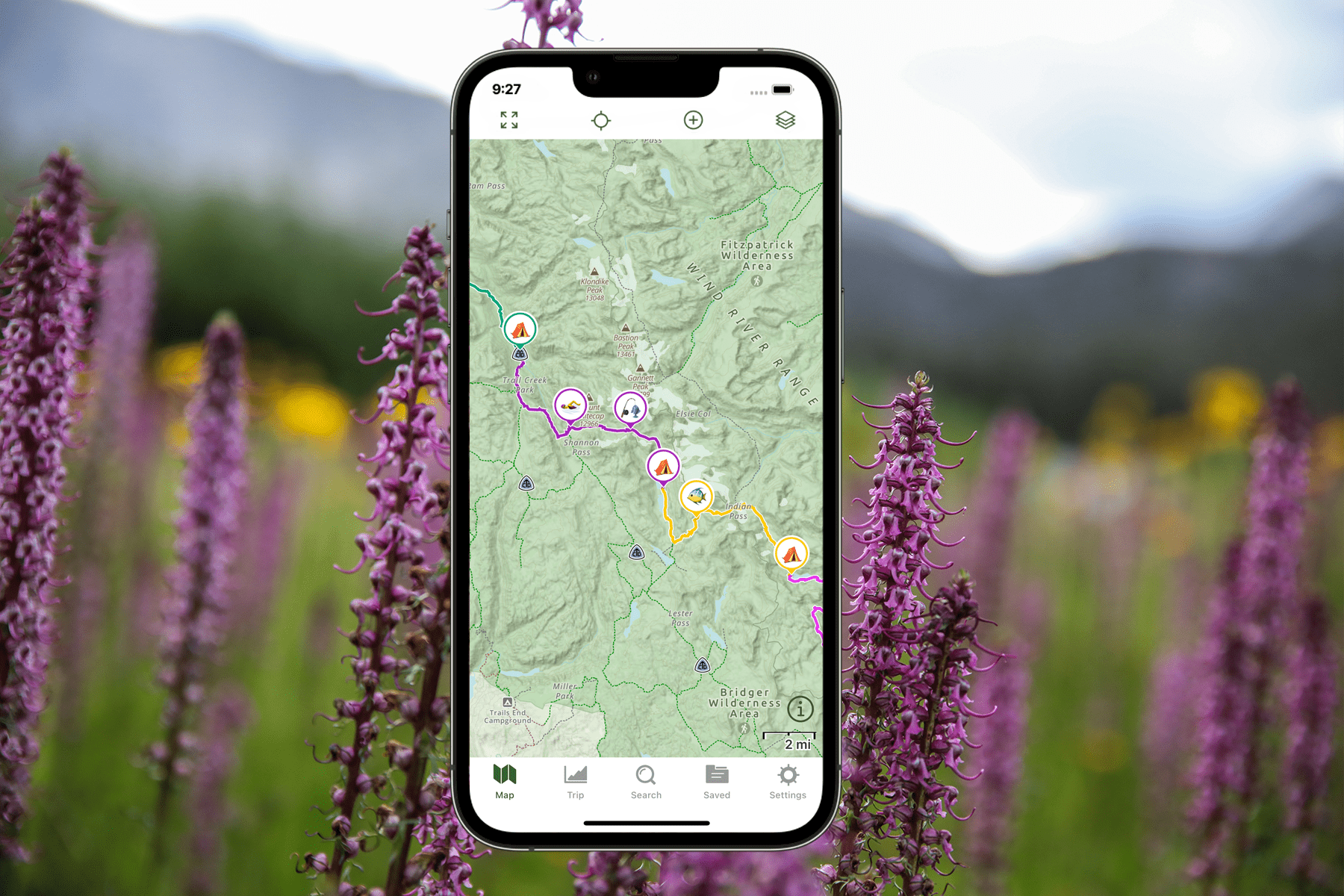 Whether you're reserving a campsite through recreation.gov on Gaia Topo or happen to come across a prime dispersed camp spot on your adventures, drop a tent emoji on the map to mark it forever. Gaia GPS pro mountain athlete Kyle Richardson uses waypoints on multi-day bikepacking and running adventures.
"Before I leave for a trip, I mark potential bivvy spots with waypoints as I plan my route on Gaia GPS at home," Kyle says. "I then drop waypoints at my exact camp spots so I can find them again next time."
With your campsites marked on the map, you can find them even in the dead of night.
5. See Mile Markers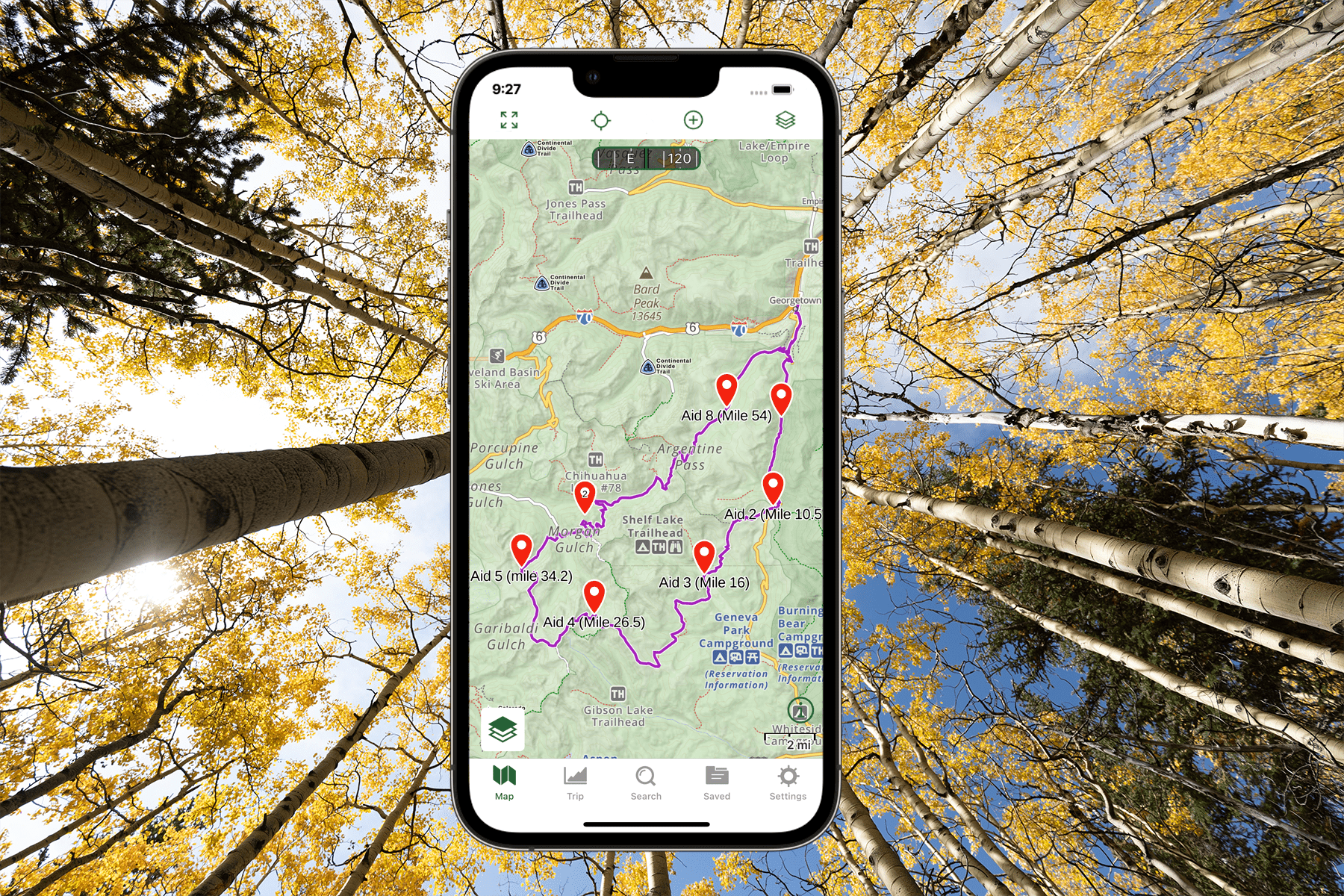 Break your route into manageable chunks by dropping a mile marker in 1-, 10-, or 50-mile increments, or whatever makes sense for your adventure. Likewise, drop a waypoint at each checkpoint along the route. For endurance events like ultra running races, many race organizers use Gaia GPS to share the race route with participants and they drop waypoints to signify aid stations along the course.
In fact, many trail and gravel riding races post GPX files of the course and aid stations on their website. Whether the file is on Gaia GPS or not, you can download the file and upload it to your Gaia GPS account (web/iOS/Android). That way, you can train and race along the course and know exactly where you are, when the aid stations are coming up, and ensure you're on the right route.
6. Label Water Sources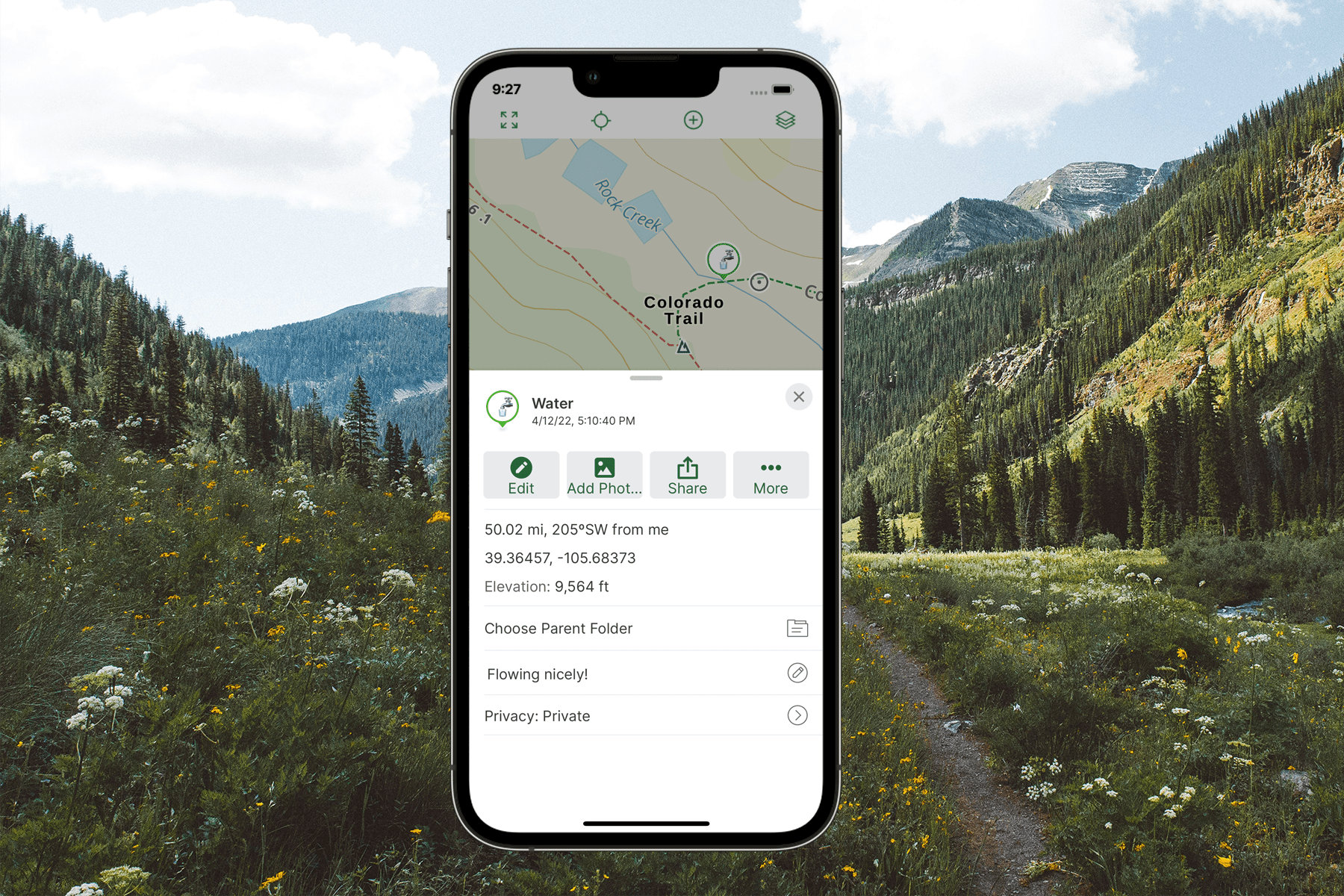 From water sources to water crossings, water can play an integral role in every type of adventure. Make your life a little easier for yourself by dropping a waypoint when you come across a stream, lake, or water cache. (And of course, if you're caching your own water, make sure you leave a waypoint so you can find it on route!)
You can even color-code water sources based on their status thanks to our new colorized waypoint feature. Mark good water sources in green and bad ones in red. If you have to ford a river or if you find a refreshing lake for a swim, mark it on the map!
7. Avoid Hazards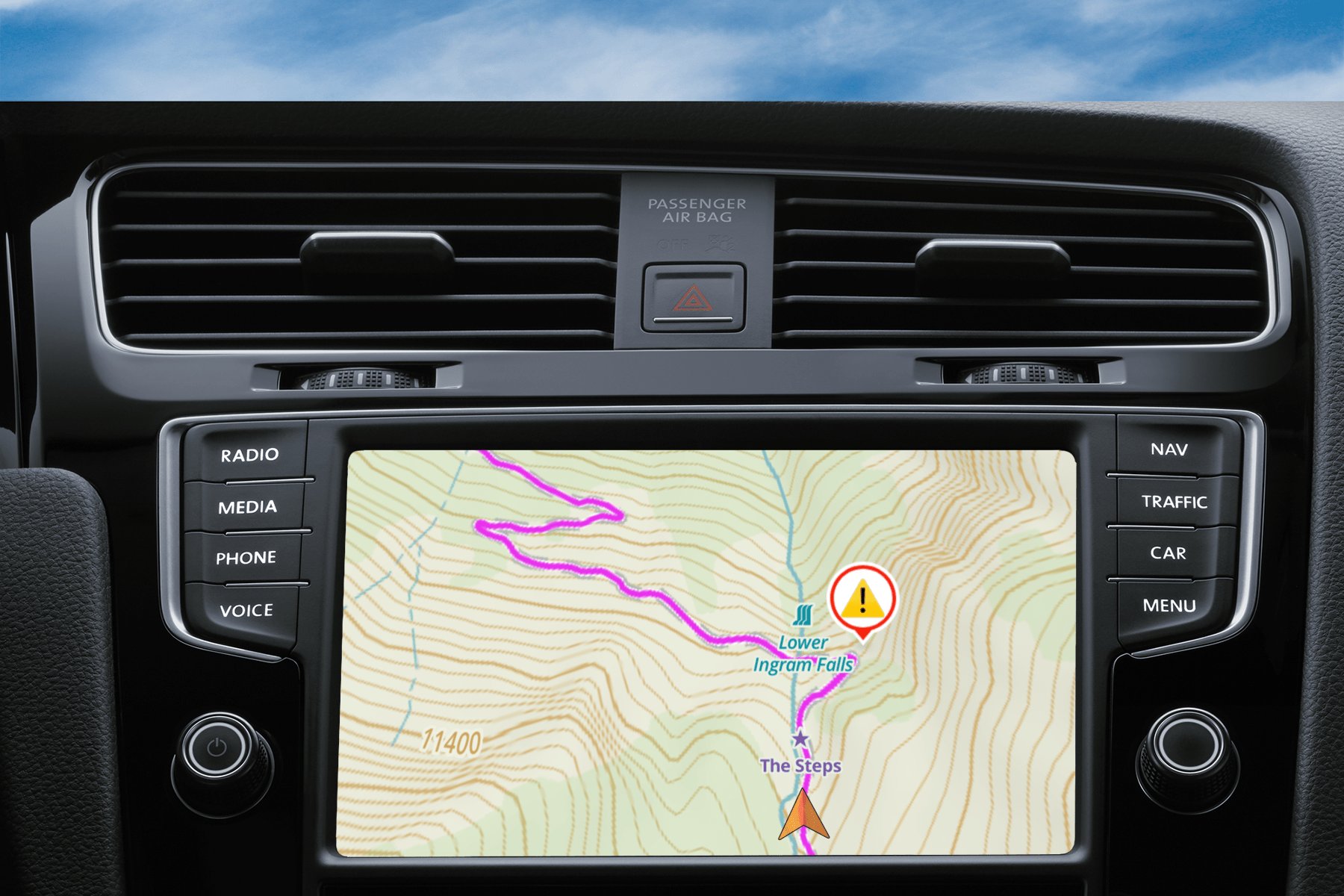 Drop waypoints to mark washed-out bridges, downed trees, or whatever impedes you on the trail. Document where you saw that big scary snake with a photo waypoint. Same goes with bottlenecks on route: add a waypoint to remember where there's a locked gate or a "no trespassing" sign so you can easily reroute next time.
8. Note Trail Status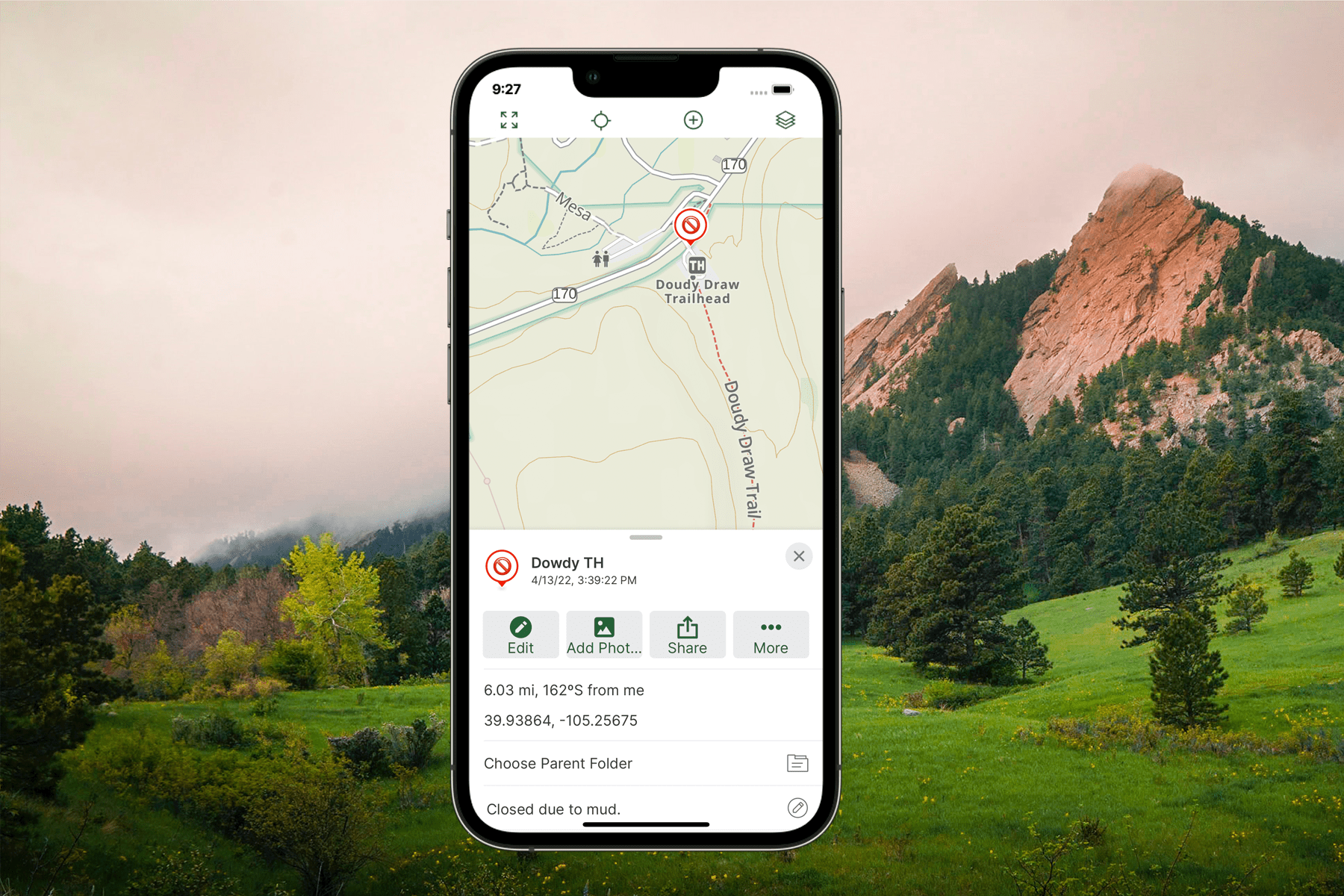 Is the trail open or closed? Mark it with a green circle, a red X, or use the new colorized waypoints to create your own color-coded system for closures and trail conditions. Drop a yellow pin if the trail is muddy, or a green one if it's dry and good to go.
9. Add Reminders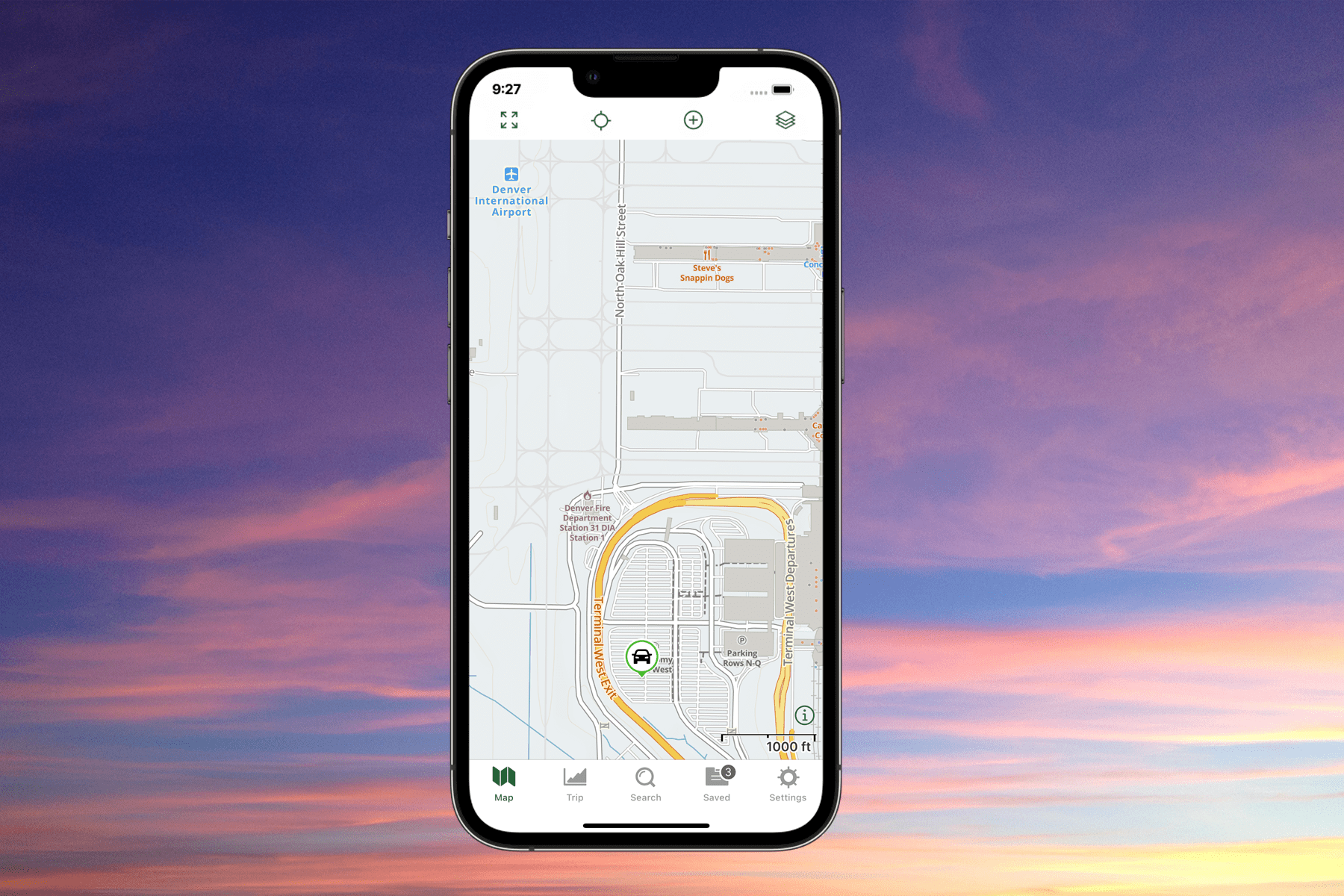 Say goodbye to forgetting where you parked your car. Next time you leave your car in a hectic trailhead parking lot, at the airport, or tucked into a parking garage, drop a waypoint as you exit your vehicle so you can find it stress-free when it's time to go home.
We recommend you pick up after your dog in the moment. But if you MUST leave a doggy wag bag on the trail, make sure you drop a waypoint so you remember where it is so you can — and will— pick it up. Same goes with stashed water bottles, extra layers, or whatever else you may have tucked away behind a tree to snag on your way home.
You can also drop waypoints for cool zones you want to come back and explore. That's what Kyle does when he stumbles across climbing and bouldering areas: "If I'm out on a run and I find a sweet rock, I'll drop a waypoint so I can come back with the right gear."
10. Document Memories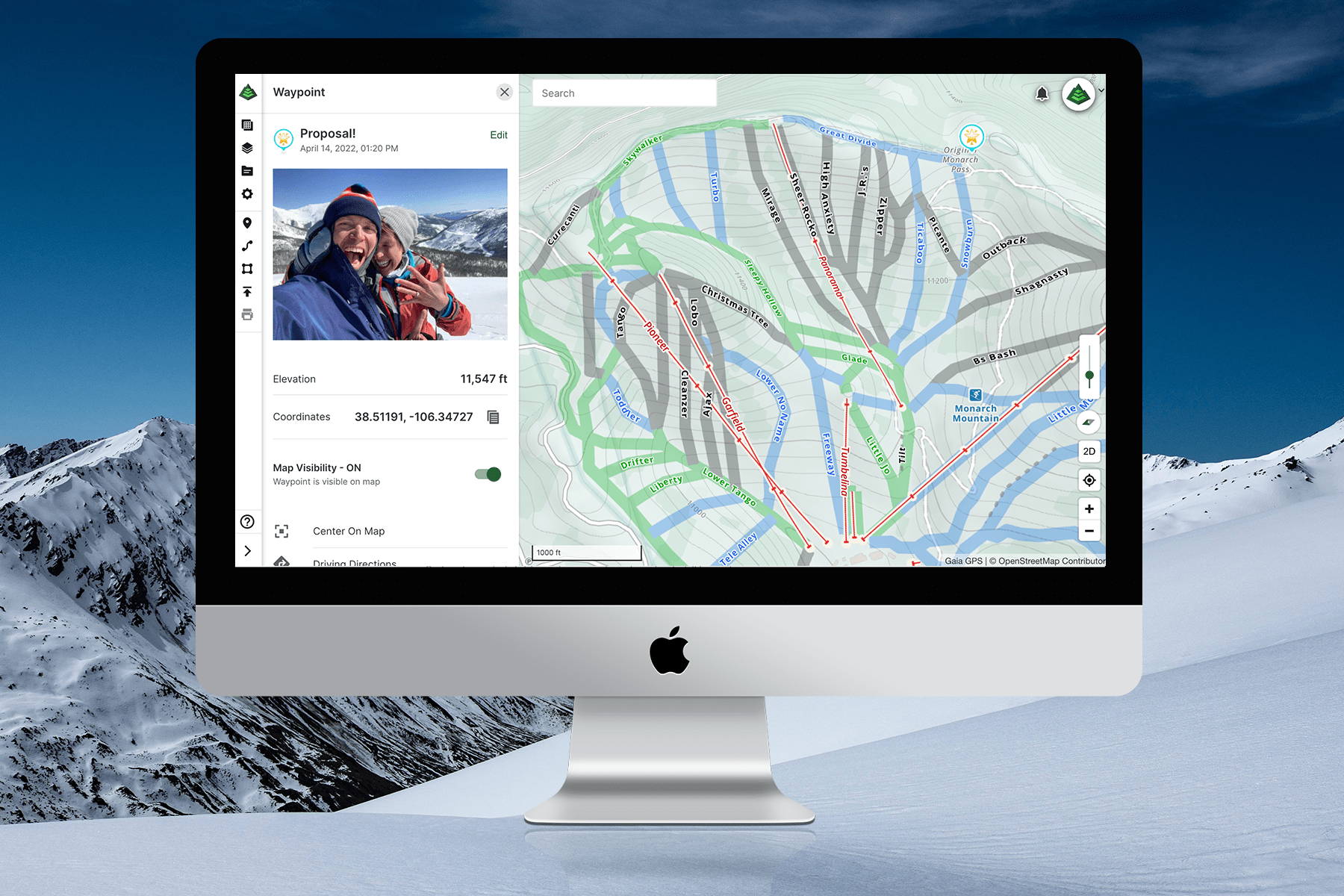 You can use Gaia GPS as a memory book for your adventures, with waypoints marking the locations of key memories on your trips.
That's what Denver-based teacher Ian Silberman did as he reflected on his relationship with Phoebe Novitsky. He added waypoints to mark their first hike, where they bonked a gravel ride, and where he texted Phoebe from his tent late at night. On top of Monarch Mountain one winter morning, Ian pulled out his phone to show her each waypoint on the map, pointing to the real-life locations in the distance. After reminiscing over their adventures outside, he pointed to the star on the map, directly where they were standing, before getting down on one knee.
As you mark memories on the map, remember that you can add notes to each waypoint to chronicle even more information. Just tap on the waypoint, and scroll down in the pop-up drawer until you see "Add Notes."
Customize Waypoints Even More with a Premium Membership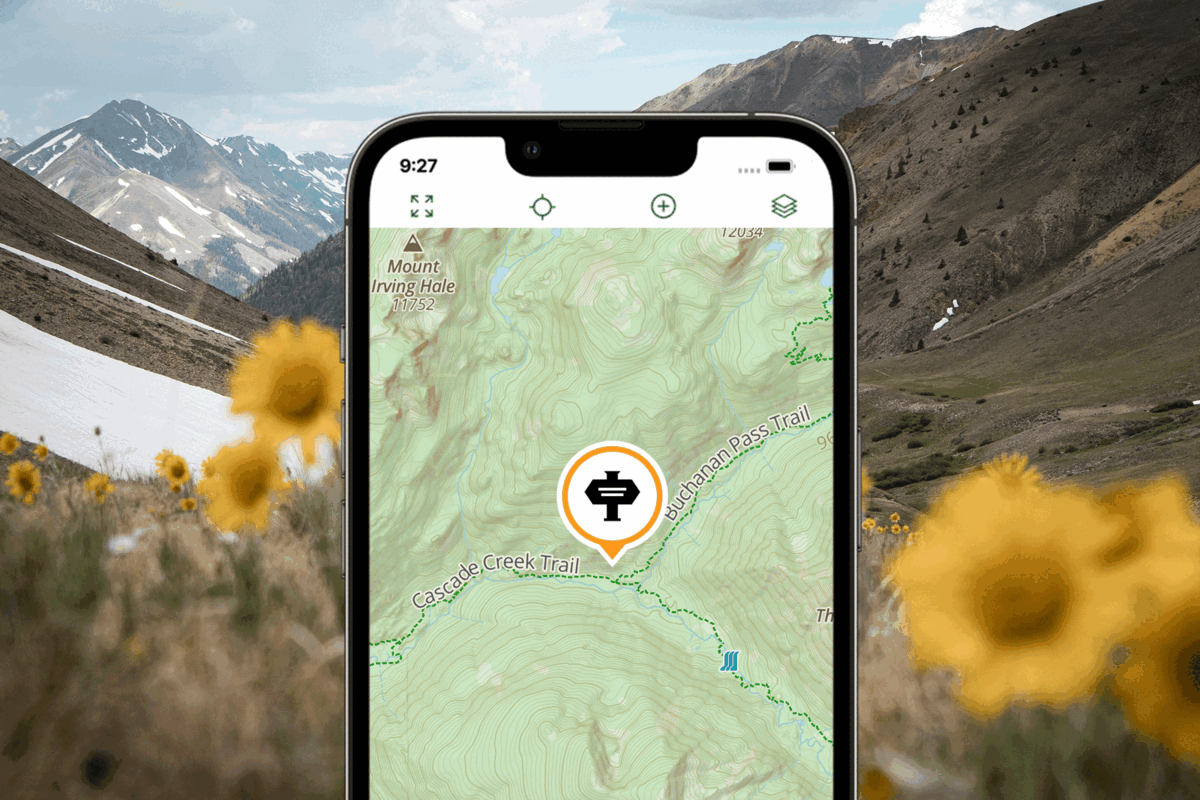 Everyone can use waypoints on both gaiagps.com and in the app. To level up your adventures with custom waypoint border colors, upgrade to a Gaia GPS Premium Membership or Outside+.
Premium unlocks all of the maps, including the suite of National Geographic Trails Illustrated titles, MVUM, USFS, and weather maps. Plus, you can navigate offline and print your maps so you can find your way if you lose cell signal or if your phone dies.