If you enjoy both the excitement of biking and the solitude of backcountry camping, bikepacking offers a new thrilling way to explore wild places. With all of your gear packed strategically on your bike, you'll cover more ground than you would backpacking, camp under the stars, and gain the skills for navigating a new type of adventure.

An evolution of bicycle touring, bikepacking travels along mostly backcountry singletrack and hiking trails, often using gravel paths, or fire roads to link them up. Bikepacking trips may be as simple as an overnighter in your local mountains or a multi-week international excursion. Because of the terrain, bikepacking gear setups tend to be lighter than those used for traditional bicycle touring, foregoing panniers for more streamlined solutions.

In this article, you'll learn about bike options, how to pack your gear, and how to plan and navigate routes. This guide also covers tips for preparing your body and your bike for that first adventure, so you can focus on simply enjoying the scenery—and the descents.

Included in this guide:
Bikes for Bikepacking
Just about any well-functioning mountain bike or touring bike with at least 2.4-inch wide knobby tires makes a suitable bikepacking option. If you're just starting out, consider using the mountain bike you own—after all, you know you're comfortable on it.

That said, certain bike styles do offer better experiences in backcountry terrain. In addition, frame material and components like gears and tires affect your ride.
Types of bikes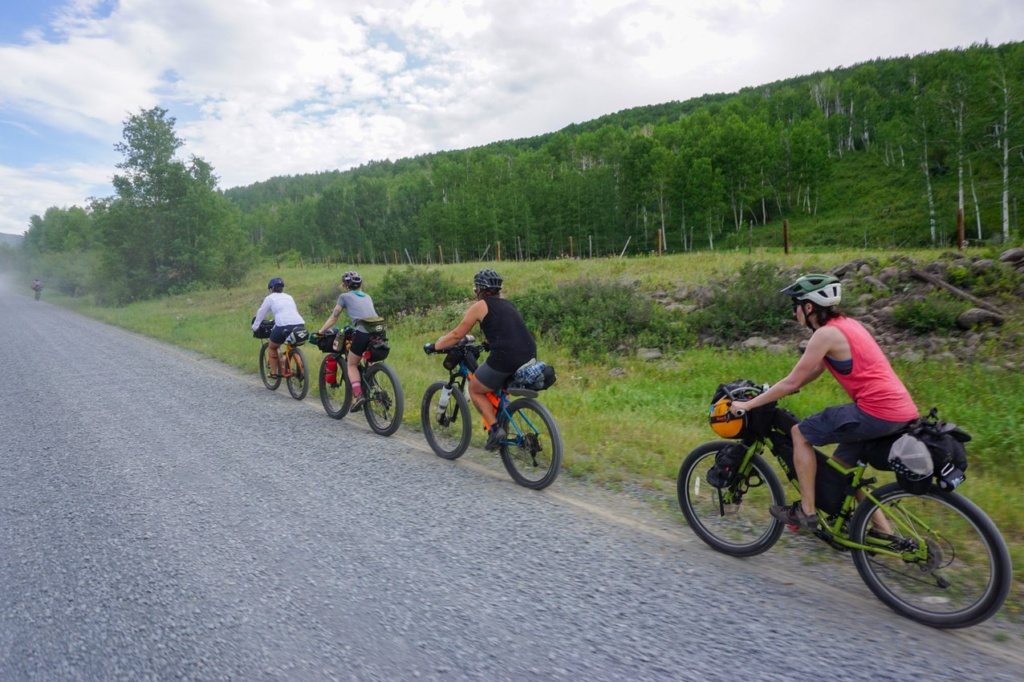 To choose the right bike, consider the terrain you'll be riding through. Does your route travel along mostly dirt roads or mountainous singletrack? Here are the main bike styles and where they excel.
Full suspension: Most popular for technical singletrack, these bikes feature suspension in both the fork and the "rear" of the bike. Suspension absorbs bumps, like rocks and roots, creating a smoother ride. But it adds weight and reduces pedaling efficiency. And though it's rare, suspension forks and shocks can present issues—like leaking air—that can cause headaches in the backcountry.
Hardtail: These feature suspension in the fork only. Thus, they're slightly lighter and offer greater pedaling efficiency on flat terrain, saving you energy. Yet they can be jarring on bumpy trails, which zaps energy. These bikes reign if your route is mostly double track, fire roads, or smooth singletrack.
Fully rigid: Best for pedaling efficiency and simplicity. For riders exploring mostly gravel paths, rigid bikes keep things simple. However, they're likely too stiff to really enjoy any kind of backcountry singletrack.
Frame Materials
Frame materials influence your bike's weight, price, and ride feel. Like anything, "ultralight" materials cost more. Fortunately, today's mountain bikes weigh far less than their predecessors. (Besides, bikepacking isn't always about distance, but rather the adventure.) The frame design plays a role in your experience, but here are general material guidelines.
Carbon fiber:

Pros: Ultralight.
Cons: Expensive. Slightly risky in rocky terrain, where a hard smash can crack the frame.

Aluminum:

Pros: Less expensive. More reliable than carbon in rocky backcountry terrain.
Cons: Generally heavier than carbon. A harsher ride feel.

Chromoly Steel:

Pros: Most durable. Typically the most affordable. Most plush ride feel.
Cons: "Heavy." Limited offerings in full suspension.
Bike Components
After safe brakes, the drivetrain, tires and pedals impact your overall ride experience the most. Ultimately, the best bike is one that's safely functioning, fit to you, and comfortable enough to spend long days in its saddle.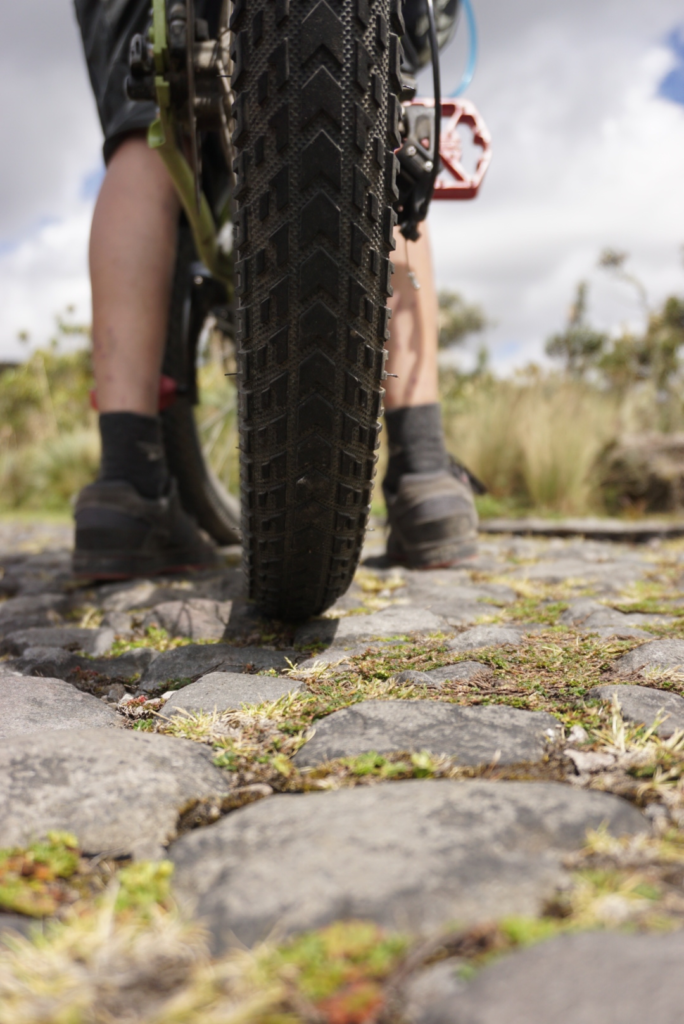 Gears: Opt for easier gears to make pedaling your loaded bike less taxing, especially up climbs. Pedaling gets progressively easier with more large rings in the rear cassette and the more small chain rings up front.
Tires: Most modern mountain bike tires at least 2.4 inches or wider adequately handle backcountry terrain. In general, the wider the tire, the smoother ride. Those with more aggressive traction knobs require more effort to roll, but offer better grip.
Tubeless Tires: Tubeless tires shed weight and better resist punctures, making them popular. But they take extra effort to install.
Pedals: Choose between flats or "clipless." Flat pedals allow you to get on and off your bike quickly, say for hike-a-bike sections. And flat shoes offer better traction for hiking. Clipping into your pedals (clipless) increases pedaling efficiency.
How to Pack and Carry your Gear
You want your bike as nimble as possible for bikepacking. This means strategically spreading out the weight of your gear while keeping most of it centered and low. Bikepacking-specific bags help you do just that. But if you're starting out, you may opt for a more DIY approach using a day backpack and gear you already own.
Bike Bags and Gear-Carrying Options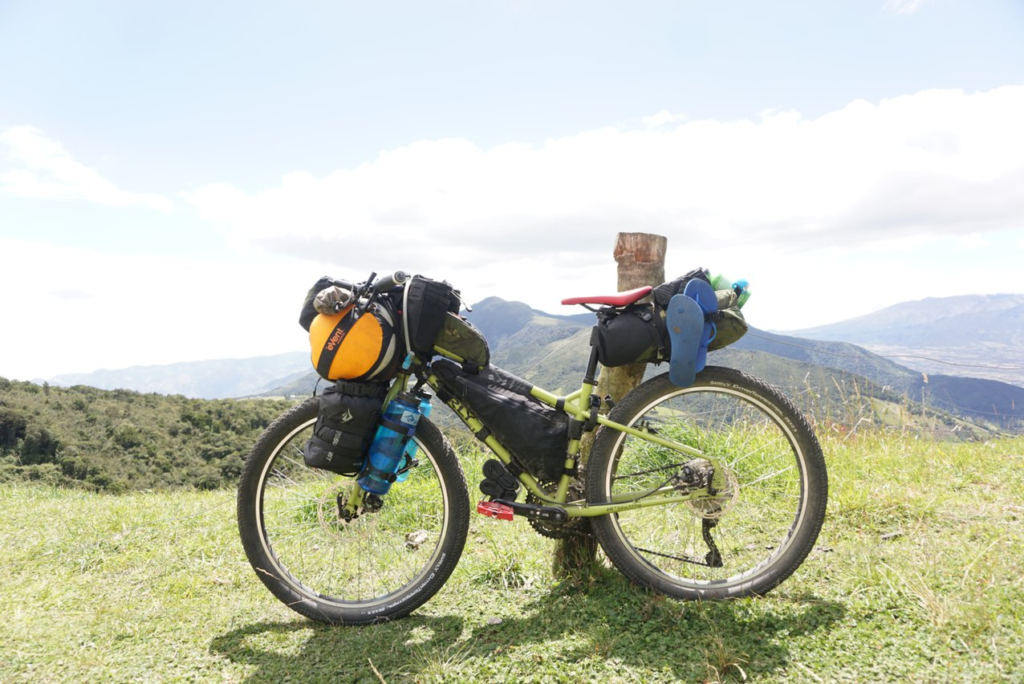 Lightweight and tailored to specific places on a bike, bikepacking bags streamline gear carrying. This approach can ultimately make bikepacking more fun by improving how the laden bike handles.
Seat bags: Perfect for carrying soft, bulky gear. Seat bags take extra care to pack and attach in order to minimize sway below the seat. They're available in five to about 15 liters and various levels of waterproof protection.
Handlebar systems: Two options: roll bag or harness. For mountain biking, roll bags provide a slimmer profile for better clearance when your suspension fork compresses. A harness offers maximum versatility for larger items, such as long tents.
Frame pack: Finding the right frame pack to fit in your triangle takes a little finesse. Full-sized bags provide more volume but may interfere with a rear shock. Partial packs leave room for a water bottle cage beneath. Some packs feature organizational pockets.
DIY system: If you have a daypack and dry bags at home, you can bikepack. Place heavier gear in your day pack and lighter items in the bags that will go on the bike. Attach the bags to your handlebar and seat post with ski straps or bungees. Dangle things like a coffee cup or flip flops off any setup with a carabiner.
Additional Carrying Options
Stem bags offer easy-grab convenience for snacks, phones, and other small items.
Fork cages can carry larger water bottles or stove fuel on trips in less technical terrain; just ensure they don't interfere with the stanchions on your suspension fork.
Small backpack provides another place for snacks, layers, sunglasses and water reservoirs. But keep it light—you have plenty of weight to maneuver.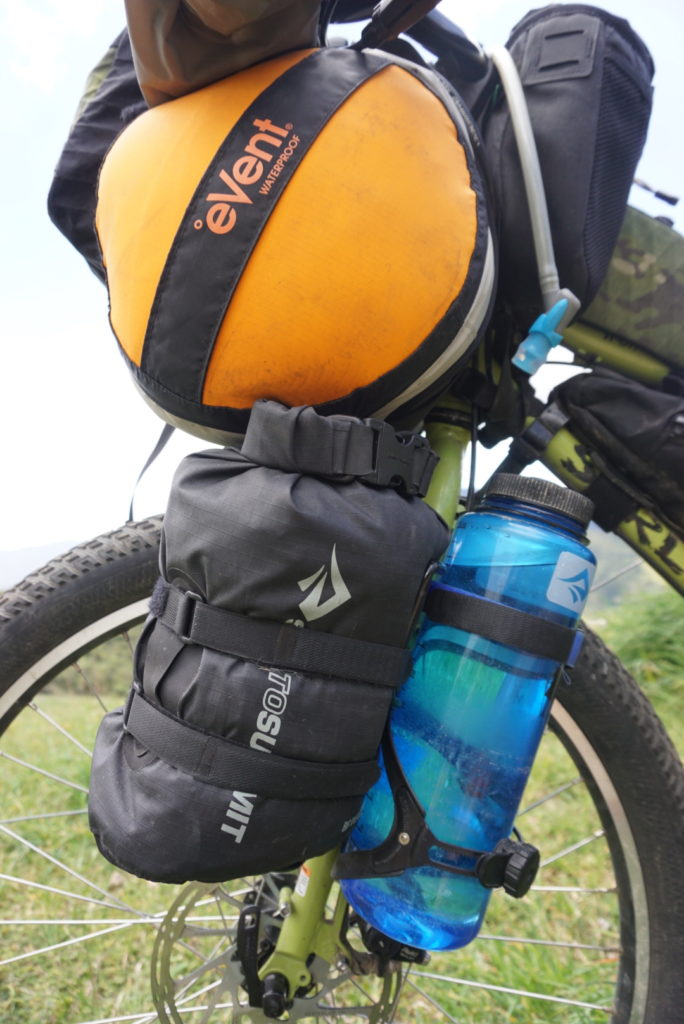 Where to Place Gear on Your Bike
Smart packing leads to a safer, more enjoyable ride. Still, it may take a few trips to dial-in your system. Strive for a low center of gravity and evenly weighted handlebars and seat pack.
Light, bulky items go in your seat pack: Things like sleeping bags and clothing. If your seat bag is waterproof, pack your sleeping bag without its stuff sack.
Light, long items go in your handlebar roll: Items like tents, sleeping pads, and other larger gear. Take care to not over-pack your handlebars to maintain safe steering.
Heavy items go in your frame pack: Things like bike tools, stove, and fuel. Positioning most weight in the center of your bike increases stability.
Essential Camp Gear & Bike Tools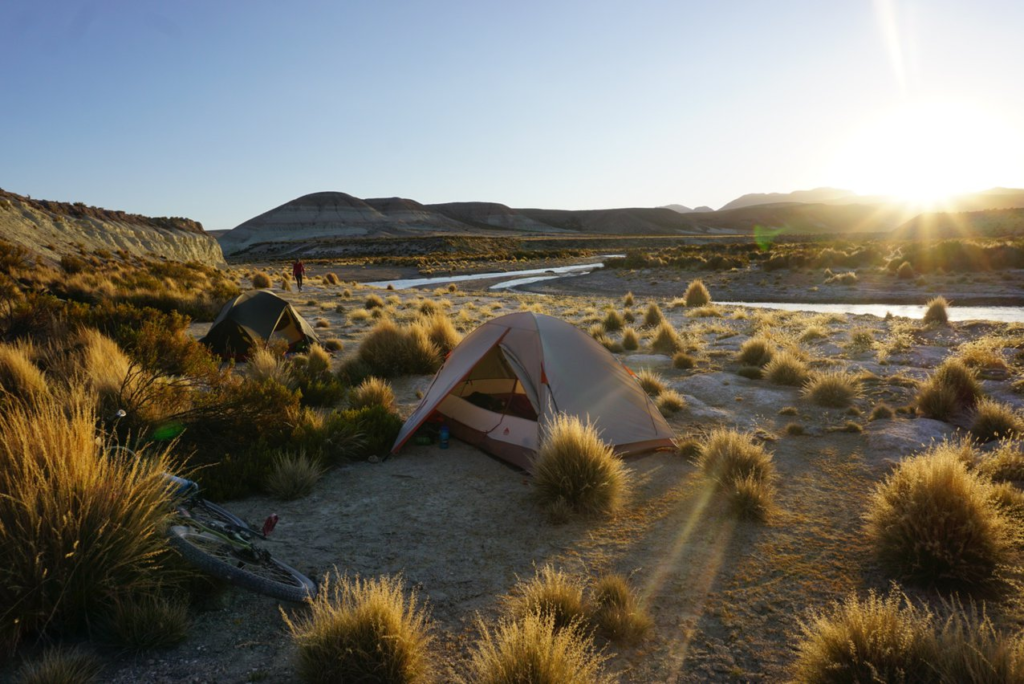 Space is at a premium on your bike. Prioritize compact gear—and the lighter, the better. Your current backpacking gear likely covers most bases. Fill in the gaps from there.
Camping Gear
Shelter: Tarps and bivy sacks certainly make the lightest, most compact options. Yet in buggy terrain or foul weather, you'll likely want the protection of a minimalist, pack-small tent.
Sleeping bag / quilt: If conditions allow, a featherweight down quilt with an elastic foot box may be all the warmth you need, saving precious room in your pack.
Sleeping pad: Air mattresses offer greater comfort and roll up tighter, but require at least a ground cloth to prevent punctures. Closed-cell foam pads are bombproof, but offer far less cushion and may be too bulky for backcountry setups.
Stove: The lightest gas stoves weigh just a few ounces and fit in the palm of your hand. 4 oz. fuel canisters stow easily as well. Alcohol stoves remain your lightest and cleanest-burning option. They limit your cooking to water boiling, but they're ideal if you won't be passing any gear shops to refuel.
Water & water filter: Research water sources before your trip to help assess how much to carry each day, as well as the type of water filter to bring to combat contaminants you might encounter.
Clothing: Beyond your bike outfit, pack warm layers for camp and flip flops if you use clipless shoes. Pack multiple socks and underwear, but otherwise wear the same outfit every day.
Sunscreen & toiletries: Pack these as you would for any backcountry adventure. Just remember to Leave No Trace.
First aid kit: Biking in remote terrain increases the safety hazards. Adventure Medical Kits makes a wide array of great wilderness first aid kits. Include super glue, needle and thread, duct tape, and patches for your sleeping pad and tent fabric.
Don't forget: Your headlamp, spare batteries and chargers, bear hang kit, sat device, and other essentials for minimalist backcountry camping.
Bike Tools
Preparing for every mechanical issue would require an entire workbench of tools. Instead, carry those that will triage most common issues—and that you know how to use. Again, consider the terrain. For example, in rocky terrain you might pack more spare tubes.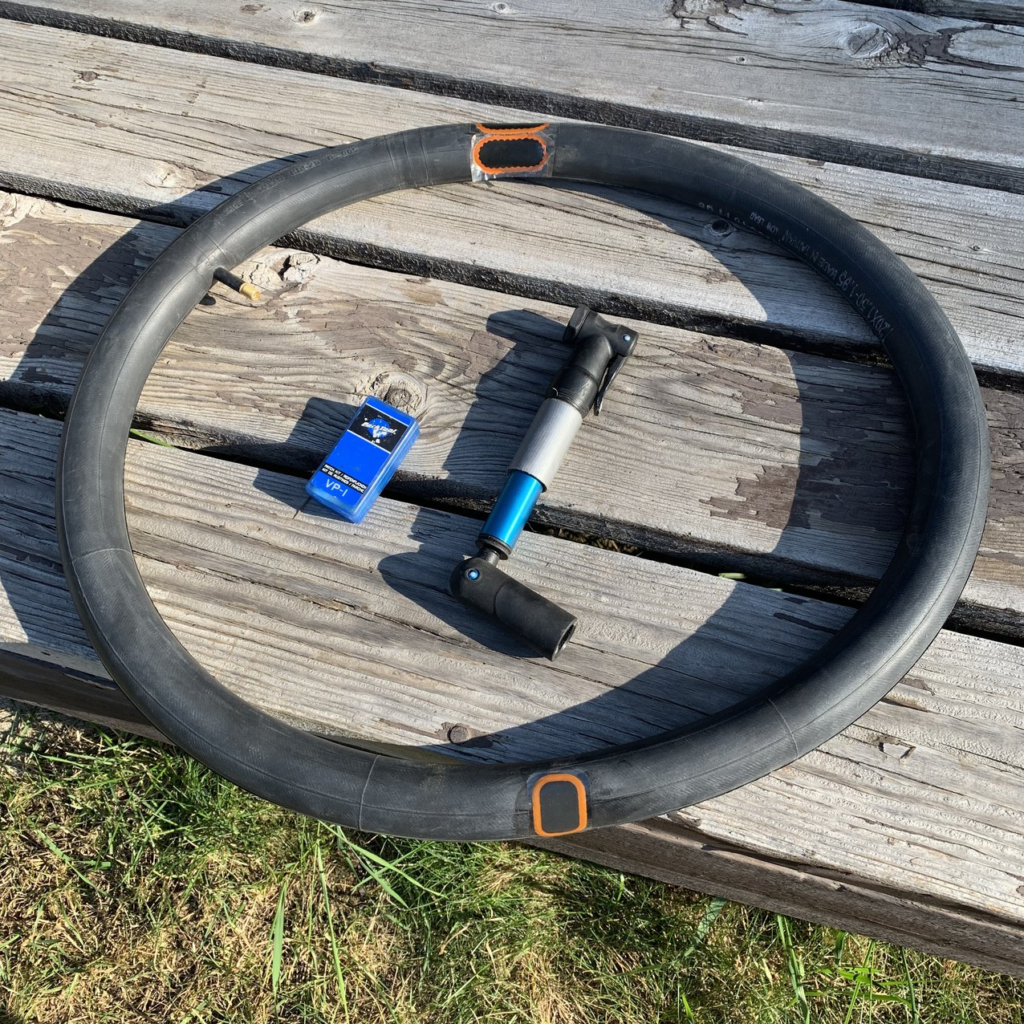 Spare tubes, tire plugs, tire levers & small pump: Rarely does one escape a backcountry trip without at least a few flat tires. Even if you run tubeless tires, carry spare tubes, as sharp terrain (and crashing) can rip the sidewall of your tire beyond repair with sealant or tire plugs. On longer trips, also carry a patch kit.
Bike multi-tool: Featuring multiple sizes of Allen wrenches, a multi-tool lets you tighten, adjust, remove, and replace most bits on your bike trailside. Ensure the sizes match your bike's bolts. Choose one with a chain breaker.
Chain lube & wipe cloth: Lubing your chain each morning before your ride is one of the easiest ways to keep your bike running smoothly throughout your trip, especially if crossing streams.
Chain quick links: Chains break. Quick links allow you to use a spare length of chain to replace the broken section, quickly locking it in and getting you back in business.
Zip ties & ski straps: Your ultimate MacGyver gear. From taming unruly cables to providing bag tie-downs, these come in handy.
Also consider: Bike lights, spare brake pads, shock pump for full suspension bikes, spare derailleur hanger.
Best Maps for Bikepacking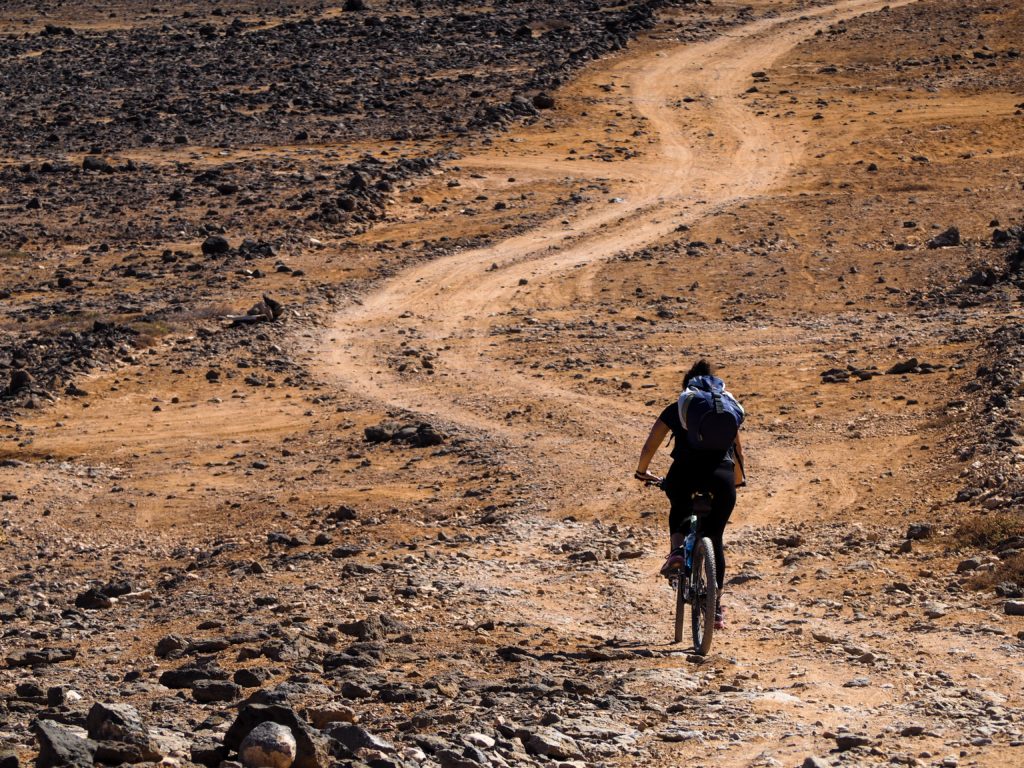 Planning a bikepacking trip encourages you to get savvy about land use access and, you guessed it, terrain—because biking isn't always possible where hiking is. Gaia GPS's map catalog provides numerous planning and navigating resources, and a Premium membership gives you access to them all. Here are the most helpful maps for bikepackers, along with some pointers for building your route.

Satellite Topo Base Map: This topo-and-satellite hybrid makes an excellent base map for bikepackers, who need to really visualize the terrain. It places the contour lines of Gaia's Topo map over ESRI world satellite imagery. Use the topo lines to calculate elevation and the satellite imagery to see terrain features such as forests and open areas.

Ensure you know how to read topo maps.

Wilderness Map Overlay: Bikes aren't allowed in designated Wilderness zones. This overlay lets you pinpoint Wilderness boundaries and ensure that your route avoids them. Find this map under the Feature/Weather Overlay option.

USFS Recreation Sites Map: Quickly find bike-friendly trails and campgrounds along your route. This overlay highlights U.S. Forest Service campgrounds, trailheads, visitor centers, and land-use access through an easy-to-read legend. Find it under the Feature/Weather Overlay option.

24- and 72-Hour Weather Forecast Overlays: In addition to the 48-hour Precip Overlay, Gaia GPS includes 24- and 72-hour Forecast Overlays. Pack the right gear for the forecast with these options that you can display over your favorite base maps. Sourced from NOAA data.

Wildfire Overlay: Dodge road closures, avoid burn scars, and find views unobscured by smoke using the Wildfires (current) and Wildfires (satellite) maps, now free for all Gaia GPS users.

Finally, find free camping spots using the Public Lands Overlay—and sleep soundly knowing you're not trespassing.

Building Your Route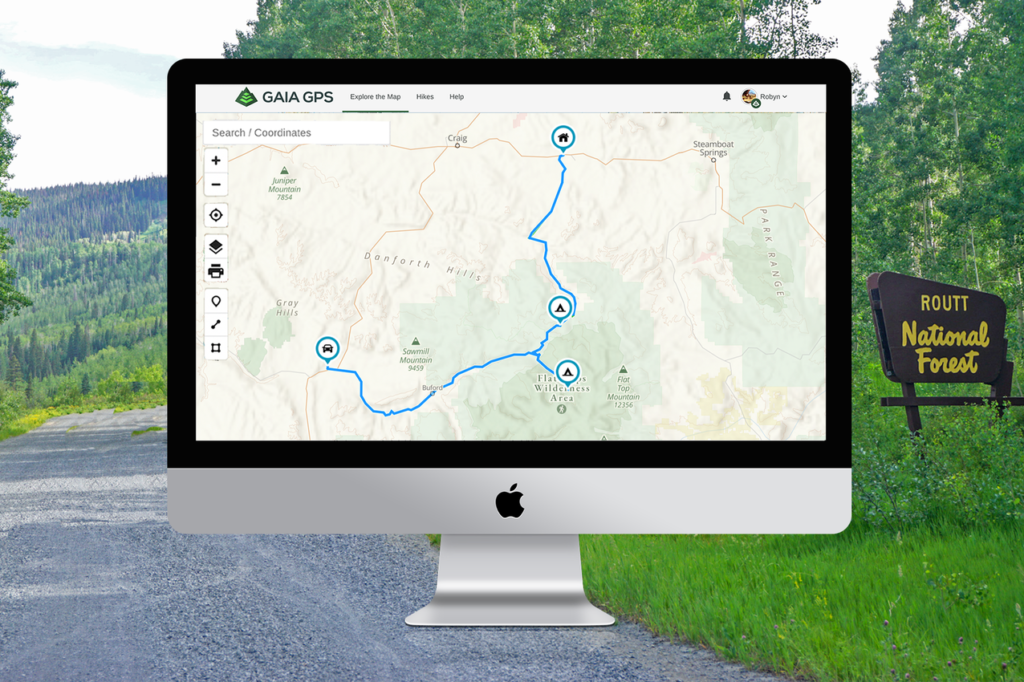 Once you know where you want go, use the Gaia app or Gaiagps.com to build your route and add waypoints with helpful info along the way.
Create a route in Gaia: This step-by-step video tutorial guides you through the process. Start with your preferred base map. Then add overlays, such as those mentioned above, to increase your knowledge of an area. Or, import GPX files: If you find GPX files for routes online, import them into your phone. Here's how to do it for iOS, Android, and at gaiagps.com.
Drop waypoints: Mark water sources, camping spots, trail junctures, and other key points. Tag them with symbols and color-coding, and add notes. Here's how in iOS and Android.
Download your map: Ensure you do this while in cell service in order to access your map offline.
Preparing for Your First Bikepacking Trip
With your bike, gear, maps and routes, you're nearly there. But before you pedal out into the great unknown, be sure you and your setup are dialed. Here's a checklist to help.
Gain the fitness and sit bones you need by doing longer rides in the months prior.
Give your bike a safety tune-up yourself or take it to your local shop.
Learn how to do trailside repairs.
Practice packing your gear to dial-in your system.
Ride your bike fully loaded to experience its handling; consider doing a single night adventure to test your setup.
Get current beta on the zones through which you'll be traveling via ranger stations and trip reports.
Download (and print out) your Gaia GPS maps!
Bikepacking Routes and Resources
Multi-night mountain biking has soared in popularity, and with it the resources and inspiration to plan an amazing trip. Here are a few places to start.