Let's face it, outdoor lovers love to be outdoors. Cut to the chase and give a gift that lets someone do what they love. From travel, to education, to safety, there are numerous (COVID-friendly) experience gifts that can help a loved one have fun outside. Plus, gifting an experience means you don't have to deal with the hassle of fighting crowded shops and schlepping packages to UPS.
With these considerations in mind, here are some of the best experience gifts this year for outdoor lovers and adventurers.
National Parks Pass, $80
Give the gift of unlimited access to America's public lands with a national parks pass. The "America the Beautiful — the National Parks and Federal Recreational Lands Pass" unlocks the door to over 2,000 federal recreation sites. The pass covers entrances fees to national parks and national wildlife refuges, plus day use fees at national forests and grasslands, and lands managed by the Bureau of Land Management, Bureau of Reclamation and U.S. Army Corps of Engineers.

Purchase a national parks pass through the USGS website or REI. This pass is valid for a full year from the month of purchase. It covers a car full of people (the pass owner and three accompanying adults). If you're gifting a parks pass to a senior, you're in luck! Seniors can get an annual pass for $20, or a lifetime pass for $80. There is no entry fee to any of these places for children ages 15 and under.

Alternatively, encourage local exploration through gifting a State Parks Pass. Many states offer a pass that covers entry fees to state parks. These passes quickly pay for themselves after just a few visits. Note that in Hawaii, Illinois, Iowa, Missouri, Pennsylvania and Tennessee, entrance to state parks is free.
Safer & Stress-free Backcountry Skiing, $350 – $600
This winter is shaping up to be a crazy season in the backcountry. Get out there safely and learn how it's done at this one-of-a-kind backcountry ski resort. Bluebird Backcountry is a Colorado ski area without chairlifts. The backcountry ski area allows skiers and splitboarders to enjoy all the perks of uphill travel: no lift lines, powder caches, and a quality workout — but with much less risk than a typical backcountry environment. And they don't have to stress about finding a safe backcountry zone. The resort operates on Bear Mountain, on the Continental Divide near Rabbits Ears Pass and Steamboat Springs, Colorado.

The cost of your day pass includes the safety net of having ski patrol available for emergencies, enjoying fresh tracks on avalanche controlled slopes, and a base lodge and warming hut with food and beverages services inside. Guests will delight over ample parking and have the option of camping on site. With over 1,200 acres of avalanche-evaluated terrain, skiers have plenty of space to explore and score coveted first tracks. Plus, skiers get access to 3,000 additional acres of backcountry skiing if they hire a guide. Avalanche courses are also available.

If you want to go all in, you can gift a season's pass. If that's too committing, Bluebird offers single day, 4-pack and 10-pack day pass packages. They also offer rental gear. Check out the options here.
Snowshoe Tour, $50+
Consider a snowshoe tour for the person who wants to make the most of winter wonderland without getting on skis. Snowshoe tours are available pretty much anywhere snow falls. Many involve hot beverages, and sometimes even a gourmet meal. Destinations like Yellowstone National Park offer a multi-day snowshoe traverse. Check other national parks near you for interpretive tours offered on snowshoes.
Avalanche Safety Training Course, $600 – $700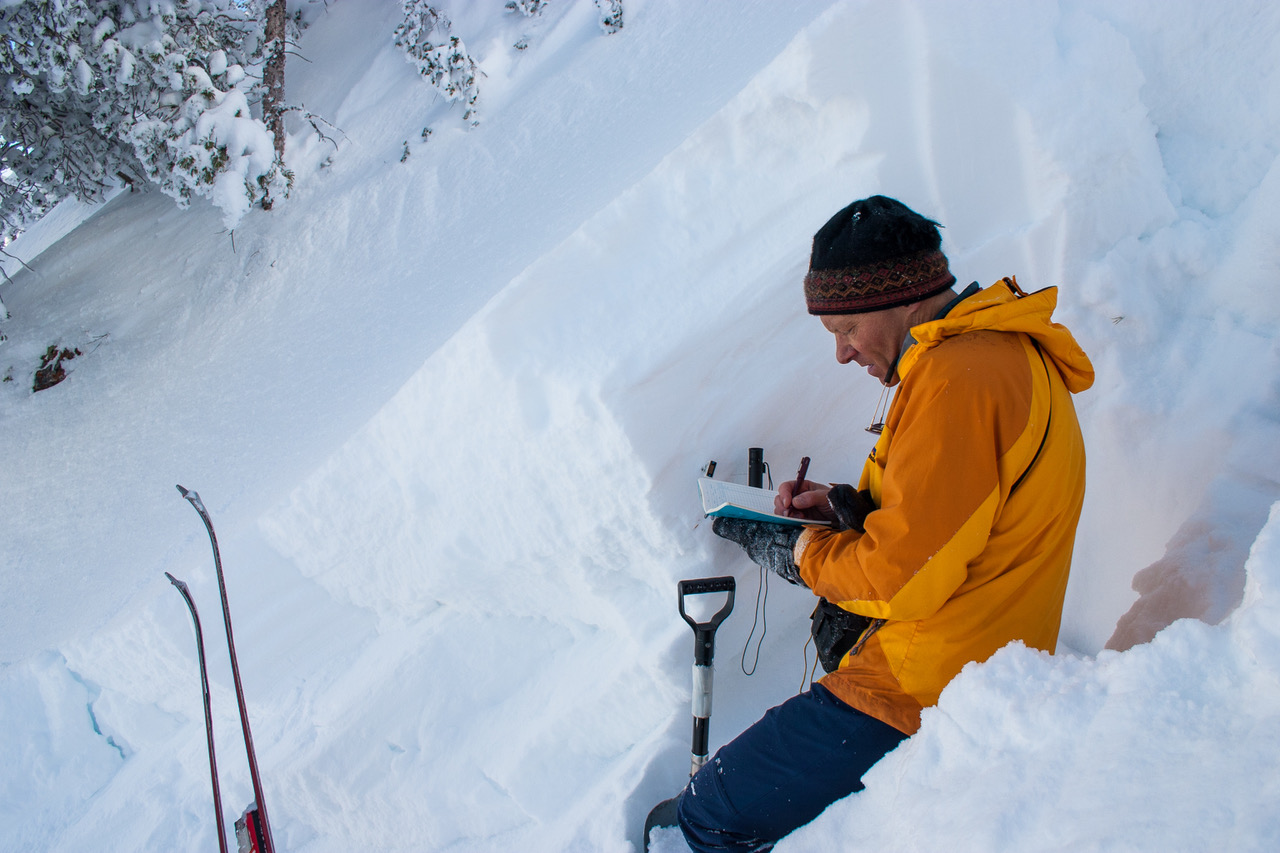 What gift says "I care about you" quite like the gift of safety? An avalanche safety training course is essential for anyone who wants to get into the backcountry this winter. Skiers, splitboarders, snowmobilers, snowshoers, winter hikers, and climbers will appreciate learning about how to stay safer in the snow. And, let's be honest, this gift is equally about giving you some peace of mind when your loved one heads for the snowy backcountry this winter season.

A course from AIARE, the leading avalanche safety education organization, will help teach you how to make better decisions in avalanche terrain. You'll also learn how to prepare and carry out a backcountry trip, understand basic decision making while in the field, and learn the avalanche rescue techniques required to dig up someone buried under snow. Find an AIARE course near you.
Call for Help from Anywhere on Earth: Satellite Communicator, $200 – $350
Okay, this gift is cheating slightly — it involves a physical object. But by keeping you connected to the outside world and only one button away from a rescue, the true gift is one of safety and communication. Never worry about cell service in the backcountry again when you have a satellite device on hand. Brands like ZOLEO pair with an app on your smart phone to let you send and receive messages anywhere on earth. Most importantly, the SOS button puts you in touch with the GEOS International Emergency Response Coordination Center within a matter of seconds, who will coordinate a rescue if necessary.

If the someone you have in mind already owns a satellite device, you can gift the service fee for a month, a year, or as long as you wish. Check out our satellite communication device guide here, complete with a price comparison, and cash in on a special offer from ZOLEO offered through the end of 2020.
Wilderness Course, $75+
Acknowledge and support someone's goals with a navigation class, ultralight backpacking course, or a wilderness first aid class.
Navigation classes teach you how to confidently move through the wilderness. Learn how to route find, use a compass and topographical maps, read an altimeter, and enhance your terrain awareness. If you want to lighten your pack load, go further and faster, or simply minimize backpacking stress, an ultralight backpacking course may be for you. Take a wilderness first aid class and have more fun outside by learning how to take care of scrapes and sprains before they turn into something much worse.

Many organizations offer these classes. A few tried and true courses include Andrew Skurka's Planning Course and guided instructional ultralight backpacking trips, REI's Wilderness Safety Training with NOLS, NOLS courses, Wilderness Medical Associates' wilderness first aid classes, and YAMNUSKA courses in the Canadian Rockies.

You can even gift a virtual class for a hassle-free, socially distant, and convenient way to learn. Active Interest Media offers a host of courses with experts in the field.
Backcountry Meal Planning, $25+
For the person in your life who loves to camp or backpack but comes home complaining about how poorly they ate on the trail, Backcountry Foodie offers recipe and meal planning services that give the gift of health, energy, and joy in the backcountry.
Enhance your nutrition and culinary satisfaction, save precious pack weight, and take the stress out of planning with Backcountry Foodie's recipes and meal plans. She offers three tiers of help to choose from: recipes; recipes plus meal planning; and custom meal planning.
Night Photography Class, $200
Learn how to capture the wonder of a glittering star-strewn sky with a night photography class. There are numerous in-person and online classes, including ones from Active Interest Media and Dave Morrow.
The Perfect Camp Site, $5+
Snag that prime camp spot now, and your loved one will thank you this spring when it's sold out. Not sure where you want to go? Many states sell gift cards that can be used to purchase camping reservations at state parks. You can find camping and wilderness permit reservations on recreation.gov, ReserveAmerica.com and campnab.com. You can also find camping spots, RV sites, and even glamping gems on HipCamp.
(Rent a) Home on Wheels, $200+
Explore new places via the open road! A van or camper rental is the perfect gift for someone with wonderlust during a harder time to travel. Pack all of your food in advance, and enjoy a week of solitude and limited social interaction.

Find campervans, trailers, RVs, Sprinters to rent via Outdoorsy. You can also find local companies in your area.
A Donation in Their Name
For the person who thinks even an experiential gift is too much. If you're looking for ideas, you can join us in supporting some of these organizations working to make the outdoors more inclusive and accessible to all.
Gift of Adventure: Gaia GPS Membership, $17+
Perhaps there is no better gift than the gift of exploration. Give the gift of a Gaia GPS membership to the person in your life who is excited about exploring their backyard and beyond.

A Gaia GPS membership lets you plan a route from the comfort of your couch and upload that route for use in the backcountry so you stay found and safe. You can also use Gaia GPS to explore popular trails and routes, and to make the most of your next trip to a national park. Plus, you can download any of Gaia GPS's hundreds of maps for offline use outside the range of cell service. Thanks to maps ranging from the whole suit of National Geographic Trails Illustrated to USFS Roads and Trails, Gaia GPS enhances the experience of everyone from the avid backpacker to the casual day hiker. Browse the whole map catalog here.

Go the extra mile and pair this gift with even evening of stargazing, a backpacking or backcountry ski weekend, or an overlanding trip — you map out and plan the route, and they savor it too.

Enjoy 40% off Gaia GPS memberships when you purchase on www.gaiagps.com, or by clicking the button below.