A few years ago, I was on a weekend backpacking trip in Montana's remote Crazy Mountains when I rounded the bend on a rough patch of trail and found a solo backpacker lying in the dirt. A quick assessment revealed that the man had an obvious broken leg with a bulging deformity a few inches above his boot cuff. He was starting to go into shock and needed a medical evacuation as soon as possible.

We were tucked up in a canyon, far beyond the reach of cell service. I had been carrying around a satellite communication device for years, using it to text home and to grab weather reports in the backcountry. But now the time had come to use the device for its true and intended purpose — to call for help. I unlocked the SOS button, took a deep breath, and gave it a long, hard press. Within a couple of hours, a search and rescue helicopter plucked the injured hiker off the trail and delivered him to the nearest hospital for immediate reconstructive surgery.

Satellite communication can make backcountry rescue, like this one, quick and easy. This article tackles how satellite communication devices work, their value for peace of mind, and how I've used satellite communication in my personal outdoor adventures and in my work as a backpacking guide. Check out the growing list of top brands of devices, a comparison of retail prices and service plans, and an on-the-ground review of ZOLEO — one of the newer units to hit the satellite communication devices scene.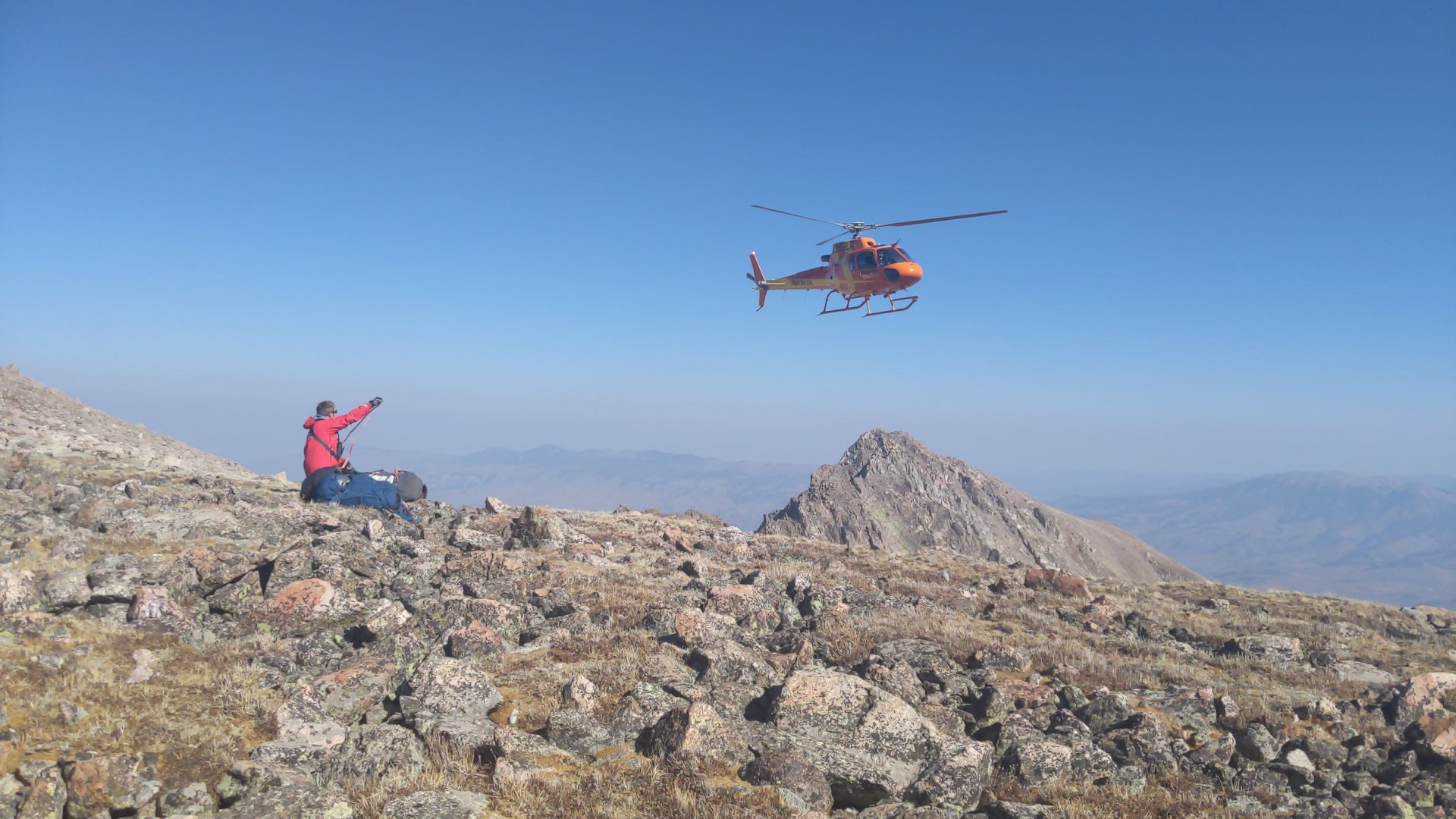 How Satellite Communication Devices Work
Satellite communication devices allow you to send and receive text messages even when you're out of range of cell service. Compact and lightweight, these devices send your message to a satellite in orbit and bounce that message back to earth, namely a phone number or email of your choosing. Most devices use Bluetooth to link up to your phone, making the out-of-this-world messaging experience feel and operate like ordinary texting.
Without question, satellite communication devices have changed the backcountry experience. They give you the ability to reach out from the deepest corners of the wilderness and connect with the civilized world. They bring a sense of security and peace of mind that was impossible to gain before the advent of two-way messaging without mobile service.
Best Uses for Satellite Communication Devices
Over the years, I have found myself relying on these devices in the following ways:
When settling down in camp for the night, I'll often send a text message home to let my family know my location. I know they are relieved to get my message that I've had another safe day in the backcountry.
I always bring my satellite communication device when driving through remote places with little to no cell service, like Yellowstone National Park. This brings me a sense of security knowing that I can always call for help in case of an accident or car trouble on the highway.
When I am on a long backcountry trip and the weather changes unexpectedly, I pull up a current weather report to get a picture of what conditions are headed my way.
When trying to meet up with a shuttle driver (or bush plane in Alaska), I'll send a message with my location to let them know that my group is ready for pick up.
I carry the device on the outside of my backpack and within reach to push the SOS button in case of an emergency. Though I have only pressed the SOS button once, it is the primary reason I carry the device.
Whether out on a day hike or a multi-week adventure to wild places like Alaska or the Wind River High Route, I use Gaia GPS for all my mapping and navigation needs. The app lets me know my exact location in the backcountry, plus it has all the US Geological Survey's quadrangle maps — my go-to map source for backcountry route planning and navigation. I also carry a two-way satellite communication device to share my location with other backpacking guides, family, and emergency services if that need arises.
Satellite Communication Device Review
Today, many brands of satellite communication devices have entered the market, including Bivy Stick, Somewear, ZOLEO, Garmin, SPOT, and more. Competition has been good for the consumer, drilling down prices and bringing better, easier-to-use technology. The devices come in all shapes and sizes, and with different service plans and prices. Here's a snapshot of what's out there.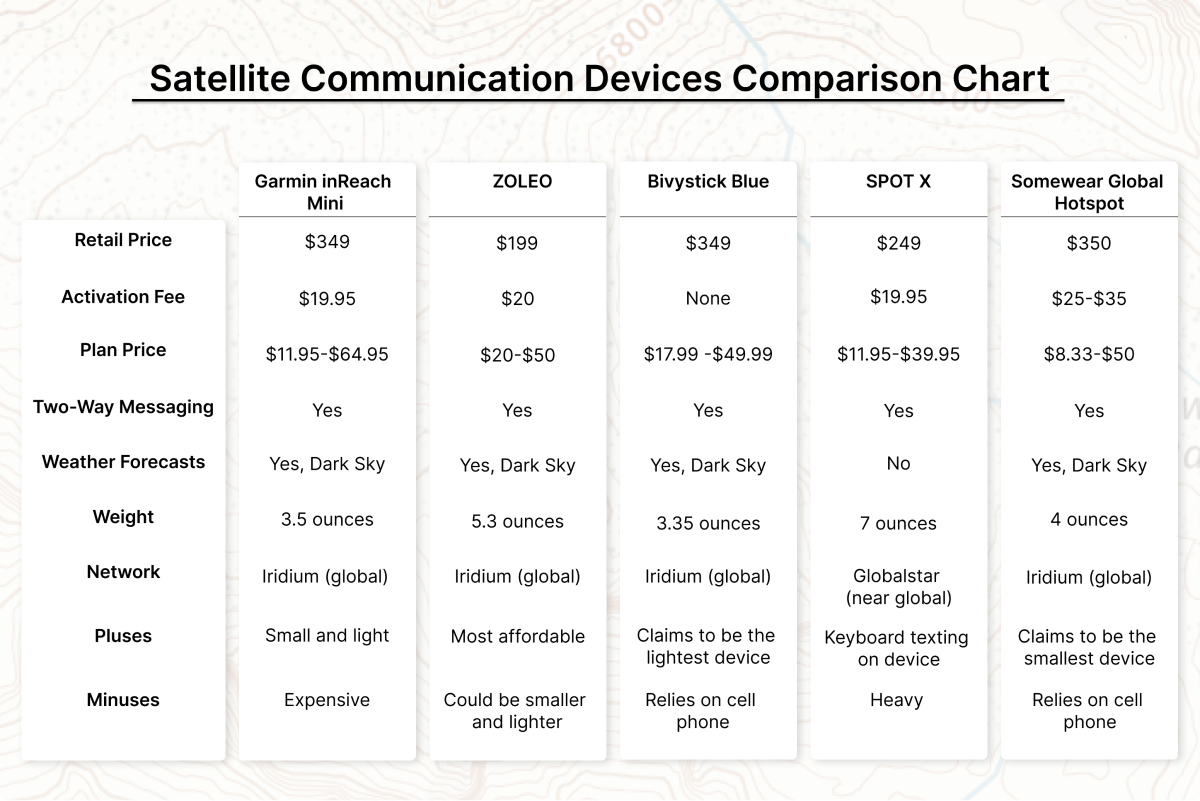 Mary's ZOLEO Review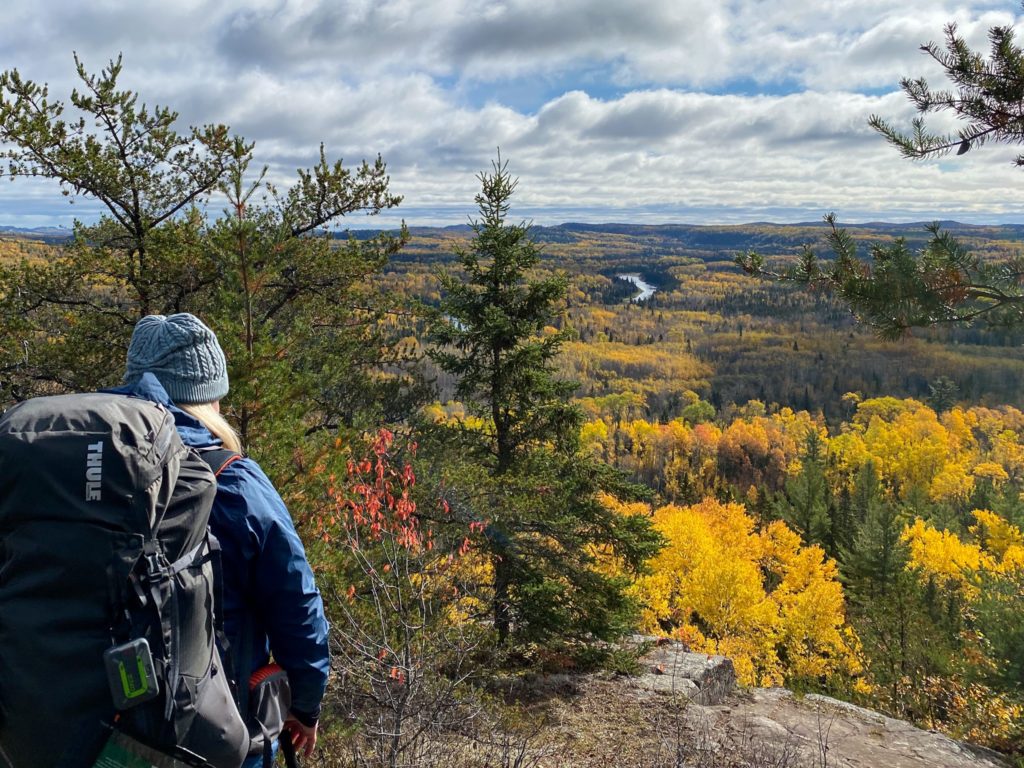 I've tested the ZOLEO unit while guiding backpacking trips for Andrew Skurka Adventures in the Brooks Range in Alaska and Yosemite National Park. One of my clients have carried a ZOLEO unit on one of my trips. We put our ZOLEO devices to the test, sending messages from places without cell service, like Tuolumne Meadows Campground and places far off the trail.

ZOLEO offered all the features I was used to having on my old Delorme inReach SE and Garmin satellite communication devices. ZOLEO connects to the Iridium satellite network and pulls weather from Dark Sky forecasting service, the same systems used by Garmin.

ZOLEO's two-way messaging on the unlimited plan was seamless and reliable. The battery was well suited for backcountry travel with 200 hours of use available. The device was sturdy and small enough to hang on my backpack without being annoying, although I'll admit I'm an ounce-counter and would like to see the device lose a little bit of weight and size.

What stood out about the ZOLEO unit was the seamless messaging between satellite, cell phone, and wi-fi communication. ZOLEO detects which communication is available and selects the most efficient, cost-effective method to use. ZOLEO offers each account a dedicated phone number and email, making it easy to share your contact information with friends. I found the ZOLEO app's interface easy and intuitive to set up and use.

Best of all, ZOLEO knocks it out of the park on affordability with a $199 suggested retail price for the device. Its service plans are generous too. While the lowest service plan is a few bucks more per month than some of the other plans out there, ZOLEO's plan offers substantial messaging for its price with 25 satellite messages per month. ZOLEO's mid-price "In Touch" plan is robust with a whopping 250 satellite messages per month, making me believe there is little reason to purchase the more expensive, unlimited monthly plan.
What Happens When You Press the SOS Button
To activate the SOS button on ZOLEO, press and hold the SOS button on the device for 3 seconds. As an added safety feature, this button works even when you have the device powered off. You can also activate the SOS button from the ZOLEO app on your phone by selecting the SOS tab and pressing the SOS button on your phone's screen.

Once the SOS is activated, a 10-second countdown begins and it feels a little bit like a rocket launch at Cape Canaveral. This countdown gives you time to cancel the SOS alert in case of an unintended push of the button. Yes, this actually happened to me once. I accidentally sat on my inReach SE at Trail Camp below the summit of Mount Whitney in California's Sierra Nevada mountain range. I leaned up against my backpack to take a break and thought, 'where is that siren coming from?' I realized my mistake and jumped up to cancel the SOS alert before the message was sent.

If you don't cancel the SOS message, the device will send the SOS alert with your location to the GEOS International Emergency Response Coordination Center (IERCC) in Texas. GEOS IERCC coordinates response worldwide and is linked to the SOS button on all the satellite communication devices listed in this article. Once GEOS receives the SOS message, they will start a conversation with you by text and exchange information about your emergency. Local first responder crews will be dispatched to your location accordingly.

If you have a ZOLEO unit, you can schedule a test SOS alert to experience this process first hand.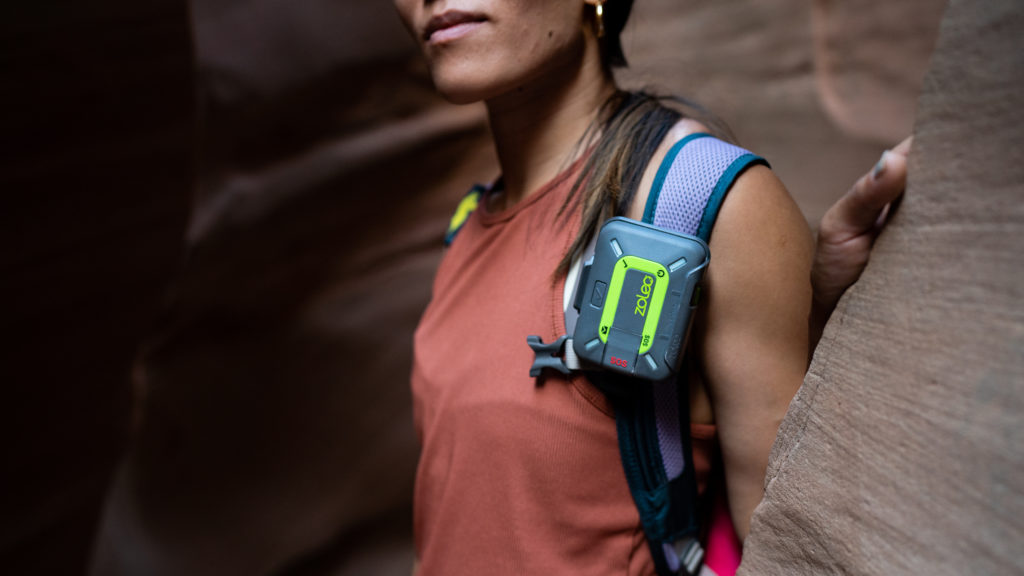 Who Pays for Rescue
Sending an SOS alert is part of your paid service plan with these devices. Rescue, especially if it involves a helicopter, can be costly, or it could cost nothing at all. The cost depends on the location of the rescue. Check with the national park or public lands agency you plan to visit to determine who responds in the event of an emergency and if there is a cost for search and rescue within the agency's jurisdiction. If the financial risks seem high, consider purchasing an insurance policy like the one offered by GEOS.
To Connect or Not to Connect, That is the Question
I always carry a satellite communicator when I am traveling in an area without cell service, and sometimes I've taken heat for it. After all, the whole point of going into the backcountry is to get away from technology and communication with the outside world. I agree wholeheartedly. But I think it's up to you to decide how much contact to have with the world back home. If you have the will power, you can bring a satellite communicator and only rely upon it in the event of an emergency. Or you can decide to bring your texting addictions with you. Ultimately, the choice is yours.