Some of America's national parks are best visited in the winter. The off-season brings the possibility of more solitude, dramatic snow-dusted scenery, and cooler, more comfortable temperatures in areas with extreme summer climates, like the Everglades and Death Valley. Whether you're craving a warm, summer-like hike in the depths of winter or looking for a snowy adventure far away from the crowds, explore these 10 national parks for a variety of winter-season adventures.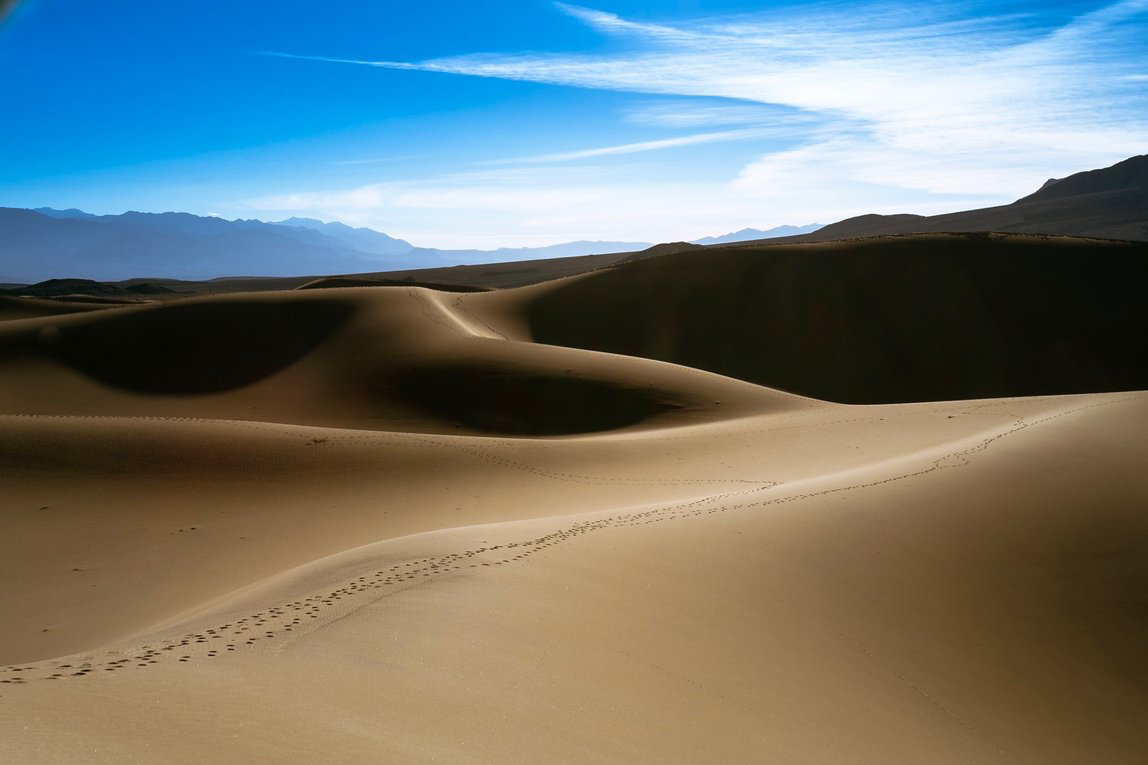 Desert Adventures
Winter brings cooler temperatures and fewer visitors to Death Valley — the hottest place on earth. Located on the California and Nevada border, Death Valley commonly surpasses the 120-degree Fahrenheit mark during the months of July and August. This sweltering summer heat makes outside activities like hiking, biking, and even sightseeing uncomfortable and downright dangerous.
In winter months, you'll find the less extreme side of Death Valley. From December through February, temperatures cool to the 60s to 70s F in the daytime, making it possible to get out of air-conditioned cars and explore the park's sand dunes, colorful geological formations, and sunbaked playas, including Badwater Basin, the lowest point in the U.S. at 282 feet below sea level.
Recommended Hikes:
Zabriskie Point Loop 6.8 miles, 827 elevation gain
Sidewinder Canyon, 1.8 miles, 505 feet elevation gain
Winter Tip: Wildrose Peak (9,064 feet) and Telescope Peak (11,049 feet) may be covered in snow, so stick to the lower elevation trails.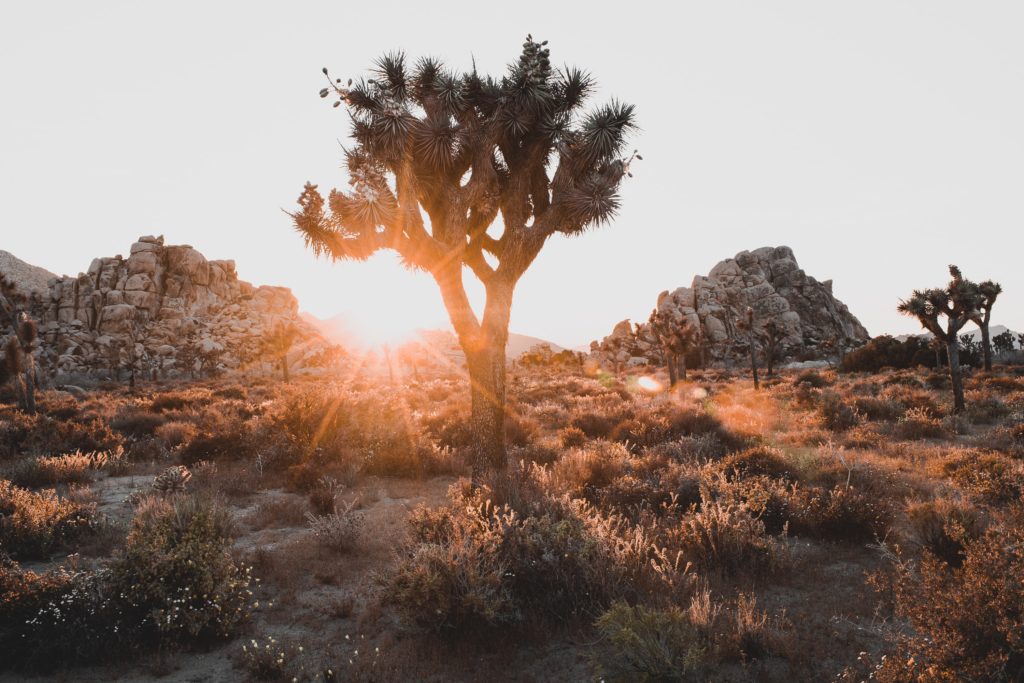 The most unique of all the desert landscapes, Joshua Tree National Park hosts the fuzzy Cholla cactus, interesting rock outcroppings, and the region's trademark Joshua Tree — a spiky member of the Yucca family found in no other place in the world. The park's diversity is owed to its varied elevation, ranging between 1,000 and 5,500 feet and spreading across two of California's deserts, the Mojave and the Colorado.
Even though Joshua Tree sits above sea level, midsummer temperatures swelter around the 100-degree F mark. You can count on spring and fall bringing mild weather and a lot of visitors. Winter, with its chilly daytime highs in the 60s F, attracts fewer crowds but is still comfortable enough to enjoy hiking and rock climbing in this one-of-a-kind desert wilderness.
Recommended Hikes:
Skull Rock Loop, 1.8 miles, 121 feet elevation gain
49 Palms Oasis, 3 miles, 349 feet elevation gain
The Maze Loop, 6.2 miles, 393 feet elevation gain
Winter Tip: Expect wild temperature swings from day to night and don't be surprised by the occasional snow storm in mid-winter season.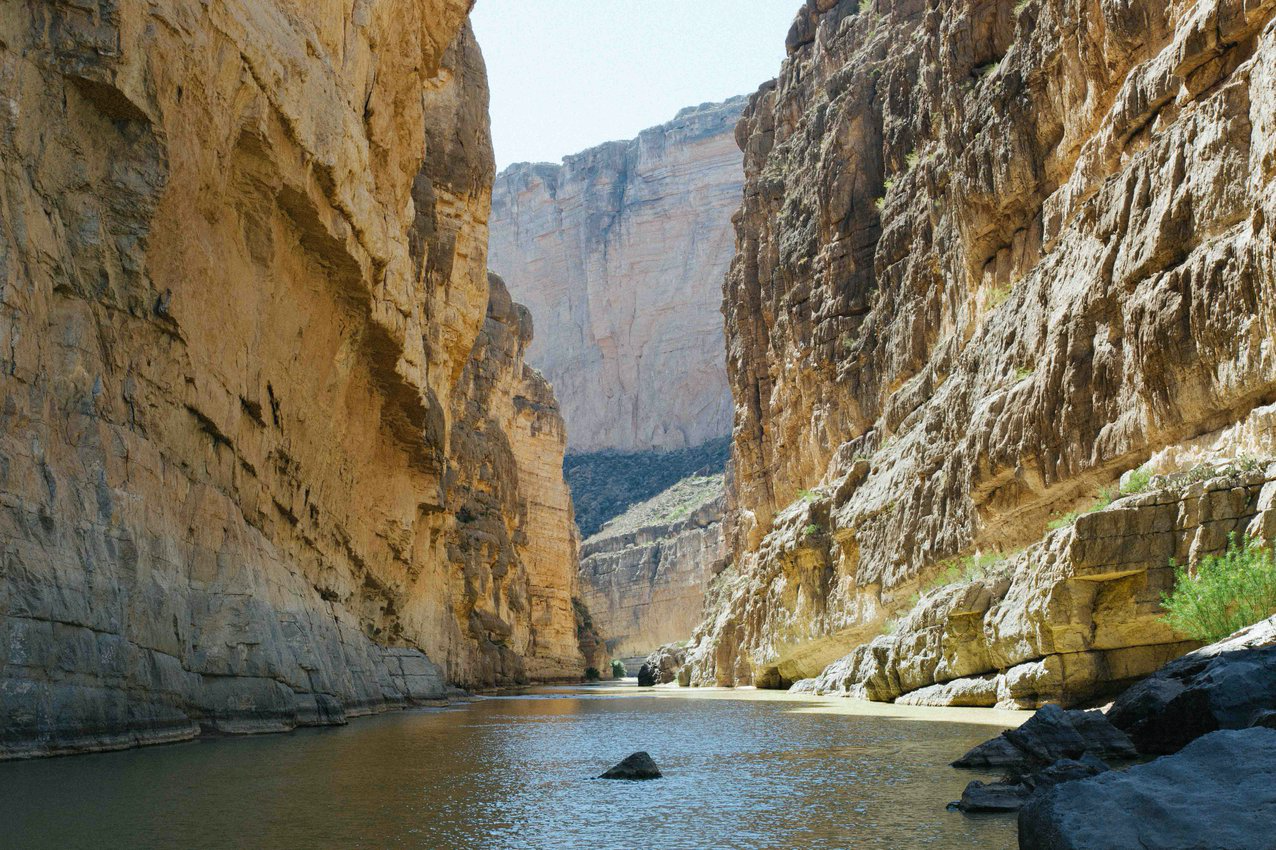 With over 150 miles of trails, Big Bend National Park presents a winter hiking paradise with balmy daytime temperatures averaging in the 60s F and the chance of snow slim to none. Located in a remote area of southwest Texas along the border of Mexico, Big Bend's enormous landscape offers a variety of desert terrain that stretches from the banks of the Wild and Scenic Rio Grande at 1,850 feet to the 7,832-foot Emory Peak in the Chisos Mountains. In between the summit and the river, explore desert slot canyons, dry washes, and barren landscapes.
As a general rule, count on a 20-degree F temperature variance between the highest and lowest points in the park. This variety in temperature makes it easy to select a hike with a comfortable climate no matter what the forecast. Hike the trails near the river for warmer weather and head high into Chisos Mountains for cooler temperatures. Because of this varied elevation, Big Bend is home to a diverse ecosystem, with over 1,200 species of plants, 450 bird species, and 75 mammal species, including mule deer, black bears, and coyotes.
Recommended Hikes:
Saint Elena Canyon, 1.4 miles, 564 feet elevation gain
Boquillas Canyon, 1.3 miles, 98 feet elevation gain
Emory Peak, 4.6 miles, 2,402 feet elevation gain
Winter Tip: Avoid Big Bend during the Christmas and New Year holiday season, one of the most popular times of the year to visit the park.
Snowy Mountain Adventures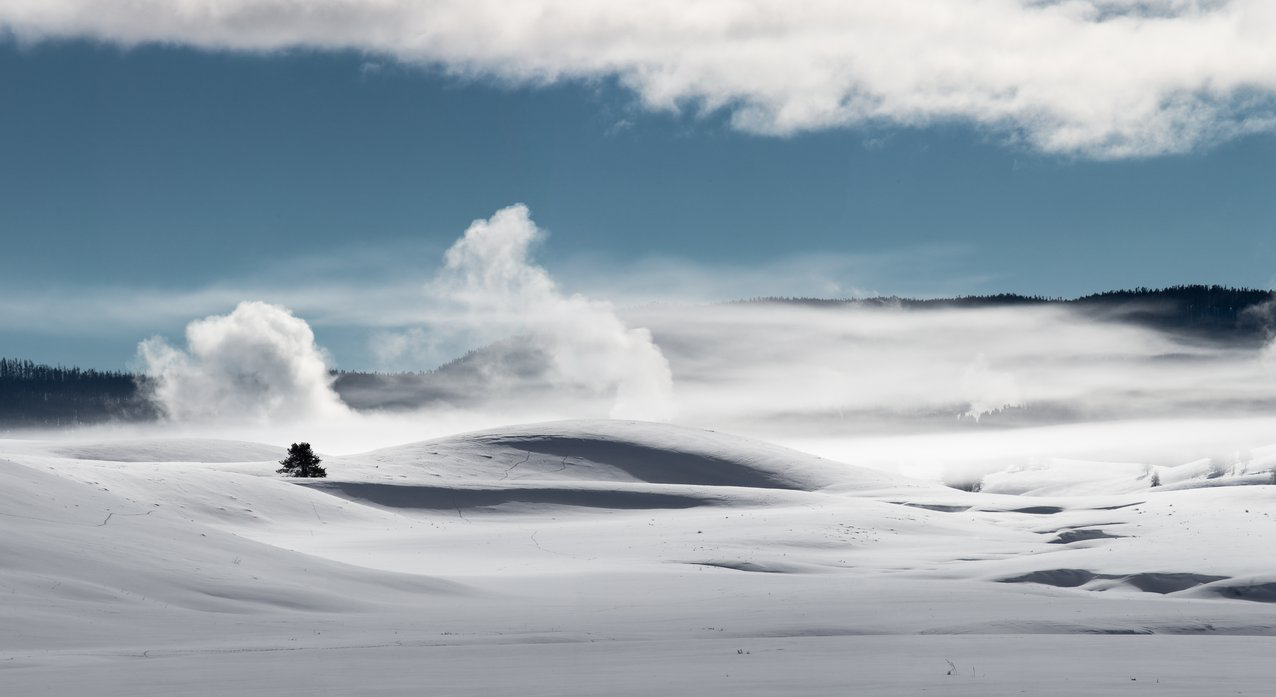 With packs of wolves, herds of Bison, roiling geothermal pools, and steaming geysers, Yellowstone National Park offers one of the wildest experiences of any national park. But add a layer of winter into the mix and you've just upped the ante. In early November, four of the five roads leading into Yellowstone's main attractions close to vehicle traffic, turning the park into a snowbound wilderness that is remote, untamed, and uncrowded — a feeling not easily achieved in the summer months when this popular park is crawling with tourists.
To get to the park's popular destinations, like the Old Faithful Geyser and the Grand Canyon of the Yellowstone, book a ride on a snow coach, take a guided snowmobile tour, or use your own snowmobile to participate in the park's non-commercial snowmobile program. Once within the park's interior, you can explore by ski, snowshoe or snowmobile, visiting steaming hot geothermal pools and exploding geysers. Or you can spend the day watching wildlife — bison, wolves, deer, elk, antelope, and eagles — endure the brutal cold season. Don't expect to see any Grizzly bears though; they are sleeping the winter away and set to stir sometime in late March.
Recommended Ski and Snowshoe Trails:
Canyon Rim Ski Trail, 4.5 miles
Lone Star Geyser Ski Trail, 9 miles
Winter Tips: If you missed out on reservations for a snow coach or snowmobile ride, take a drive through Lamar Valley, accessible from the park's north entrance in Gardiner, Montana. This road is plowed and open all year long, but in the winter it dead ends in Cooke City, Montana, a backcountry skiing and snowmobiling destination. The two-lane road travels through Yellowstone National Park's famed Lamar Valley, where bison and packs of wolves live. Check the park's webpage here for a list of available winter services.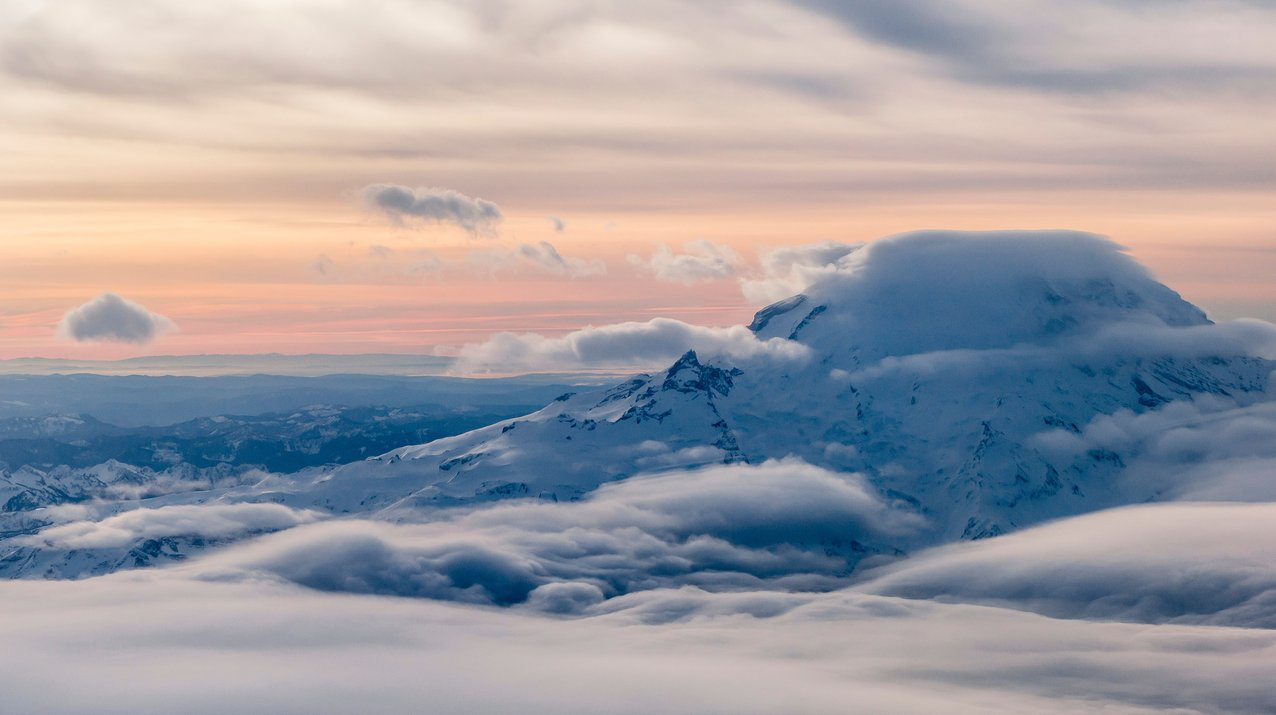 Mount Rainier National Park, just a two-hour drive from Seattle, averages more than 53 feet of snowfall per year, making it the perfect place to play in the snow for almost six month out of the year. Only the hardiest of mountaineers attempt to summit the 14,411-foot peak in the winter months, but the lower elevations around Paradise and Longmire, offer plenty of opportunities for backcountry and cross country skiing, snowshoeing, winter hiking, and sledding. Hone your winter camping skills in the Paradise area. Be sure to pick up a backcountry camping permit at the Longmire Museum or the Paradise Visitor Center on the day of your arrival.
Recommended Winter Activities:
Winter Tip: Most roads in the park close for the winter, but visitors can access the park from the Nisqually Entrance to Longmire, which is open year-round except in extreme winter weather conditions. Check with the park's road status page for updates on winter road conditions. The road from Longmire to Paradise opens at 9 am and closes for the night at 5 pm depending on weather, so time your visit accordingly. Never walk, ski, or snowshoe on the road to Paradise because road crews are operating snow plows and heavy equipment even when the road is closed.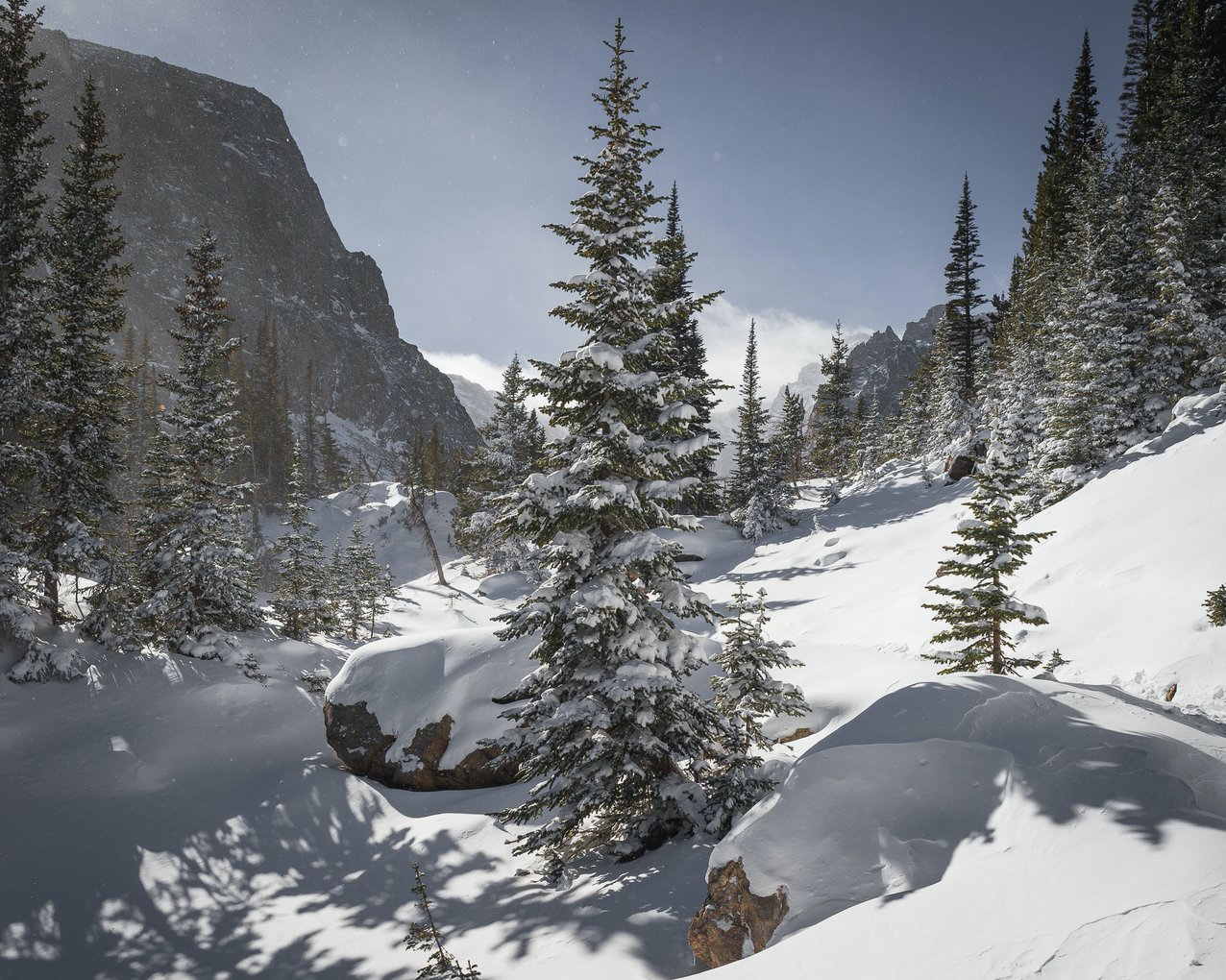 Rocky Mountain National Park, just outside of Denver Colorado, offers all kinds of snow-filled fun, including winter hiking, cross country and backcountry skiing, sledding, snowshoeing, and ice climbing. Before you go, you'll have to decide whether to visit the east or west side of the park because Trail Ridge Road, which climbs to 12,183 feet and connects the two sides, closes to traffic in the winter months.
Besides Trail Ridge Road, most of the park's roads are open to travel, providing access to trails that are popular for hiking in the summer. If there is fresh now, you'll want some sort of floatation to keep you on top of the snow pack, like skis or snowshoes. Chances are good though, that in popular areas, the trail will already be packed in from other hikers and suitable for walking in boots. Bring traction devices and trekking poles if the trails seem slippery with ice. Rocky Mountain National Park is truly a wilderness adventure, especially in the winter, so be cautious of avalanche danger when traveling within the backcountry of the park. Learn more about winter safety here. Check the park's trail conditions page here to get updates on conditions for winter hiking or snowshoeing.
Recommended Hikes:
Ouzel Falls 5.5 miles, 905 feet elevation gain
Dream Lake, 1.8 miles, 735 feet elevation gain
Fern Lake, 3.7 miles, 1,391 feet elevation gain
Winter Tip: The east side of the park attracts more visitors in winter months than the west side. The west side of the park gets more snow and offers more solitude.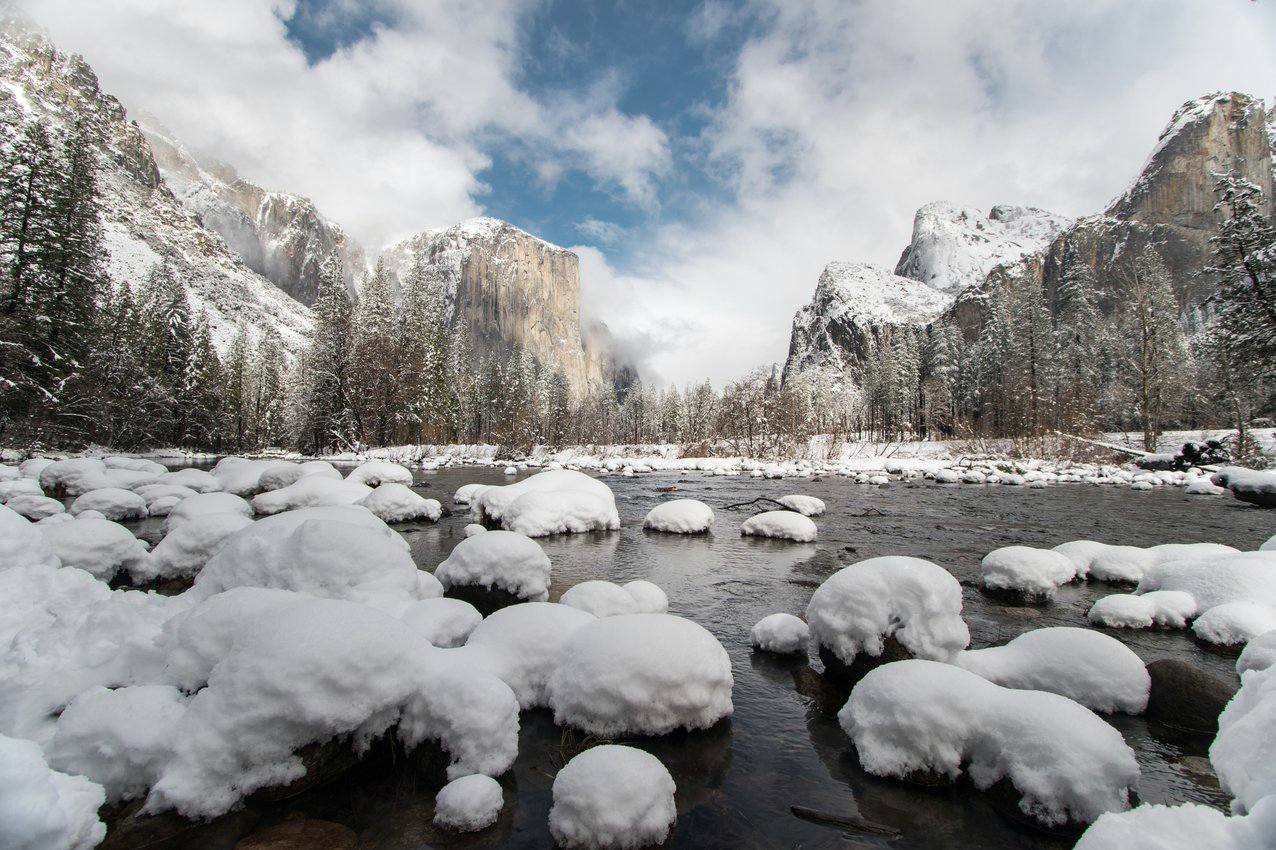 Yosemite's 3,000-foot granite monoliths and giant pine trees dusted with snow make for a magical winter visit and well worth the 170-mile drive from San Francisco. What's even more magical about Yosemite in winter is its lack of crowds. Anyone who has ever been to Yosemite in the peak seasons of late spring and summer will appreciate viewing the iconic rock faces of El Capitan and Half Dome in relative solitude.
The elevation of Yosemite Valley is close to 4,000 feet. Snow can accumulate on the valley floor but usually not enough for snowshoeing or cross country skiing. Trails that ascend from the valley can be snow packed and icy. In addition to hiking, try ice skating at the Curry Village Ice Rink, snowshoeing to Dewey Point, or cross country skiing to Glacier Point. Yosemite also offers downhill skiing, snowboarding, and tubing at the Badger Pass Ski Area.
Recommended Hikes:
Mirror Lake, 2.2 miles, 100 feet elevation gain
Mist Trail, 1.5 miles, 1,217 feet elevation gain
Dewey Point, 4.6 miles, 3,018 feet elevation gain
Winter Tip: Yosemite's Tioga Pass is closed in winter, making Tuolumne Meadows inaccessible to everyone but backcountry skiers who are interested in a long skin up into the park. A 10-bunk ski hut is available in Tuolumne Meadows on a first-come, first-served basis, firewood included. Wilderness permits are required for overnight visits to the backcountry.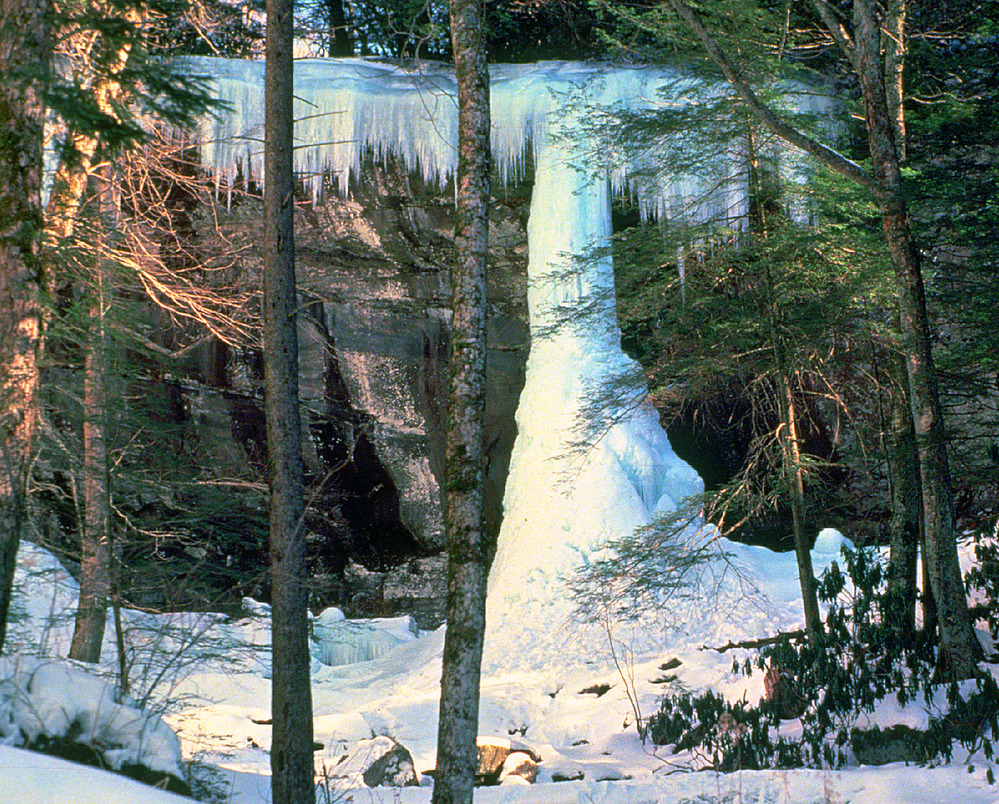 Straddling the border of North Carolina and Tennessee, Great Smoky Mountains National Park is the most visited park in the nation with more than 11 million visitors annually. Winter is your chance to ditch the crowds. But the price you pay for a lonely, offseason visit will be cool temperatures in the 50s F and the possibility of hiking on snow-covered trails.
The trails in Smoky Mountain National Park wind through old growth forest, along a creek bed, and sometimes lead to a waterfall. If you're lucky enough to visit after a cold snap, you might get the chance to see interesting ice formations and frozen waterfalls. Expect high temperatures in the 50s and 60s F in the lower elevations of the park with near freezing temperatures at higher elevations.
Recommended Hikes:
Laurel Falls, 1.3 miles, 366 feet elevation gain
Alum Cave, 2.3 miles, 1,260 feet elevation gain
Andrews Bald, 1.8 miles, 584 feet elevation gain
Winter Tip: Hike in the park's lower elevations, where light snow falls just a handful of times each year.
Tropical Adventures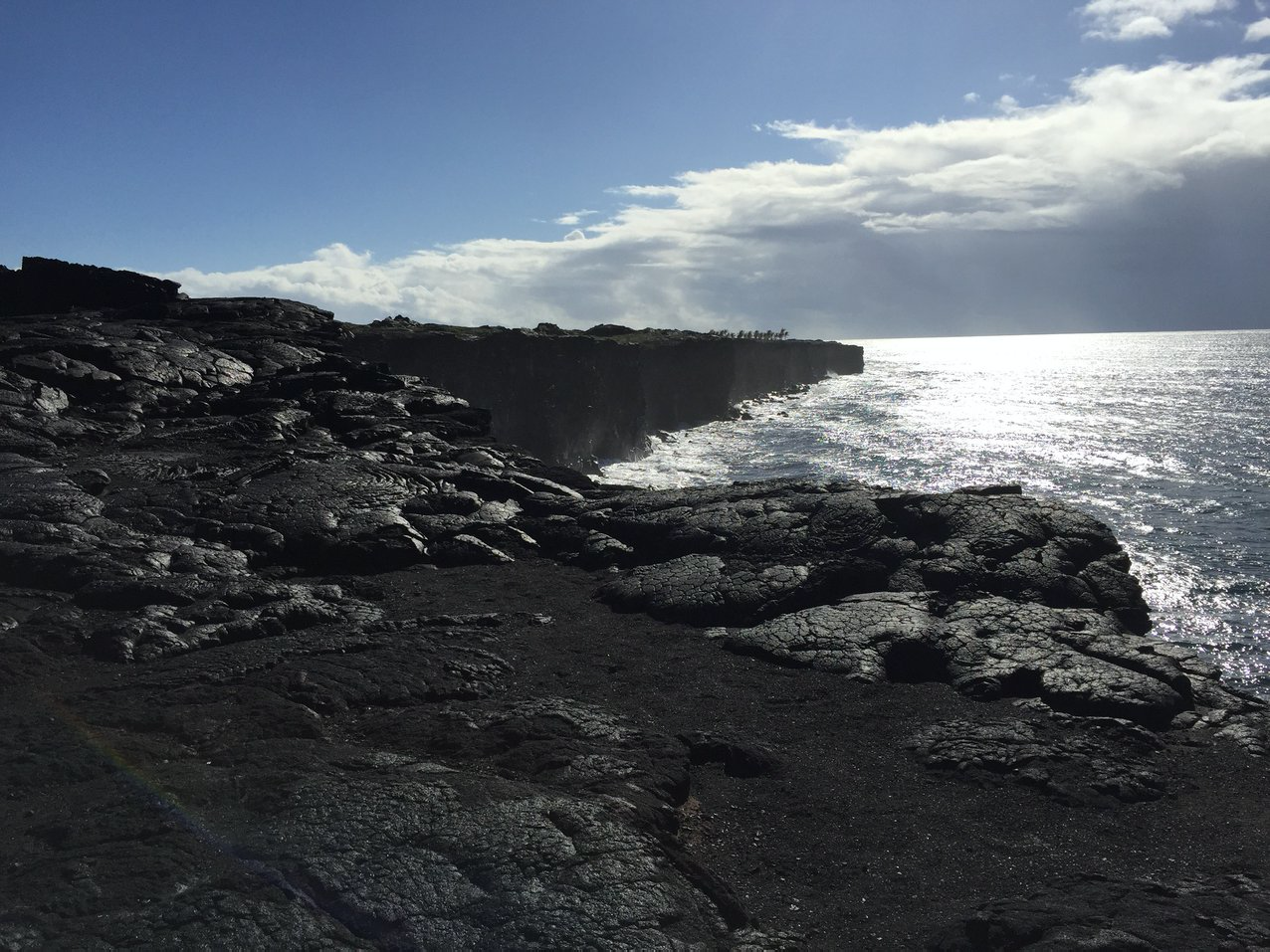 With year-round temperatures in the 80s F, Hawai'i Volcanoes National Park is your best bet for summer-like hiking in the middle of winter. Better yet, the Big Island's sunniest days occur in December and January when there is only a 40-percent chance of cloud cover on average. So get out your shorts and sunglasses, and check out the park's Mauna Loa volcano, considered the largest volcano in the world by both mass and volume, and the Kilauea volcano, the Big Island's youngest and most active volcano.
In 2018, the Kilauea volcano erupted. Lava flows gushed into residential areas, destroying hundreds of homes and much of the park's infrastructure. At the same time, the park experienced thousands of earthquakes that collapsed the Kilauea caldera. Kilauea's active lava flows are no longer present, and according to the park's website, there is no molten lava to be seen anywhere in or out of the park. Even so, the park offers an impressive volcanic landscape of old lava flows, steam vents, and craters.
Recommended Hikes:
Puʻu Loa Petroglyphs, 1.2 miles, 33 feet elevation gain
Waldron Ledge Loop, 2.9 miles, 463 feet elevation gain
Mauna Loa, 13 miles, 2,641 feet elevation gain
Winter Tip: Believe it or not, winter weather can pummel the summit of Mauna Loa volcano which rises 13,678 feet above sea level. Temperatures at the top of Hawai'i's volcanoes are often 20 degrees F cooler than at the park entrance. If you're planning to tag the summit, wear layers and check in with the Visitor Center about weather conditions before going up top.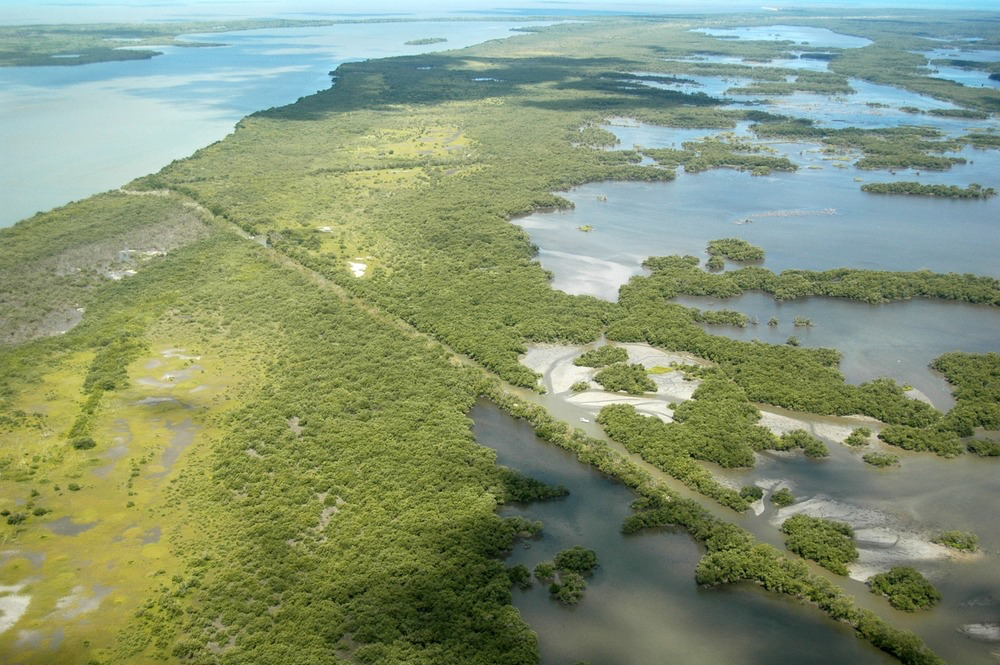 Moderate temperatures, low humidity, and a lack of mosquitoes, make December through March the perfect time to visit south Florida's Everglades National Park. At 1.5 million acres, the park's considerable size includes coastal lowlands, pine forests, and freshwater slough ecosystems. Considered the largest subtropical wilderness in the U.S., Everglades is home to a wide variety of species, including an abundance of alligators, dolphins, manatees, panthers, and turtles. Wildlife viewing is at its best in the winter season.
Pick your mode of travel: hike, bike, or kayak through the park. Pine Island and Flamingo trails, near the park's main entrance in Homestead, Florida, offer a number of short, interpretive walks. Though it doesn't sound inviting, Shark Valley offers the best bike trail along with an excellent chance to view alligators in the wild. Take a seven-day kayak or canoe trip on the 99-mile Wilderness Waterway, accessing some of Florida's most remote coastline.
Recommended Hike, Bike, and Kayak Trails:
Shark Valley Loop, 14.7 miles, 24 feet elevation gain
Pine Island and Flamingo Trails, interpretive trails
Wilderness Waterway, canoe and kayak route
Winter Tip: Winter is Florida's dry season, making the park's water holes the best chance to view wildlife.