We've made Gaia Topo a default map source in Gaia GPS. It's been out there for a while now, but today Gaia Topo is really an amazing map source. We wanted to take a moment now to tell you about the work behind this map, and summarize the big improvements we've been publishing through the turn of the seasons.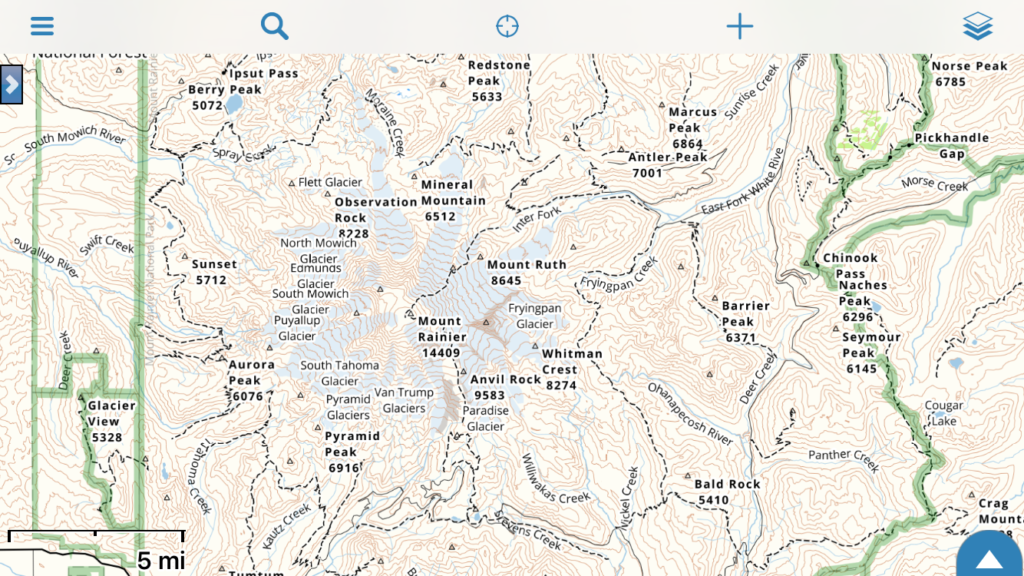 While Gaia GPS continues to offer a vast catalog of topo and other maps, we encourage you to check out Gaia Topo for your next backpacking trip. In many ways, Gaia Topo is the best global topo map, offering a functional and beautiful worldwide map with extraordinary detail at all scales, and built by a team of backpackers who relentlessly test and improve the map in a huge and ongoing effort.
Our Unique Take on a Global Topo
You'll find many stylistic differences between Gaia Topo and other maps, but there are at least two areas that make Gaia Topo a unique and wonderful map source for backpacking.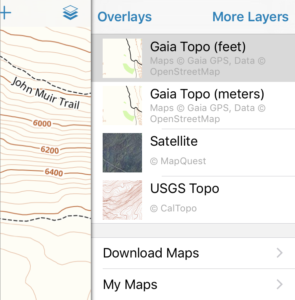 Feet or Meters, Your Choice, Worldwide – One thing we want to highlight about GaiaTopo is that it's the only global topo map that will show you measurements in either feet or meters. Every other global hiking map – from OpenHikingMap to Mapbox Outdoors – limits you to seeing contour lines, peak measurements, and other numbers in meters only. American users will appreciate being able to work with imperial units.
USGS Style – In designing Gaia Topo at its 1:24K scale, we hew closely to the familiar USGS style and maximize functionality for a high-contrast, detail-packed map that you can easily read in outside lighting conditions, without being overwhelmed. With USGS maps showing their age, lacking a full road network, and covering the US only, Gaia Topo often shines as the better map. And compared to other outdoor topos like MapBox Outdoors or OpenHikingMap, Gaia Topo has an unflinching focus on actually being outside, on the trail – without allowance for glamor or website-oriented design that might hinder functionality.
A Community Effort
It turns out that the Gaia GPS team, users, and the global OpenStreetMap community all contributed to this collaborative project. Gaia Topo pulls together several data sources, and OpenStreetMap.org forms its core.
OpenStreetMap is a global movement that many Gaia GPS users and team members already participate in, and you can too. Over a million people worldwide have contributed their edits to OpenStreetMap, including trails, campsites, and other data of keen interest to hikers and other outdoor adventurers.
People can contribute by recording GPS data and notes with programs like Gaia GPS, or even by tracing features in satellite imagery to add them to the map. So if you ever find trails that aren't marked in your area, you can really go a good deed for the world by recording your travels, and adding data to the open map on OpenStreetMap.org.
On the Gaia GPS team, lead developer Jesse Crocker built the first Gaia Topo that we released last summer, and did a significant amount of work over the last six months to improve the map and roll it out across iOS, Android, and gaiagps.com. Intern Aashima Talwar and Map Specialist Kate Dougherty also spent several months refining the design. Gaia GPS developer Alex Thissen has also spent a great deal of time working on the contour line rendering for the map, as well as debugging various issues.
Another Year of Work Unleashed
We decided to blog about Gaia Topo now because we've greatly expanded work on the map and improved it in numerous ways since we initially released it about 15 months ago.
The latest release applies unique styles to different categories of trails and paths, and shows the bridges over them. It also renders many new amenities, including:
campsites
restrooms
drinking water fountains
parking lots
viewpoints
lighthouses
information centers
The map replaces generic points with intuitive icons wherever possible, and outlines national and state parks, nature reserves, and protected areas in dark green to make them easier to spot and identify. Land cover data on wetlands, meadows, scree, glaciers, beaches, bare rock, and landfills also appears at higher zoom levels.
Gaia Topo also includes:
slipways and airstrips
intermittent streams
dams
reservoirs
labels for islands and islets
military installations (red hatches)
You may also notice that rivers, streams, and creeks appear wider at higher zoom levels.
Vector Versions Too
In addition to Gaia Topo, iOS users also have access to Gaia Topo (Vector), which makes downloads smaller and rendering crisper. You can find this additional layer in the app in the More Layers Menu.
Because of the challenges associated with vectors on mobile devices, this map isn't as beautifully rendered as the "raster" version, but it has its advantages, and it will improve over time too.
Ideas for Map Enhancements?
Do you have ideas about how to improve the map? You can post your thoughts on the new design and enhancements you'd like to see in the Gaia GPS Community Forum. If you have any other questions or feedback, you can also email support@gaiagps.com.