In a recent blog post, we showed you how to join OpenStreetMap and help build an open map of the world, alongside millions of other map editors. That post focused on editing the map by comparing it to aerial imagery.
This new article covers how to use your GPS recordings (such as those you might make in Gaia GPS), to edit roads, landmarks, and other information into the map. Remember, OpenStreetMap doesn't just mean roads – it includes trails and everything else of interest to hikers.
Record GPS Tracks and Waypoints
First, you need to go take a hike or something similar, and record tracks and waypoints. With Gaia GPS:
Download maps (iOS/Android) of the area you plan to explore ahead of time so they'll be available without a strong internet connection. 
It's easy to add photos along your route (iOS/Android); the app will automatically geolocate or "attach" them at the proper locations. 

After you've finished recording your track, you'll see a waypoint pin at the location where the photo was taken. Simply tap the pin to see your photo.

You can use your photos to contribute to OSM too, but we'll leave that for another post.
Completing Your GPS Track
Once you've finished recording your track, you'll have the option to customize its name (iOS/Android) and add it a folder (iOS/Android). If it's one of several trails you plan to hike in Yosemite, for example, touch the folder icon to add the track to a new "Yosemite" folder.
Gaia GPS will save your track and edits automatically, so there's no save button on this screen. When finished, use your Android's built-in back or undo button or tap done on an iOS device to exit the window and go back to your map.
Next, export the GPX file for your track. You can do this from within the app (iOS/Android), or by downloading the file from GaiaGPS.com. By default, your data will sync to gaiagps.com anytime you launch the app when connected to the internet.
Uploading Your GPS Track to OpenStreetMap
While OSM won't automatically convert your track into a trace on the map, contributors can use it as a guide to add it manually. You can either trace over the path yourself, or make it public so other editors can access it.
Click GPS Traces at the top of the screen. You'll see a list of the most recently uploaded traces.

Click Upload a trace at the top of the screen.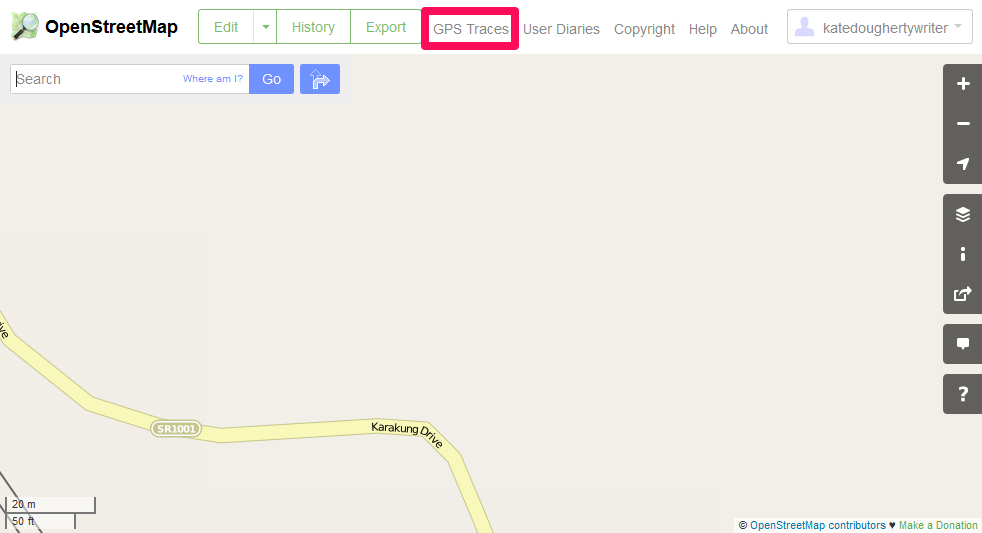 Click on GPS Traces at the top of the screen to upload your file to OSM.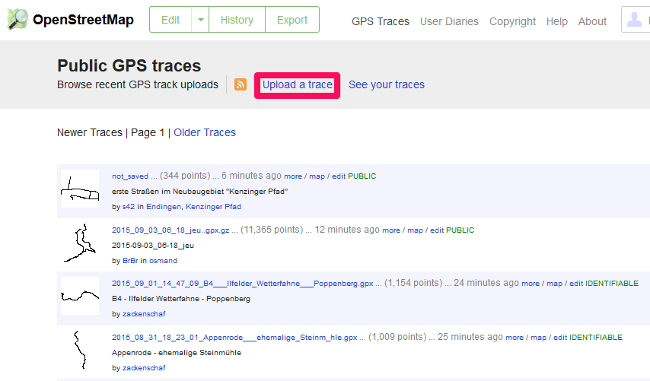 You'll see a list of the most recently added traces. Click Upload a trace to add yours.
On the next page, browse to select the location of the GPX file on your computer. You can also include a description, add tags, and set its visibility to Public. Click what does this mean? next to the visibility drop-down for more information on visibility types.

Click upload (the upload button is hidden by the dropdown in the screenshot below).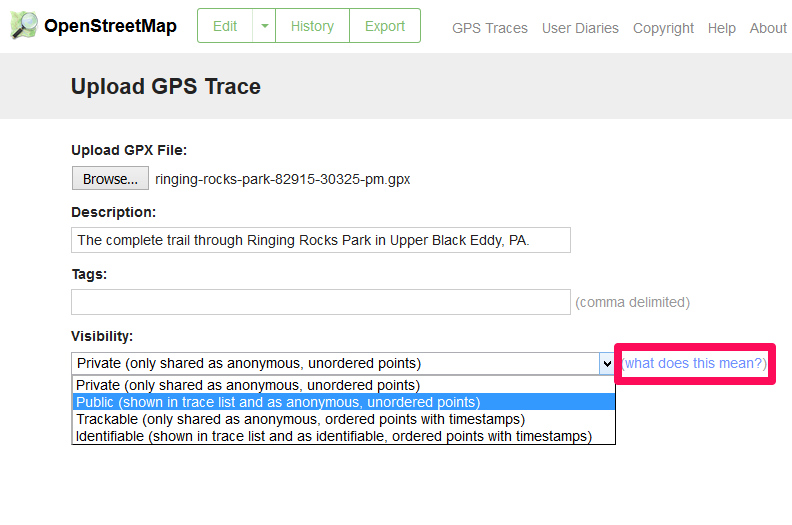 Select and describe your file, then set its visibility.
You'll receive a confirmation of your submission, and a message saying that you'll be notified by email once it's been added to the OSM database. This usually happens within a few minutes. When you receive the email, click on the link to see the OSM page for your trace.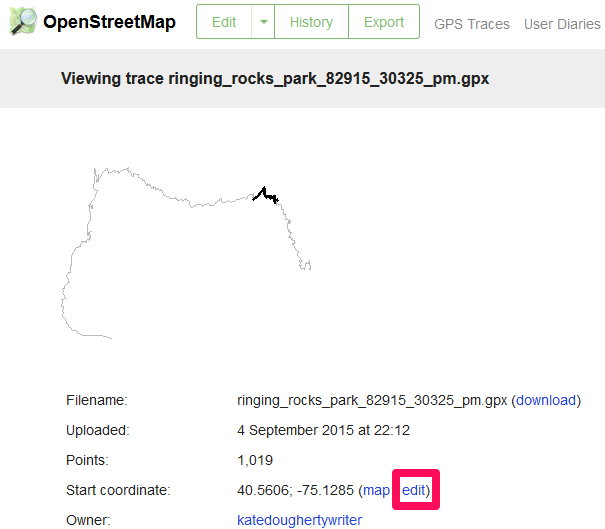 Your track's page on OSM. Click edit to start editing the map at that location.
Using Your Trace to Edit OpenStreetMap
Next, click edit to view your track superimposed over aerial imagery within the default editor. The track is so detailed that it may seem difficult to trace. But not to worry – OSM actually has three editors. One of them, Potlatch, will automatically smooth out and simplify the line.

To view and edit your trace in Potlatch, click the down arrow next to the Edit button at the top of the screen, then select Edit with Potlatch 2 (in-browser editor). You can also follow these steps to access Potlatch directly from your file's OSM home page.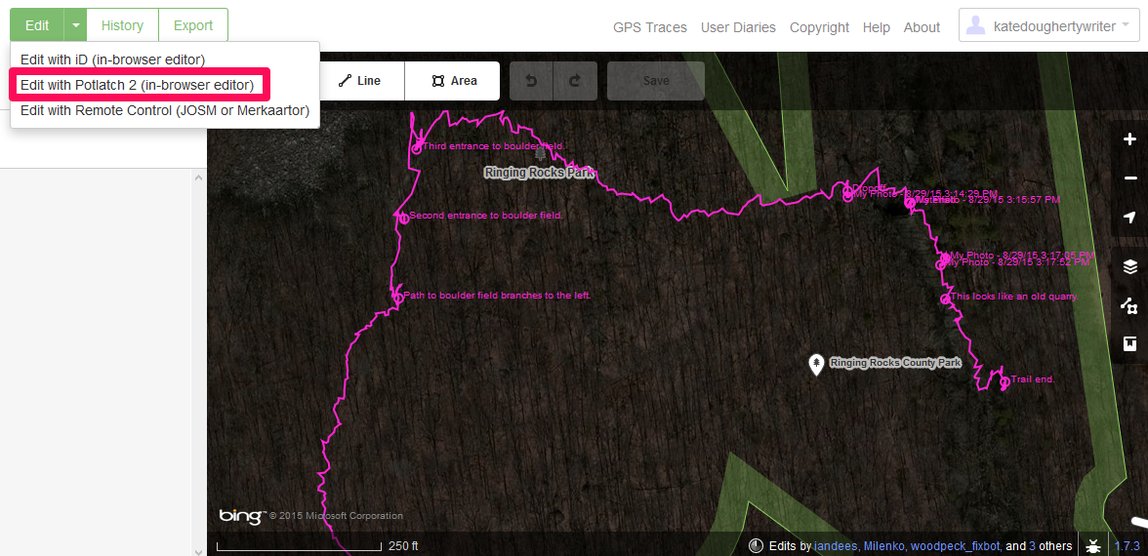 Your track is superimposed on top of imagery in the default OSM editor.
While Potlatch looks different from the default editor, it works in much the same way. OSM displays basic instructions at the bottom of the screen.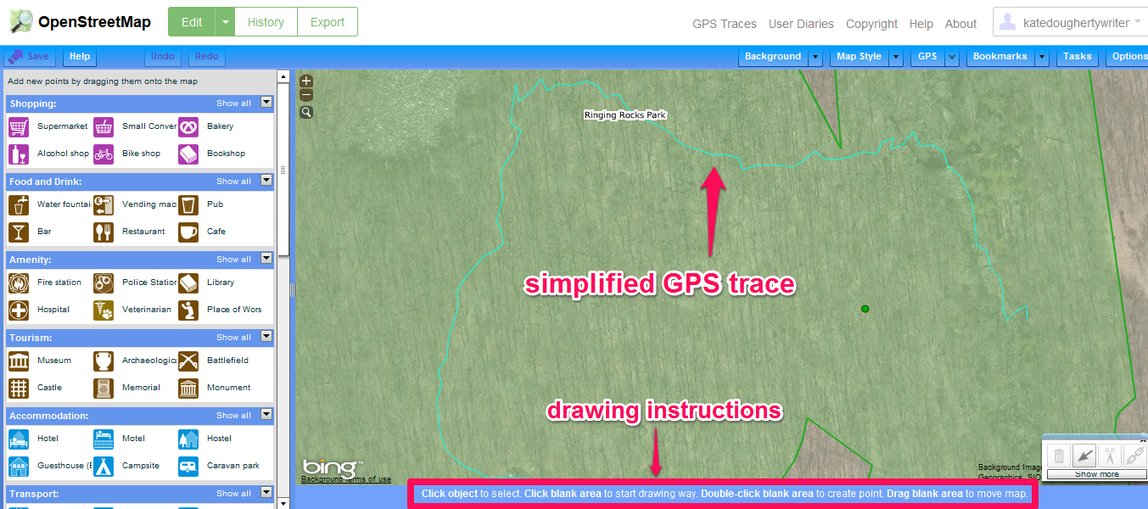 The trace is simplified in the Potlatch 2 editor.
Simply click on a blank (unmapped) area of the map to start drawing a new way. Since your trace isn't officially part of the map yet, OSM considers it a blank space.
Click on your track's starting point to begin tracing over it, and click to add nodes where it begins to turn. The Potlatch editor makes this process much easier. Since Potlatch smoothes out your track, you'll need fewer nods and less time to trace it.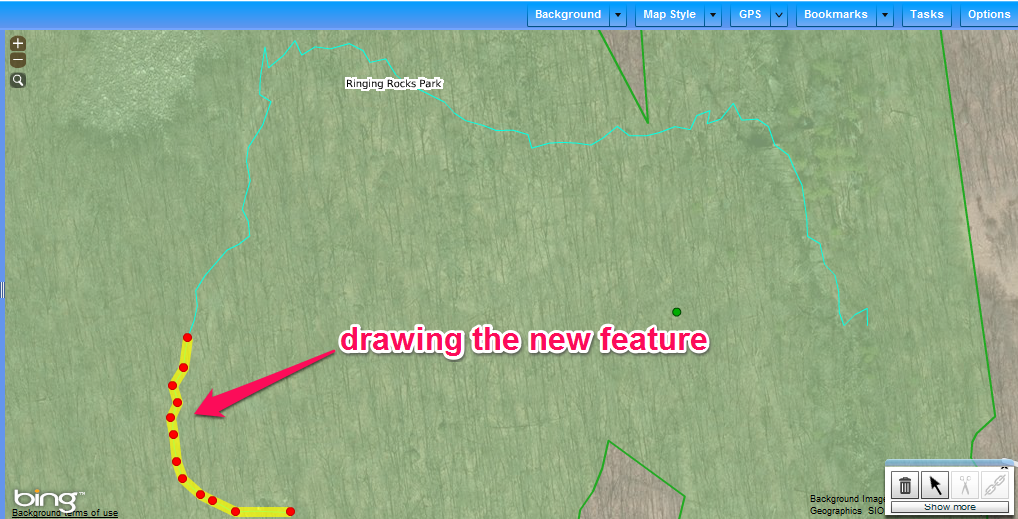 Follow your track to add it to the map as a new feature.
When you're finished tracing, press enter on your keyboard (or double-click on the last node).

Next, you'll need to add tags on the left. While the left panel may seem a bit crowded and complex when compared to the default editor, the idea is the same, except that Potlatch uses icons to offer a quicker, more visual way to tag features.

Set the feature type. Click Unknown, then choose Paths, then Footpath.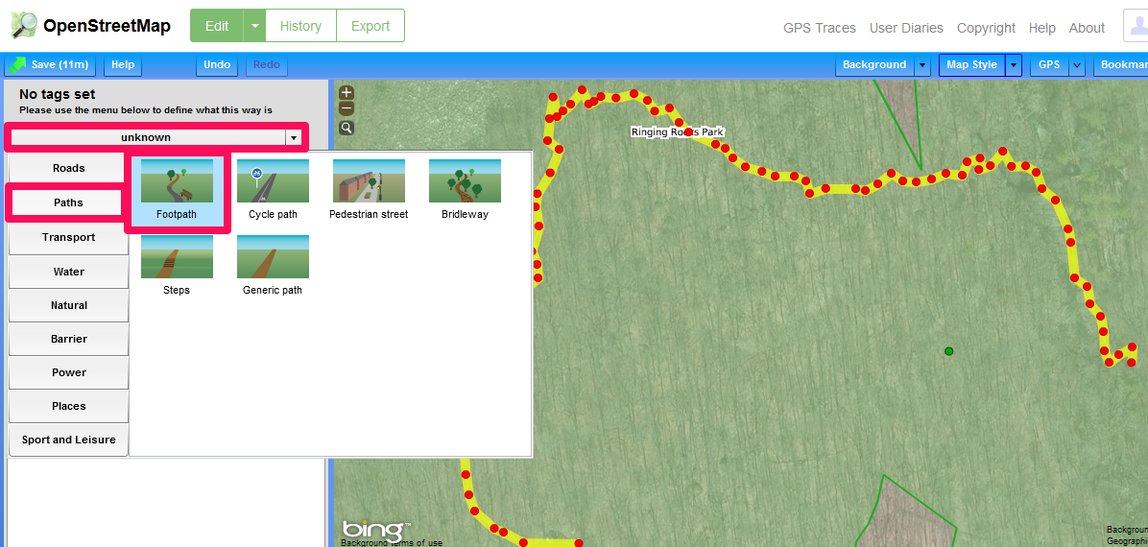 Tag the new feature.
There are several tabs in the left pane; the first two are the most relevant to my path through Ringing Rocks Park.
After adding basic information on the first tab, click on the second tab and add a tag for the Surface field. In the example below, I've tagged the trail as an unpaved surface.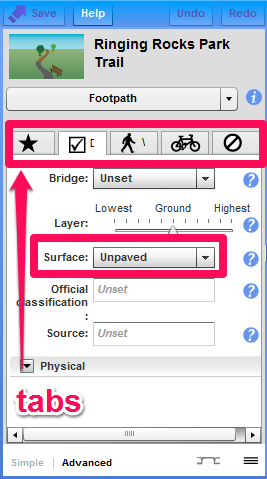 Feel free to explore the remaining tabs and add more information.

Click the Save button at the top of the screen to save your edits.

You'll be prompted to add a description of your edits for the community. For example, I wrote: "Added the trail/footpath that goes through Ringing Rocks Park."

Be sure to tweet or Facebook your edits to get your friends mapping too.
Check back a bit later, and voila, your travels are now on the map for all to see!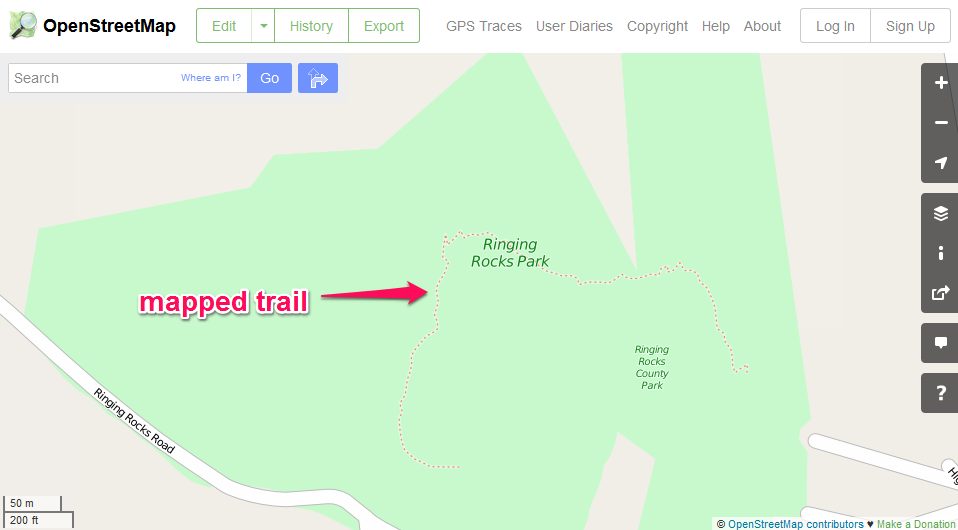 Your track is now mapped and visible to millions of users.
Learn More about Uploading GPS Traces to OpenStreetMap
Recording, uploading, and using your GPS tracks to contribute to OpenStreetMap is really quite simple and fun. You may just find yourself wanting to know more. Here are a few resources:
We're looking forward to seeing your traces on OpenStreetMap!