If you're wondering what kind of backcountry ski gear to buy this season, you'll want to listen to this chat with big mountain skier Sophia Schwartz and Sean McCoy, editorial director of GearJunkie. Schwartz, a multiple top-ten World Cup finisher and the 2013 U.S. Freestyle champion, walks us through her journey from the mogul course to the backcountry glades and couloirs. She recalls how her gear was less than optimal on her first backcountry ski trip.

"I got invited on a trip with some friends when I was living in Steamboat," Schwartz says. "I had no gear. So I went to the rental shop and I rented boots, skis, skins and an avalanche set up. My feet cramped so horrifically badly on the skin track that I was like, do I just like take my boots off and walk barefoot in the snow? Of course, I didn't do that. But it was humbling."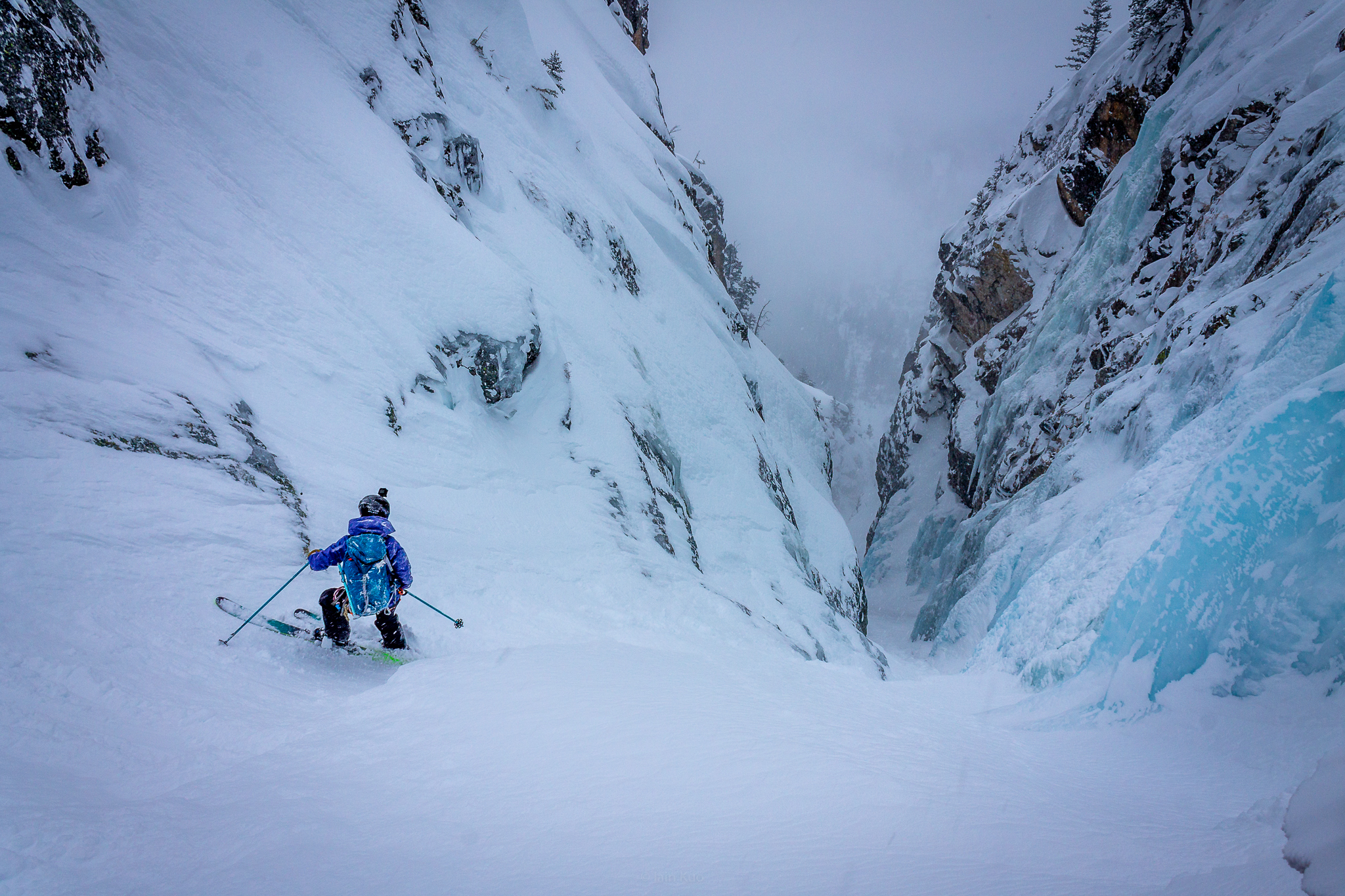 Though an expert and professional skier (she lands double backflips), Schwartz says that the switch to backcountry skiing made her feel like a total "noob." But skiing is skiing, and Schwartz says many of the skills she honed in competition transferred to off-piste zones. There was just one major exception. Schwartz has had to dial in her knowledge of avalanche terrain — and all the gear that comes with it.

Schwartz teams up with GearJunkie's McCoy, an avid skier himself, to chat about what's good in the world of backcountry ski gear. Everything from avalanche airbags to climbing skins, Schwartz and McCoy dive into their kits, discuss their favorite pieces of gear, and give tips for best uses along the way. Turns out that these two happen to be big fans of the same ski boot. Tune in to find out which boot they love to ski both at the resort and in the backcountry.

Check out GearJunkie's review of backcountry ski bindings. Watch Sophia Schwartz's new movie Jack of All Trades to see her master a double backflip, take on Jackson Hole's super steep "Trifecta," and shred the Grand Teton. You can also follow Schwartz on Instagram to get a sense of what's going down in the backcountry around her hometown of Jackson, Wyoming.
Episode Highlights: Best Backcountry Gear
5:30: Sophia describes what drew her out of the mogul course to backcountry skiing. The two disciplines are so different, yet the same.
7:00: Even though she is an expert skier who can pull off backflips, Sophia's first big trip to the backcountry was a total disaster, and the gear was a big part of the problem. But it was still worth it though and here's why.
8:30: Sophia talks about how she executed the transition to backcountry skiing and big mountain skiing, and how it made her "heart flutter."
13:00: Sophia talks about her movie Jack of All Trades.
14:20: Sophia's bought her first backcountry setup off the classified ads for just $250, showing us that even the pros start with a basic set up.
18:10: Sophia describes the difference in fitness between resort skiing and backcountry skiing.
20:15: GearJunkie's Editorial Director, Sean McCoy, joins the conversation. GearJunkie is a web-based publication that is an authority on outdoor and adventure news, gear, and culture.
25:00: McCoy advises to invest in avalanche education and how to build your first backcountry kit, given the fact that the gear goes in many different directions.
26:45. Sophia rattles off what she carries into the backcountry.
28:45: How to select the proper avalanche beacon.
30:35: Sophia and Sean discuss avalanche air bags, how much they cost, and when they might use one.
36:00: Alpine touring boots versus alpine boots. Find out which boot Sophia and Sean use both in the resort and in the backcountry.
44:00: Backcountry ski bindings are a good place to shave weight from your set up.
52:00: Glopping of skins can be frustrating; here are Sophia's tips to avoid "glop."
55:30: Find out what's in Sophia's repair kit.
59:00: How to manage carrying your cell phone and your avalanche beacon, so the two devices don't interfere with each other.
1:05: Sean and Sophia impart their final tips on getting out in the backcountry for the first time.
Next Episode: Ski Mountaineer Luke Smithwick Brings Himalayan Skiing into Focus
In the next episode of the Out and Back podcast, Shanty and Mary catch up with Luke Smithwick — one of the most prolific ski mountaineers and guides in the world. You may not have heard much about Smithwick. That's because he's been off the map so to speak and on a mission to ski 500 unique and beautiful lines in the most remote corners of the Himalayas. With more than 75 mountain expeditions to his name, Smithwick unravels the mystery of skiing in places like Tibet, India, and Nepal.

"It's truly a Wild West. It's just very remote. We take several flights to get out there from Katmandu and then we go with horses up to the snow line," Smithwick says of his expeditions in the Himalaya. "The skiing starts at around 11,000 feet and goes up to 18,000 or 19,000 feet. The snow is really good. And I just love the people out there. It's like a different world."

Tune in to hear why the Himalayas could become the next, all-time backcountry ski destination. Find out what it takes to get on one of Smithwick's guided Himalayan ski mountaineering trips, learn about his mission to ski 500 unique Himalayan descents, and get his take on the best zones in this colossal mountain region.

You can follow Smithwick on his personal Instagram page or his Himalaya 500 page. Check out all the 2021 skiing and climbing expeditions that Smithwick plans to offer through his company Himalaya Alpine Guides.
Last Episode: Bluebird Backcountry: A Ski Area without Lifts
If the transition to backcountry skiing seems daunting, then you'll want to go back and listen to the last Out and Back episode with Erik Lambert from Bluebird Backcountry. Bluebird Backcountry is a totally new concept — a ski area without lifts. That's right, alpine touring only. Lambert says he started the Colorado resort as a way for skiers and splitboarders to feel comfortable in their transition from the resort to the backcountry.

"You could go take an avalanche course, but a lot of folks are not really ready for that. And that's part of why Bluebird exists, is to bridge the gap between someone who's curious about backcountry skiing and wanting to make that investment of time, money, etc, into an avalanche course," Lambert says.

Tune in to learn more about what Bluebird offers — everything from top notch backcountry rental equipment, to avalanche courses, to guided backcountry skiing. Bluebird provides a prime spot to get started backcountry skiing and a fun adventure for experts, too.
Meet the Hosts
Andrew "Shanty" Baldwin
In 2019, host Andrew Baldwin completed a southbound thru-hike of the Appalachian Trail. After five months on the trail, Baldwin returned home to pursue a career in voice acting. A friend of the Gaia GPS company, Baldwin was a natural choice for hosting the Out and Back podcast.

In each Out and Back episode, Shanty strives to bring you conversations with people who spend an extraordinary amount of time outdoors. Listen in as Shanty taps into each backcountry expert's superpower so that you can take their knowledge and experience with you on your next adventure.
Mary Cochenour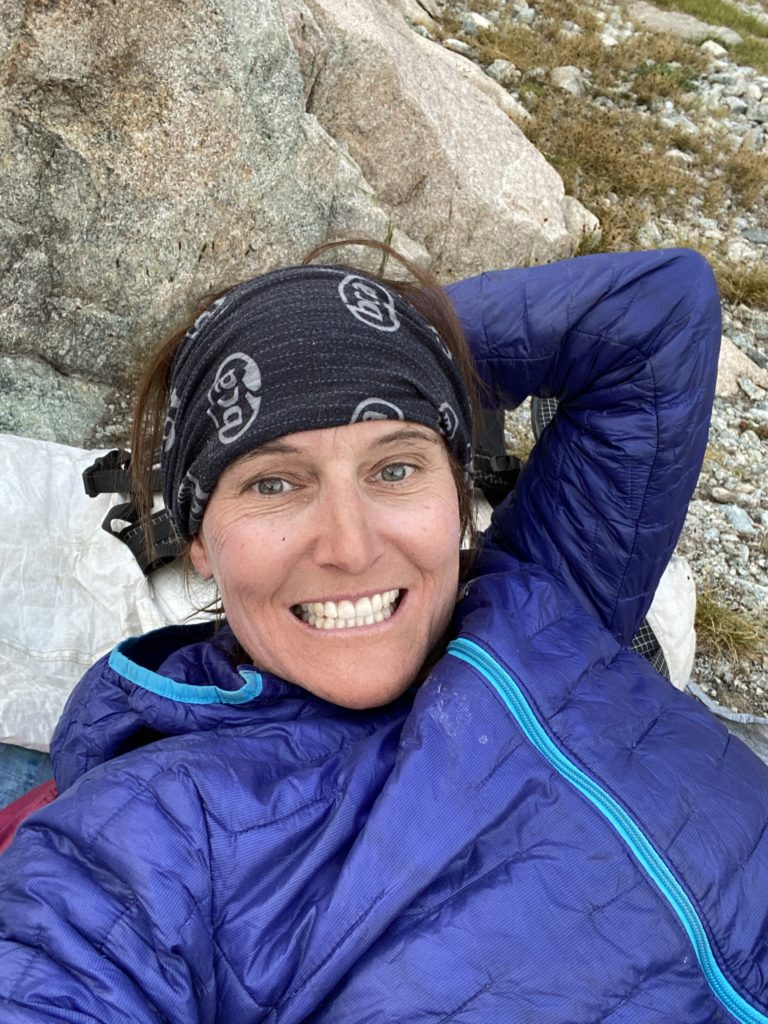 Mary is the Out and Back podcast producer and a writer and editor at Gaia GPS. Before joining Gaia GPS, Mary worked as a lawyer, newspaper journalist, ski patroller, Grand Canyon river guide, and USFS wilderness ranger.
When she is not in the office, Mary works as a guide for Andrew Skurka Adventures in wild places around the west, like Rocky Mountain National Park, Yosemite, and the Brooks Range in Alaska. See some of Mary's adventures on Instagram. Also, read her tips on how to plan your first solo backpacking trip and listen to her scary story about being stalked in the wilderness by a sketchy man.