Wildfires swept through more than 10 million acres of forests and grasslands in the U.S. last year, making it one of the most severe wildfire seasons on record. California's Creek Fire lapped up against the Nüümü Poyo (John Muir Trail). The East Troublesome Fire in Colorado jumped the continental divide and burned through Rocky Mountain National Park.

Some burn areas, including sections of Rocky Mountain National Park and the Pacific Crest Trail, may still be closed to the public. Trusted camping spots and water sources may be gone. And burn zones may mean you'll be traveling through extended sections without shade.

Learn how you can use Gaia GPS's Wildfires (Historical) map in combination with 3D satellite imagery on the web to get a realistic look at how past fires impact your upcoming trip.
Step 1: Add Satellite Imagery Map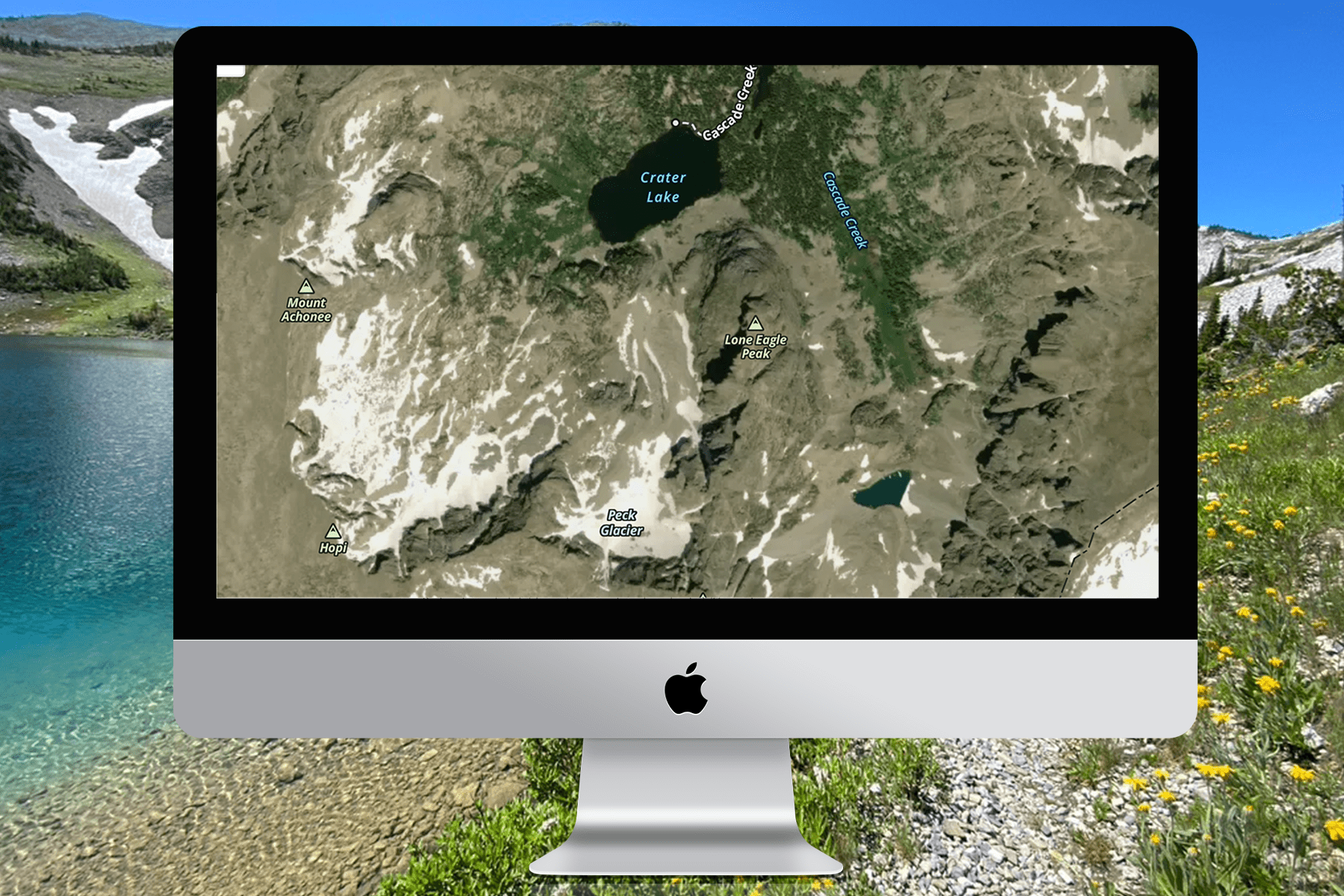 To see how a wildfire path, start by adding a high-resolution Satellite imagery layer to your Gaia GPS map. (Choose from Satellite with Labels or Satellite without labels.) This map will give you a crystal clear bird's eye view of the area at high zoom levels. Scout out forests, campsites, and water sources for your next overlanding or backpacking adventure.

Find and add Satellite maps here.
Step 2: Add Wildfires (Historical) Map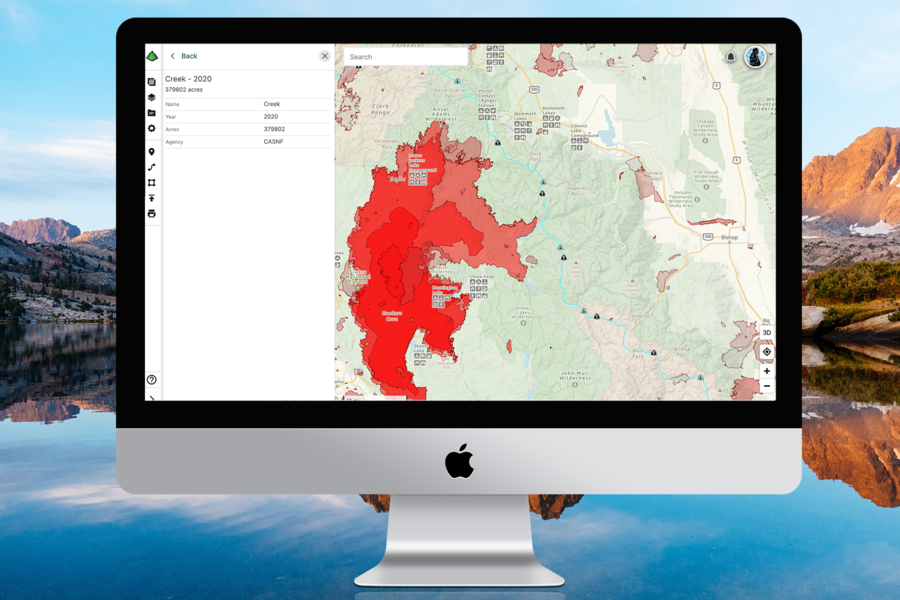 Once you've added a satellite imagery layer, add the Wildfires (Historical) map to your active maps. Wildfires (Historical) will show you where wildfires have burned across the US and Canada, including how the East Troublesome fire impacted the Continental Divide Trail through Rocky Mountain National Park.

This interactive overlay displays wildfire areas in shades of red on the map. More recent fires appear in brighter shades of red. Tap on a fire to see the official name, year, and acreage of the fire.

The Wildfires (Historical) map requires a Premium Membership. Find and add Wildfires (Historical) by going to the Premium Maps > Feature/Weather Overlays category of the Layers Menu.
Step 3: Layer the Wildfires (Historical Map) on top of Satellite Imagery
All of Gaia GPS's signature navigation and route planning tools can be used in 3D mode, including Wildfire (Historic) and Satellite imagery. Three-dimensional maps allow you to visualize how fire modified any and every mile of your route.

Once you've paired the Satellite and Wildfires layers together, just hit the 3D button while viewing Gaia GPS on the web. Watch the canyons plunge and the mountains pop. See how fire swept over plains, burned through forests, and crept up mountain passes.
Go Premium for Offline Maps
The Wildfires (Historical) map requires a premium membership. So does layering maps together. Go premium, and get an added bonus: download your maps for offline use. Note: the Wildfires (Historical) map must be used when connected to the internet or in cell service.
Watch: Does Your Trail Go Through a Burn Area?
View Current Wildfires and Air Quality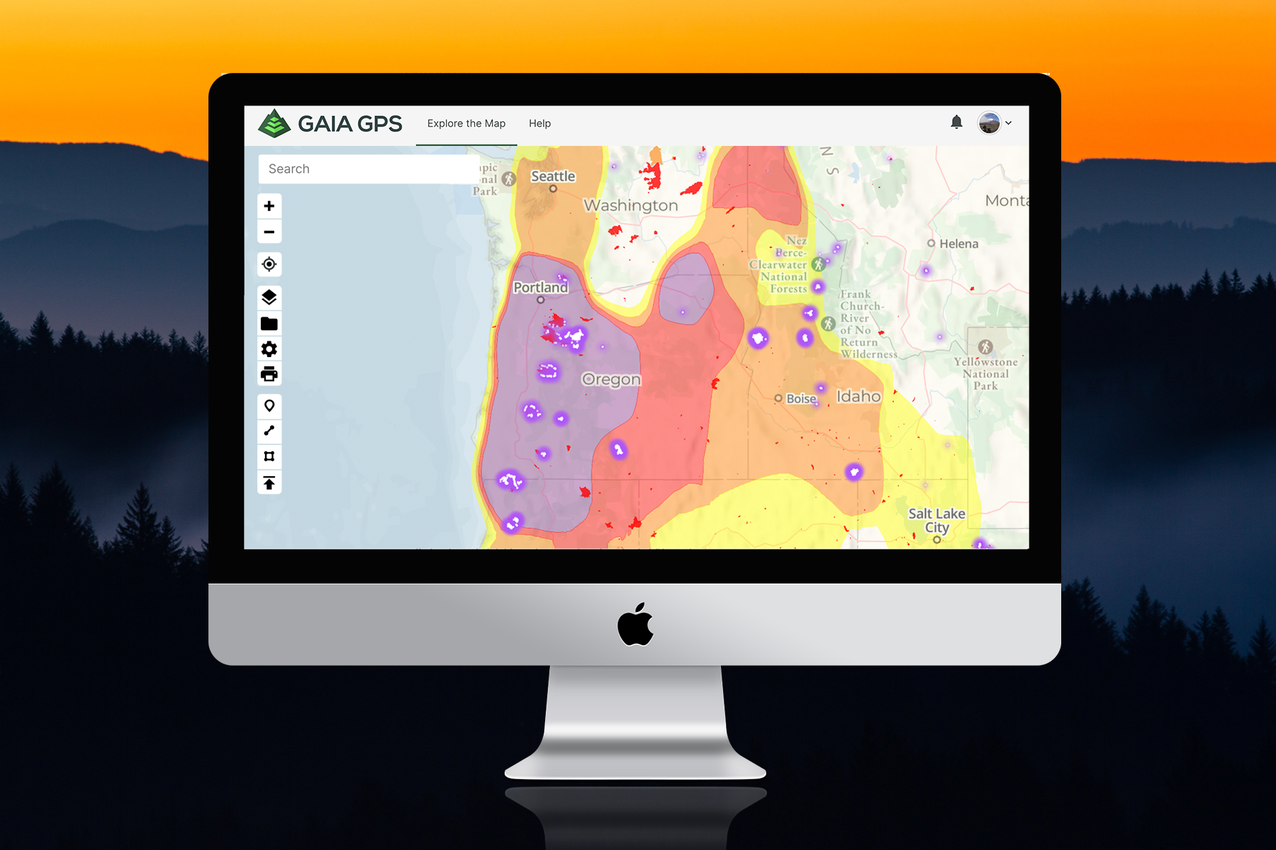 Now that you've viewed the impact of past fires on your route, you can use Gaia GPS to see if any wildfires are currently active and burning in the area you plan to visit. The Wildfires (Current) layer shows recent wildfire activity, including the fire's name, size, and activity level. The Wildfires (Satellite Detections) layer taps into NASA satellites to detect all thermal anomalies on earth's surface. Since some hot spots may be caused by flares, volcanoes, or other heat sources, pair the Wildfires (Satellite Detections) layer with the Wildfires (Current) layer to see what part of an active wildfire is still burning hot.

Even if your route does not directly pass through a wildfire, you may want to pay attention to how nearby wildfires impact the air quality. Use the Air Quality forecast maps to view current and next-day estimated levels of air pollutants anywhere in the United States. Sourced from the US Environmental Protection Agency's AirNow program, Air Quality maps indicate pollutant levels of moderate, unhealthy for sensitive groups, unhealthy, very unhealthy, and hazardous conditions.

The Wildfires and Air Quality layers are available for free on gaiagps.com and in the mobile app.