This article makes it easy to understand Gaia GPS vs AllTrails. Check out a detailed feature comparison, along with a breakdown of app vs app, website vs website, and membership vs subscription.
In summary, Gaia GPS shines for people who go into the backcountry. Gaia GPS has better maps, features, and reviews, and offers core features for $9.99/year. For backcountry use, AllTrails costs $29.99/year, and lacks many maps and features.
The free AllTrails app does, however, include a unique trail search and track recorder. If you do casual hikes, in places where you have an internet connection, AllTrails may work for you for free.
*Not Available on Android devices
App vs App – Gaia GPS vs AllTrails
Gaia GPS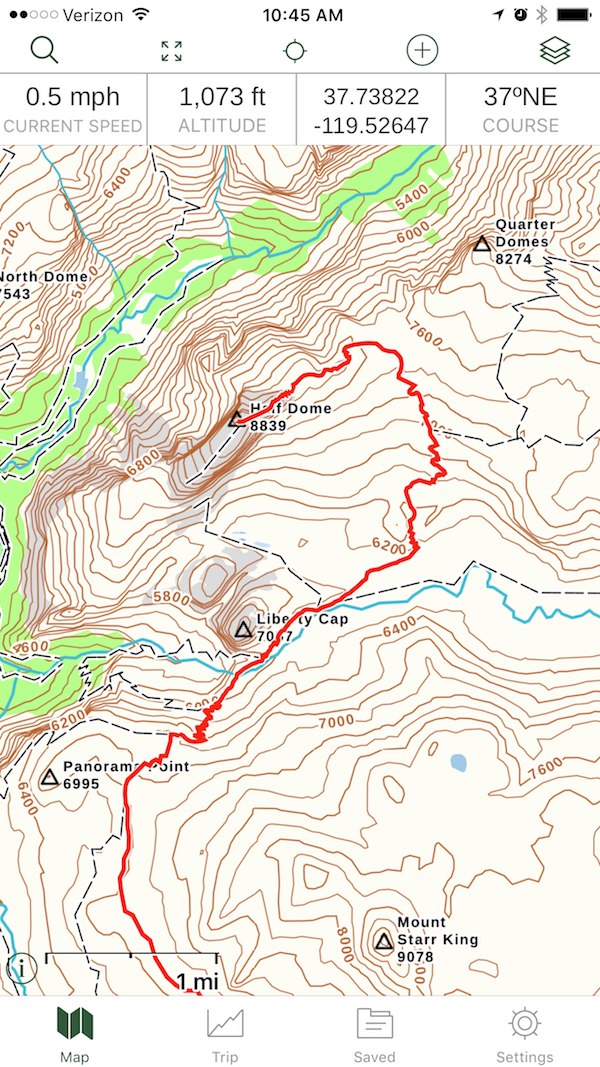 Useful as a replacement for a Garmin GPS, Gaia GPS offers a powerful set of features for downloading maps, recording tracks, and collecting data. Users of Gaia GPS include record-holding backpackers, search & rescue personnel, firefighters, GIS teams, and wilderness guides.
Gaia GPS costs $9.99/year, and includes unlimited map downloads, access to dozens of map sources, and server backup of all tracks, photos, and other data. Gaia GPS makes it easy to record data, sync/backup with a server, share trips, and offers a deep array of backcountry navigation features and customizable settings.
AllTrails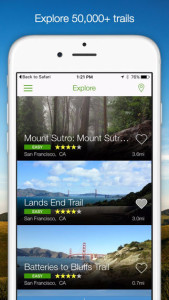 The AllTrails app shines for its trail search feature. You can search for many well-reviewed trails, typically day-hikes near your current location. The basic app allows track recording, with additional features requiring a subscription, such as offline maps in the app, and plotting routes on the website. Non-pro members can view 3 map sources in AllTrails — downloading maps of any kind requires a subscription.
Some casual hikers will find this app suitable, but it won't work for backpacking.
Membership vs Subscription
Gaia GPS – Premium Membership
With a Premium Membership, which costs $29.99/year, you can layer maps and overlays and print maps from gaiagps.com. You also get access to National Geographic Trails Illustrated, NeoTreks, France IGN and other Premium maps. Click here for a full list of available maps.
AllTrails Pro
AllTrails offers a subscription upgrade, which provides basic features for the app and website, for $29.99/year. Many of the features available in AllTrails Pro come standard in the Gaia GPS basic app.
AllTrails Pro benefits include the ability to download maps, plan routes, and the addition of a few extra map sources like NatGeo Trails maps.
Website vs Website
A handy extension of the app, gaiagps.com allows for seamless syncing and backup of data between web and device. You can view online maps, manage your data, search for trips, and create snap-to-trail routes to sync directly back to your device.
The brand new trail search feature has access to one of the largest trail databases on the planet. Seach trails and download maps to the Gaia GPS app, right from your desktop. Test it out at http://www.gaiagps.com/map.
The AllTrails website has a user-friendly search feature, which takes center stage. Much like the mobile app, the website provides trail reviews and search as the core, free offering. Trail pages includes pictures and reviews, and span many well-known trails.
While both Gaia and AllTrails allow printing of maps (with a subscription), the AllTrails print feature has more customization options. The AllTrails website also includes a "map creator tool" similar to Gaia's Trail Finder, as well as the ability to back up your data, but both features require a subscription.
Conclusion – Gaia GPS vs AllTrails
Gaia GPS offers the best solution for the backcountry. You should buy Gaia GPS if you want to go backpacking, or do work outdoors.
The free AllTrails app offers a few good features for doing day hikes, especially if you can access the internet. But the AllTrails subscription doesn't match up to the professional-level Gaia GPS features, and can't beat Gaia GPS in the woods.
Gaia GPS

AllTrails

App

Great maps, features and data sync, for backcountry trips and work.

$9.99/year

Record a track, view an online map, and search for trails.

Free

Website

gaiagps.com – Search for trails, plan trips, and use with the app. Mostly free.

Free

alltrails.com – Search for trails – most features require a subscription.

Free

Subscription/Membership

Add specialized features and maps, about 20% of Gaia GPS users subscribe.

$29.99/year

Required for most features, including map downloads and route making.

$29.99/year