Now, you can hike the Pacific Crest Trail with digital maps born of a partnership between National Geographic Maps and Halfmile.

In 2017, National Geographic teamed up with thru-hiker and mapmaker Lon "Halfmile" Cooper to produce maps that included both NatGeo's meticulous cartography and Halfmile's firsthand notes and insider information. The result contains careful annotations about trail mileages, official and unofficial campsites, water sources, and other points of interest.

Gaia GPS started converting and uploading those maps this spring, adding first Washington, then Oregon. Now, we've reached the finish line with one final push to add the entirety of the trail through California. (National Geographic has also released the PCT California maps in print.)
About the PCT in California
For most thru-hikers, the journey starts in California. North bounders hikers toe the Mexican border, then set off through Campo and into the Laguna Mountains and the stark beauty of the Southern California desert. The following sections of trail contain some of the most iconic landmarks along the entire PCT. Think giant sequoias, the granite monoliths of Yosemite National Park, and 14,491-foot Mount Whitney, the highest point in the Lower 48.

In total, California holds 1,692 miles of the PCT—over half the trail. Whether you're out to hike the whole thing, hunting for your next big backpacking adventure, or scouting scenic day hikes near Los Angeles or Sacramento, the NatGeo Pacific Crest Trail map layer has everything you need to plan and execute a smooth trip.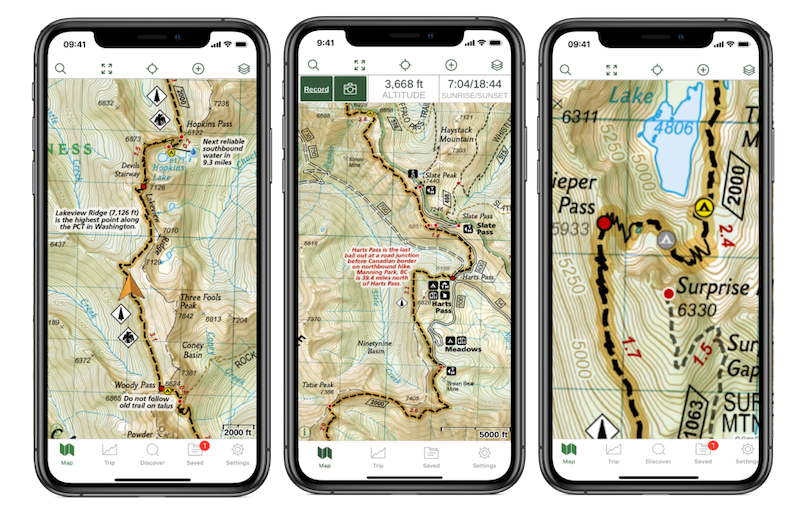 How to Use the NatGeo Pacific Crest Trail Map Layer
You can access the NatGeo Pacific Crest Trail map layer—in addition to weather forecasts, wildfire overlays, and other premium maps—with a Gaia GPS Premium Membership.
To access the map layer, follow these steps:
First, download the Gaia GPS app. It's available on the App Store for iOS devices and on the Google Play Store for Android devices.
Open up the Map Manager. Go to United States > NatGeo Pacific Crest Trail, and tap the green plus-sign to add it to your main map.
Scroll across the main map to find your upcoming section of trail. Then, download maps for offline use.