With the new 'US Wildfire – Current' overlay, Premium Members can view current fire conditions before heading out on the trail. In addition, use the existing 'US Wildfire – Historic' overlay to view areas that were previously affected by wildfires.
We're offering a free 7-day trial of Premium Membership to anyone living and recreating in areas affected by wildfires who'd like to give Gaia GPS a try. Click here to get started.
Already have Premium? Follow these steps to add new maps, like the US Wildfire Overlays.
Disclaimer: The US Wildfire – Current' overlay is updated daily as new data is made available by the USGS, but many fire boundaries will be out of date or incorrect, and recent fires may not have been added yet. Use of this map layer for any purpose is at your own risk, and Trailbehind Inc (maker of Gaia GPS) is not responsible for any actions you take based on the information contained in any map.
Use the "US Wildfire – Current" Overlay to Stay Informed
You'll find the "US Wildfires – Current" overlay in the Feature/Weather Overlays category of the map manger. It can be used whenever you have an internet connection and gets updated daily by the USGS. Reference the map before leaving home to check for actively burning wildfires.
Layer the 'US Wildfire – Current' overlay atop any of your favorite map sources, like Gaia Topo, USGS Topo, or USFS 2016. You can use this information to follow up with the local rangers station for closures and trail conditions in the area.
Shaded red displays current burn areas. Tap the area and click the Info icon to view more details about the fires size, name, and Inciweb id which you can use to look up more information about the burn.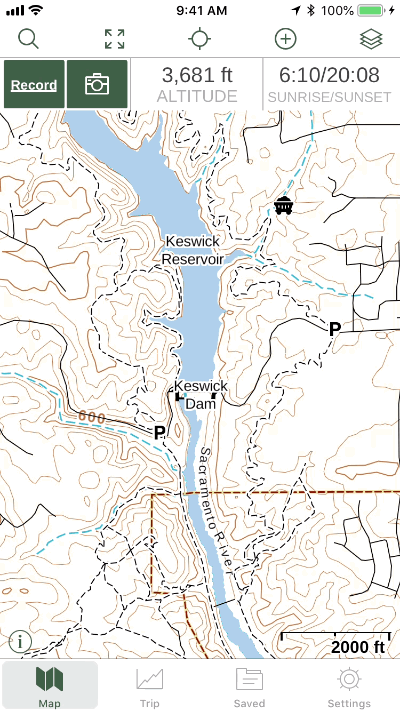 Use Gaia GPS to Check for Historical Wildfires
In addition to the current Wildfires map, you can also find historical wildfire information with the 'US Wildfires – Historical' overlay. This map layer updates bi-annually and shows you a record of past wildfires, the year they burned, and acreage of the fire. Overlaying this data with map sources like Gaia Topo will queue you to important trail conditions you may need to prepare for.
Even after fires blow through an area, land managers can keep trails closed for weeks or even years. Much of the Columbia River Gorge area in Mount Hood National Forest remains closed in the aftermath of the 2017 Eagle Creek Fire due to fallen trees and other hazards. Cleared areas may still have widow makers (dangle branches) or dead trees with rotted roots along a trail which are especially dangerous in high winds.
Contact the ranger district for the area you are exploring for up-to-date conditions for the area.
Third Party Resources
Use the following resources to get more information about current wildfires:
The U.S. Forest Service (USFS) provides detailed information on its USFS Public Fire Information page with specific wildfire data and additional web resources to stay aware.
InciWeb shows incident information from multiple management agencies. Use the InciWeb ID listed in the fire details page to find details on fires near you.
Research the air quality before heading outside will make the hike more enjoyable, your lungs will thank you. Wind can carry smoke across states causing haze. Firesmoke.ca provides a 51-hour forecast of North America's conditions.
Check the local news source in the area you are headed for regional-specific closures and updates.
---
Feature photo by: Brian Miracle