Android Auto is here! Gaia GPS now connects with Android Auto, bringing all of your favorite trail maps directly to your vehicle's navigation screen. Pull up the MVUMs, satellite imagery, National Geographic Trails Illustrated, and more, all
on the dash. View waypoints and follow turn-by-turn directions with any saved route on backcountry dirt roads and front-country pavement — worldwide. No cell service needed.
Whether you are overlanding across an entire state or navigating to a remote trailhead to escape the crowds, Gaia GPS delivers seamless, hands-free navigation on unmarked dirt roads, scenic byways, and unmaintained trails. Access hundreds of specialized maps in Gaia GPS's map catalog and find hidden routes in places where other in-car navigation maps, like Apple or Google, are blank. And with a Premium Membership, you can download your maps so you can pull them up anywhere you go on Android Auto.
With connectivity to both Android Auto and Apple CarPlay, Gaia GPS is the only backcountry navigation app in the world that lets you navigate with hundreds of outdoor adventure maps on the dash. Tuck your phone away in your center console, pull up your maps in Android Auto, and navigate dirt roads and 4WD trails without distraction.
Display Your Favorite Gaia GPS Map in Android Auto
There's a map for every activity in Gaia GPS and now you can display them all on your auto's dashboard touchscreen with Android Auto. Get access to our entire map catalog with a Premium Membership and choose from hundreds of map sources to navigate backcountry offroad routes.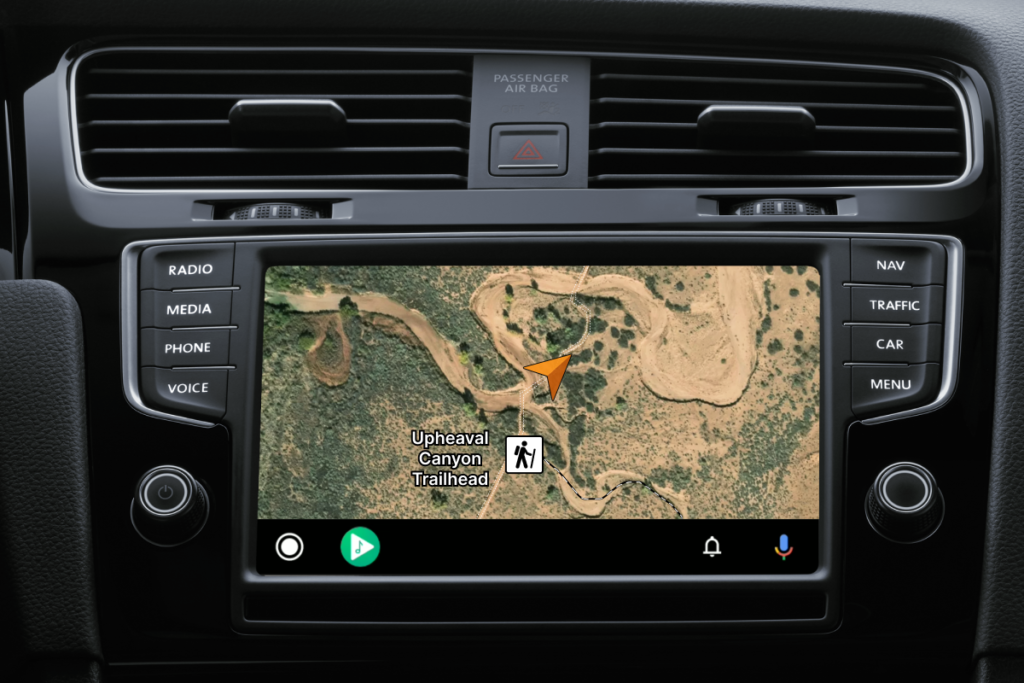 When in a National Forest, try out the USFS 2016 map. Bring up National Geographic Trails Illustrated maps for sightseeing trips in America's National Parks. Catch a bird's-eye view of the terrain ahead with high-resolution satellite imagery. Customize your base maps with weather overlays like our precipitation, wildfire, and smoke maps to get detailed information about the places you plan to visit.
Switching map sources on the fly is a snap. Android Auto mirrors the map source on your's phone's screen. Any map source you select from your phone will appear on your vehicle's dashboard navigation screen.
Once you start driving, Gaia GPS's location arrow will follow your progress. Whether on unmaintained forest roads or cruising along a scenic highway, you'll always be able to see your exact location on the map. Find land features, trailheads, campsite, restrooms, and places you've marked with waypoints conveniently from the dashboard screen in your car.
Navigate with Turn-by-Turn Directions on Dirt Roads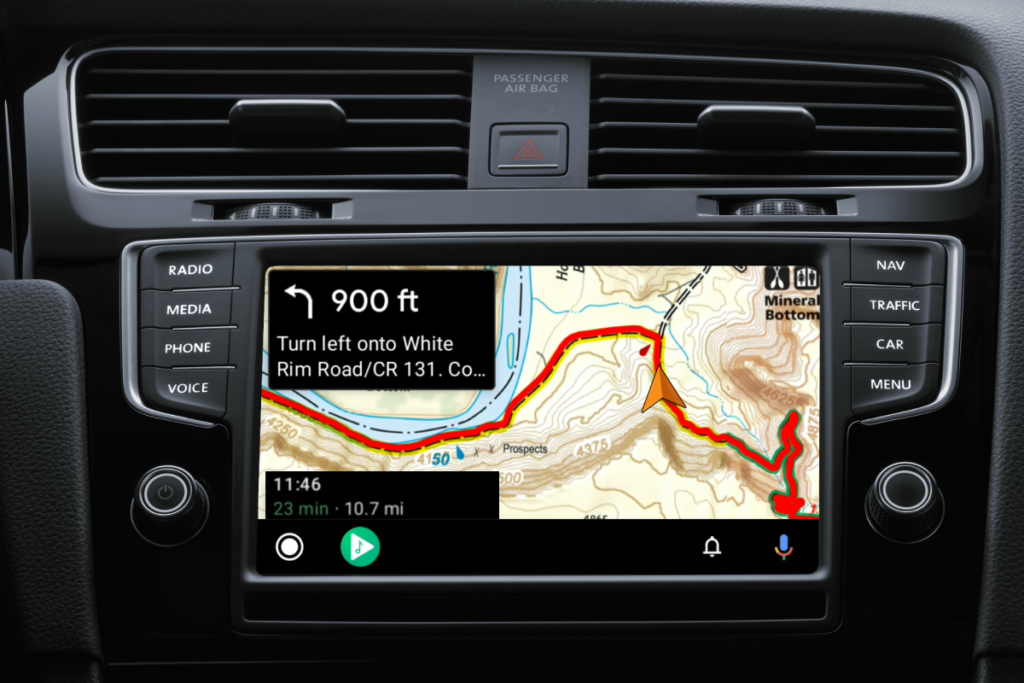 Get turn-by-turn directions on all your saved routes. Android Auto will access all your saved drivable routes in the area, no matter how far off the grid you plan to go. Select any route and get notifications for upcoming trail junctions and turns in the road. See your speed, distance and time traveled as you move across the map. Notifications will also let you know any time you've veered off the planned route
Turn-by-turn navigation on saved routes works even when you're out of range of cell service. Never get lost on a maze of unmarked, unmaintained backroads again.
Zoom, Navigate, and Record Your Tracks From the Dash
From the touch screen controls in your vehicle, you can zoom in and out on the map, preview and select saved routes in the area around you, and change your navigation mode between "north up" and "course up" on the map. Use the settings button to choose to view or hide routes, tracks, or waypoints on the map and switch the map in dark mode for navigating at night.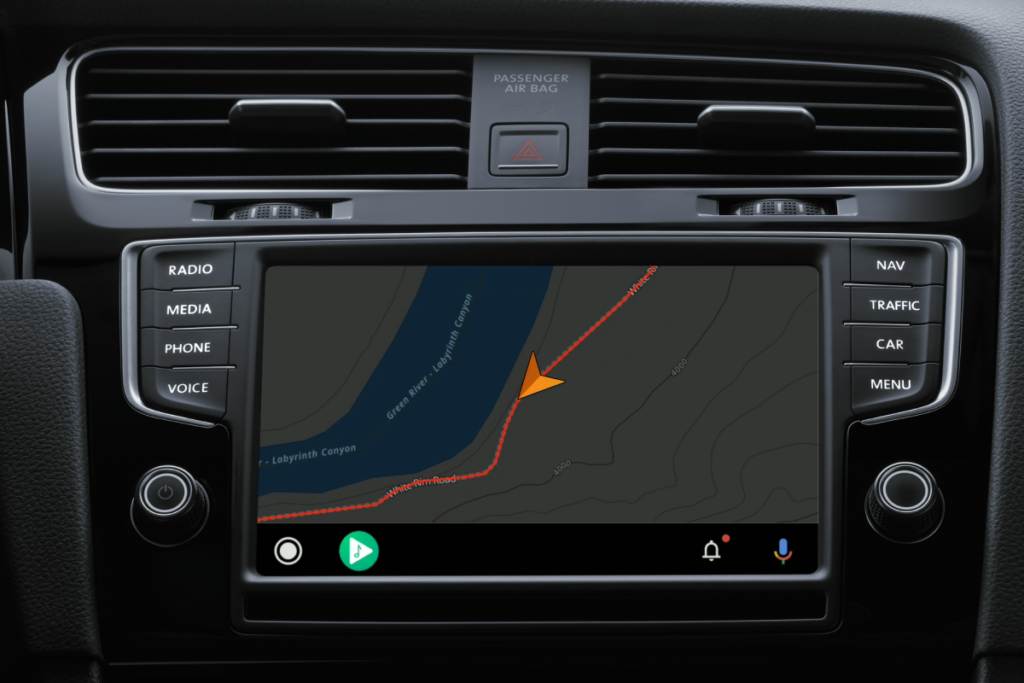 Press the +/- buttons to choose from three different zoom levels on the map. Zoom in to to see the finer details of the terrain around you and back out on the map to get a bigger picture of how you fit in the landscape.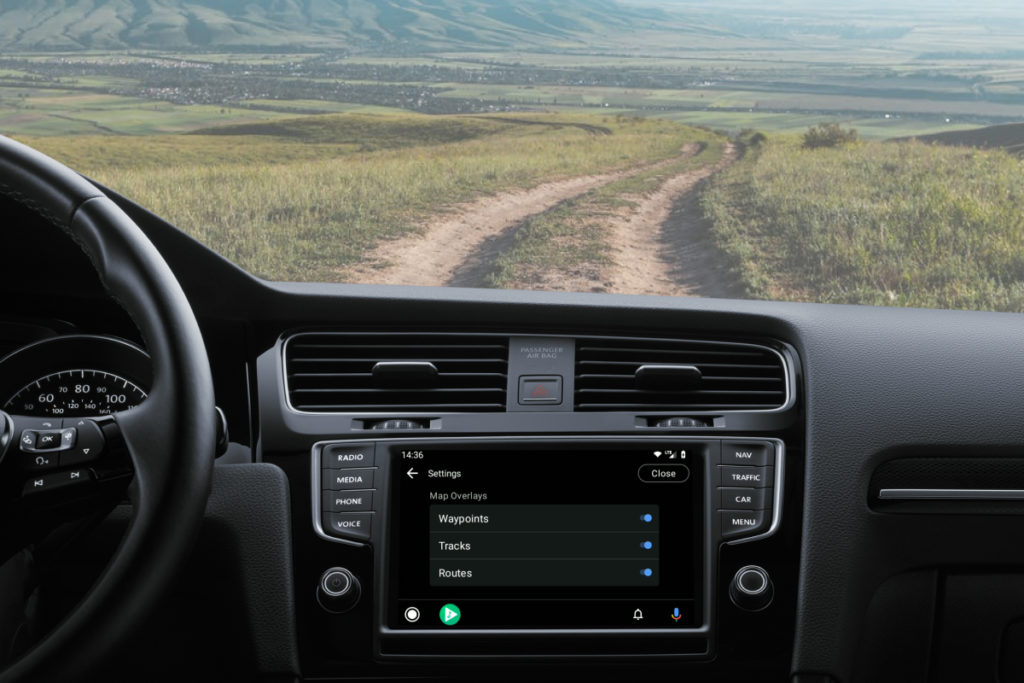 Select between two navigation modes: "course up" or "north up." "Course up" mode keeps the location arrow static and pointed to the top of the screen while the map rotates and moves underneath the location arrow as you drive across the landscape. "North up" mode keeps the map steady on the screen while the location arrow rotates to reflect your change in direction.
Android Auto Limitations
Navigation apps are limited to a set of development guidelines provided by Google due to the danger of distracted driving. In line with Google's rules for third-party app integration, you will not be able to create routes or switch map sources on your vehicle touchscreen.
You can still get to all of Gaia GPS's comprehensive backcountry navigation features while connected to Android Auto. Simply use your phone to change map layers and create and save routes while you are in the field. Android Auto will display any map source, drivable routes, and waypoints that you have saved on your phone.
How to Get Android Auto
Getting your Gaia GPS account connected to Android Auto is easy. First, make sure you download or have the most up-to-date version of Gaia GPS for Android by visiting the Google Play Store. Plug in your Android device to an Android Auto compatible vehicle and the Gaia GPS app will appear as an option on your dashboard navigation screen when you turn the car on. Select the app and start driving. Note that if you have Android 9 or below, you must get the Android Auto app on your phone. Android Auto is built into Android 10 and later. For more information on setting up Android Auto on your device or vehicle visit android.com/auto.

Everyone can connect Gaia GPS to Android Auto and Apple CarPlay with the free version of Gaia GPS. The free version of the app allows you to navigate with a limited amount of maps in areas with cell service. Unlock the entire Gaia GPS map catalog and be able to download maps for offline use with a Gaia GPS Premium Membership.