Photo credit: Ashleigh Thompson
Trail running is like hiking's high-octane cousin. The two activities accomplish a similar objective: travel along a beautiful singletrack trail, often in the wilderness, on two legs. But by moving lighter and faster, running allows you to cover more territory in less time. And thanks to its sustained aerobic component, running transforms even city parks into rewarding adventures. Whether you want to cover a multi-day backpacking route in one day, efficiently train for a thru-hike, or simply discover a rejuvenating exercise regime, trail running can enhance a hiker's life.

Professional runner and coach Sandi Nypaver sees how hikers can benefit from adding trail running to their repertoire.

"There's a lot of beauty in hiking and taking a little more time to see everything around you," Nypaver says. "But it can also be satisfying and enjoyable to cover more ground and see more views or be able to get more miles of trail time in on days you're short on time."

Here's what you need to know to make the leap.
Hiking vs. Trail Running: Similar but Different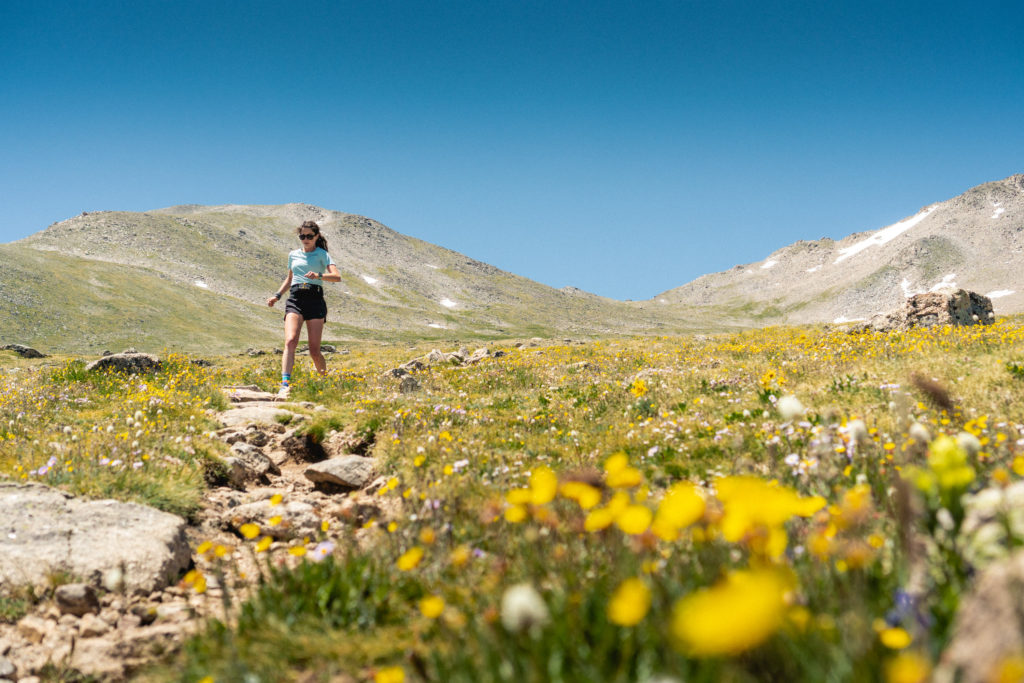 Before you lace up some trail running shoes and hit the trail, it's useful to keep in mind that trail running differs from hiking. Hikers possess a strong aerobic base, durable joints, and wilderness skills essential to thrive as a trail runner. While hiking and running use the same cardiovascular and musculoskeletal systems, the two movements use those systems in different ways.

Walking and running require distinct gaits. Think back to when you started hiking. While you probably didn't get sore walking around your neighborhood, your whole body might have ached after climbing a mountain. The switch to trail running feels similar. Hiking primarily engages your quads, while trail running uses your glutes, feet, quads, calves, and even biceps.

Running is faster than walking. Your muscles need to contract harder with each step. They also get less time to recover between steps, making you fatigue faster. Plus running is higher impact, placing more stress on muscles, bones, and joints. Running's added strain on the body increases your chance of injury if you're not careful, professional runner and coach Sage Canaday warns.
How to Start Trail Running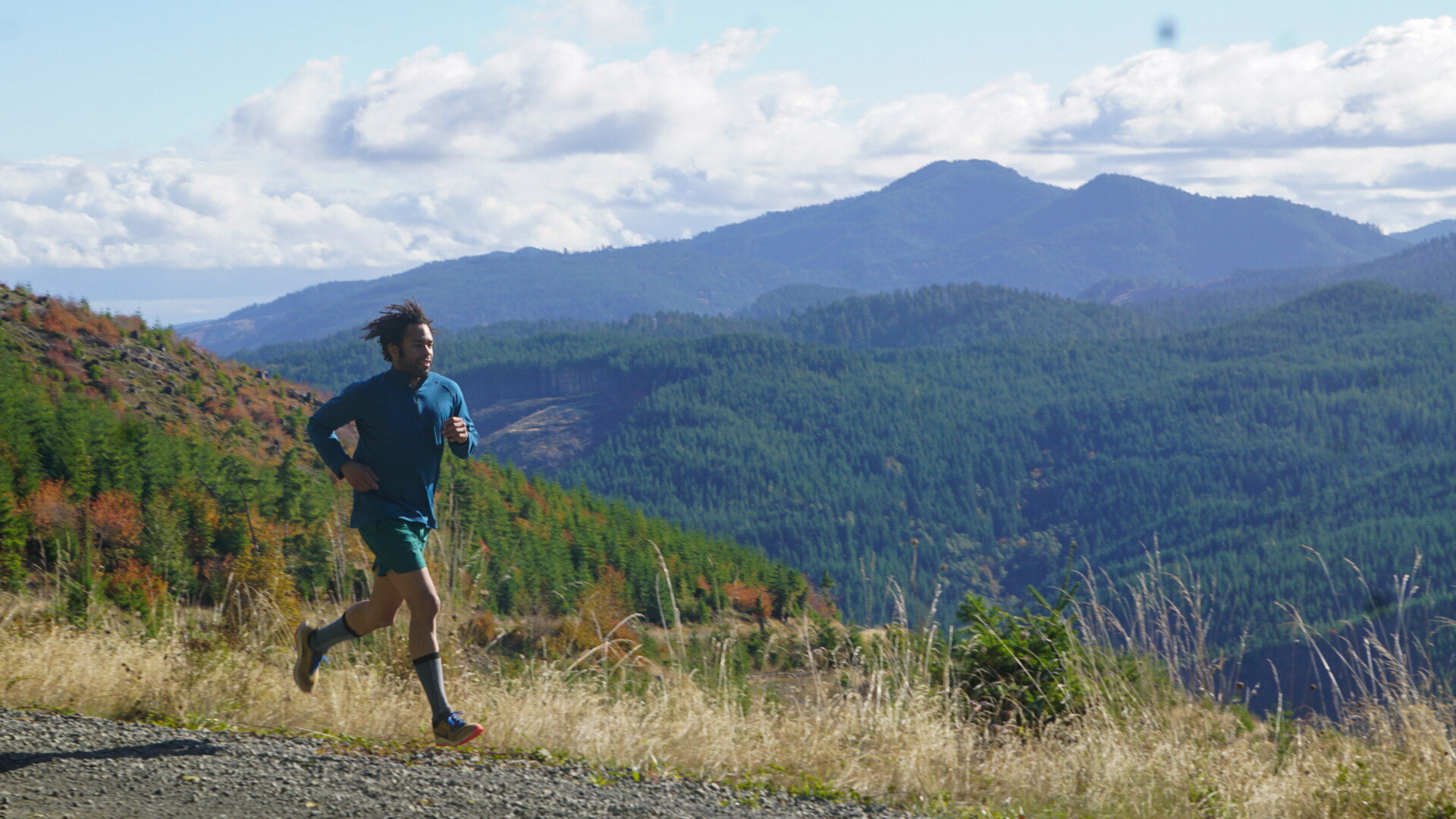 Pick a Trail
Pick a route that's on the shorter side when you're starting out. Just like with hiking, you want be cognizant of the vertical gain—climbing will require more energy and time. Consider dedicating some days to flatter trails, and even gravel roads and bike paths, to work on your running efficiency. Good running form translates from the flats to the mountains. Intersperse flatter days with more climbing days to give your body time to recover. Your calves will be sore at first!
You can, of course, combine hills and flats into one run. In fact, Nypaver suggests picking a trail with rolling hills so you can let the terrain help ease you into the sport.

"You could hike the uphills and then run the downhills, focusing on good form and listening to your feet as they hit the ground to make sure you're not landing too hard."

Let the course dictate when to run and when to walk, and you will start to acclimate without even realizing it.

Know Where to Go with Gaia GPS
Just like with hiking, use Gaia GPS to discover trails and routes. Map out a route of your choosing, and look at the elevation profile and trail surfaces to get a sense of how long the run may take. Several maps prove particularly useful: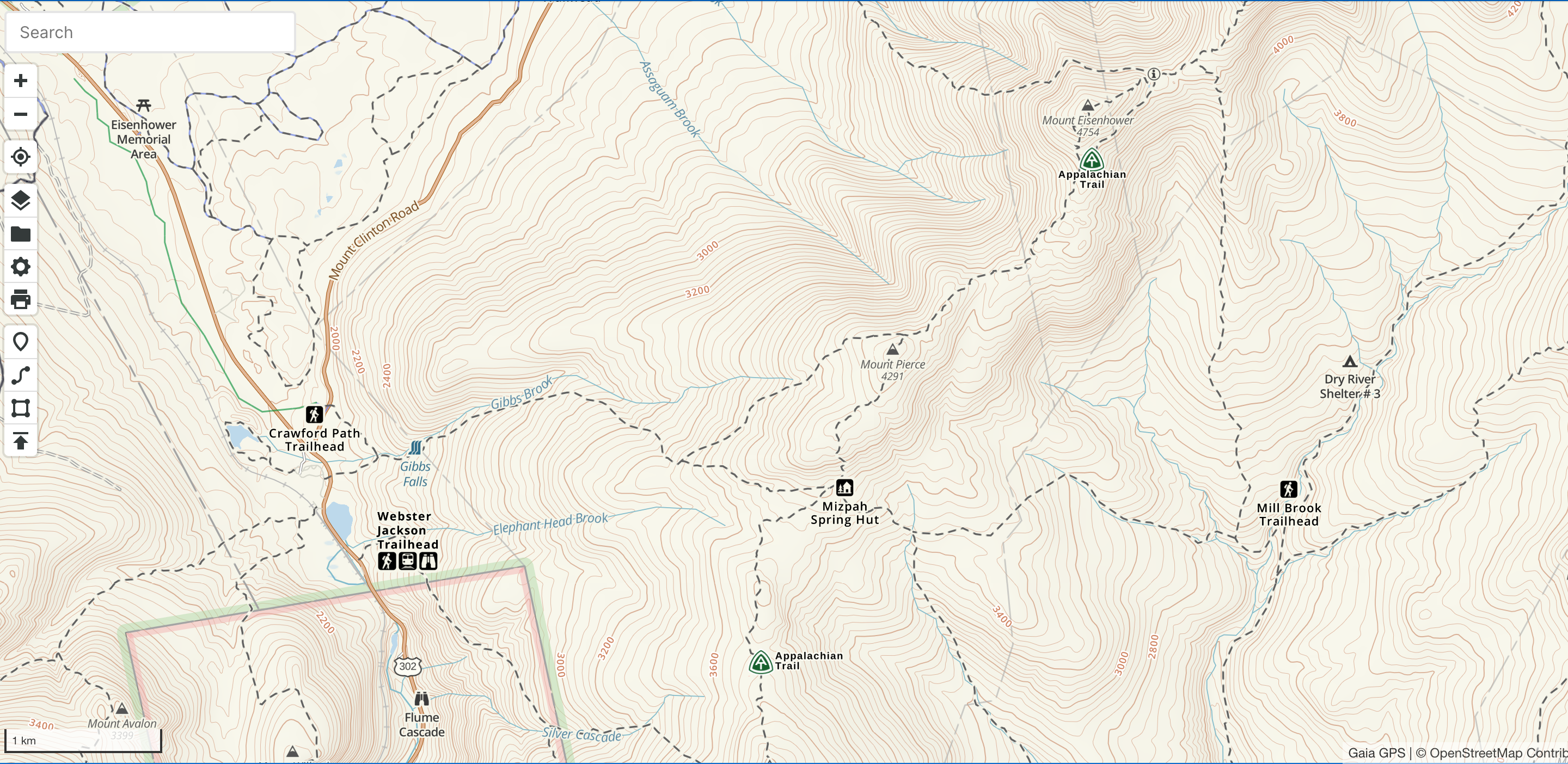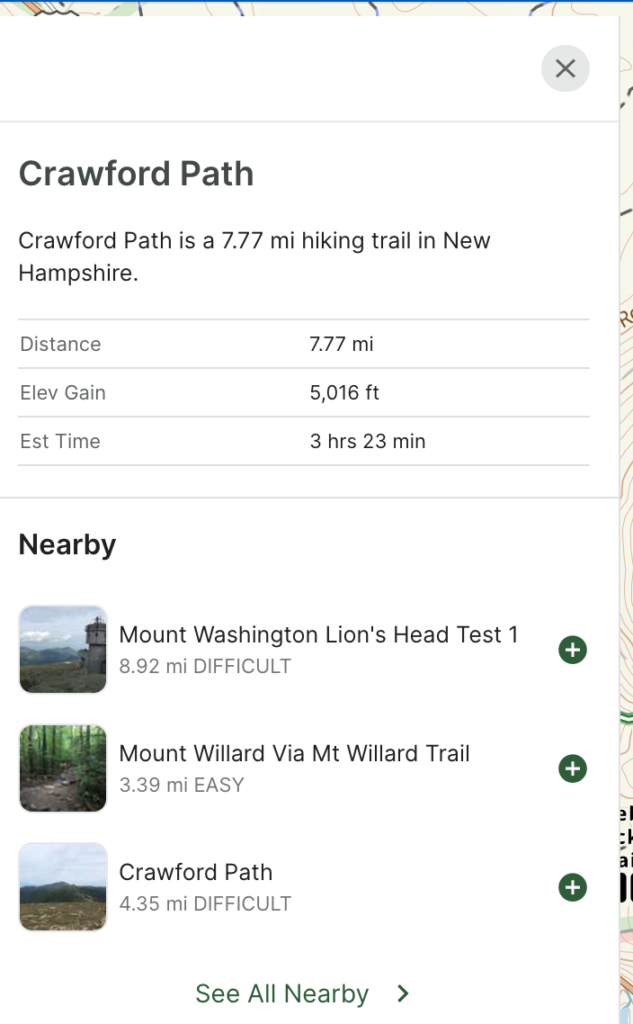 Gaia Topo shows trails, paths, and hidden unmaintained roads that are perfect for running. This recently updated map makes it easy to find and plan out routes ahead of time. You can even tap on a trailhead or landmark to find suggested routes in the area.
Best yet, this vector-based map is tiny and fast to download for off-line use. The map takes up very little storage on your phone so you can download huge swaths of land, even your entire state, in minutes.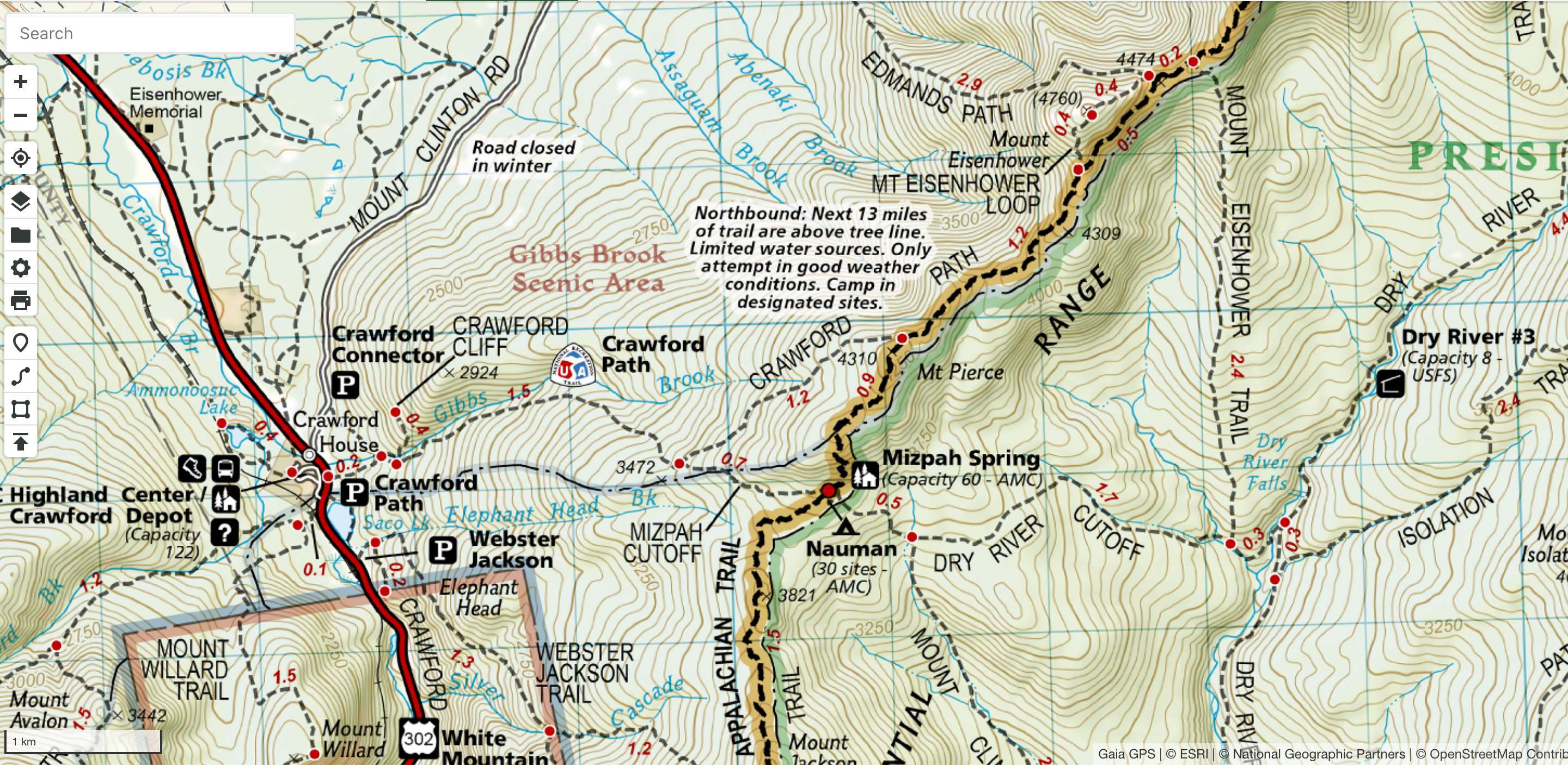 This gorgeous set of maps provides incredibly detailed data on many trails and national parks across the US. Zoom in to see quick tips written on the map, like fording slippery streams, and how many miles until the next water source. National Geographic Trails Illustrated maps show mileage markers between sections of trail, trailheads, amenities, and parking areas.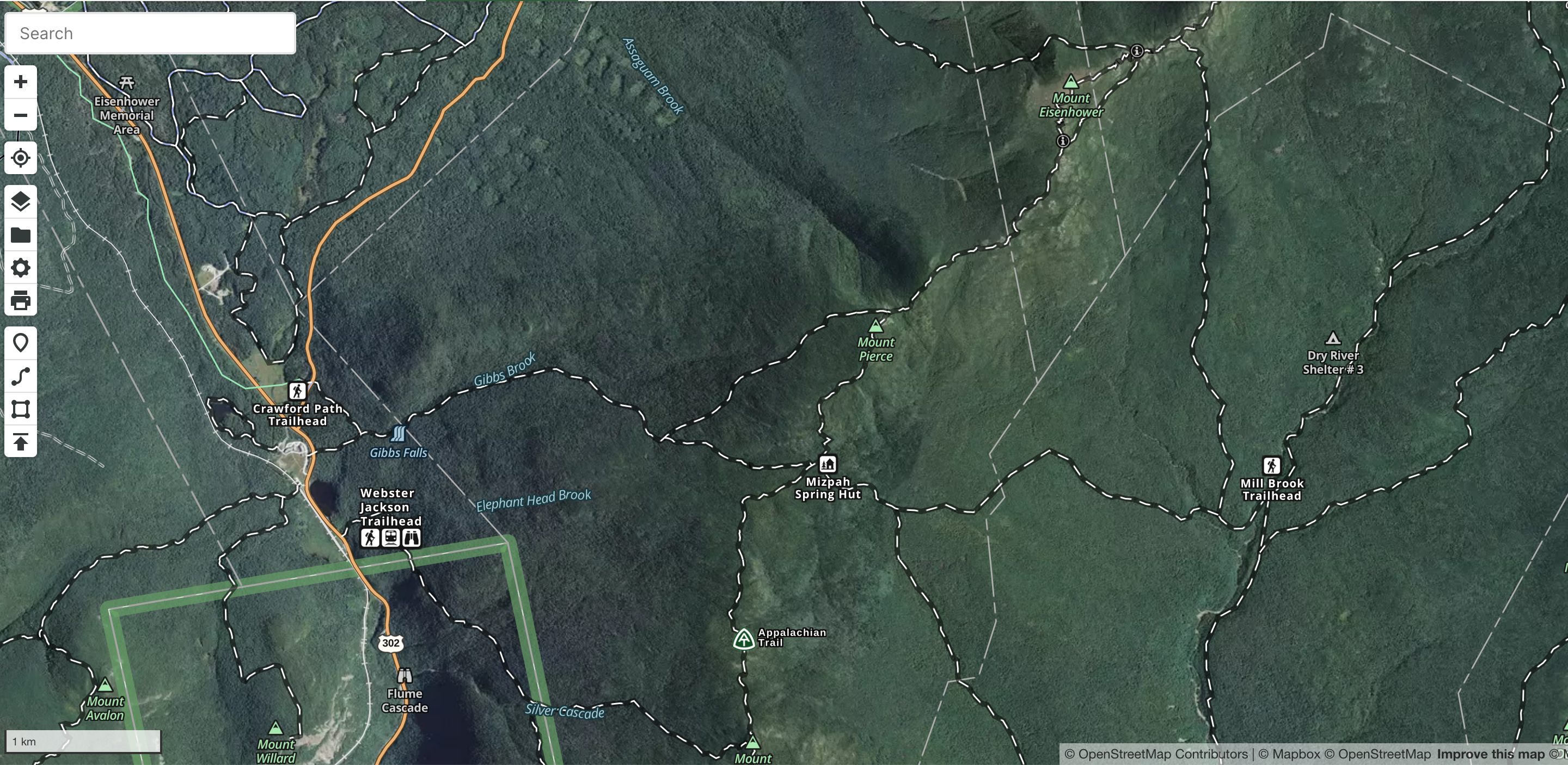 Topo maps prove invaluable, but sometimes you need a birds-eye view of the terrain to get a sense of what a place actually looks like. Use this satellite imagery layer to see if a trail winds through the trees or over an open plain, for example. Such information helps you decide if you should bring a visor for the sun, or a jacket for a windswept mountain top.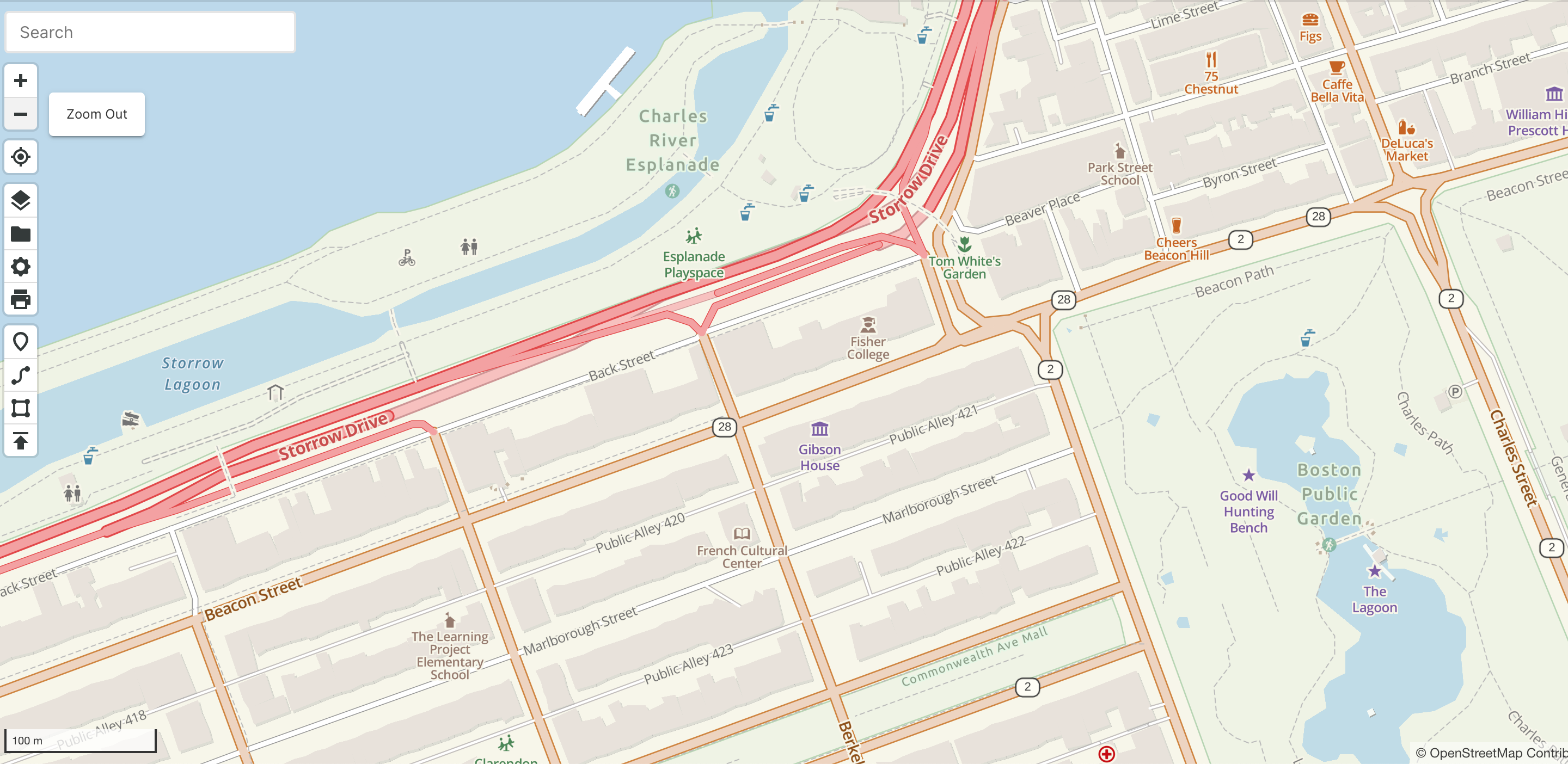 A beauty of trail running is that, contrary to its name, it can be done pretty much anywhere. Don't be afraid to run on surfaces other than trails. Switching up your routine will only make you better at running. The Gaia Streets layer allows you to navigate urban areas with ease. Find city staircases to practice running hills, discover obscure paths through parks, and map out routes that optimize quiet sidewalks and minimize traffic light stops.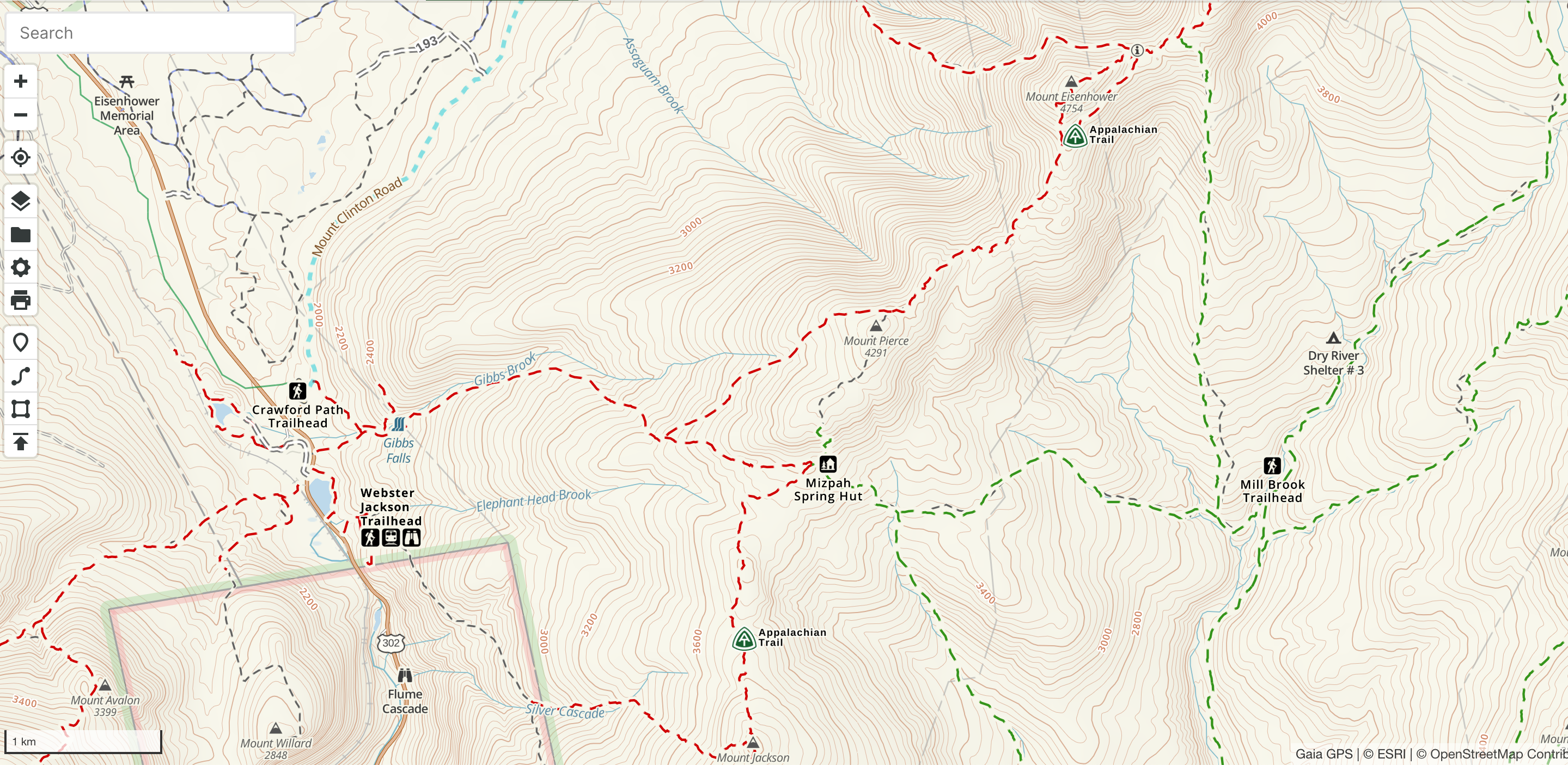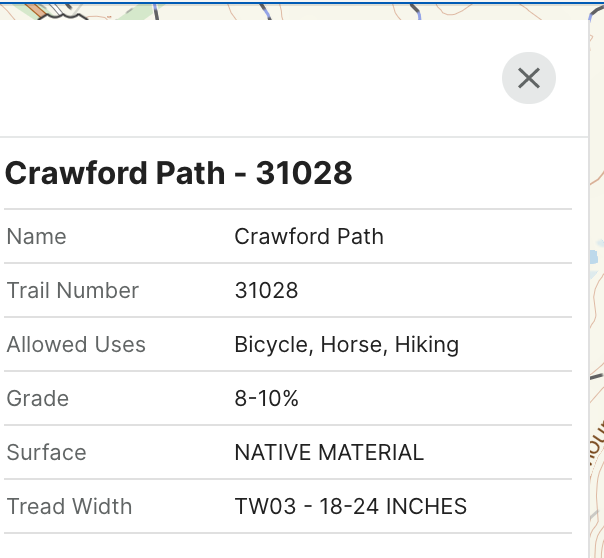 This is Gaia GPS's most frequently updated map layer, so it often contains roads and trails that are not available on any other map. This layer also highlights the surface and condition of the trail or road, so you won't have to guess if you'll be running on two-track, single track, pavement or dirt.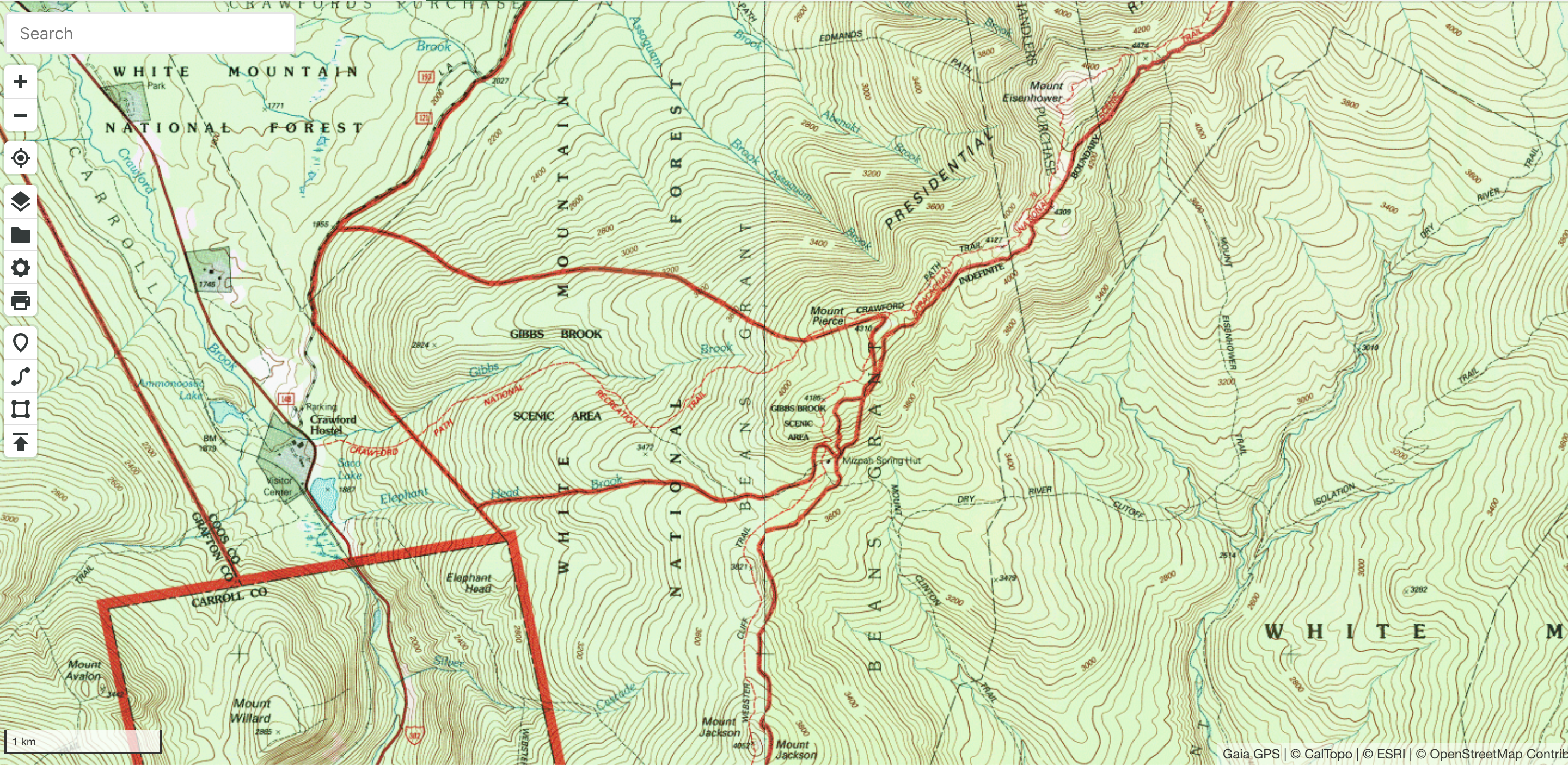 The official map of the US Geological Survey, the USGS Topo quilts together all the USGS quadrangle maps for the contiguous United States. These maps are large-scaled to 1:24,000, bringing the character of the landscape into sharp focus if you're skilled at reading topographic maps. Check out this article if you need to brush up on your topo map-reading skills.

You can use the web map on gaiagps.com to find routes and trails, and plan your run on the big screen. Log into your Gaia GPS account on your computer, and any routes you map out on the web will automatically synch to your Gaia GPS app. Just make sure you "show" the route on the map in the app.

Tip: download maps for the region you will be running through so that you can still access them if you lose cell service. At the start of your run, start recording your track so that you can easily retrace your steps if needed. Plus recording your track will allow to you visualize your run afterward and to repeat the route again.
Start Short and Easy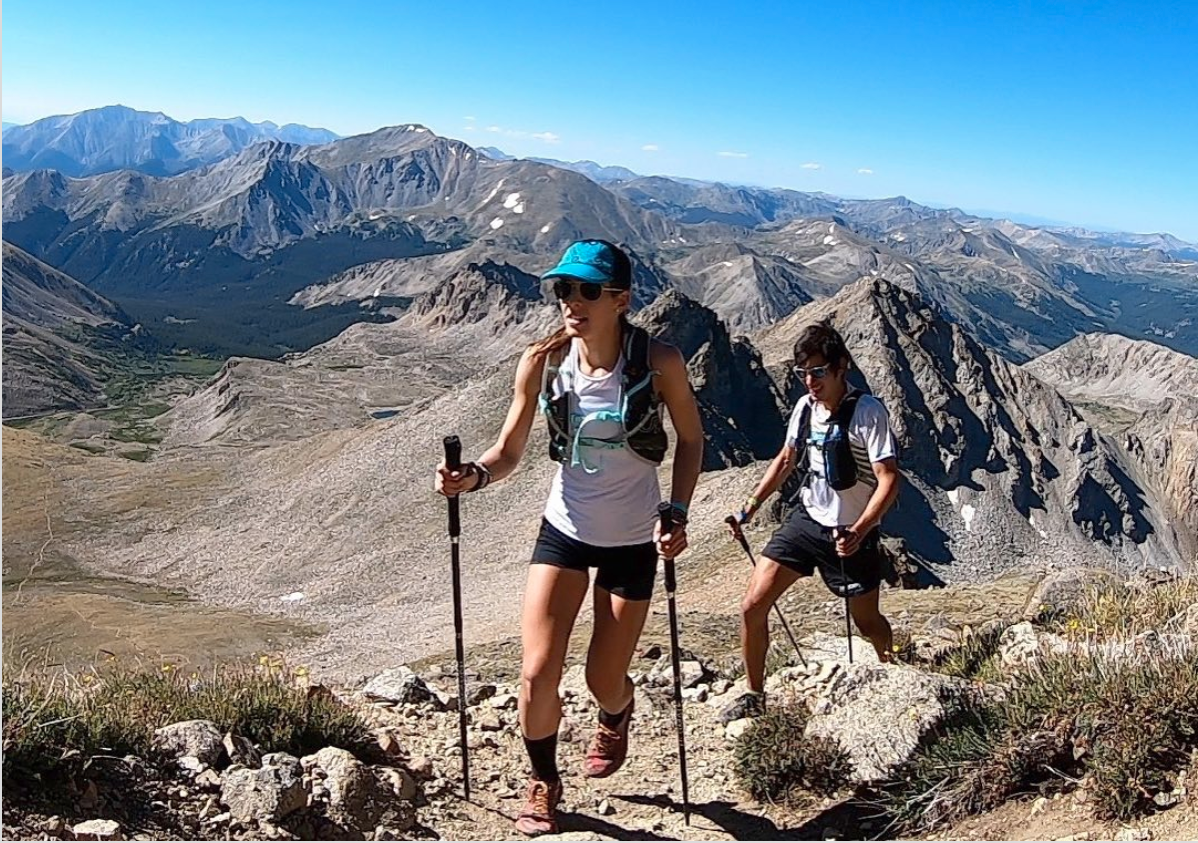 Start with short distances to stay healthy. While you may be in incredible shape from hiking, your body still needs ample time to adjust to running. Don't be afraid to throw in walking or hiking breaks as needed. In fact, the best trail runners in the world still hike steep and technical climbs. Listen to your body when it tells you to walk.

Intersperse running days with rest, hiking, or other cross training days like cycling or swimming. In the beginning, aim for running two to three days a week, with at least one day off in between. This cadence will give your body enough time to recover between sessions, while also providing enough stimulus to allow your body to adapt and improve. After a couple of weeks, you can start working your way up to more runs each week.
Listen to Your Body, Not Your Watch
Try not to worry too much about your pace. Setting an arbitrary pace objective isn't productive. And the pace you will run on smooth surfaces versus rocks and roots, flat terrain versus hills, will wildly vary. Again, practice listening to your body. As running grows more comfortable, try incorporating some fartlek-style runs. Fartlek, or "speed play" in Swedish, refers to adding unstructured intervals to your run. Pick a landmark down the path and run hard to it, then recover for a few minutes while running easy, and do it again. Mixing up the speed within your runs will help you grow faster and stronger.
Trail Running Gear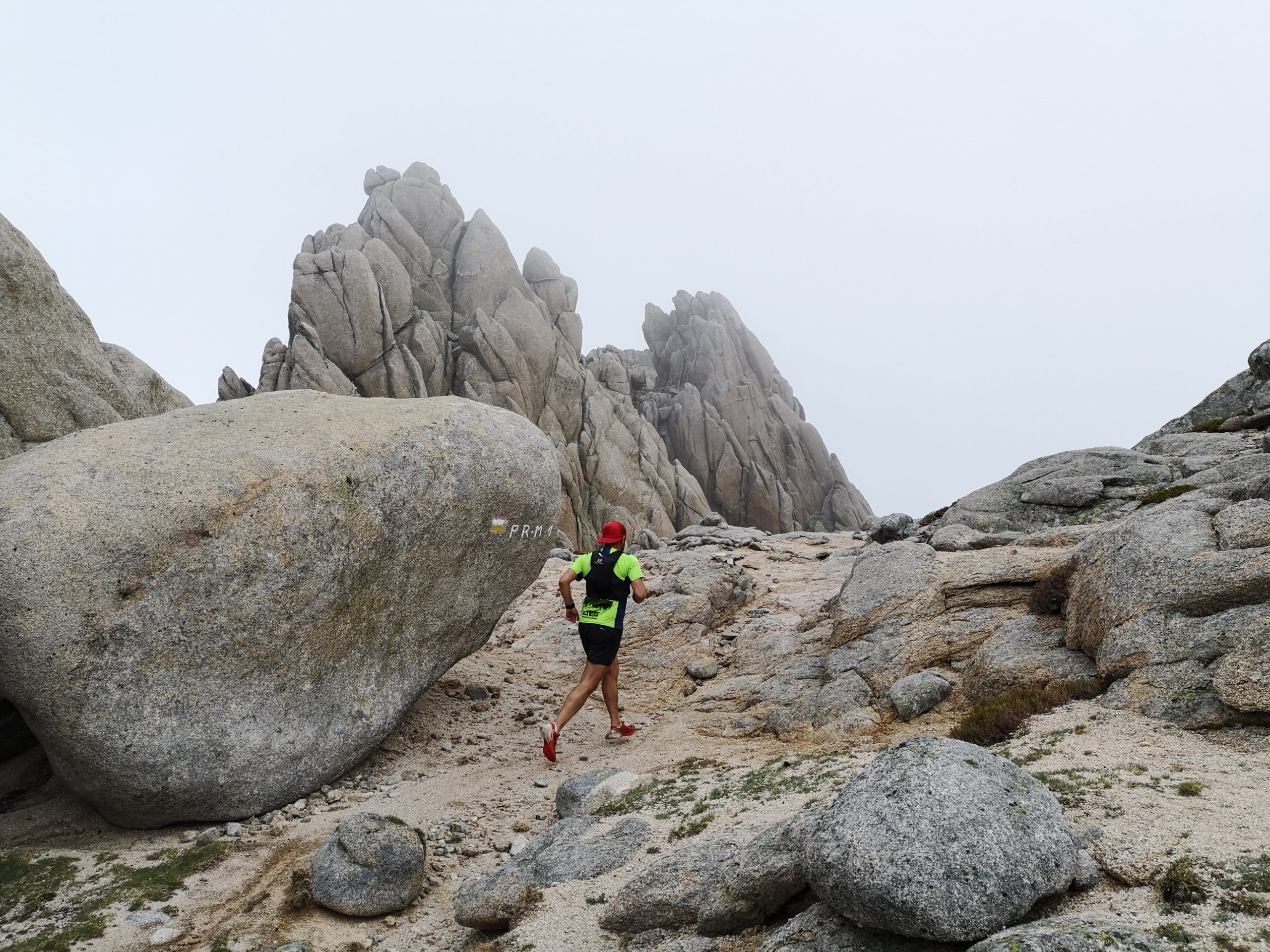 General rule of thumb — you need less gear than you think. Here are the essentials:
Phone: Download your maps for offline use beforehand so you can navigate as needed. Plus, having a phone on you provides an insurance blanket for emergencies when you have cell service.
Trail Shoes: Find a pair of trail shoes that work for you. Everyone's feet are different, so relying on reviews can only get you so far. "Try on different pairs to see what feel you like and works with your running form," Canaday recommends. Go to your local running store and test out some options to see what you like. Also consider the terrain you will be running over. The wet, rocky, root-laden trails of the White Mountains require a shoe with more grip and protection than the buttery mountain bike trails of the Marin Headlands. If you anticipate running over a lot of rocks, look for a shoe with a solid rock plate to protect your feet.
Waist Belt: Optional, but super useful to hold your cell phone and keys. Items like the Naked Band or Ultimate Direction Utility Belt can hold a surprising amount of things without bouncing or falling off.
Anti-Chafe Product: Sweating plus friction leads to painful showers. Prevent chafing with something like Squirrel's Nut Butter or another anti-chafe product.
Traction: If you plan on running through a snowy or icy winter, traction will help save you from slipping. Nano spikes usually suffice for roads. Micro spikes open up a window of possibility for running over snowy, icy trails. Kahtoola and Black Diamond make durable and effective options for both.
Once you graduate to longer runs, especially in the mountains, a few more items prove useful:
Hydration Pack: A lightweight, running-specific pack lets you carry fluids, snacks, and additional layers you may need for longer or especially hot outings. Try on a few options, if possible, to see what fits best on you.
Soft Flasks: For fluids. These will typically come with a hydration pack.
Water Filter: If you know you will pass by running water, consider carrying less water and filling up along the way. To do this, you should invest in a water filter.The Katadyn BeFree is an efficient and effective option.
Hiking Poles: If you already love your hiking poles, don't worry — they still prove useful for big mountain runs.
Apparel
While you can run in whatever you like, you may want to consider investing in a few comfortable, functional pieces of running apparel:
Lightweight and wicking shirt: Will keep you cool in the heat and warm in the cold.
Shorts: Or tights that allow full range of motion without bogging you down with extra fabric.
Socks: While it might seem superfluous, well fitting, wicking socks can make the difference between finishing a run with intact feet or blistered feet.
Windbreaker and Gloves: a light windbreaker that folds into itself for easy storage and a light pair of gloves re useful for mountain summits. Canaday points out that while you will stay warmer running than hiking, you may also sweat more. So if the weather changes as it often does in the mountains, having a layer to keep you warm is still important.
Fueling and Hydration
Just like with hiking, you need to properly hydrate and fuel to keep going. "You need a lot more calories and hydration drink mixes than you think!" Canaday says. On longer runs or hot days, consider adding some electrolytes to your water, or bring salt pills. Since you lose both water and electrolytes when you sweat, you need to replace both to keep your body and mind functioning. Eating on the run can prove tricky at first. But the more you practice, the more comfortable it will feel. Experiment with foods to see what your stomach and mind can tolerate. Drink mixes, gels, chews, gummies, and candy bars are a sugary albeit relatively safe place to start. Tail Wind, Skratch Labs, SiS, and Maurten make some of the most tasty and digestible endurance fuels on the market. Peanut butter pretzels provide a savory and relatively digestible sustained source of sustenance. Aim to DTYPC (drink 'til you pee clear) and consume 200 to 300 calories an hour.
Find a Community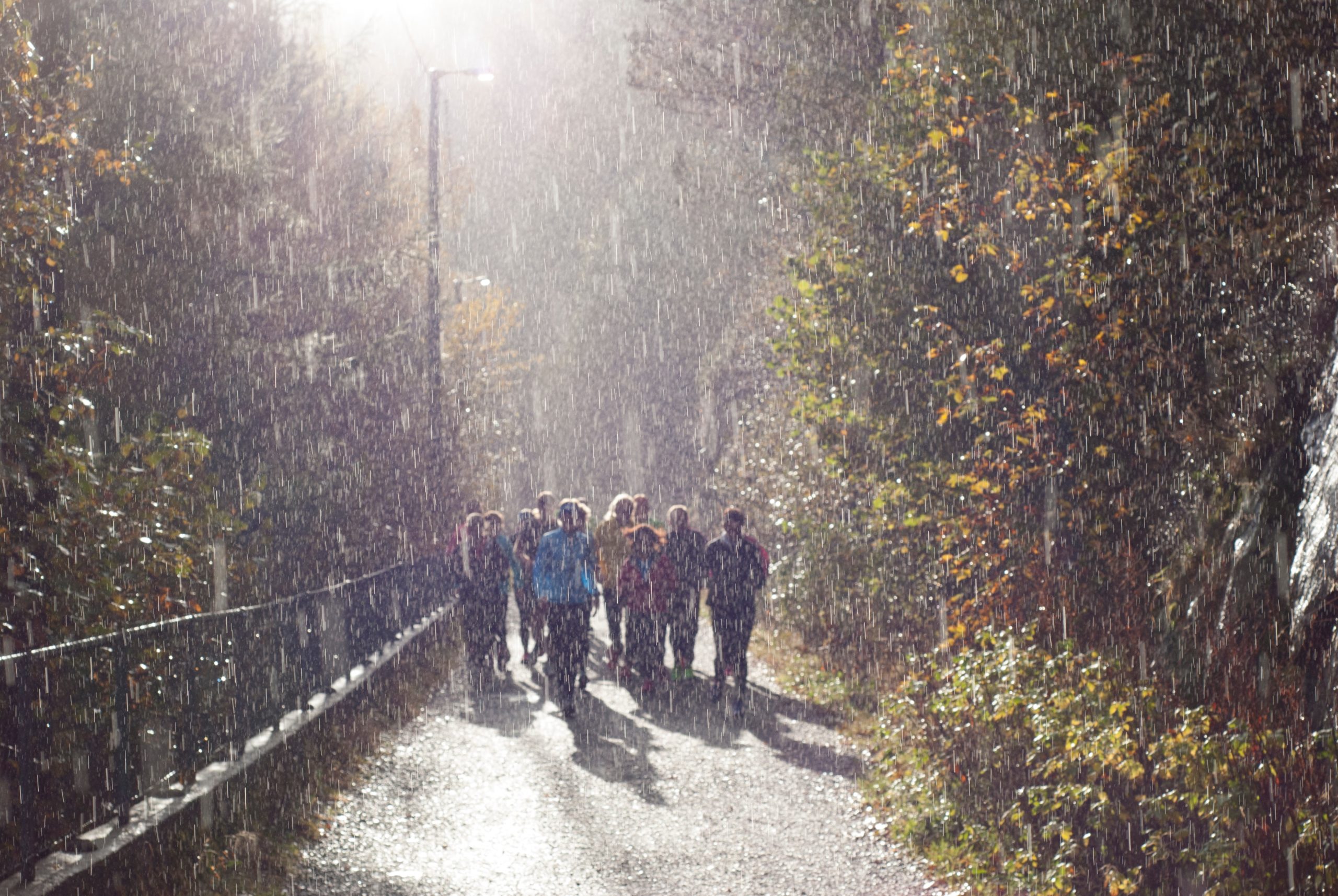 Whether virtual or in-person, finding a group of runners can be an effective way to learn, have fun, and find motivation. Join running groups on Facebook or other social networks to get new route ideas from people in your area and to find running buddies. You can also find local running groups by checking in with your local running store. Nypaver suggests that womxn look into their local Trail Sisters chapter.
Play to Your Hiking Strengths
As a hiker, you're already strong at walking up hill. Lean into that! Use your trail intuition, and listen to physical and psychological queues to determine when you should slow down, and when you can push a bit harder if you like. Have fun practicing hoping over rocks and roots on the descents. It may feel foreign and slow-going at first, but you improve immensely with practice. And most importantly, remember why you're out there: to have fun.

"Whenever you're learning something new, leave the self-judgment at home," Nypaver says. "Find your inner kid-like joy to help you along."