Don't let your weekend plans go up in smoke. Gaia GPS's robust collection of weather maps can help you avoid current wildfires and find smoke-free skies. These real-time maps are available for free with a Gaia GPS account. Read on to learn how to use wildfire, smoke, and air quality maps to stay safe hiking, biking, or camping at your next destination.
Wildfires (Current): See Where Wildfires are Burning Now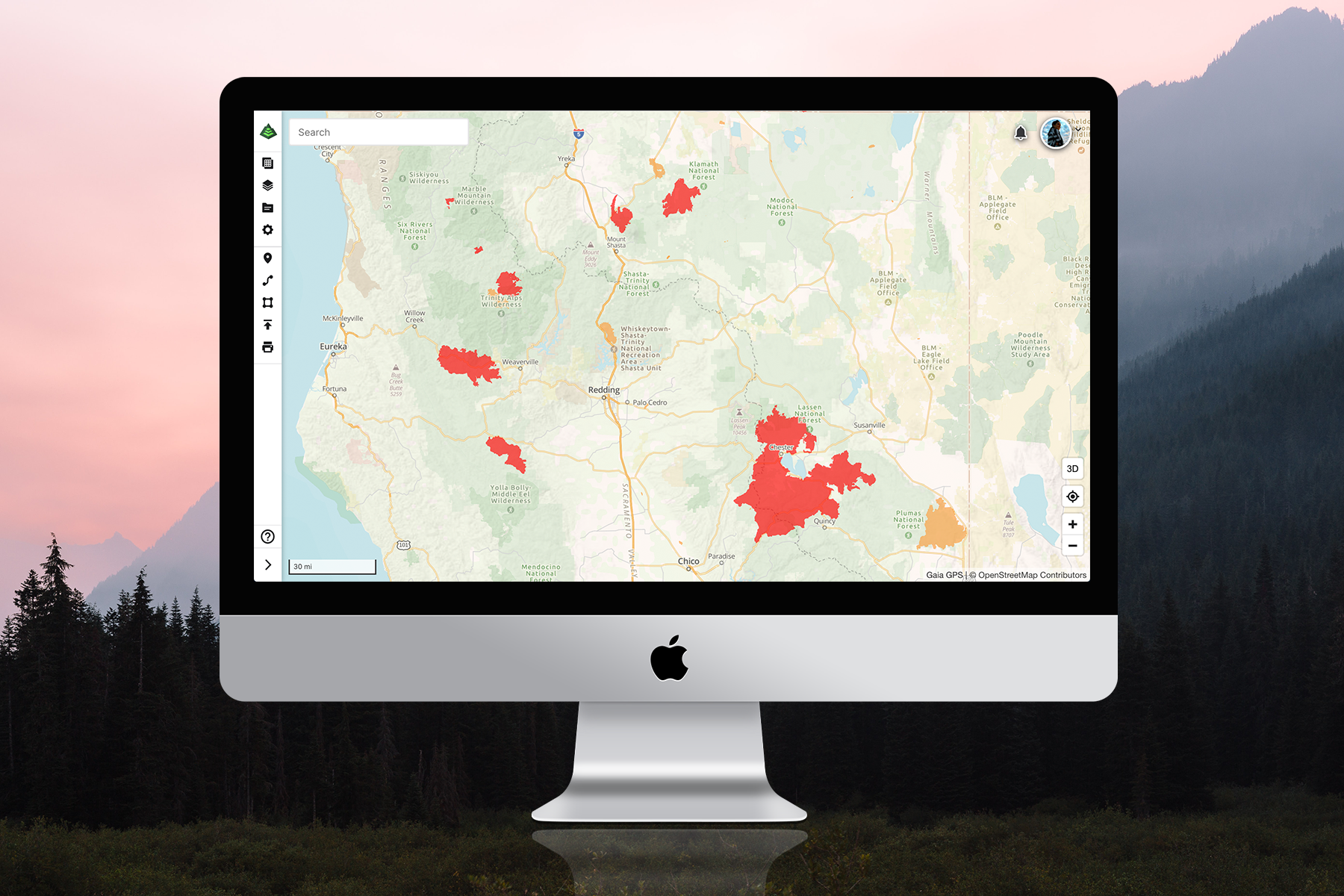 Check where fires are currently burning with the Wildfires (Current) layer. This map shows the perimeter of fires burning throughout the U.S. and Canada. Click a fire on the map to get more information, such as its name, size, and perimeter date.
The Wildfire (Current) map is updated daily. Data comes from the U.S. National Interagency Fire Center (NIFC), Natural Resources Canada (NRCan), the Province of British Columbia, Alberta Wildfire, and the Government of Saskatchewan.
Wildfires (Satellite Detections): See Wildfire Hotspots Worldwide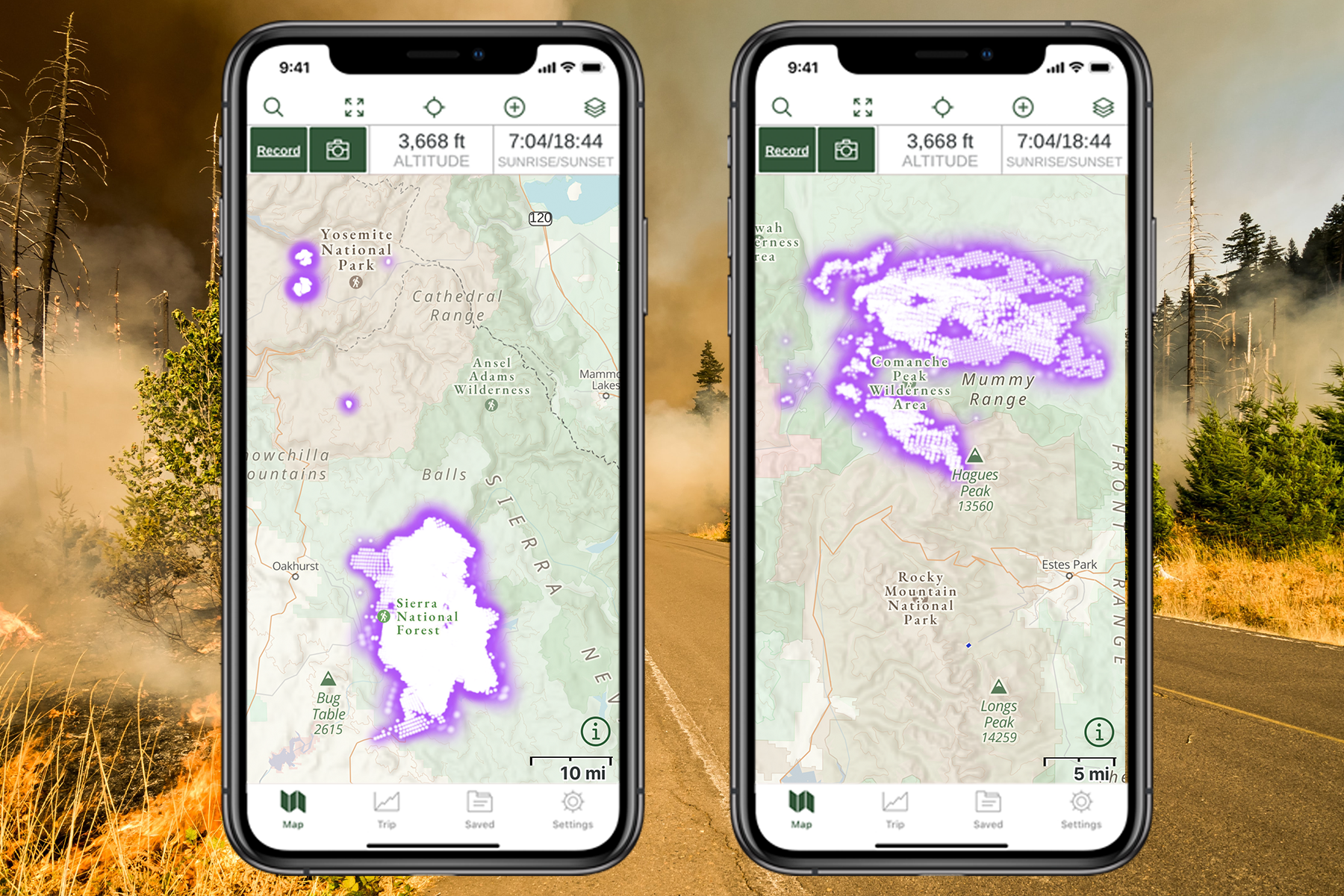 See hotspots around the world with the Wildfires (Satellite Detections) layer. This global map detects and displays heat on the earth's surface. While most of the hot spots on the map indicate heat from fire, the map also detects other heat sources such as geothermal activity and lava flows.
Tap on the purple shading to get more information about the heat source. The Wildfire (Satellite Detections) layer is updated several times a day as new data is made available by the U.S. National Aeronautics and Space Administration (NASA).
Use the Wildfires (Satellite Detections) layer in conjunction with the Wildfires (Current) layer to see where a fire is still burning hot within the fire perimeter. You can also use the Wildfires (Satellite Detections) map to see fires not yet on the Wildfire (Current) map. Some wildfires remain undetected by the Wildfires (Current) layer, especially when the fire is brand new, in a remote area, or not being actively fought. However, both detected and undetected fires will appear on the Wildfires (Satellite Detections) layer in purple shading if they are still hot and actively burning.
Smoke (Current, 24h, 48h): Check the Smoke Forecast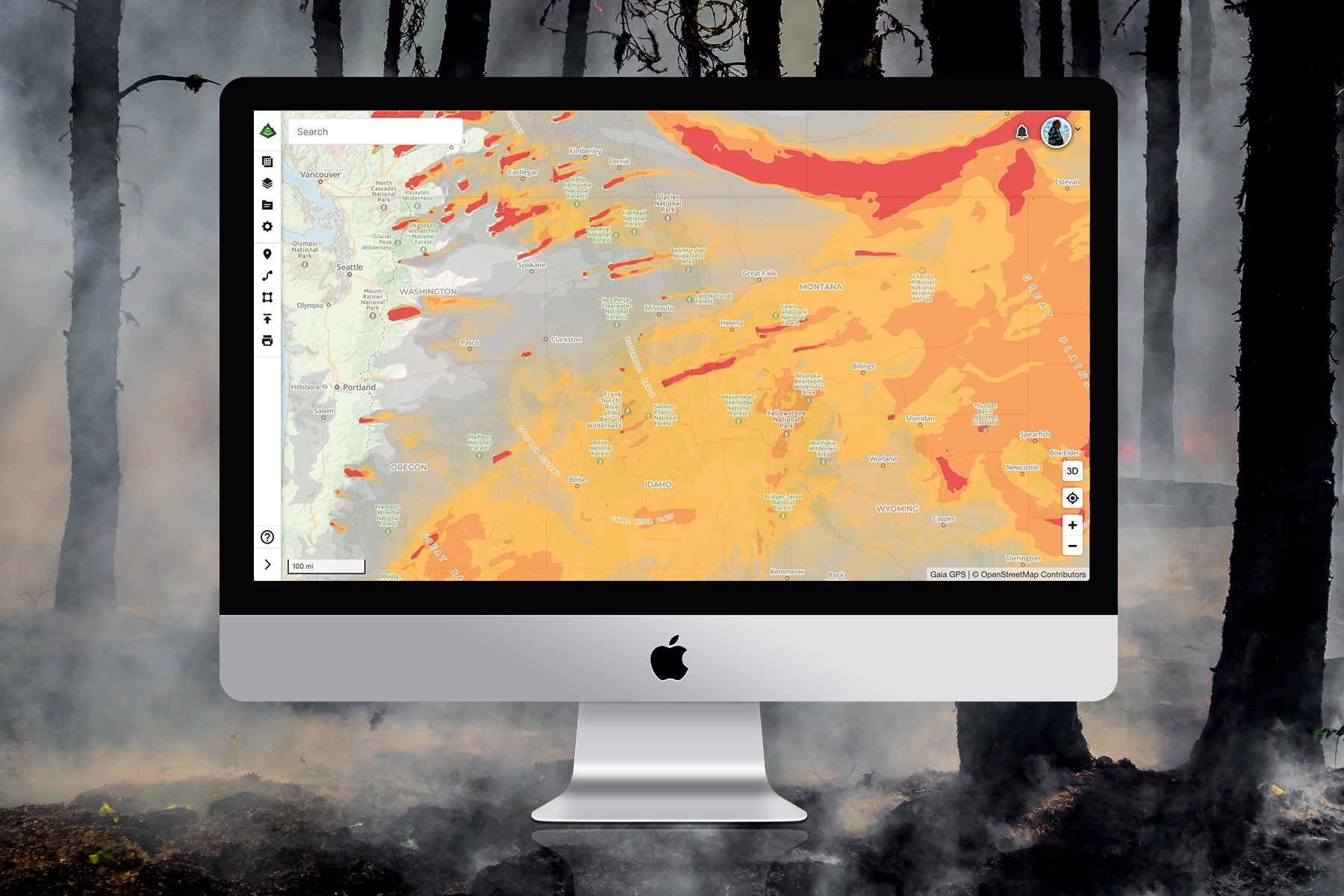 Not surprisingly, wildfires generate tremendous amounts of smoke. Surprisingly, that smoke can blow hundreds (and even thousands) of miles away. A wildfire in Oregon may make for hazy skies in Montana — or even Massachusetts. Even if you can't smell smoke, the fine particulate matter hanging in the air can lead to adverse health effects and even premature death.
So don't trust your nose to sniff out bad air. Use the Smoke Forecast maps to check detected levels of smoke in the area you plan to visit. Gaia GPS offers three Smoke Forecast layers: Current, 24-hour, and 48-hour to give you a picture of upcoming smoke trends. Each shows smoke concentrations on a color-coded scale. Click a region to see the smoke concentration and when that forecast was recorded. Keep in mind that these maps are forecasts from NOAA's High Resolution Rapid Refresh model, and may not always be accurate.
Air Quality (Current, Tomorrow): Check the Air Quality Index from the EPA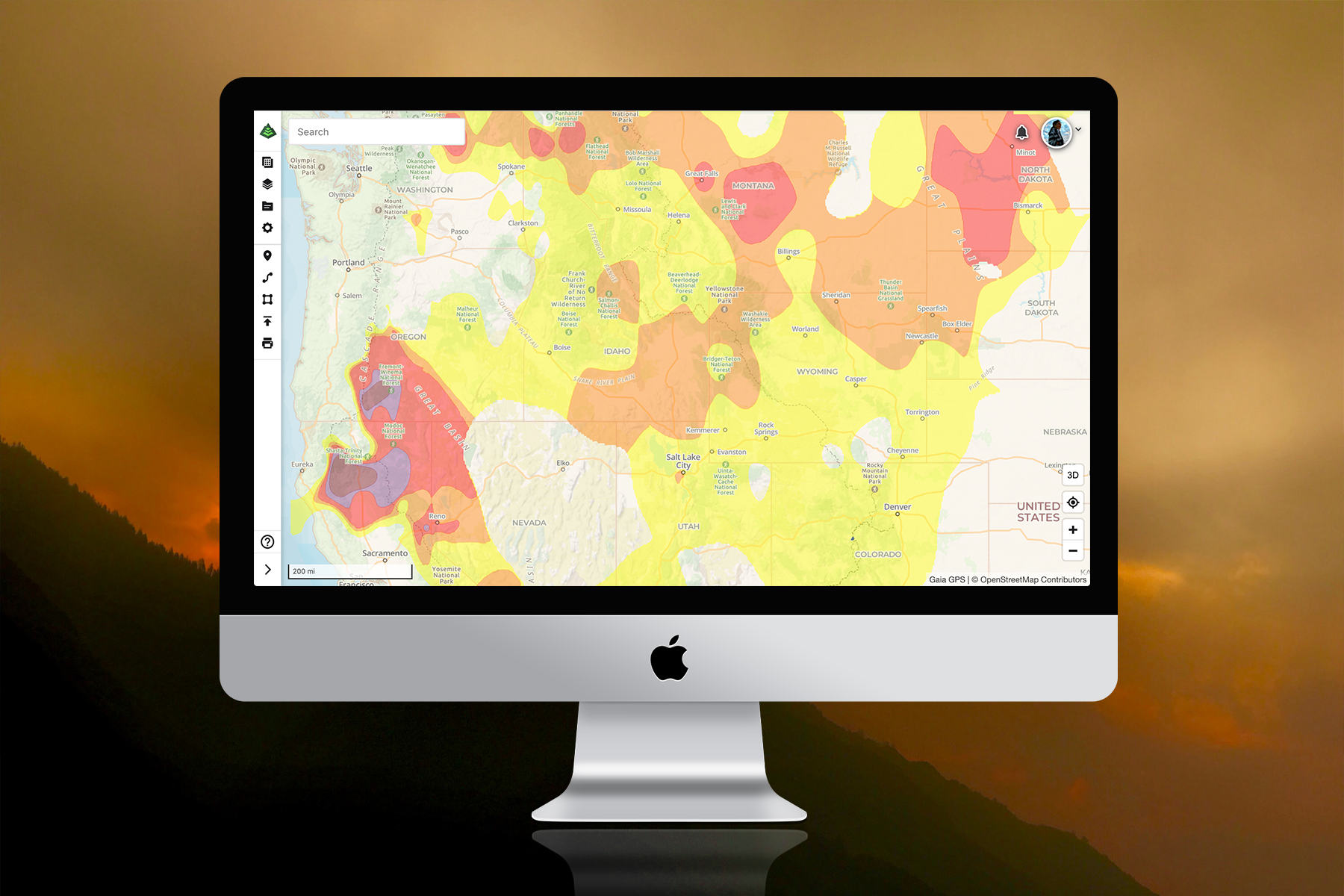 Get an even more comprehensive sense of the air quality by consulting the Air Quality layers. These maps show the EPA's Air Quality forecast right in your Gaia GPS account, and are updated daily. The Air Quality layer uses color-coding to indicate the Air Quality Index (AQI). AQI reports levels of some of the most common air pollutants: ozone (smog), particle pollution, carbon monoxide, sulfur dioxide, and nitrogen dioxide.
Consult this map to get an index rating with which you are familiar; colors on map are analogous to those used by the EPA. Choose from either the Air Quality (Current) or Air Quality (Tomorrow) map depending on when you're planning to take off on your trip. Once again, keep in mind that these are forecast layers and may not be accurate.
Wildfires (Historical): See Burn Zones Across the U.S.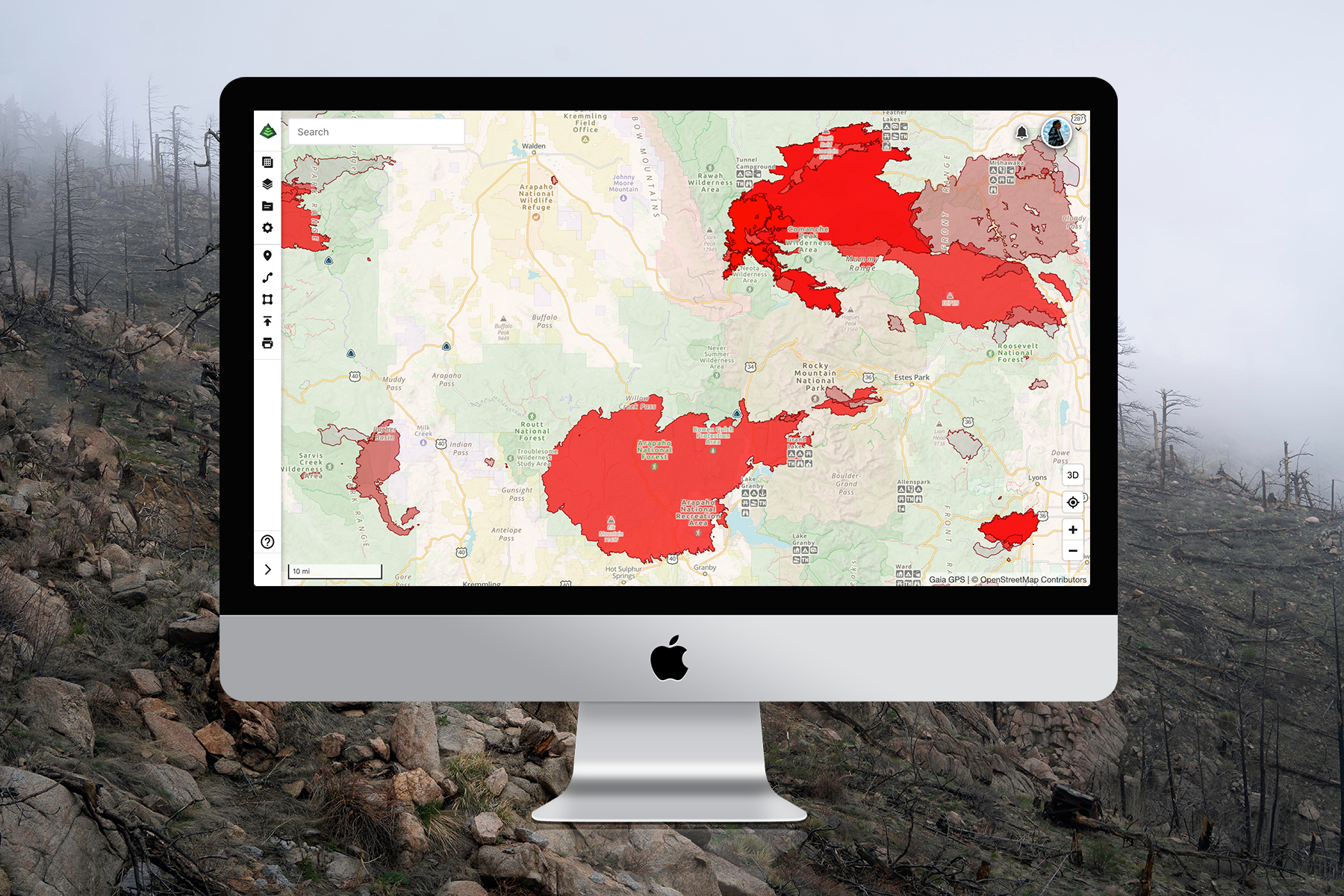 Check to see if you'll be traveling through a burn zone using the Wildfires (Historical) layer. This map shows where previous wildfires have burned across the U.S. More recent fires appear bright red, fading to paler shades as time passes by.
Use this map to get a sense of whether you'll be traveling through barren burn zones with high sun exposure that also afford sweeping views. Foragers flock to burn scars to find an abundance of mushrooms and other edible and medicinal plants. Tap on a burn zone in the map to learn the name of the fire, the date of the burn, and the acreage affected. This map is available with a Gaia GPS Premium Membership.
How to Get the Wildfires, Smoke, and Air Quality Maps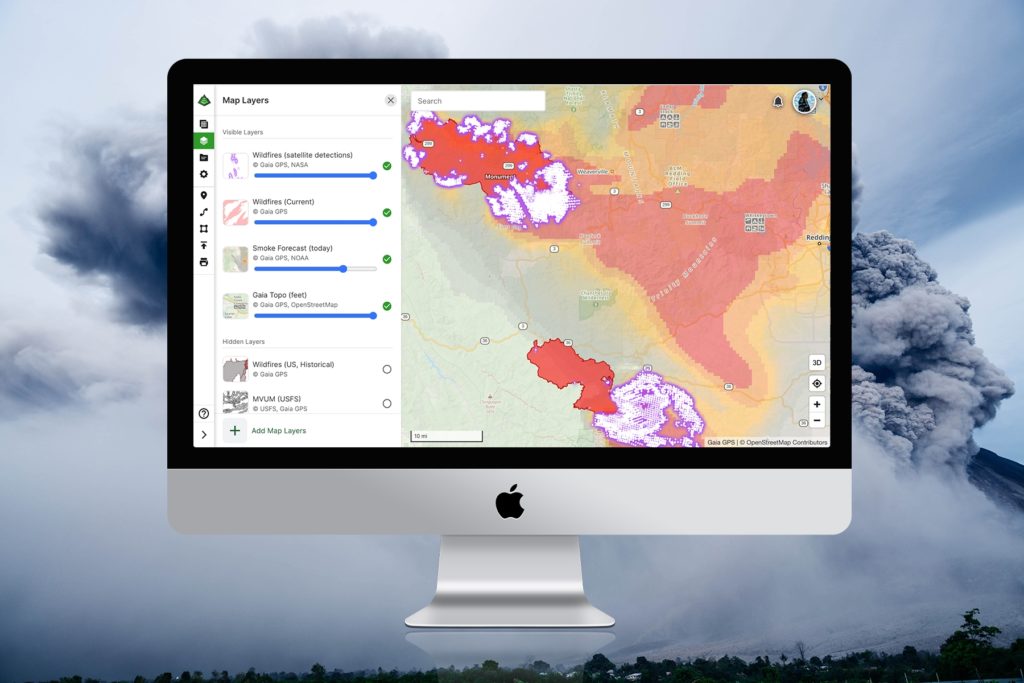 To add the Wildfire, Smoke Forecast, and Air Quality maps to your Gaia GPS account:
Go to map layers icon.
Tap the "Add Map Layers" button.
Select "Weather Feature Overlays."
Click on the maps you want to see.
With a Gaia GPS Premium membership, you can select several maps and layer them together to get a complete picture of the air pollution and active fires in your area. Use the opacity controls to further customize the map view.
Watch: How to Check for Wildfires and Smoke
Access More Maps with a Premium Membership
Gaia GPS gives you access to hundreds of maps, from high-resolution satellite layers to topo maps for around the world. With a Gaia GPS Premium Membership, you can layer weather and feature maps on top of your basemaps to customize information you need for your upcoming trip.
A Premium Membership also lets you download maps for offline use. Keep in mind, though, that many maps are regularly updated and cannot be downloaded. Check those weather and feature maps before you leave wifi or cell service.
Wildfires, Smoke, and Air Quality Maps are available with a free account, sign up here.