Leaf peeping season presents one of the best opportunities to bust out the camera. But finding the perfect location for your photography project requires some skill. Professional photographer, veteran, and avid outdoorsman John Peltier shares how he finds nature-based photography project locations.
An accredited associate at Photographers Without Borders, John focuses on photodocumentary projects for humanitarian and environmental organizations throughout the world. In this article, John explains how he uses Gaia GPS's powerful mapping tools to find new places to shoot. He also shares how to use the map for post shoot processing.
Planning a location-based photography project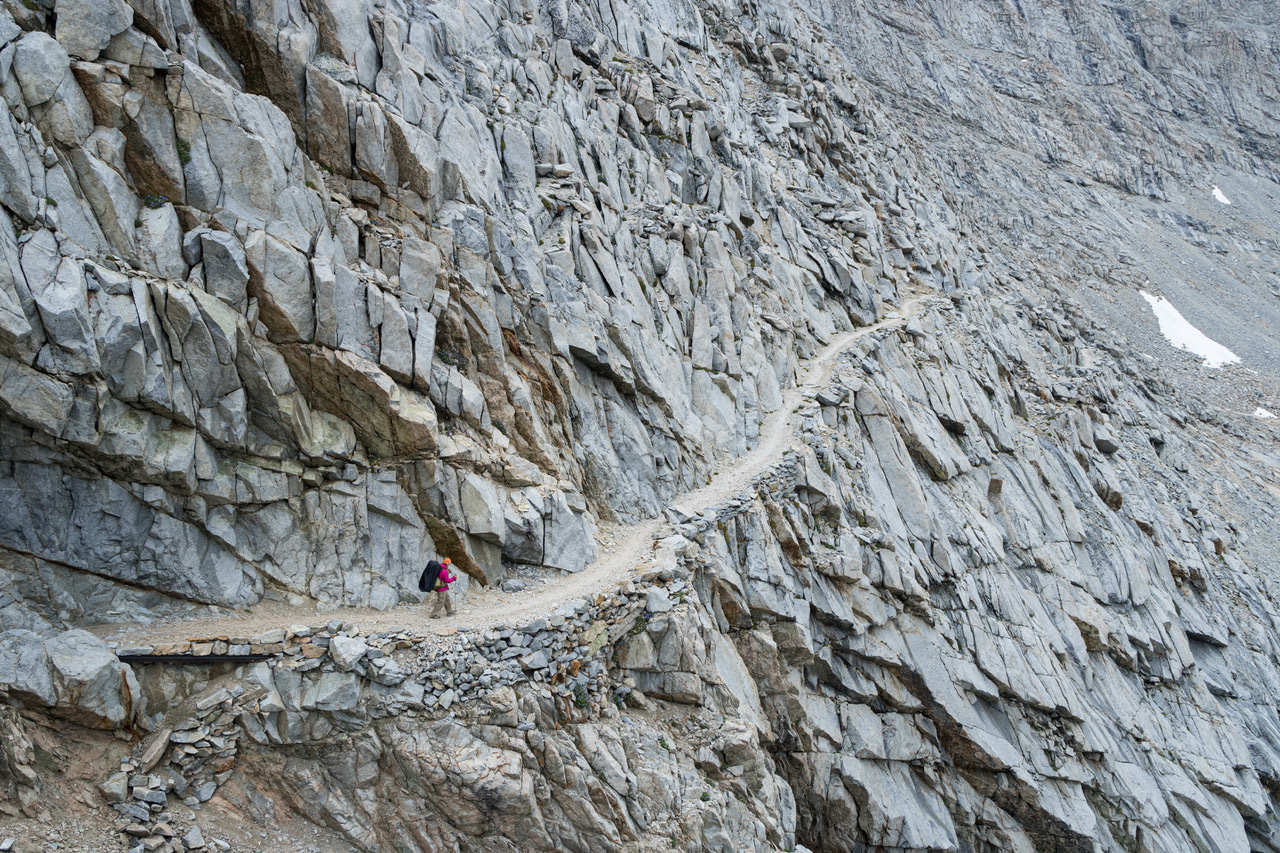 Part of the fun of a location-based photography project is just driving around and seeing what you find. But you need to have some semblance of focus and organization to keep the photography project going in the right direction. An outline, if you will. Where do you need to go, when should you go there, and how will you get there?
Gaia GPS has been a godsend for me for use in Search and Rescue, backpacking trips, car camping, and day-hikes. It's only recently I discovered its applicability in planning a photography project.
All the features discussed here are included in Gaia GPS Premium Membership. A premium Membership gives you access to Gaia GPS map catalog and allows you to download those maps to your phone so you can navigate offline in areas without cell service.
I will also be demonstrating this on Gaia GPS's web-based interface, which I prefer to use for the planning phase, saving the "devices" for the field phase.
Discover the Best Spots
You're going to have some idea of where, what, and why when planning a photography project. Much of this discovery will be done via other sources on the internet or your own local knowledge. You can also use Gaia GPS's map layers to find new features.
Take the example below. The first map (the base layer) doesn't show much at all in this area except for a few springs. I turned on the USGS Topo layer which revealed much more information. After zooming in, you can see a large mine complex. Turning on the World Imagery layer reveals that some of the structures are still there.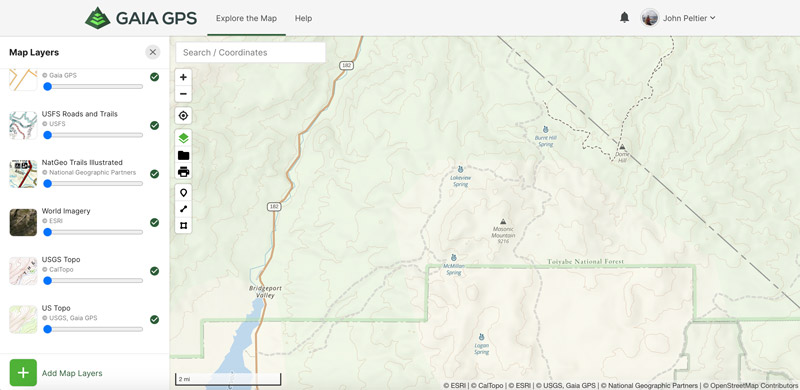 Other layers that will help you with discovery include:
National Park Service Visitor Maps
USFS Recreation Sites Overlay
NatGeo Trails Illustrated Maps
And a number of other open-sourced maps available as layers
If you're on the hunt for fall foliage, try outthe Fresh Sat — Cloud Free and Fresh Sat — Recent layers. These maps show recent arial satellite imagery from around the world. Learn more about them here.
Remember Places with Waypoints
After I've found a place on the map I want to photograph, I mark the area with a waypoint.
Custom Waypoints– Instead of just your standard default pin, assigning a custom icon to the pin lets me quickly see what kind of feature this is. I'm a very visual person, and this lets me build a catalog in my brain of where each kind of feature is.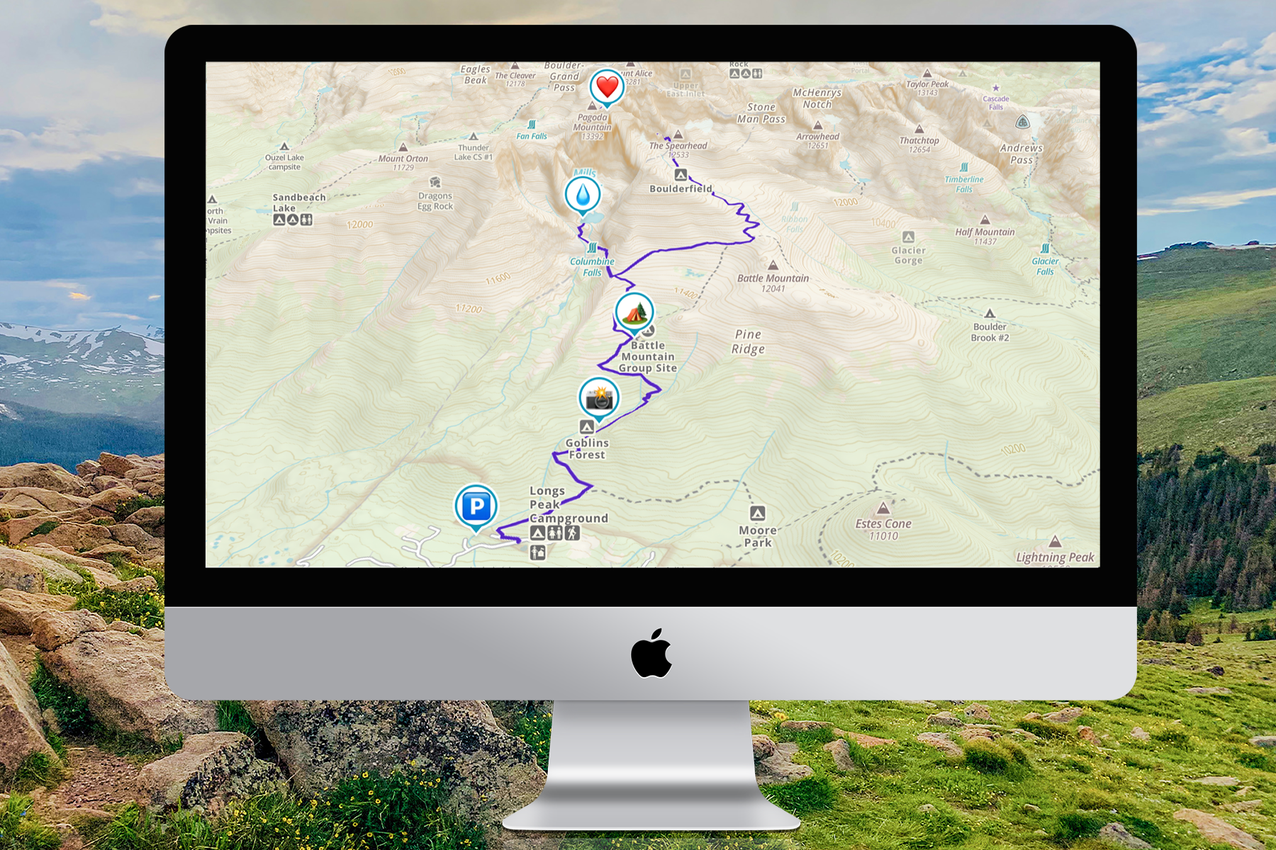 Folders – Gaia GPS lets you put waypoints into folders. As mentioned earlier, I have a mix of both natural and cultural features in this project. Putting all waypoints in one folder could quickly get messy, so within my photography project folder, I've created subfolders for Natural and Cultural. You can also hide folders to declutter the map.
Check out Gaia GPS's new folder organization on the web.
Check the Private Land Map to Avoid Trespassing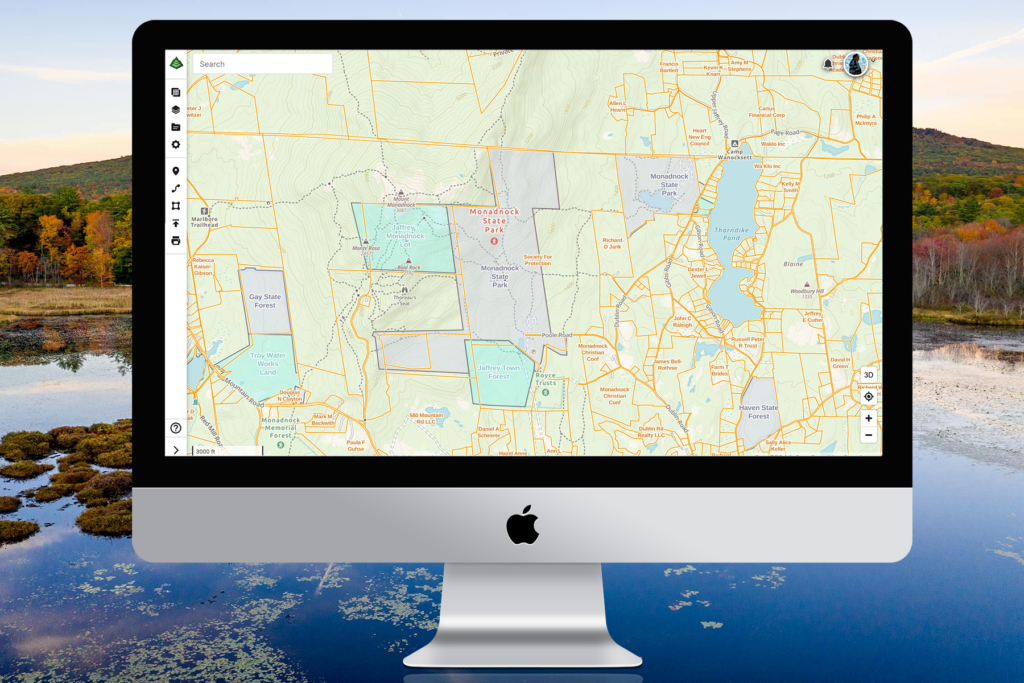 I have my waypoints I want to photograph – but is it public land?
Gaia GPS has a Private Land layer for the U.S. It outlines boundaries and shows you who owns the land. When you click on an area it will show you who owns the land; around here there's a lot of Unknown owner. Based on other map labels, I know this is National Forest land – public. There are some private holdings nearby of which I need to be careful.
If I can't get to a location because it's on private land, I might look for areas to photograph the area from. I'll use Google Earth for this and "fly to" locations where I'll have good views, then drop a waypoint with a camera icon back in Gaia GPS so I know to bring my camera here. You can create a waypoint with any emoji on your keyboard. In the Notes I'll add what I'm photographing here. If it's a good location for an aerial photo, I'll change the icon to an Airplane so I know to bring my drone (which brings up a whole other set of restrictions to check).
And then finally – so I'm not guessing which time of day to be here – I'll use The Photographer's Ephemeris & TPE 3D to check where the sun will be and what the shadows will look like throughout the day. In the Gaia GPS waypoint Notes I'll put which time of day is preferable based on the time of year I want to photograph it.
Logistics
What are the roads like, and where can I camp?
If you're on USFS land, Gaia GPS has additional layers called USFS Roads and Trails and USFS Recreation Sites.
These overlays show all numbered USFS roads and designated trails; clicking on them will show you what the conditions & rules are. They'll also show all USFS campgrounds. I add Camping icons at campgrounds I might want to stay at so that I can add my own notes to them.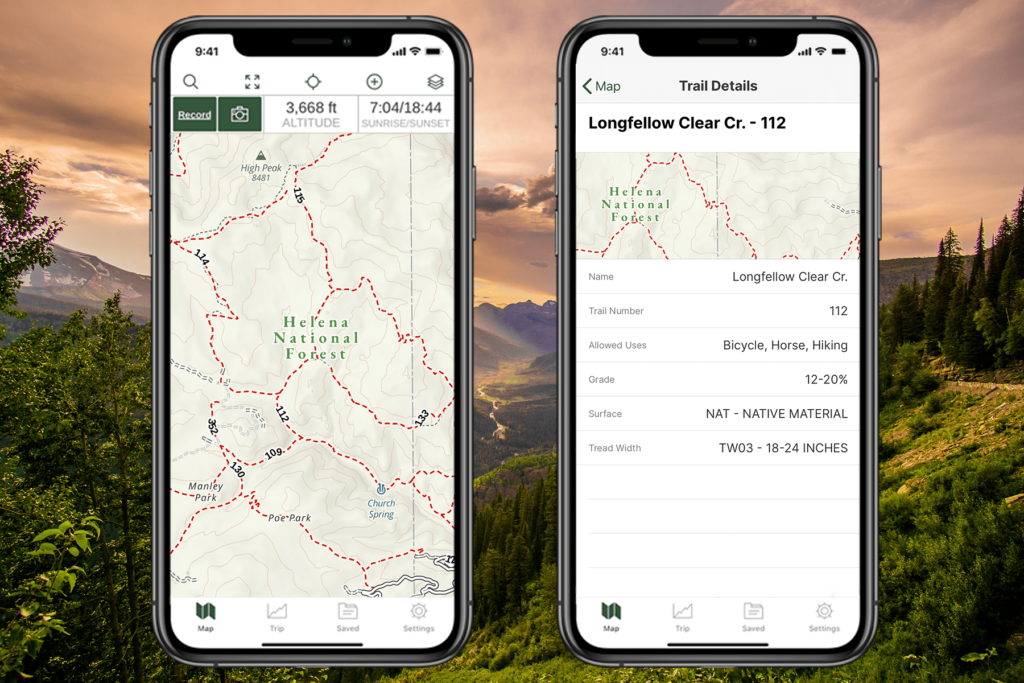 You can camp pretty much anywhere on National Forest and BLM land; the NPS Visitor and NatGeo Illustrated Maps will show you additional campgrounds in national parks and elsewhere.
The Open Source outdoor maps are also great for discovering trails that aren't officially-designated trails.
How about a spreadsheet?
If you're a spreadsheet person, you can download all of the waypoints in a folder – titles, locations, icons, and notes – as a GPX file. You can then run this GPX file through a free online converter so it spits out an XLS file. Now you have all of your waypoints in an Excel spreadsheet for further organization and note-taking, such as keeping track of when you photographed each one.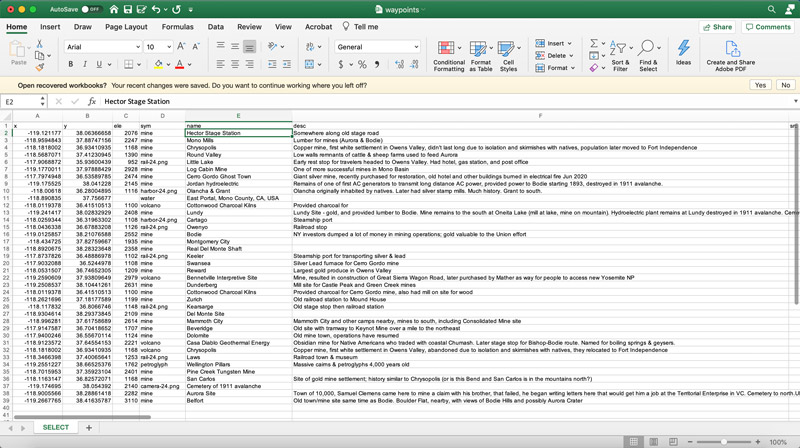 Navigate in the field
Preparation
When I want to go for a drive and photograph some of these locations, I'll identify a small geographic area based on lighting, time of year, and so on.
Within that geographic area, I'll identify potential places to camp out based on my campground icons. I'll want to make sure I have access to the locations I want to photograph from that campground (looking at roads and trails) and that I have the appropriate photo gear with me.
But I won't have cellular service in many of these locations to use the app. So I'll download the maps & layers for offline use in the Gaia GPS smartphone app. You can select up to five active layers to download for offline reference. Then tap the Add icon, go to Download Maps, and draw a box around the area you want to download. I usually download the following layers:
USFS Roads and Trails (for road conditions)
Gaia Topo (for park boundaries, trails, campgrounds, etc)
World Imagery (for visual reconnaissance)
USGS Topo (for geologic features)
Outdoors (for additional trails and campgrounds)
Again, this is all just based on the needs for this specific project; you can change this up depending on where you're going and what you're photographing. Beware the imagery does take up a lot of storage so I only download it if needed. If nothing else, just download the easy to read and tiny to download Gaia Topo.
Photography
When I'm out with my camera in hand, I'll use Gaia GPS to record my GPS track. When I return home, I can download this track and use it to geotag my photos in either Photo Mechanic or Lightroom. That way I know where I was when I took each photo, another important piece of this project.
I'll also update the Notes for each waypoint as needed, based on what I see when I get there. Maybe a different time of year or time of day will be better for photography, or I can't access that location. I'll tap on the waypoint and just add a few notes, which will then be synced to my account when I get back into cellular range.
Planning a photography project for flexibility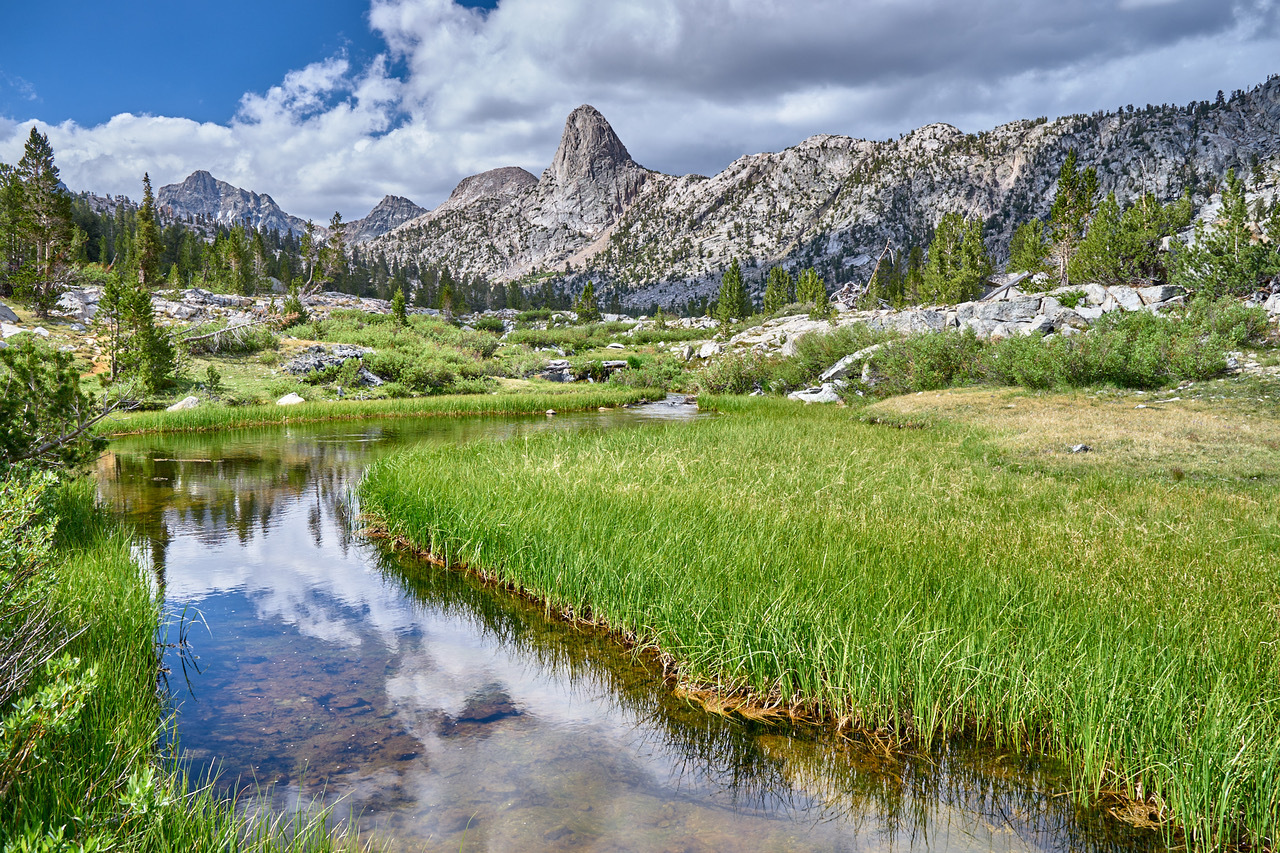 I always tell students that we're planning to be flexible.
Nothing ever goes as planned, but it's important to know where to start. And this is how I use Gaia GPS to plan my start. It's one of many great photography apps to help you plan.
Unplanned photos are often the best. But sometimes we just don't have the time or resources to blindly travel around waiting for those images to appear to us, especially if we have a focused photography project in the works. Planning is the first step to success.
This post originally appeared on John's website. It's been lightly edited for clarity.