A city ringed by emerald waters, glaciated volcanoes, and jagged peaks, Seattle has no shortage of great hikes within a short drive of downtown. But with so many options, the biggest challenge is deciding where to start. Save yourself some time and reference this guide for the best trails and views within a 3-hour drive of the city.
Whether you're looking for a weekday trek close to home or a chance to push your limits in the mountains, you'll find what you need in this list of top Seattle-area day hikes. Check out the links for full descriptions, plus detailed maps, and driving directions.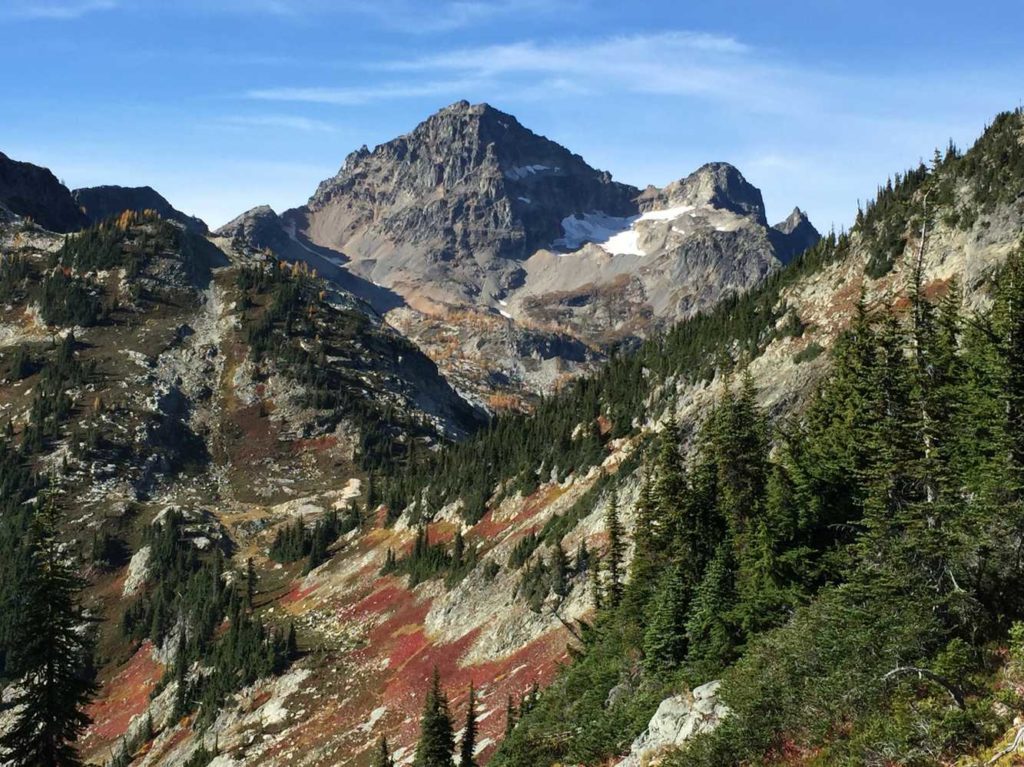 The Gaia GPS community ranks this hike #1 within the Okanogan-Wenatchee National Forest, and the views of alpine lakes, meadow, and craggy ridges covered in wildflowers make it easy to see why. If you can't carve out a weekend to experience this trail in the summer, don't feel like you're settling: Come fall, larch trees beckon hikers with dazzling gold foliage.
Length: 7.2 mile loop
Elevation gain: 2,051 feet
Distance from downtown Seattle: Approximately 3 hours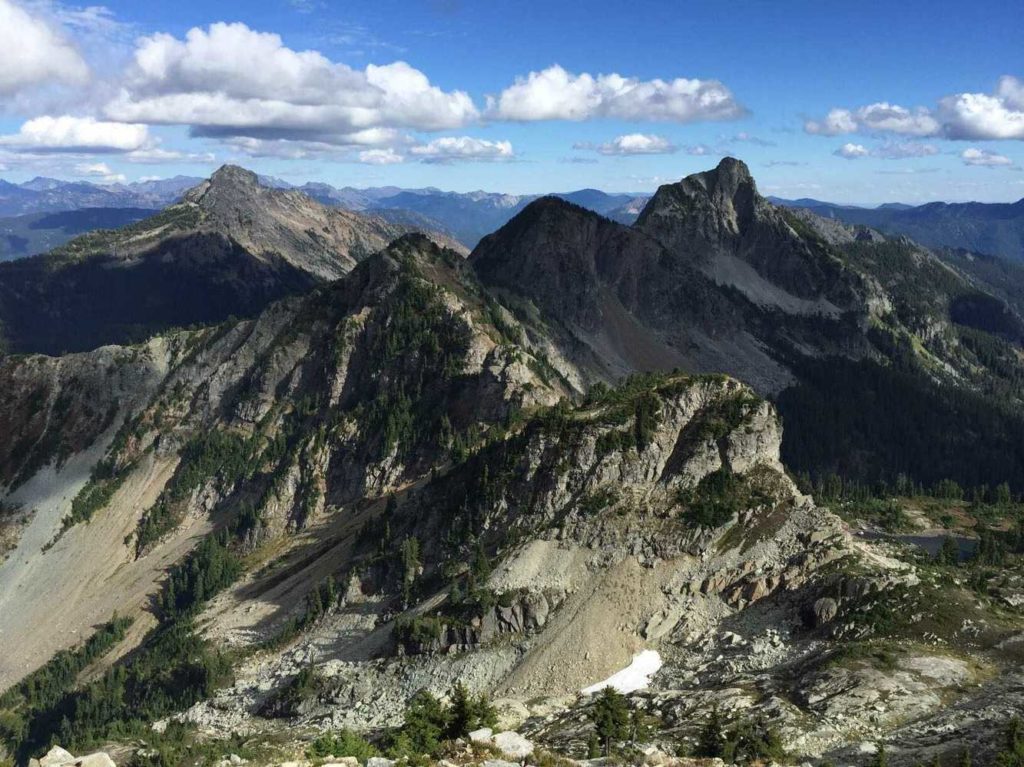 While many hikes feel incomplete if you turn around halfway, this trail's non-stop views and a seemingly endless string of alpine lakes means you can call it a day just about anywhere. Plan a casual day out by setting your finish line at the easier-to-access Lake Lillian, Rampart Lakes, or Rachel Lake, or push your limits and complete the whole trek up to 6,151-foot Alta Mountain.
Length: 8.8 miles out-and-back
Elevation gain: 2,438 feet
Distance from downtown Seattle: Approximately 1.5 hours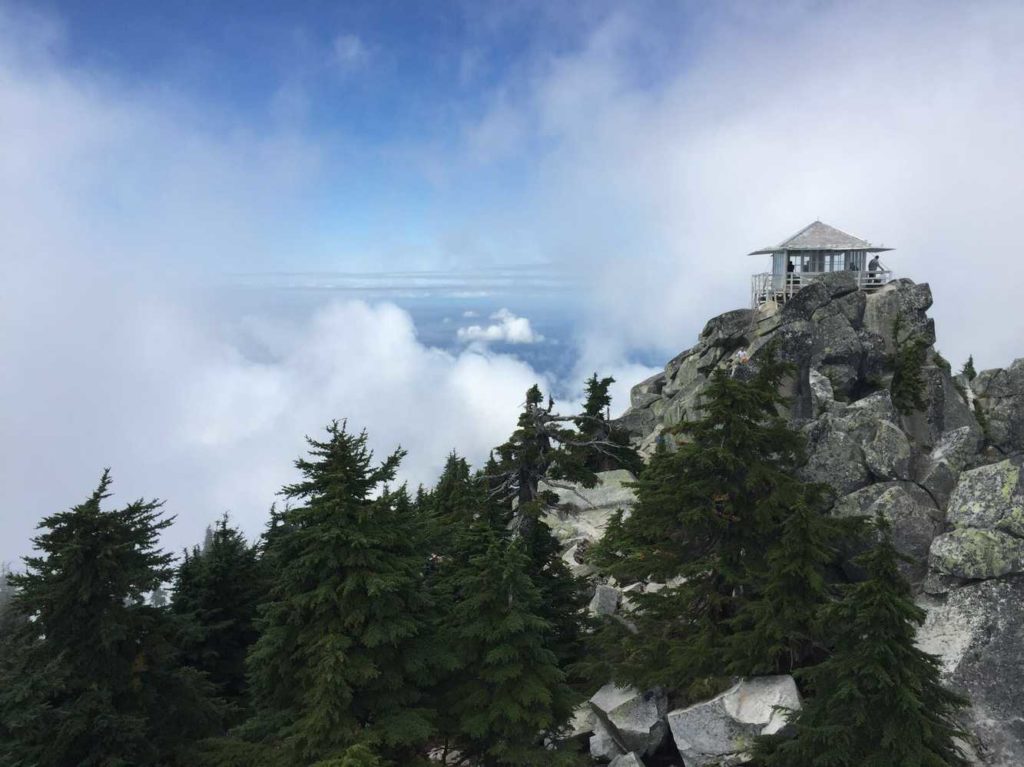 Ask a Seattleite what their first mountain summit was, and chances are it was Mount Pilchuck. The iconic hike's trailhead starts right around 3,250 feet above sea level, which means the relatively short (albeit steep) climb deposits hikers high above the surrounding landscape for big visual payoffs. Soak up the 360-degree views of Mount Rainier, the Olympics, and Mount Baker from the summit shelter lookout.
Length: 5 miles out-and-back
Elevation gain: 2,020 feet
Distance from downtown Seattle: Approximately 1.5 hours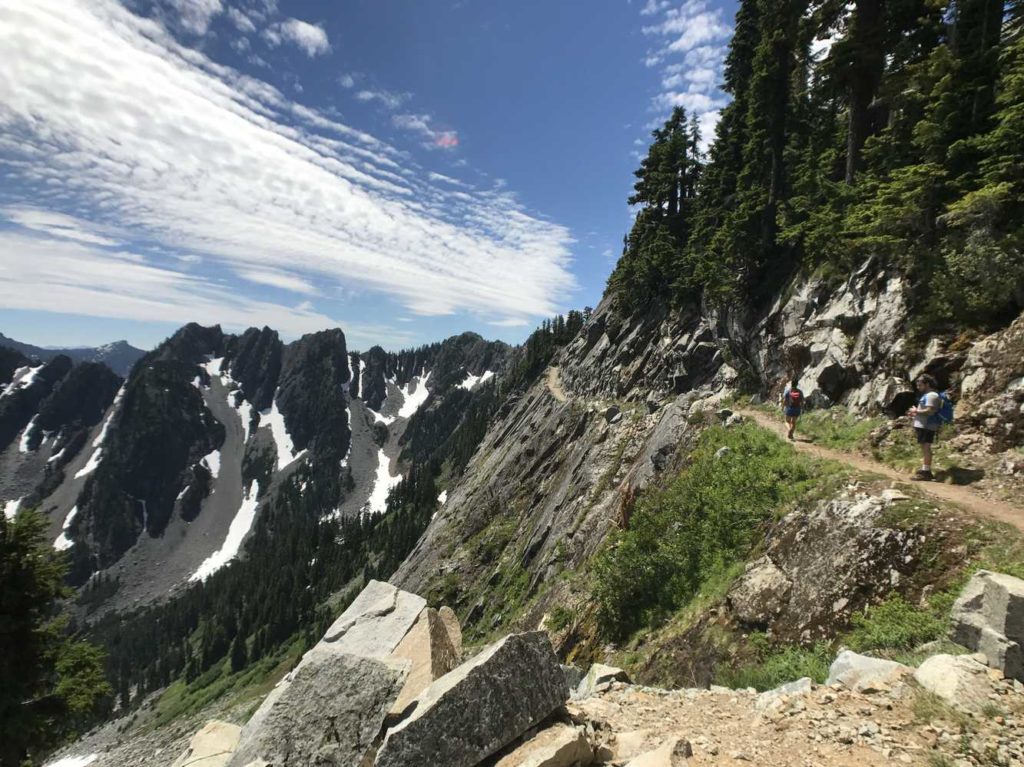 Experience the wonders of the PCT without the months of body odor and blisters. Often regarded by thru-hikers as the most scenic spot along the whole Washington PCT, Kendall Katwalk shows off the best of the Pacific Northwest. And it won't just be the altitude pumping up your heart rate: Hikers are rewarded with views of the surrounding mountains above Snoqualmie Pass via a narrow path blasted out of the cliff face. This is a local favorite in the summer, and frequented by backcountry snowshoers and skiers in the winter.
Length: 12 miles out-and-back
Elevation gain: 2,550 feet
Distance from downtown Seattle: Approximately 1 hour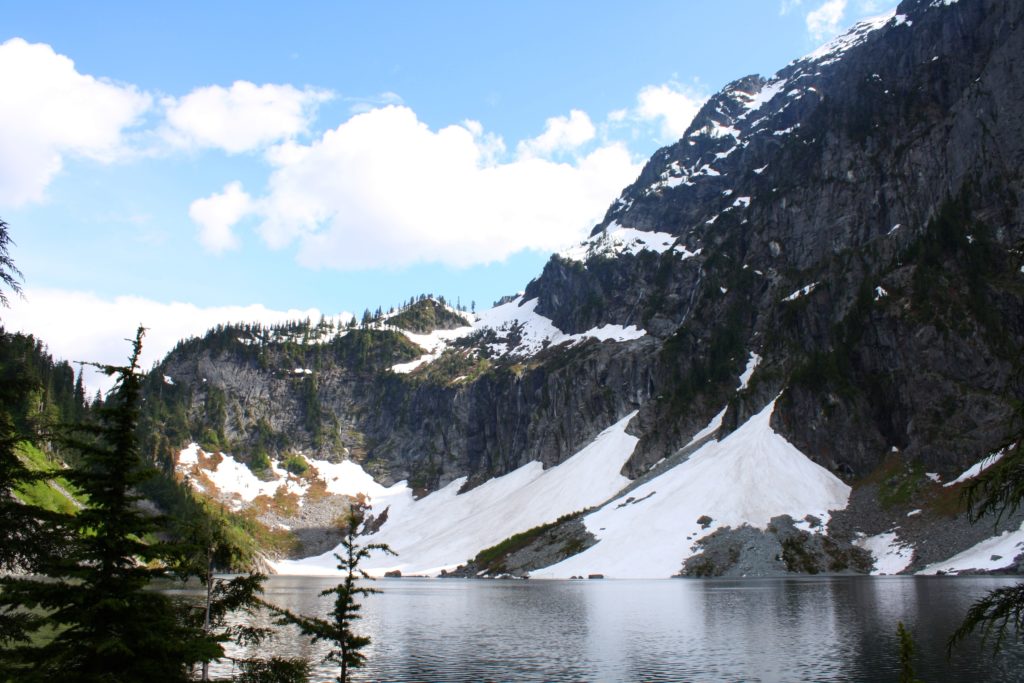 Nestled in by jagged peaks, Lake Serene is the perfect spot for a swim and an idyllic picnic atop Lunch Rock. With lush forest, alpine surrounds, and snow-capped mountains, it lives up to its name and calls hikers back year after year. On the way up, the short one-mile round-trip excursion to see Bridal Veil Falls is well worth the bit of extra effort and makes a fine turnaround point for hikers with young children. It's also not very far from Seattle, making it an ideal retreat for those looking for pristine nature without a long drive.
Length: 8.3 miles out-and-back
Elevation gain: 2,067 feet
Distance from downtown Seattle: Approximately 1 hour 15 minutes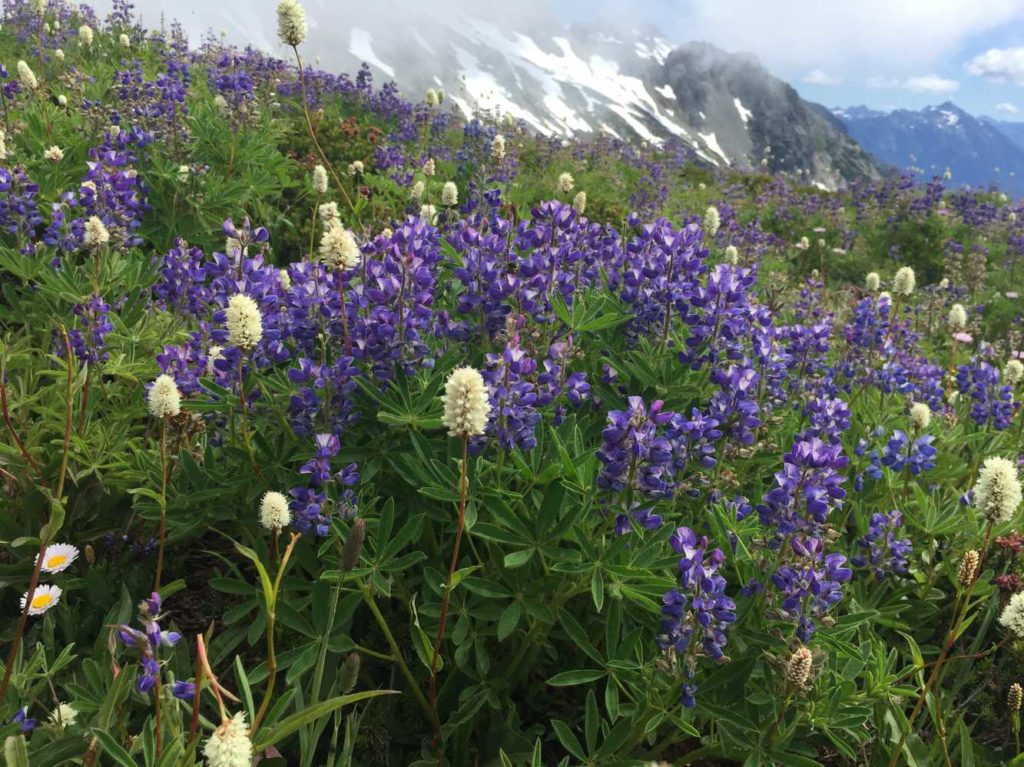 If the idea of climbing a non-technical peak in the mountaineering haven of the North Cascades National Park piques your interest, don't miss this summit trek up Sahale Mountain. Though the nearly 5,000 feet of elevation gain might seem daunting, smart trail construction and 30-something generous switchbacks make this hike surprisingly manageable. Plus, it's hard to focus on the quad burn with near-constant North Cascades views putting you face-to-face with peaks to add to your tick list.
Summiting Sahale Mountain is a great first step for aspiring mountaineers as it includes a short snow crossing and an exposed 4th class scramble to the summit block. For those less inclined to try the steep final pitch, there are equally beautiful views to be had from just below the summit. Go in summer when the snow has receded and purple lupines blanket the slopes.
Length: 13.4 miles out-and-back
Elevation gain: 4,941 feet
Distance from downtown Seattle: Approximately 3 hours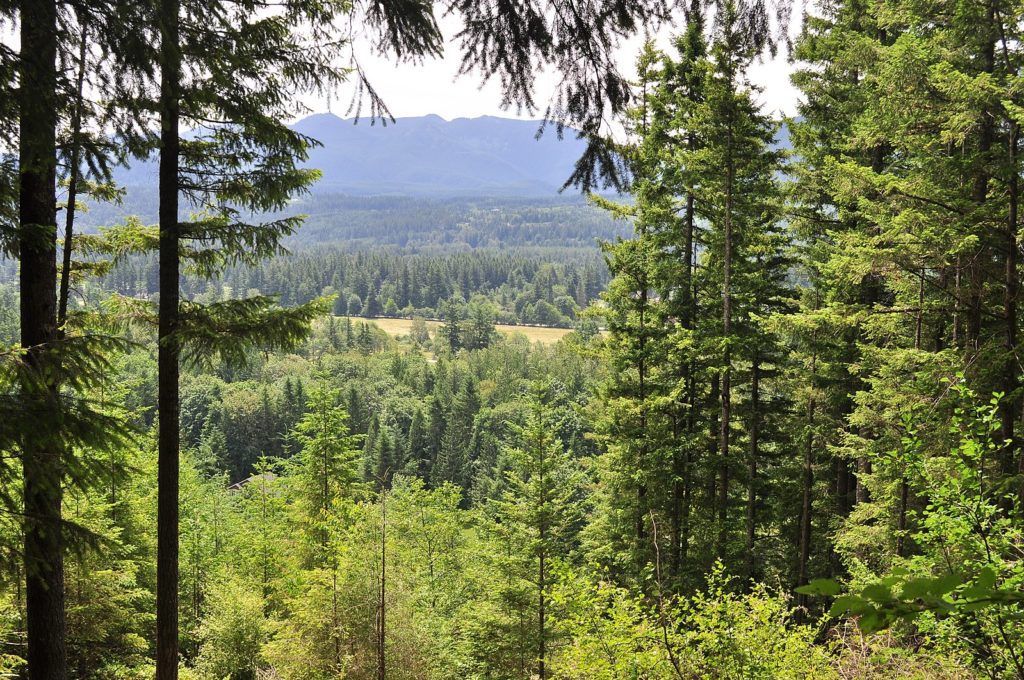 The Mount Si Natural Resources Conservation Area is home to a couple of classic Seattle-area hikes. Though well-loved and busy, the Little Si trail is a great choice year-round, with less snowfall than surrounding alpine areas during the winter months. It also makes for great training grounds for those looking to get some miles in not too far from the city and is perfect for new hikers, families, runners, and those with dogs. Whereas the nearby Mount Si trail has a series of switchbacks over steeper elevation, Little Si meanders more easily through lush woods over undulating terrain. The straightforward but scenic trail through Pacific Northwest forest culminates with stellar views of the valley below.
Length: 7.6 miles and 3.6 miles out-and-back
Elevation gain: 3,252 feet and 901 feet
Distance from downtown Seattle: Approximately 45 minutes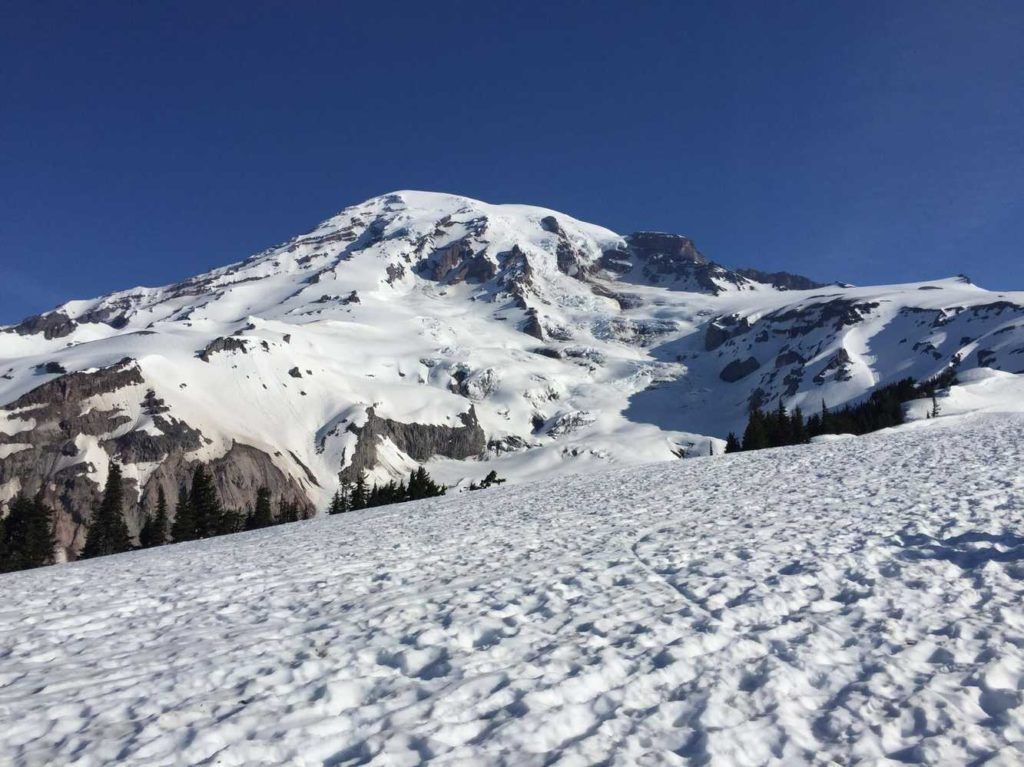 Get high in Washington's alpine country at Mount Rainier's 10,000-foot base camp. Reaching Camp Muir is considered a right of passage for some Seattleites, and a worthy summer hike for those looking for a challenge. It's also the highest you can climb on Mount Rainier without a climbing permit. And if you decide you can't make it the whole way, even the first section will give you a mountain experience you won't soon forget. Get awesome views of the volcano and glaciers while ascending to the Muir Snowfields and historic huts dating back to the early 1900s. Mountain weather can change quickly, so make sure you're prepared for high winds and precipitation no matter how the sky looks at the trailhead.
Length: 8 miles out-and-back
Elevation gain: 4,639 feet
Distance from downtown Seattle: Approximately 2 hours and 30 minutes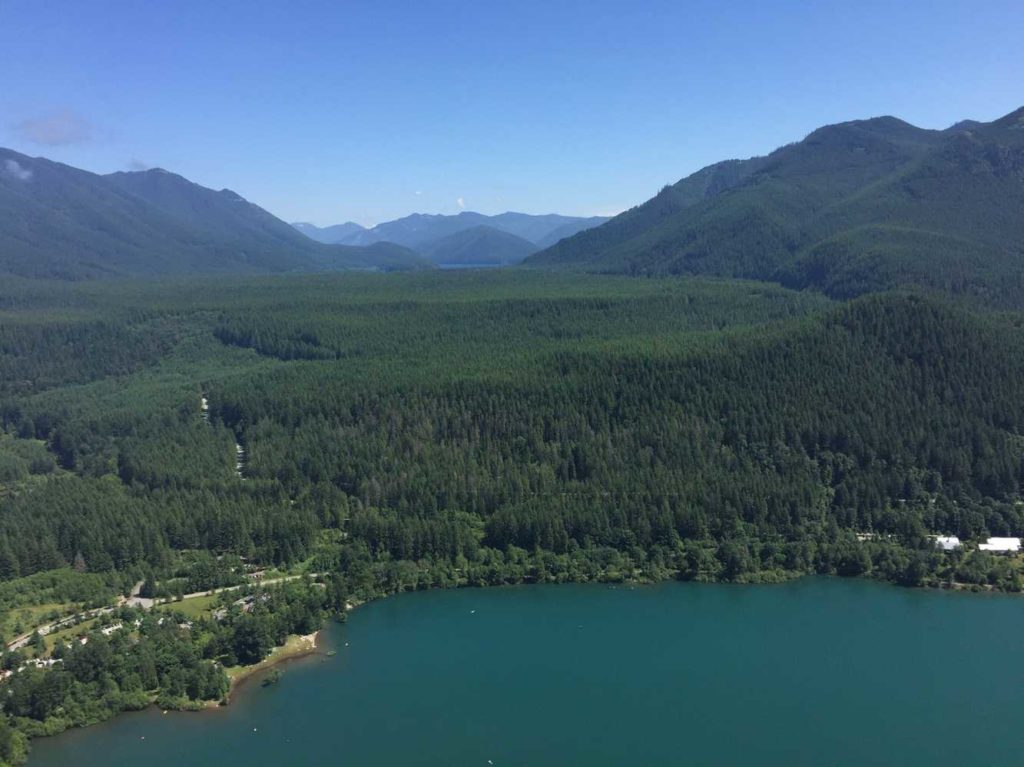 Like on nearby Mt. Si, this hike's easy access and moderate elevation gain belie the vastness of its views. It makes a great hike for beginners, families, or those looking to stretch their legs without the commitment of nearby alpine trails. Though it does get a lot of traffic, it's a great choice for a mid-week outing or an easier jaunt with your pup. That said, the trail does continue on through the Rattlesnake Mountain Scenic Area for those looking for a bigger workout and further viewpoints from above, and is worth extra time and exploration.
Length: 4.3 miles out-and-back
Elevation gain: 1,117 feet
Distance from downtown Seattle: Approximately 40 minutes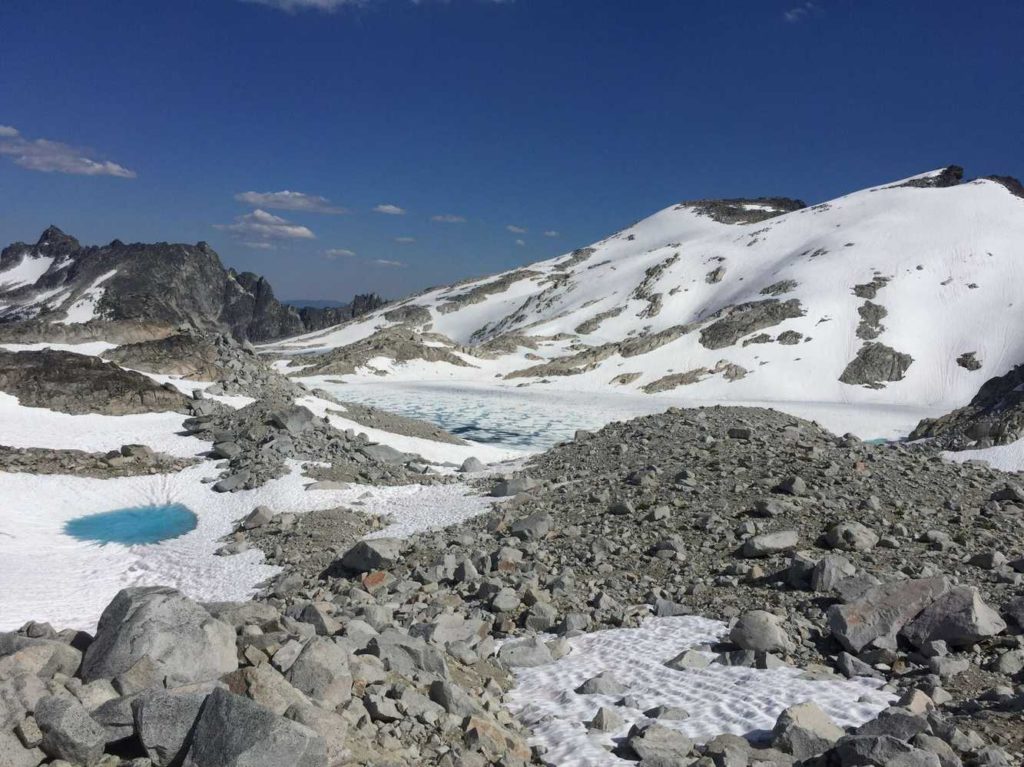 Due to its unique geography and delicate ecosystem, the alpine Enchantments zone is highly protected, making backpacking permits difficult to come by via the annual lottery system. But those with a strong will and sturdy legs can complete the whole 18-mile thru-hike in a single day without a permit. If you're not ready for the whole shebang, build up your strength and get a taste of the untamed peaks with one of the shorter out-and-back trails to Snow Lakes, Colchuck Lake, or Eightmile Lake on the periphery of the Enchantments.
Length: 17.8 mile thru-hike (with much shorter out-and-back variations possible)
Elevation gain: 6,484 feet via Snow Lakes
Distance from downtown Seattle: Approximately 2.5 hours
Want more? Search for hikes near Seattle using the Discover tab in the Gaia GPS app, or go to the web and use the Seattle hikes page as a launching point to find your next adventure.
Note: These hikes were checked for accuracy, but the routes themselves were ultimately sourced from the Gaia GPS community. The exact mileage and elevation gain tracked may vary from device to device.