Tim and Kelsey Huber of Dirt Sunrise Adventures quit their jobs and sold almost everything they own to pursue overland travel. Their first major adventure took them to South America on the Pan-American Trail. After two years plus on the road, Dirt Sunrise is back in the states and ready to talk about their adventures abroad.
Tune in to Episode 2 of the Gaia GPS Offroad podcast sponsored by Trails Offroad for a fun chat with Tim and Kelsey about driving across borders and vehicle-based travel. The Hubers divulge their secrets on how to confidently explore unfamiliar and remote terrain in foreign countries. Learn what's in their vehicle recovery kit and what methods they rely on to keep people on track when you have too many cooks in the kitchen on a rescue mission. Plus, these offroad driving and recovery instructors share the story of their trusty rig "Goose" and the dream vehicle that they are building and traveling in now.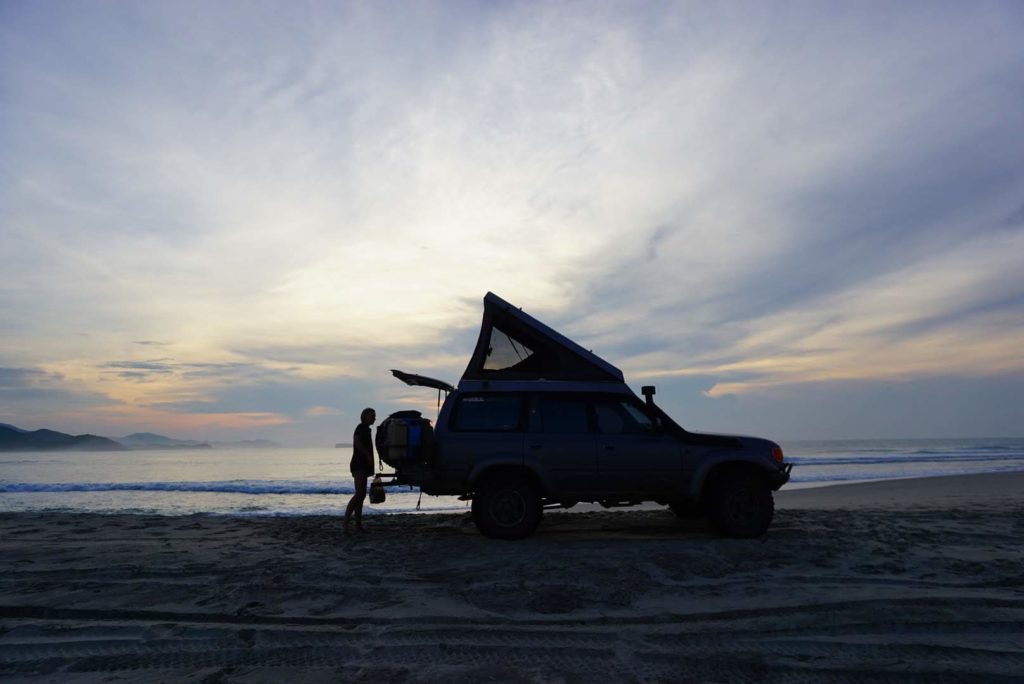 Learn more about Dirt Sunrise on their website, follow them on Instagram, and subscribe to the Dirt Sunrise Youtube channel to virtually join them on all their offroad adventures.
Last Episode: Jeep on Fire with Casey Kaiser of Coyote Works
If you missed it, you'll want to go back and listen to our debut episode with Casey Kaiser of Coyote works. Casey recounts the terrifying night when all of the sudden his Jeep Wrangler burned to the ground.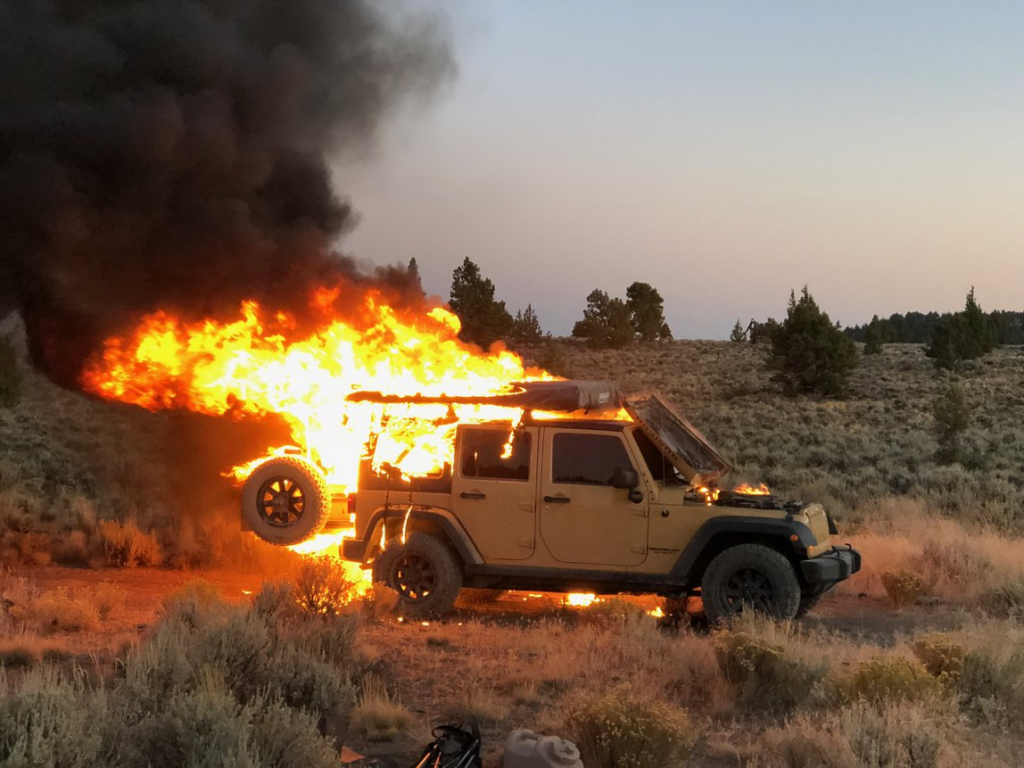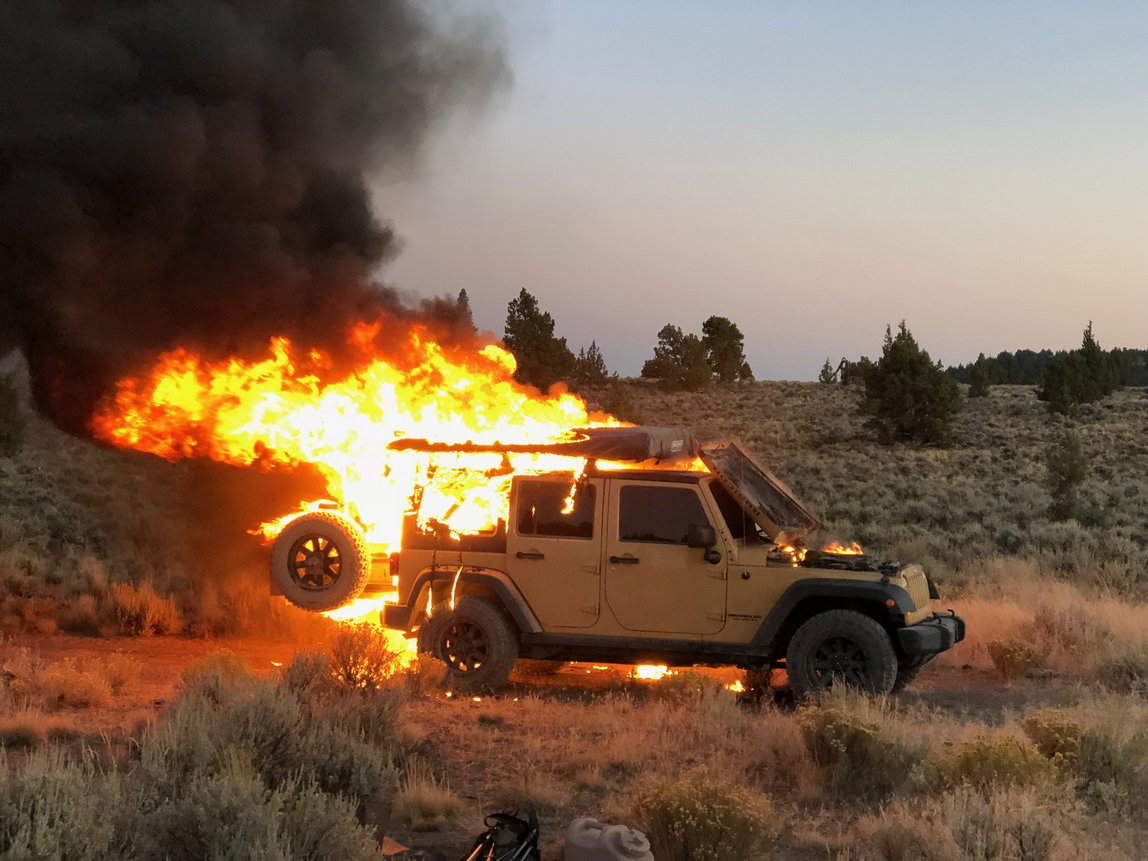 "I just noticed out of the corner of my eye. It looked like a little steam coming out from underneath my hood," Casey said on the Gaia GPS Offroad podcast. "As soon as I lifted the hood, flames erupted."

Tune in to Episode 1 of the Gaia GPS Offroad podcast to hear firsthand how Casey's quick thinking and rational behavior helped him survive this disaster. Casey also reveals the lessons he learned from the catastrophe, including the expensive reality of auto insurance coverage. Find out how Casey was able to use Gaia GPS to safely get him home that night and what prompted him to turn right around and buy — you guessed it — another fully upgraded JKU Jeep Wrangler.

Connect with Casey on his Coyote Works YouTube channel. Follow his mostly solo overland adventures on Instagram. And don't forget to pick up your sweet discount on a Trails Offroad membership and then pair that with this amazing offer for a discounted Gaia GPS Premium Membership.
Next Episode: Rimrocker Trail with John Lumia from Trails Offroad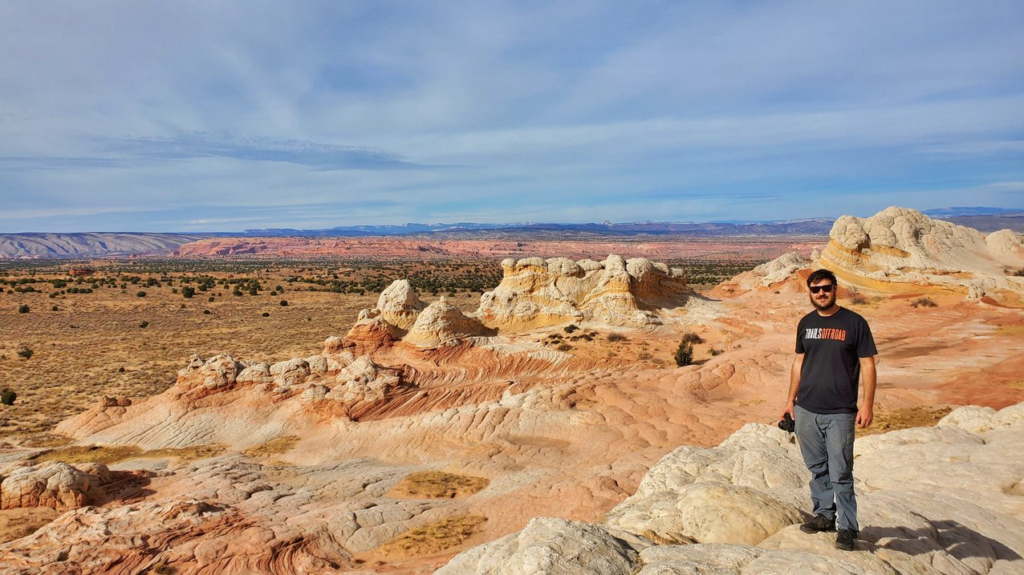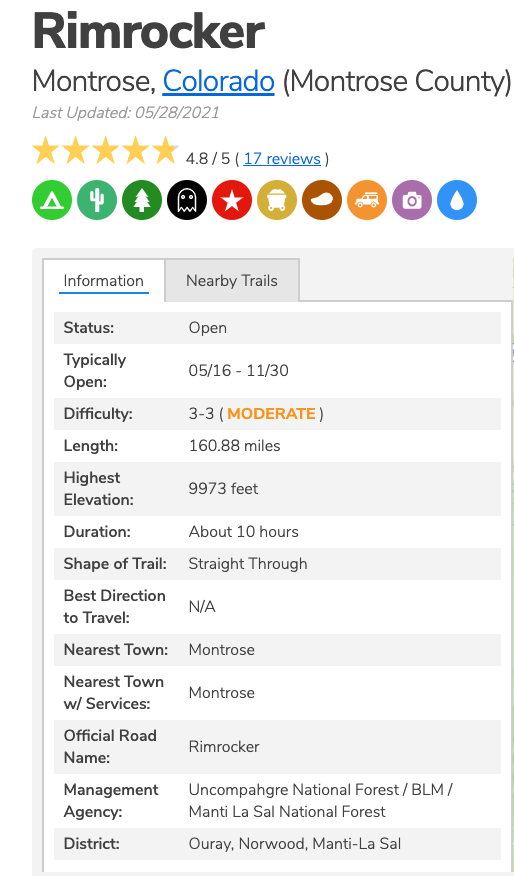 Don't miss our next episode with John Lumia of Trails Offroad. John recently mapped the classic Rimrocker Trail — a 160-mile patchwork of 4×4 roads that connects Montrose, Colorado and Moab, Utah. John explains why this trail is an overlander's dream.

"It has really some of the best scenery that the southwestern Colorado high desert has to offer," John says on the podcast. "And it's also pretty accessible. I think we rated it a three, which means any stock vehicle with a transfer case can complete the entirety of this trip. So if you're trying to get into overlanding, which I classify as basically multi-day car camping, this one is a really good option for that."
Tune in next time to hear John describe this five-star route, including the best time of the year to visit and what kind of flora and fauna you might see along the way. John also explains how he got his fiancee — a loyal Toyota 4Runner owner — to drive his Jeep Wrangler on the Rimrocker trail. And find out his favorite place to stop and eat in Moab.

Download the gps track and trail report for the Rimrocker trail at Trails Offroad. Trails Offroad is a friendly vehicle-based, adventure travel community. The website offers trail reports and ratings on more than 2,600 offroad trails, which are easily synched to your Gaia GPS account with a press of a button. Right now, Gaia GPS Offroad podcast listeners get a special discount on a Trails Offroad membership. Just click the button below to access the Trails Offroad discount.
Meet the Gaia GPS Offroad Podcast Host: Wade May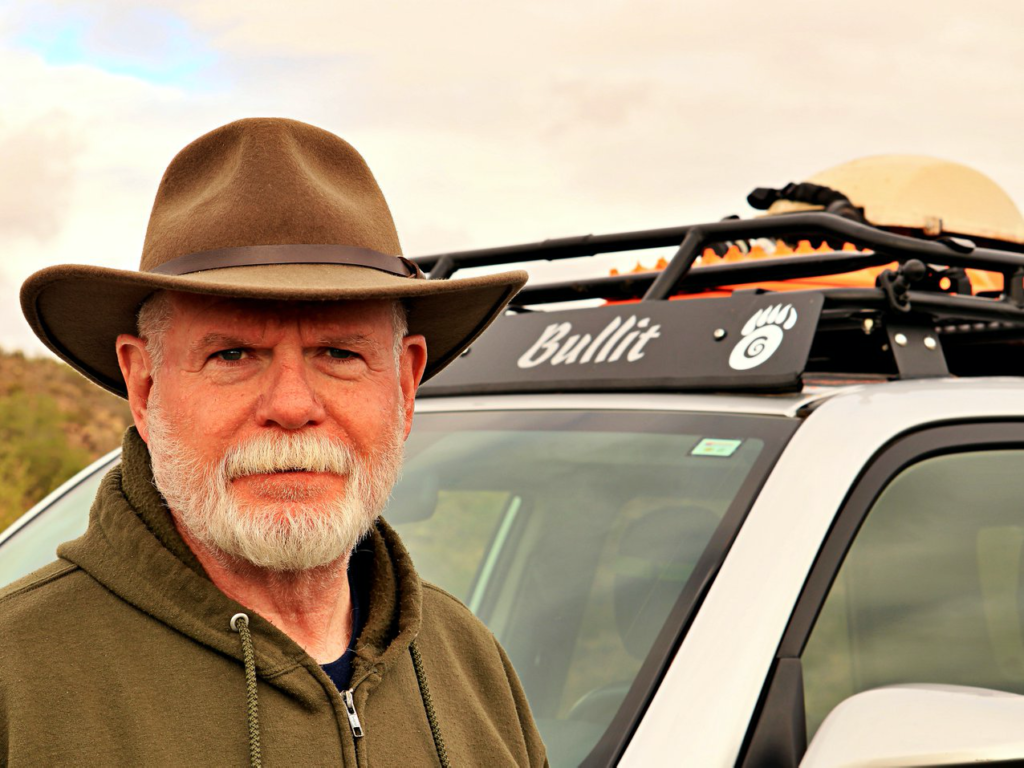 After a 43-year career of flying A-10 and F-16 fighter jets for the United States Air Force and Boeing 737s as a commercial airline captain, Gaia GPS Offroad podcast host Wade May has put his feet firmly on the ground. With over 20 years of offroading and overlanding experience, Wade constantly seeks out the serenity of remote backcountry adventures with his trusty 4-Runner, "Bullit." Between extended solo overland adventures, Wade shares the lessons learned from his broad experience in the sky and on the trail in overland workshops, classrooms, writings, and, of course, while hosting the Gaia GPS Offroad podcast.