Riding a sled allows you to cover a lot of terrain in a short amount of time. But this liberating, rewarding, and high-speed access comes with a price — it's easy to get lost, or worse. Plus, there may be hidden trails and zones out your front door that you've never discovered. That's where navigation tools come into play.

"I have different strategies for navigating depending on the ride, area, and the crew I'm with," says Aleah Hockin, lead guide and coach at Savage Sisters Snow, a snowmobile guide company in Craig and Slater, CO. "It's very important to trust the crew you have when riding in the backcountry. As a rider it's important you know the strengths and limitations of who you're with as well as your own."

Your phone does not replace riding with a knowledgeable crew, taking an avalanche course if you live in avalanche-prone terrain, and just plain experience. But your phone can provide an invaluable supplementary tool, says Russel Mussio, president of Canada's Backroad Mapbooks. Find new trails, plan routes, and stay found using Gaia GPS in conjunction with some tried and trusted navigation staples. Here's how.
Plan Your Trip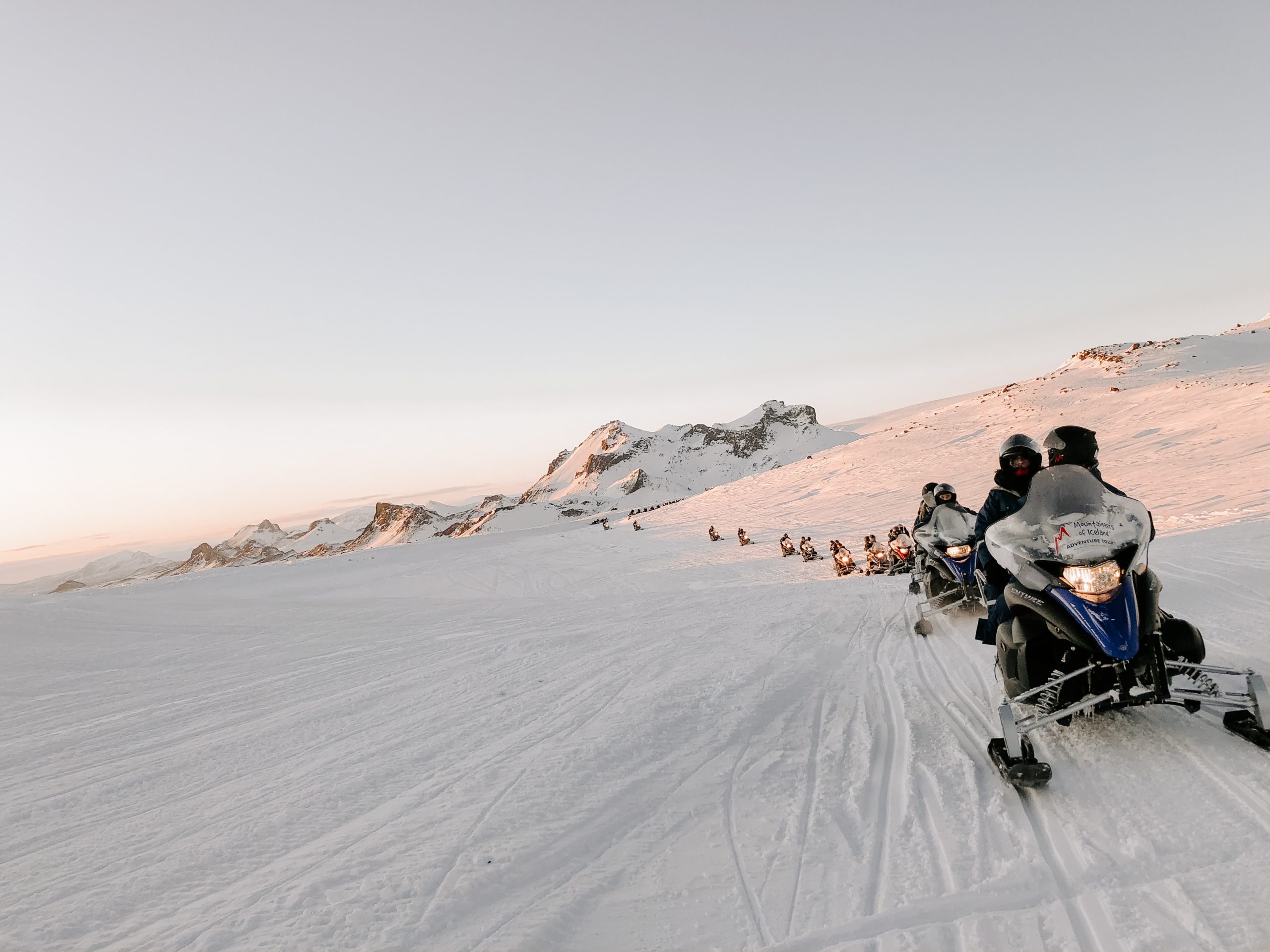 A little advanced planning from the comfort of your couch can greatly enhance your trip. You just need your computer or your phone. If you're on your computer, go to gaiagps.com/map. If you're using your phone, open the Gaia GPS app.
Scout out the area
Hockin recommends looking at potential sled zones using satellite maps to examine tree cover. Check out the full catalog of snowmobile maps below to get a sense of which maps can help you plan your next trip. Turn on public tracks to see where other sledders have travelled.
Map a Route
You can use Gaia GPS to map out a route right on the web or in the app. Save the route to your phone, and follow it along as you go. Many local snowmobile club websites have GPX files of routes that are free to download and use. You can import these established routes directly into the Gaia GPS app.

Mussio cautions that sometimes it doesn't make sense to map out a precise route beforehand. But that doesn't mean you shouldn't examine a map before you head out the door.

"For route planning, I personally plan the trailhead and destination — and ideally an alternate or two," Mussio says. "Typically when riding, things change depending on conditions and or what is in the field. What looks good on the map might not be the case on the ground so it is nice to be prepared for flexibility or options."
Download your maps
Download the maps for the zone you plan to visit before you leave home. That way you can access them in the backcountry, regardless of whether you leave cell service.
Gaia GPS Maps for Sledding
Gaia GPS offers multiple maps to help you find new zones, keep tabs on weather conditions, and make your way home safely.
Navigation Maps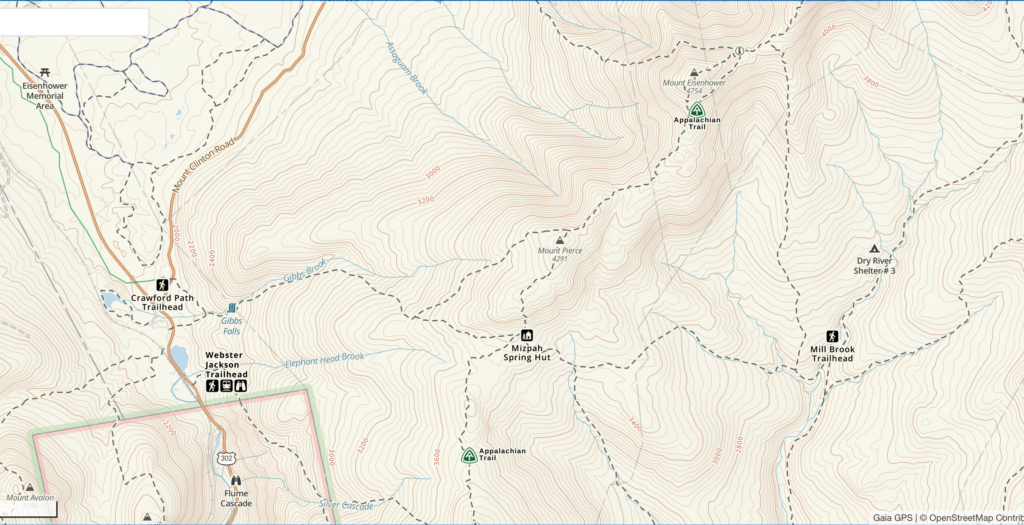 Topo maps are the most useful map layers for sledders, according to Hockin. Easy to read and tiny to download, Gaia Topo may be the most valuable map in a sledder's pocket. It's also free to use. This map shows most Forest Service roads and 4WD trails, as well as points of interest, land ownership designation, and many more details that make it easy to discover landmarks to see and places to stop along your adventure.

Quickly get a sense of elevation profiles thanks to blended contour line styling. Zoom in to get exactly the level of detail your planning requires. And download large swaths of land — even your entire state — thanks to its efficient file size.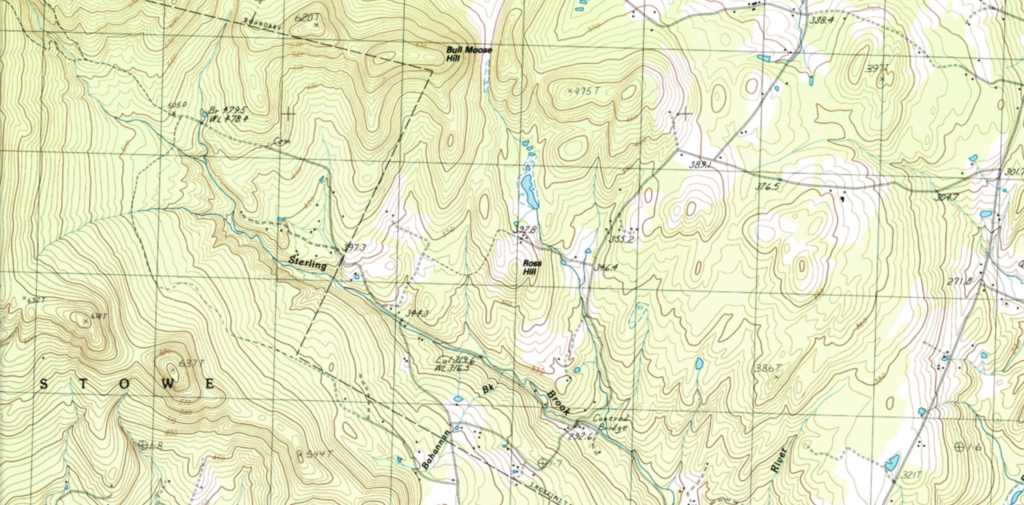 The USGS Topo layer includes the official topo maps from the United States Geological Survey (USGS). As another detailed topographical map layer, it can be used in conjunction with the Gaia Topo layer to compare trails and points of interest.

World Imagery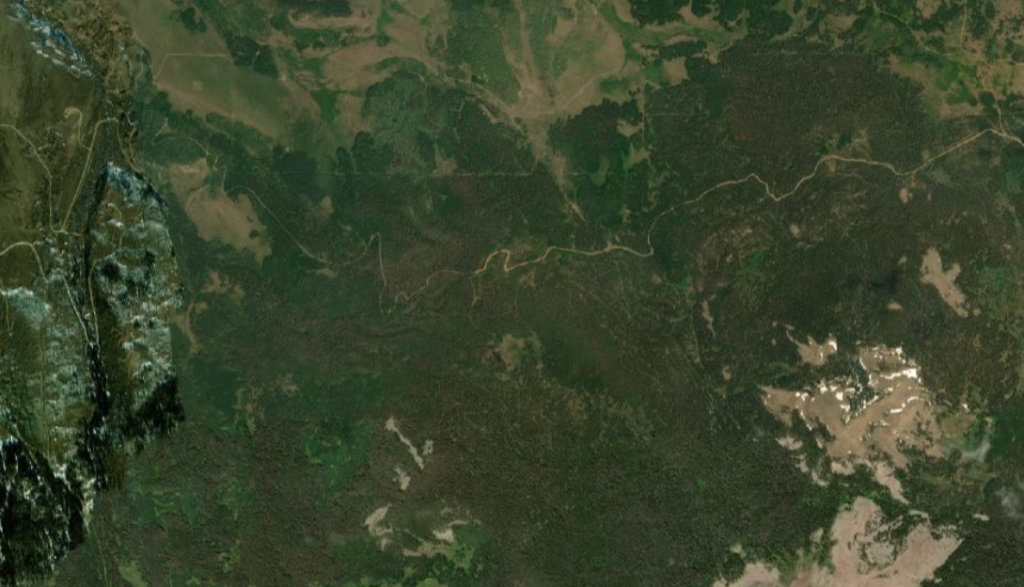 Seeing a photographic overview of an area provides key details that topo maps leave out. This satellite imagery layer helps you identify ridges and drainages, open plains and densely packed glades.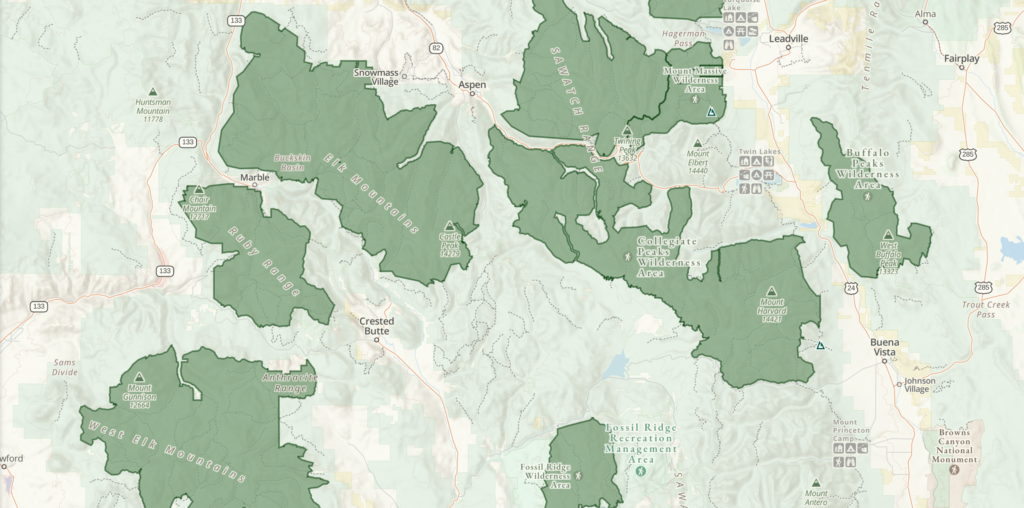 In the US, motorized travel is not permitted within designated wilderness areas. Use the Wilderness Areas (US) overlay to help ensure you stay where sledding is permitted — and avoid a pricey fine.
Trail Maps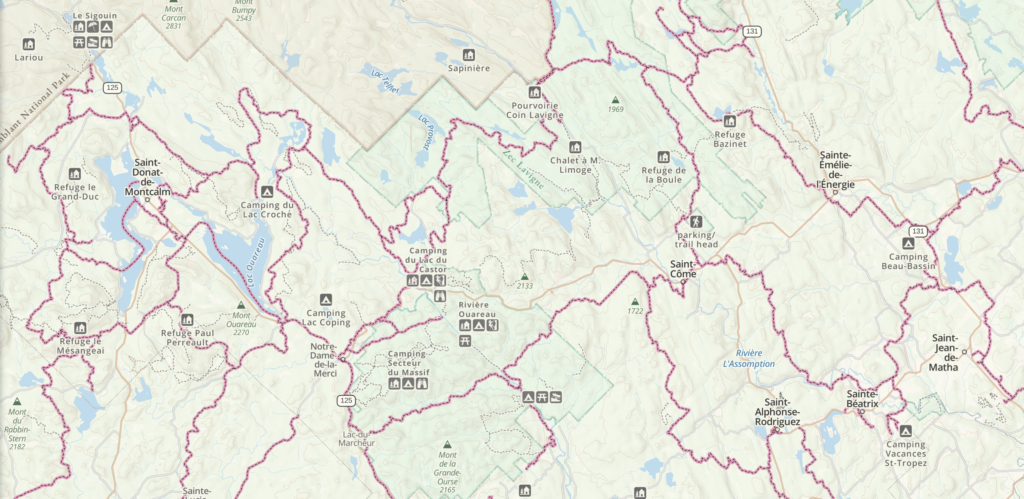 If you're in Canada, you're in luck! We've partnered with the illustrious Backroad Mapbooks to bring you an overlay containing 90,000 miles of snowmobile trails across Canada, from BC to Newfoundland. Trails are color-coded to distinguish from Multi-Use and ATV trails, and easy identify which trail you're examining thanks to bold trail names right on the trail itself. Pair this overlay with your favorite base map.

USFS Roads and Trails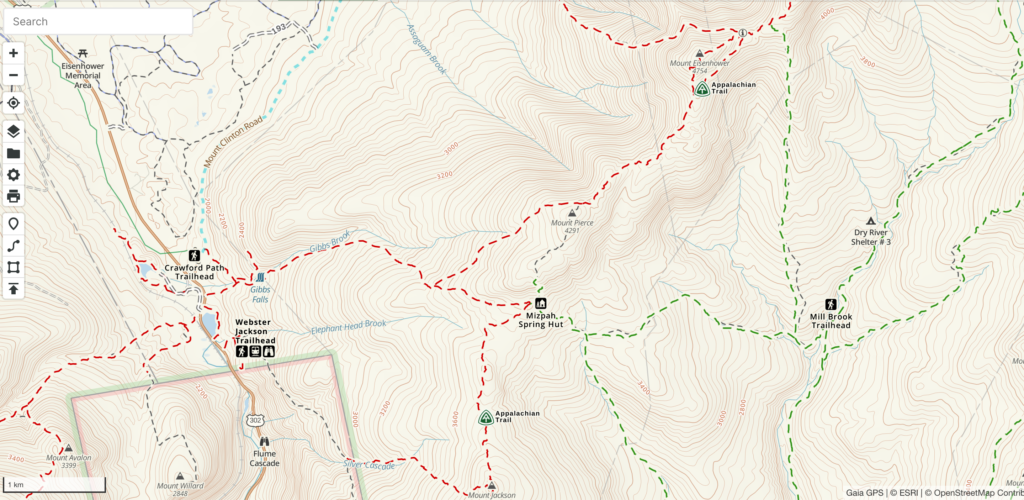 See maintained routes, 4×4 trails, backroads, and obscure paths across U.S. national forests and grasslands using the United States Forest Service (USFS) Roads and Trails layer.
USFS Roads and Trails often displays more roads and trails than any other map. Use this layer to find information on the road surface, maintenance level, and trail width. Plus, color-coded trails indicate which activities — including motorized sports — are allowed on each trail. Just tap or click a trail to learn more details.

USFS 2016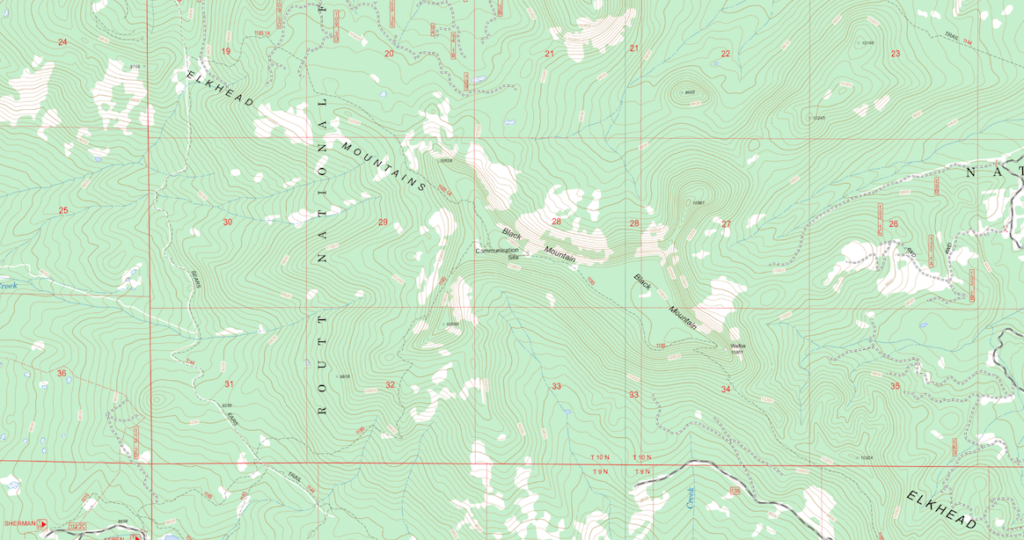 The USFS 2016 layer contains full, detailed topographic coverage of all 172 national forests and grasslands in the US. Easy-to-read Forest Service road numbers make route planning simple. This up-to-date, rasterized map available from the US Forest Service includes labeled trails, roads, and vegetation shading.

MVUM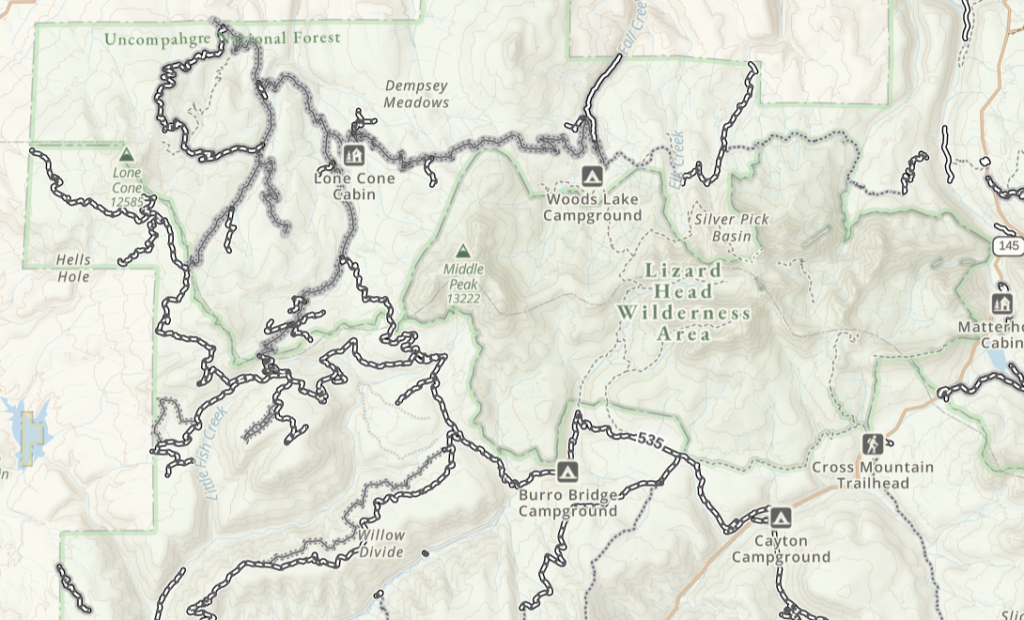 The Motor Vehicle Use Maps (MVUM) layer uses data from the Forest Service to highlight vehicle-accessible roads. Use this map in conjunction with the USFS Roads and Trails layer to see whether sleds are allowed on a road or trail. MVUM gives information on seasonality, usage, and the condition of various roads. Just tap or click on the route to learn more.

The MVUM layer typically contains the most up-to-date information on which Forest Service roads are open to motor vehicles, which helps ensure you don't break any rules or sled where you aren't supposed to. Not all USFS lands have an MVUM, but this map data serves as the legal standard for trail access. Modeled off of paper maps MVUM makes it easy to compare and switch seamlessly between paper and digital.
Safety and Weather Maps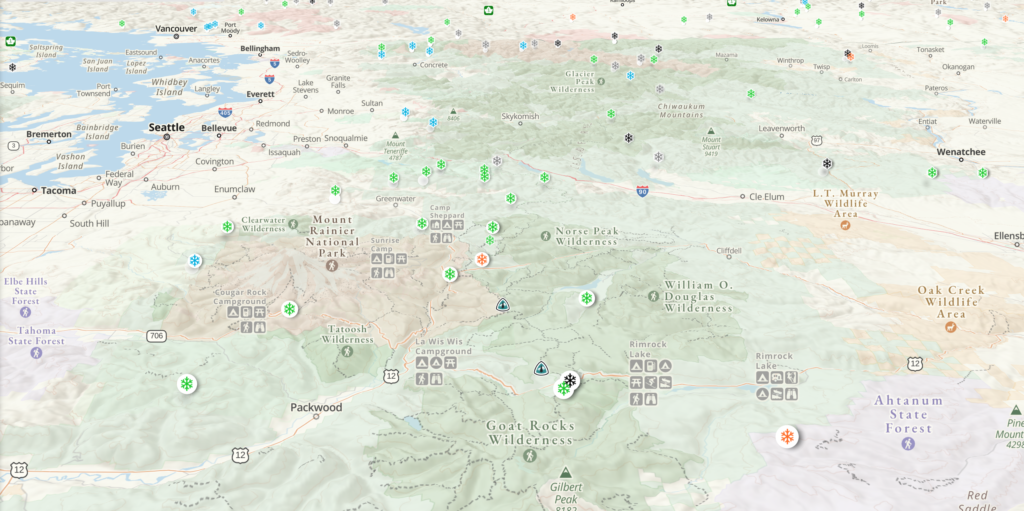 Check the Snow Stations (Daily) map before your trip to get a daily report on the amount of new snow that has fallen in the last 24 hours and what the average water density reading is for the new snow in the area you plan to visit.

Snow Forecast Overlays — Available in 24-Hour, 48-Hour, and 72-Hour Views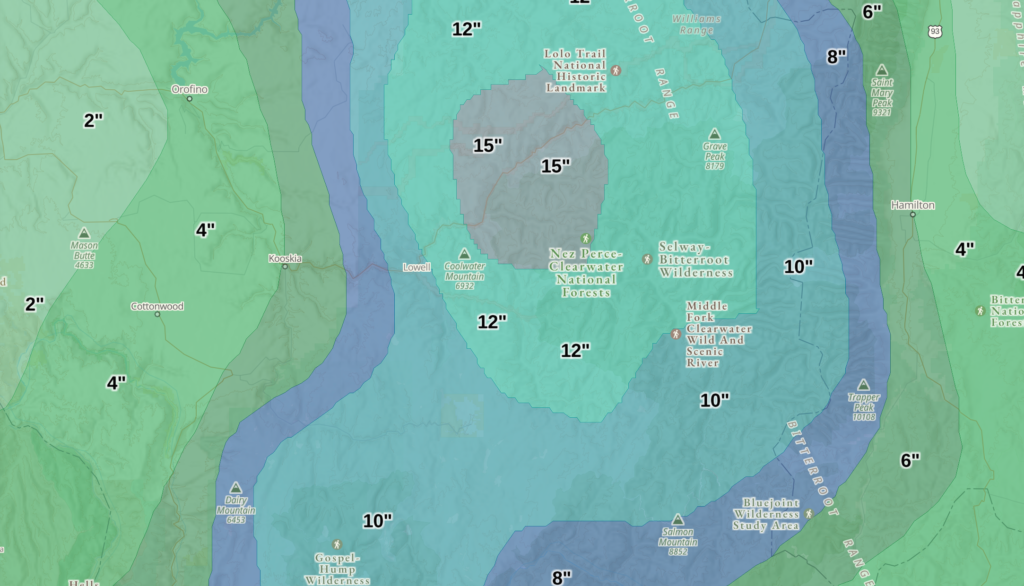 Precipitation forecasts give some indication of general weather patterns. Use the Snow Forecast Overlays to get a sense of snow conditions, and any weather moving in that may impact visibility and safety. Mussio likes to use this layer to get a sense of when he can expect a powder day.

Slope Angle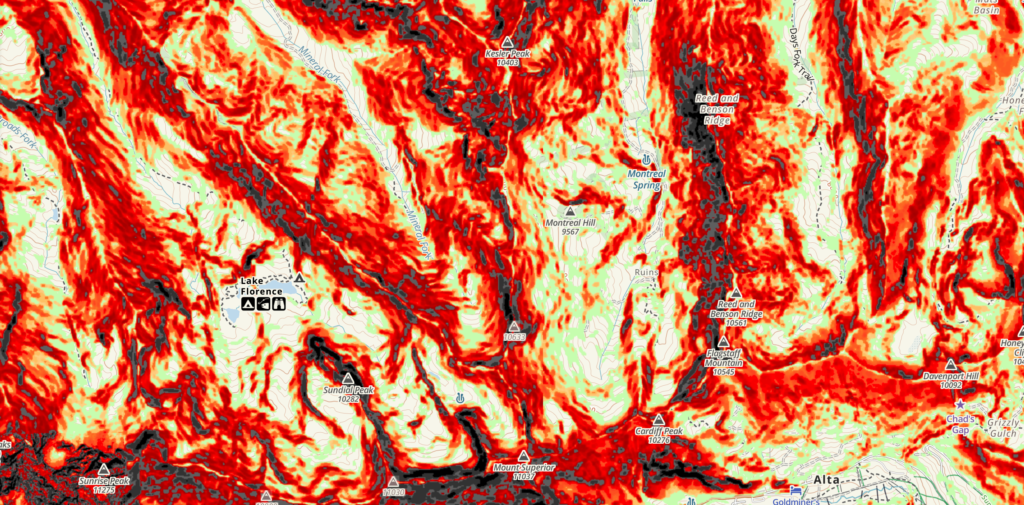 Sticking to low-angle terrain can help you stay safe in the backcountry. Over 90% of avalanches start on slopes between 30° and 45° degrees. A 30° slope compares to a blue run at a ski area, while 45° slopes are found on double black diamond runs. In other words, prime skiing terrain is also prime avalanche terrain. One key detail is that most avalanches start on slopes between 30° and 45° degrees. Avalanches can be triggered remotely and run into lower angle terrain, so it is important to have a thorough understanding of runout zones.

The Slope Angle layer can help you identify avalanche terrain. Slopes are color-coded with their approximate steepness, with orange and red denoting terrain between 30 and 45 degrees. Keep in mind that this map layer is only a "depiction of reality." The map will differ from the actual terrain. Avalanche start zones like convexities or small pockets of steepness can escape detection. The error can be as high as 4 degrees. The difference between 26 and 30 degrees, or 30 and 34 degrees, can be a significant increase in risk exposure – check out this distribution chart of avalanches by start zone slope angle.
Slope angle maps have limitations and provide a general sense of terrain steepness and often do not depict micro-terrain features on the map. Always use an inclinometer tool to measure slope angles in the field to get an accurate picture of the terrain.

Avalanche Forecast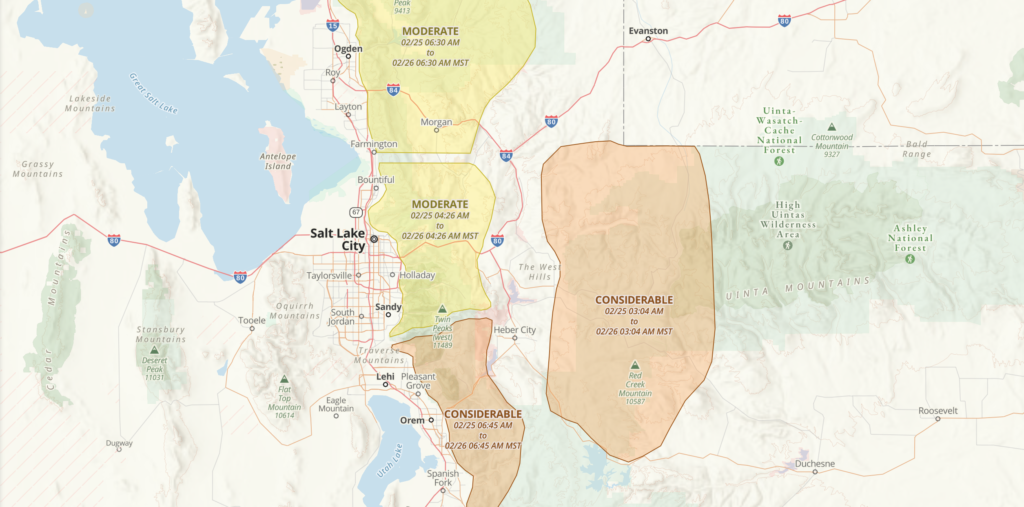 From Colorado to Utah, Montana to Alaska, avalanche centers provide detailed local forecasts that outline aspects of concern and relevant avalanche problems. When you are online or within cell range, you can use the Avalanche Forecast layer to access the detailed local forecast. Pull up the map to see what the danger rating is for the area you plan to ride that day. From the Avalanche Forecast map, click on the shaded area to be able to access a link that will take you directly to the local avalanche center's website for more information. Be sure to read the entire forecast from the avalanche center from the link provided on the map. And remember, this layer and all avalanche maps are a supplement (not a substitute) for taking an avalanche course and bringing avalanche gear.

Cell Phone Use Coverage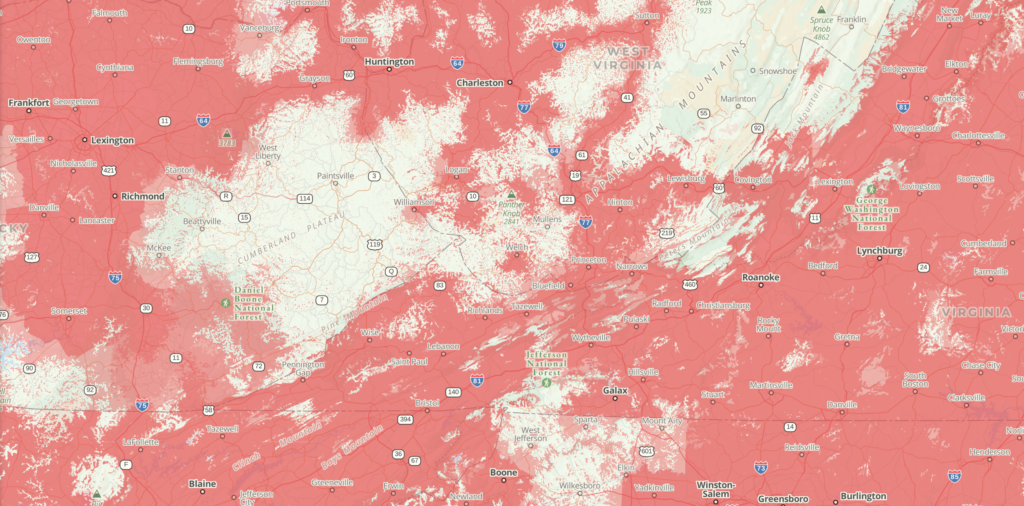 The Cell Phone Use Coverage maps provide insight into whether you can access the internet or send texts while you're out in the backcountry. Track where you can find cell service anywhere in the United States including Alaska, Hawaii, and Puerto Rico. Find out where your network provides 3G and LTE coverage for AT&T, Verizon, Sprint, T-Mobile, U.S. Cellular, and Southern Linc carriers.
Navigate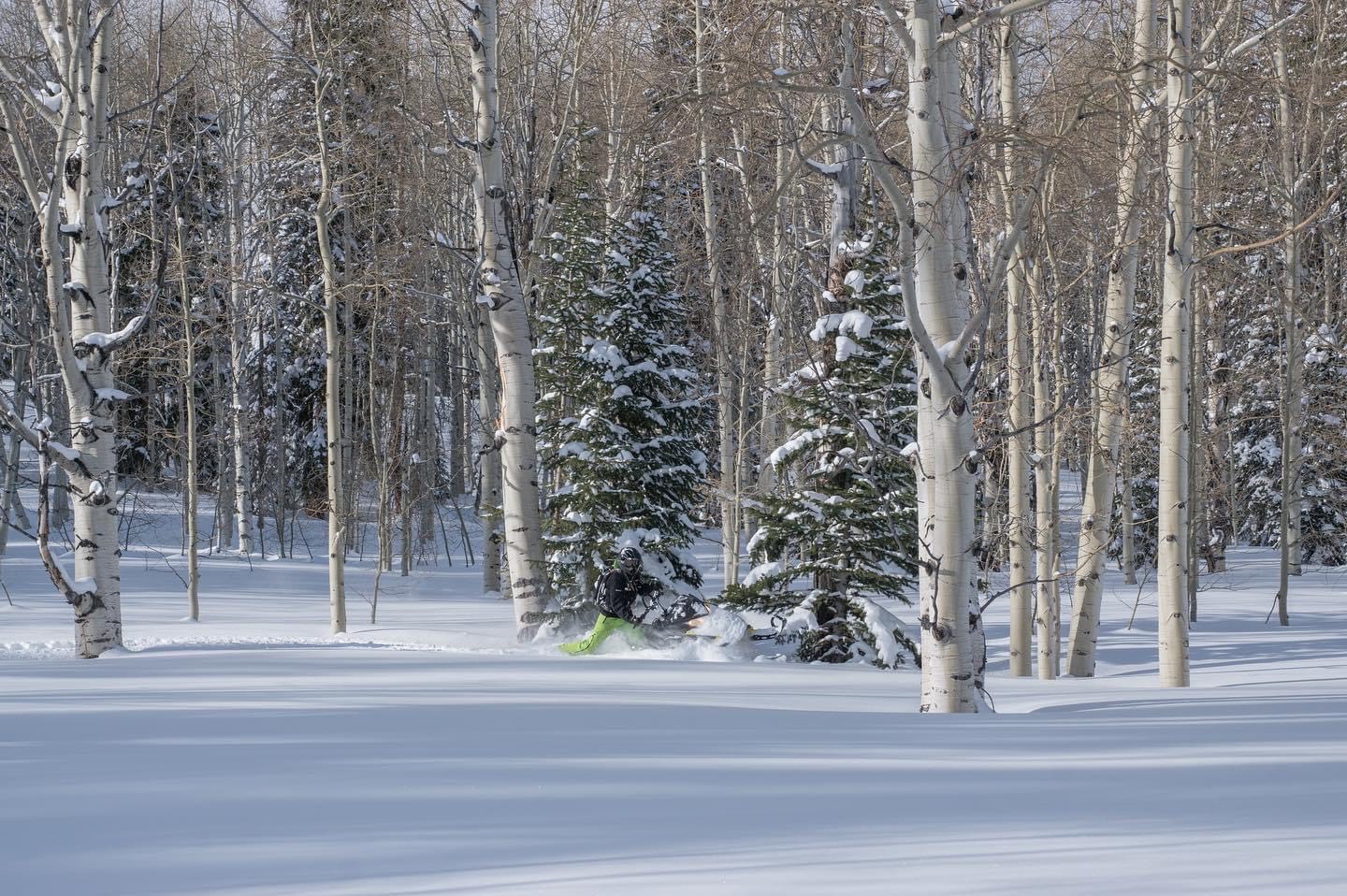 In addition to helping you find new zones, maps can help you strategically cover new ground once you're out there.

"I'm a firm believer in exploring and doing so safely," Hockin says. "When exploring a new drainage I try to tackle it from the bottom and work my way up then I know if it's safe to drop in it next time we ride that zone. This keeps you from cliffing out or getting into a steep narrow drainage that may not be rideable and if you're too steep to climb back out this can lead to trouble."

Use topo and satellite imagery to help get a sense of how to explore a new drainage. Use the weather, avalanche, and slope angle overlays to help stay out of avalanche terrain.

While Gaia GPS can help you navigate, Hockin says to always bring a paper map and compass as a backup. You never know when your phone may shut down due to the cold. (Although there are steps you can take to help prevent that from happening.)

In addition, some snowmobile organizations, like Vermont Association of Snow Travelers, provide extensive paper maps showing their extensive maintained and groomed trail systems. However, many of these maps do not indicate mile markers. Use Gaia GPS in conjunction with your papers maps to measure your distance to your next destination, and see other sled-friendly trails not shown on the paper map.
Stay Found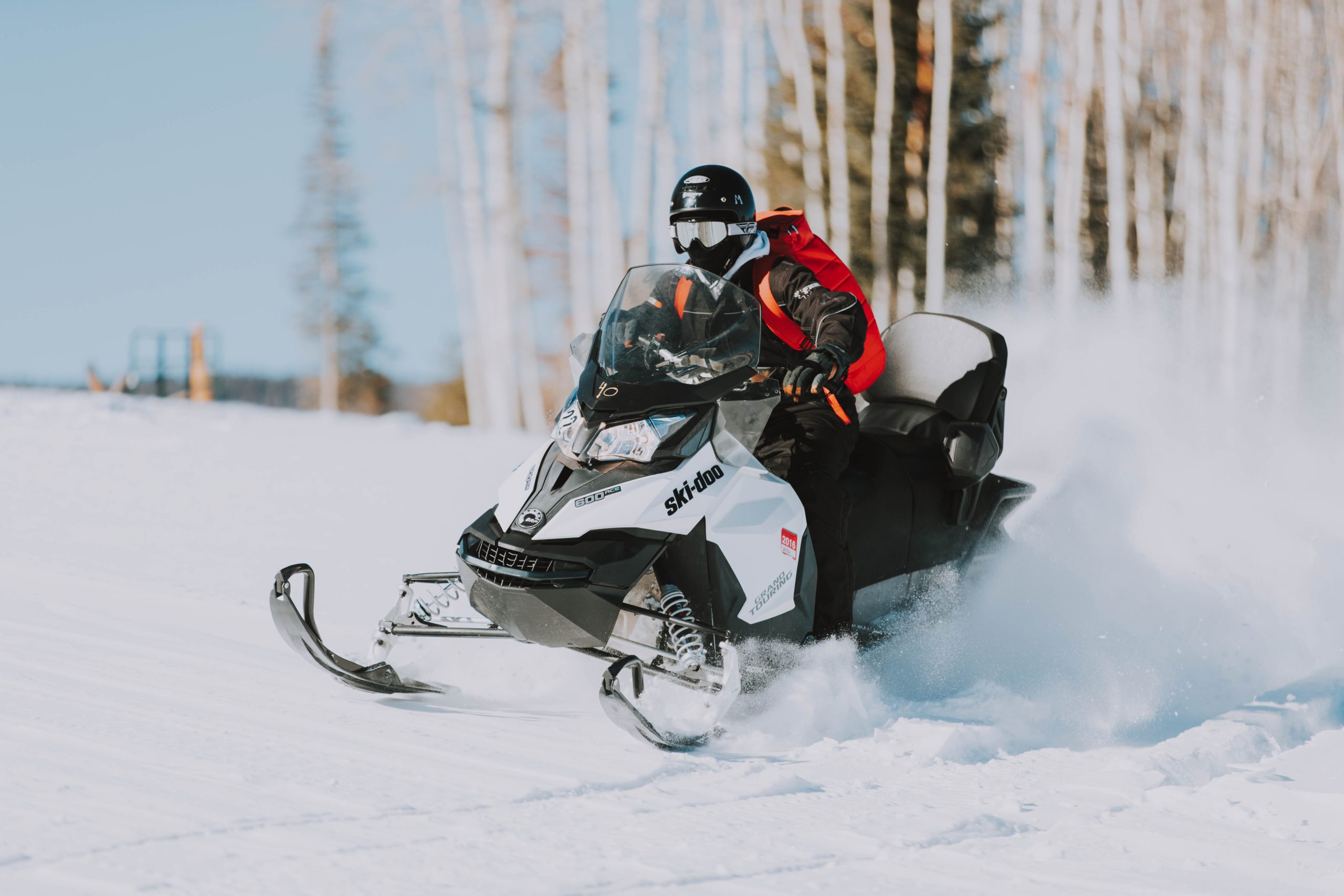 Whether weather moves in or it gets dark, even the simplest routes can become difficult to follow once the visibility drops.

"Knowing your general location using land marks such as peaks and parks helps keep you moving in the right direction," Hockin says. "That said, storms move in quick in the mountains and you can't always rely on visuals to know where you are. Storms can also create anxiety and prevent you from keeping a clear head. This is where technology takes over and if working properly can get you out of the woods safe and sound during a storm."

Gaia GPS offers a few tools to help you stay found and find your way home.
Locate and orient yourself on the map
Easy and quickly identify where you are on the map thanks to Gaia GPS's location tracking. Simply open the app, and you'll see your location as a gold arrow on the map. The arrow even indicates which direction your phone is facing, so you can get your cardinal bearings. Tap the circle in the very center at the top of the screen to center your location on the map. Hockin says being able to see her location on the map is a lifesaver for her when she's out exploring or guiding trips. Here's how to find your place and orient yourself on the map.
Record your tracks
In addition to seeing your place in the map, you can examine a bread crumb trail of the exact terrain you've covered. Simply start recording your tracks before you leave from the trailhead. That way if you get lost, you can turn around and retrace your path home.

Recording your tracks also creates a record of your trip, so you can find those zones again. This is one of Hockin's favorite features. Simply save your tracks when you're done with your trip, and you'll be able to see the tracks directly in your Gaia GPS app.

To record your tracks, tap the circle with the "+" sign on the top right of the app. Select "Record a Track" from the menu. Don't forget to end your track when you're done. Save your tracks in your Gaia GPS account so you can examine your trip from home, and go back to that same zone again. Here are detailed step-by-step directions to recording your tracks.
Waypoints
Flag key turns, land marks, and other locations you want to remember by dropping a waypoint directly into the map. Press the circle with the "+" sign on the top right of the app and select "Add Waypoint" to choose a location on the map to flag, or "Add Waypoint (My Location") to drop a pin at your exact current spot. Head over here for more information on creating and editing waypoints.
Practice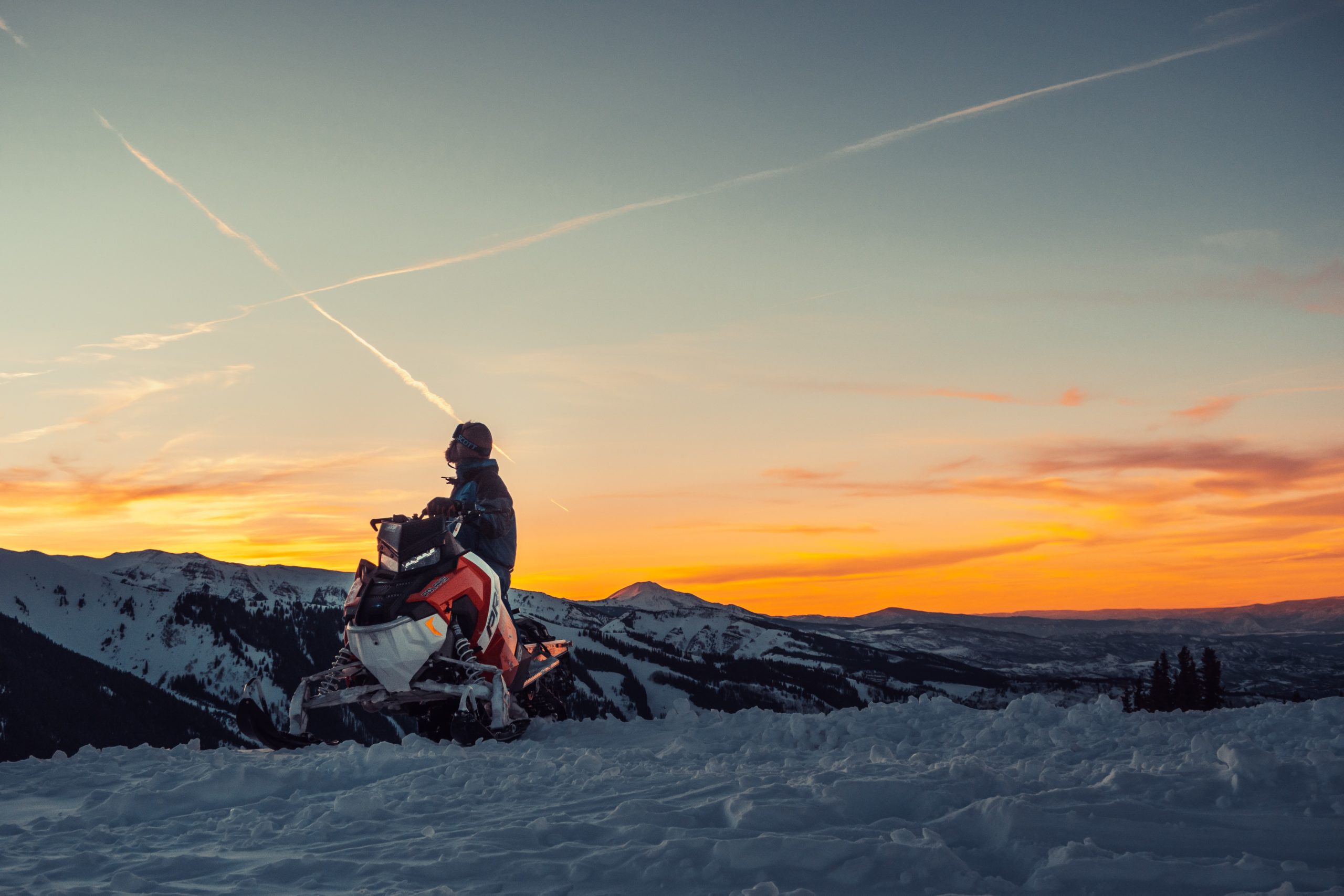 Your tools are only as good as you are at using them. Nothing replaces practicing navigating with Gaia GPS and paper maps.

"Staying safe is a combination of knowing your strengths along with your weaknesses and not over riding your limitations both in riding abilities and navigating abilities," Hockin says. "Pushing your comfort zone is essential for becoming a better rider and navigator but should be done in a safe manner with the ego in check."

Pay attention to the terrain, the conditions, and your surroundings. And remember that the landscape will always be there. Stay balanced while you BRAAAP!