The pandemic roared on in 2021 but that didn't stop the Gaia GPS community from exploring outside. Collectively, you all recorded more tracks and climbed more vertical than ever before. And it showed as the number of you navigating with Gaia GPS maps soared through the roof in 2021.
Whether climbing Colorado's lofty 14ers or day hiking on your neighborhood trails, your drive to get outside inspired the Gaia GPS team to create nifty new maps and innovative features this year. From our brand new Gaia Winter map to offline snap-to-trail route planning, we hope our newest updates have made your adventuring a little bit easier and a whole lot safer.
Read on to learn more about Gaia GPS's development highlights from 2021.
Navigate in Winter Mode with the Brand New Gaia Winter Map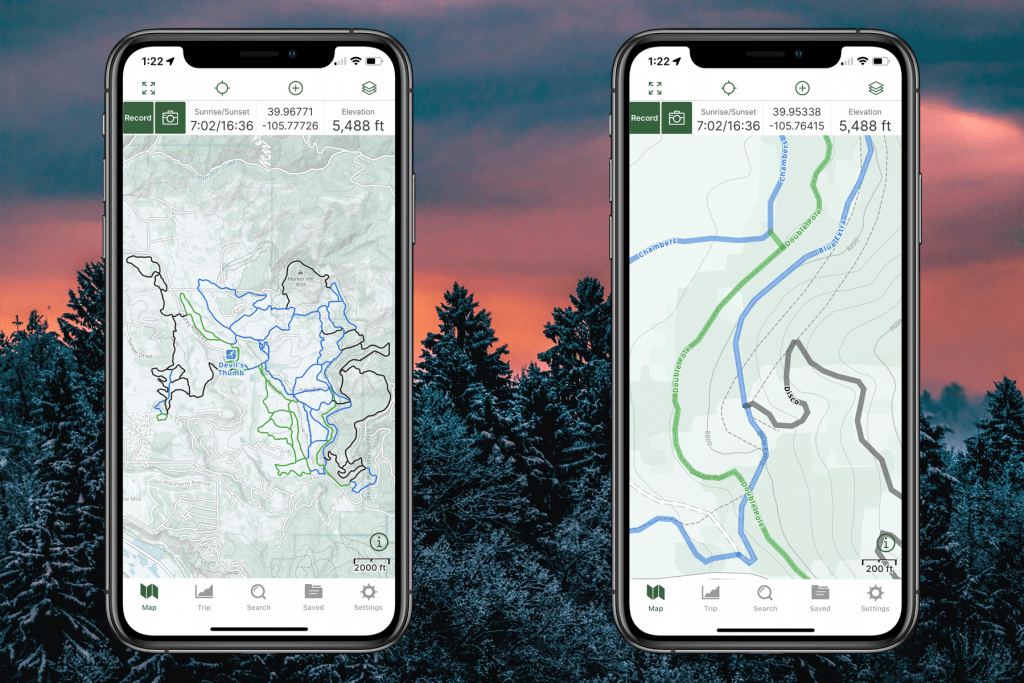 This year, our in-house cartographers designed this frosty new base map specifically for your favorite winter activities. Ride the lifts, tour the backcountry, and explore nordic, fat bike, and snowshoe trails with confidence thanks to the all-new Gaia Winter topographic map.
The new Gaia Winter map is designed with a stronger emphasis on terrain, tree cover, and contours, making it easier than ever to navigate in an endless world of white. It's special "winter" color palette pairs perfectly with other commonly used winter maps, such as the Avalanche Forecast and Slope Angle maps. Plus, see every run at the ski resort, along with nordic, snowshoe, fat bike, and uphill trails.
Just like our flagship Gaia Topo map, our new Gaia Winter map comes with industry-leading download efficiency. A tiny file size and lightning-quick download speeds let you save your entire state so you can always have a map on hand, even when you lose cell service. Whether you're riding the lifts, sliding into the side country, or touring untouched terrain, bring Gaia Winter along with you so that you can always find your location in the thickest of tree glades and whiteout conditions. Available with a Gaia GPS Premium or Outside+ Membership.
Introducing Gaia GPS + Android Auto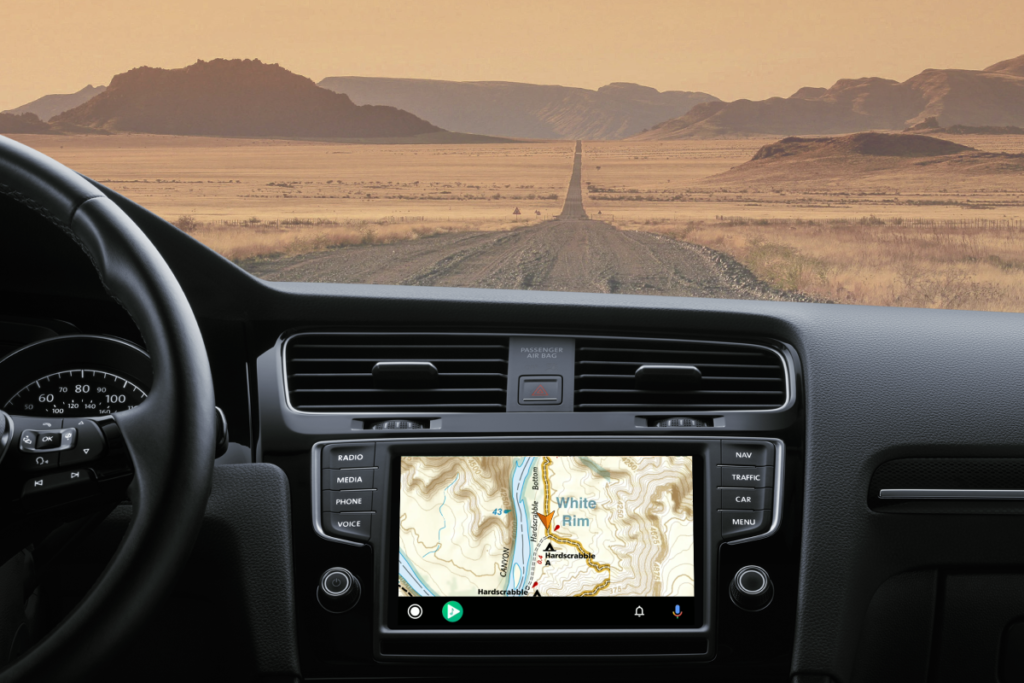 Our users wanted Android Auto, and we heard you loud and clear! Gaia GPS now connects with both Android Auto and Apple CarPlay, bringing all of your favorite trail maps directly to your vehicle's navigation screen. Now you can pull up MVUMs, satellite imagery, National Geographic Trails Illustrated, and more, all on the dash. View waypoints and follow turn-by-turn directions with any saved route on backcountry dirt roads and front-country pavement — worldwide. No cell service needed.
CarPlay and Android Auto connectivity are available for free to anyone using the Gaia GPS app. However you will need a Gaia GPS Premium Membership or Outside+ Membership to access the entire map catalog and to download maps for offline navigation.
Visualize the Landscape with 3D Maps on the Web
Scope out new terrain, plan perfect routes, or dream the day away discovering the world's natural wonders in 3D mode on Gaia GPS. Every map in Gaia GPS can now be viewed in 3D mode on the web. Just click the 3D button on the bottom right side of the map screen, and watch the canyons plunge and the mountains pop into three dimensions that beg you to explore. Whether you're backpacking, overlanding, or backcountry skiing, 3D maps will revolutionize the way you research and plan your next adventure.
Everyone can view a limited number of maps in 3D mode on the Gaia GPS website. However if you want to view our entire map catalog in 3D mode, you'll need a Gaia GPS Premium Membership or Outside+ Membership. Premium Members and Outside+ Members have access to hundreds of maps, including National Geographic Trails Illustrated maps, high resolution satellite imagery, USGS quadrangle maps, worldwide topo maps, and more — all of which can be viewed in 3D mode on the web.
Discover Millions of New Routes with the New Public Tracks Overlay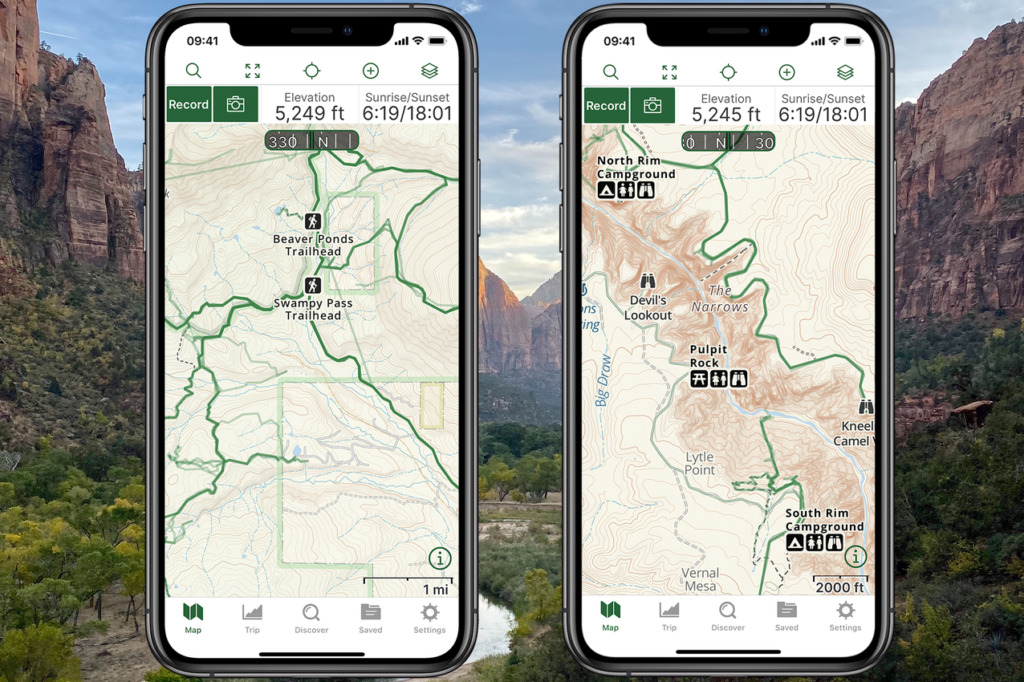 Public tracks have long been visible on the Gaia GPS website. But this year, we added public tracks to the app, making it easier than ever to see if a route goes. The Public Tracks overlay shows the two million public tracks Gaia GPS users have recorded all over the world. Click on any green public track to see exactly where others have gone before you. Turn on this layer to discover new hiking routes, connect 4×4 roads, and plan backcountry trips with on-the-ground information.
Public Tracks also show you details of the trips recorded in this overlay. Discover who recorded the track, when they recorded it whether they were hiking, skiing, or driving in an offroad vehicle if they selected the activity type when they recorded the track. You can save any public track to your account and follow it on your own adventure.
Anyone can access public tracks in the app and on the web. But you'll need a Gaia GPS Premium Membership or an Outside+ Membership to download them for use in areas without cell service. Want to contribute to the database of public tracks? You can choose to make your tracks public and make them available for others to access, too.
Send Thousands of Trails Offroad Routes to Gaia GPS
Thanks to a brand new partnership with Trails Offroad you can now send thousands of detailed offroad trail guides directly to your Gaia GPS account. This integration brought to you in February of 2021 lets you reap all the benefits of Trails Offroad's hand curated trail guides on Gaia GPS. On the Trails Offroad site, get difficulty ratings for each trail, campsite locations, and waypoints for those must-see viewpoints and attractions along the way. When you've found the perfect route, simply press a button to deliver the route in a neat little folder to your Gaia GPS account.
All you need to make this happen is a $25 Trails Offroad Membership plus a Gaia GPS Premium Membership or Outside+ Membership. Join both platforms today and get the best trail guides for your car camping adventures in 2022.
Plan Routes on the Fly with New Offline Snap-to-Trail Trip Planning Tool
Straight-line route creation is so 2020. Jump into 2021 with our brand new offline snap-to-trail route planning tool. This means you can now create accurate routes on the fly, modify your plans from the road, and see the exact distance to the end of the trip while on the trail — even when you don't have cell service.
The gold standard for route planning, snap-to-trail mapping does all the heavy lifting for you. Choose your activity type and let our intelligent planning tool build the route in a matter of seconds. If you want to build a snap-to-trail route without cell service, just make sure you've downloaded the map and the offline routing data ahead of time. To access offline snap-to-trail planning and other offline navigation tools and maps, you'll need a Gaia GPS Premium Membership or an Outside+ Membership.
Avoid Wildfire Smoke with these New Smoke Forecast Maps
Nothing ruins an awesome weekend adventure like smoky, gray skies. Now you can steer clear of wildfire smoke with our new Smoke Forecast maps. Smoke Forecast (today), Smoke Forecast (24h), and Smoke Forecast (48h) give you a sense of smoke levels all over the continental US for today, tomorrow, and an entire weekend.
Whether you're backpacking near a wildfire-ravaged area or overlanding thousands of miles away, get a quick and accurate sense of how much smoke blows over so you can circumvent the bad air and enjoy clear views. Access the Smoke Forecast maps with a Gaia GPS Premium Membership or an Outside+ Membership.
Navigate Trails with Gaia GPS on your Apple Watch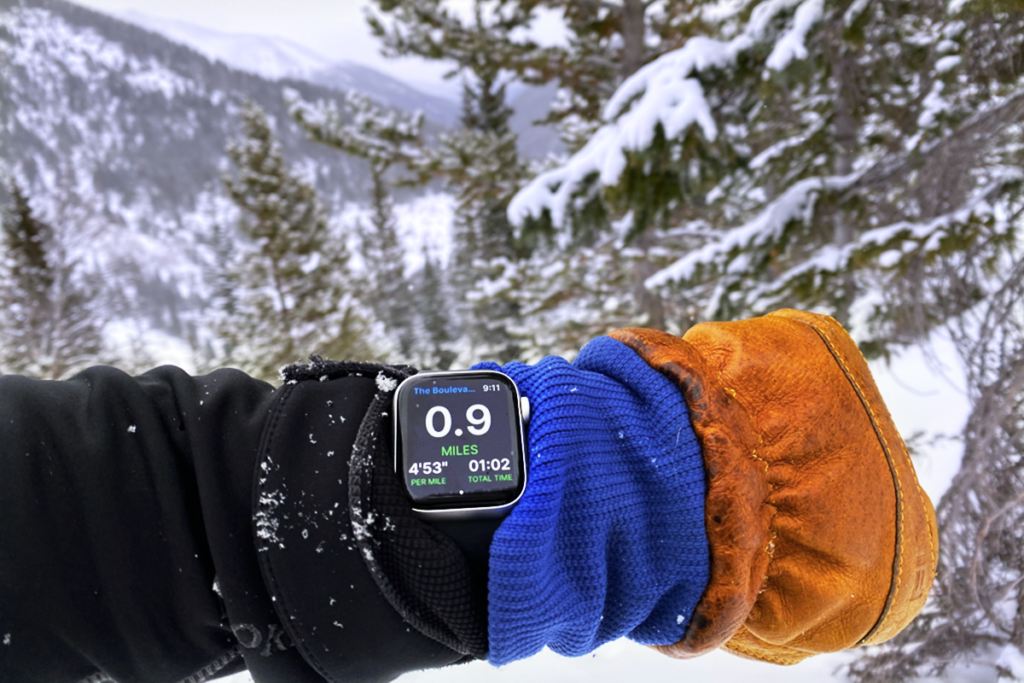 Record a track, drop waypoints, and get turn-by-turn directions using Gaia GPS on your Apple Watch. In 2021, we totally redesigned the Gaia GPS Apple Watch app. Now you can turn your watch into a convenient backcountry navigation tool that works offline and independently of your phone. Use your Apple Watch to experience Gaia GPS's signature navigation features even when you're off the grid and far beyond the reach of cell service.
With Gaia GPS on your Apple Watch you can also collect trip details and health stats without having to interact with your phone. The watch will record your moving speed, elevation gain, distance travelled, and more when you use Gaia GPS to record your track. Gaia GPS also integrates with Apple Health to keep tabs on your heart rate, steps, and how many calories you burned on your latest adventure.
Whether heading out on a long trek or squeezing in an afternoon trail run, use your Apple Watch to navigate and record your adventure with Gaia GPS conveniently on your wrist. You'll need a Gaia GPS Premium Membership or an Outside+ Membership to navigate routes offline.
Gaia Topo: The World's Best Adventure Map Got Even Better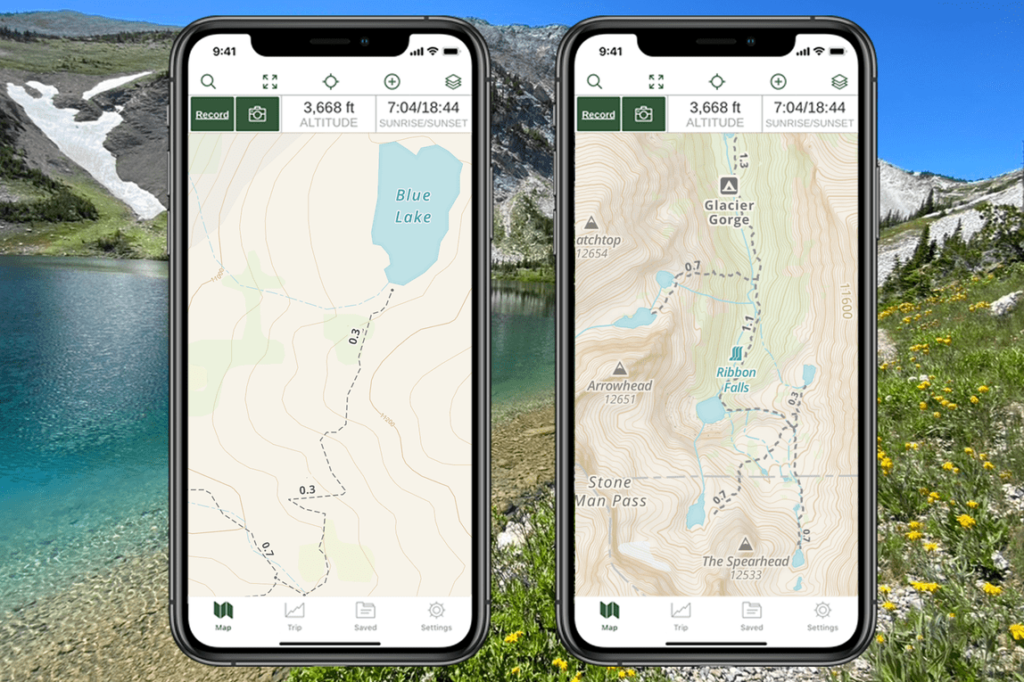 Our cartographers rolled out a whole new version of our flagship map Gaia Topo, chock-full of ground-breaking updates. Gaia Topo now includes more than 150,000 miles of additional National Forest 4×4 roads and trails, brand new worldwide tree cover and relief shading, and point-to-point mileage markers that show distances between trail segments. Dovetailed with a complete overhaul to the map's style and design, these improvements make Gaia Topo the best map for planning and navigating on your next backcountry adventure.
Best of all, these updates won't compromise Gaia Topo's bedrock feature — downloading efficiency. You can expect the same industry-leading download speeds and tiny sizes that you're used to seeing from Gaia Topo's revolutionary design. Whether you're overlanding across multiple states, sightseeing in a vast national park, or backpacking across hundreds of miles of wilderness, you can still download one huge section of the Gaia Topo map to cover your entire journey.
Everyone can access Gaia Topo on the web and in the app. But you'll need a Gaia GPS Premium Membership or an Outside+ Membership to download Gaia Topo for offline navigation in areas without cell service.
Discover Old Homesteads and Ghost Towns with our New Historical Topo Maps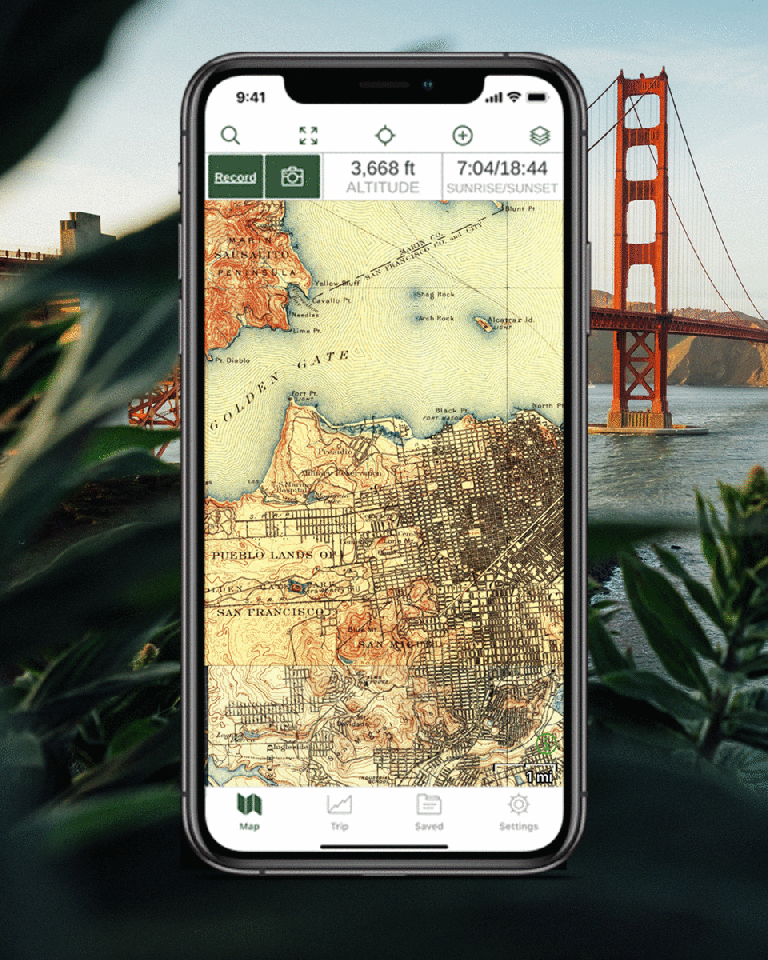 Unlock the mystery of the past with our suite of historical topo maps in Gaia GPS. In 2021, we added the official USGS topographic maps from 1895 through 1990 so you can scout for old homesteads and find little known ghost towns by studying these old , historic maps. You'll need a Gaia GPS Premium Membership or an Outside+ Membership to access our entire collection of historic topo maps.
You can also go deeper into the history of an area by viewing the Native Lands map. Available for free in the Gaia GPS app and web map, the Native Lands map marks traditional Indigenous territories across the Americas, Australia, New Zealand, and, increasingly, worldwide. Learn more about the past, present, and future of Indigenous territories while planning a trip to a new area or adventuring near your backyard.
Gaia GPS Joined Forces with Outside in 2021
Perhaps the biggest news of the year is that Gaia GPS joined the Outside family in February 2021! This match made in heaven combines Gaia GPS's best backcountry navigation features with leading outdoor journalism from our award-winning titles like Outside magazine, BACKPACKER, Trail Runner, SKI, Climbing, and more. Plus, our Outside+ membership get you unlimited access to adventure films from Outside TV and the complete Warren Miller collection.
What does this mean as a Gaia GPS user? You can continue to use Gaia GPS just as you are now. Or you can access all the benefits of Gaia GPS Premium and Outside+ in one membership. Compare membership plans to decide which one works best for you.