Gaia GPS now connects with Apple CarPlay, bringing the best outdoor maps directly to your vehicle's dashboard navigation screen. View all of your favorite Gaia GPS maps, from USFS topo to National Geographic Trails Illustrated, with or without cell phone service, and get turn-by-turn directions on off-grid adventures for any drivable saved route.
Whether you're headed out on a multi-day overland route or searching for that hard-to-find trailhead for your next backpacking trip, CarPlay connectivity assists you with hands-free navigation that will keep your eyes on the dusty road ahead.
Display Your Favorite Gaia GPS Map Source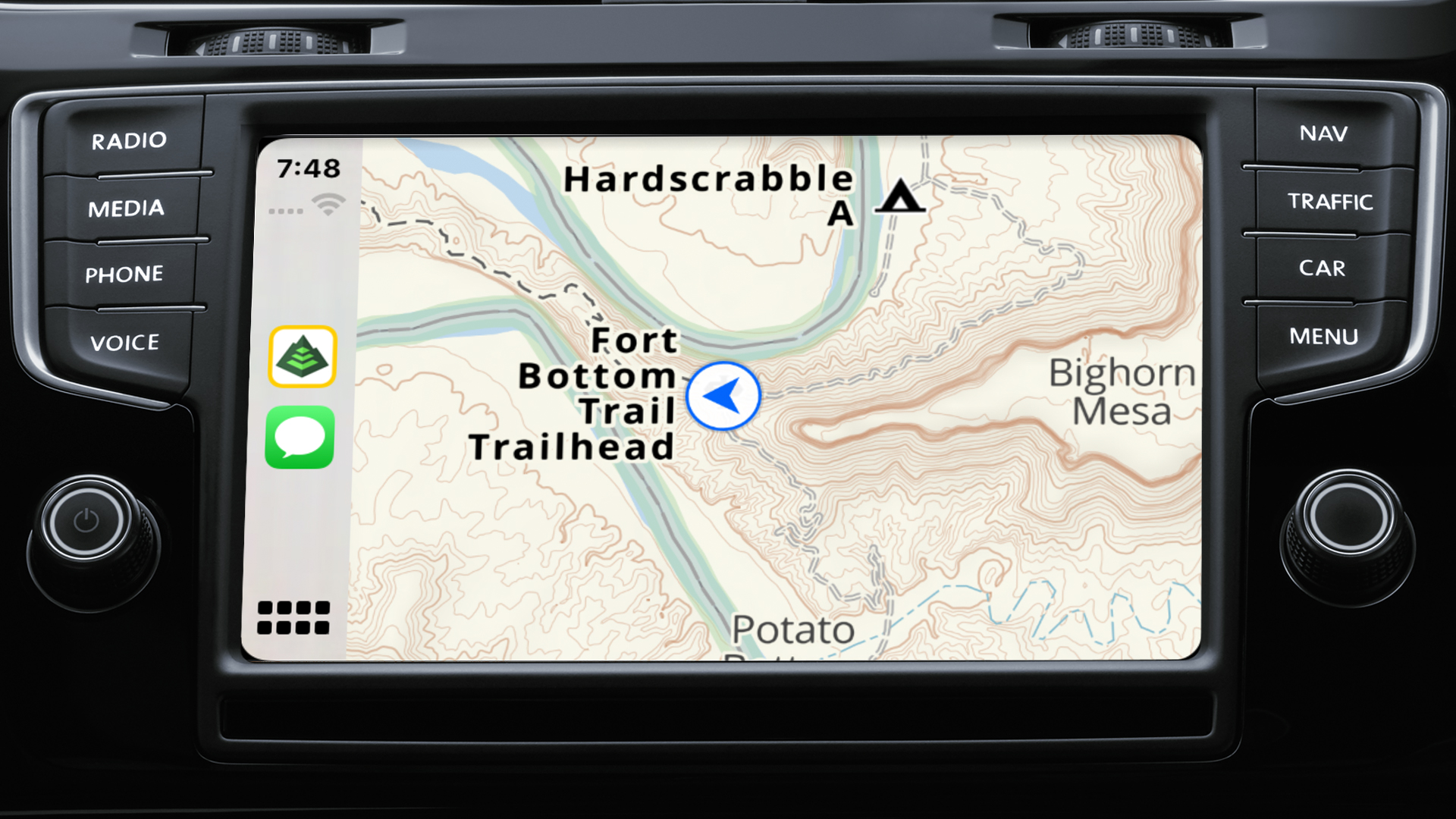 Download the Gaia GPS app from the App Store and get access to hundreds of outdoor map sources on your vehicle's dashboard touchscreen. When you open Gaia GPS from your CarPlay enabled display, the newly redesigned Gaia Topo map will appear and pinpoint your exact location on the map. Hand curated and beautiful to pore over, the new Gaia Topo is free to use.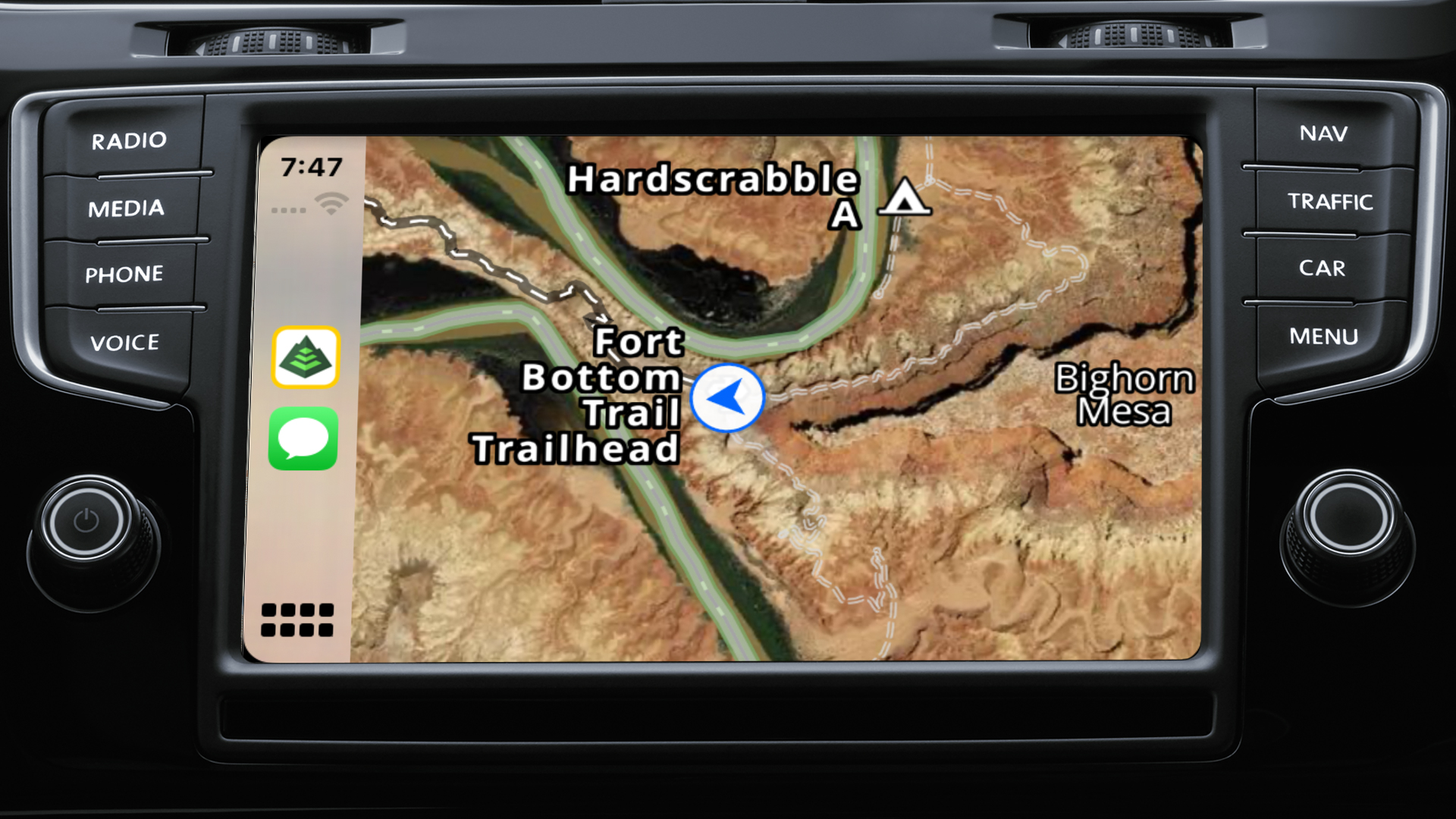 To customize the map source, open Gaia GPS on your iPhone to choose from the hundreds of maps available with a membership or premium membership. When in a national forest, try out the 2016 USFS map — a favorite with overlanders. Bring up National Geographic Trails Illustrated maps in most of America's national parks for indispensable park information, or catch a birds-eye view of the terrain ahead with satellite imagery. Any available Gaia GPS map can be viewed on your dashboard screen … yes really.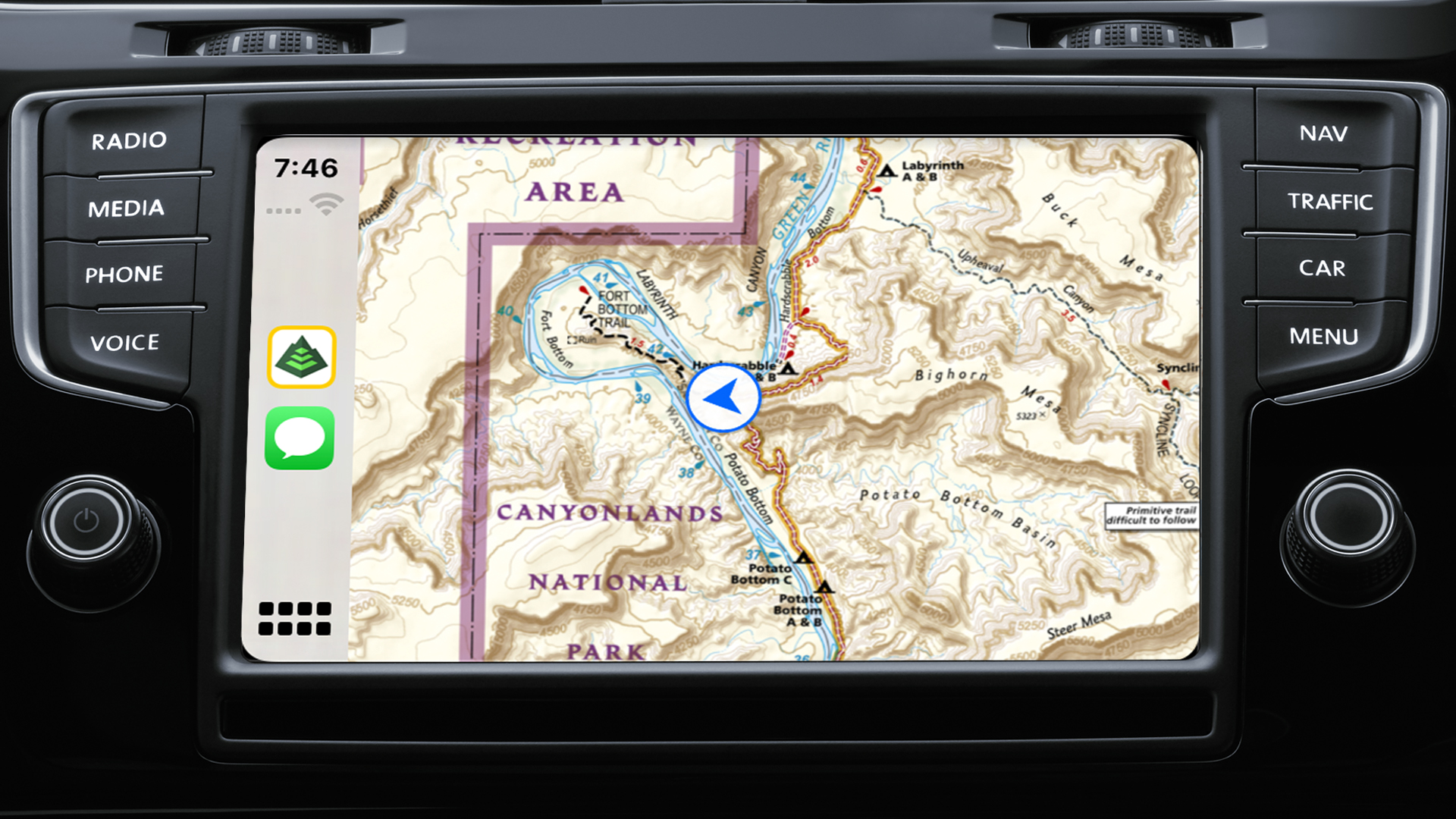 With your favorite map on display, use the touchscreen to zoom in and out on the map, pan or scroll the map in any direction, select and preview saved routes, and cancel navigation. Once you start driving, the map's location marker pinpoints your progress as you blaze down a lonely dirt road or cruise a well-traveled scenic highway.
Turn-by-turn Directions on Saved Routes
Get turn-by-turn directions on your saved routes in the Gaia GPS app and let voice commands guide you to your destination, no matter how far off-grid you plan to go. Turn-by-turn directions work even when you're out of cell range or operating on airplane mode to conserve phone battery, making it that much easier to leave the pavement behind.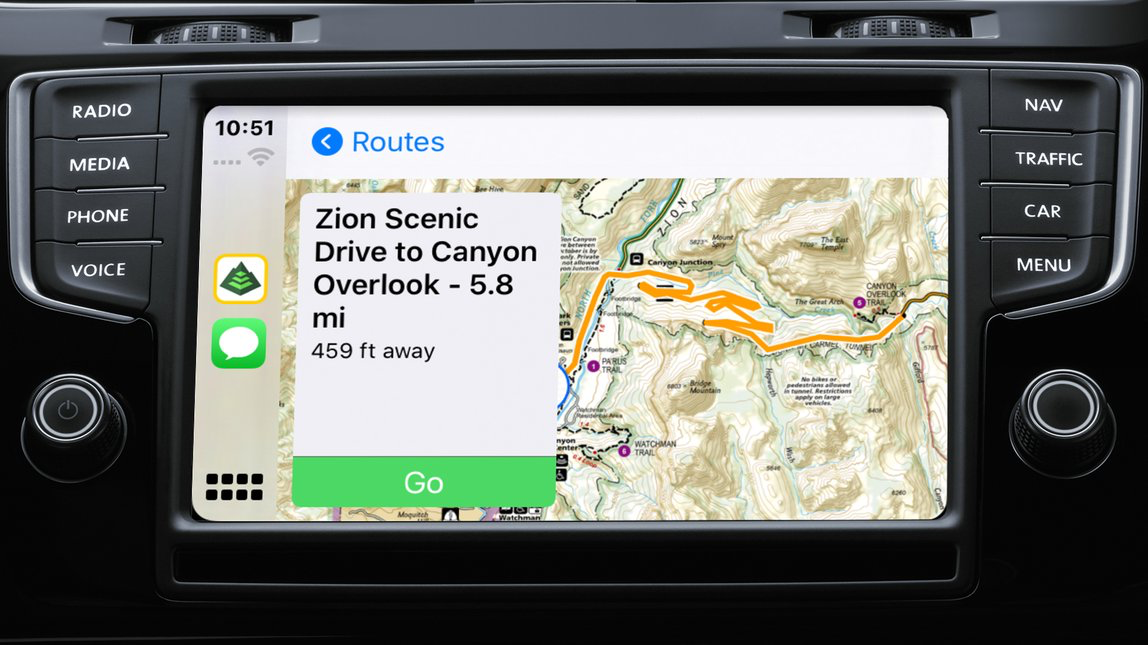 Turn-by-turn directions are optimal for front country adventures too. You can create and save a sightseeing tour on park roads using a National Park Service Visitor map. Plan to hit all the park's main attractions and never miss the turnout to that obscure viewpoint again.
How to Connect Gaia GPS with Apple CarPlay
To connect Gaia GPS with CarPlay, you will need a Gaia GPS account, an iPhone (iPhone 5 or newer) with the Gaia GPS app installed, and an Apple CarPlay-supported vehicle. CarPlay is becoming more prevalent as more than 500 vehicle models are now CarPlay equipped.
Hop inside the vehicle and synch your iPhone to CarPlay. Select the Gaia GPS app from the dashboard screen and tap the "Go" button. It's really that simple.