Sometimes, it's a relief—even a delight—to follow a trusted off-pavement route you know will go. Especially when you know it will go past breathtaking views, across challenging terrain, and to memorable watering holes. That's why we've partnered with Backcountry Discovery Routes to bring you premier long-distance off-pavement routes with a leading navigation experience.
Thanks to this new partnership, you can take any Backcountry Discovery Route (BDR) offline in the Gaia GPS app with just one click. We're also honored to promote BDR's mission of promoting responsible travel and fostering sustainable adventuring and economic growth.
Explore 12 Iconic Long-Distance Routes
BDRs provide a unique opportunity to explore rural America and taste the tracks that shaped early American history. From Gold Rush ghost towns to the battlefields of the American Revolution, explore the country's iconic public lands on two wheels. Soak up seemingly endless desert solitude, majestic mountainscapes, and wildlife sounds and sights while covering engaging and fun terrain most people will never see.
Every year since 2010, with the exception of 2021 due to the global pandemic, BDR has introduced a new long-distance route for dual-sport and adventure motorcycling. These off-pavement routes come with free GPS tracks, lodging, food, and fuel suggestions, and detailed guidebook notes. Choose from the rocky and rugged terrain of the northeast to the canyons and sandy washes of southern California. Soak in the hot springs of New Mexico, or climb jaw-dropping passes over 12,000 feet high in Colorado.
This year's newly unveiled route traverses the lush coniferous forests and winds past the volcanic mountains of Oregon. Gaia GPS played a pivotal role in the creation of this route, from finding new roads and trails to navigating in the field. Go inside the Oregon Backcountrry Discovery Route and whet your thirst for adventure by watching the new ORBDR feature-length film. Find a showing near you.
The Best Backcountry Navigation App Meets the Best Long-Distance Adventure Motorcycle Trails
You can now plan your BDR and navigate in the field easier than ever before. Once you've selected your BDR of choice, upload it to your Gaia GPS account with the press of a button. You'll automatically see the route and points of interest right in the Gaia GPS app and on gaiagps.com. While you can use any of our 300+ maps to plan your trip and navigate along the trail, we suggest starting with Gaia Overland, the world's premiere map for offroad travel. Modeled after our proprietary Gaia Topo map, Gaia Overland comes with the same crystal-clear resolution and download efficiency you know and love from Gaia GPS. But it puts everything for motorized travel first. Download the map for offline use, and know where to go at every turn—even without cell service.
How to Download BDRs to Gaia GPS
Uploading routes from BDR to Gaia GPS is available to anyone with a Gaia GPS account. Here's how:
Choose your BDR on ridebdr.com
Hit the "Upload to Gaia GPS" button
A new page will pull up prompting you to log in to your Gaia GPS account
Log in to your Gaia GPS account and click 'authorize' to allow your BDR routes to be imported
And voila, BDR trail data will automatically sync to your Gaia GPS account. You won't have to login on future syncs when you click the 'upload to Gaia GPS ' button; the app will remember your info and sync the routes right to your account
Supporting Sustainable Tourism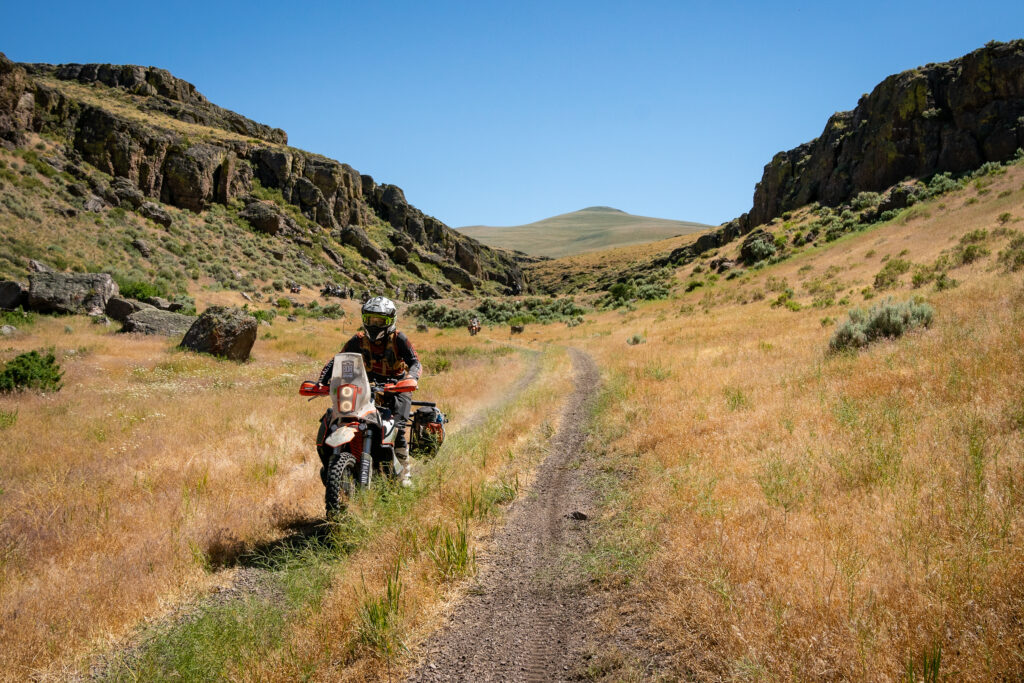 A non-profit advocacy organization, BDR also conducts rider education, safety campaigns, and promotes responsible travel for motorcyclists traveling in the backcountry. Each of the 12 BDR routes around the US generates new tourism, bringing sustainable economic relief to less-advantaged rural communities. In turn, this symbiotic relationship between riders and communities creates local stakeholders who will help fight to keep access for dual-sport and adventure motorcycles in these incredible backcountry areas.
BDR also promotes safety, knowledge sharing, and informing the community of critical issues and backcountry best practices. Learn more about BDR's awareness programs, including Ride Right, Ride Respectfully, and Yield to Animals, on its website.
Level-Up Your Adventures with Gaia GPS Premium
Reclaim your peace of mind with a Gaia GPS Premium membership. Take your maps offline so you can always find your way, even out of cell service. Be prepared for what's ahead with our suite of weather features. And find the perfect map for your next adventure thanks to our 300+ map catalog, including our proprietary Gaia Overland, MVUM, Public and Private Lands, USFS, and a collection of maps from National Geographic Trails Illustrated.