If you're considering an overlanding or offroading trip, you'll want a quiver of offroad driving skills. Knowing how to handle driving through sand, mud, river crossings, and steep climbs will help you get farther and keep you comfortable on your route.

This article covers the key overlanding tips to master, based on input from four experts: Nena Barlow, an International 4WD Trainer Association certified Master Trainer, Bob Wohlers, an author and off-road safety trainer, and seasoned 4×4 tourers John Watson, founder of The Radavist, and Sinuhe Xavier, filmmaker. From planning a trip to getting unstuck, they share their perspectives on essential off-road driving skills and how to learn them.
Do Your Overlanding Research
Preparing for an overlanding journey should begin well before you fire up your engine. That means knowing what trails you'll follow, deciding where you'll camp, and ensuring that private property won't block your route. Studying the Gaia GPS web map will help you understand what obstacles you might face on your trip. After you scour the maps at home, download your favorite maps to your mobile device so that you can take the maps with you to places without cell service.

"I'll download all the maps I can for the region that I'm going to," says Wohlers, who teaches off-road safety in northern California and has written several books on off-roading. "Between all of them, I find that I have a pretty complete story of where I am and what I want to do." Wohler's favorite maps are the NatGeo Trails Illustrated, Gaia Topo, and USFS maps for offroad travel. Also, check out 4X Overland Adventure's list of best maps for overlanding.
You also need to factor in the weather, says Barlow, who founded Barlow Adventures, a 4×4 school and outfitter in Utah and Arizona. Check the forecast and consider how conditions will affect trail surfaces, and how they might change as you pass through different elevations. You'll likely want to use the Gaia GPS precipitation layers and snow forecast maps to determine if road conditions will be soggy on your next adventure. With a little research, you can avoid hazards and travel when conditions are optimal.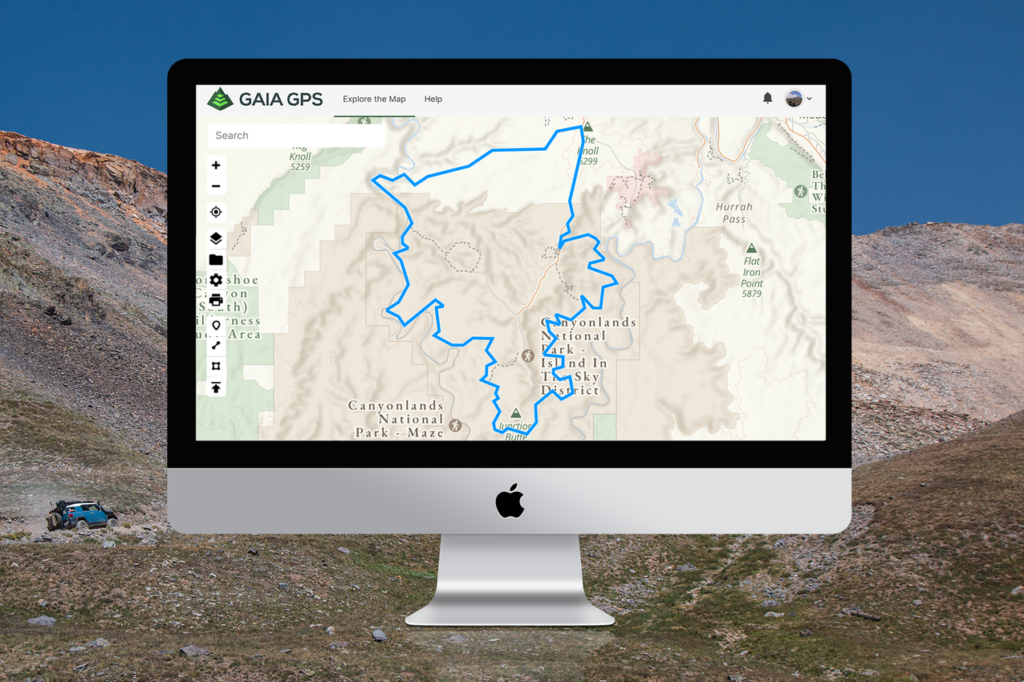 Know How Your 4×4 Vehicle Works
If you're interested in overlanding and off-roading, you probably own a four-wheel drive vehicle. Most true 4x4s have a transfer case that allows the engine to send power to all four wheels, and understanding how to use the transfer case will help you harness that power effectively.
Barlow has a few common rules to follow for when to use 2WD versus 4WD. For pavement and hard surfaces, use two-wheel drive. Shift into 4-Hi (four-wheel drive) when you encounter loose gravel, slush, and sandy surfaces. If you're going less than 15 MPH because of the terrain, shift into 4-Lo (four-wheel drive that delivers more torque at a slower speed). You'll get enough power for forward motion without bouncing over obstacles too quickly. 4-Lo will also help you maintain a slow speed without stalling if you're driving a manual transmission vehicle.
Proper use of traction control, found on many newer vehicles, forms another critical off-road driving skill. Essentially, traction control detects when a wheel spins and automatically applies the brakes. That slows the wheel down so it can regain its grip on the ground. If you have traction control and feel your tires slipping, says Barlow, apply steady throttle so the mechanism can activate.
"You really need to give those systems a full second," she says.
Air Down Your Tires
To give your tires maximum grip and help absorb shocks, adjust your tire pressure for the terrain. The exact pressures you need will take some trial and error to figure out, but Watson, who has been off-roading since he was a teenager, has some general guidelines:
"The second I hit the dirt, I'm down to 25 PSI," Watson says. "The second I hit a rock garden, or some technical trails, I'm at 15 PSI, and then as soon as I hit pavement, I'm pumped back up to 35 PSI."

Just remember: Always check your tire pressure before airing down, bring an air compressor to air back up, and never exceed your tires' suggested pressure.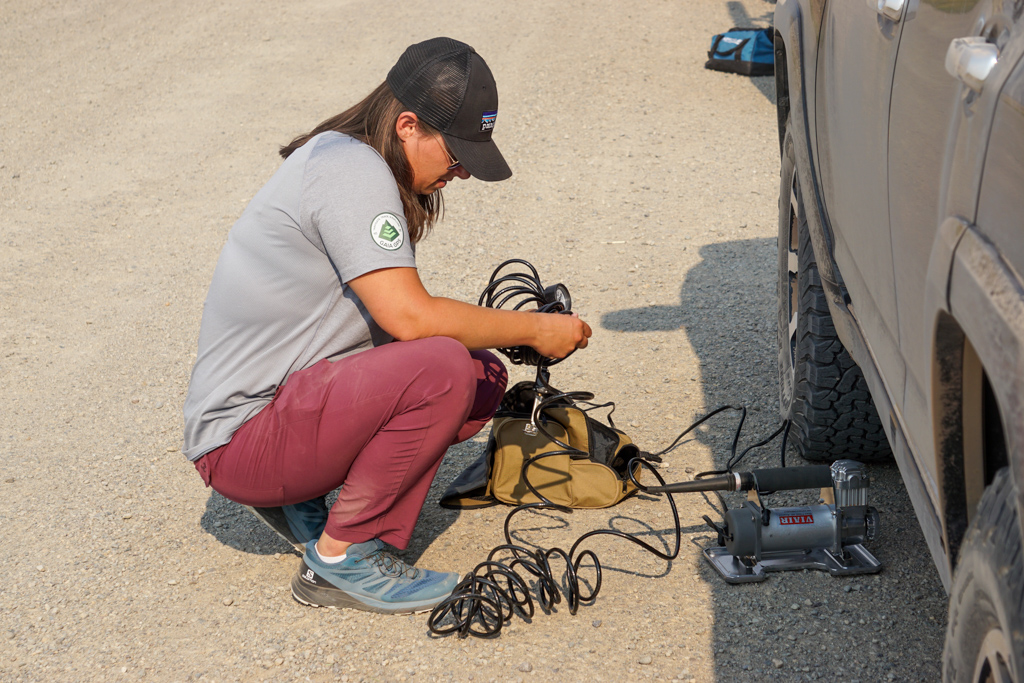 Sit Comfortably
Driving with an aching back or sore legs can distract you and keep you from maintaining control of your vehicle. Before you head out, make yourself comfortable in the driver's seat.
Barlow recommends holding the steering wheel in an "8 and 4" position. This relaxes your shoulders and keeps your thumbs out of the steering wheel, so if you hit an obstacle and the wheel spins, it won't take your hands with it. She also recommends adjusting your seat for even support from your butt to the backs of your knees. Finally, make sure the heel of your right foot rests on the floor. Your foot on the accelerator pedal and your leg should make a 90-degree angle, giving you maximum leverage.

"If you're over-extended or under-extended, you're not going to have good control on the throttle," Barlow says.
Look Ahead and Develop Trail Vision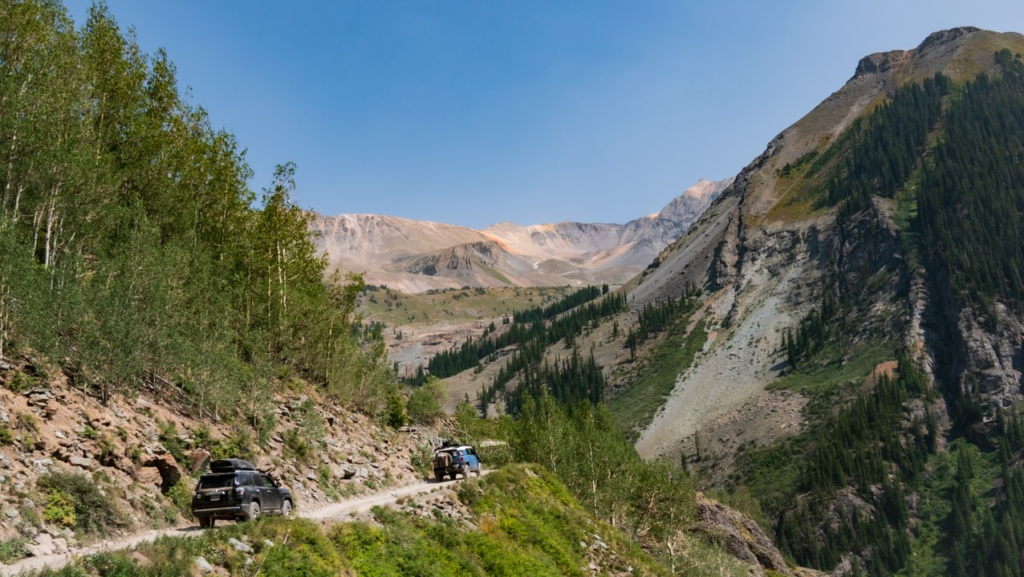 "Trail vision" sounds like a sixth sense that experts hone over many years, but it boils down to one simple rule: Don't drive where you can't see. On the trail, look as far ahead as you can, says Barlow. This will help you anticipate terrain and adjust for it (making a gear change before a creek crossing, for example).

"If you're looking over the hood, you're just looking at the next bump in front of you instead of establishing the correct line and momentum that you need," she says.
Your Driving Mantra: Smooth and Steady
Off-roading will throw many obstacles at you, but the key to pushing through them is to focus on measured, steady driving.
"Go as slow as possible and as fast as necessary," says Xavier—a lesson he's learned over many 4×4 trips and backcountry film shoots.

As you look ahead on the trail, supply smooth power to move over the terrain. Flooring the accelerator, slamming on the brakes, and other sudden movements will only decrease traction and make it harder to drive.
Know How to Handle Common Issues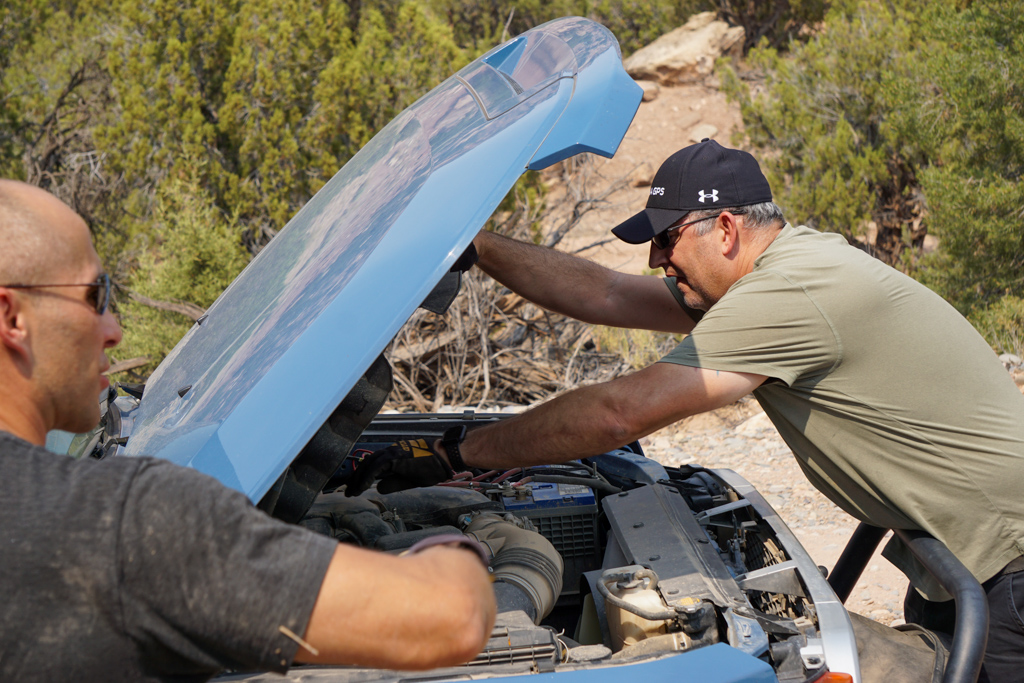 In addition to driving skills, you'll need to be prepared for mishaps any time you head into the backcountry. Driving a loaded vehicle on unimproved roads adds more issues to the mix. At the very least, know how to change a flat tire, get unstuck, and handle basic first aid.
Changing a flat might seem simple, but aftermarket wheels and other modifications can make your vehicle challenging to work with, says Barlow. Make sure you have the equipment you need—a lug nut key that fits your lug nuts, a jack that works with your vehicle—and rehearse a tire change in controlled conditions, like in your driveway at home. Changing a flat on the trail should not be the first time you do it.

Getting stuck is another common overlanding incident, but a little resourcefulness can get you moving again. A tire jack can lift your vehicle off a rock, and Xavier points out that floor mats placed under your tires can provide extra traction when bogged down. He also recommends purchasing a MaxTrax recovery board, which is easy to use and effective.
"Recovery is the best thing to invest in," he says.
Finally, Watson and Wohlers both recommend learning first aid. When you're deep in the wilderness, it can keep a minor injury from snowballing into a more serious situation.
Know When to Turn Back
"Turning around isn't failure," says Xavier. Especially as a beginner, remember to recognize the limits of your skills and stay humble. Keep in mind that your turn-around point depends on a variety of factors, says Barlow, including daylight, weather, fatigue, fuel level, and the amount of food you have. Don't go farther than you're comfortable with.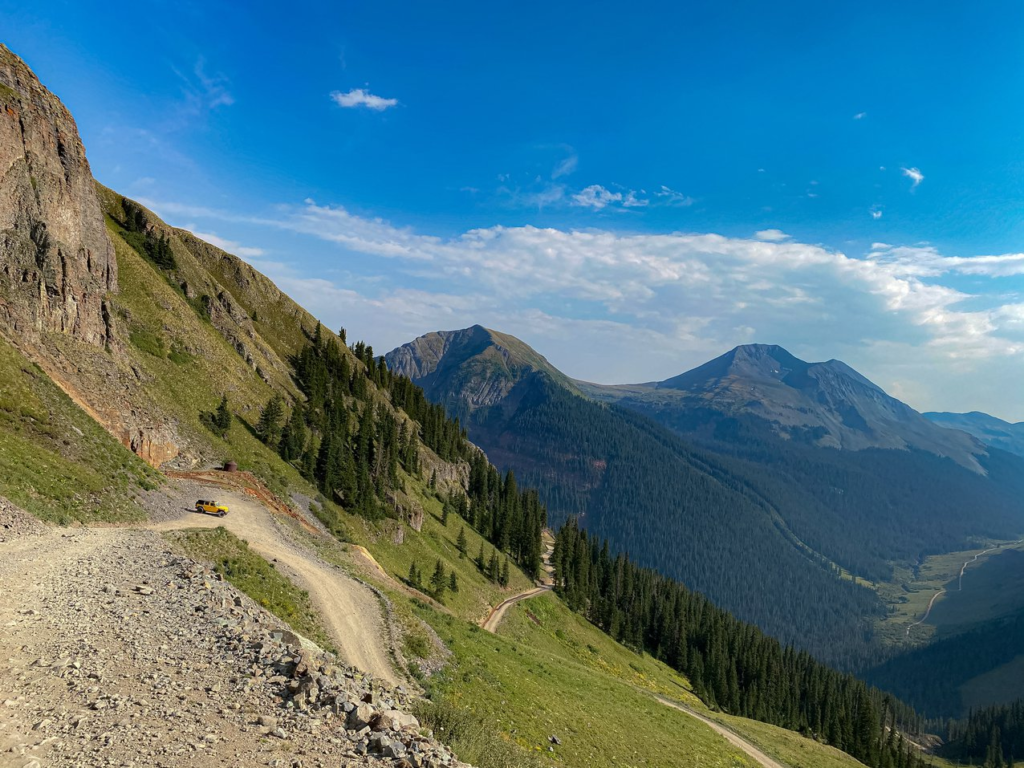 Some Tips for Learning These Skills
There's a lot to learn in overlanding and many ways to learn the skills. If you're willing to invest some time and money, signing up for an off-road driving class will give you the benefit of expert insight and save you a lot of time in the trial and error process. Wohlers points out that an instructor can help you tackle terrain that you might not have attempted on your own—an invaluable experience builder.

You can also learn from a local 4×4 club, says Watson. Many groups exist for specific vehicles and types of off-roading such as rock crawling or overlanding, for example. These vehicle- or activity-specific groups can be very helpful for getting detailed advice for the kind of driving you want to do.

Try visiting your local OHV park: There, you can drive on challenging terrain without wandering too far from help. These parks offer a great opportunity to practice getting bogged down and freeing your vehicle, says Xavier.
"Get stuck and see what it's like to be stuck," he says. "See how much time it takes to get unstuck."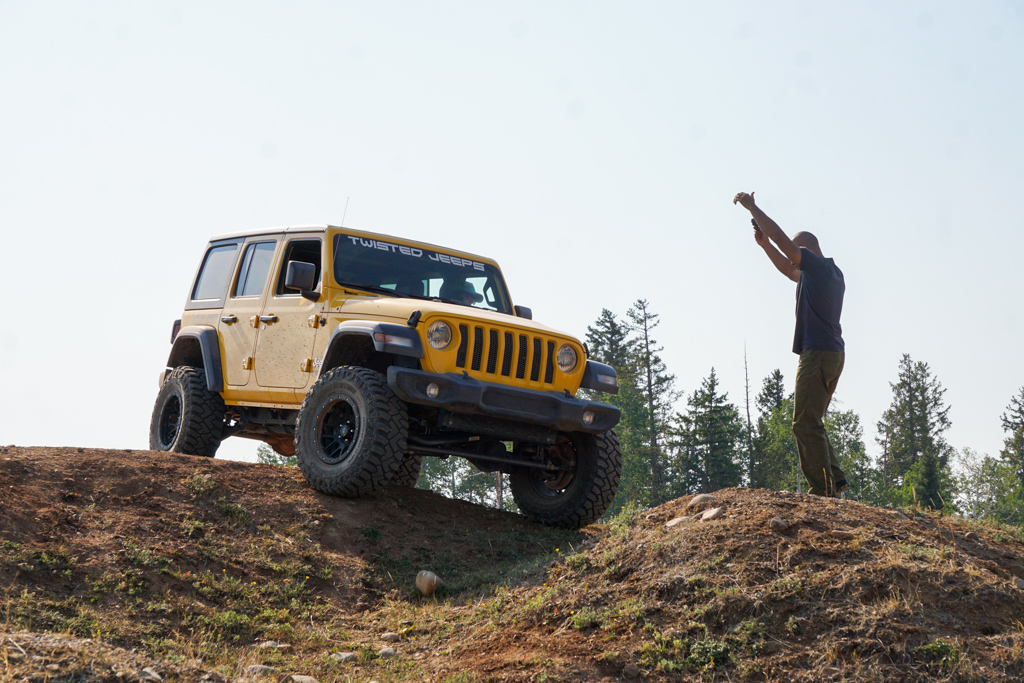 Finally, you can even build some overlanding driving skills on the pavement. Barlow recommends practicing wheel placement—essential for navigating narrow or rocky trails—by setting out cones or rocks and maneuvering your wheels to meet them.
No matter how you choose to practice, building these skills through hands-on experience will pay dividends on the trail. Even if you're just a few minutes from your driveway, getting behind the wheel can always lead to valuable lessons.
"There's nothing better than good old-fashioned seat time," says Xavier.