This week, Out and Back delves into the psychological side of backpacking. Special guest host and previous Out and Back guest the Real Hiking Viking joins Shanty to chat with one of Viking's buddies: hiking legend Zach "Badger" Davis. Thru-hikers may know Badger as the founder of the popular backpacking resource, The Trek. Badger has also written Appalachian Trials and Pacific Crest Trials, psychological guides to tackling the Appalachian and Pacific Crest Trails.

Badger's upbringing did not point to an outdoor-oriented life. By 2011, he was sitting in front of a computer working 70 to 80 hours a week. Life felt simultaneously monotonous and meaningless, and straining and stressful. When a friend mentioned he was setting off to thru-hike the AT, Badger thought he was crazy. Yet he reflexively invited himself to join — despite having zero backpacking experience.

Badger's physical training leading up to the AT proved insufficient at best. He hiked a few five-milers. But what he lacked in physical prep, he made up for in psychological prep. Badger honed a meditation routine and strengthened his mind to withstand incomprehensible feats.

Badger's wager paid off. Everything went wrong on that first thru-hike. He packed so much (including a 4.5-pound, one-person tent!) that his 3-pound sleeping bag wouldn't fit inside his Gregory Z 65 pack. Badger set his socks on fire, used his Jet Boil incorrectly for months, and even contracted West Nile virus. But he was stubborn enough to be in that minority of thru-hikers who make it to the end. Those six months on the trail ended up being the most transformative time in his life:

"The person who went into that hike was not the person who came out of it," Davis told Shanty.
Badger explains how his puzzlement over the "Virginia Blues" led him to start a blog to make sense of why so many thru-hikers quit in Virginia. Blogging ultimately led him to write Appalachian Trials and found The Trek. On a lighter note, Badger and Viking dig into the unlikely start of their friendship. And they share wild stories from thru-hiking the PCT together, including how sleeping in an out house saved their lives.

Shanty quizzes Badger and Viking on the different skillsets needed to thru-hike the AT, PCT, and CDT. They discuss how thru-hiking has evolved over the past decade. And all three of them share how the trail serves as therapy, including the inexplicable catharsis of accomplishing the seemingly impossible. Listen through to the end to learn Badger's favorite off-the-beaten-path backpacking trip. Seasoned and aspiring thru-hikers alike won't want to miss this episode to learn how to find the light at the end of the dark, green tunnel.

Learn more about Badger on theTrek.co. Follow his adventures on Instagram, and tune into his podcast, Backpacker Radio. You can also hear more hilarity from Viking on his first Out and Back appearance.
Episode Highlights
0:45: Zach "Badger" Davis is one of Shanty's favorite people in the outdoor community.
1:30: Shanty explains how backpacking with the Real Hiking Viking led to getting Badger (and Viking once again) on the show.
5:20: Badger did not grow up super "outdoorsy."
6:50: Thru-hiking the AT was Badger's first backpacking trip.
7:20: Badger did everything wrong on the AT—including setting his socks on fire.
8:30: Badger explains why relying on free gear isn't always the best move for a thru-hike.
9:30: The trio discusses how social media has impacted thru-hiking.
12:00: How thru-hiking has changed over the past decade.
15:45: Badger accidentally fell into backpacking because he was miserable working 70 to 80 hours a week.
17:30: Norovirus on the AT.
18:50: Badger's AT thru-hike was deliberately solitary and introspective.
19:30: Badger recounts his most cathartic moment on the AT.
21:00: The person who went into the AT and the person who came out were two entirely different people.
26:30: Badger explains how repeating the mantra "Why are you here?" on the AT helped inspire him to write a book.
27:30: Writing Appalachian Trials provided a reprieve from the post-trail blues.
29:30: Badger gives his explanation of the "Virginia Blues" — it's not what you may think!
33:00: How making sense of the Virginia Blues led to Badger starting a blog, which led to writing a book.
34:00: The origin story of The Trek.
37:40: Badger and Viking tell the hilarious story of how they met.
41:00: Badger and Viking hike the PCT together.
42:00: Different challenges of the AT and PCT.
45:30: Why Badger changed the name of Appalachian Trials to The Trek.
48:40: Why you should mentally break your thru-hike down into a series of section hikes.
52:30: How Viking decided to attempt a last minute winter thru-hike of the AT.
55:00: Sleeping in an outhouse saved Viking and Badger's lives.
1:05:15: Badger's vision for the future of The Trek.
1:13:00: Badger's next goals.
1:15:00: Badger's favorite off-the-beaten-path trail.
1:16:40: Badger recounts watching Viking eat an enormous meal.
1:19:15: Badger and Viking hitch a ride with a bachelorette party bus.
Next Episode: Meet the Most Famous Bear in the World, Griz 399
We're changing strides with the seasons and shifting to publishing shows every other week. Stay tuned for our next episode as Out and Back introduces a very special guest. Her name is Griz 399 and she is perhaps the most famous bear in the world. Griz 399 hails from Grand Teton National Park and has stolen the hearts of people who have come to visit her from around the world. She's had multiple sets of cubs over the years and has raised them center stage in front of park rangers, tourists, and professional photographers.

This year at the ripe age of 24, Griz 399 boosted her celebrity status by emerging from her den with four tiny cubs. You'll get to hear her story about why she sticks close to the road and how this giant mama bear provides hope and joy to so many people who seek her out in the park. Hear about Griz 399's personality from conservationist and wildlife photographer Tom Mangelsen and journalist Todd Wilkinson, who teamed up to publish a book about Griz 399's extraordinary life. And you'll hear from the man who Griz 399 attacked when he inadvertently walked into her space when she and her three cubs were feeding on an elk carcass. As loveable as she is, Griz 399 is indeed a wild animal who needs to be respected and given lots of space.

Learn more about Grizz 399 on her Wikipedia page. Follow her on Instagram, and "connect" with her on Facebook. Check out Tom Mangelsen's website, and follow him on Instagram to see his latest captures of Griz 399, her cubs, and other wildlife in the Greater Yellowstone and Grand Teton area.
Last Episode: Get the Most out of Your National Park Trip with Guide Book Author Scott Turner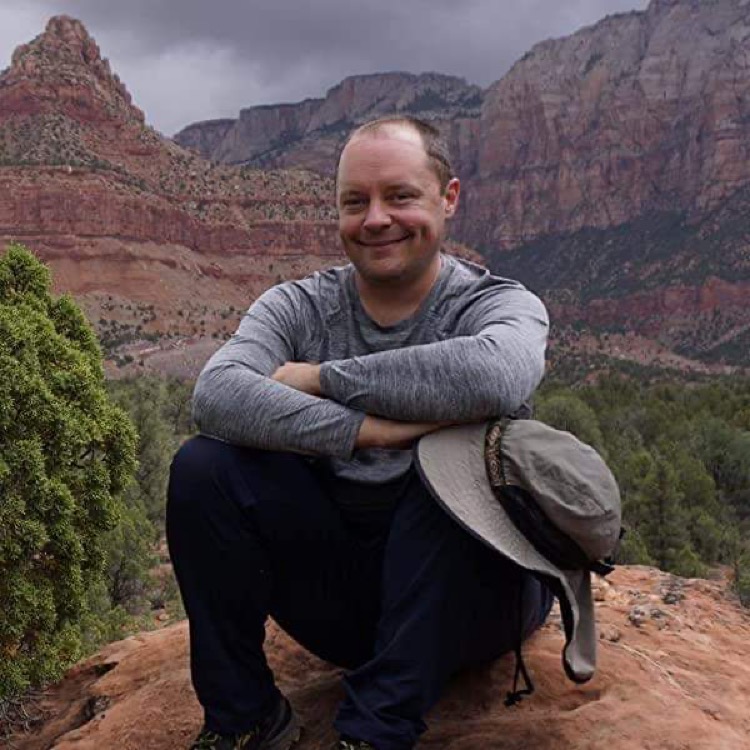 Don't miss our last episode with hiker, guidebook author and licensed therapist Scott Turner. Turner has written guide books to five national parks, as well as his home of San Diego county. He shares insight on how to get the most out of a one-day visit to a national park, including insider tips for getting off the beaten path at Sequoia, Zion, and Joshua Tree National Parks.
Turner explains why he believes early morning wake-ups are worth it to maximize your adventure. And he runs through what you should pack for a day hike to ensure you have fun and stay safe. Turner almost always hikes in trail running shoes, and he shares why he prefers them to hiking boots, plus why he brings the "10 essentials" you need to survive an unplanned night outside. You'll also hear about Turner's favorite National Park, and how hiking helps him be better at his day job as a therapist. Last but not least, Shanty and Turner break down the best hiking Pop Tart flavors.

You can learn more about Turner and find his guidebooks his website. Follow Turner's adventures on Instagram, and connect with him on Facebook.
Meet the Host: Andrew "Shanty" Baldwin
In 2019, host Andrew Baldwin completed a southbound thru-hike of the Appalachian Trail. After five months on the trail, Baldwin returned home to pursue a career in voice acting. A friend of the Gaia GPS company, Baldwin was a natural choice for hosting the Out and Back podcast.

In each Out and Back episode, Shanty strives to bring you conversations with people who spend an extraordinary amount of time outdoors. Listen in as Shanty taps into each backcountry expert's superpower so that you can take their knowledge and experience with you on your next adventure.