Some endurance adventurers strive to become the first or the fastest person to accomplish something. Others simply want to learn about themselves along the way. Justin "Trauma" Lichter unintentionally accomplishes both. On episode 9 of the Out and Back podcast, world adventurer and author Lichter shares his wildest stories from across the globe. Lichter recounts how stampeding elephants and stalking lions stopped him in his tracks on his attempted thru-hike of eastern Africa. Learn about his 2,000 mile high-altitude traverse of the Himalayas. And get the behind the scenes scoop on his most headline-making trip: becoming the first person, with Shawn "Pepper" Forry, to successfully complete the Pacific Crest Trail in winter.
In this episode, Lichter gives insights into the challenges and rewards of international adventures and the complications of winter travel on the PCT. He also digs into what motivates him to keep pushing the limits in the outdoors:

"The challenge — to see what you can handle and what you can't handle — that's definitely part of it. And the other part that keeps you going is just seeing these places. It's just rewarding when you're out there at twilight in the alpenglow and nobody's out there. It's just an amazing moment."
Lichter masters backcountry travel in many forms, from hiking to skiing to bikepacking. In fact, he's a primary source of trail details and information in NatGeo Trails Illustrated maps. Tune in to hear how Lichter scored that prestigious gig plus learn about avalanche safety, winter gear, and international resupply strategies.
To learn more about Lichter, check out his website: www.justinlichter.com. Tap into his knowledge by reading one of his many books, including Trail Tested: A Thru-Hiker's Guide to Ultralight Hiking and Backpacking and Survive: Mountains.
Episode Highlights
3:20: Trauma talks about nearing his goal of traveling to all seven continents.
4:20: Trauma has hiked over 40,000 miles.
5:00 Trauma grew up skiing and day-hiking with his parents. He loved running to see what's around the corner.
6:30: Trauma discusses an eye-oping trip to southern Utah that inspired him to thru-hike the AT.
8:30: Why the AT?
9:45: Trauma talks about why he decided to pursue an outdoor adventure lifestyle.
11:15: Trauma reveals how he earned his trail name. (It's a crazy story!)
12:30: Ravens dive-bombed Trauma on his first wilderness trip.
14:00: Trauma's first major trip was a 1,500 mile adventure through eastern Africa.
15:30: Wildlife encounters forced Trauma to cut his trip short.
17:30: Trauma spooked a lion and got chased by an elephant.
19:00: People are not on the top of the food chain in Africa.
21:30: Learning to navigate African cultures.
23:30: Trauma was careful with water sources and vaccinations to avoid sickness.
26:00: Trauma's second major trip took him to Katmandu, Nepal, for the Great Himalaya Trail.
28:50 Tricky resupply strategy for the Great Himalaya Trail.
31:30: Trauma ate a lot of convenience store food.
32:00: Altitude is draining.
33:30: Trauma and Pepper become the first people to complete the PCT in winter.
34:30: Trauma talks about his motivation to embark on a winter PCT thru-hike.
35:30 Trauma and Pepper indirectly spent a decade preparing for their winter PCT trip, dialing in their gear and skills.
36:30 Gear isn't made for this type of trip. Trauma had to find the balance between winter gear weight and functionality.
37:45: How Trauma and Pepper met.
39:00: Trauma and Pepper have adventured thousands of miles together.
39:30: Pros and cons of having an adventure partner.
41:00: Trauma and Pepper lucked out with avalanche danger on the PCT.
42:50: Trauma and Pepper got frostbite.
45:00: Winter navigational challenges you probably haven't considered.
47:00: What keeps Trauma going.
48:45: Trauma's work for National Geographic Maps.
49:30: Trauma's work on ski patrol.
53:50: One of Trauma's hiking presentations turned into a full barroom brawl.
55:10: Trauma's favorite hiking gear.
55:50: Trauma's favorite hiking food.
56:05: The psychological differences between a zero and a "nearo."
Next Episode: The American Perimeter Trail with Mastermind Rue McKenrick
Right now, the longest hiking route in America is being designed, mapped, and tested out. The American Perimeter Trail circles the contiguous United States to make a 12,000-mile loop of existing trails, roads, and cross-country travel.

Hiker Rue McKenrick dreamed up the route after completing America's thru-hiking Triple Crown of the Appalachian, Pacific Crest, and Continental Divide trails. He craved another engaging long-distance hike in the US, so he scoured the maps. When he couldn't find another long trail to hike, he imagined a route that connected the Pacific Crest Trail to the Appalachian Trail through the states in between.

In June 2019, McKenrick left his home in Bend, Oregon to scout the best track for his burgeoning vision of the American Perimeter trail. McKenrick has hiked some 8,000 miles since. He started with a walk south along the Pacific Crest Trail. Next, he turned east to walk across the Mojave desert through Death Valley. He's walked across Utah, Texas, and beyond.

In this interview, Shanty catches up with McKenrick during a town stop in western Michigan. McKenrick explains what inspired the American Perimeter Trail project, his vision for the trail, and the unbelievable encounters he's experienced all the way.

Hear about how he navigated his way around massive swaths of private property in Texas, endured police questioning for having a backpack and an "accent," and what happened when shots were fired over his head.

McKenrick gets real with Shanty, revealing the one item he takes with him on every journey — an open heart.

"Over the years, I've found that the one item I need to take with me on every trip is an open heart," McKenrick says. "An open heart allows you to experience what's in front of you without judgment and thinking it should be different. An open heart allows you to say, 'This is the time right now. This is it. There's no past and there is no future.'"

Check out the American Perimeter Trail website and follow McKenrick's journey with real-time updates on his Instagram.
Last episode: How Hiking Helped Heal Professional Hiker Will "Akuna" Robinson"
When Army veteran Will Robinson returned home from a combat tour in Iraq, he struggled with depression and PTSD. He spent more and more time at home, withdrawing from civilian life and turning to alcohol for self medication. One day, he flipped on the TV and saw Reese Witherspoon wrestling with an oversized backpack in the movie "Wild."

That movie scene took Robinson back to his deployment overseas when he read a book about hiking the 2,660-mile Pacific Crest Trail. Inspired, Robinson shut off the TV and got to work planning his hike. Just two weeks later, Robinson put two feet on the trail and began walking north.

That first PCT thru-hike "was like an epiphany," Robinson says. "I really, really enjoy through hiking. You know, this is going to be my life. This is for me, it's not just that I want to come back next season because I had a goal and I feel like I didn't accomplish it. I want to come back next season because I love this lifestyle and it's helped me so much and I enjoy it so much. I just need to go back."

Robinson, dubbed "Akuna" on the trail, sat down with Shanty in Out and Back podcast, episode 8. He engages in a frank discussion about how the trail helps him find purpose, community, and the space and time he needs to focus on himself. He recounts how the PCT hike allowed him to address his PTSD and Depression. Inspired by how the trail made him feel, Akuna continued on to hike the Appalachian Trail and the Continental Divide Trail — becoming the first Black man to complete the Triple Crown of long trails in America.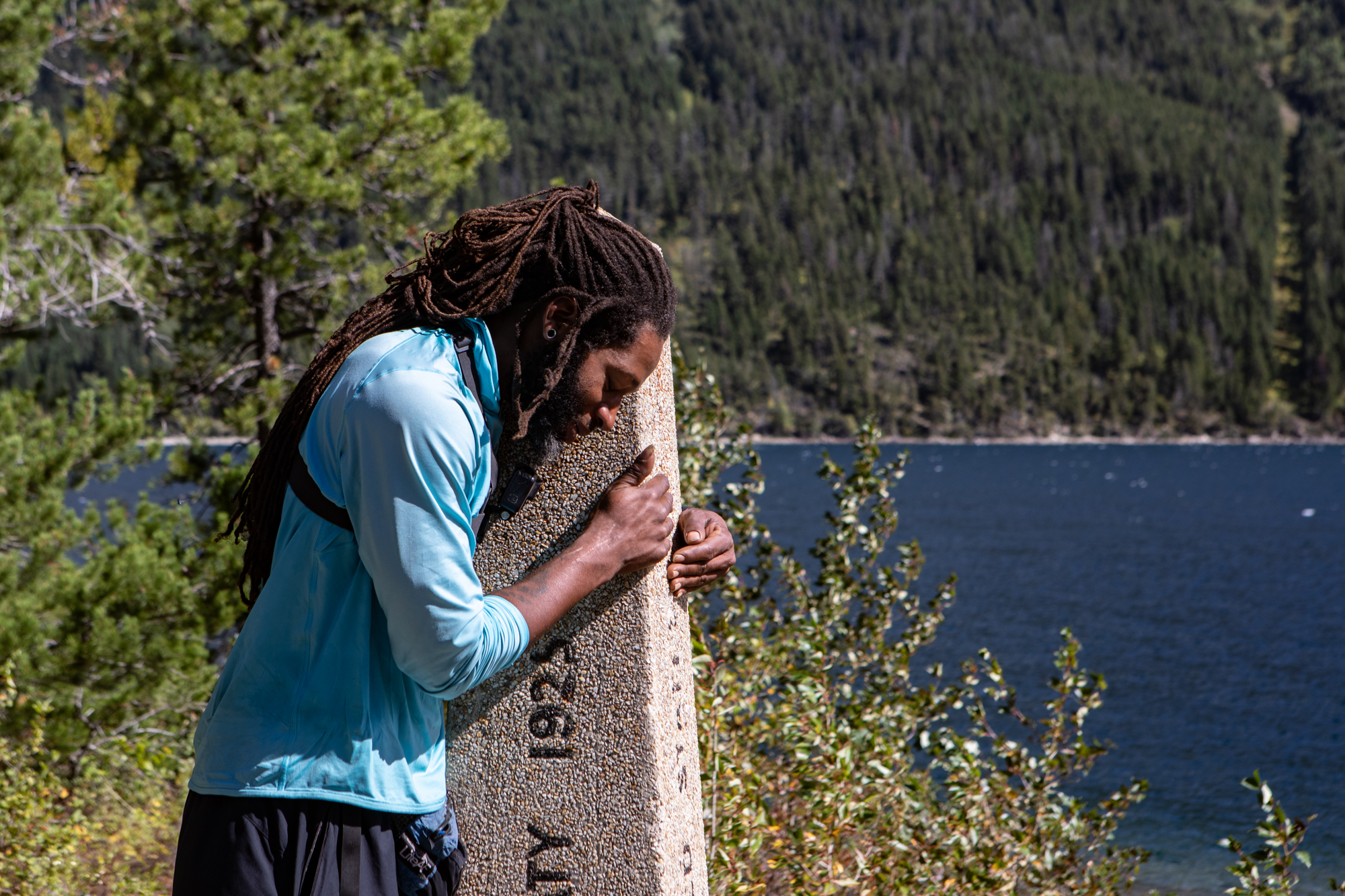 Tune in as Robinson talks about being the first Black man to complete the Triple Crown, what that achievement has meant to him, and how all the hateful comments on social media mentally drained him. Akuna also touches on the recent flood of media requests in his inbox regarding speaking about the issues people of color face in the outdoors. He explains what he believes his fellow hikers can do on trail to make the outdoors a more welcoming place for people of color, and what it means for outdoor brands to become better allies. Laid back yet passionate about hiking, Akuna highlights the healing nature of trails everywhere, whether long, short, or in between.

Learn more about Akuna on his brand new website www.akunahikes.com and follow Akuna on Instagram to catch a glimpse of his latest adventures.
Meet the Host: Andrew "Shanty" Baldwin
In 2019, host Andrew Baldwin completed a southbound thru-hike of the Appalachian Trail. After five months on the trail, Baldwin returned home to pursue a career in voice acting. A friend of the Gaia GPS company, Baldwin was a natural choice for hosting the Out and Back podcast.
In each Out and Back episode, Shanty strives to bring you conversations with people who spend an extraordinary amount of time outdoors. Listen in as Shanty taps into each backcountry expert's superpower so that you can take their knowledge and experience with you on your next adventure.