Episode 3 of the Out and Back podcast releases today with a lesson on backcountry navigation from backpacking expert and guide Andrew Skurka. Known as an authority on traditional map and compass navigation, Skurka started his long-distance hiking career in 2002 when he completed the 2,190-mile Appalachian Trail as a novice backpacker. From there, Skurka took his hiking status to the next level by laying down first tracks on three enormous, untouched routes in America.

Through those thousands of miles of solo hiking, Skurka has become a master at finding his way in the wilderness. Listen in on Episode 3 as Skurka takes us through his unusual progression of long-distance hiking, from the well-worn path of the AT to these high-risk, high-mileage adventures. In the process, Skurka also touches on the multiple high routes he's created in recent years, what he carries in his backcountry navigation kit, and the one, simple concept that everyone can do to stay found in the backcountry.
Episode 3: Adventurer Andrew Skurka Talks Backcountry Navigation
After hiking the Appalachian Trail as a beginner backpacker during his college years, Andrew Skurka wanted to expand his backcountry skill set. Rather than embarking on the next long-trail classic, like the Pacific Crest Trail or the Continental Divide Trail, Skurka discovered the never-been-done-before 7,700-mile Sea to Sea route and he quickly jumped on board. The Sea to Sea took him on a cultural journey from the Canadian eastern sea board, through America's lonely plains of North Dakota and Montana, and across to the Pacific.

Two years later, in 2007, Skurka set out on the 6,875-mile Great Western Loop, connecting the Pacific Crest and Continental Divide trails with an amalgamation of side routes. This long trip through the West's highest mountain ranges became an athletic feat for Skurka, who averaged 33 miles per day to finish the entire loop in just 208 days.

The next trip, though shorter in length than the other two at 4,679 miles, brought high-stakes adventure through the Alaskan wilderness and Canada's Yukon territory. Over the course of six months, Skurka paddled alone down glacier-fed rivers, encountered grizzly bears, and skied over frozen swampland. At one point, Skurka traveled 615 miles without encountering another human.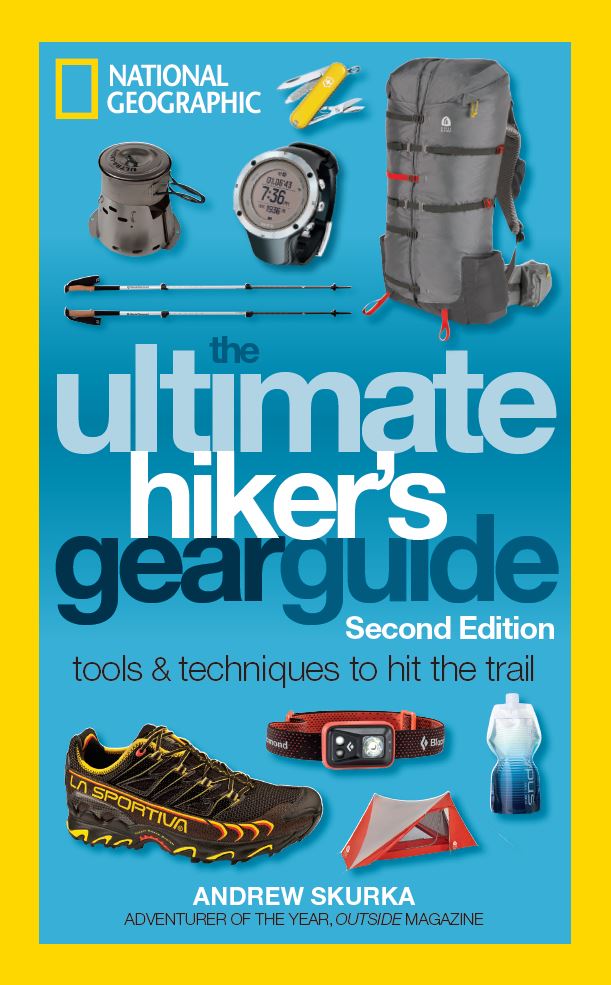 "There was this constant uncertainty, where you wake up in the morning and you're not actually convinced that you were going to have dinner that night." Skurka said of his Alaska expedition. "That got old and it wore on me."

Skurka recounts how he came out of that Alaska trip "still hustling and living on crumbs" but ready to try making a career out of his adventures. He started a robust blog on all things backpacking, wrote the Ultimate Hiker's Gear Guide published by National Geographic, designed a handful of high routes, and started a guiding business.

Skurka reveals his super-simple method of teaching backcountry navigation to his clients, explaining how he uses both digital and paper maps and why he doesn't teach triangulation in his courses. He also points out his favorite watch and compass and reveals what piece of gear that he's been happy with for most of his hiking career. Skurka, though just shy of turning 40 years old, describes himself as firmly in the "old-timer camp," reminding us that while he has been backpacking for almost 20 years it's the miles that distill into experience and wisdom.

Tune in as he discusses the navigator's story, what's in his navigation kit, and the overall flavor of his guided trips.
Episode 3: Highlights with Andrew Skurka
3:25: Skurka's first backpacking experience on the Appalachian Trail.
5:10: Why Skurka did not attack the normal Triple Crown progression but instead selected to embark on three never-before-hiked mega-adventures.
8:10: Skurka's Alaska-Yukon adventure involved skiing, packrafting, and hiking.
9:10: The appeal of long-distance backpacking for Skurka is learning and expanding his skill set.
11:55: The Alaska trip made Skurka uncomfortable for 180 days, wondered if he would make it to dinner each day.
13:00: Skurka was living on crumbs, and that lifestyle reached an expiration date for him.
14:20: Skurka describes his guided trips, focusing on the education of backcountry skills.
16:00: Skurka says navigation is one of the most important backpacking skills, and definitely the most liberating.
17:25: The different grades of navigational competency.
18:20: Skurka describes the number one navigational mistake.
18:30: The navigational story is how Skurka teaches his clients to navigate in the backcountry.
21:40: Learn what's inside Skurka's backcountry navigation kit.
24:15: Reading the landscape in Alaska.
26:20: Paper maps versus digital maps, find out how Skurka uses both.
31:10: Skurka's favorite compass and watch from Suunto, but not everyone needs an expensive one.
38:15: Skurka describes the high routes of the American west.
50:00 Skurka shines a light on that one piece of gear that's been with him throughout almost his whole hiking career.
Next Episode: Long Distance Adventurer Daniel White, the Blackalachian
The next episode of the Out and Back podcast brings Blue Ridge Outdoors 2020 Hiker of the Year Daniel White. Known as the Blackalachian in the outdoor community, White tackled his first thru-hike in 2017 when he turned to the Appalachian Trail to get away from a bad break up and burn out at his job. Having never been hiking or camping before, White planned to walk for two months and return home to North Carolina. But when the time came to quit, White kept going and finished the 2,190-mile trail in six months.
After the AT, White has kept his roster full of unique adventures of more cultural import, including bike touring from Alabama to Canada on the Underground Railroad Trail, hiking across Scotland, and trekking the Camino Del Norte, a pilgrimage route along the Northern Coast of Spain.
In this episode, the Blackalachian recounts the ups and downs of his AT completion, touching on his experience as one of the few Black hikers he saw on the trail that year. Experiencing both friendship and instances of racism, the Blackalachian discusses how he emerged from the AT wilderness in search of a more culturally infused adventure. To accomplish this goal, the Blackalachian took up bicycle touring and peddled from Alabama to Canada on the Underground Railroad Trail, retracing the secret route that led slaves to freedom in the early-to-mid 19th century.

Since then, the Blackalachian has continued to seek out stories of history in the wild, hiking the Camino del Norte and a route across Scotland, recalling that one of his favorites parts of the trip involved meeting all the townspeople. A true adventurer, a history buff, and a dedicated solo traveler, the Blackalachian shows us that the journey forward is made by the people met along the way. Tune in on June 24 to hear the full story.

Tap into the Blackalachian's YouTube channel to learn more about his trips. Get exclusive content from the Blackalachian on Patreon. Follow the Blackalachian on Instagram and Facebook.
Last Episode: The Real Hiking Viking
Drop in on our last episode with Thomas Gathman, known on trail as the Real Hiking Viking. Known for his gnarly beard and fun-seeking attitude, Viking served two combat tours in Iraq and one of those as a Marine Scout Sniper before stumbling into full-time hiking on America's long trails.

Out and Back's Episode 2 dives into Viking's journey from sniper to pro hiker. Viking also recounts his recent efforts, including a trip to the Middle East to thru-hike Jordan and recovery from a knee injury. Viking also lets us in on which of the three classic thru-hike trails taught him to love wilderness adventure and why he's dying to get back out there.

Best of all, Viking, in usual gregarious and free-spirited style, reminds us in this episode why hiking is so much fun, and why there can never be too much trail time for all of us. Follow the Real Hiking Viking on Instagram. View all Out and Back episodes here.
Meet the Host of the Out and Back Podcast: Andrew "Shanty" Baldwin
In 2019, host Andrew Baldwin completed a southbound thru-hike of the Appalachian Trail. After five months on the trail, Baldwin returned home to pursue a career in voice acting. A friend of the Gaia GPS company, Baldwin was a natural choice for hosting the Out and Back podcast.

In each Out and Back episode, Shanty strives to bring you conversations with people who spend an extraordinary amount of time outdoors. Listen in as Shanty taps into each backcountry expert's superpower so that you can take their knowledge and experience with you on your next adventure.