We conducted a poll to find out how people use Gaia GPS in last week's newsletter.​
We have never done this before, so we found the results both interesting and eye-opening. We expected people to be more heavily hiking/backpacking oriented, but instead we found a very diverse crop of hikers, off-roaders, hunters, firefighters, search and rescue technicians, and more.​
With over 450 people responding, this poll probably has some statistical significance, but we won't make any scientific claims about the data. ​
If you have another cool story to add, email us at support@gaiagps.com. You can also add #gaiagps on Instagram, Facebook, or Twitter, and we'll share your adventures with the Gaia GPS community.
Gaia GPS Poll Results
Hiking/Backpacking (42.6%) – Conceived and built by avid hikers, Gaia GPS was created for this purpose, so it's no surprise this is the top category.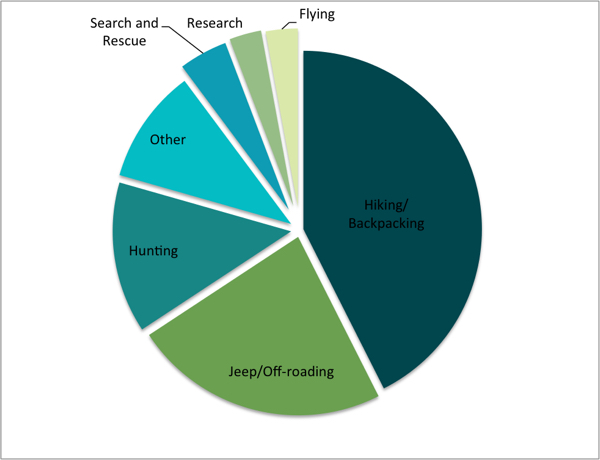 Jeep/Off-roading (23.2%) – A lot of off-road Gaia users prefer tablets, even mounting them into their vehicles and using the large screen to navigate. Gaia GPS has become the go-to app for off-roaders, and we've often seen Gaia GPS crop up places like expeditionportal.com, advrider.com, and a dozen other vehicular websites.
Hunting (13.7%) – A large percentage of GaiaPro users are hunters and use specific map sources to view property boundaries.
Search and Rescue (4.4%) – SAR technicians use Gaia to plot and navigate to precise locations using GPS coordinates.
Research (2.9%) – Biologists, Geologists, Archeologists and other research professionals use Gaia for collecting location data in the form of waypoints and photos.
Flying (2.9%) – Pilots use the guide me feature to navigate between waypoints, and use Gaia GPS for reconnaissance missions.
Other – (10.4%) – Over 10% responded that they use Gaia for a different purpose. We wanted to know what, so we asked people to write in and tell us exactly what they use Gaia for.
Cyclists
One of the top categories that we were reminded of was cycling. It's no surprise that cyclists use Gaia from roads to trails–most often doing one of these things:
Bike-packing
Bike touring/Long-distance biking
Mountain Biking
Professionals
As mentioned above, some people use Gaia GPS for professional endeavors such as Biology, Archaeology, and Search and Rescue. ​
Woodland firefighters and SmokeJumpers use Gaia to help plan escape routes, mark fire lines, and track the fire's progression.
People also use Gaia GPS to do land and property surveys.
Sports
Gaia users are athletes. Here are some of the sports that users wrote in about:
Ultra-distance trail running
Cross-country skiing
ATVing
River Rafting
Sea Kayaking
Horseback riding
Adventure Motorcycling
Creative Exploration
The hobbies people use Gaia GPS for don't stop there. People pursue many passions with Gaia GPS.
Cave documentation
Trail documentation
Nature Photography
Metal detecting 
And of course, people  use the convenience of Gaia GPS  maps while traveling abroad, where they can't get an internet connection, and need some offline maps of even a city.