Once a year, fleeting reds, yellows, and oranges light up national parks across the country. Hikers favor fall for its crisp cool air, stunning scenery and fewer crowds that make the trails more enjoyable. So, if you're looking to take in the foliage from the trail, how do you choose which parks to visit of the 61 in the U.S.? Learn about the best national parks to visit in October, top hikes for fall foliage, and helpful tips for the trail.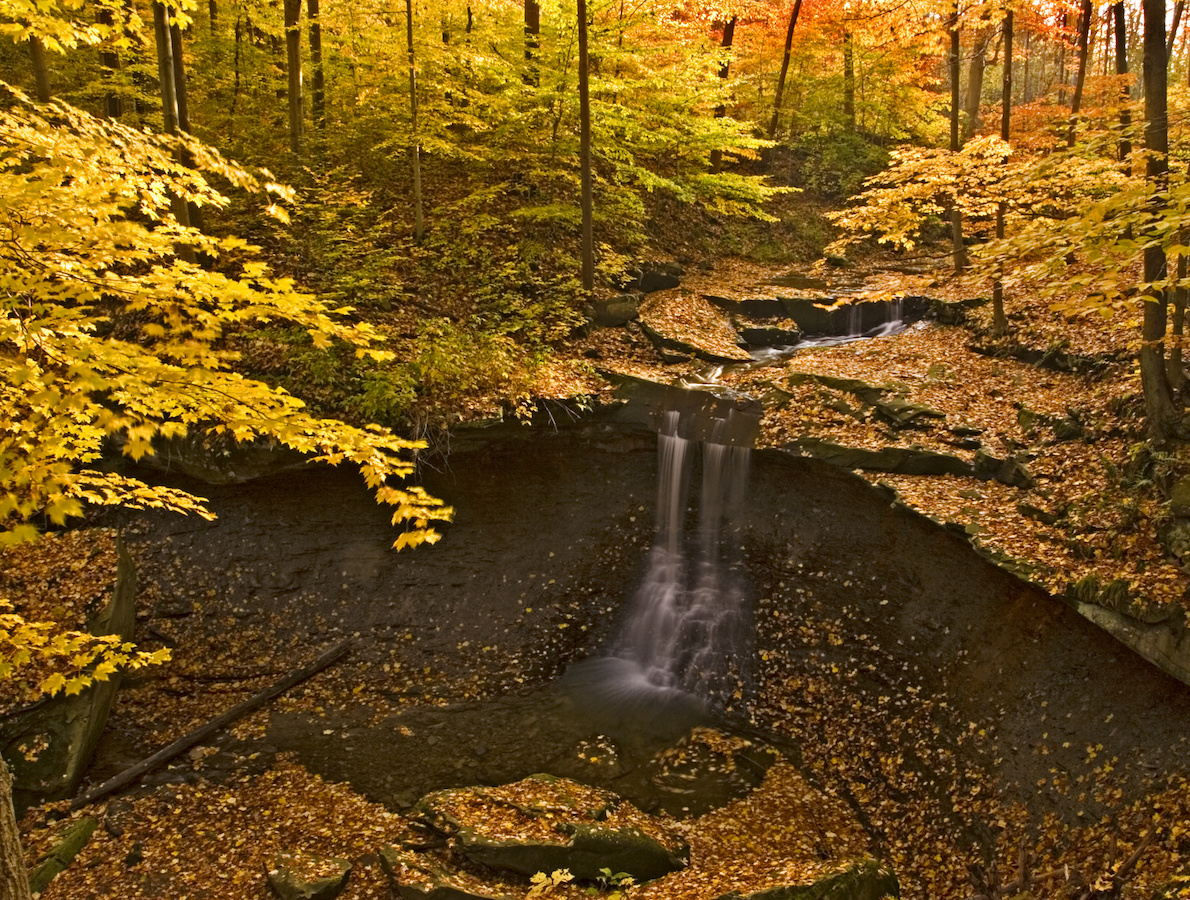 1. Cuyahoga Valley National Park – Ohio
Explore 125 miles of hiking trails bursting with bright yellow birches and deep red oaks each October. You might not know the name, but Cuyahoga Valley National Park harbors exceptional fall colors, rivaling the best in the country. Just 30 minutes outside of Cleveland and less crowded than many other parks, Cuyahoga Valley National Park makes for a convenient and beautiful adventure in the fall.

Recommended Hikes:
Wildlife, plant diversity and rock formations fill the mellow, low elevation trails of Cuyahoga Valley National Park. Visit the Ledges Trail for a seven-mile view of the valley and the 65 foot Brandywine Falls.

Before You Go: Entrance to the park is free and dogs are allowed. Brandywine Falls is best visited early in the morning or later in the afternoon due to its popularity.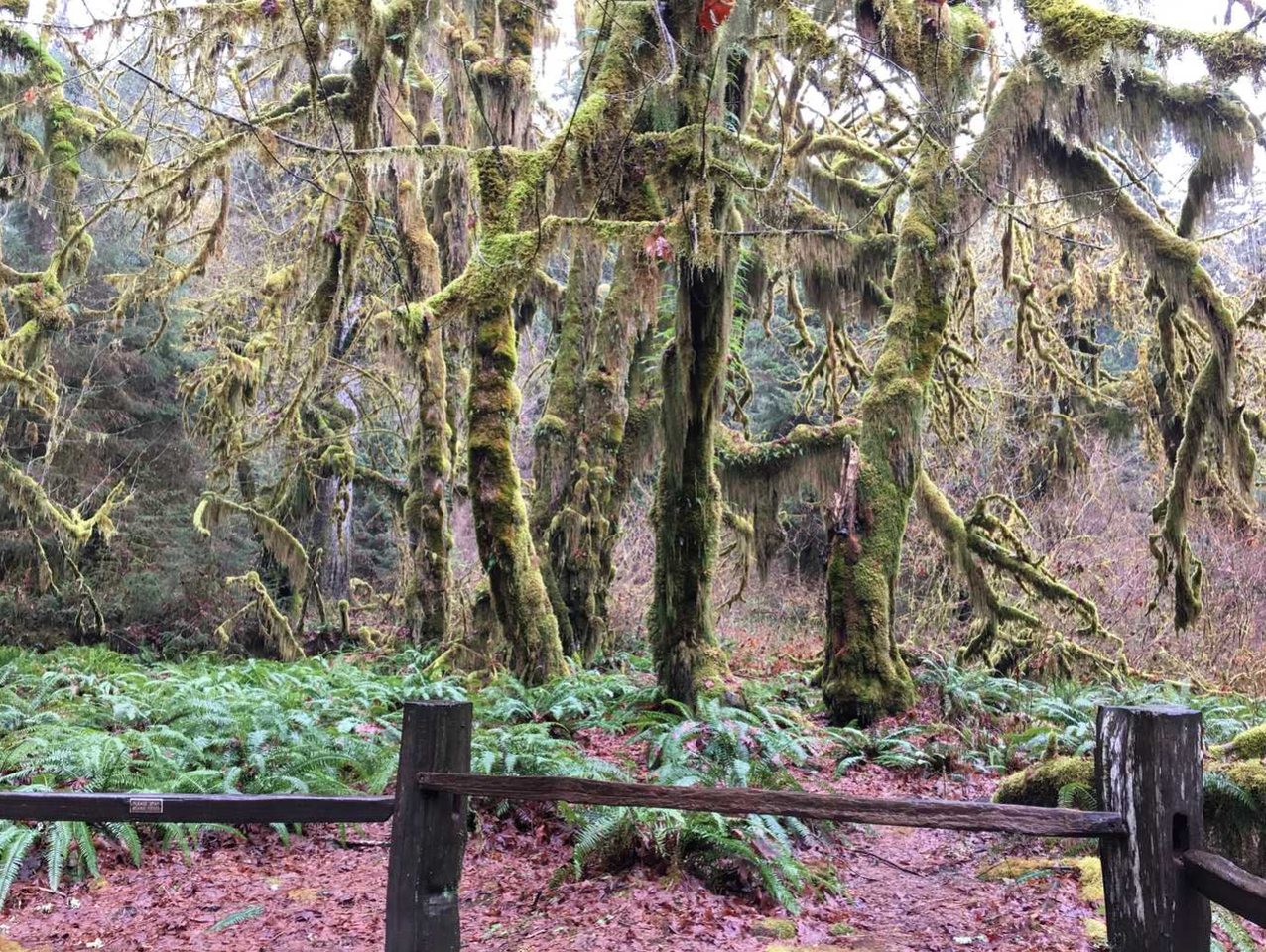 2. Olympic National Park – Washington
Experience temperate rainforests popping with color, elks bulging, and chanterelle mushrooms growing in the forest in Olympic National Park. Rainy season on the peninsula coincides with mystical changes in the park. Vibrant highlights of crimson maples and lemon yellow cottonwoods speckle the hanging beards of moss in the Hoh Rain Forest. Explore glacial peaks to coastal trails that span almost a million acres – then warm up at the Sol Duc Hot Springs or another natural hot spring in the park.

Recommended Hikes:
Trails range from easy to difficult and span a bevy of wildly varying climates. Hike along the 73 miles of coastal beaches, backpack through one of four separate rainforests in the park, slosh into salmon-filled rivers or bag a peak in the Olympic Mountain Range.
Before You Go: Temperatures vary from 10-20 degrees even in the summer. Expect snow as early as September in high elevations. Prepare accordingly with warm and waterproof layers.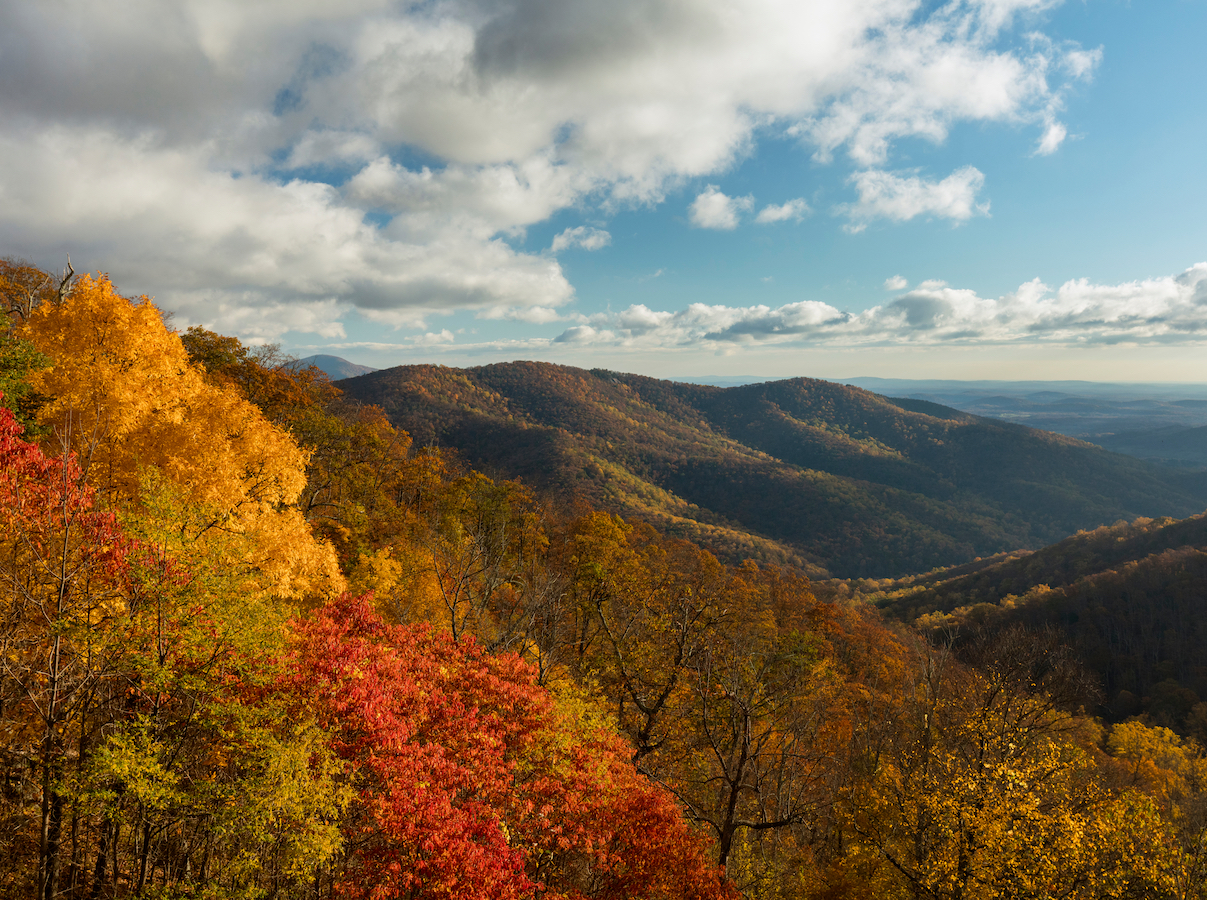 3. Shenandoah National Park – Virginia
Wander through purple dogwoods, golden beech trees, and fiery red oaks in the Blue Ridge Mountains. Wherever you hike in the park, overlooks of the Shenandoah Valley burst with a mix of reds, oranges, and yellows. If your legs need a rest, drive down the Skyline Drive National Scenic Byway which runs north to south through the park. 75 scenic overlooks offer many opportunities to step out of the car and take in the crisp autumn air.

Recommended Hikes: Power through an out and back that packs a punch to the summit or spend a few days brushing shoulders with thru-hikers on the Appalachian Trail. With over 500 miles of hiking trails ranging from easy to difficult, every hiker can find a trail with a length and view that suits them.
Before You Go: Shenandoah National Park sees a spike in visits during fall so make advanced arrangements before visiting the park.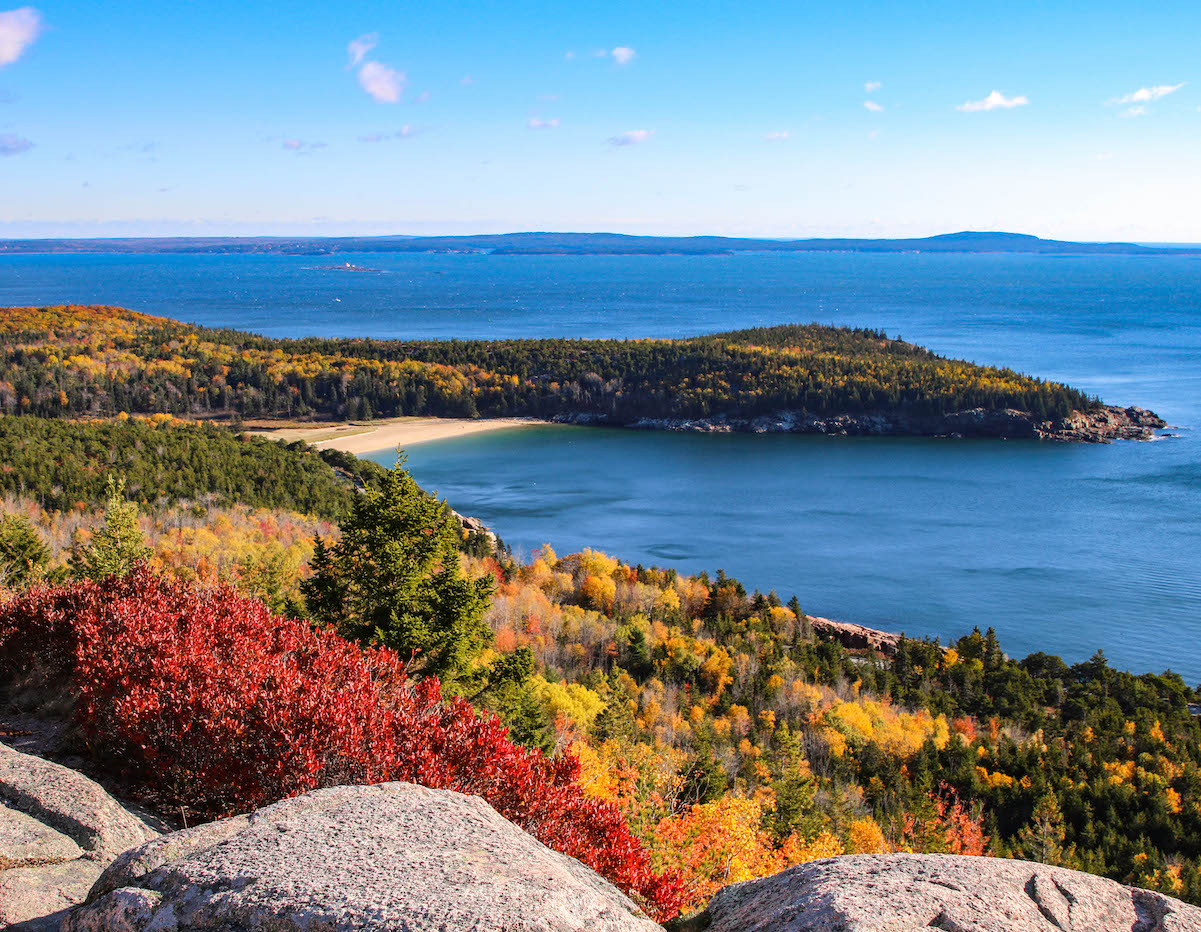 4. Acadia National Park – Maine
Visit the gem of the northeast along Maine's Atlantic Coast. Hikers flock to Acadia National Park in the fall for its diversity of hardwoods and coniferous forests spread over 49,000 acres. The blazing red maples, golden birches, and shimmery aspens against the waters of the Atlantic will satisfy even the most discerning leaf peepers.

Recommended Hikes: Acadia's 160 trails run through and alongside forests, summits, lakes, and coastal lines. From leisurely, low elevation strolls to 1,000 foot peak summits, the park accommodates a variety of hikers looking to enjoy Maine's coast.
Before You Go: Read up on entrance fees and road and trail closures, which include nesting peregrine falcons, construction, and weather.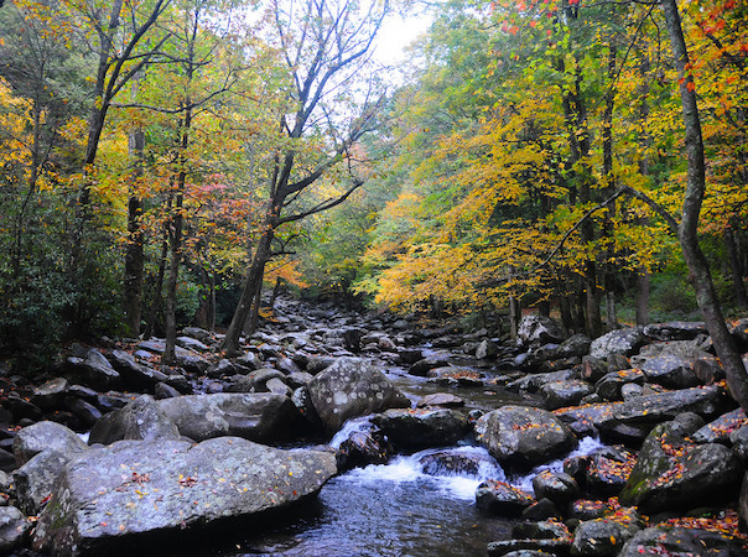 5. Great Smoky Mountains National Park – North Carolina/Tennessee
Bordering North Carolina and Tennessee and teeming with over 100 species of trees, Great Smoky Mountains National Park boasts awe-inspiring landscapes in the fall. Traverse the spiny ridge-line of the park for a flood of fall color unique to this region. Located in the heart of Appalachia, the Smokys offer the quintessential fall experience including corn mazes, pumpkin patches, and apple-picking. Venture into nearby Gatlinburg or Pigeon Forge after you've worked up an appetite on the trails.

Recommended Hikes: 850 trails crisscross the ridges of Great Smoky Mountains National Park, including 70 miles of the Appalachian Trail. Hikers can enjoy a short and sweet taste of the AT or take on a strenuous summit hike with a sack-lunch and plenty of water. Hikers will find picturesque views on trails rated easy to difficult.
Before you Go: Go early or arrive late to avoid crowds when visiting the park. Cades Cove and Newfound Gap Rd. see the most traffic.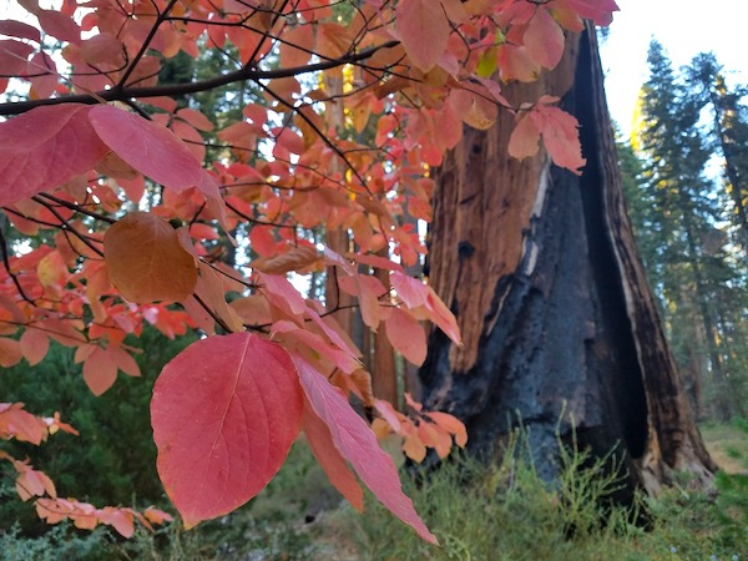 6. Sequoia and Kings Canyon National Park – California
Note: these two parks are currently closed due to wildfires. Please check in with the NPS before making plans to visit.
Experience the magic of the world's largest trees accented by fall colors. Stare up at Sequoia National Park's "living giants," made perhaps grander by the highlights of red dogwoods in the backdrop. Sequoia and Kings Canyon National Park's unique vegetation between the foothills and high alpine offers oaks, perennials, and pines among many other tree species. Visiting in the fall provides a break from the heat and crowds at the park, making October the ideal time to visit.

Recommended Hikes: From the worlds largest tree to the tallest mountain in the contiguous United States, these parks have a wide variety of terrain for exploration. Get off the beaten path and discover canyons, granite cliffs, and wildlife. For the best fall colors, visit the less-traveled and lower elevation foothills to see the blue oaks, gold fern fields, and dogwoods.
Before You Go: Fees are required to enter the park. Read up on them here.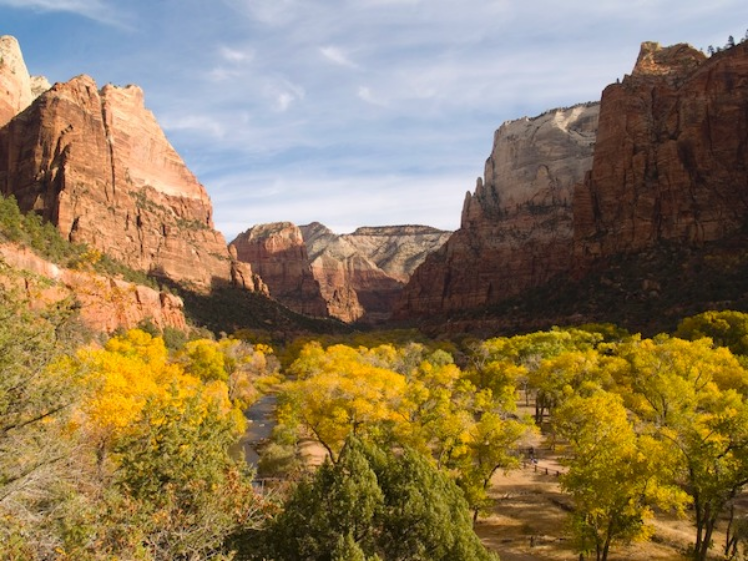 7. Zion National Park – Utah
Dramatic red rocks and canyons, and blue bodies of water put Zion National Park on the map. Coupled with autumn colors, those striking visuals only intensify in the fall. Plus, the crowds and temperature remain lower and more manageable during this season. Like other parks located in the west, the contrast of dark green conifers and bright yellows create distinct bursts of color.

Recommended Hikes: Wind through a slot canyon, ramble on an out and back or backpack into the wilderness. Zion Canyon has the most popular trails in the park but visitors can also find less frequented but equally stunning hikes in Kolob Canyons and Zion Wilderness.
Before You Go: Backpacking and canyoneering require permits, including popular routes in the Narrows. Make sure to check the weather, as flash-floods and hypothermia can be extremely dangerous.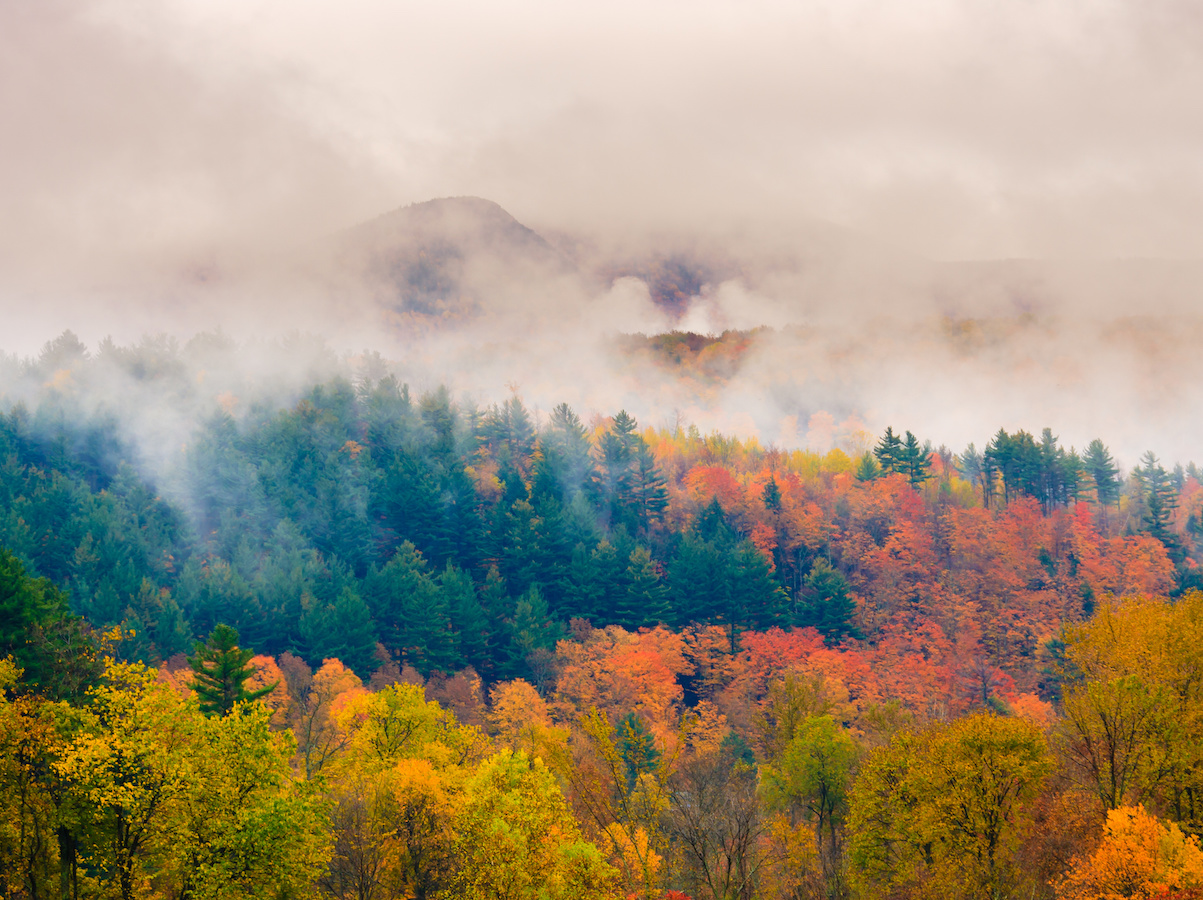 8. Green Mountain National Forest – Vermont
Cider donuts, a cool morning on the trail and Vermont's scarlet red maples bursting in the valley— what more could you ask for? This National Forest made the list for it's famed fall foliage in New England. Home to several 4,000 footers, Green Mountain National Forest makes for big grins and tired legs in the fall. Try your legs on one of these peaks for views of the crimson reds, bright yellows and burnt oranges that set the landscape on fire. If you can't make it till later in the season, be prepared for "snowliage" when a coat of white snow makes for extra pop against the foliage.

Recommended Hikes: Green Mountain National Forest contains over 900 miles of trails including Vermont's Long Trail which overlaps with the Appalachian Trail. Hike a portion of these renowned trails or pick your way up a rooty, rocky gap trail. Shorter loops also offer terrain better suited for kids and families.
Before You Go: Check foliage reports here. Because this is a National Forest, dogs are allowed as long as they are leashed.
Can't make it to one of these parks? Search your local area to find a park/hike near you..