When it comes to layering for cold-weather adventures, seemingly tiny decisions can make or break a trip.
Snowy landscapes on crisp mornings sound magical. But in cold weather, the stakes are higher. Wearing the wrong clothes can leave you either too cold or too damp from sweat—both of which can lead to exposure-related conditions like frostbite and hypothermia.
That's where the art of layering comes in. Knowing how to dress for winter hiking is all about knowing how to keep your body on that Goldilocks-fine line between too hot and too cold. Read on to figure out how to dial in your own winter layering system and enjoy your next winter hike in comfort.
Wick Away Moisture with Baselayers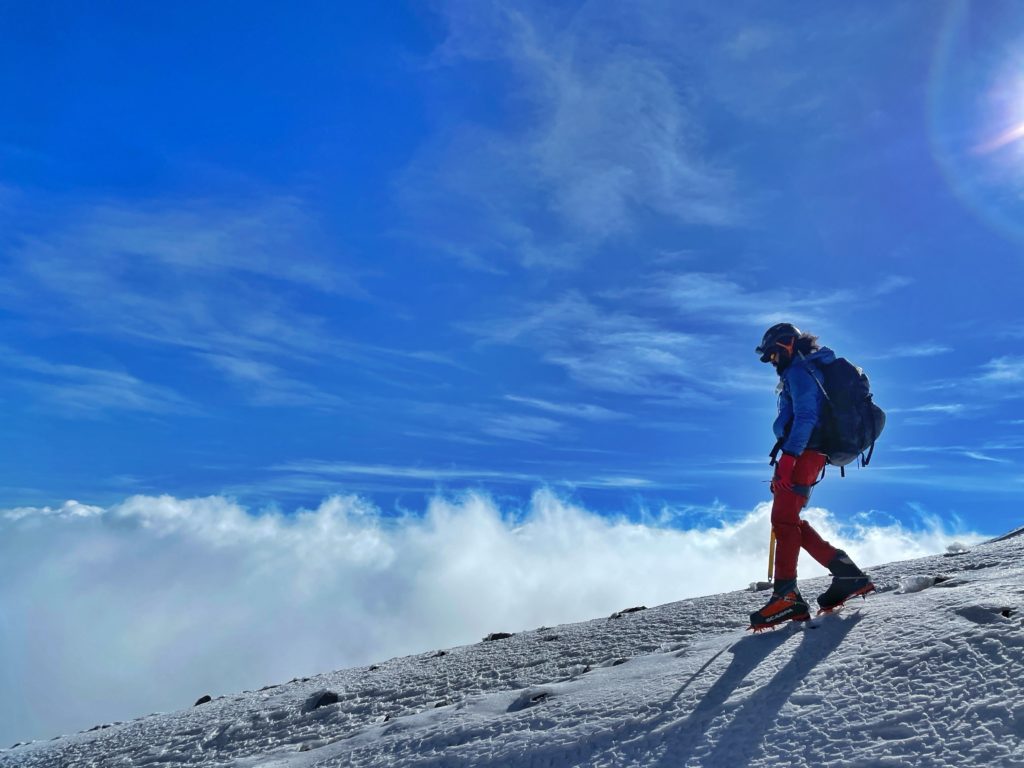 Let's start with your first layer. Your baselayer lies against your skin. It both provides warmth and wicks moisture away from your body to keep you feeling dry. Synthetic and wool fabrics, especially lightweight Merino wool, offer the best wicking capabilities. Wool also has the added benefit of natural odor-fighting properties. Cotton, however, absorbs sweat and will leave you feeling clammy. Save it for summer.
Your baselayer should be fairly thin. It can be short-sleeved or long-sleeved depending on the weather and how much you heat up when you really get moving. If you start overheating the minute you hit an incline, a short-sleeved layer or a shirt with a zipper will help you dump heat fast and avoid building up sweat. If you expect blowing snow or windy weather, you'll be happier with long sleeves or a short-sleeved shirt under a wind-blocking layer like a softshell jacket or lightweight wind shirt.
Baselayer bottoms are also a personal preference. Even a thin pair of athletic tights or long underwear under your pants can make a serious temperature difference. But if you're prone to sweaty legs, your winter hiking pants might keep you warm enough by themselves.
Insulate with Midlayers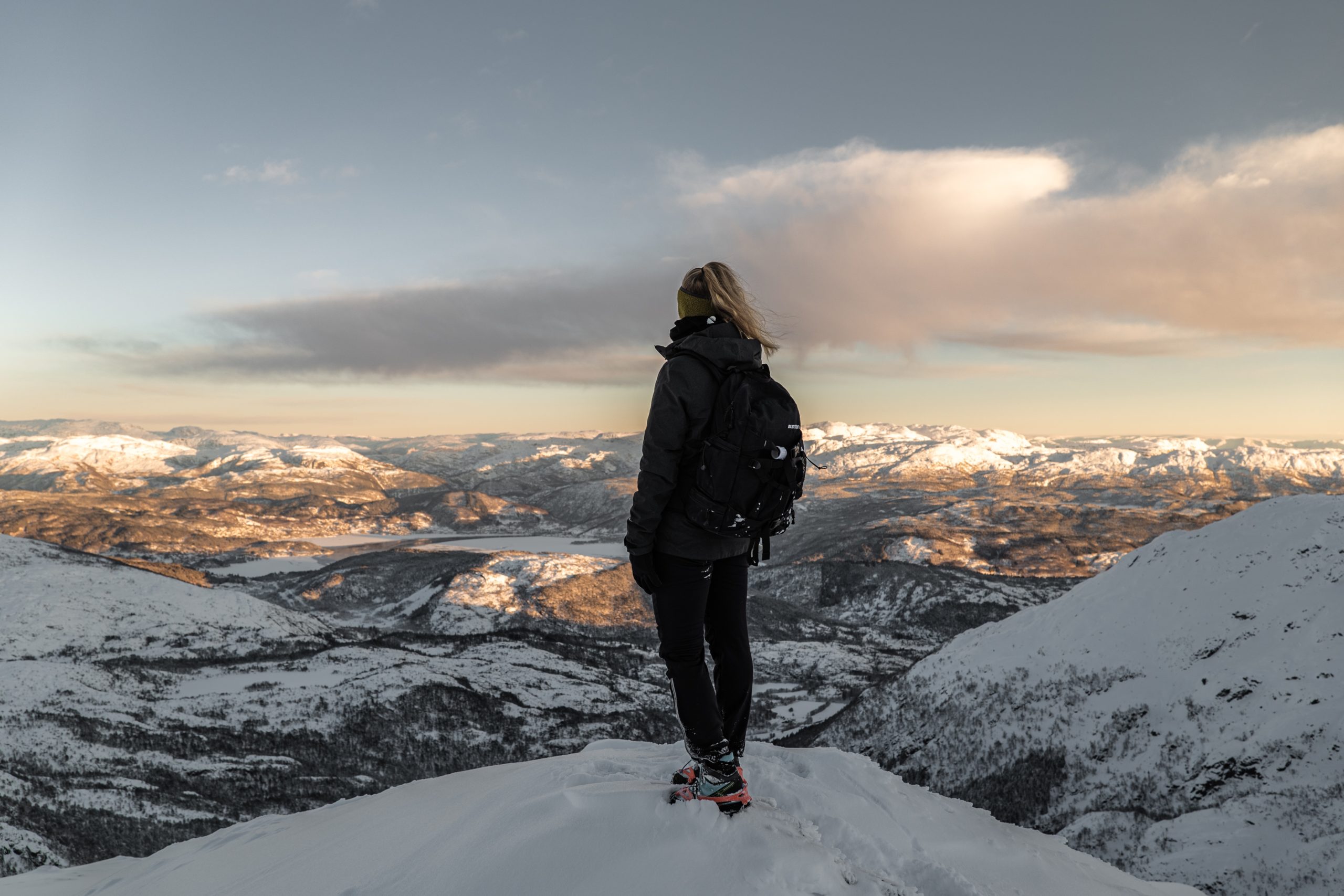 A midlayer traps body heat to keep you warm and to continually dry your baselayer. These come in various weights—everything from a thin Merino wool hoodie to an insulated vest to a lightweight down jacket can count as a midlayer.
Breathable fleece is a popular option. It's fairly warm for its weight, and the breathability allows sweat to dry fast, though that also means it provides little defense against wind. The close-knit fabrics of insulated synthetic mid-layers add both stretchiness and improved wind-resistance.
Down sweaters (puffy, down-filled jackets) offer the most warmth per ounce and pack down smaller than other materials. However, they only work if they stay dry. Down provides warmth by trapping hot air in the thousands of tiny air pockets that form between feathers. Get it wet, and the limp feathers will provide far less warmth than a damp wool or synthetic layer.
As the temperature dips, you might use more than one middle layer. For example, on a 10°F day, you might wear a thin Merino wool baselayer and a synthetic-insulated vest followed by a down sweater. All that goes under your outerlayer, or shell.
Keep out the Weather with Shell layers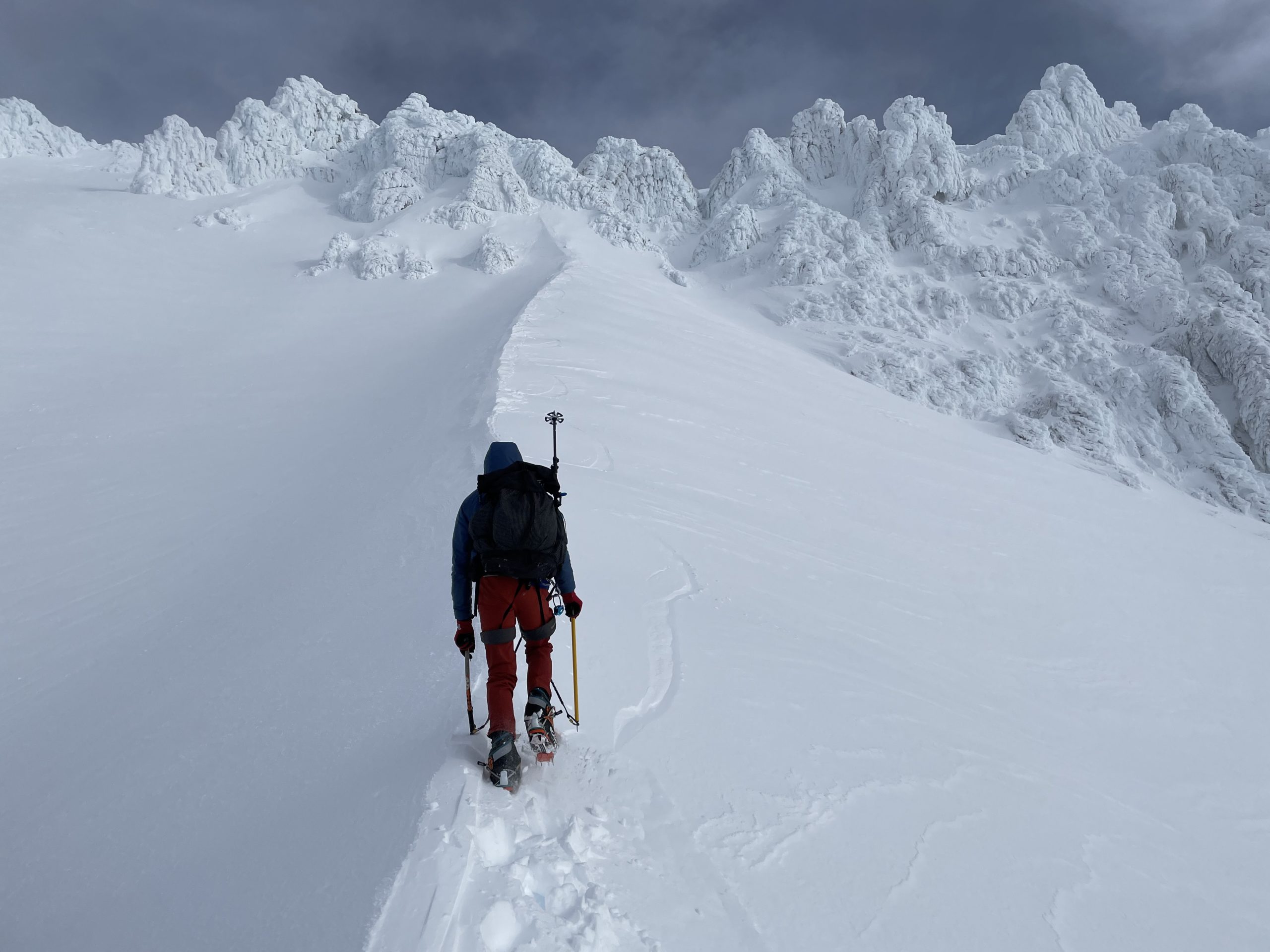 Also known as a shell jacket, your outer layer protects you from wind, rain, and snow.
Soft Shells
Soft-shell jackets are stretchy, breathable, and water-resistant. They're great for repelling snow in dry climates and most have a water-resistant coating that can keep out light rain and wind.
Many winter hiking pants or alpine climbing pants are made of a soft-shell material. The stretchiness and breathability make them great for steep climbs in deep snow.
Hard Shells
Hard-shell jackets are essentially rain coats. They have a waterproof membrane (like Gore-Tex) in addition to a water-repellant coating, which leaves them fully waterproof. They also block wind and retain more warmth, but they offer less stretch and far less breathability.
Hard shells shield hikers in mixed weather conditions and keep other layers dry, but even the most well-advertised "waterproof breathable" fabrics trap water vapor from sweat. Some come equipped with zippered vents in the armpits or sides to help keep air circulating, but the general rule is that if you're working hard in a waterproof jacket, you're going to sweat.
For winter hiking, you should always carry a waterproof jacket, even if you don't expect rain or snow. For a full guide to choosing the right rain jacket, we recommend Adventure Alan's Rain Jacket 101.
Protect Your Extremities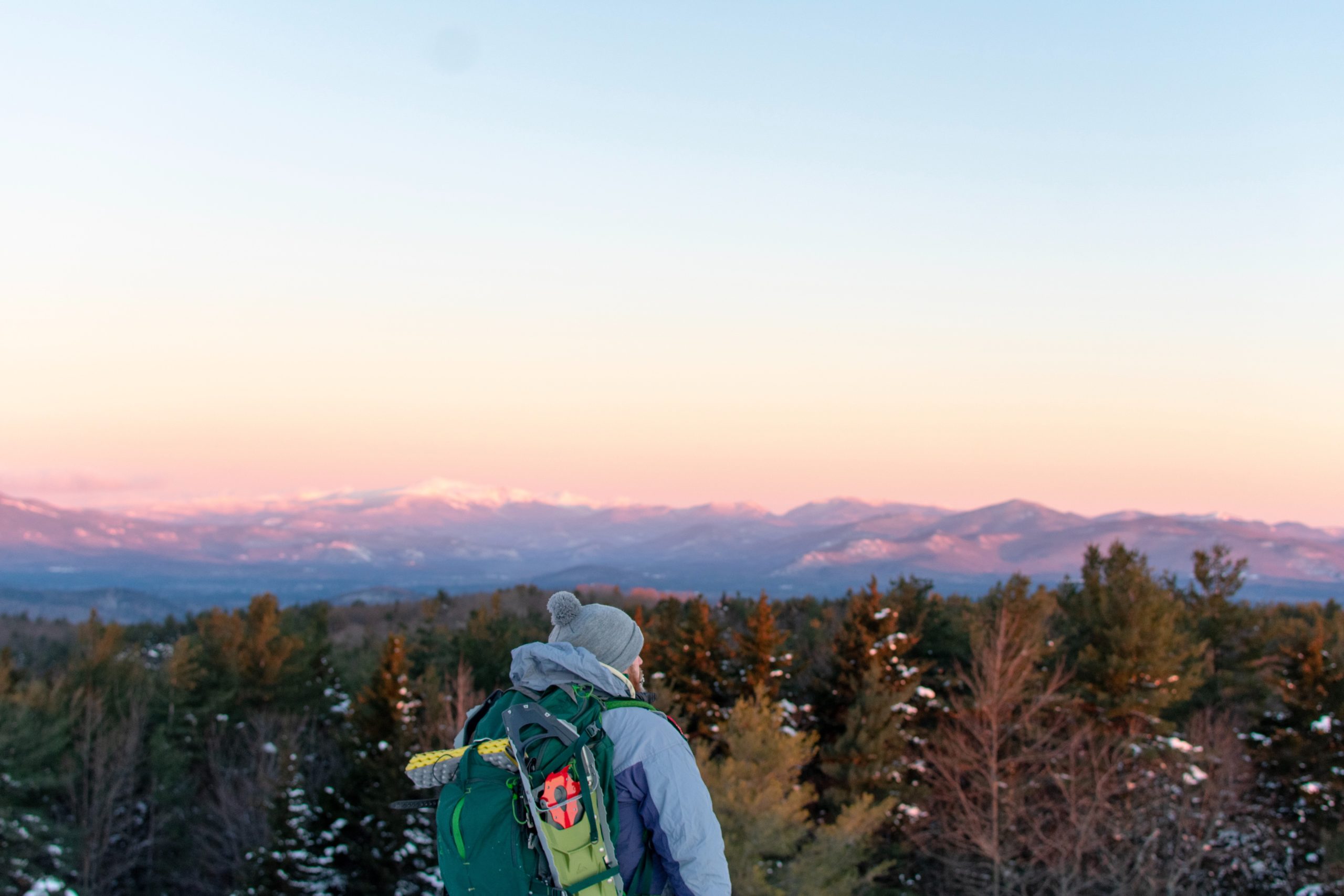 It's easy to forget the extras, but your fingers, toes, ears, and face are the most prone to frostbite in cold conditions.
Head
You can regulate your body temperature like a thermostat by either putting or taking off a hat. Bring a wool or fleece hat that covers your ears. A balaclava or neck warmer is also useful for protecting your face from wiping winter winds.
Hands
Invest in a good pair of insulated, waterproof gloves or mittens. In general, mittens are much warmer, but gloves provide better dexterity.
For really cold weather, pack a thin pair of liner gloves, as well. They act like a base layer and wick sweat away from your hands, and they're useful to have if you want thin coverage while working hard or while performing high-dexterity tasks like adjusting ski or snowshoe bindings.
Feet
Wear wool or synthetic socks to keep your feet warm even when sweat builds up. If you're prone to blisters, also consider a thin liner sock to reduce friction. Make sure your socks are thick enough to provide adequate warmth, but not so thick that they'll impair circulation by taking up too much space in your boot.
Consider packing extra socks. Feet can sweat even in very cold temperatures, and you may want to switch out socks halfway through a hike if your feet aren't drying or warming up.
In deep snow, wear gaiters to keep snow out of your boots. Waterproof and durable, gaiters attach to your boot laces and typically extend to just below the knee.
Listen to Your Body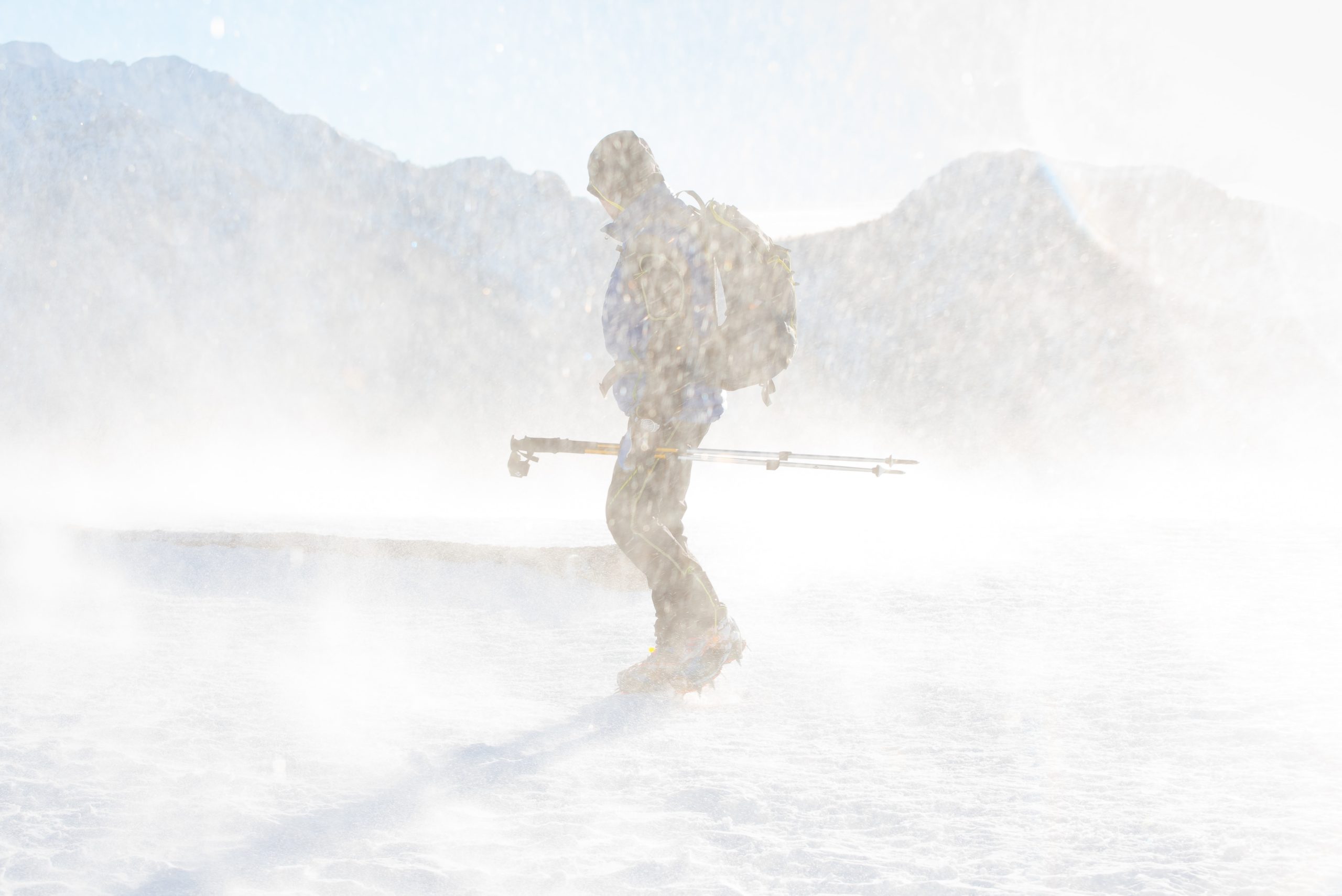 Everyone handles extreme temperatures and responds to high cardiovascular output differently. A layering system that works flawlessly for one person might fall completely short for another. When you're starting out winter hiking, pack more clothes than you think you need, and pay attention to cues from your body to determine when you need to add or subtract layers.
The only exception: When you stop hiking, layer up before you get cold. It's easier to stay warm than to get warm.