Buds, blossoms, baby animals—spring means rebirth. But rebirth also means the rebirth of the most physically and psychologically tormenting time of the year: bug season.
Whether it's black flies swarming around your head, mosquitoes stabbing your elbows, or horse flies chasing you down the trail, biting flies come in all forms, they are vicious, and they can ruin your adventure.
If you've been itching for a solution, we've got you covered.
Introducing our brand new, proprietary Bloodsucker Security™. Complete with a Mosquito Forecast map layer, live bug conditions tracking, auto-escape route technology, and a bite prevention alert system, Bloodsucker Security™ is your one-stop shop for making bug season suck a lot less.
Stay Out of Bug Bite Territory with the Mosquito Forecast Map
The easiest way to avoid getting bitten is simply to avoid regions with biting insects. That's why we created the Mosquito Forecast map overlay. This map taps into data from the Centers for Disease Control and Prevention and the European Centre for Disease Prevention and Control to provide projected mosquito densities across the world.
Just add the Mosquito Forecast overlay to your favorite basemap such as Gaia Topo or Gaia Overland to get a sense of where mosquitos lie in wait of your juicy flesh. Darker pink shows where mosquito density is highest, while purple shows where mosquitoes are less prevalent. No color on the map means you're quite literally in the clear.
Whether you're planning a backpacking trip, an overlanding expedition, or a family trip to a national park, refer to the Mosquito Forecast map to save you, your family, and your friends from the psychological and physical trauma associated with sitting at your campsite getting eaten alive through your sweatpants.
Outrun Blood Suckers with Live Conditions Tracking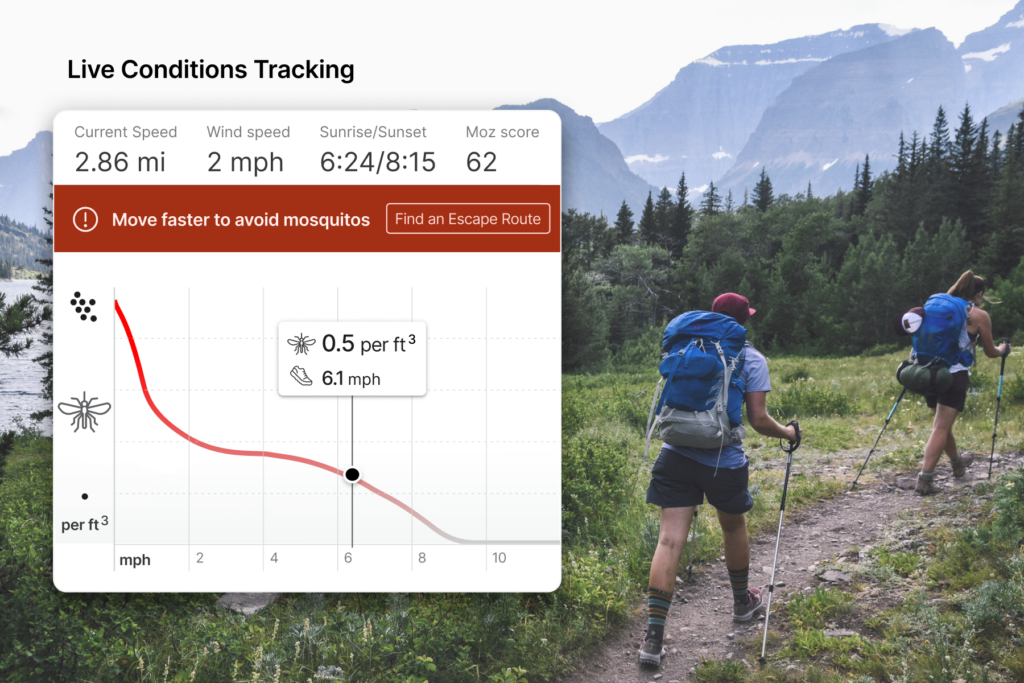 Sometimes entering bloodsucker territory is unavoidable. But don't despair. Use our live conditions tracking to see real-time mosquito density. Based on your speed, wind, time of day, and bug density, our smart algorithm will tell you exactly how fast you have to move to avoid getting eaten alive.
Hiking with a heavy pack and/or small children and can't move fast enough? Don't ditch them on the trail. Just hit "Find an Escape Route" and we will re-route you to safer ground.
Flee Flies with Auto-Escape Route Technology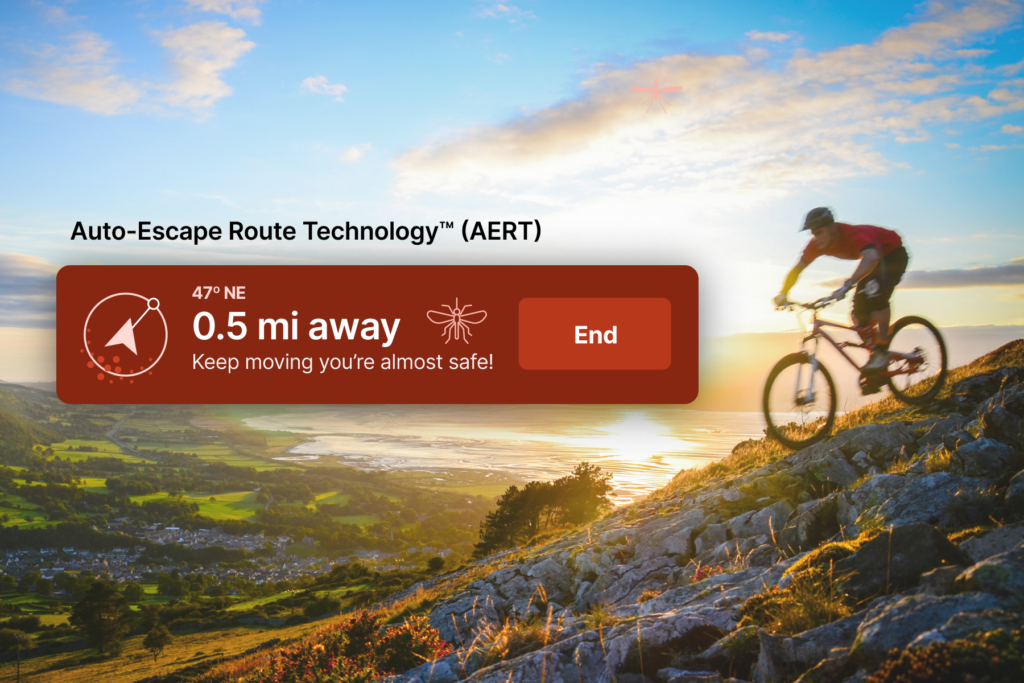 If that swarm of mosquitos proves too dense and too hungry to outrun, find an escape route with our patented Auto-Escape Route Technology (AERT). Our live conditions tracking system automatically senses when you're moving too slowly to avoid getting bitten. Then our smart planning tools systematically scour nearby trails to reroute you to safer ground, as fast as possible.
Adventure Smarter and Safer with the Bite Prevention System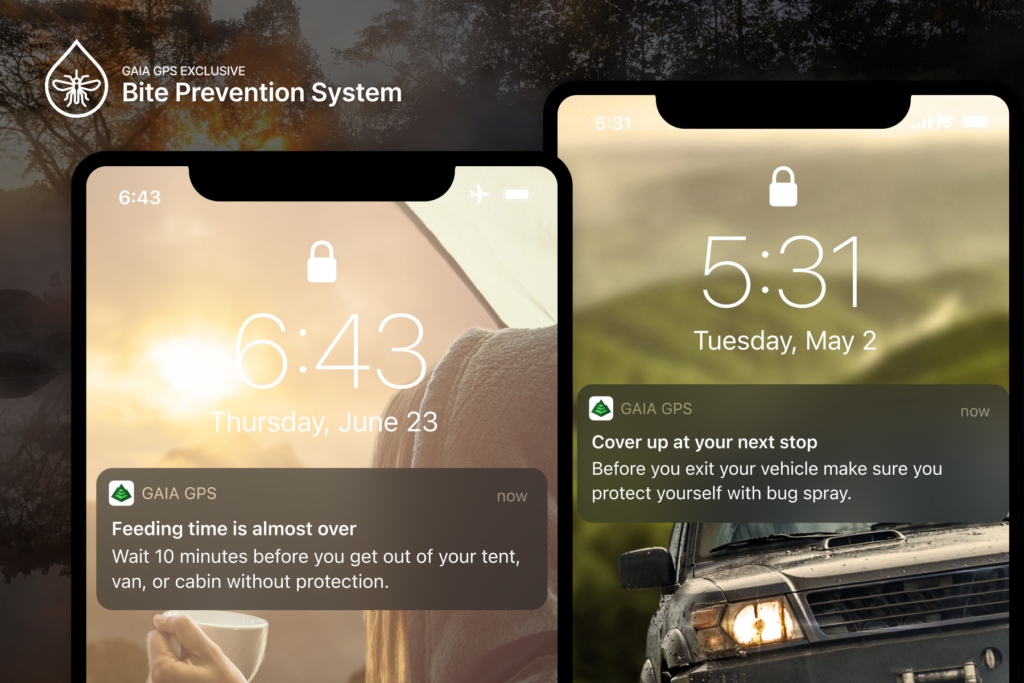 Sick of climbing out of your tent in the morning for breakfast only to realize that you are the breakfast? We've got a solution that lets you say goodbye to sacrificing one for the team.
If you're camping in bug territory or overlanding through a particularly bug-infested swap, never fear. Our Bite Prevention System will send you alerts telling you when to pull out the bug nets and bug spray and when it's safe to come outside.
It's BS!
Say goodbye to itchy nights with our brand-new BS technology, available with your Gaia GPS Premium membership. Premium also gives you access to the perfect map for every adventure. And stay found with offline access around the globe.